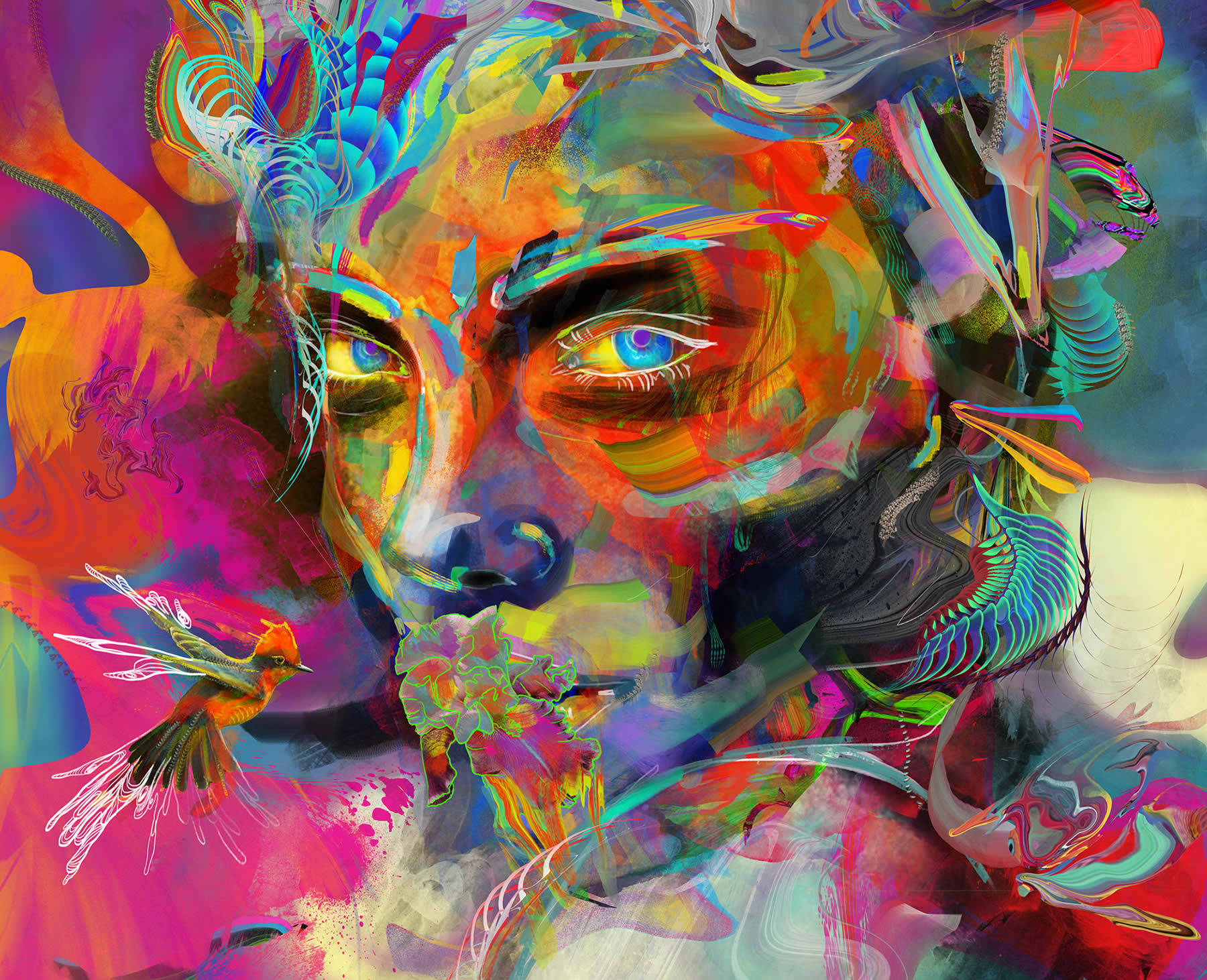 The mystical land of India resonates in Archan Nair's artistic creations. Color, energy, life are expressed with passion and spiritual enlightenment in each of his digital images.
He produces eye-catching works on the computer like "Alchemy Resonance" and "Rainscape Rhythm," the latter featured as one of the Top 10 submissions by readers on this website in 2014. His work capturing my attention and already mesmerizing many thousands of fans on Facebook. Now, it seems like a great time to learn more about the artist from New Delhi who makes vibrant art and illustrations for brands like Nike, Sony and Red Bull.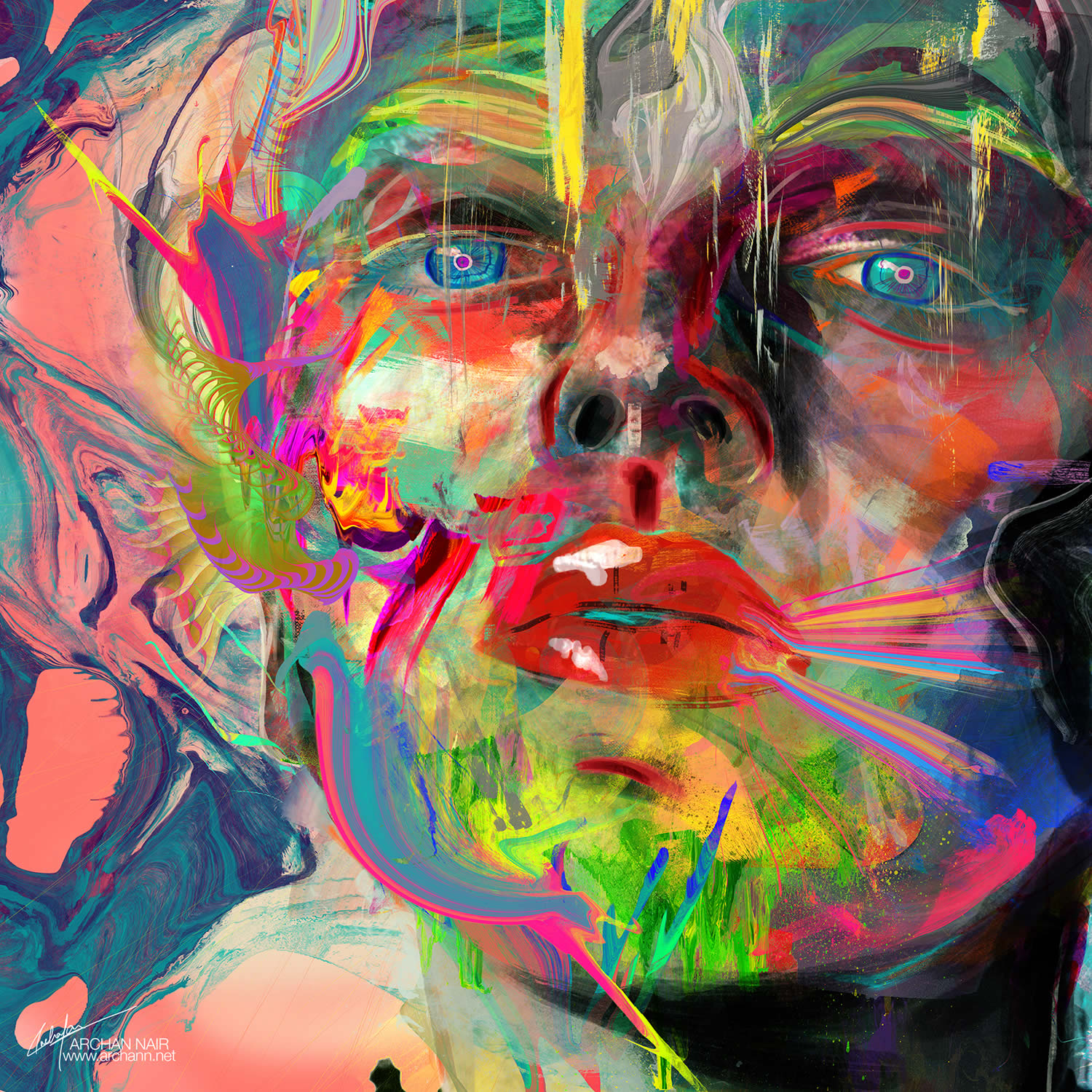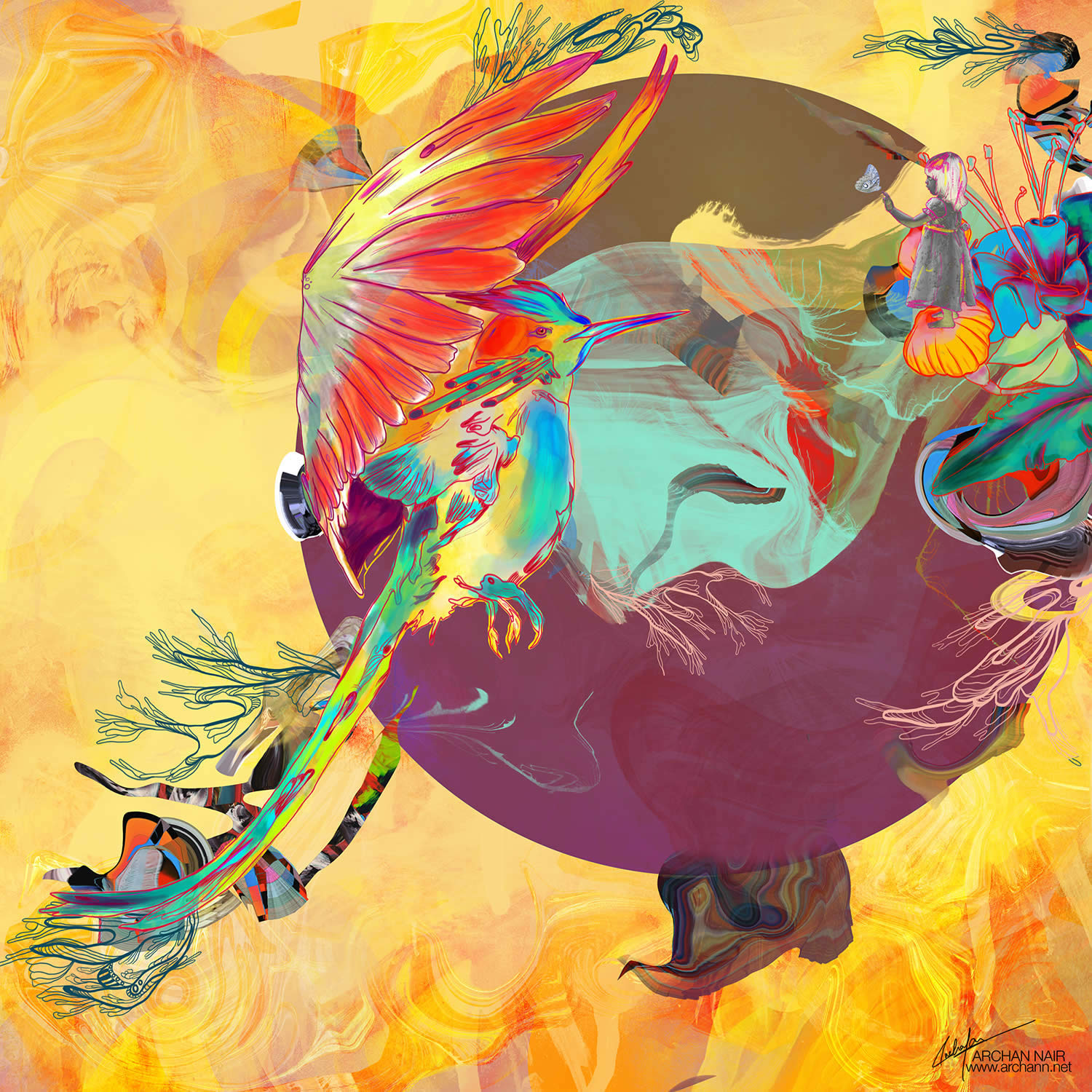 "Iyka" (top) and "Miles Away" (bottom), the bright and painterly artworks of Archan Nair.
Your artwork is very colorful. What inspired you to use this much color?
I think a lot of my influence comes from my subconscious itself. The fact that I am experiencing this mystical land… India with so much culture, love and depth, it just fascinates me. Everyday is a natural trip!
What are some of your inspirations and messages in your work?
I feel every moment is bursting with inspiration, from conversations, to people, to emotions, to chaos and beauty and nature.
I am fascinated by the fact that everything from the macro to the micro seems so perfectly interconnected that the way everything works from the biggest stars to the minute particles which our eyes cannot even see are an intelligence at work, and so nothing seems to be random but seems random most of the time. This weirdness is beautiful and I love exploring it.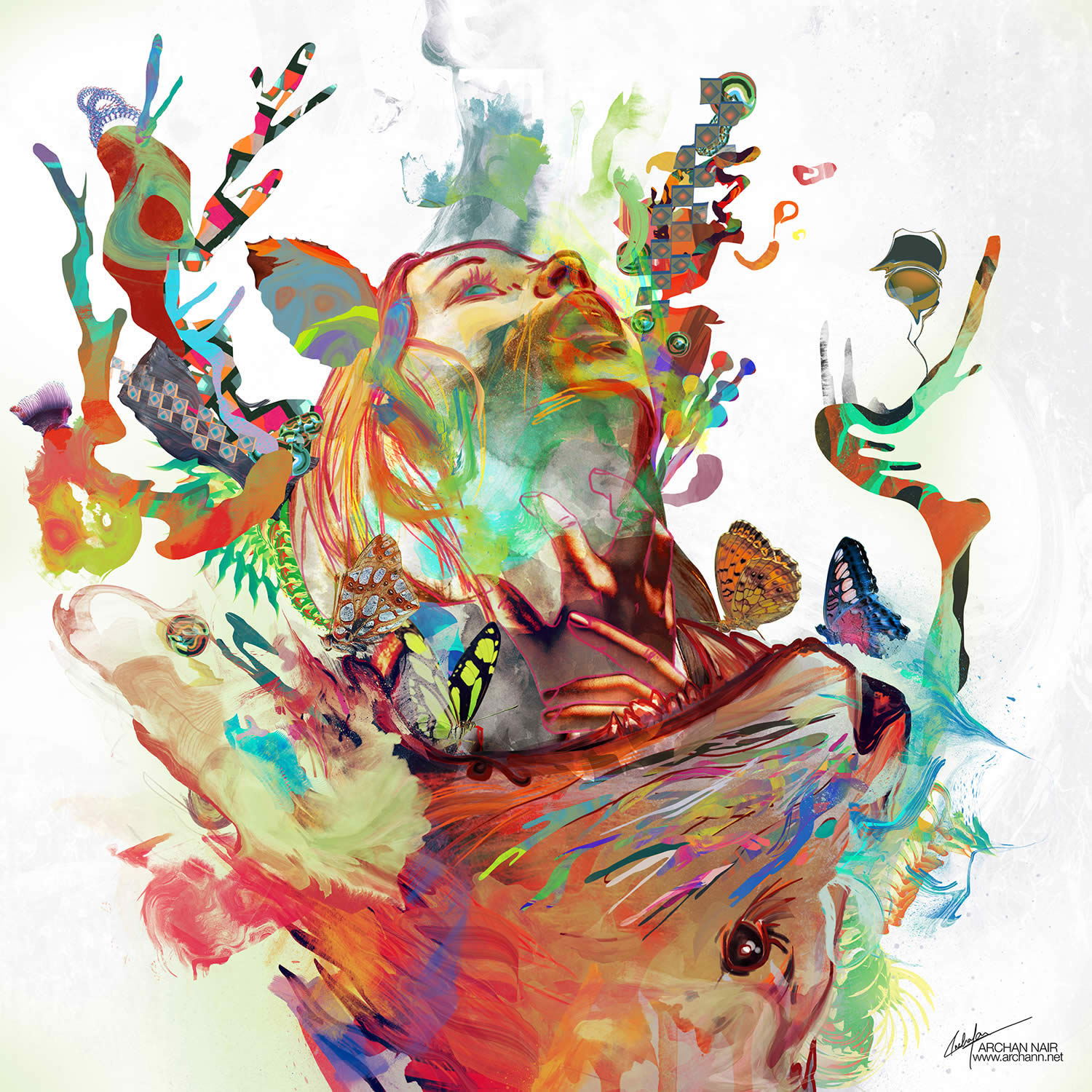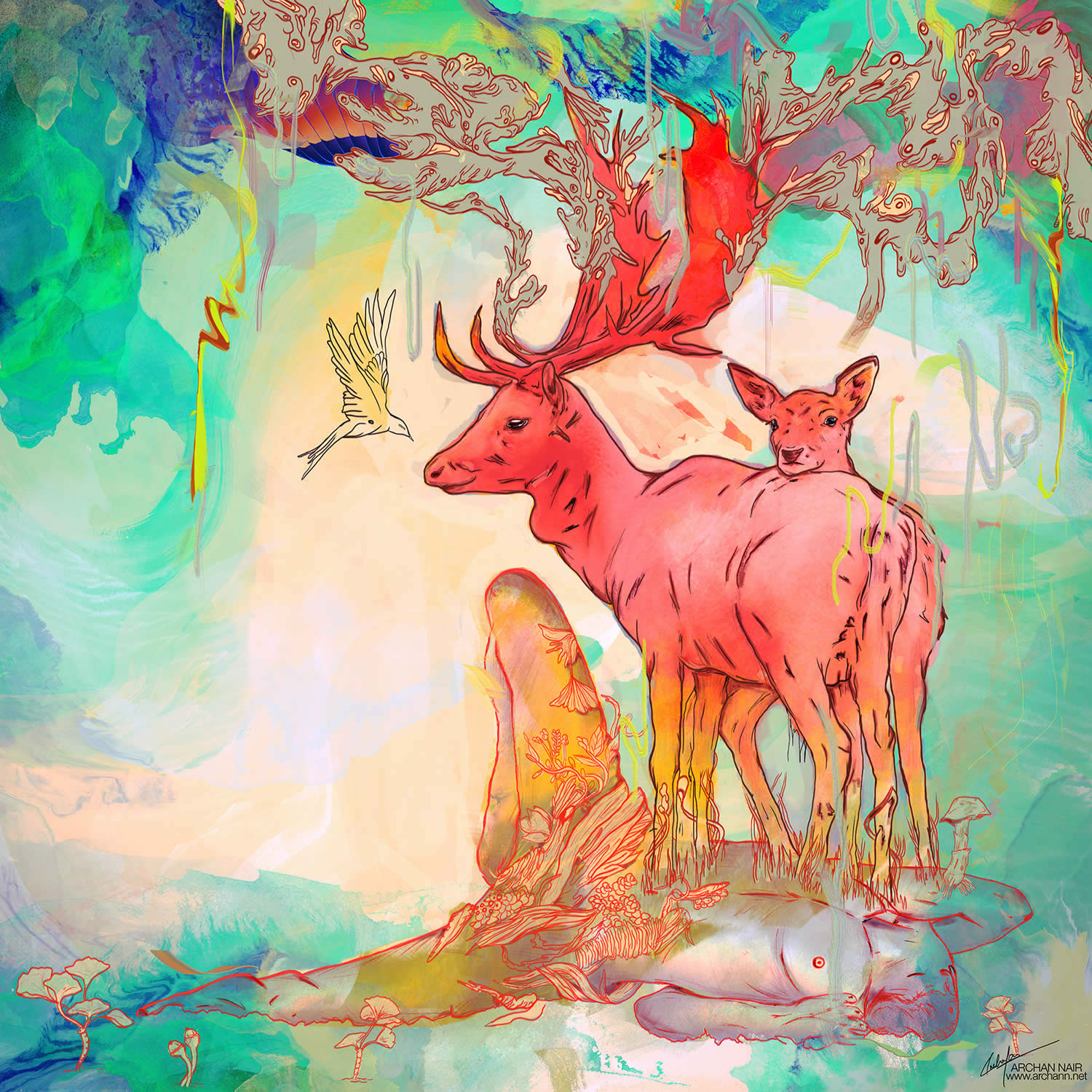 Spirituality and nature are present in Nair's dynamic visuals.
Are you trying to find a visual escape through your art? Like entering imaginary worlds?
I feel I am trying to bridge the dimensions or worlds existing around… beyond… and within us which we cannot see through our limited senses and physical restrictions.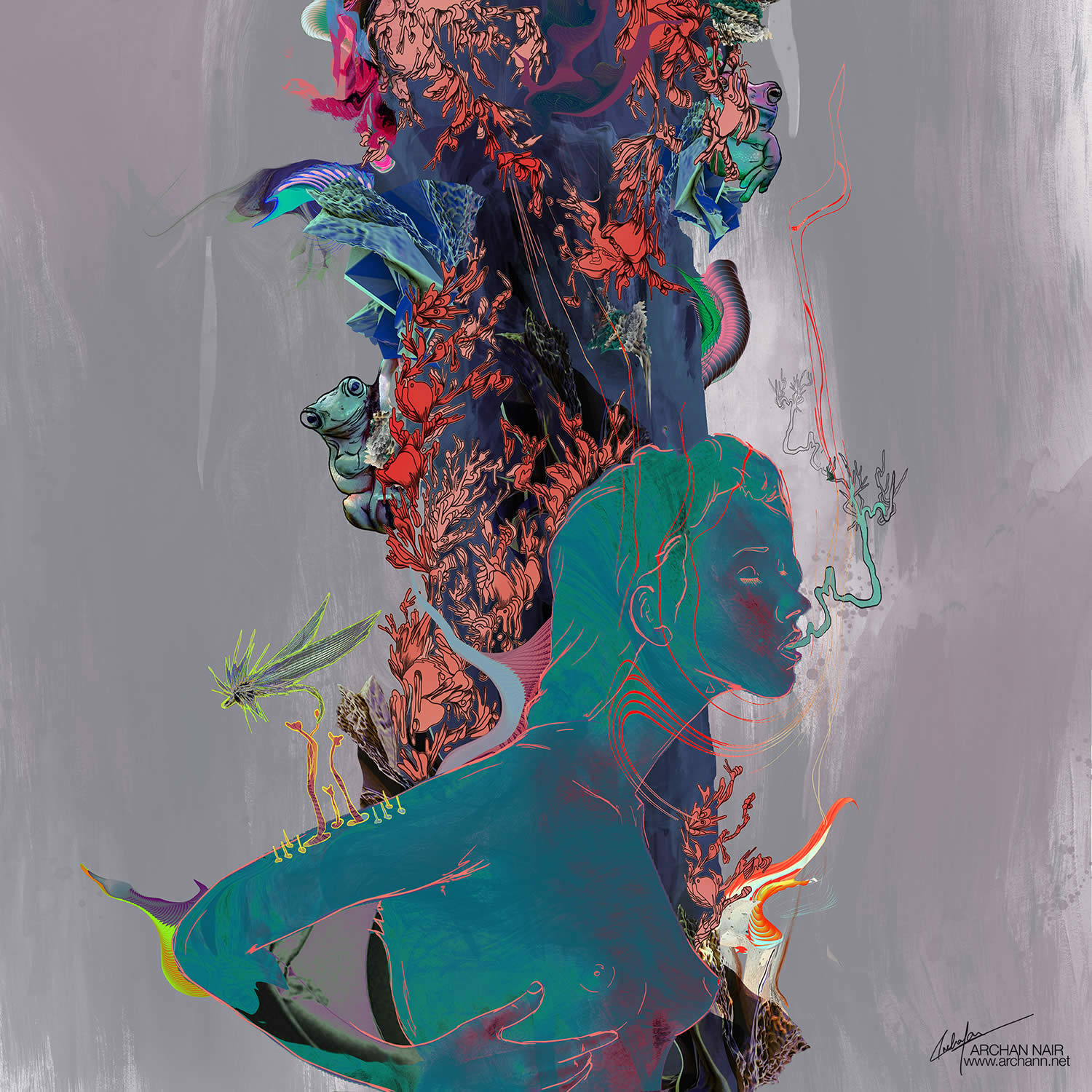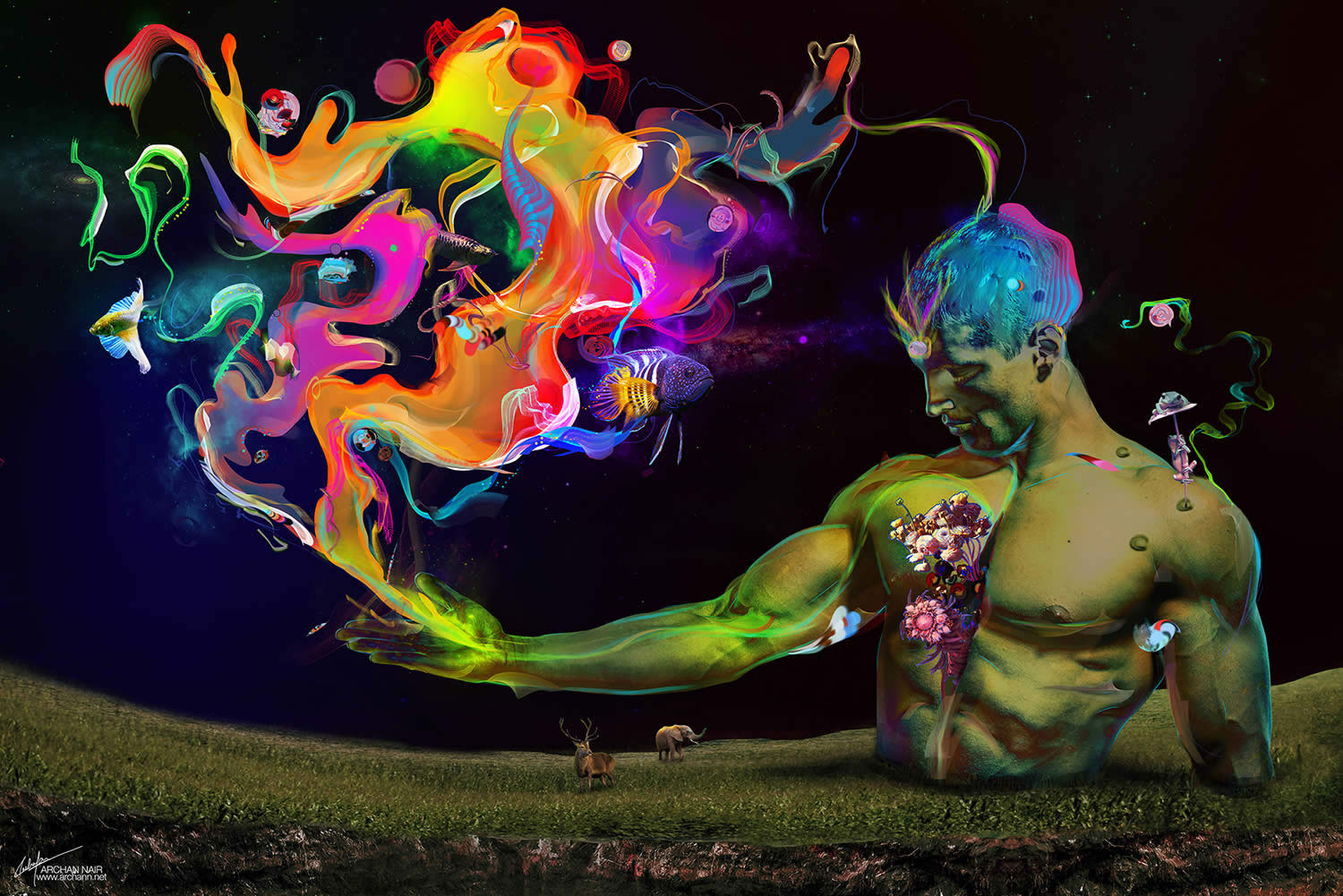 A connection of self and universe: "Beneath the Air" (top) and "Alchemy Resonance" (bottom).
"Alchemy Resonance" it reminds me of several Dali paintings, like "Soft Construction with Boiled Beans," not so much the actual theme but the aesthetic of the greenish skin and the surreal ambience. How did this composition come about?
"Alchemy Resonance" was a beautiful fusion of an organic flow and a vision both coming together. The process began very spontaneously and just the idea of having a deeper connection to the self and the universe within and outside. As the artwork progressed the vision became more clear and I conceptualised the composition giving it more clarity. It has truly been a piece very close to my spirit!
Your digital piece "Rainscape Rhythm" was selected as one of the "10 Best Submissions from Readers in 2014" on this website. Has sharing your art with our readers been an advantage?
Thank you for having "Rainscape Rhythm" as a part of the 10 best submissions, it is truly an honour! I did notice many people tweeting and sharing about it on social media, which was wonderful really! So glad to be a part of amazing art and inspirations!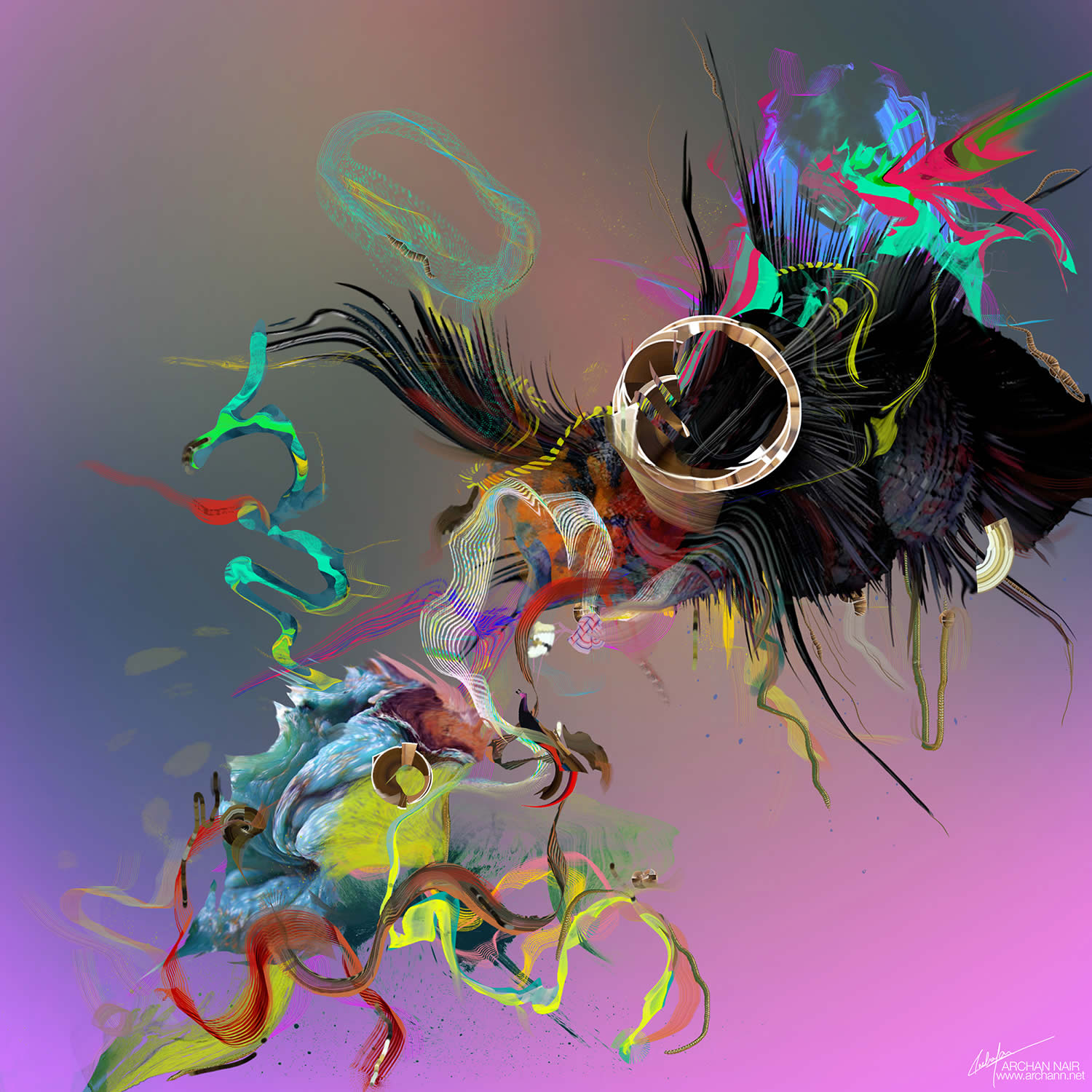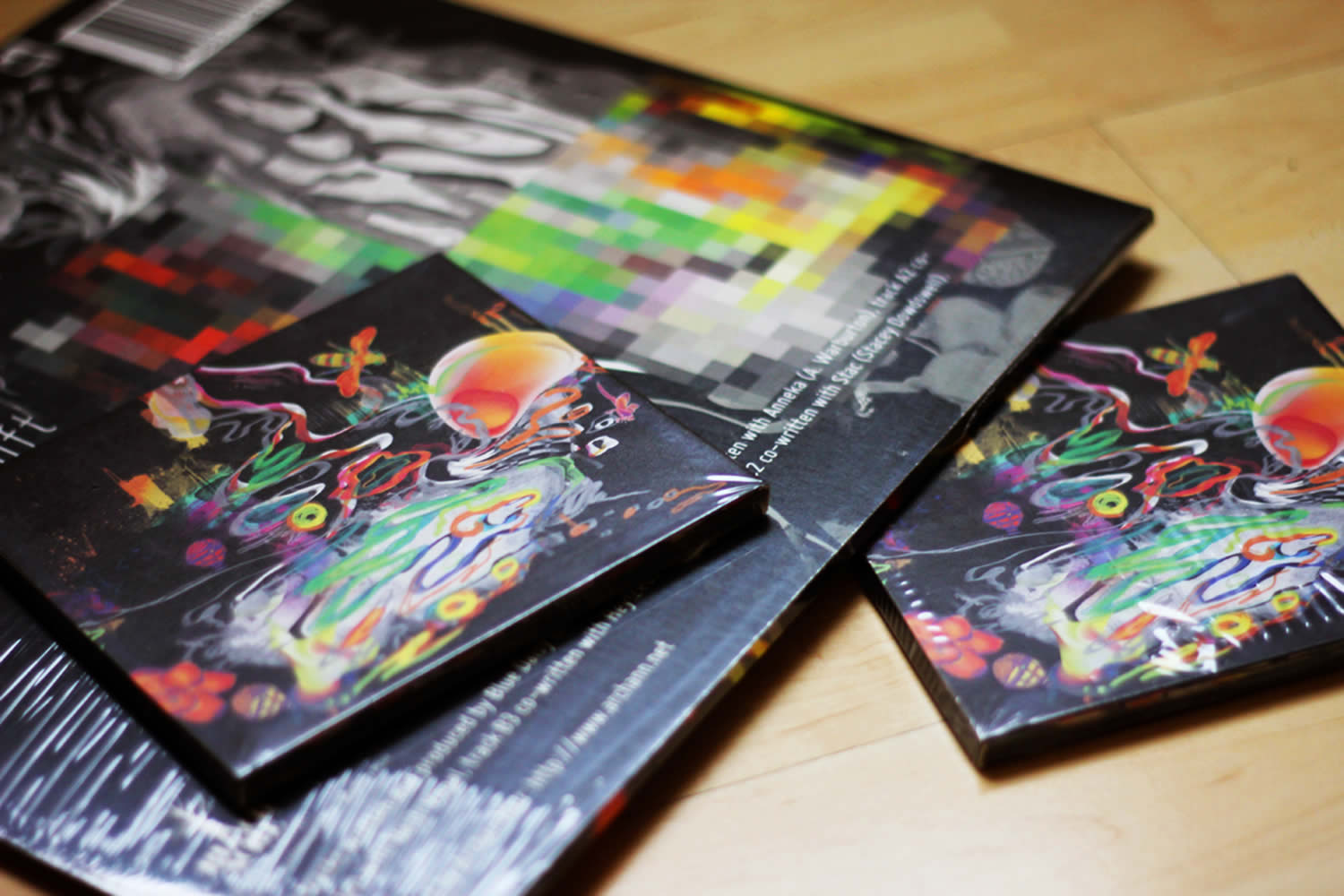 A few abstract pieces "Orynkro" (top) and CD cover.
Some of your new images are more abstract with a fractal-art feel (e.g. "Orynkro"). Can you explain your direction and creative change?
I have always experimented and expressed myself through abstract mediums. I really find abstract art very exciting and I have been exploring it even more deeply… this direction from time to time! I love finding new worlds and escaping the laws, at the same time finding a sense of harmony and intelligence through all of it.
I heard that Kanye West got a glimpse of your art. What did he say?
Yes, he did a few years back. One of my earlier works "The Joy Ballad" was shared by him on his blog back then. He wrote some amazing beautiful words, which was quite special.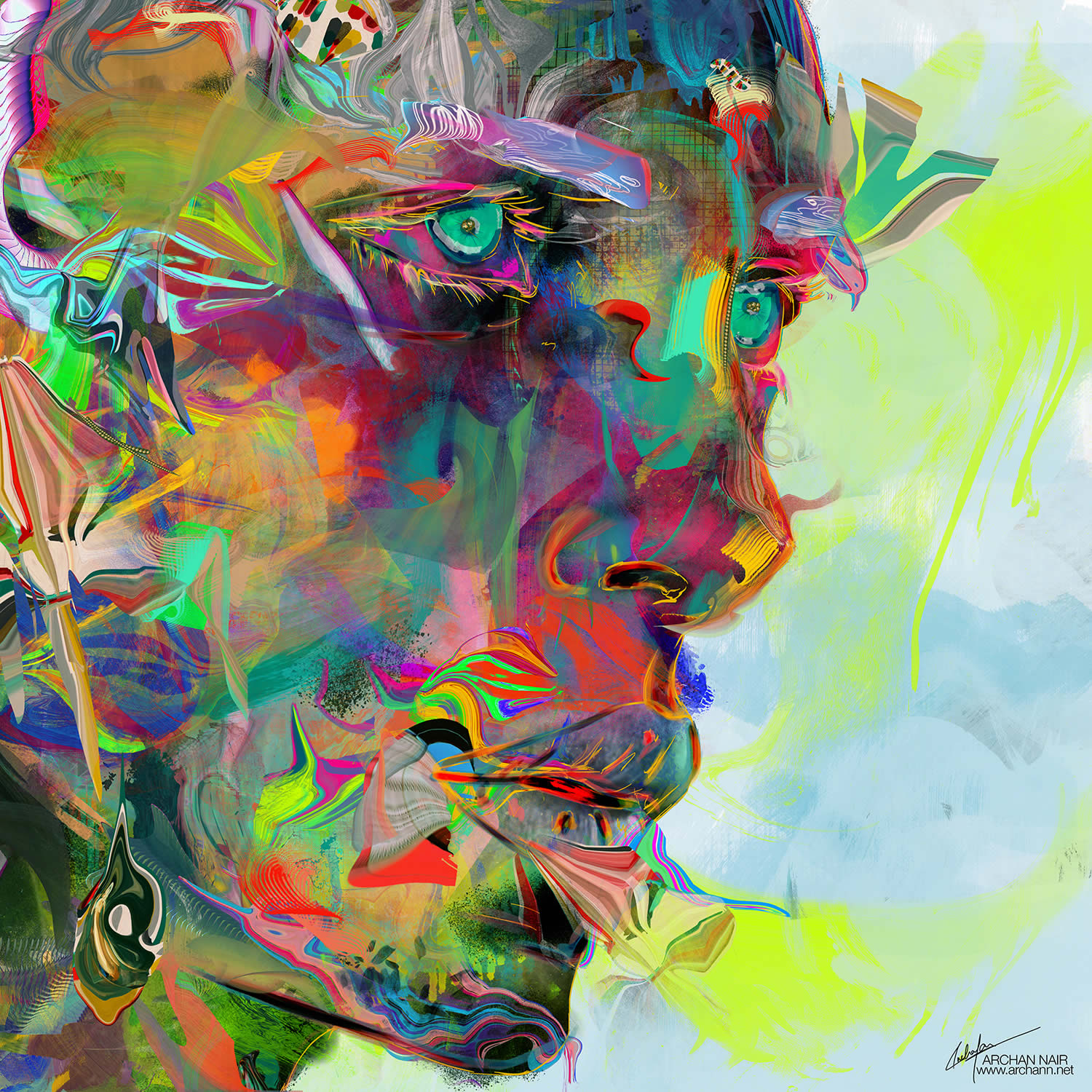 "Iris Drops," sold as a Giclée print at Society 6.
Has it been sweet sailing or challenging to make a living as an artist?
Oh yes, it has been a crazy mixture of all. It is important to have challenging moments, which make the sweet moments even more worthwhile. I feel as humans we all go through ups and downs, emotionally, spiritually… but I love learning from every moment I experience and it makes breathing, living even more spectacular. It is truly a blessing to be able to create and share so much love! I love the fact that each experience makes us grow, not only to make a living as an artist but to live as a better being.
Follow the artist on Facebook.
Photos © Archan Nair.