Note: Contains nudity.
When it comes to studying nude photography, there definitely seems to be a preference for shooting in black and white over colour. It is perhaps because the former allows the artists to better engage with the great contrasts and beauty of the human body. It isn't a monopoly though, and there are some wonderful artists who explore nudity in colour, as you shall see in this article.
From giants of 20th century art right through to very modern photographers, the artists curated here all bring something exciting to the medium.
Top: The limits of pain explored by photographer Ekaterina Zakharova.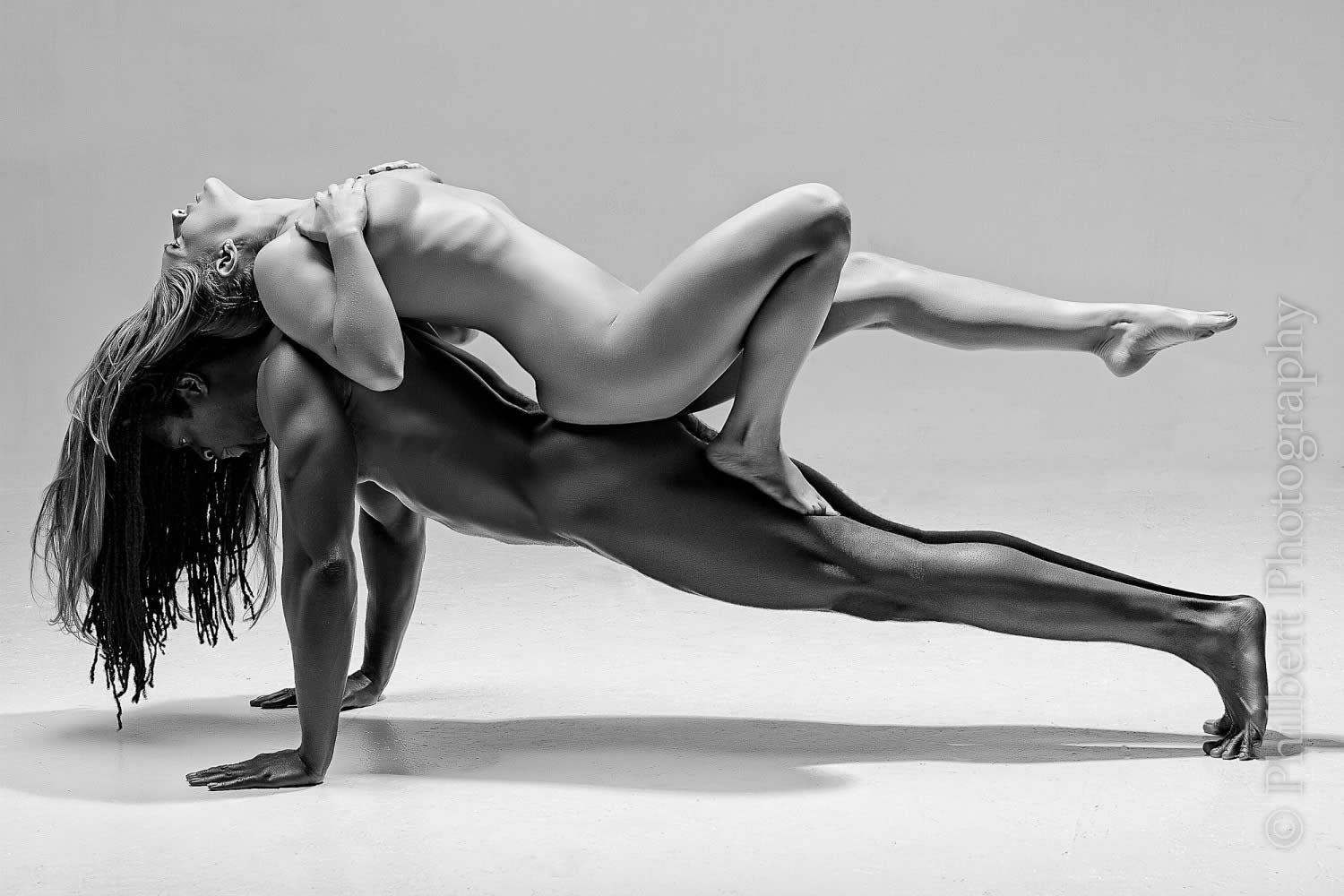 Black and White; Male and Female, together they form a beautiful fusion.
The Balance of Power Between…
In this image the photographer Philbert offers us a vision of the two sexes in perfect harmony, two sides of the same coin, where each individual draws strength and power from the other to create a joyous whole. The contrast achieved in terms of black and white is breathtaking, as are the positions that his models manage to strike and hold.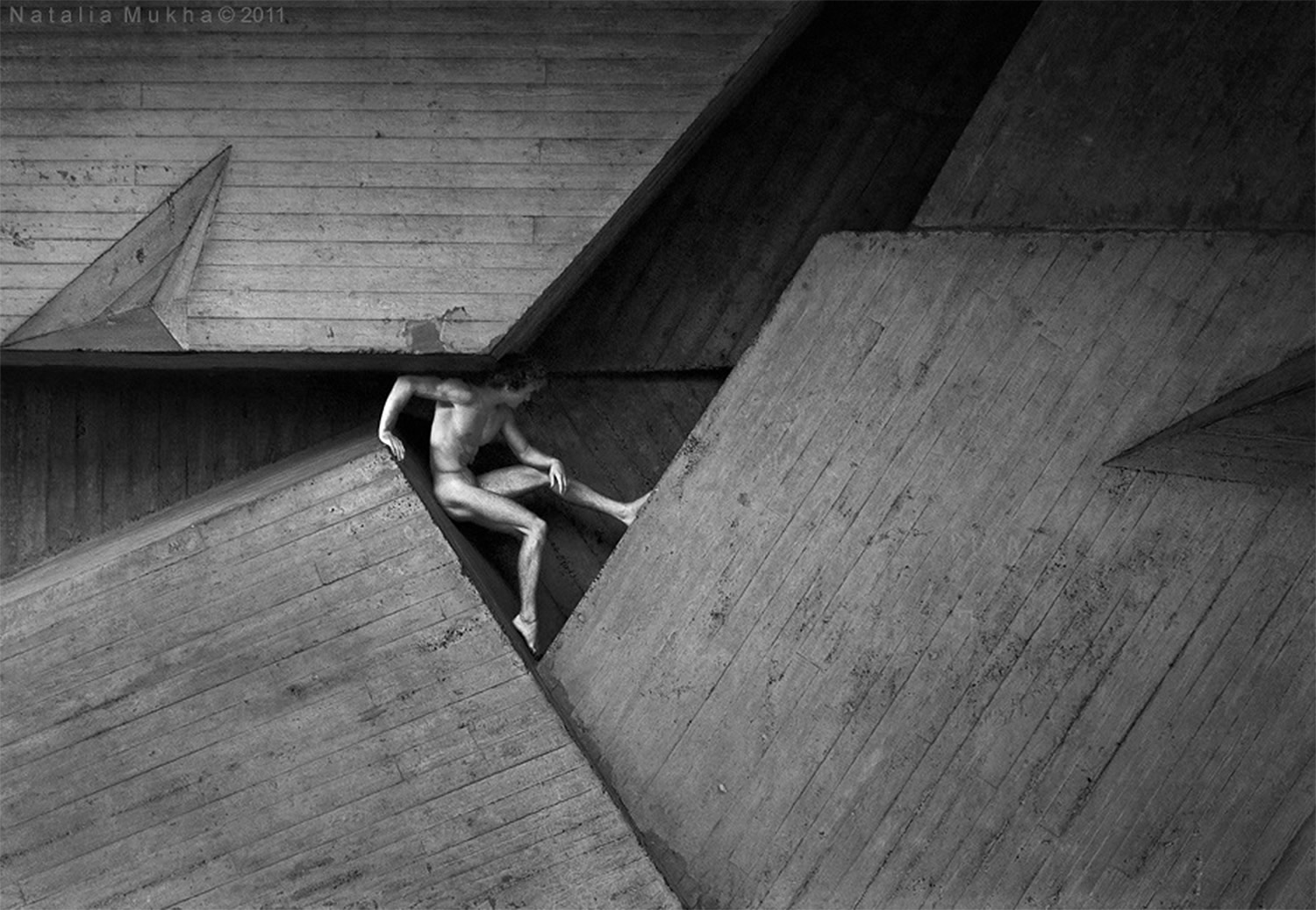 The male form is placed within the confines of a geometric landscape.
Granit
The Ukrainian photographer Natalia Mukha favours graphic explorations of nudes, often going in for some shocking and powerful imagery. The above piece is more subdued then her usual output, but still packs a subtle punch. She ingeniously manipulates the shape of the naked male model to mirror the landscape surrounding him.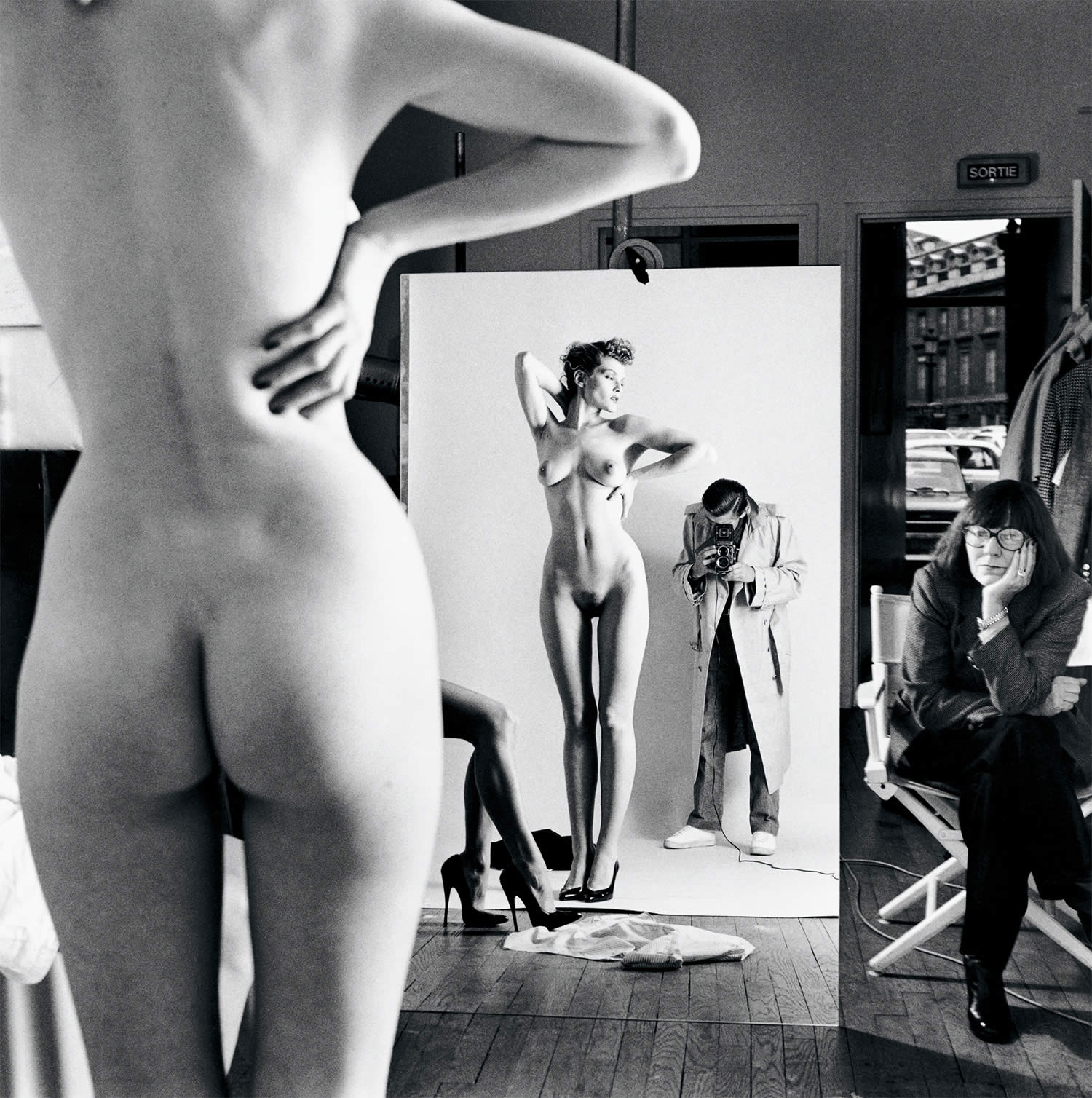 Helmut Newton plays with the concept of the voyeur in this stunning black and white photograph.
Sleepless Nights. Big Nudes.
When it comes to photographers capturing and idolising strong women, no one did it better and with more beauty then Helmut Newton. He was unafraid to shoot naked women full-on, hiding nothing behind strategic lighting or mise-en-scene. Newton's women are fearless. You can see it in this image, that artfully deploys mirrors in order to show every part of the model's body. It featured in his recent exhibition and photography book "White Women • Sleepless Nights • Big Nudes."
The quiet and pastoral style of nude photography by Sally Mann, which favours beauty over exposure.
Family Pictures
Sally Mann has been a controversial figure in contemporary photography circles for many years. Her natural and softly lit shots of nude girls and boys rub some people up the wrong way, claiming they are sexualising children. This view point is completely misguided though, for her photography is earthy and completely ordinary, presenting young people as they are when in the freedom of nature. Part of her "Family Pictures (1984-1991)" series, the above image exemplifies her approach to nudity.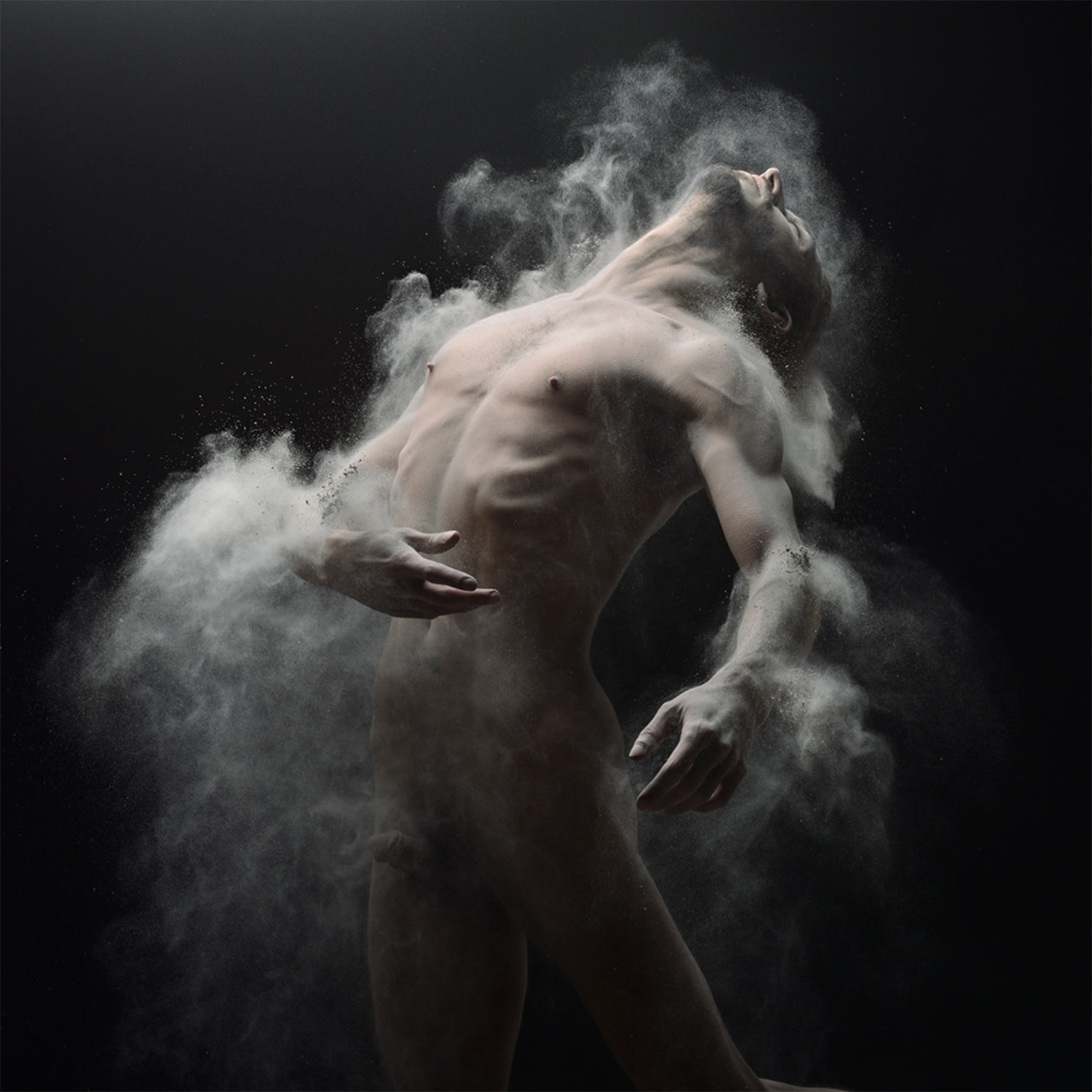 An athletic figure is captured in flight by Olivier Valsecchi.
Time of War VIII
In his "Time of War" series, photographer Olivier Valsecchi conducts and contorts his models into marvellous shapes and positions. Sent up with clouds of dust, the nude dancers that he shoots present us with a vision of the pinnacle of the human body. Just like sculptures in Ancient Greece and Rome, Valsecchi is showcasing the potential beauty and perfection of the athletic human form, though in a more exaggerated style here.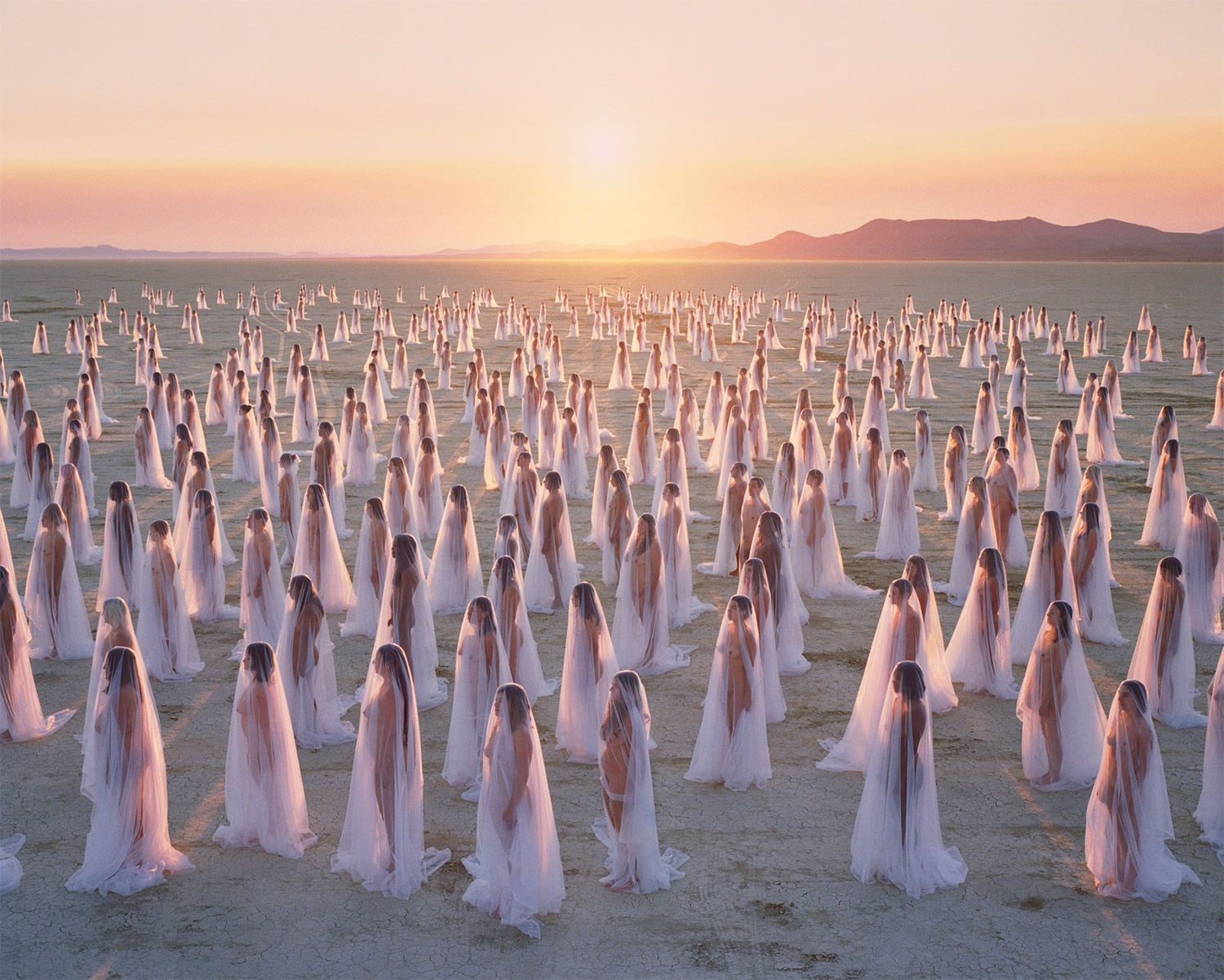 Spencer Tunick and his surreal, mystical vision of nudity, cloaked in majesty and natural light.
Desert Spirits
In the art world, the name Spencer Tunick conjures up one specific image in the mind: large-scale shots of naked people, often involving hundreds of participants. Whether it's on a rocky beach, outside the Sydney Opera House, or in the case of "Desert Spirits" (2013) in the desert, Tunick always finds new and visually arresting ways to photograph the same scenario in different guises.
French photographer Lucien Clergue coats his models in stripes of light.
Nude Zebra
Over a number of years Lucien Clergue has shot numerous images as part of his "Nu Zebres" series. In terms of composition and style they are very similar: they all paint striking black and white lines across a nude model's body, aided by creative lighting techniques. They are beautifully artistic and quietly erotic.
In Zakharova's photography she pushes the nude body to extremes.
Untitled
Well this could make a very interesting birthday cake for some young lady or gent. Either way it's not likely to be much fun for the model whose body is slowly being set alight in Ekaterina Zakharova's provocative untitled image. Zakharova's photography explores the limits of the naked human body and the extent to which it can endure terrible pain.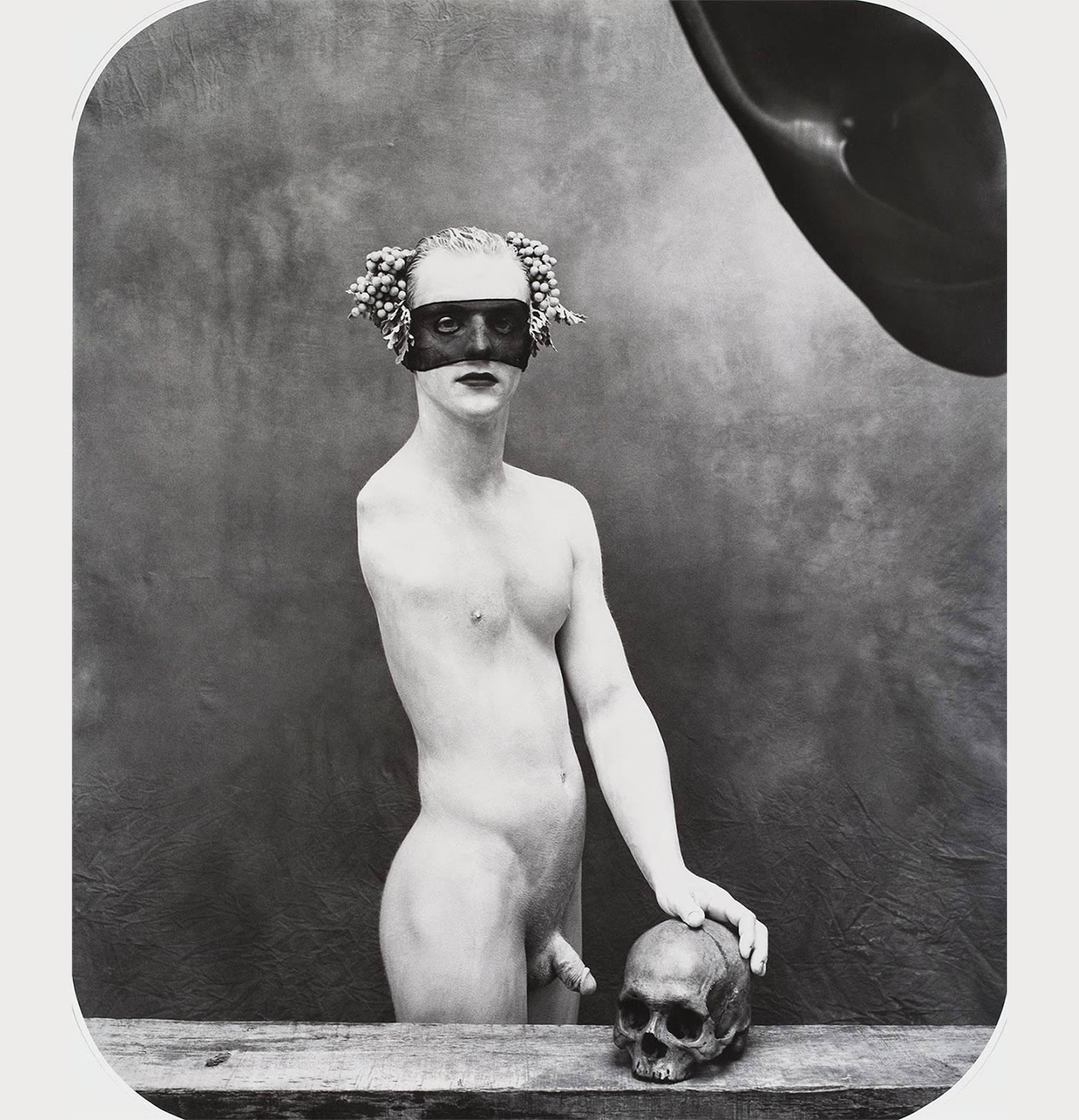 Like something out of an Jean Cocteau theme party, the work of Joel-Peter Witkin.
Portrait as a Vanité
The artist Joel-Peter Witkin is famous for his dark photography, choosing as his favourite themes and subjects death, corpses, dwarves, transsexuals and people with deformities. In this regard he can be viewed as a modern day Diane Arbus: Their twin obsession of photographing the seamy underbelly of society in crisp black and white images. "Portrait as a Vanite," brings all these elements together in a beautiful nude study of a one-armed man. It is also reminiscent of Marcel Duchamp's alter ego Rrose Selavy.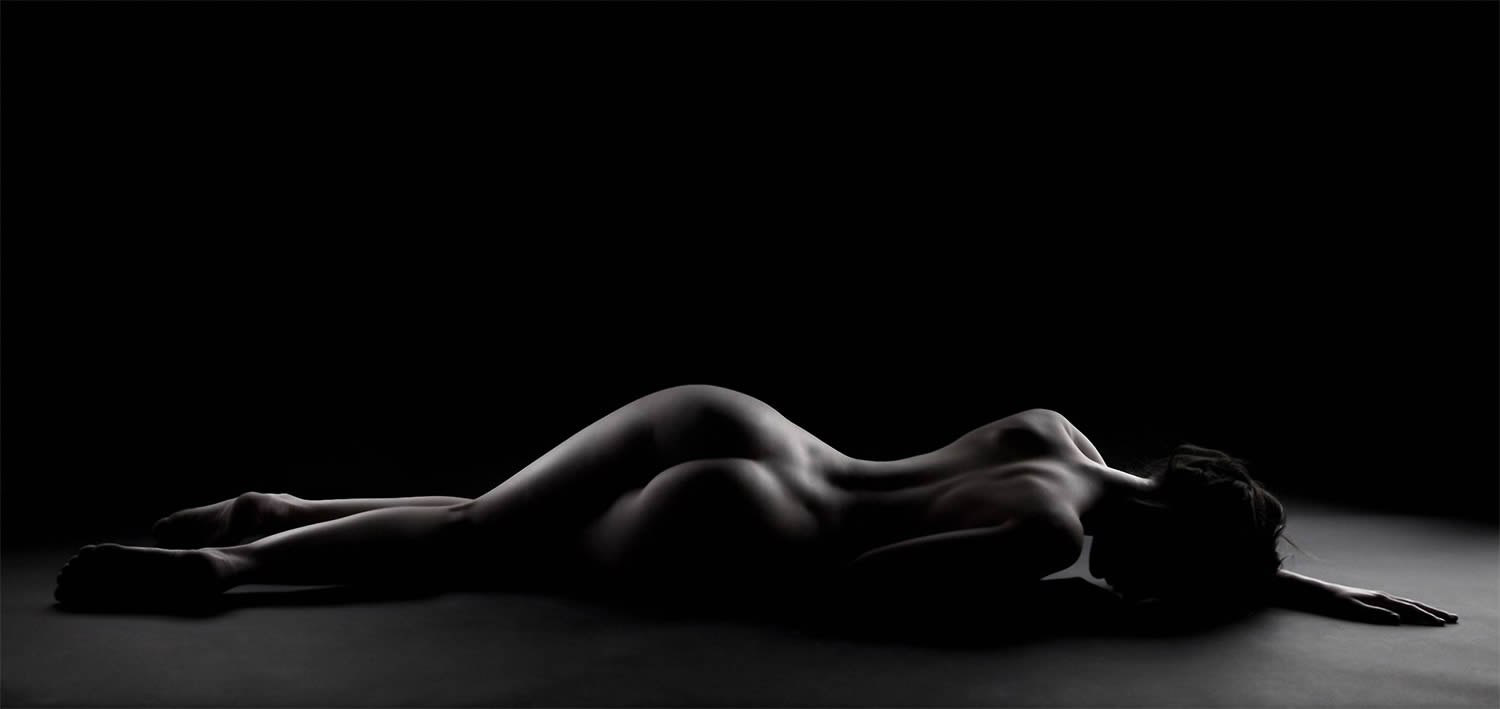 Joel Bloch presents us with a dark and passive vision of the female body.
Dark II
The above image by French photographer Joel Bloch forms part of his "This Obscure Object of Desire" series. As light falls in shadowy pools onto the elongated body of his female body, the viewer is invited to gaze and study the human form from this more unconventional angle.
Images © artists and galleries.