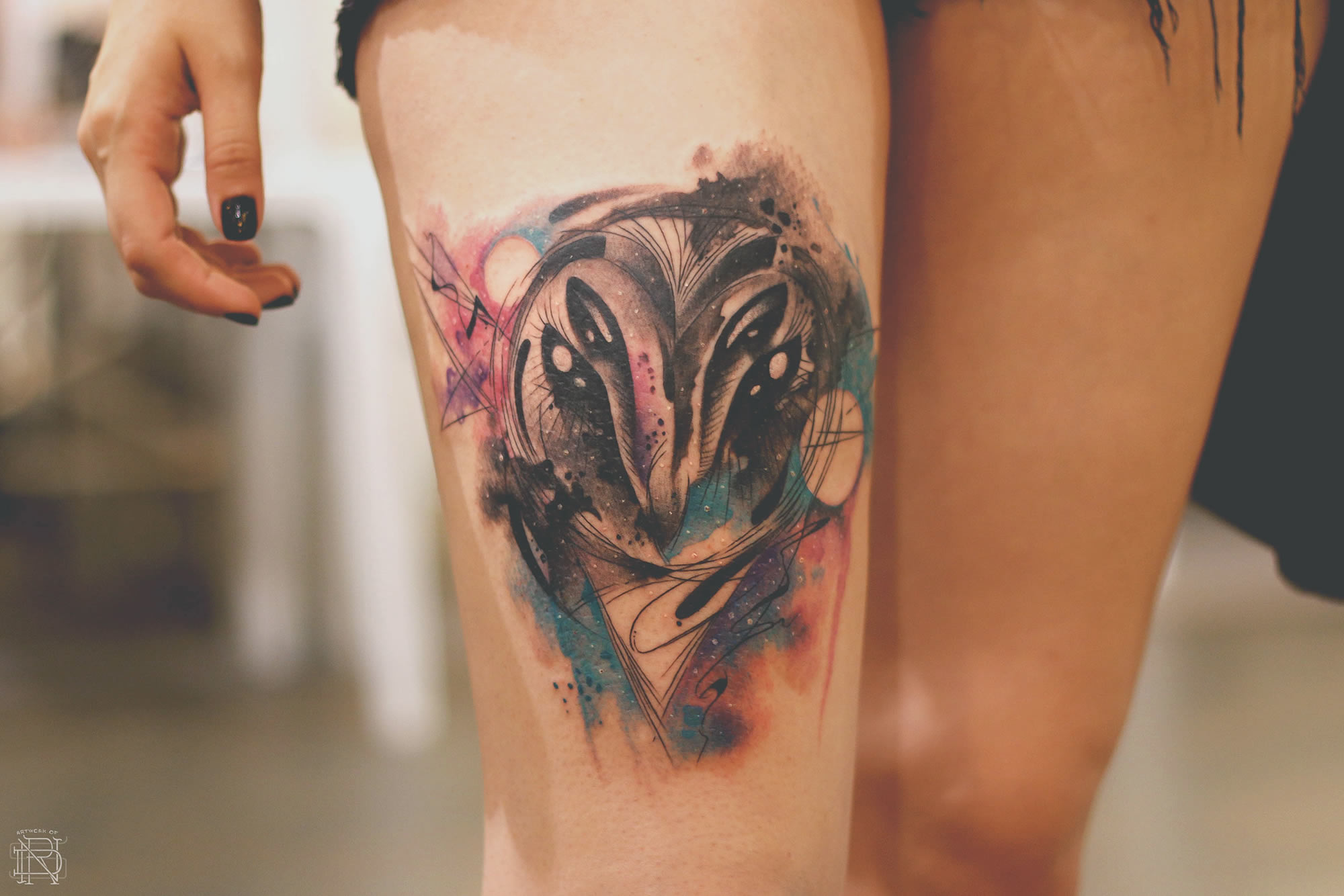 A native of Rio Claro, Brazil, self-taught artist Dêner Silva has been rocking both the pencil and tablet pen as a freelance illustrator for local clothing companies and music bands such as Fresno.
Silva's personal styling—his numerous tattoos and body piercings—has often confused passers-by into thinking he was already a tattooer. But he only began exploring this art medium in 2013, and a year later committed to the profession full time. Currently specializing in watercolor-style tattoos, Silva explains how he achieves the painterly technique on skin, and much more, in this exclusive interview.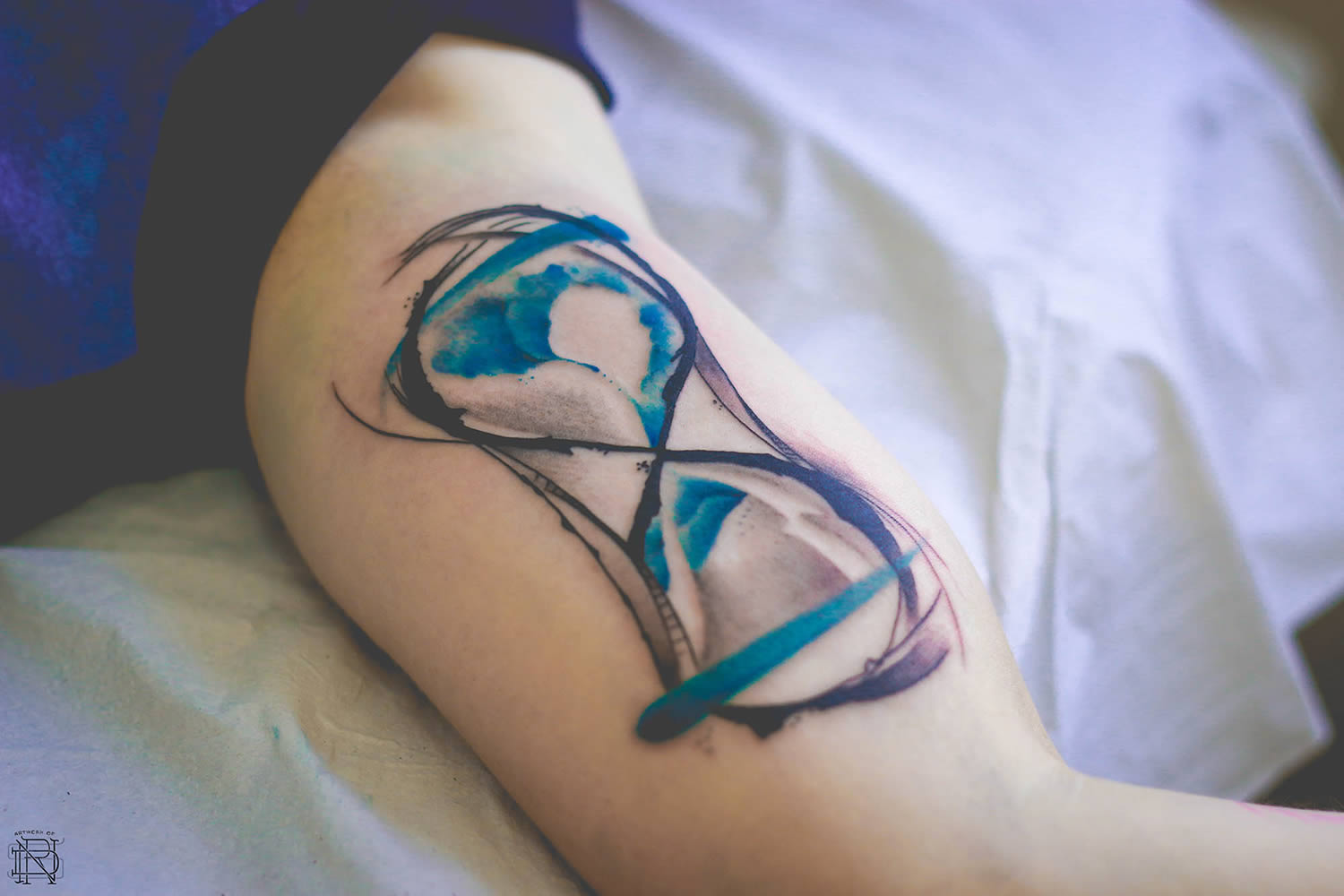 Whether he is using Ecoline inks on paper or tattoo inks on skin, D
ĂŞ

ner Silva has the watercolor-style locked down.
What was your first tattoo on a client? Did the experience go well?
My first tattoo was a huge commercial drawing with a considerable amount of detail. The procedure was done in the "madness"—I had just bought things to start out and had not even opened the packaging yet; I did not even know what to do with all this stuff. That's when I got the nerve to go forward and do it, and eventually it worked out. Both the client and I were pleased with the experience.
What have been some of your challenges creating art on skin?
At the beginning, I think the biggest challenge was the insecurity. And I didn't know what people would think of me, as a newcomer, despite that they had confidence in me. I didn't know how to handle a customer who was dealing with pain, caused by me, so that influenced the whole process. Fortunately, over time, I learned how to deal with it and that helped a lot with my evolution.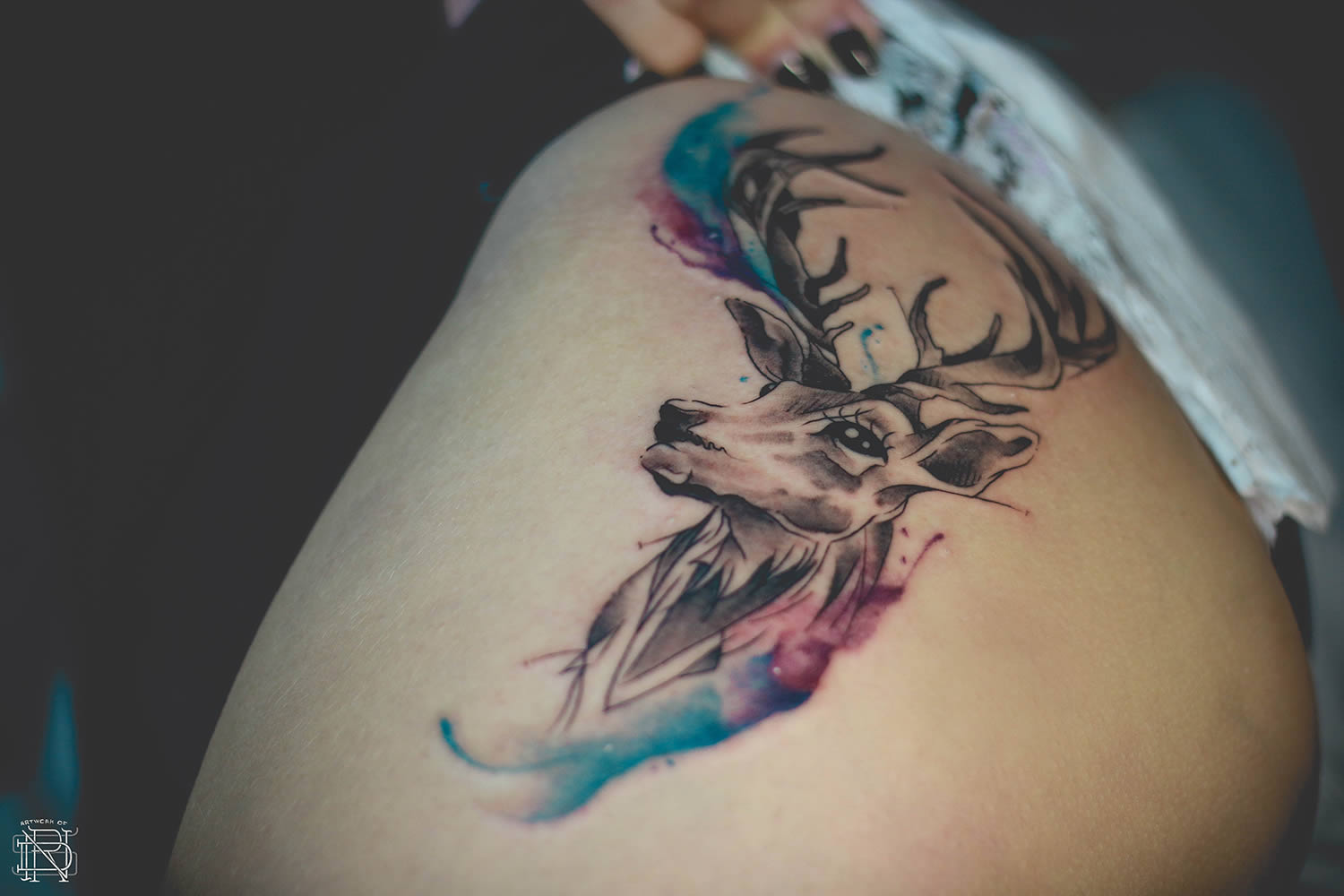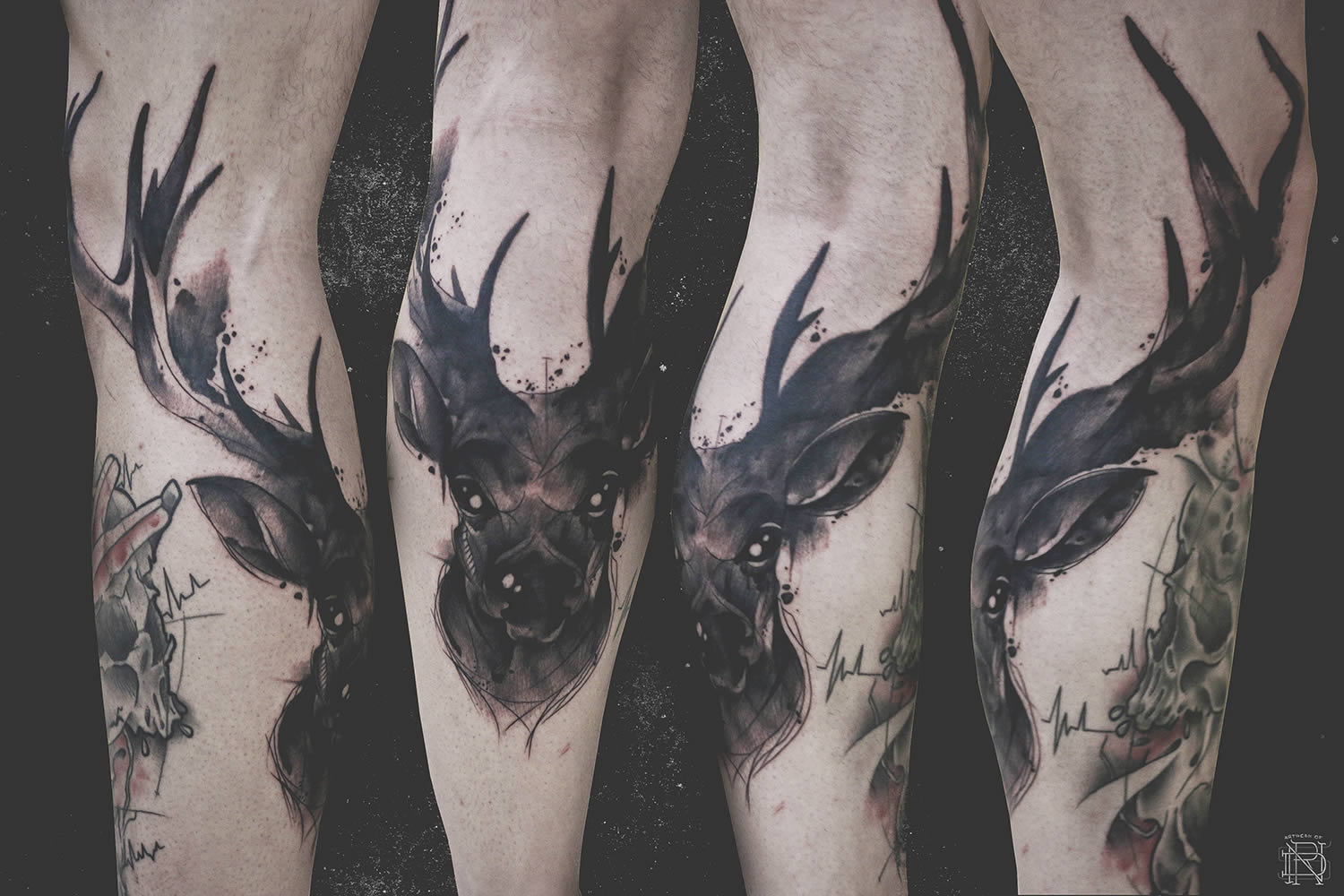 The whimsical deer and the dark art version.
Can you explain your artistic process from concept to execution?
I don't accept to develop just any project; I only work with ideas in which I feel at ease and I identify in some way. I work only on artistic creations, and I like how people who seek my work/me, give me creative freedom, without limitations.
I usually create an illustration on paper for the client's approval, and then schedule the session for the tattooing. On skin I like to be more at ease and sometimes just stop following 100% of my concept drawings, which instead allows me to adapt new brush strokes and paint splatters to the body parts being inked.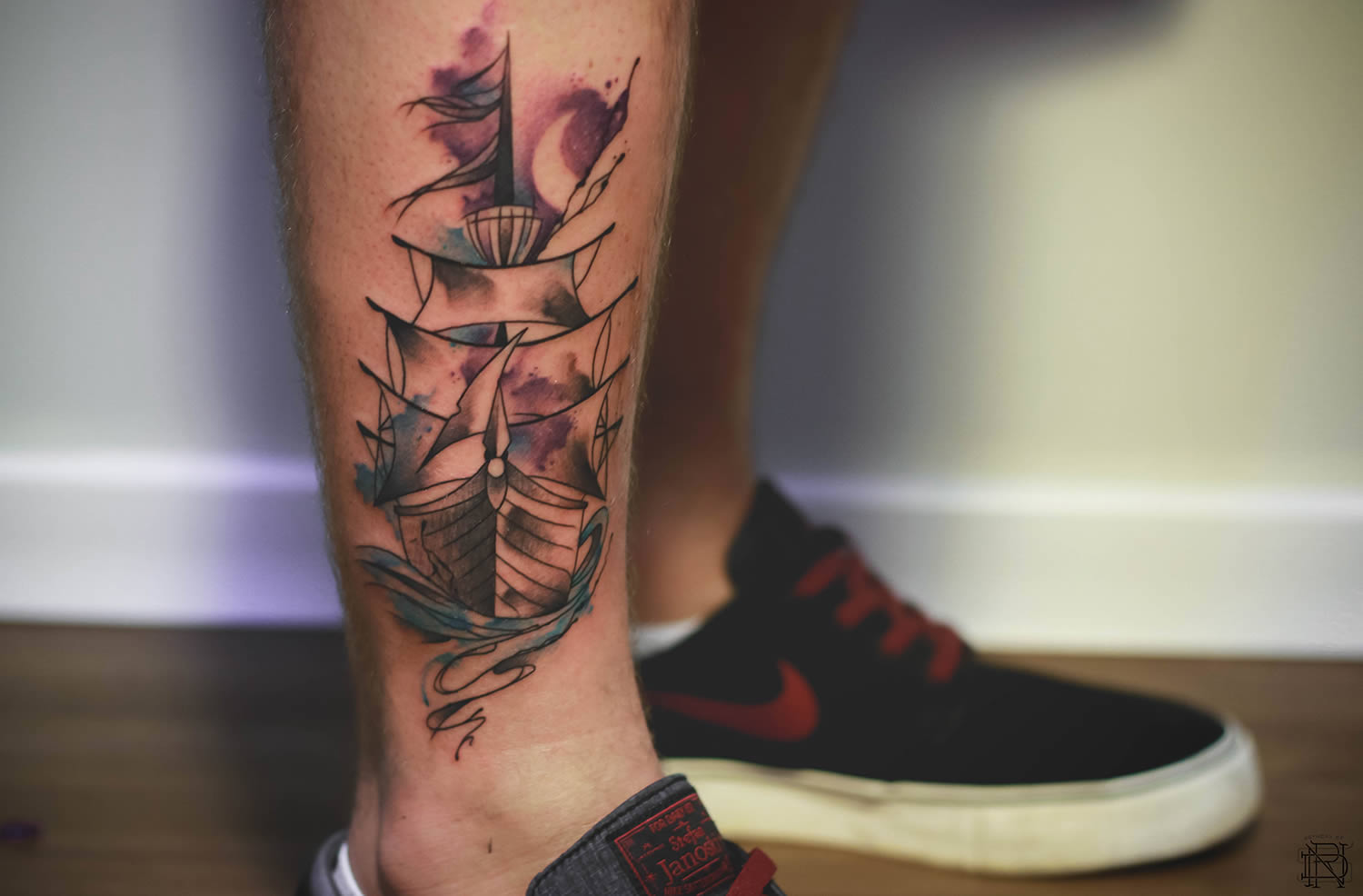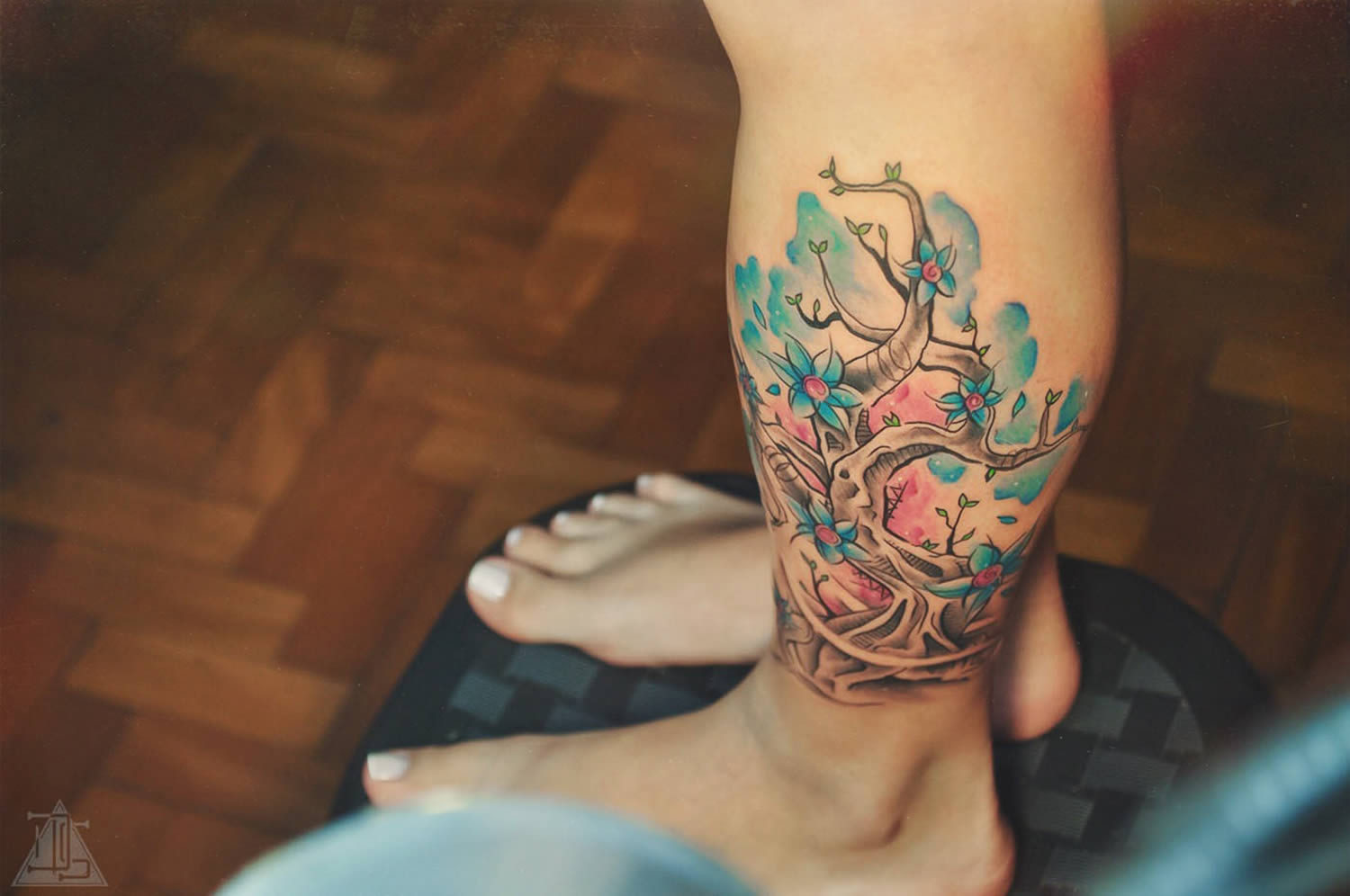 Some of his tattoos look like pretty images from Children's books.
Were you already doing watercolor art, or did you begin working in this style based on interest from the tattoo market?
I always enjoyed working with abstract art, and always liked the "trash" style. I became familiar with watercolor and it was a style I adapted to showcase my ideas based on my personal taste. I can became acquainted with the style once I began tattooing, and today, it is my method/artistic style.
Can you explain how you are able to achieve the watercolor effect with your tattoo machine?
It's a bit difficult to talk about that, but briefly, I work with almost 100% of the pigment, causing the watery effect using only lighter shades and using hand pressure, ranging from job to job.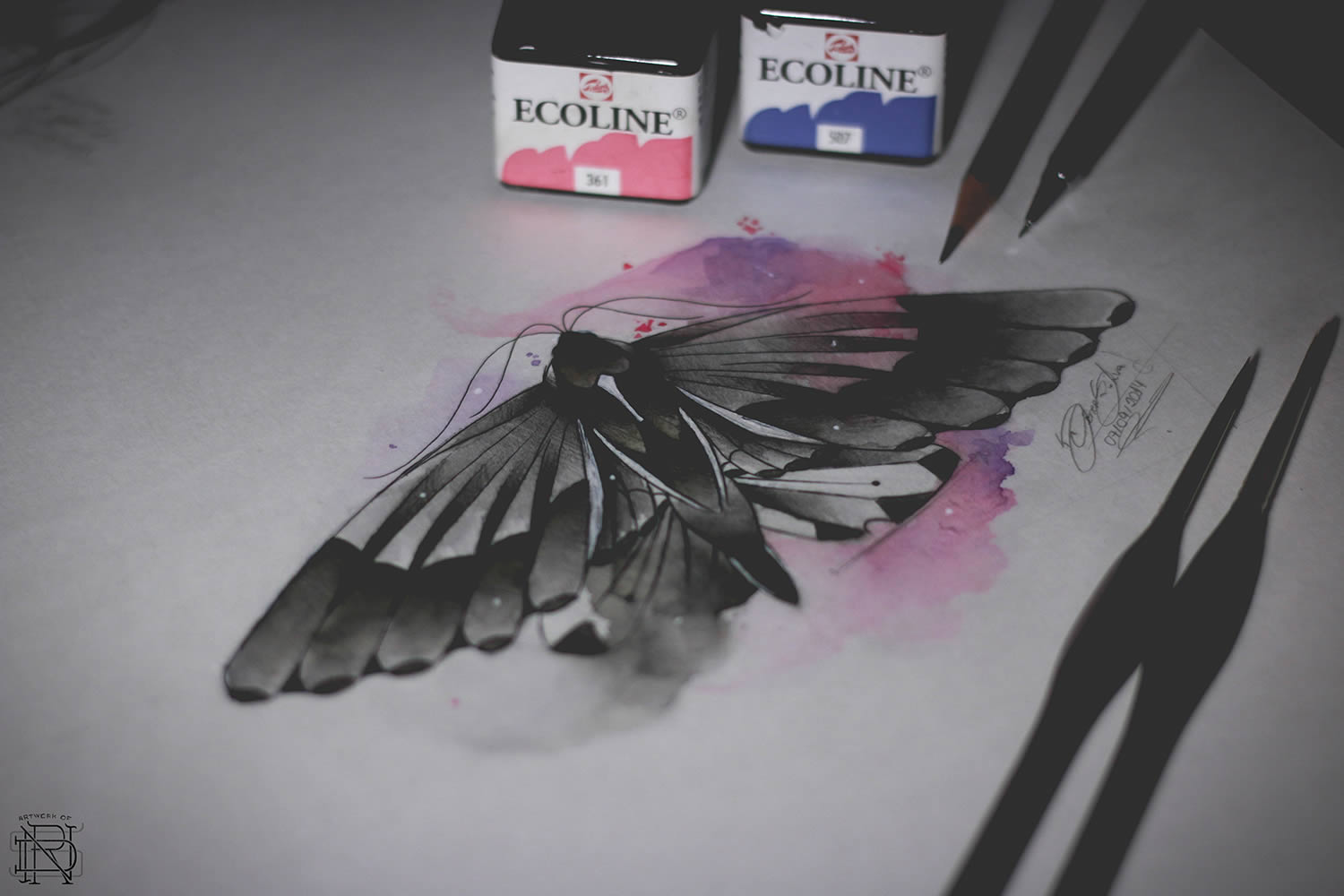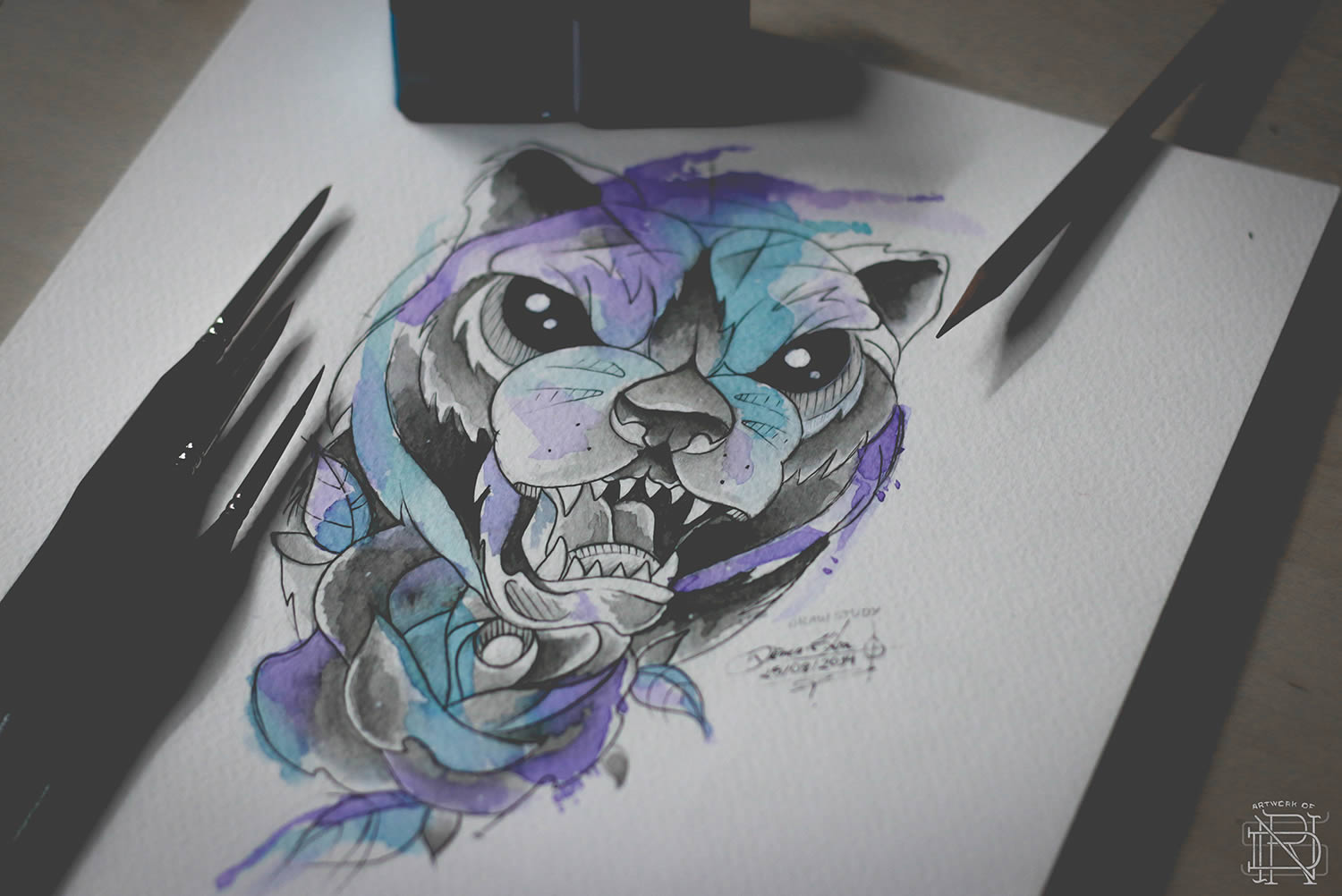 Blue, purple and magenta are frequently used colors in Silva's artwork.
What is the tattoo culture and industry like in Brazil?
Tattooing, since its origins has continued to be an expressive art form, a way to express oneself, and now simply used for aesthetic reasons. Every day, there are more studios everywhere and more admirers of this form of expression. It is apparent that there are more and more professionals dedicated to the world of tattoo, and making it a lifestyle, as an art form, and really, everything is art! Not only in Brazil, but worldwide, it is spreading out. There is gradually less prejudice, and frankly, I'm very happy about this. I like the idea of walking free on the streets, to feel that there are no bad looks, and no longer noticing a non-accepting environment.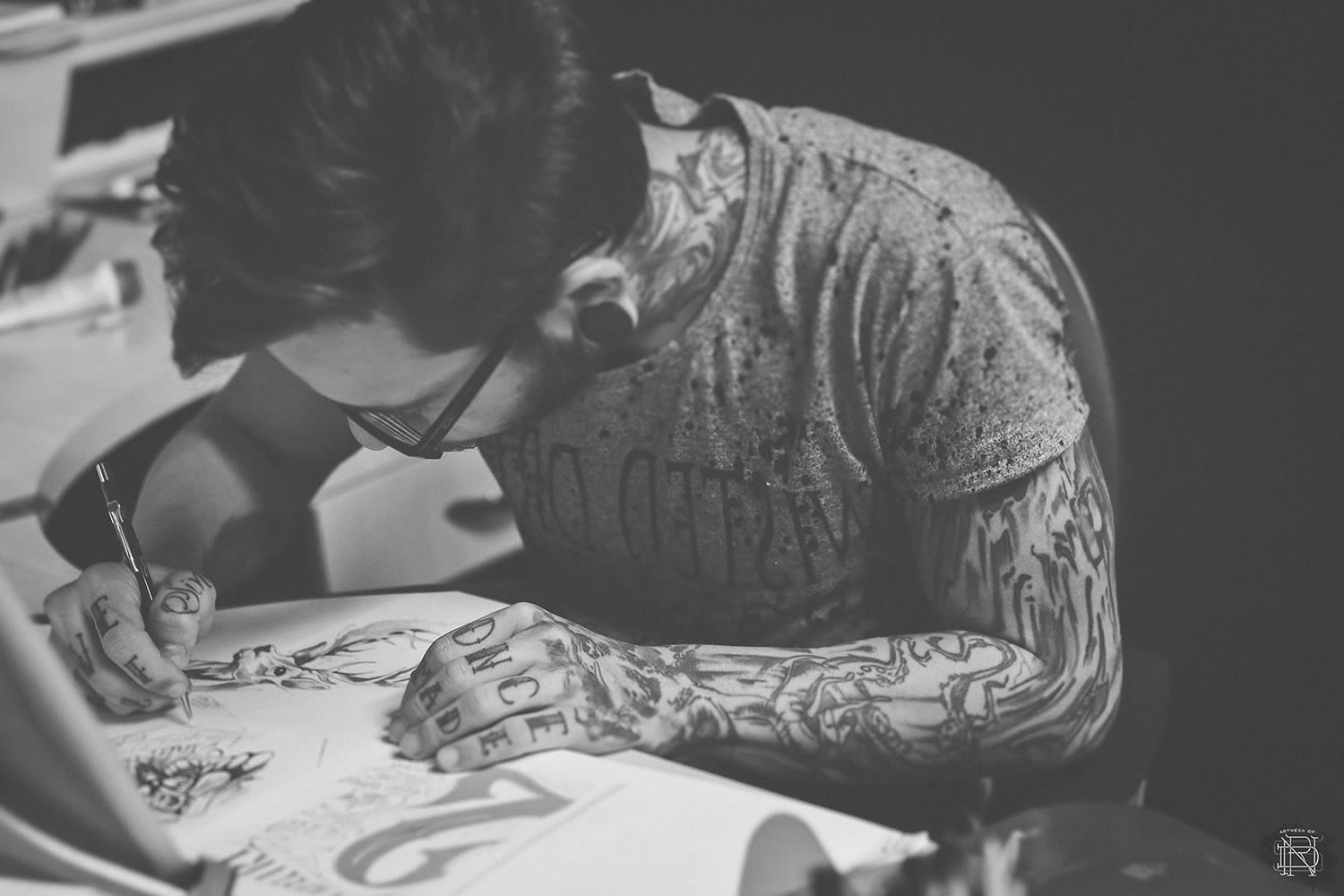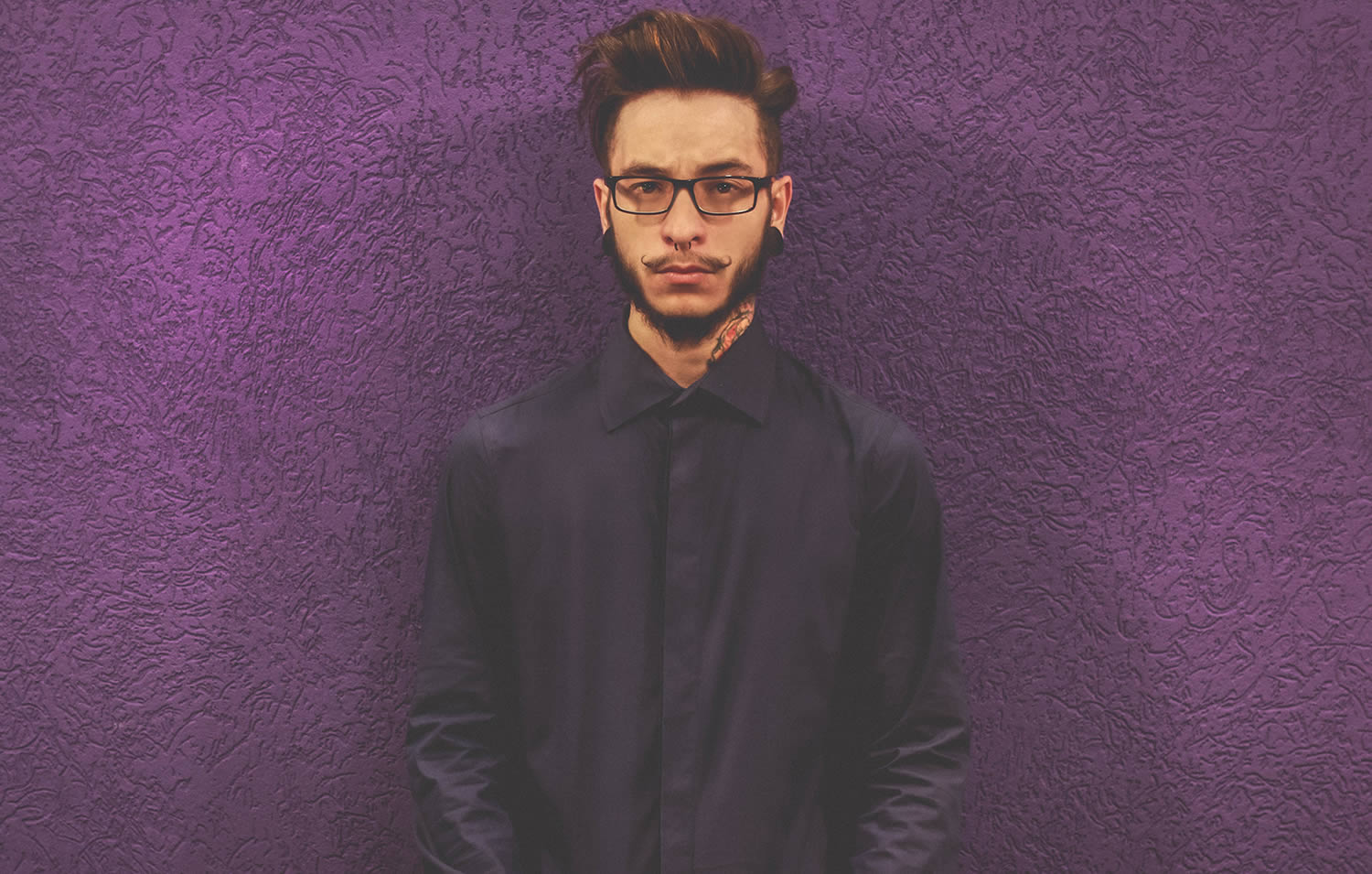 Behind-the-scenes shots of the stylish artist DĂŞner Silva.
You already have a number of tattoos on your body. Who tattooed you?
I have some tattoos on my body. My first tattoos were done by Lincoln Emiliano (Rio Claro, Sao Paulo), then a sleeve and my neck inked by Sandro Secchin (Rio de Janeiro, RJ). Later on, I was tattooed by my apprentice, Cristiam Trova (Rio Claro, SP). And soon I'll be getting more tattoos done on my body.
You have a great visual style of your own. Do you think artists need to present themselves as part of the branding of their business?
I unintentionally learned that it works—that it can be a way to attract interest. Before becoming a tattoo artist, I had only a few tattoos on my body and people would already approach me on the street to ask if I was a tattooer. Despite that, I don't think it's necessary that tattooers be tattooed; I think there are several other ways to attract business and present each type of work.
Images © Dener Silva