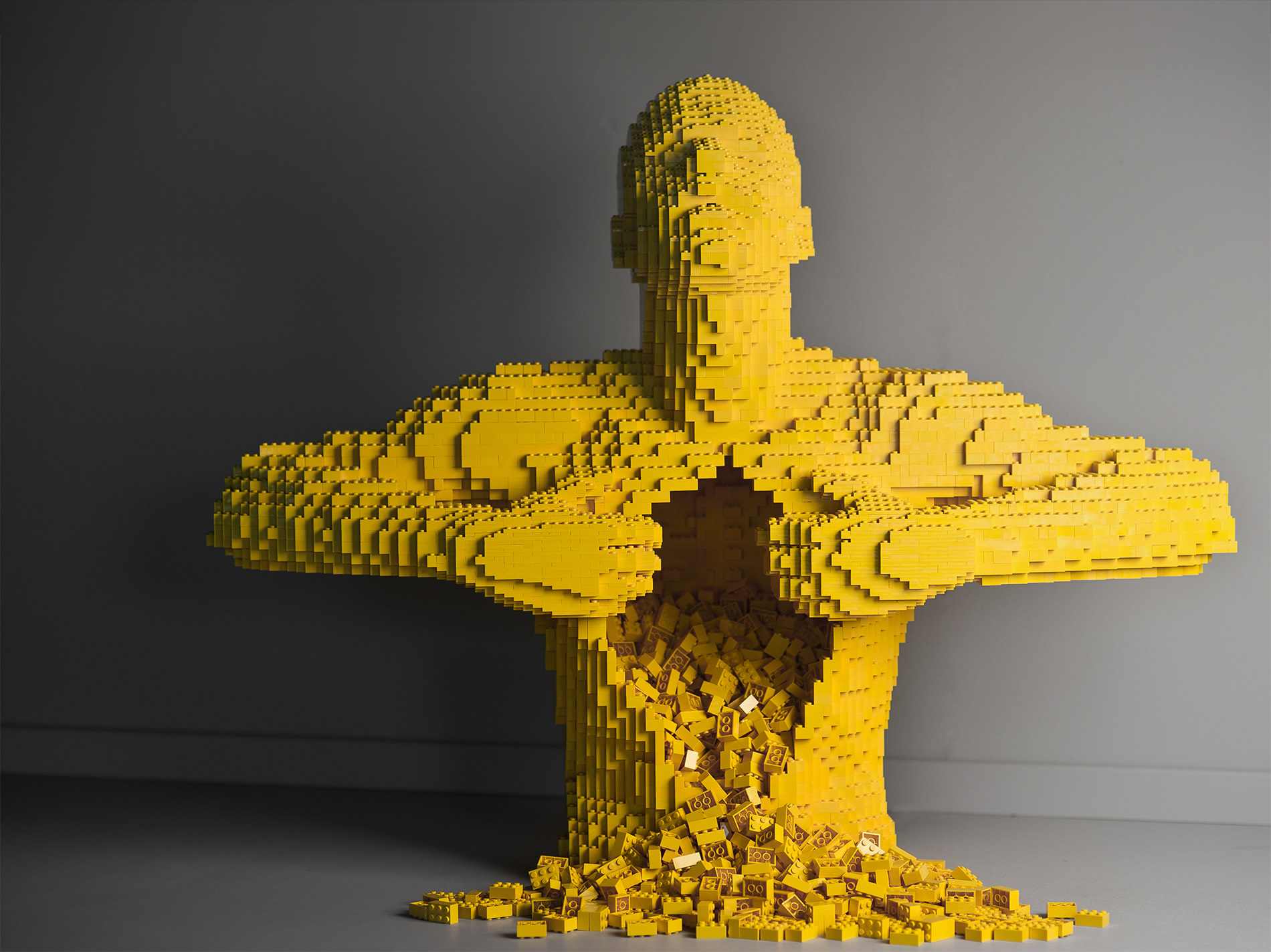 When most of us think of Lego, we remember a childhood spent sat on the living room floor creating multicoloured and structurally unsound homesteads. We remember spaceships and castles and cottages and sculpted gardens, and we enjoy the happy breath of nostalgia before continuing with our block-free adult lives.
For some people though, Lego is not just a relic of childhood, but is rather a medium for expression and a tool for artistic creation. Some use it to create thought-provoking sculptures, while others attempt architectural feats and recreate skyscrapers and palaces.
Top: Nathan Sawaya's "Yellow" is an iconic piece of Lego art. Photo By Erica Ann.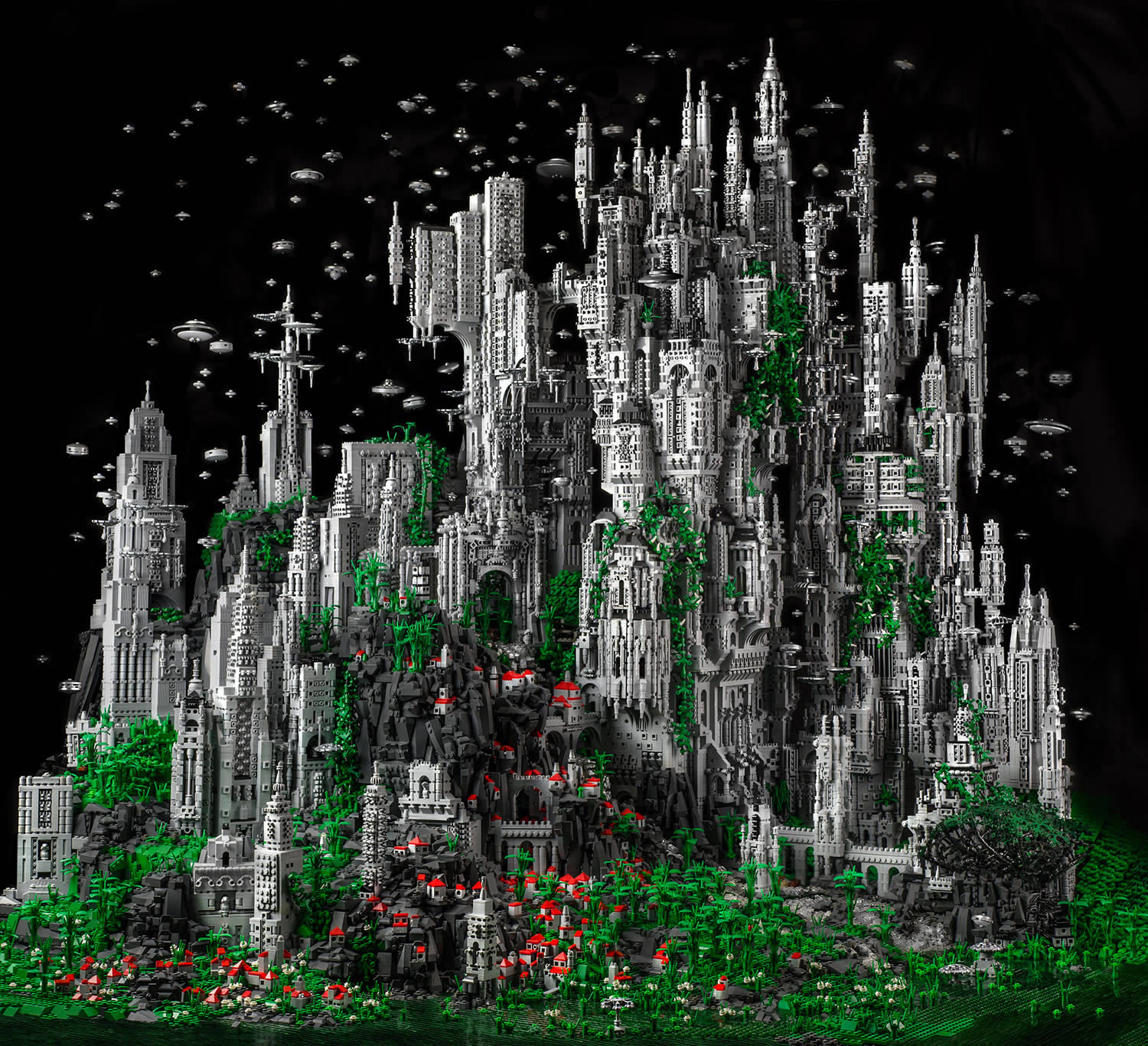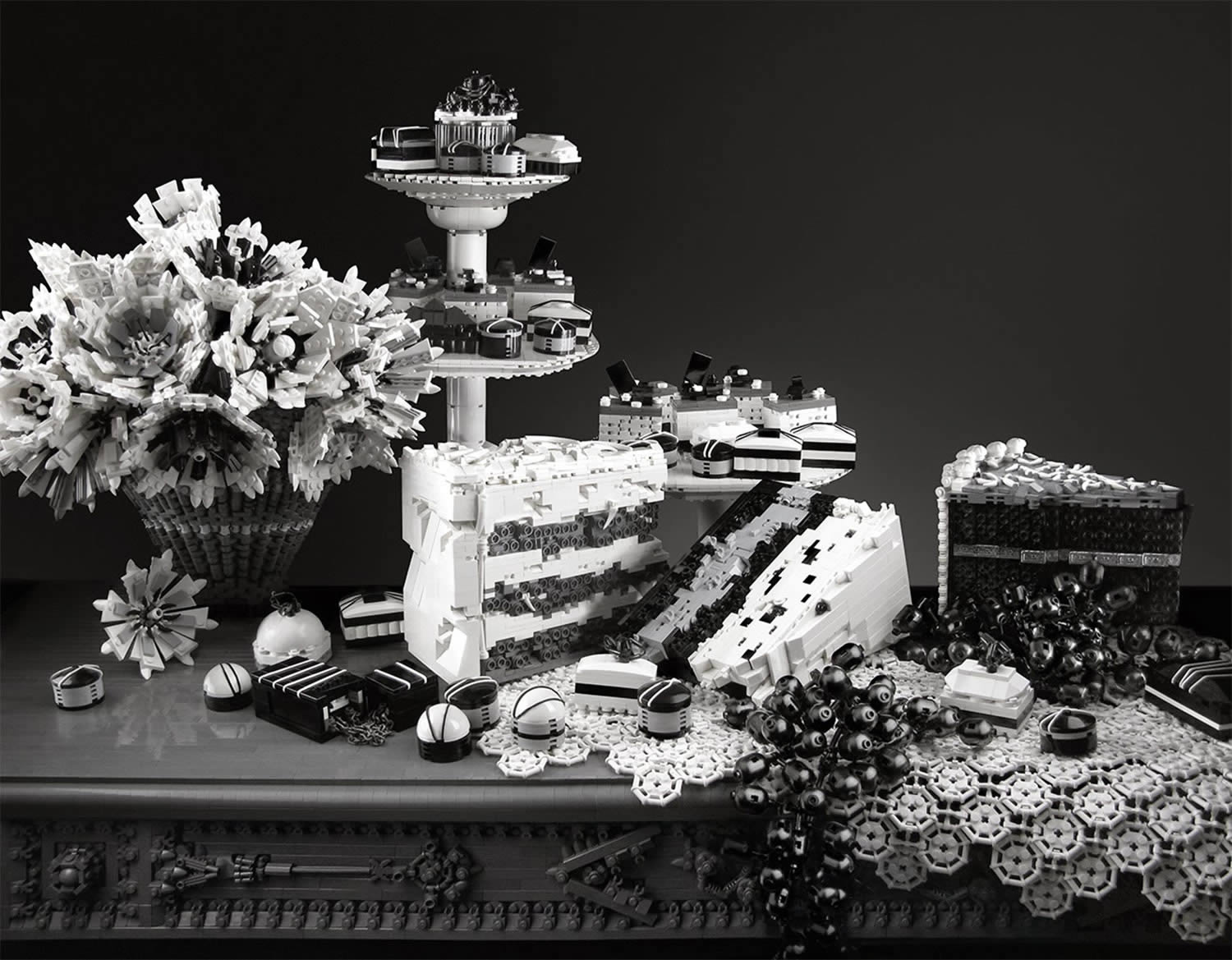 Mark Doyle's "Millennial Celebration" (shown at top) defies belief with its size and grandeur, while "Sickening Sweet" (at bottom) looks tasty but isn't for eating.
Mike Doyle
Mike Doyle is known for his fantastic compositions and vast creations. He's been featured on Illusion before (you can see his wonderful Lego Victorian house here), and has written and published a book, titled "Beautiful Lego." His work has been exhibited around the USA, and, in addition to his Lego website, he has created a blog devoted to the science-fiction world of Odan. Indeed, the huge creation pictured ("The Millennial Celebration of the Eternal Choir at K'al Yne") was created to fit into this sci-fi universe. The second piece pictured, "Sickening Sweet," portrays a bizarre still-life of artificial cakes and sweets, captured in monochrome.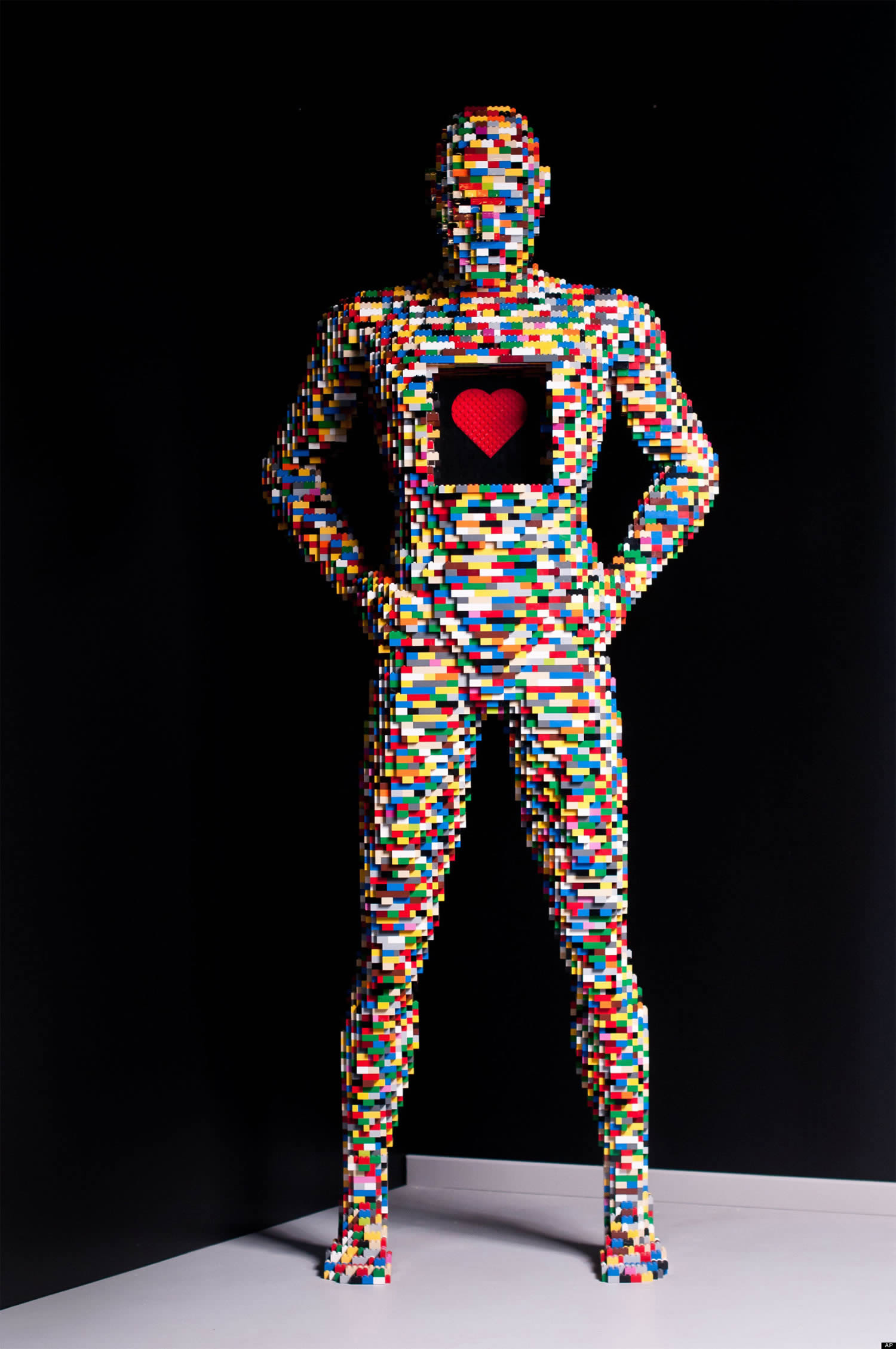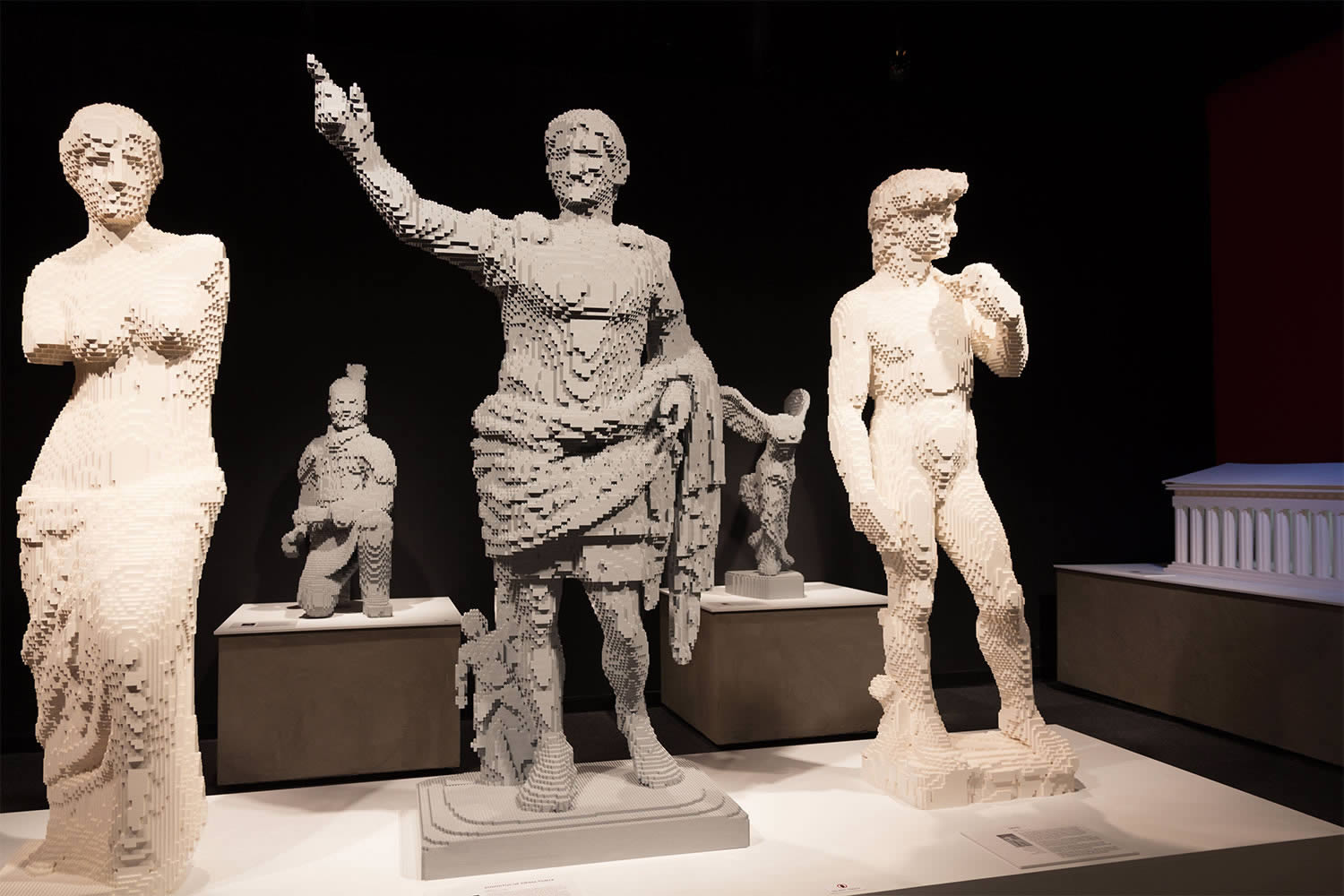 Sawaya grants his plastic man a beating core, and his attention to detail is astounding in his classical reconstructions.
Nathan Sawaya
Nathan Sawaya is no stranger to artistic fame, his Lego creations having garnered substantial critical praise in the past. Without a doubt the most successful Lego artist working today, his exhibition "The Art of the Brick" has toured London, Amsterdam, and is currently in Dublin. His art pieces are unique in that they are not merely gigantic or complex, but are also thought-provoking, striking, and aesthetically beautiful. We've pictured his fantastic all-brick reconstruction of the Venus de Milo, David, and Augustus, as well as a faceless sculpture built of coloured bricks with its heart laid bare.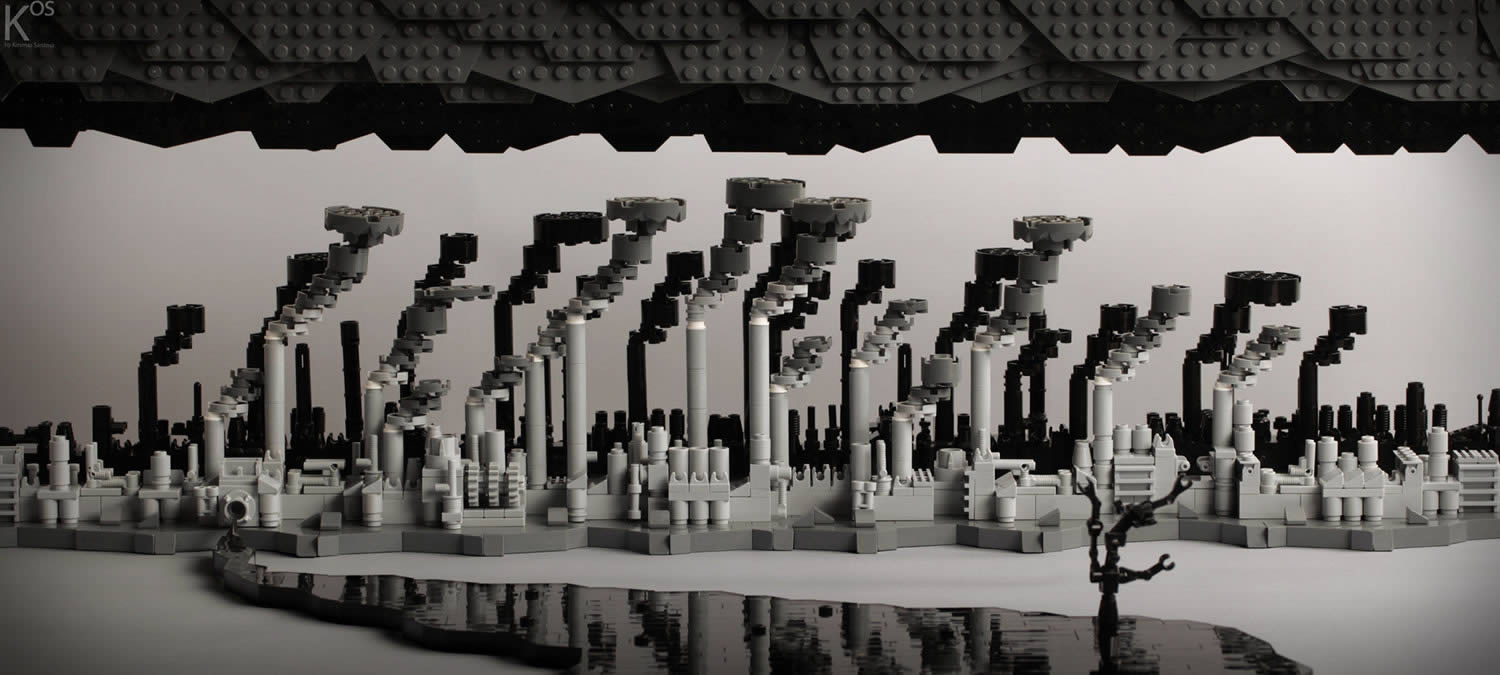 Futuristic warfare meets the landscapes of WW2 in Santosa's "Titanfall: World War 2" (at top). Oil meets earth meets air in his sombre piece, "The Factory" (bottom).
Kosmas Santosa
We don't know much about Indonesian graphic designer and Lego sculptor Kosmas Santosa, so his models have to do the talking. He has a vast online portfolio of creations, ranging from fandom-fuelled replicas to vast, original pieces. His "The Factory" (shown above) is a brilliant composition with a powerful message that uses Lego pieces in innovative ways to make features like smoke, oil, and clouds. On the over side of the spectrum we have his "Titanfall: World War 2," a piece of fan service depicting a gigantic robotic mech from the recent video game Titanfall. The monstrous machine has been placed in a ruined townscape taken out of a World War 2 battleground—an odd juxtaposition that works well here.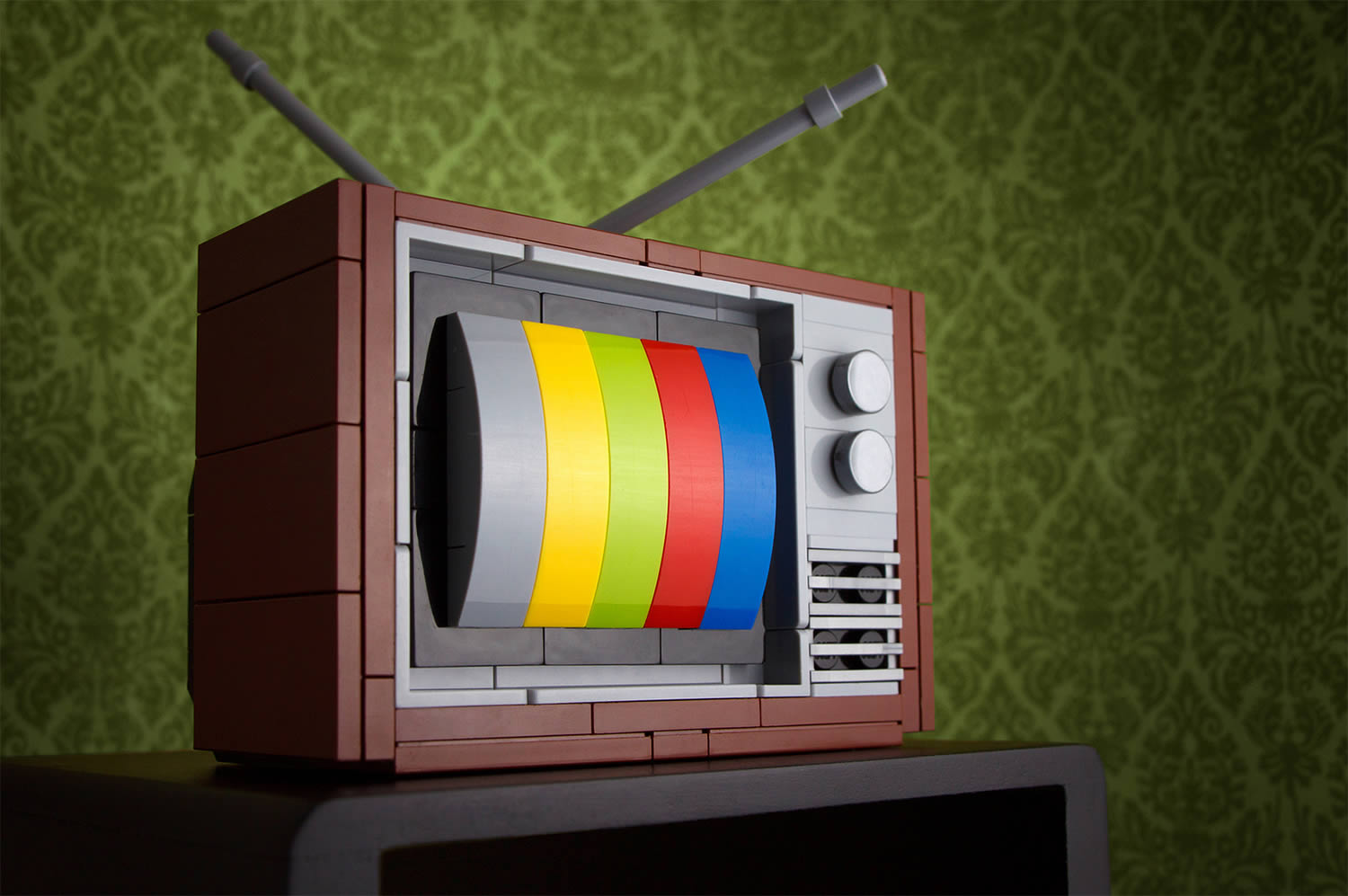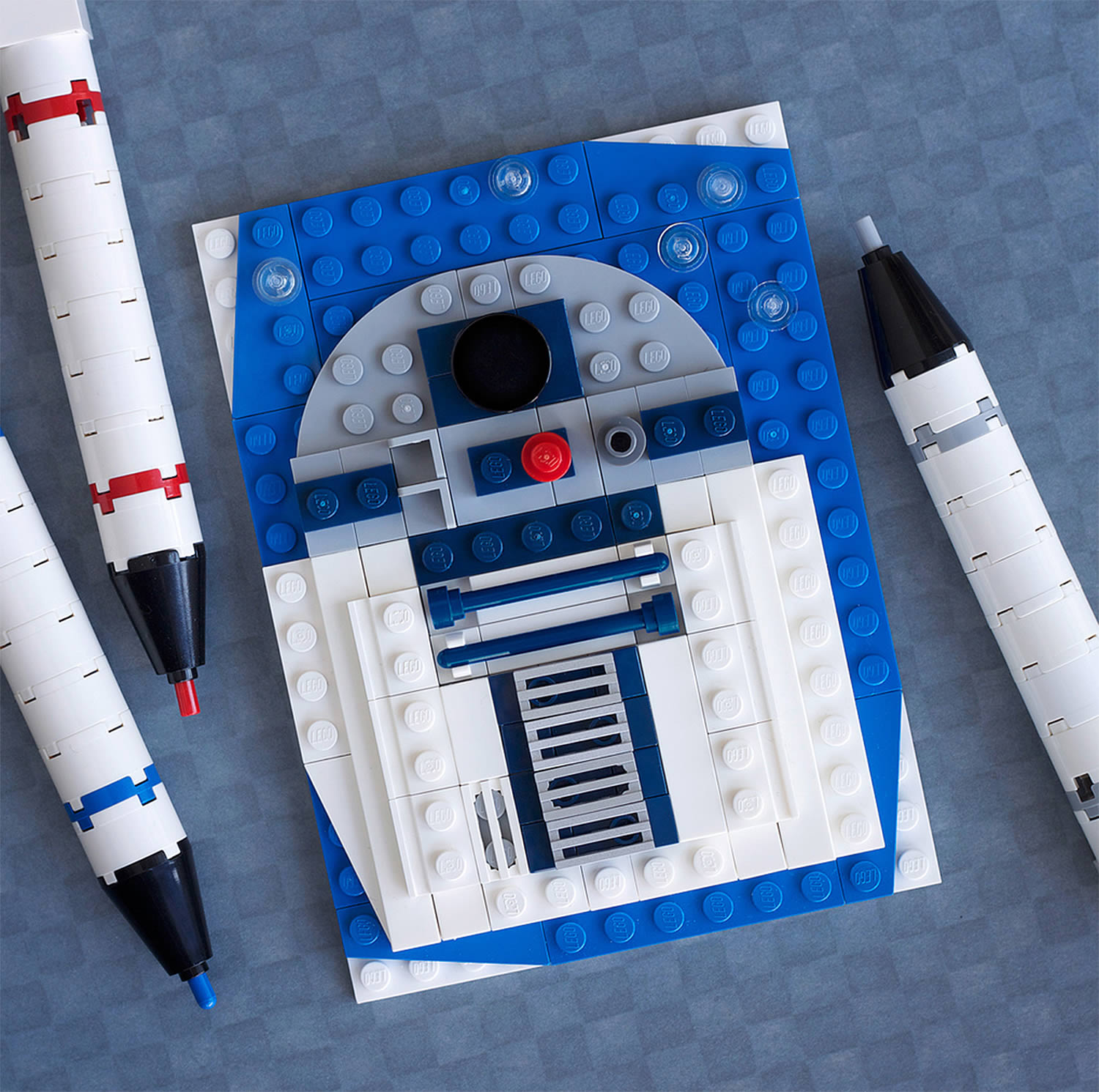 McVeigh's "57 Channels and Nothing On" is all too familiar, and "Bleep Bloop" grants Star Wars' R2D2 yet another new form.
Chris McVeigh
Chris McVeigh is a Canadian author, illustrator, photographer, and Lego builder. His Lego sculptures often offer iconic reconstructions of cultural symbols, as we can see in "57 Channels and Nothing On" and "American Gothic," the latter his version of Grant Wood's famous painting. He is, however, not above fan service having recreated in mosaic many pop-culture characters, as in "Bleep Bloop." His work often features custom blocks and other parts, and he has made a vast collection of Lego building guides available for free (for personal use) on his website. Talented and gracious: a good combination.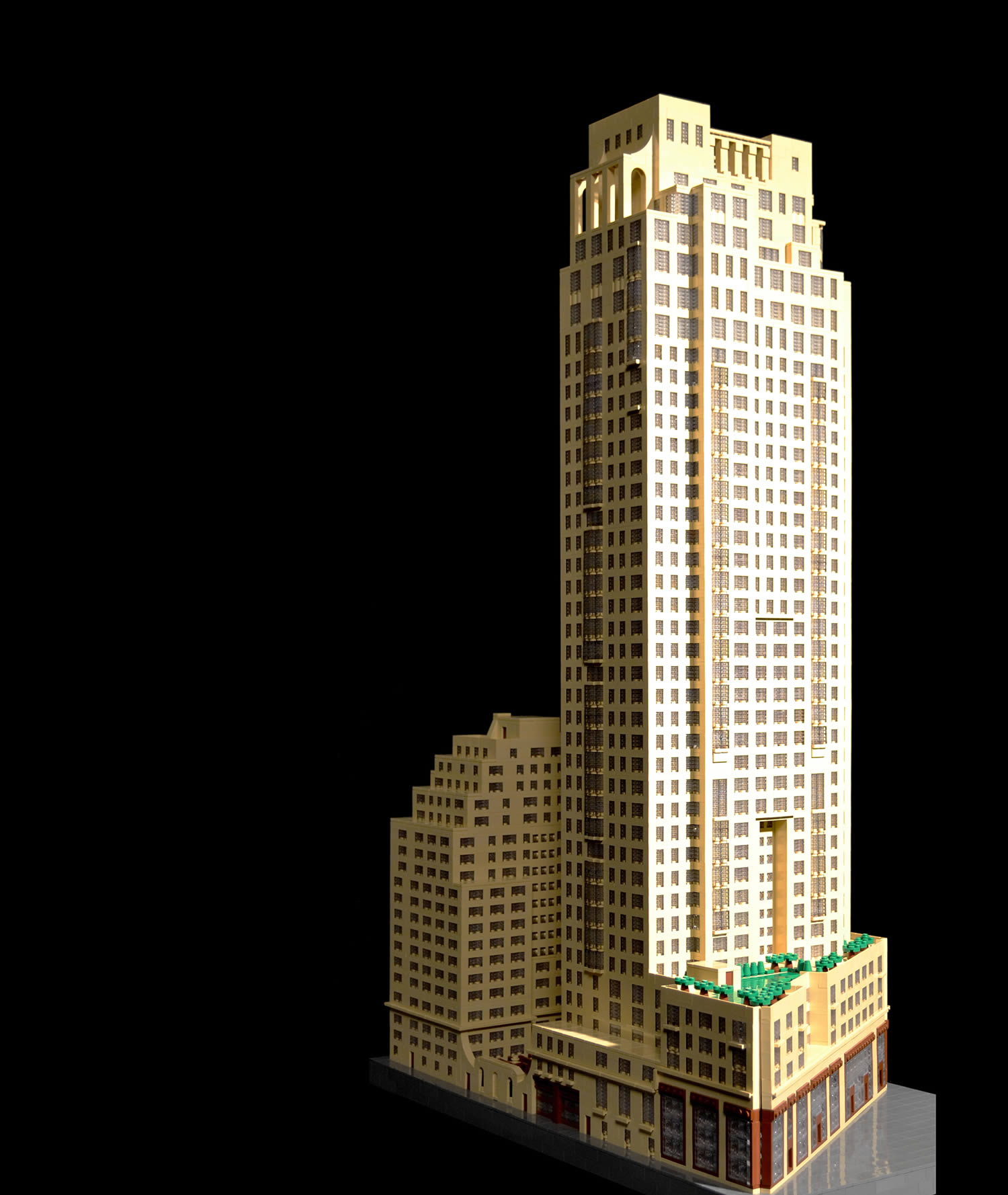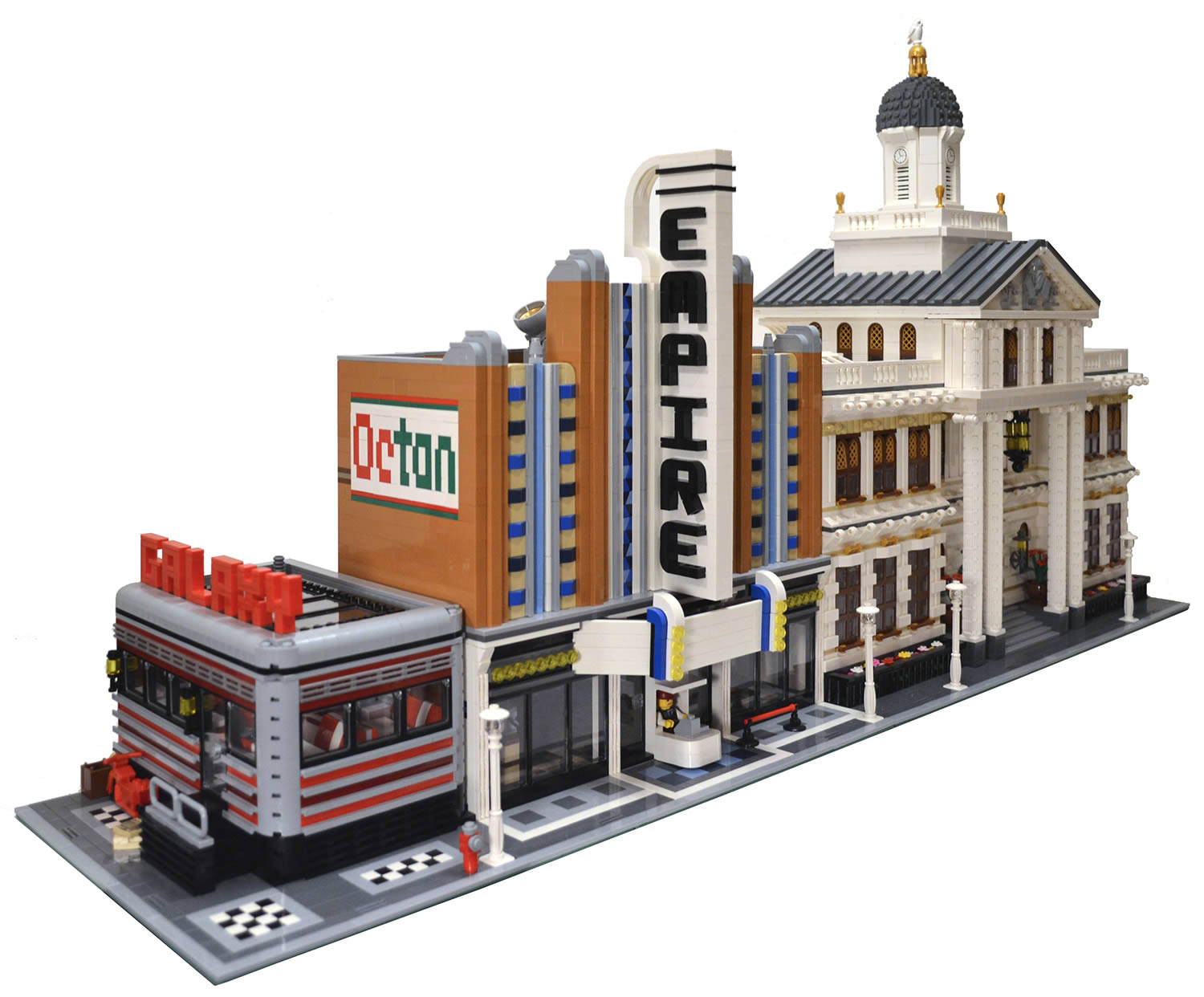 Gryzwacz's "15 Central Park West" is a monolithic and brilliantly observed giant. "
" is a great place for a family night out.
Jonathan Gryzwacz
Known also by his Flickr name sonicstarlight, Jonathan Gryzwacz is a talented Lego builder who seems to have a knack for creating large, cohesive, and realistic buildings. Many of his buildings are designed to fit into larger compositions, and it is clear that they are painstakingly constructed along strict guidelines, and are surveyed with a very critical eye. For example, his "Bricklyn" buildings are designed to fit into a Lego city that identifies Brooklyn as its style model. The "Mini Galaxy Diner and Empire Theater" (see above) is an intricate and impressive construction that must have taken hours of observation and labor to achieve. Taking things a step further, his gigantic "15 Central Park West" has been exhibited in Washington D.C., and is an incredible example of Lego architecture at its best.
Images © respective artists