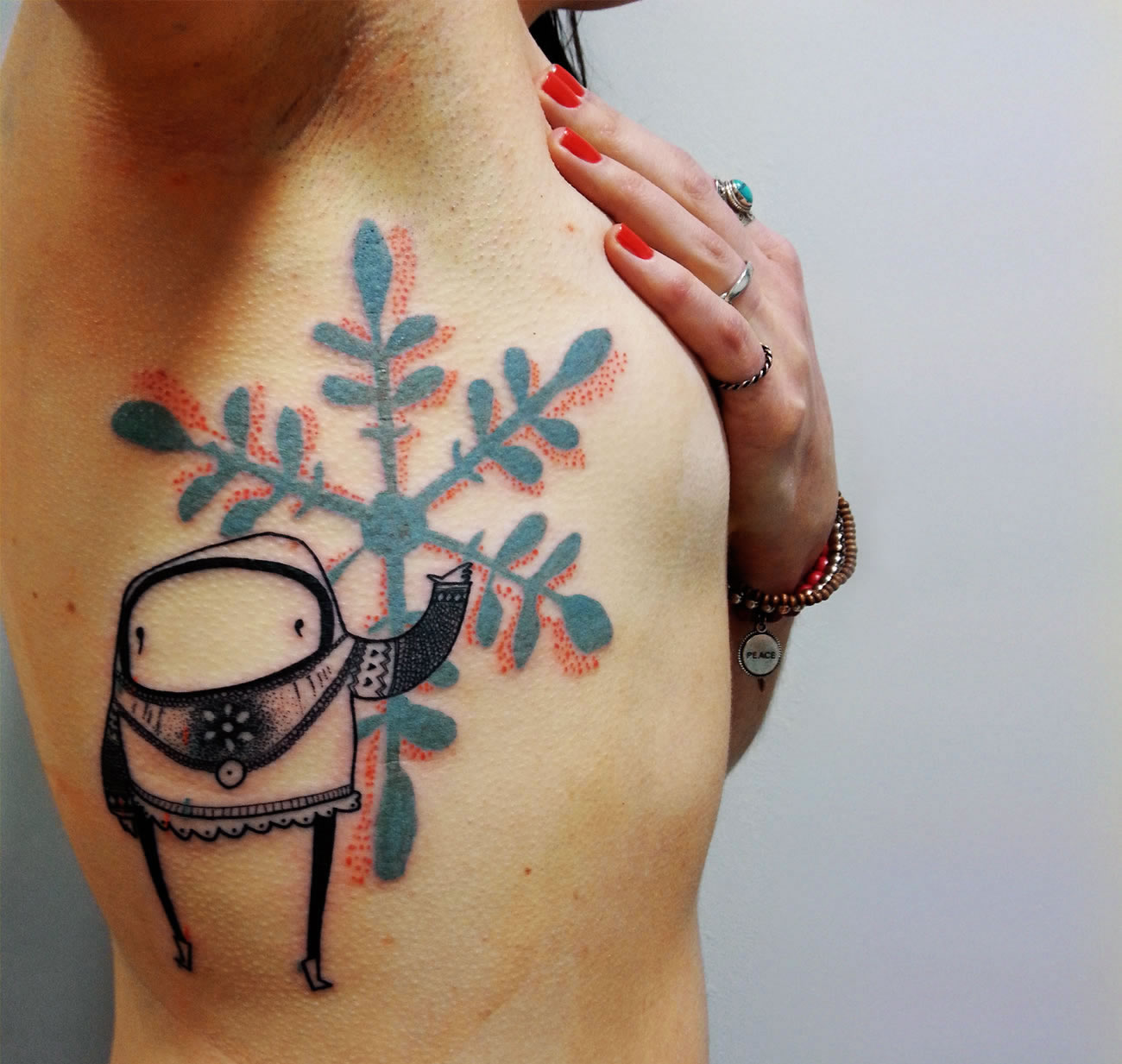 With fine art tattoos trending worldwide, great artists are booked solid for months. So here's a pro-tip, for anyone frustrated and stuck on a wait list: keep an eye out for newcomers! 
At every great shop around the world, you can strike gold with a rising tattoo apprentice or new resident artist. It's the perfect time to catch a tattooer: they have the talent, but not the fan base… yet. Book them while they're hot!
Top: Festive winter pixie by Bouits.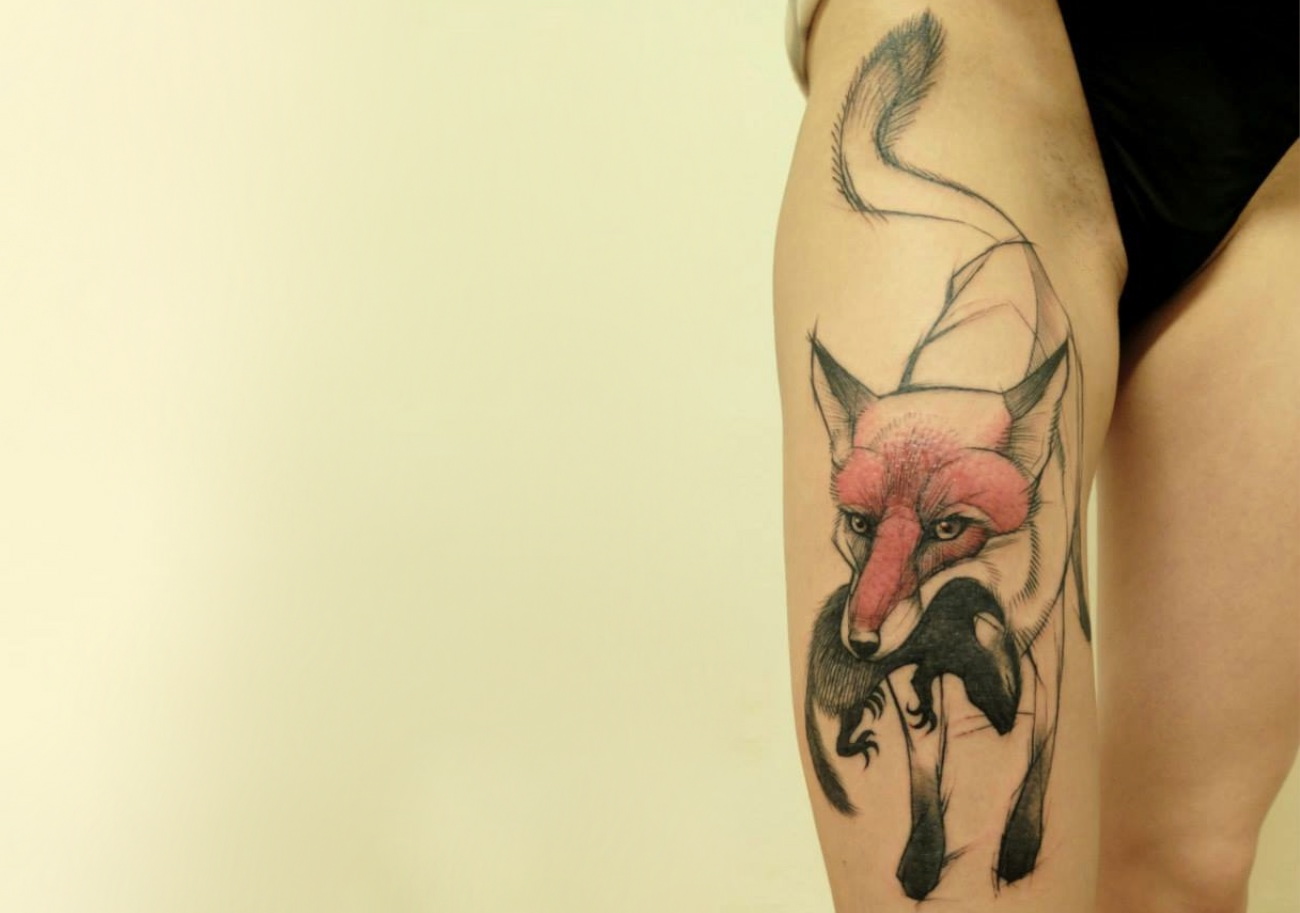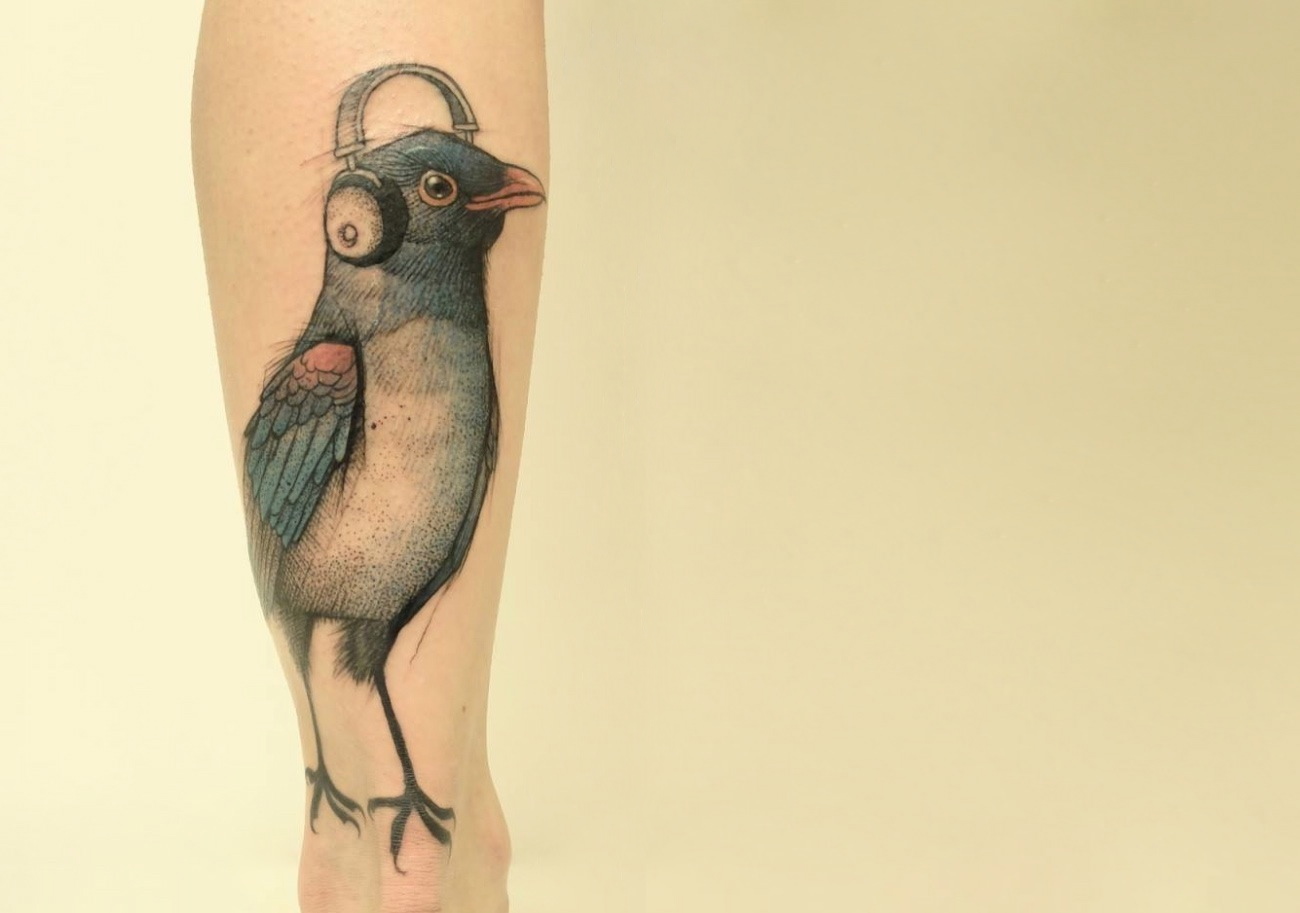 Hunting fox and party pigeon by Jan Mráz.
Jan Mráz
A rooster sipping tea, a dancing chickadee, Jan Mráz's playful sketches give skin personality. After years of success as an illustrator, painter and street artist, Jan's picking up the rotary machine. For all the lucky patrons passing through Prague, Jan just joined the talented team of Bobek Tattoo.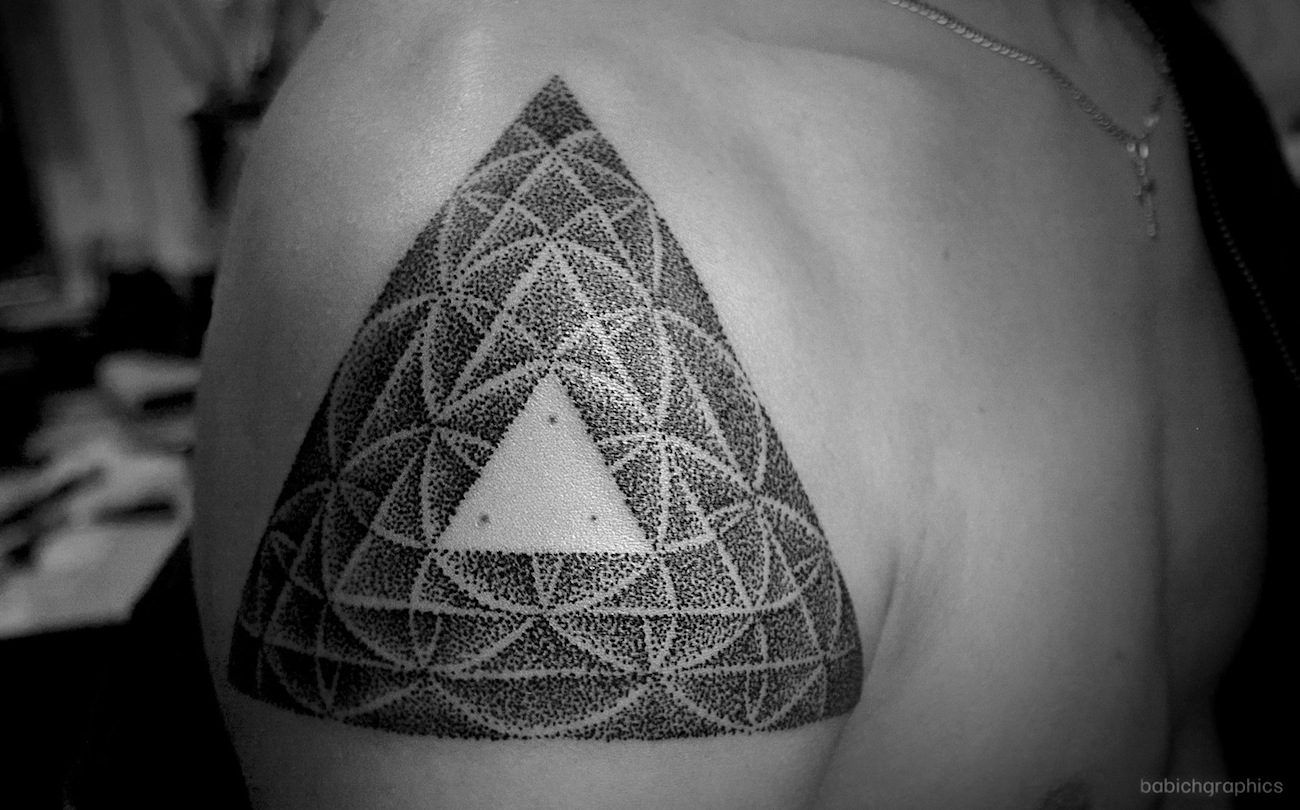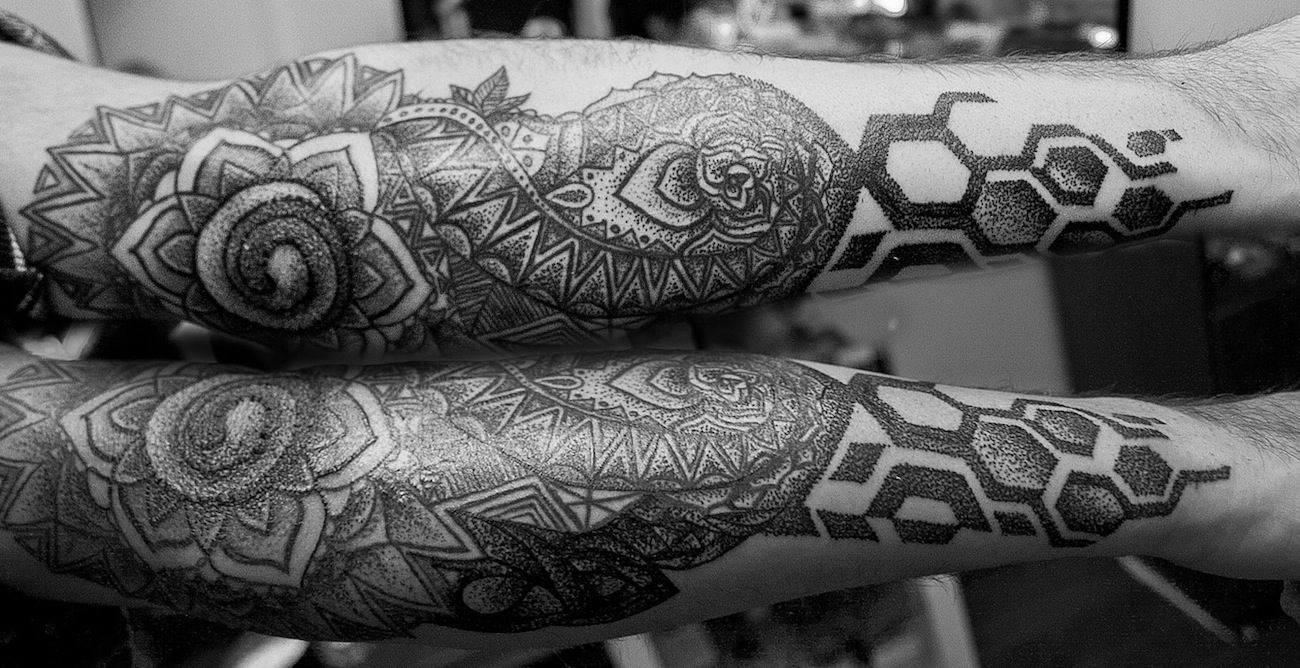 Sacred geometry dotwork designs by Vladimir Babich.
Vladimir Babich
Vladimir Babich smashes onto the scene in 2014 with flawless, pro-level dotwork skills. Pointillism usually takes years to perfect, but Babich is a natural with mere months of training. He keeps the focus on simplicity, sacred geometry, and Southeast-Asian-inspired artwork. Kicking off his career with such a strong start, there's no doubt Babich is about to blow up.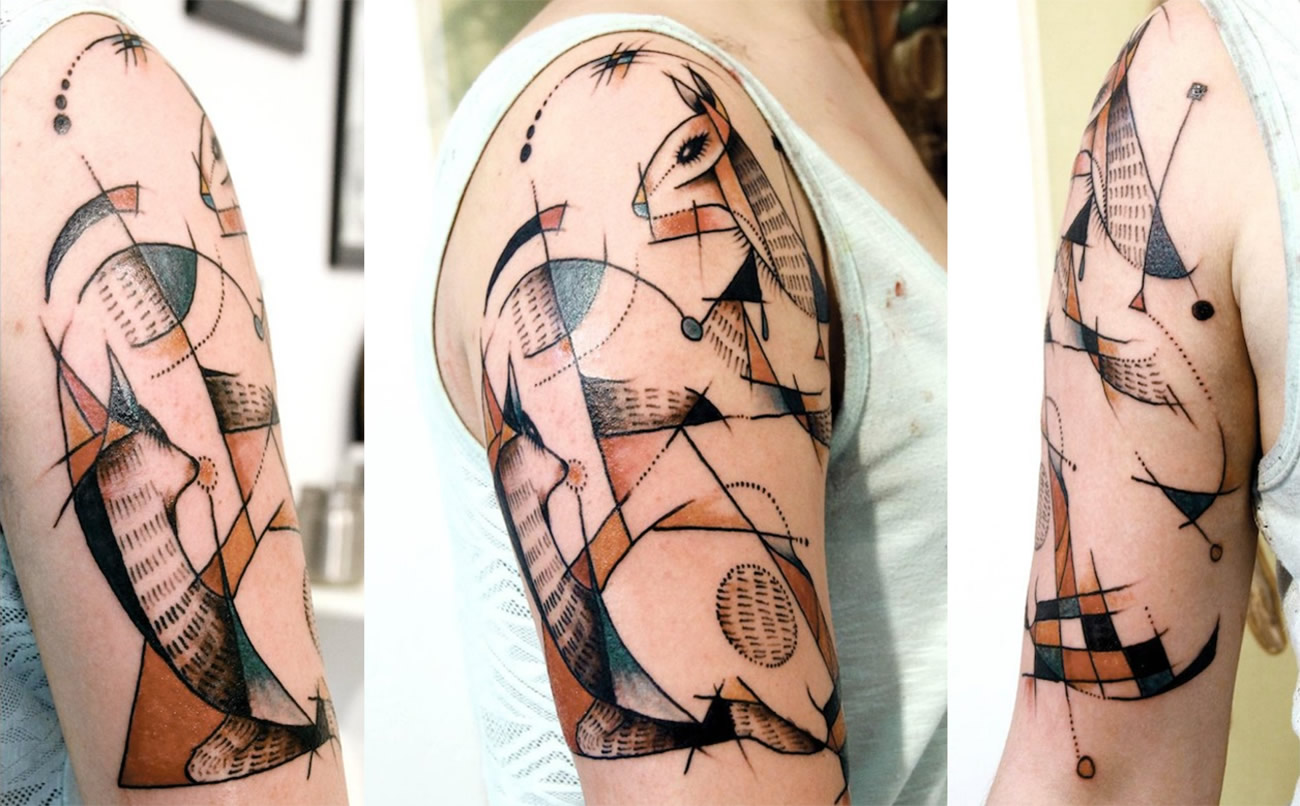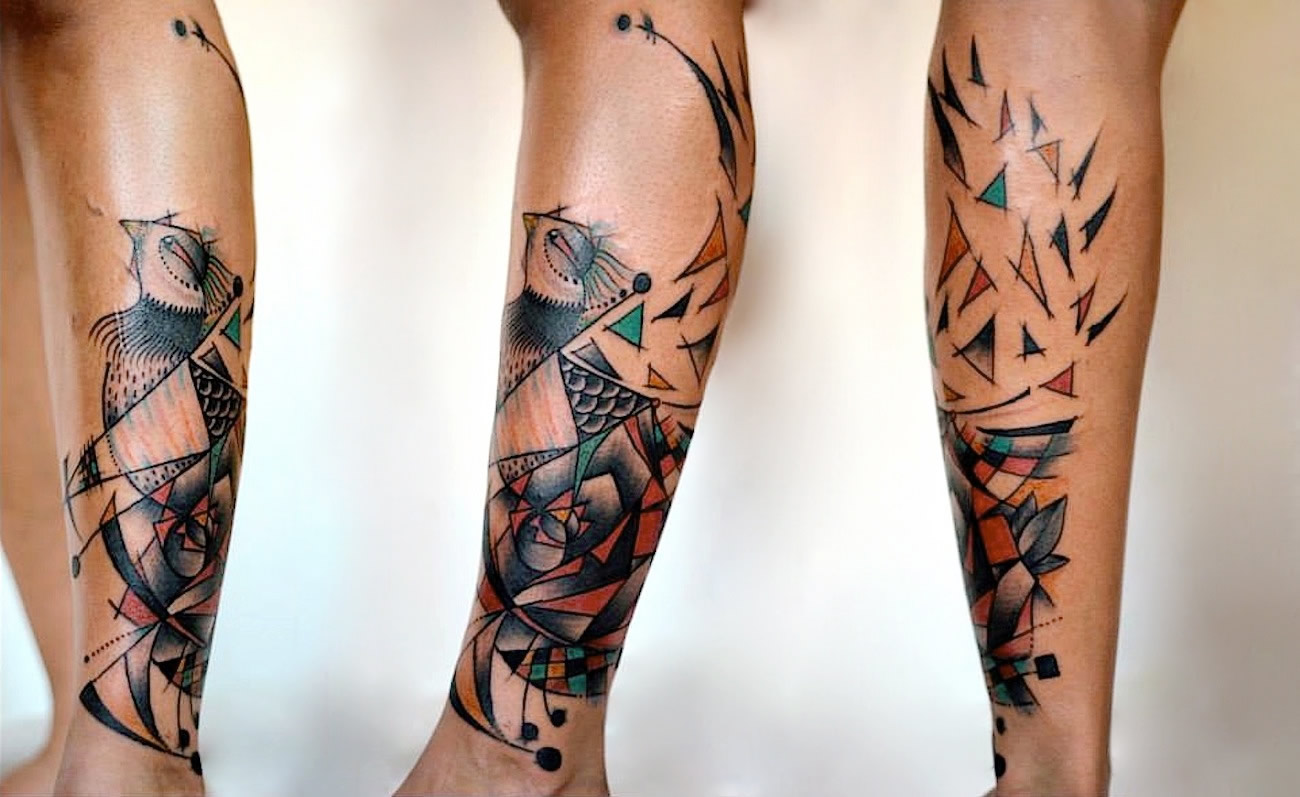 Cubist rabbits and rose-peacock by Alejandro Ferrer Acosta.
Alejandro Ferrer Acosta
If Picasso had a lovechild with Sailor Jerry, his name would be Alejandro Ferrer Acosta. By playing with abstract and cubist designs (all in the key of vintage 2-D), he brings new life to the old school scene. While other artists feud over traditional ink vs. modern body art, Acosta merges the best of both worlds to create his signature style. Formerly the apprentice to Qbos, he now tattoos full-time in Madrid and Barcelona.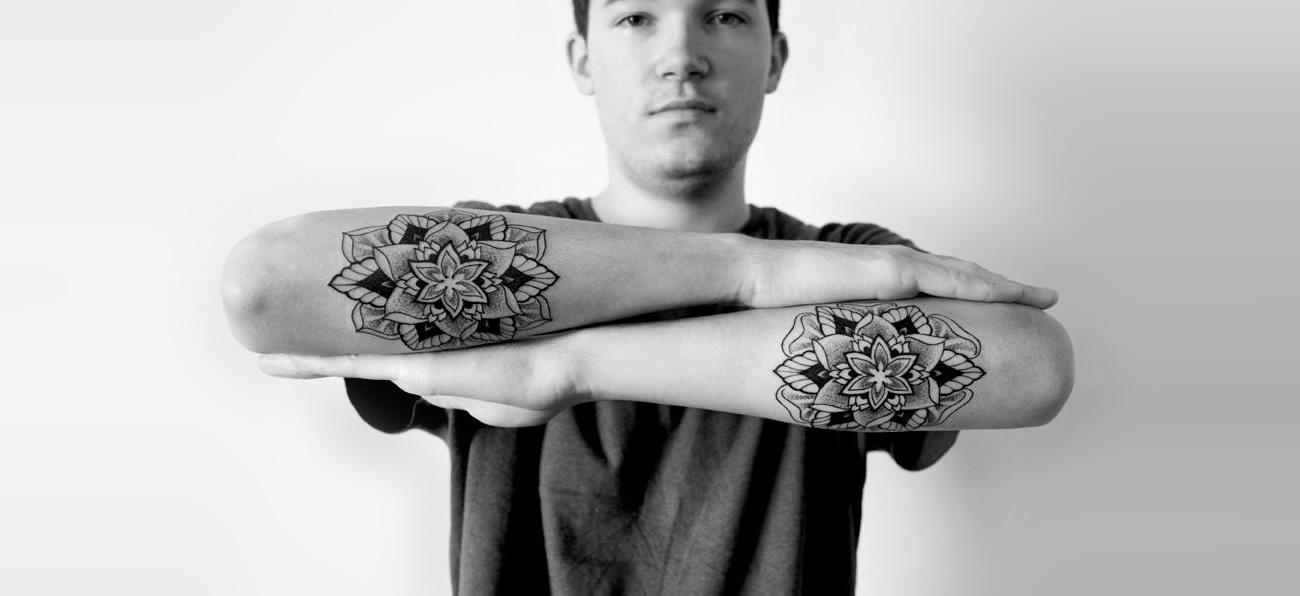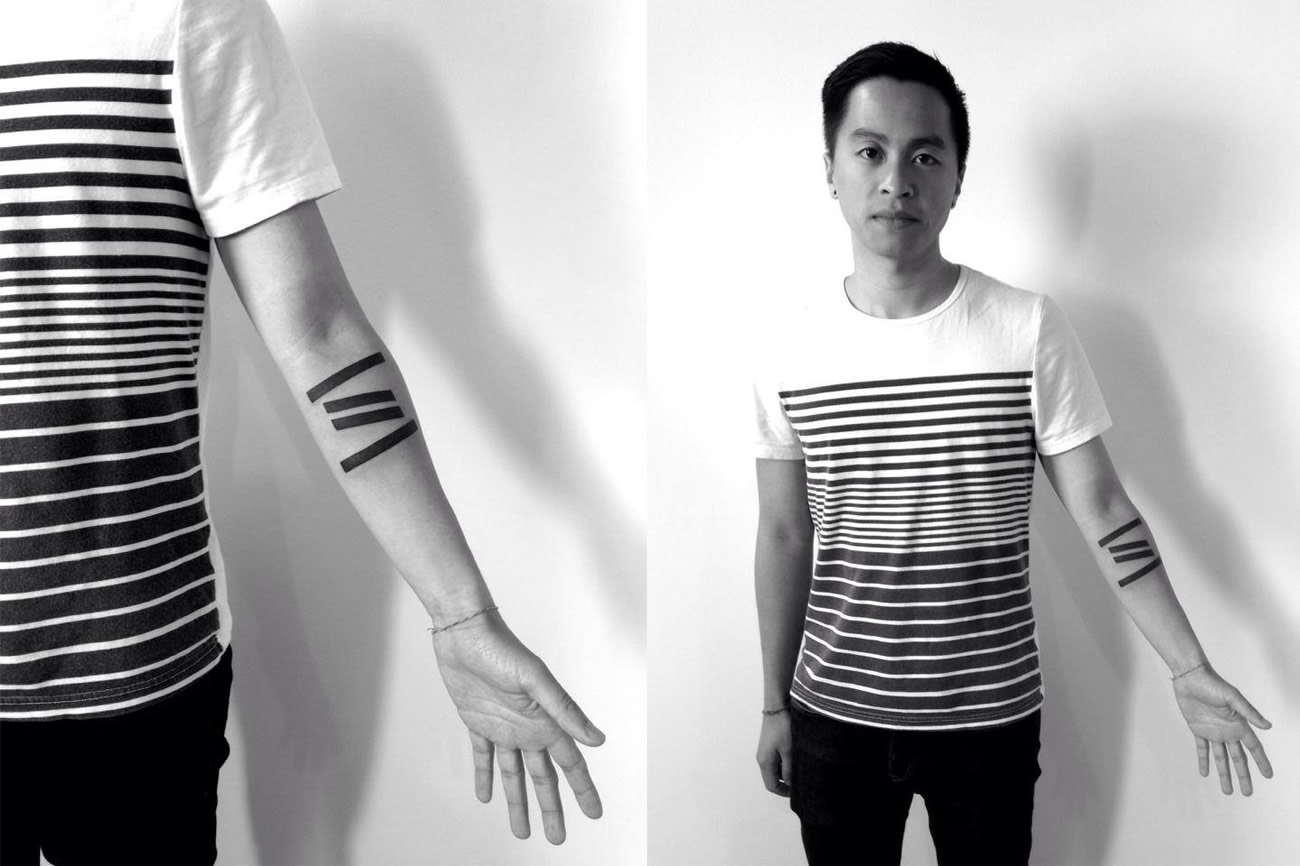 Matching mandalas and minimal lines by Cats McDaid-Kelly.
Cats McDaid-Kelly
OK, let's name-drop. She works alongside Roxx and the 2Spirit crew. San Francisco's A-team brought Cats on board last year, but that was hardly the start of her career. She's formally trained in the arts, with a BFA from Goldsmith's in London, and an MFA from Parsons, NYC. Cats honed her tattoo skills at various shops around the country, until she was welcomed into the elite circle of 2Spirit resident artists. Stay tuned to Cats' portfolio; we have a feeling she's just getting started.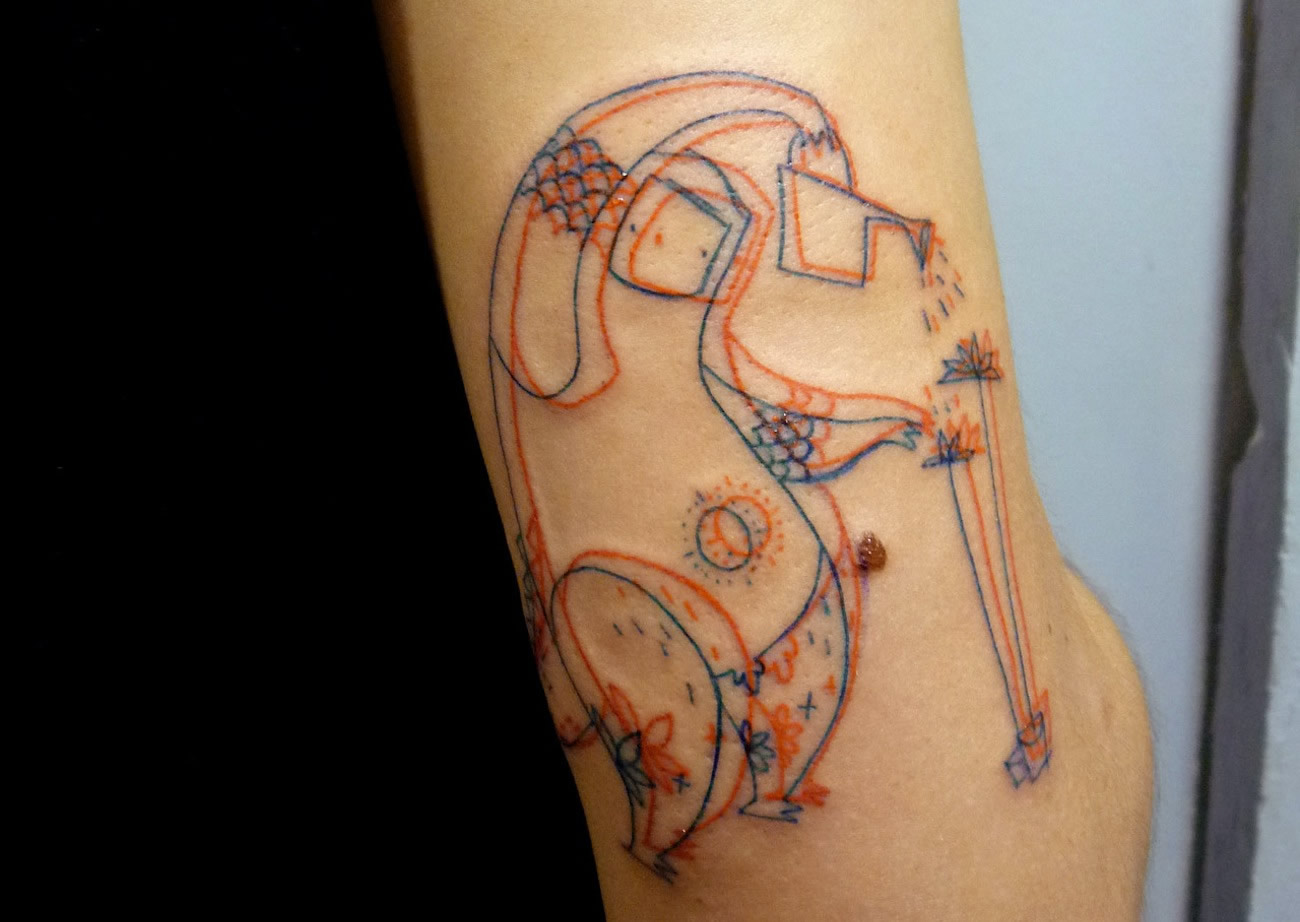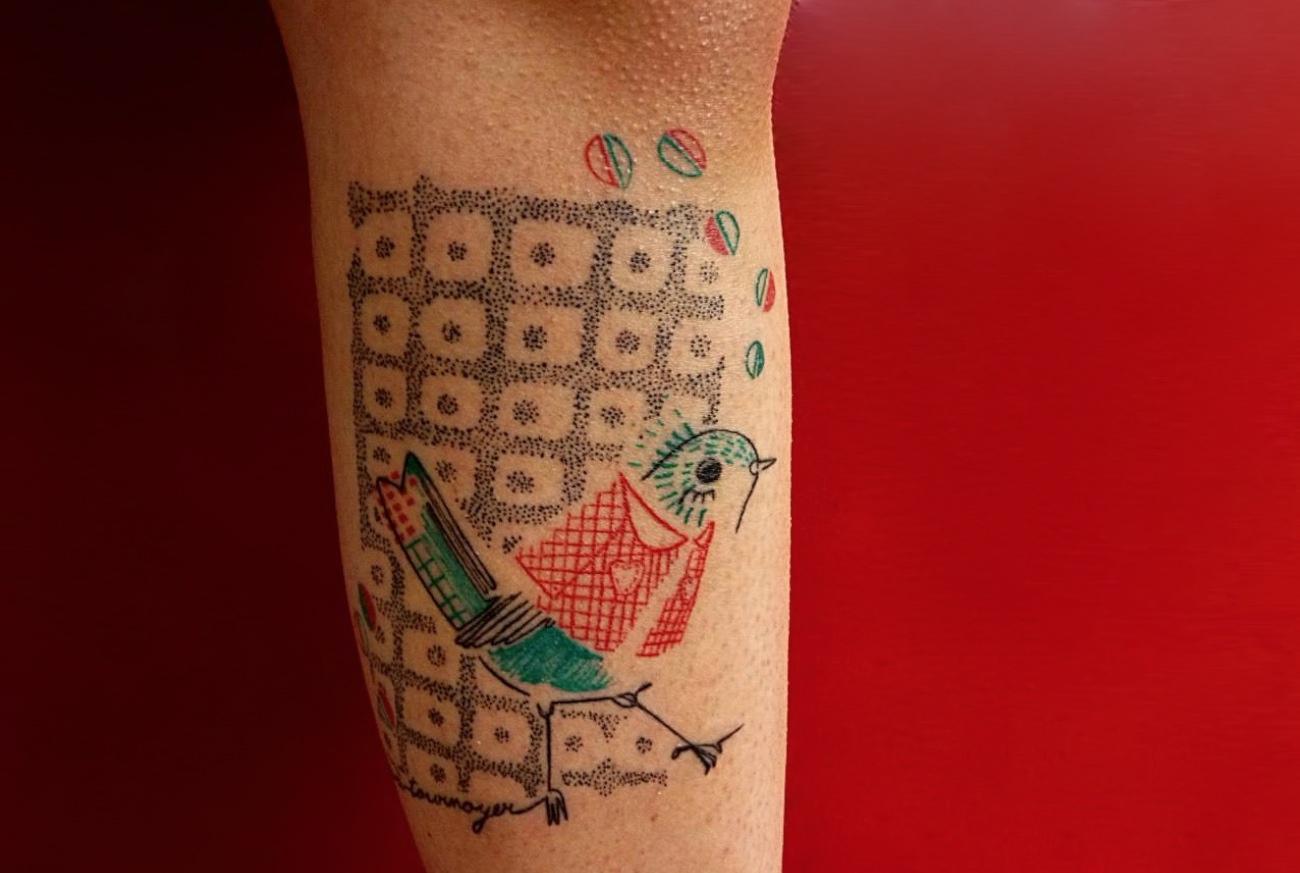 Gardener and baby bird by Bouits.
Bouits
OK, let's really name-drop. Meet the apprentice to master tattooist Xoïl. For years, Bouits romped around France as a graphic designer, illustrator, and street artist. Her signature style is whimsical, entertaining, even adorable. And now, with Needles Side Tattoo training, she's seamlessly transitioned into a skilled tattoo artist. Bouits is ready; do you want to play?
Images © respective artists