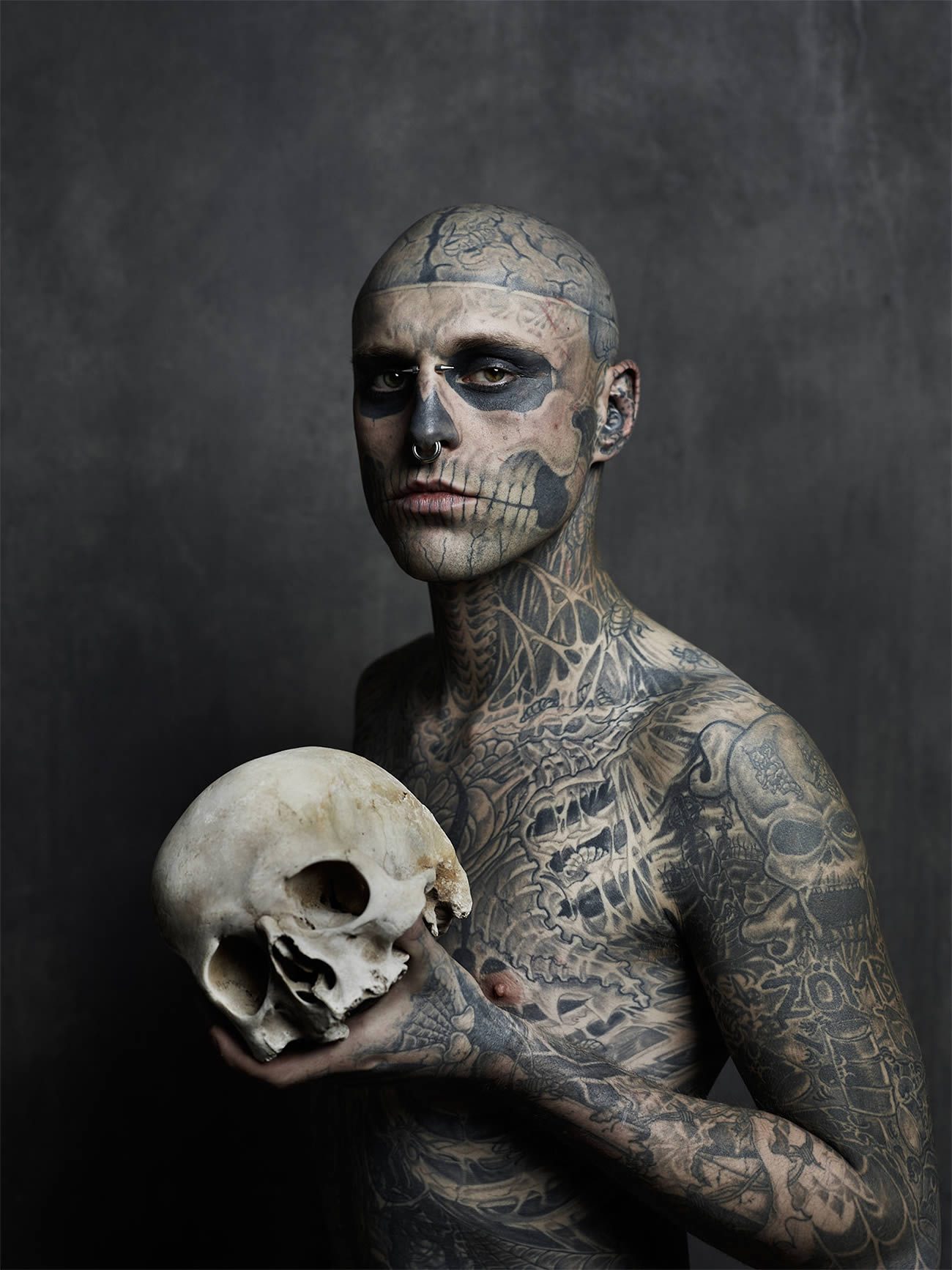 Note: Contains nudity.
A skull formed by seven nude women is an optical illusion by Salvador Dali, who first made a gouache painting of it titled "In Voluptas Mors" which translates to a desirable death. In 1951, he adapted the work to a live photo shoot with Latvia photographer Philippe Halsman, as shown in the pictures below.
This visual has maintained popularity throughout the years—it has been tattooed on people's bodies, printed on t-shirts, and artists have re-created it for film posters and magazine covers.
Top: Portrait of Rick Genest by/© Joey L..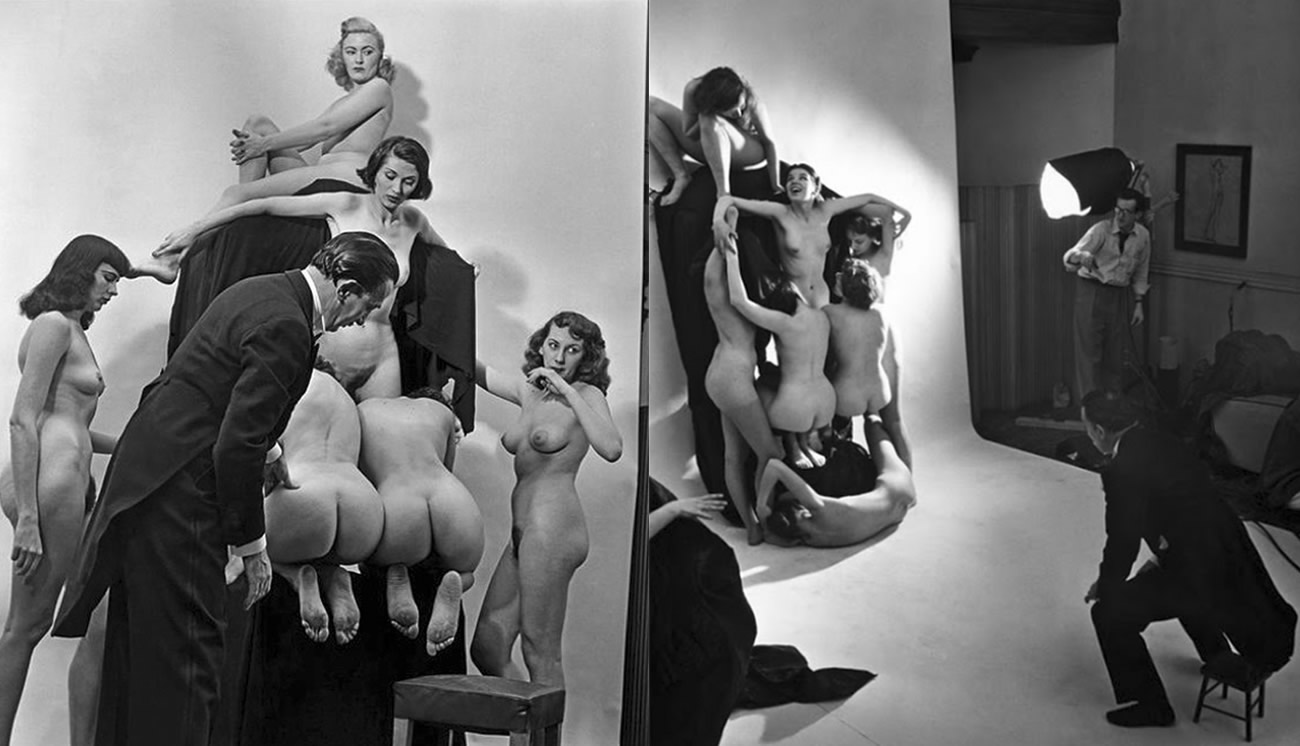 Dali and Halsman collaborate in this 1951 photographic shoot of "In Voluptas Mors." Images © Halsman.
The Original Skull
In the late 1940s, Dali began collaborating with Philippe Halsman to produce iconic photos like "Dali Atomicus," which you will likely remember with the painter, chair, water and cats flying in the air. Halsman also took insane looking pictures of Dali and his famous mustache. And of course "In Voluptas Mors," a masterpiece that took Halsman more than three hours to prepare the skull shot with female models.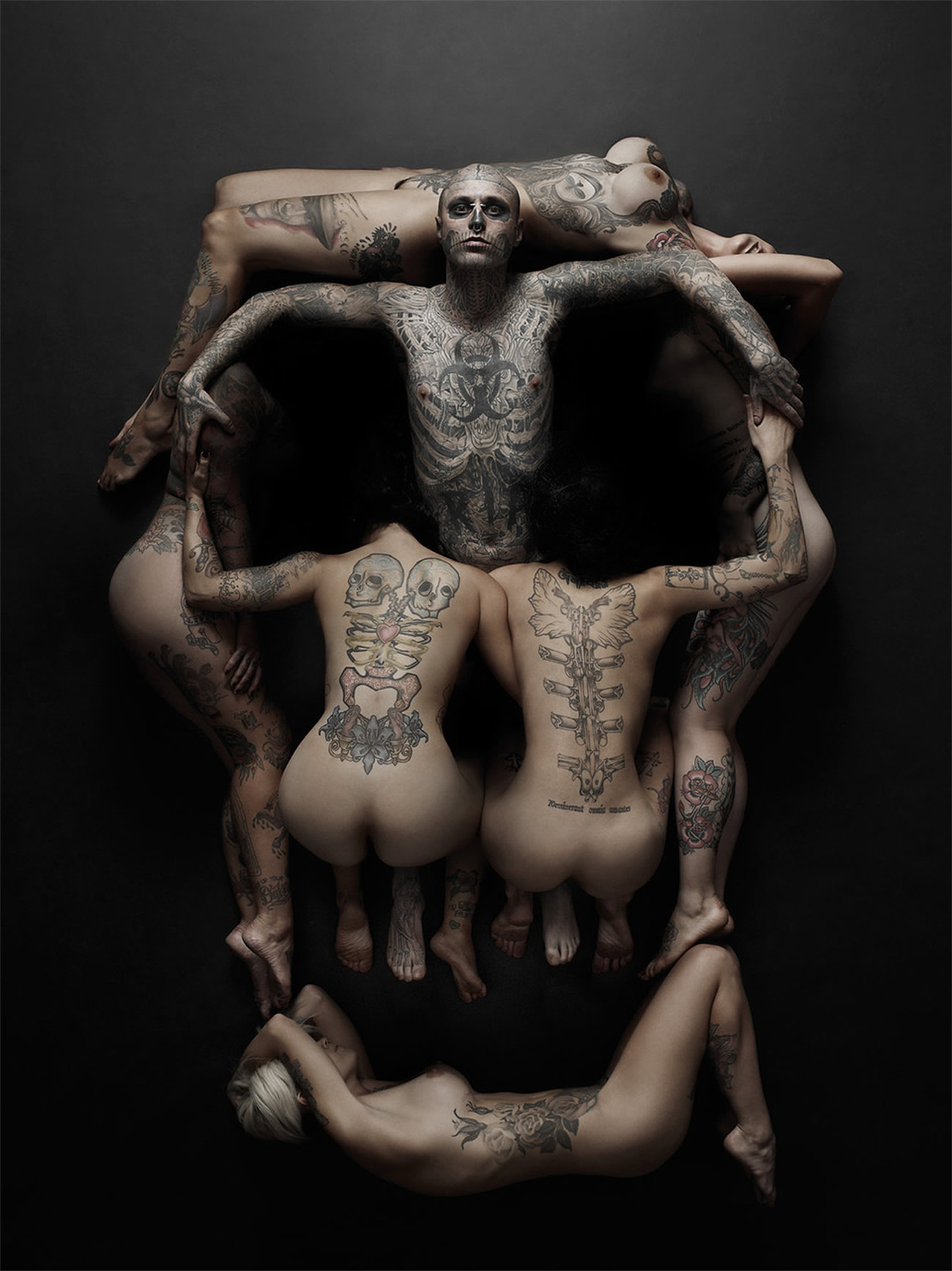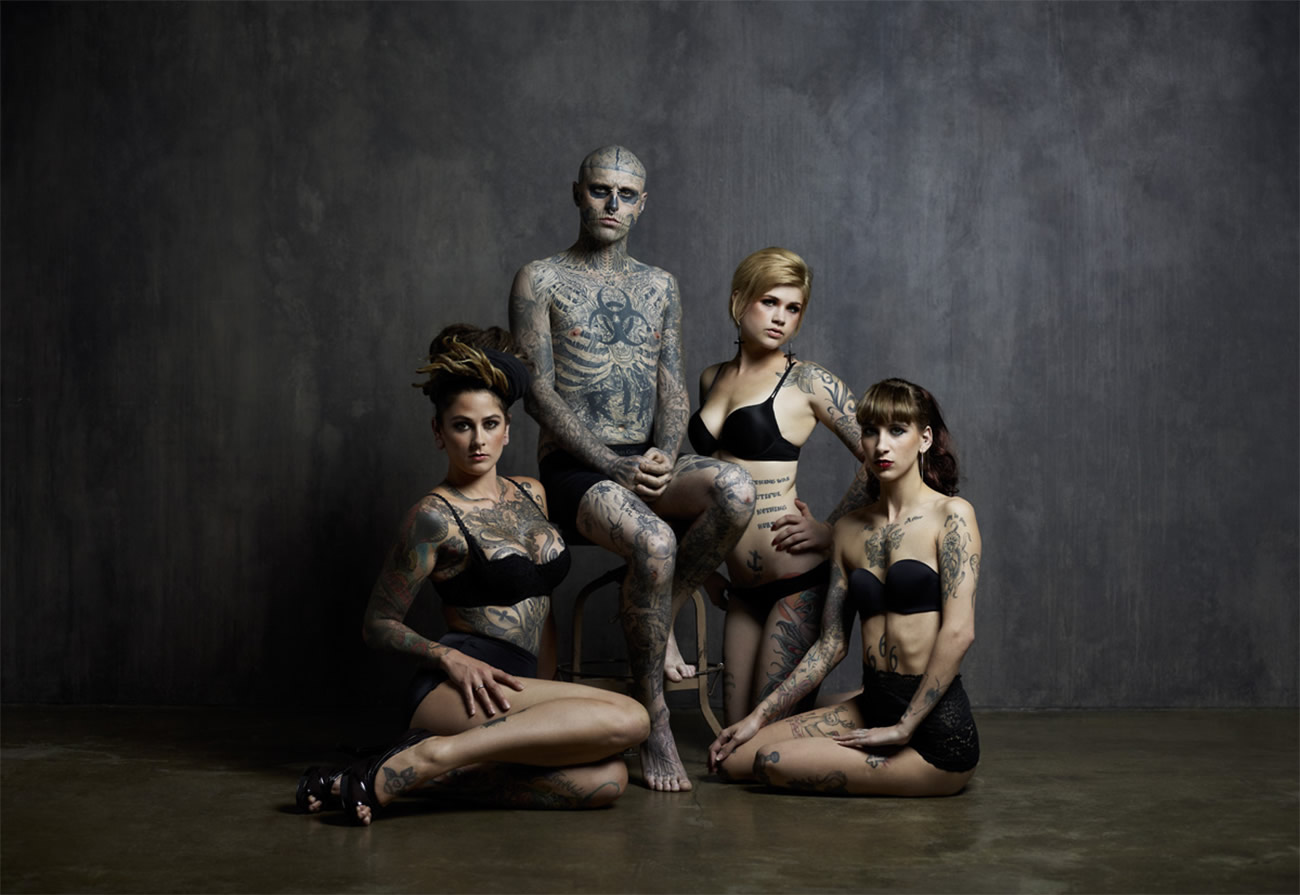 Rick Genest and models pose for the cover of Rebel Ink magazine. View the making here. Images © Joey L..
The Zombie Boy Skull
Rick Genest also known as Zombie Boy is a fashion model who has fascinated the world with his full body skeleton tattoo. (If you are wondering what he looks like without tattoos, you can see a video here). Genest rose to fame in 2011 when he appeared in Lady Gaga's music video, "Born this Way." Since then, he has worked with fashion designer Thierry Mugler, posed for GQ and Vanity Fair, has become the face of Jay-Z's Rocawear clothing line in Europe, and starred in movie "47 Ronin" with Keanu Reeves.
Last March, Genest and other models were photographed by Joey L. for the cover of Rebel Ink tattoo magazine. The photo session was based on Dali's skull art and past-era paintings evoking "Memento Mori," a reminder that death is inevitable.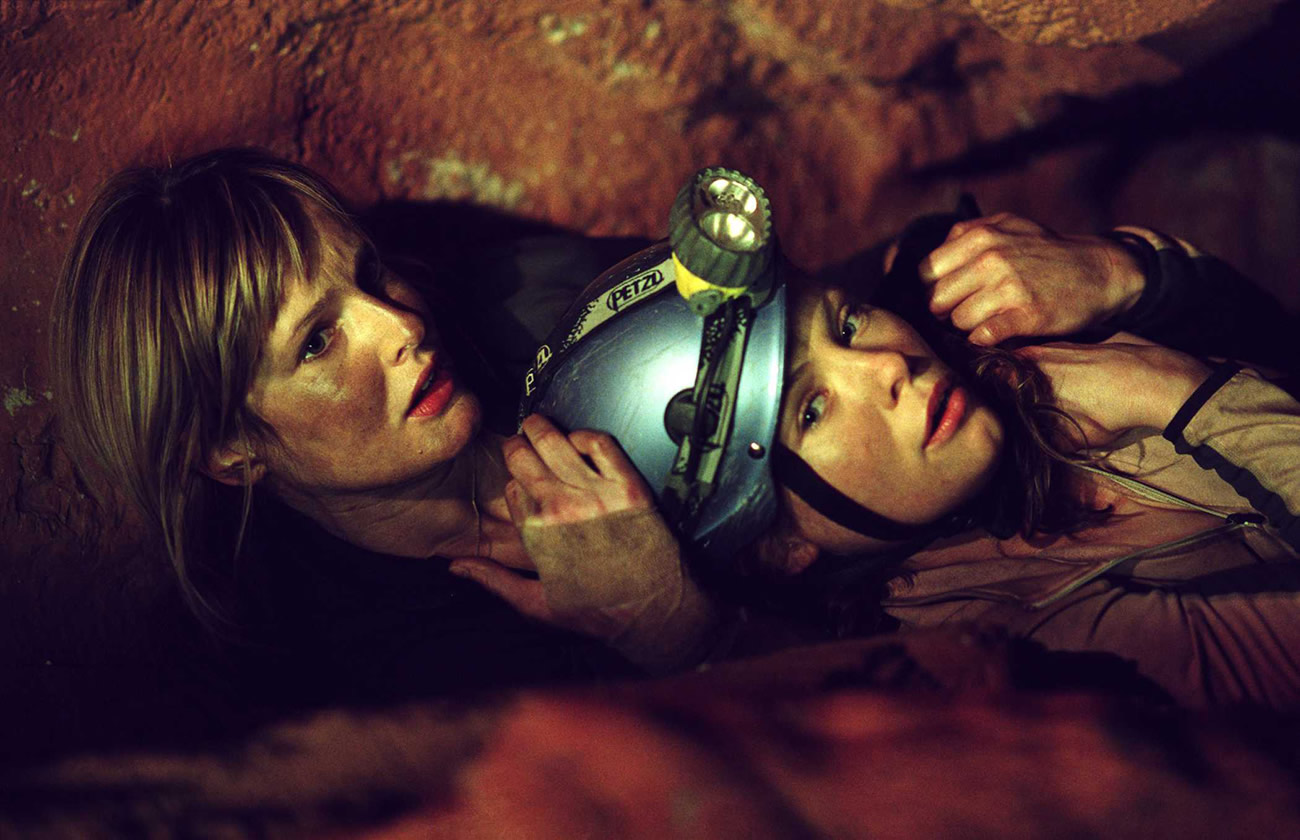 A screaming poster design for "The Descent" (2005), and Rebecca (Saskia Mulder) and Sarah (Shauna Macdonald) are stuck in one of the tunnels.
The Descent
This 2005 British horror film by Neil Marshall follows six women on a caving expedition, they end up trapped underground and hunted one-by-one by subterranean creatures. The story slowly builds its intensity under dim lighting and tight tunnel scenes that stimulate claustrophobia, and a fear of what may be lurking in the dark.
Hollywood studio Art Machine has designed "The Descent"'s poster which re-enacts "In Voluptas Mors" in a dramatic way. The image expresses unity as these explorers need to stick together to survive, but it also shows terror in the face of lead actress Shauna Macdonald and death symbolized by the skull (as an unavoidable happening).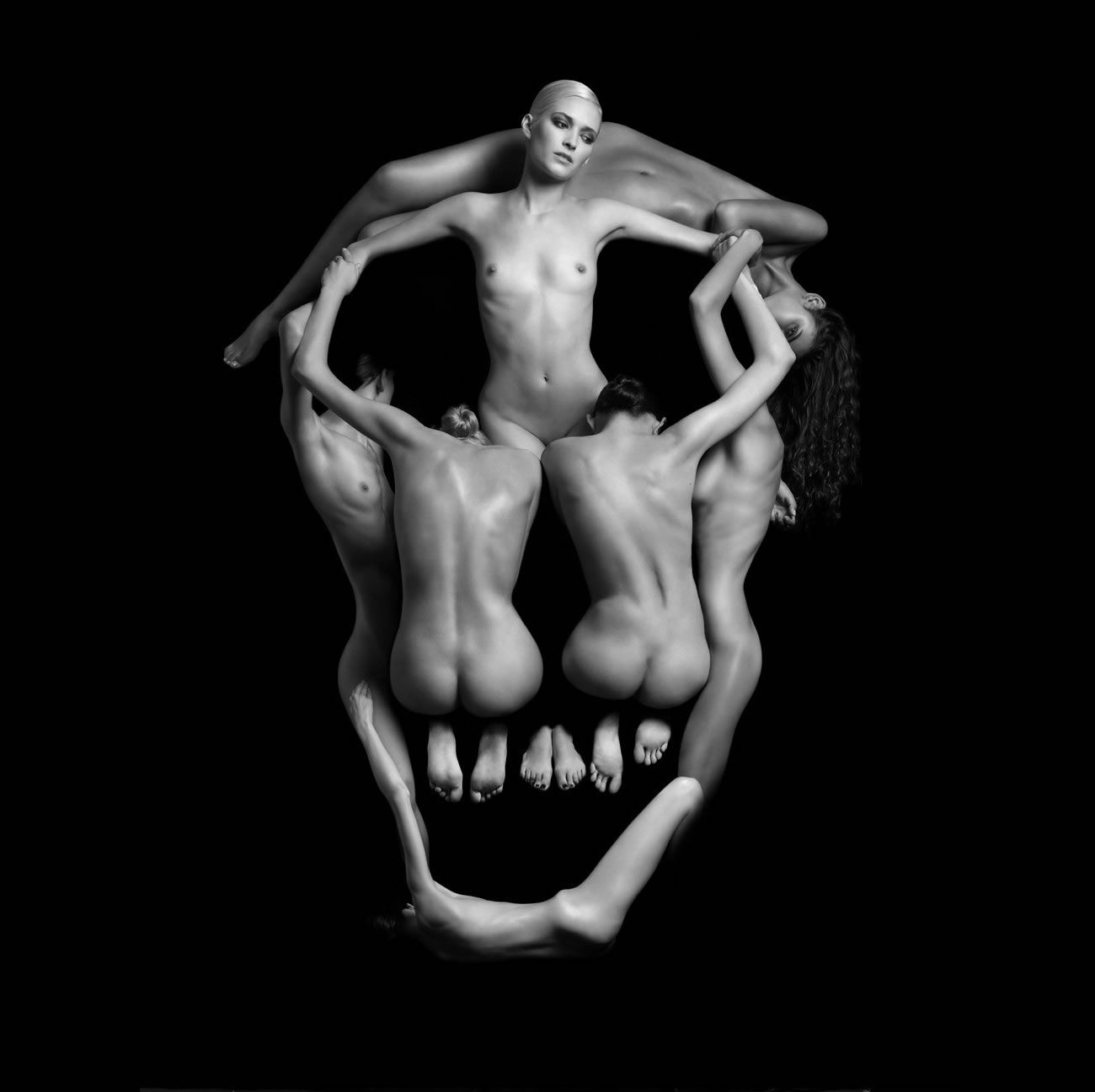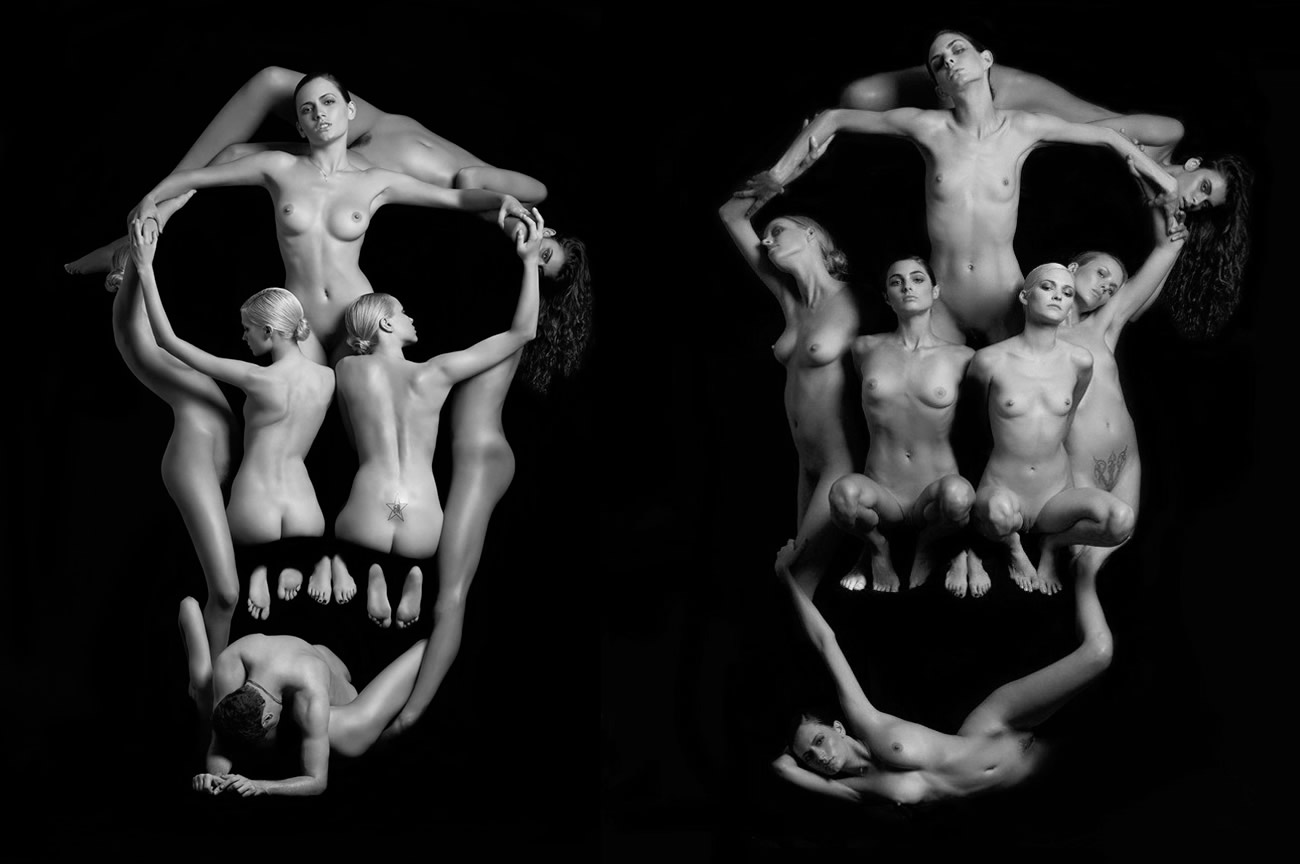 Counterclockwise: "Skull II,"  "Auto Dali" and "Dali ISI" by/© Jordan Doner.
Jordan Doner's Photographs
Jordan Doner is a designer, video director and installation artist, but he is best known as a fashion photographer with lush images printed in Vogue, Interview, Wallpaper and Visionaire. His earlier work includes celebrity portraits of Gerald Butler, Rob Zombie, Lil' Kim and Brazilian model Adriana Lima.
In 2006, Doner organized a photo shoot with seven nude women which resulted in the closest replica of Dali and Halsman's skull composition. The quality of the shots are exceptional, capturing every line and shade of the models' bodies. These pictures were later in time showcased at the Steven Kasher Gallery in New York City.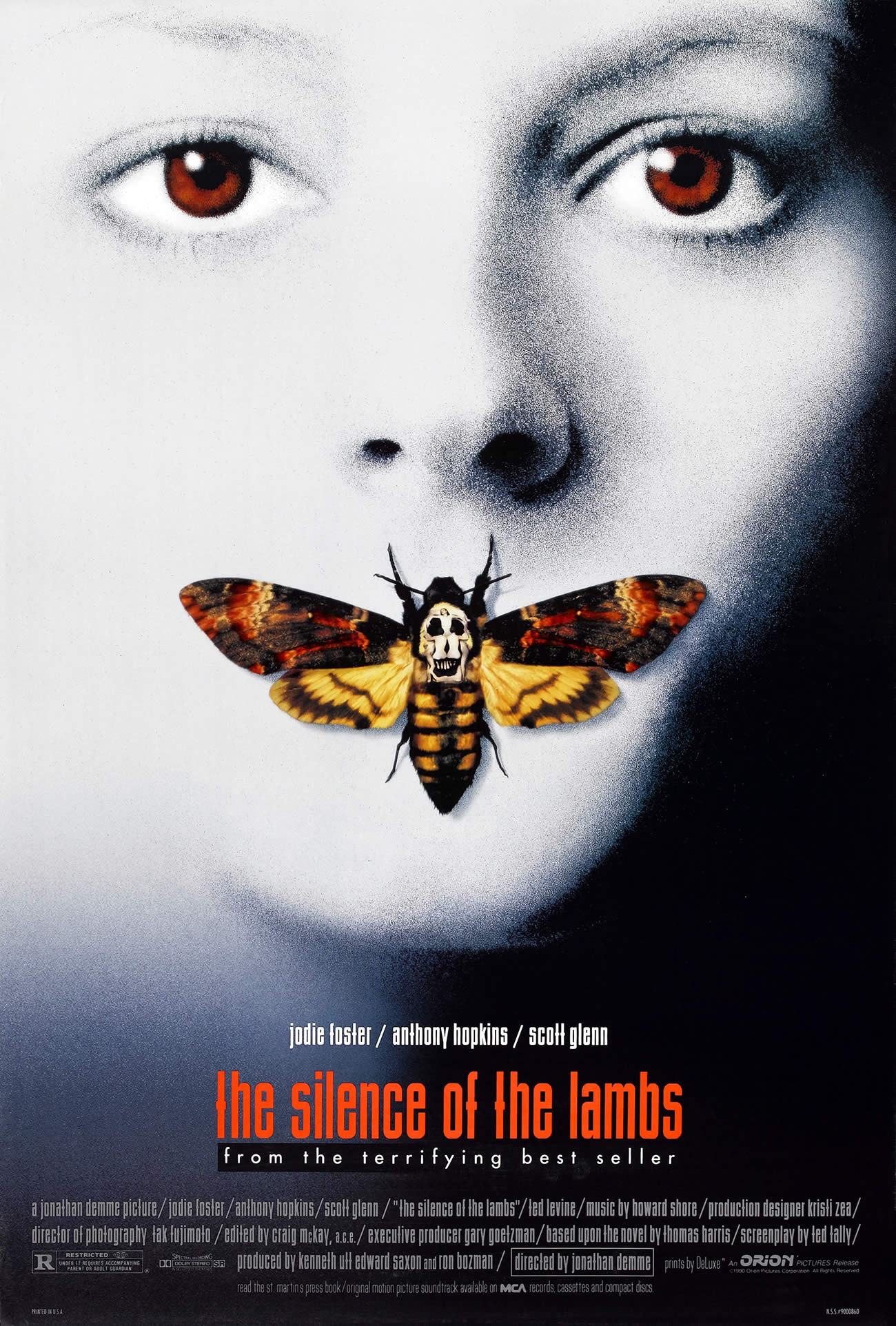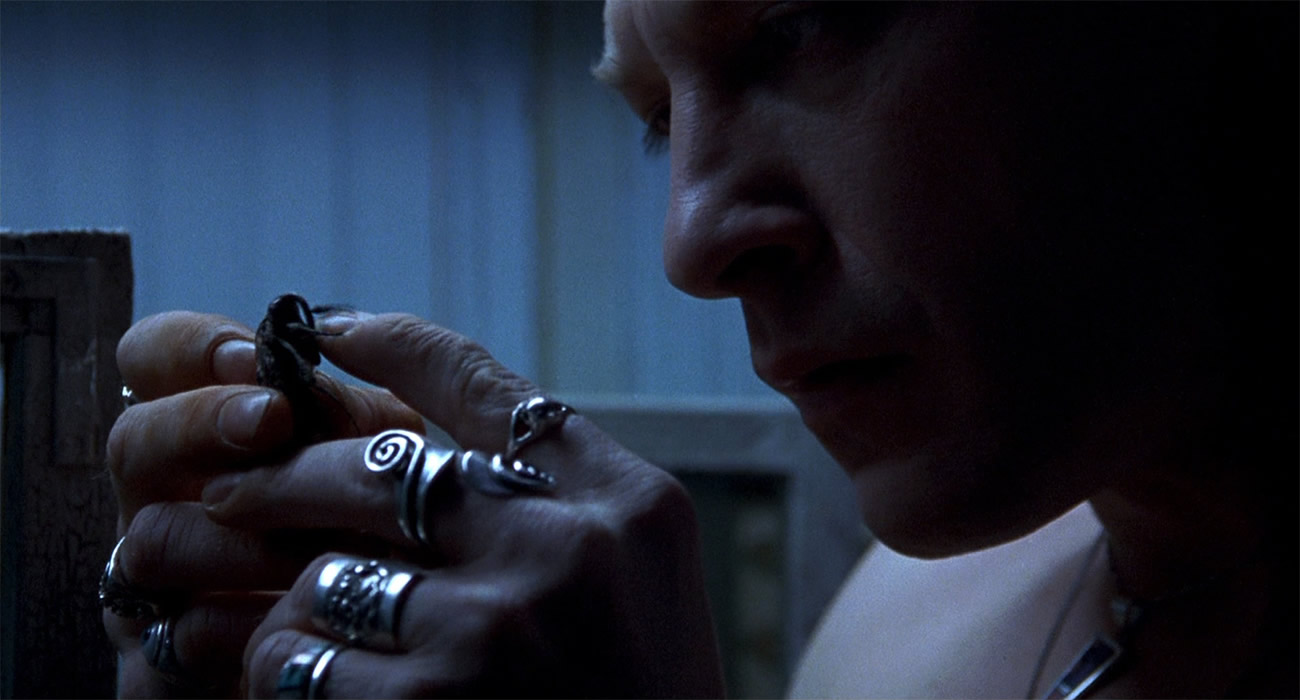 The iconic film poster of "The Silence of the Lambs" was designed by Dawn Baillie from BLT Communications, and serial killer Buffalo Bill taking care of his moths.
The Silence of the Lambs
Winning five Academy Awards including "Best Picture," this 1991 movie starring Jodie Foster and Anthony Hopkins is one of the best psychological thrillers ever made. The plot is based on real criminal cases, for example Hannibal Lecter is inspired by "Dr Salazar" who chopped up his gay lover, and Buffalo Bill a mix of nutsos from Ed Gein, Ted Bundy, Albert Fish, to Gary Heidnick who raped women and imprisoned them in his basement. There are also creepy entomology inserts that link to Greek mythology and Gothic literature. The moth on the film poster is a direct connection to Buffalo Bill's victims and his metamorphosis attempt to become a woman. This particular insect named Acherontia atropos has a humanlike skull on its head which makes it a perfect fit for Dali's illusion.
Images © respective artists and film studios