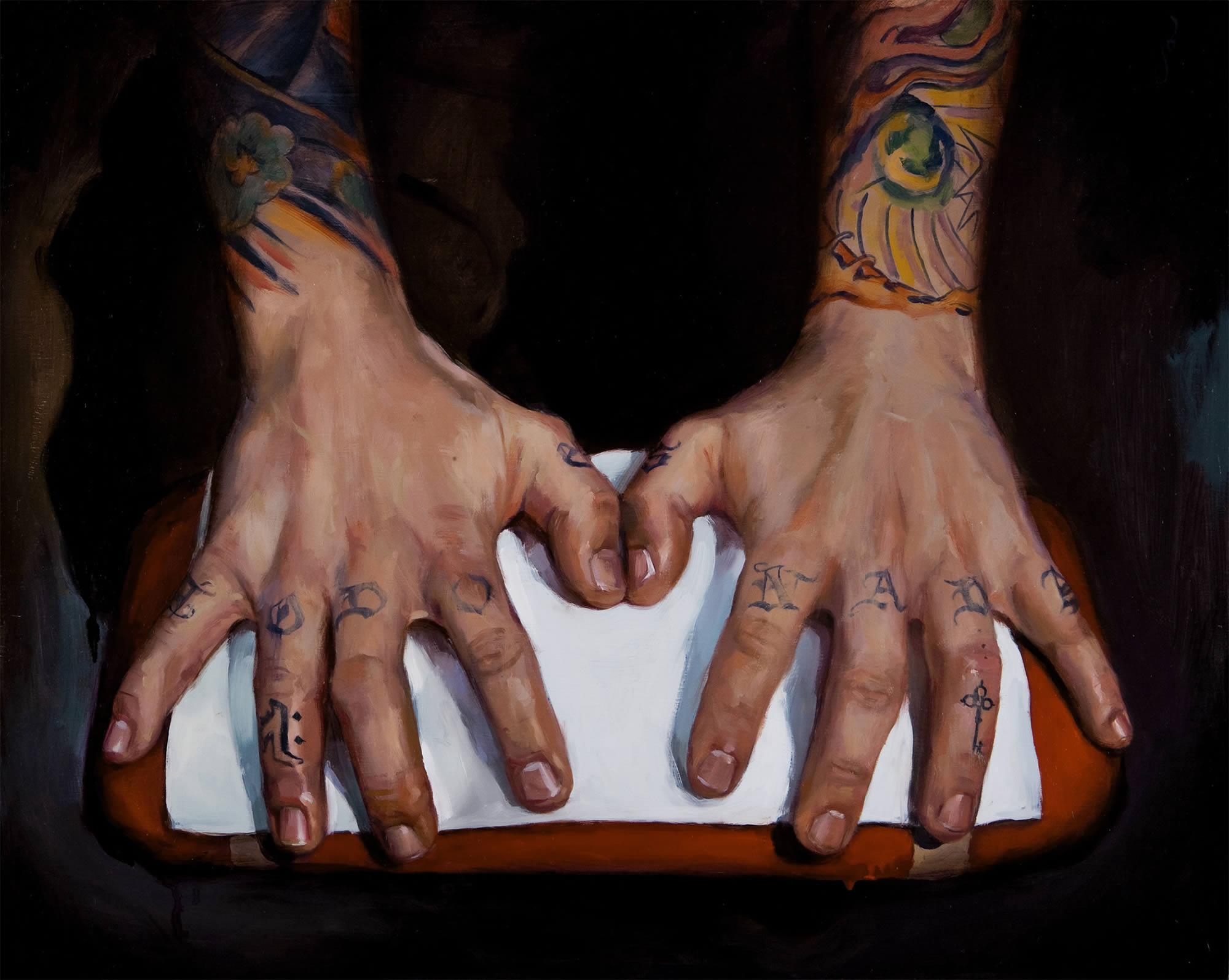 Fine art and tattooing go hand in hand. Both utilize the same skills, such as a talent for drawing and an eye for color. So, it's no surprise that many prominent tattooers also make time for a second type of artistic practice. And sometimes, their paintings outshine their career in ink.
For tattoo artists, painting affords them the opportunity to experiment with a technique or imagery without the added pressure of it permanently being on someone's skin.
These selected tattooers/artists create paintings that are displayed in gallery shows, sold to eager collectors, and even used for commercial advertising campaigns. Many of them have a formal art education, but this isn't the only recipe for success: some are self-taught. Others have even began their careers in graffiti and transitioned to tattoos and canvas. Regardless of their background, they all have one thing in common: their tattoos and paintings are equally impressive works of art.
Above: An oil painting by Shawn Barber documents contemporary tattoo culture.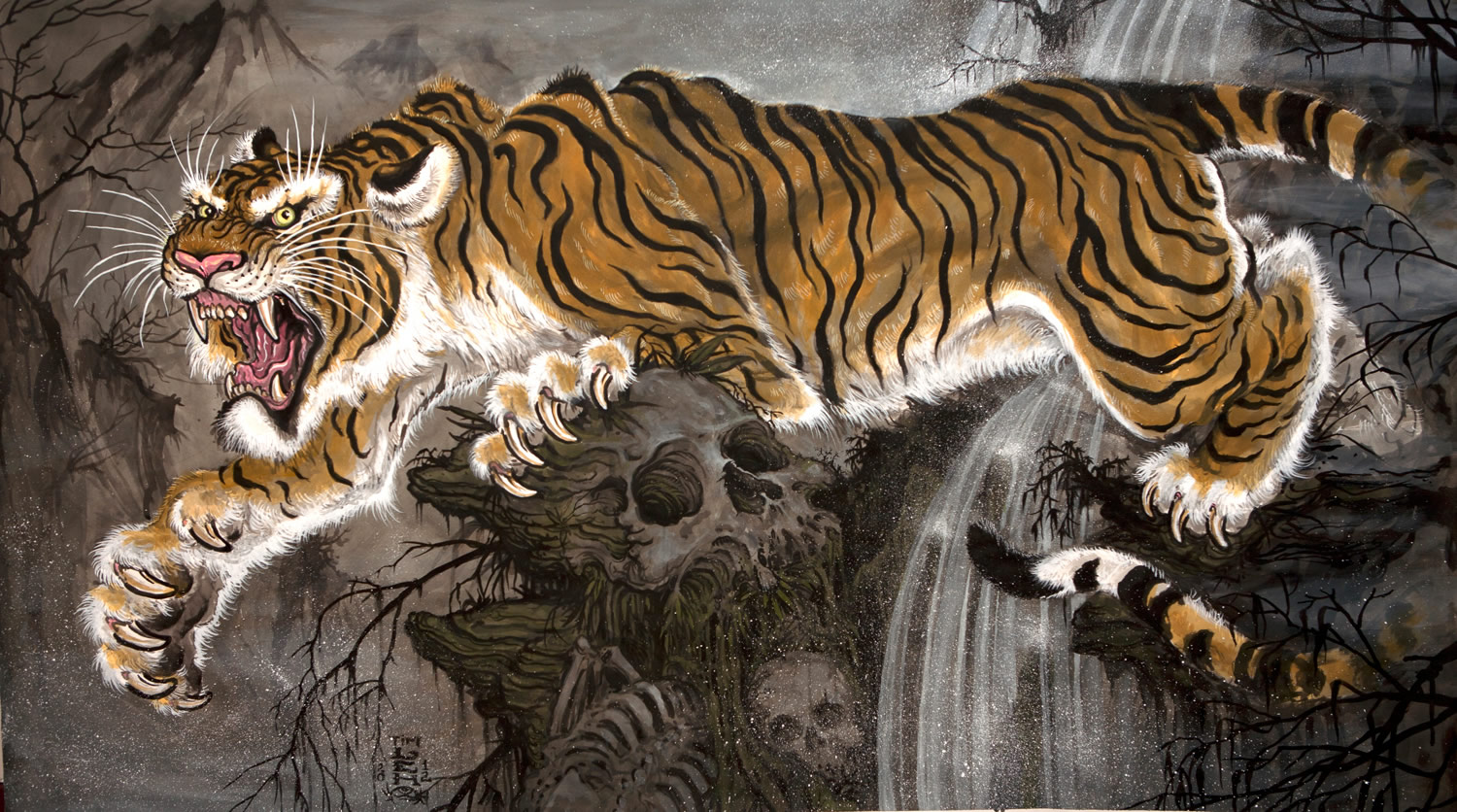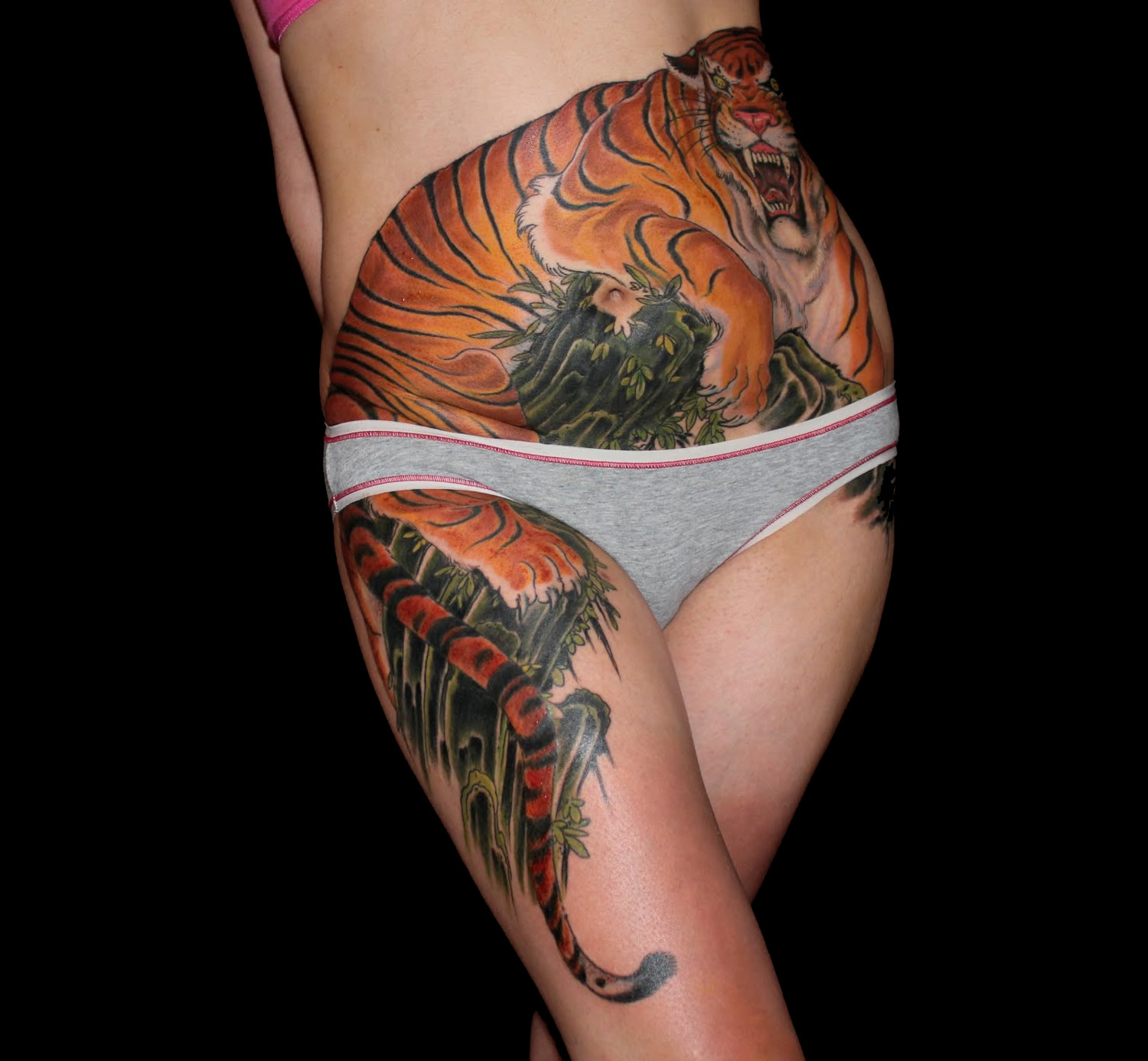 Tim Lehi's paintings and tattoos often parallel one another in subject matter.
Tim Lehi
Tim Lehi has been tattooing for over 25 years, but making art for longer—his entire life. From a young age, he was obsessed with drawing and comic art, and as a teenager he designed gig posters for metal shows. This experience led him into tattooing, where he eventually settled in San Francisco and studied under famous figures like Ed Hardy. Though he has concentrated on tattooing, Lehi has continued to work on Japanese-style watercolor paintings. His imagery of ferocious tigers, dragons, and battle scenes are often translated into sprawling, full-color tattoos.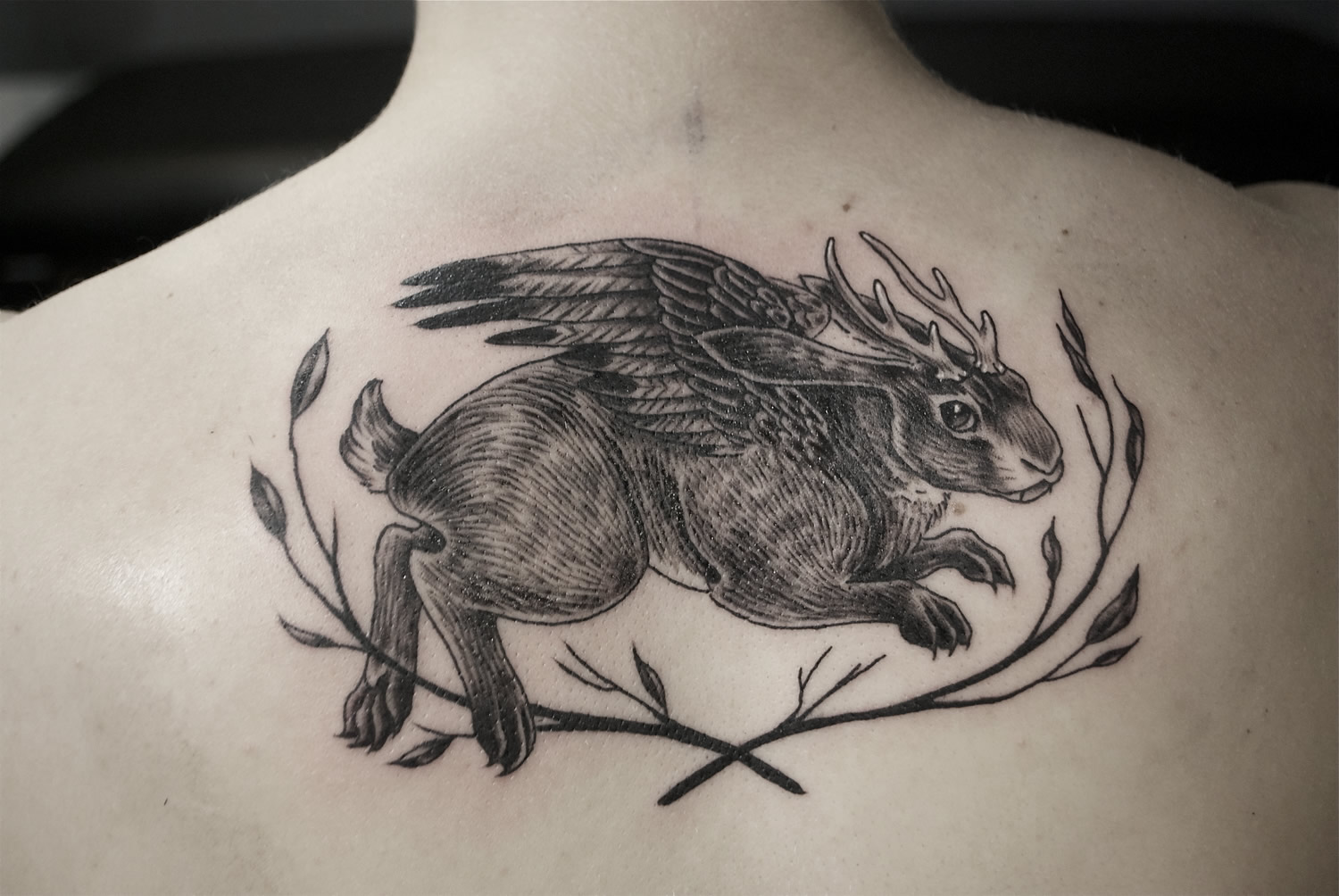 Alison Woodward explores surreal imagery through animals and nature.
Alison Woodward
Vancouver-based creative Alison Woodward is a graduate of the Emily Carr University of Art, studying fine art as she transitioned into tattoos. Her naturalistic style depicts the elegance of animals, from their fur and feathered forms to something much darker. In her painting titled "The Dawn Remakes the World in its Antique Pattern" (above), she depicts the beauty of decay as tiny, exquisite landscapes have formed inside of a deceased goat. Woodward's tattooing style reflects a similar visual style, but feels less intense and more celebratory of nature.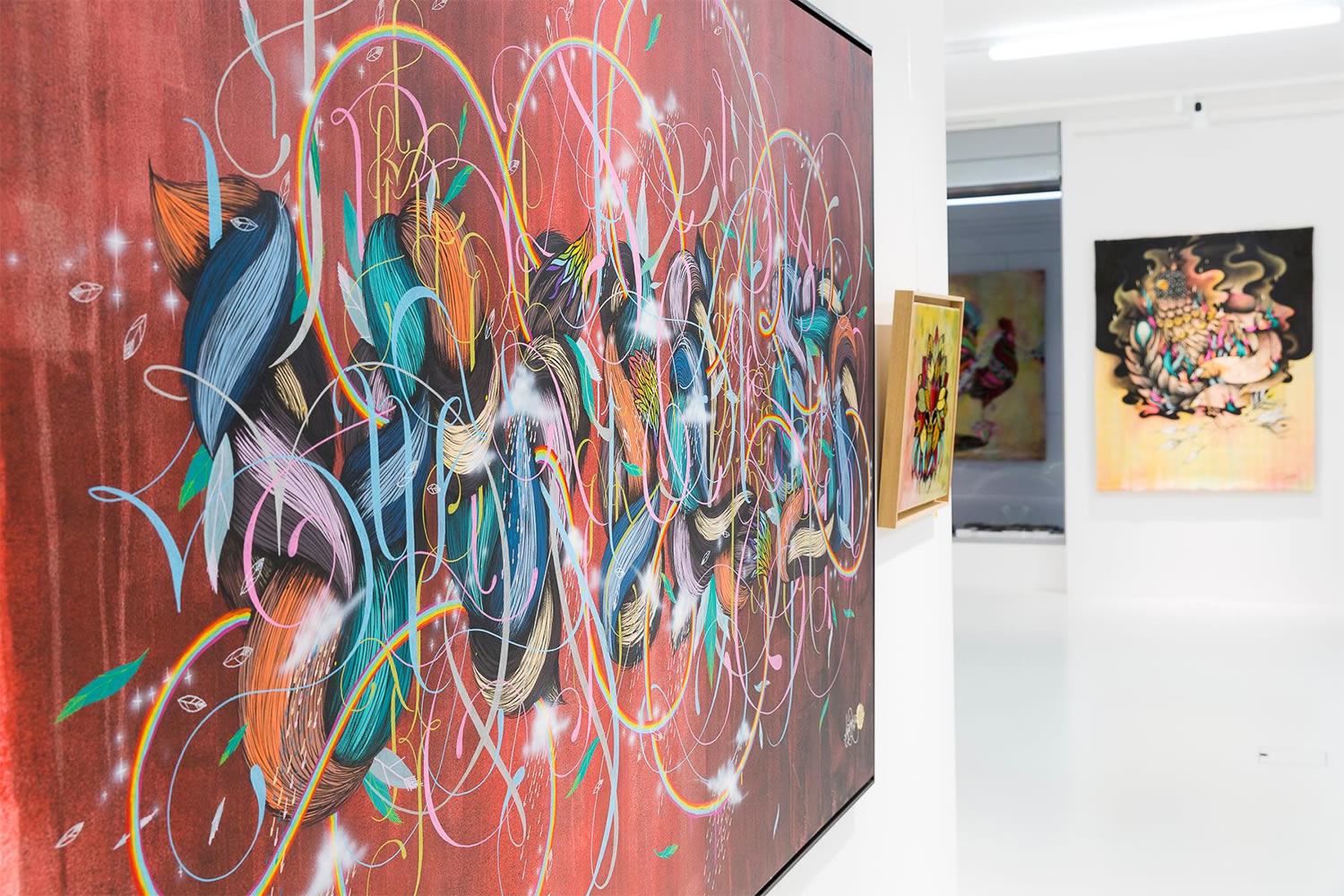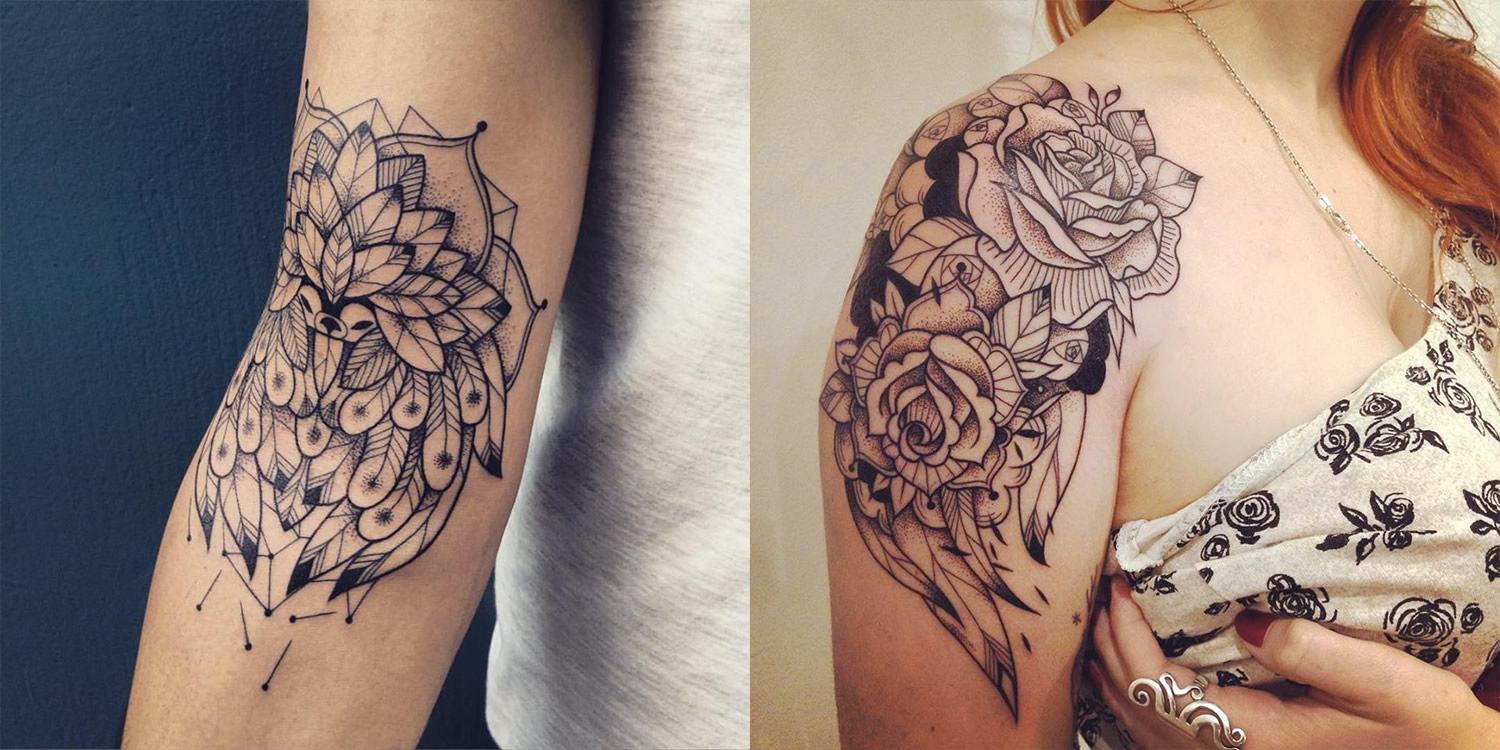 SupaKitch's colorfully dizzying murals offer the same decorative quality in his tattoos. Top image © Kolly Gallery.
SupaKitch
SupaKitch was raised on manga and hip-hop culture, with a passion for art and music since his childhood. He began his career in the 1990s as a graffiti artist, while collaborating with friends and combining various techniques—painting, photography, and graphics. SupaKitch's wide-ranging inspirations translated into large murals associated with the popular Street Art movement. In this format, he expresses his fictitious universe that has Asian influences, anthropomorphic creatures, and where compositions flow in harmony. Tattooing is a fairly recent exploration, which he started in 2009 and now takes requests for sessions on his website.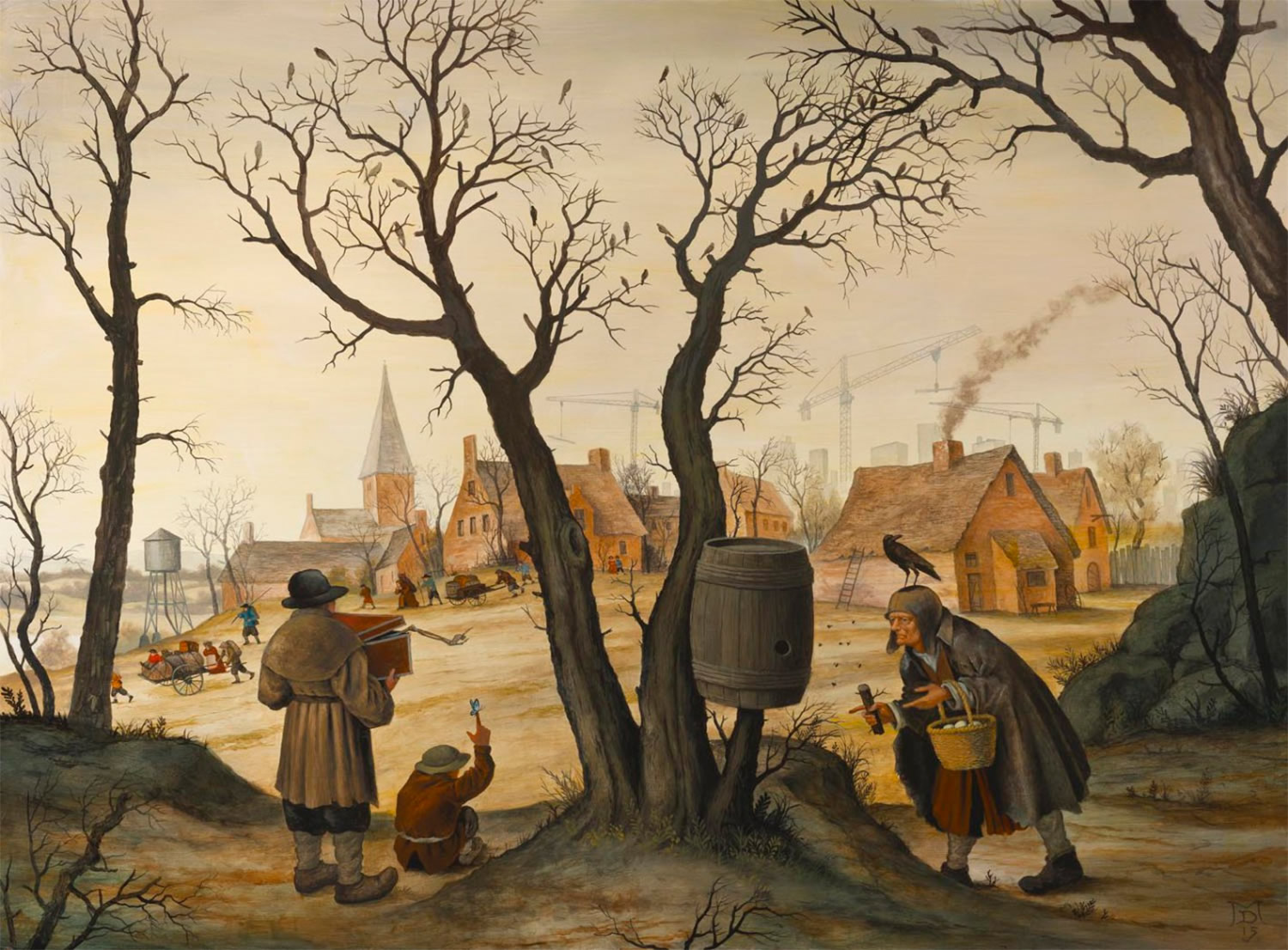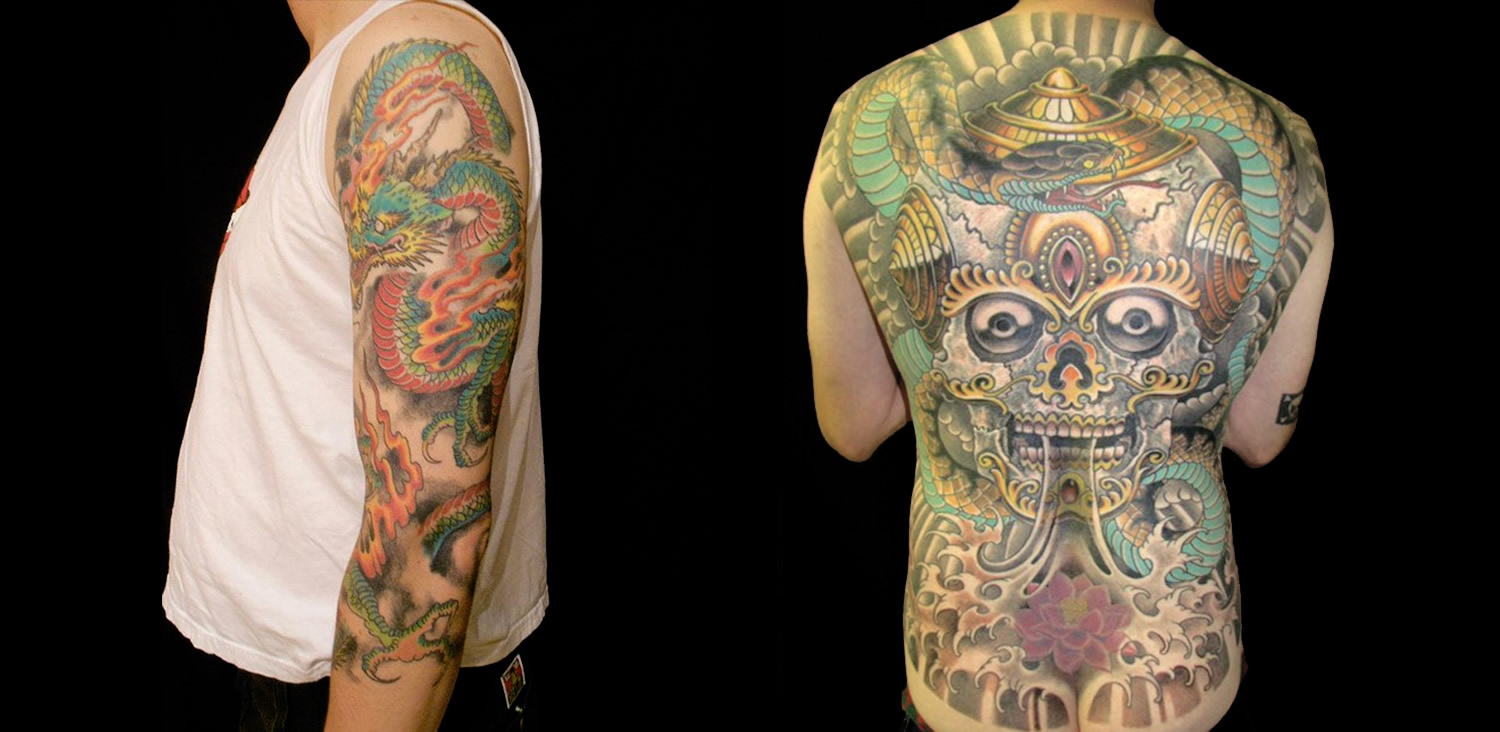 Mike Davis is heavily influenced by artwork of the 15th and 16th centuries, but does not use this same inspiration for his tattoos.
Mike Davis
Surrealist painter Mike Davis is inspired by facets of art history and incorporates this interest into his bizarre compositions. A self-taught artist, Davis was influenced by Netherlandish painting early on in his life. The work of Hieronymus Bosch and Pieter Bruegel can be found in his work, and paintings like Bosch's "Garden of Earthly Delights" have elements also found in Davis' paintings. Severed ears, oversized animals, and barren landscapes are present in both the 15th century artworks as well as Davis' contemporary pieces. Ultimately, the artists of long ago and Davis symbolize the same things in their works: a preoccupation with mortality, foolishness, hubris, and temptation.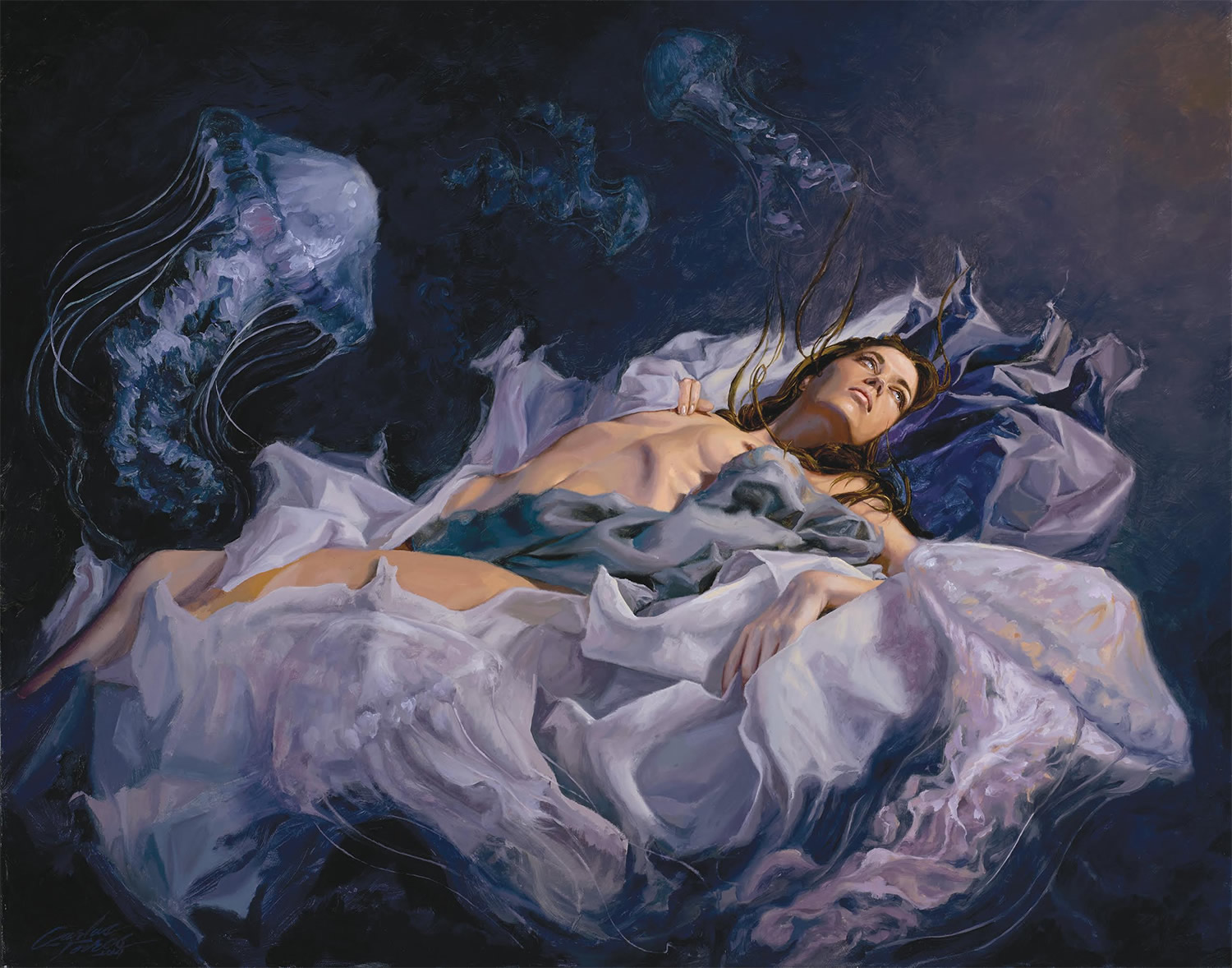 Ethereal female figures make an appearance in Carlos Torres' tattoos and paintings.
Carlos Torres
Carlos Torres identifies a self-taught tattoo artist who enjoys painting. In this piece titled "Abyss," he's illustrated a figure who is caught in between two worlds of reality and a dream. As the female subject lays among sheets, this fabric transforms into jellyfish that float into the dark, deep unknown. Her pose recalls similarly-posed nude women seen throughout art history, such as Fransico Goya's painting "La Maja Desnuda." Instead of meeting our gaze, Torres's figure looks onward, unpreoccupied with the viewer and lost in her own thoughts.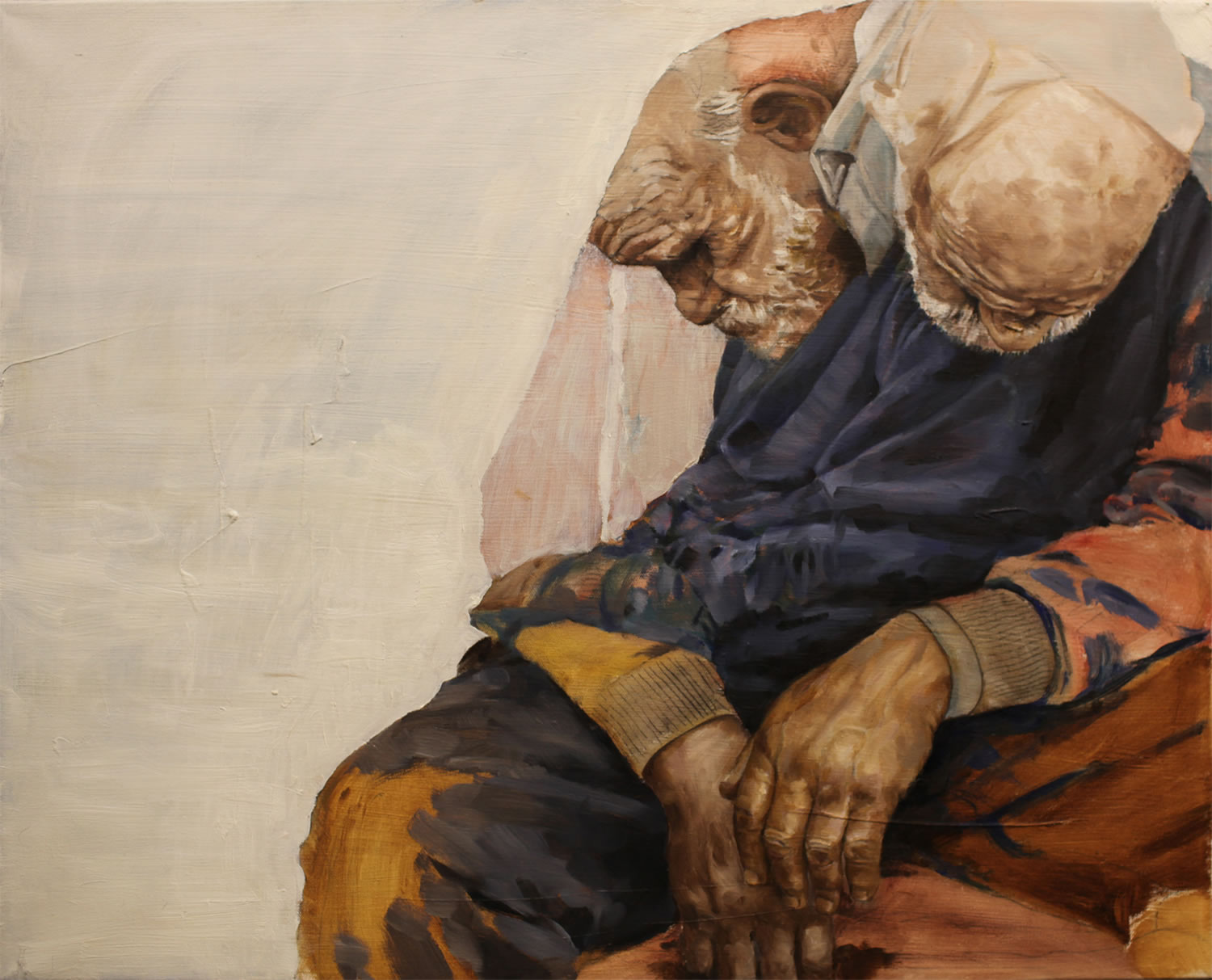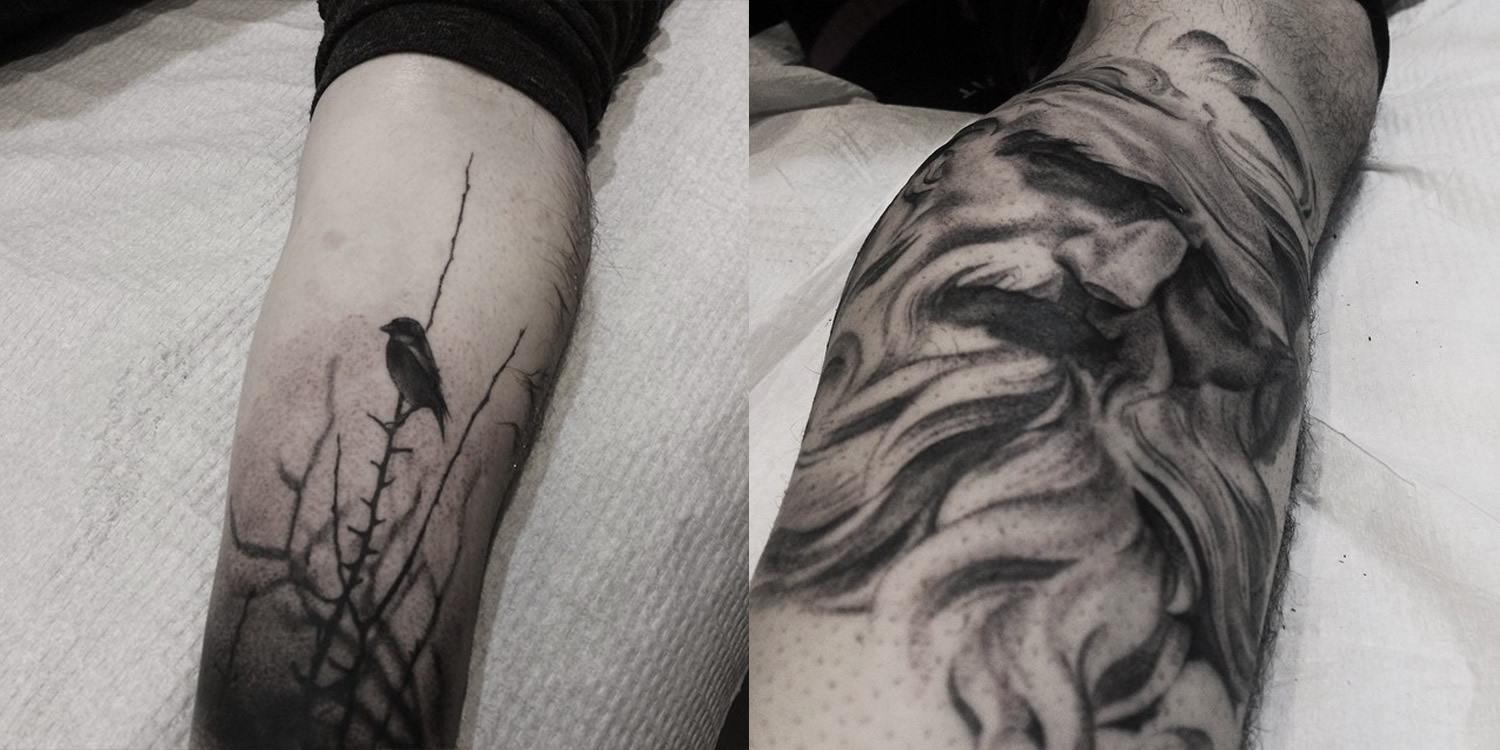 David Allen is known for his greyscale work but has an unrestrained approach to his paintings.
David Allen
Specializing in greyscale tattoos, David Allen takes a different approach to his paintings. His colorful works mix realism with abstraction, as the two riff on one another. Highly rendered sections of painting are punctuated with chiseled brushstrokes and gestural mark-making. Together, they create works that are the opposite of Allen's tattoos—they thrive from experimentation and unrestricted movement. This is unlike the process of tattooing which relies on precision and planning with little room for error.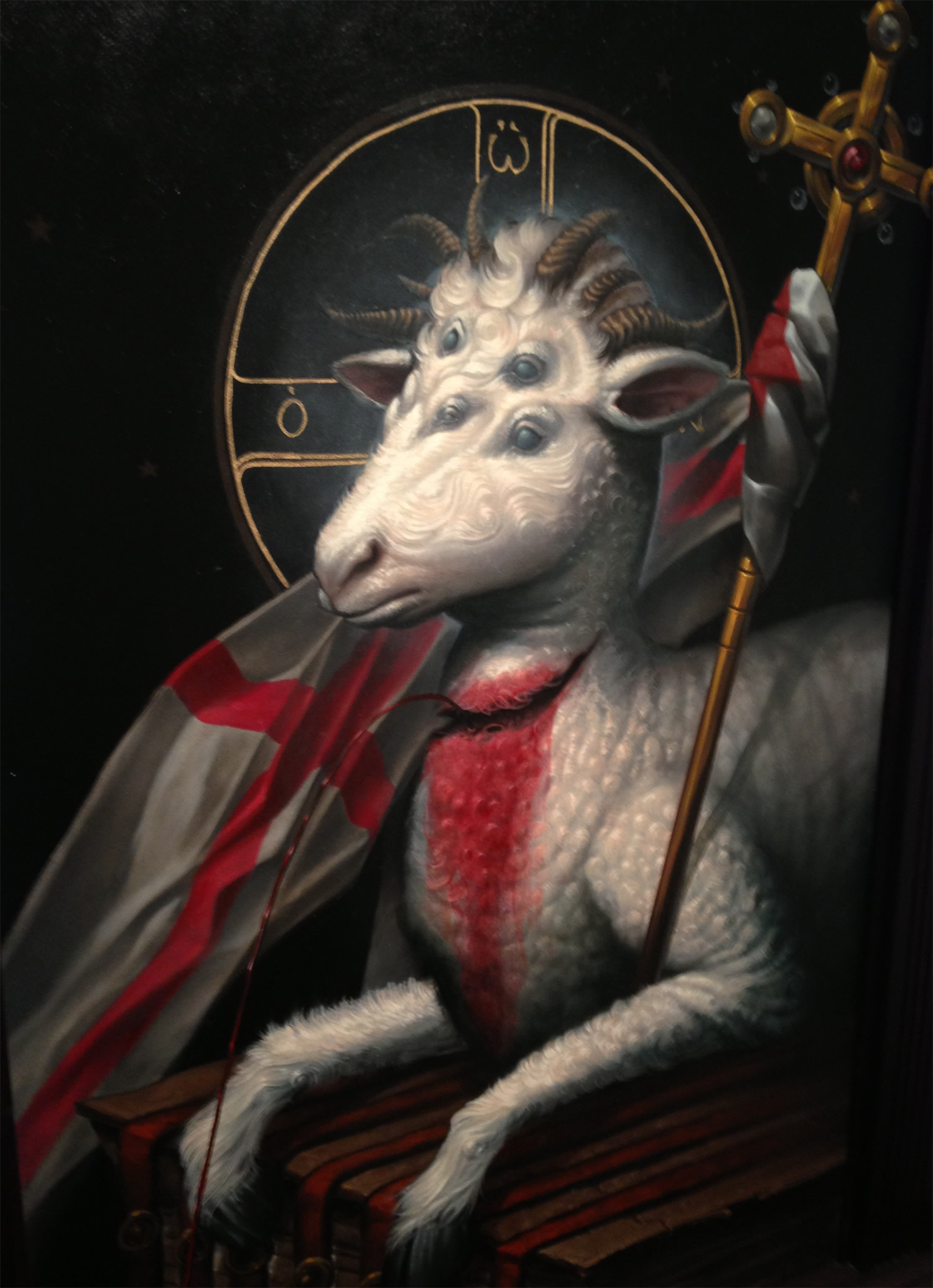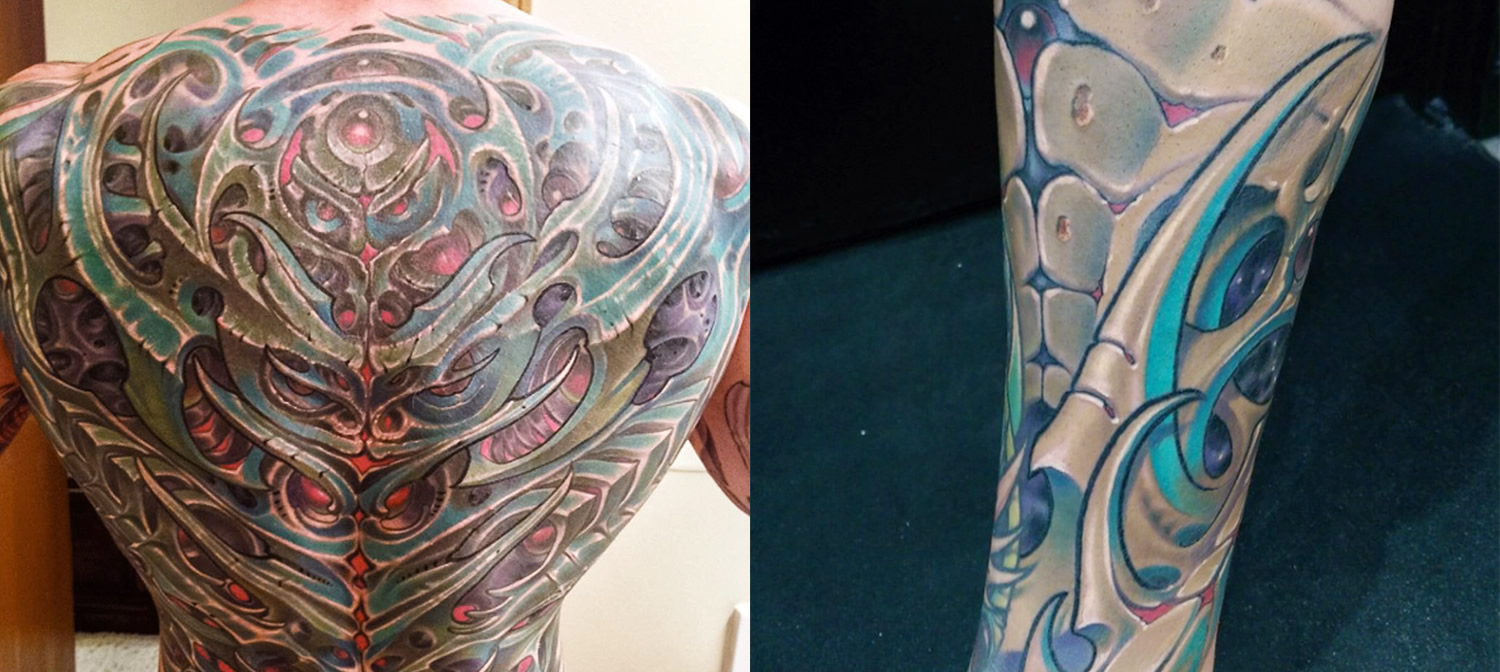 The above painting by Adrian Dominic illustrates a character from the Book of Revelation.
Adrian Dominic
Adrian Dominic started his career in graffiti in 1994 and began tattooing in 1999. He specializes in biomechanical tattoos, which depict biological systems via methods of mechanics. His paintings, however, are devoid of machine. In the "Apokalupsis" series, he illustrates characters from the Bible, specifically the Book of Revelation. They are painted with respect to the descriptions of the ancient texts, but are instinctively infused with Dominic's contemporary view of religion and the world. Through the dramatic portraits, the artist demonstrates that old symbols are still relevant in modern times, and he encourages us to reflect on the old book and consider where we fit in.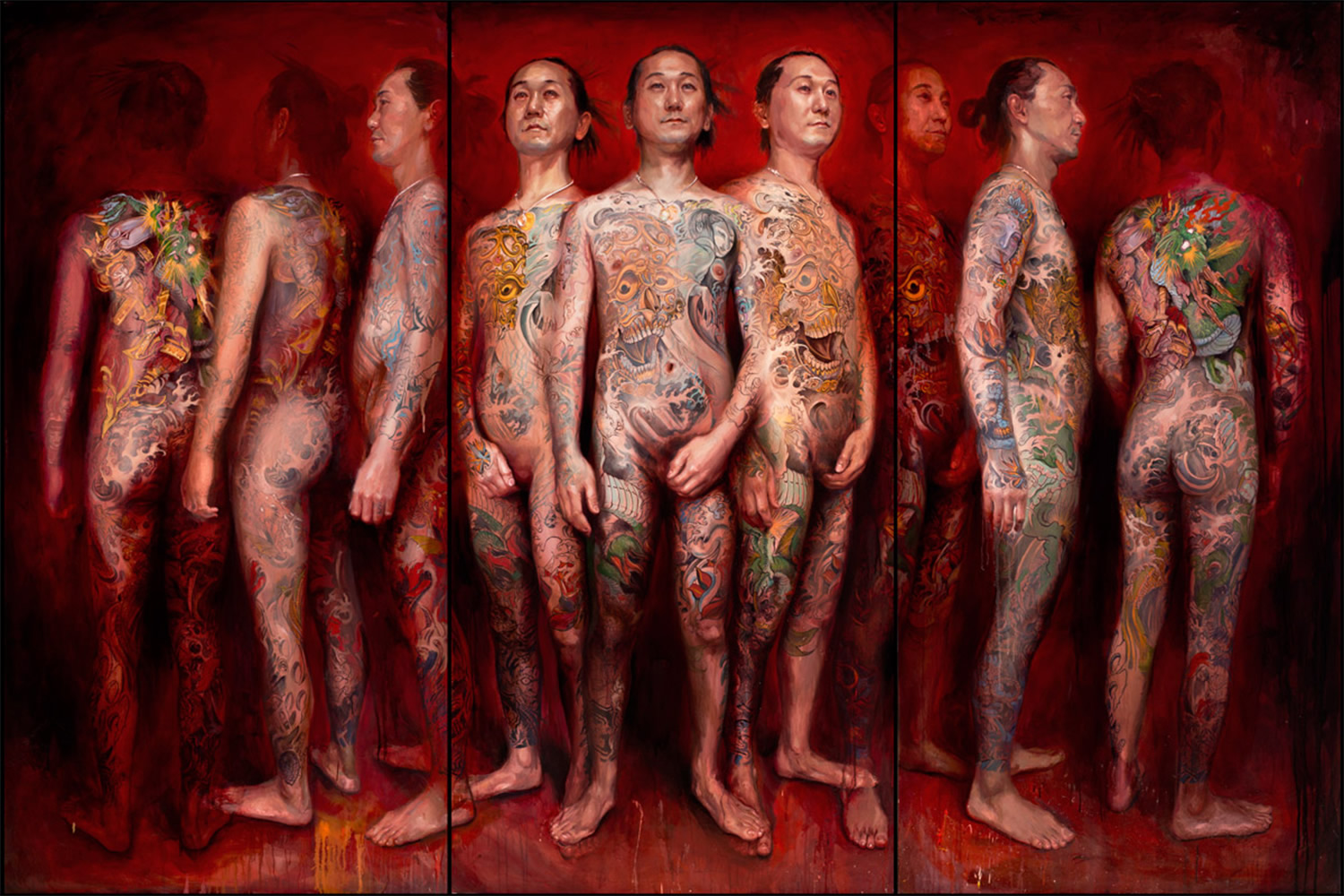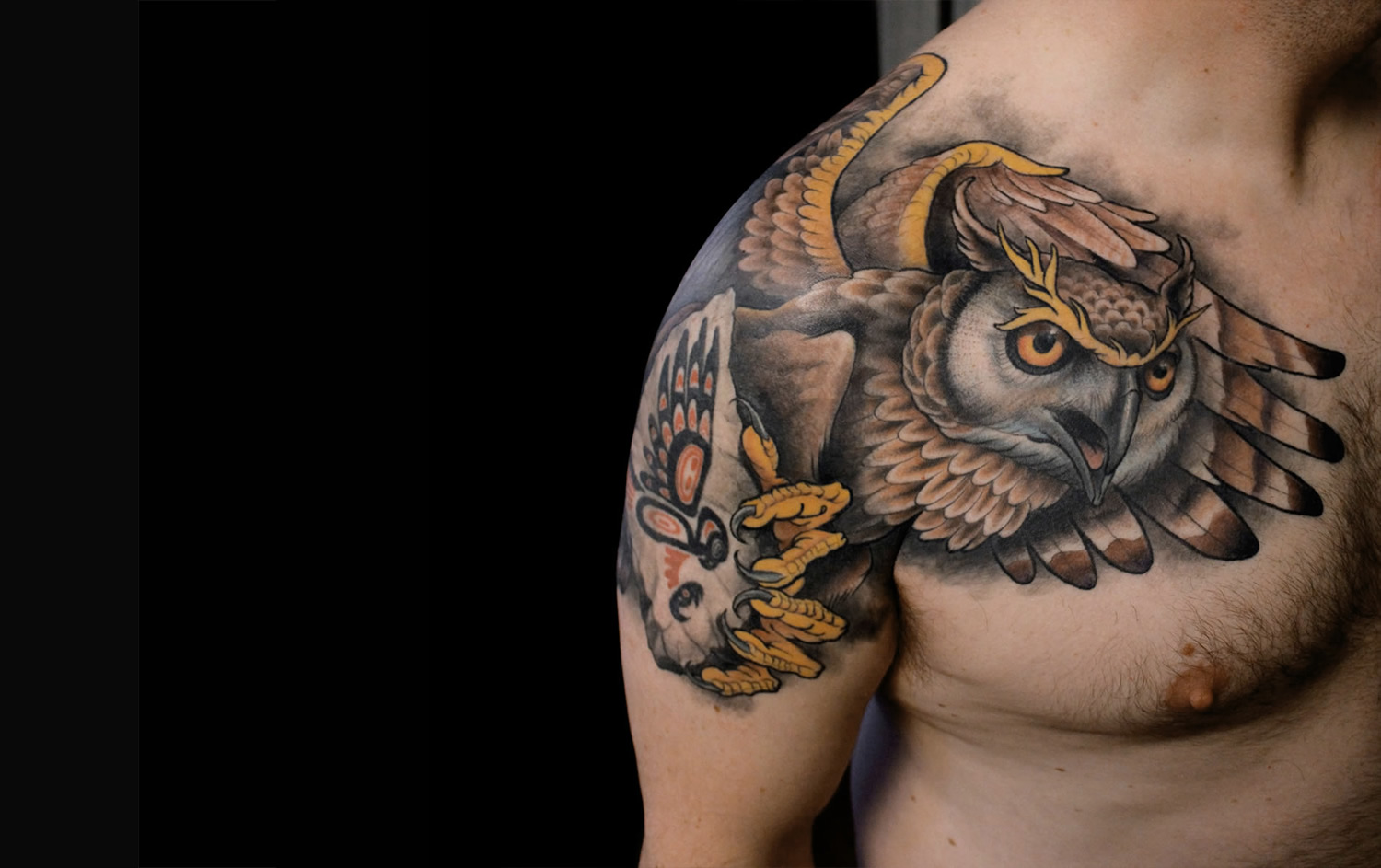 A triptych painting by Shawn Barber depicts a full body suit in one composition.
Shawn Barber
Shawn Barber documents contemporary tattoo culture through painting and portraiture. His skills were honed at the Ringling College of Art, and he uses this formal training to showcase inked individuals with a mixture of careful brushstrokes and dripping pigment. The pictured painting is titled "Portrait of the Artist, Shige (Shigenori Iwasaki), 9 views" features an extended look at how tattoos can completely cloak the skin with their colorful designs. Measuring 72 inches tall, this massive triptych is just a small selection of the 1500 paintings he's completed since 1997.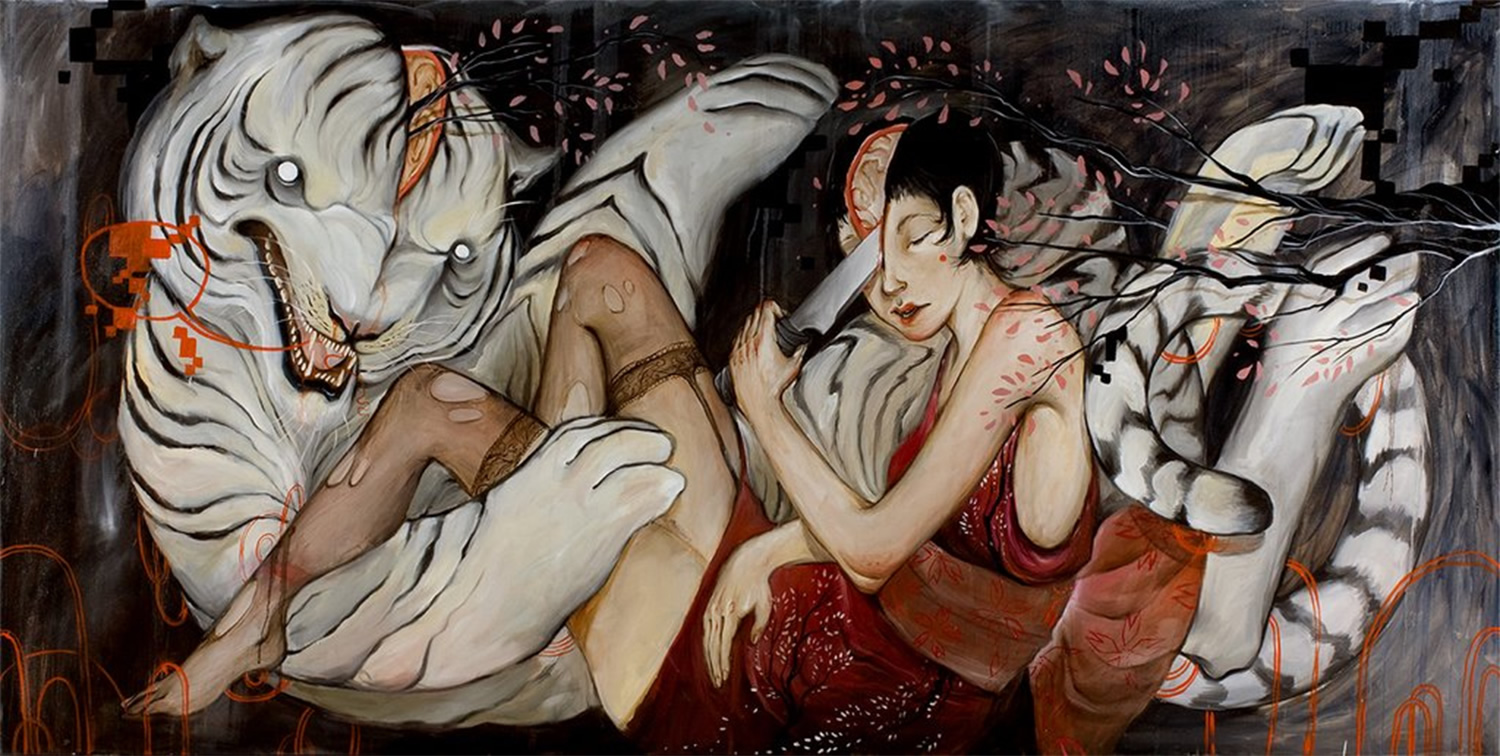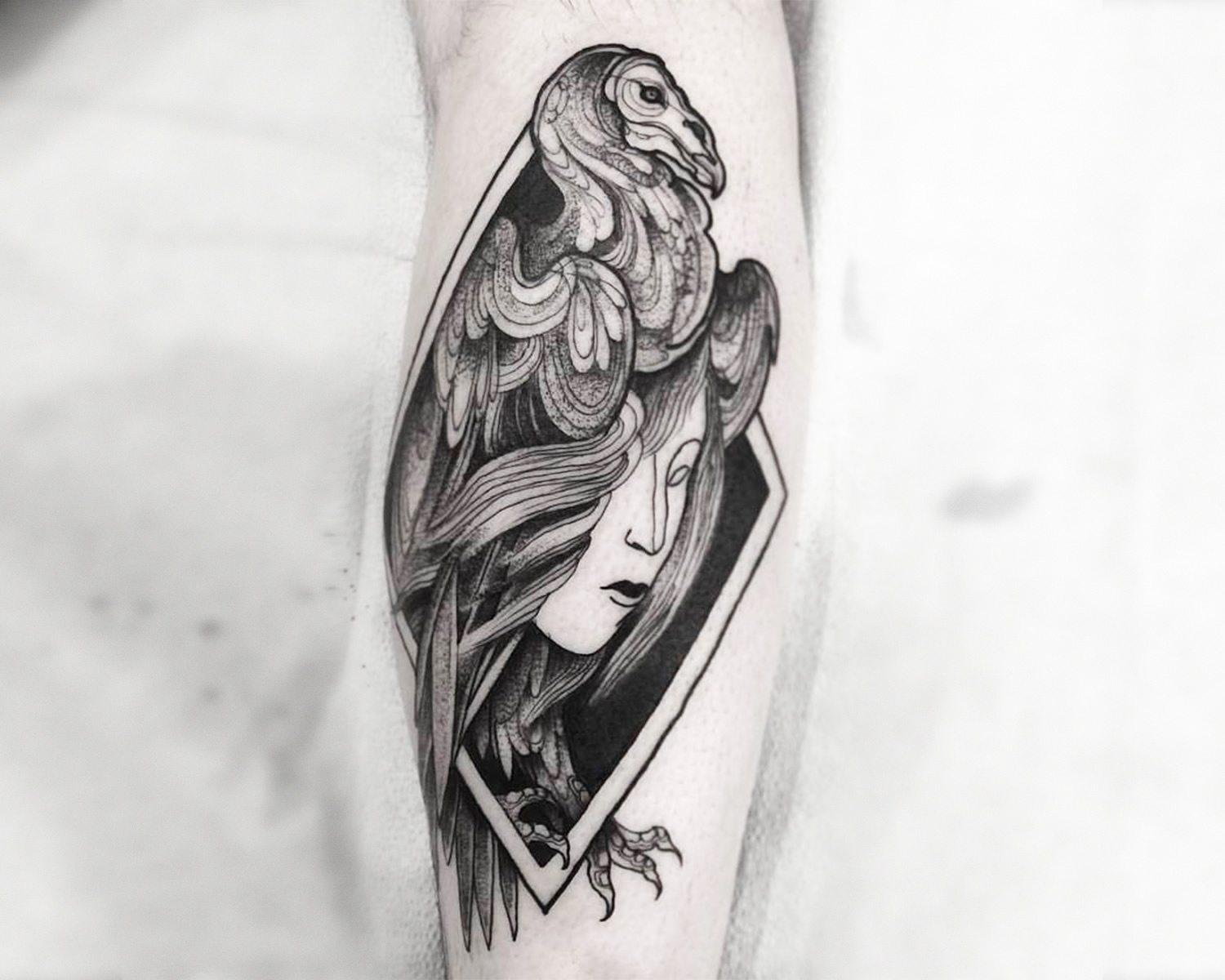 Nomi Chi combines painting and sketching to create bizarre, nature-inspired works.
Nomi Chi
Vancouver-based artist Nomi Chi currently divides her creative time between tattooing and illustration. Having shown in several gallery exhibitions across Canada, she displays surreal works that highlight relationships between people and nature. Last fall, Chi released a 56-inch-long sketchbook reproduction called "PARASOMNIA," which showcases an extended free-flowing narrative created with pencil.
Images © respective artists unless otherwise noted.