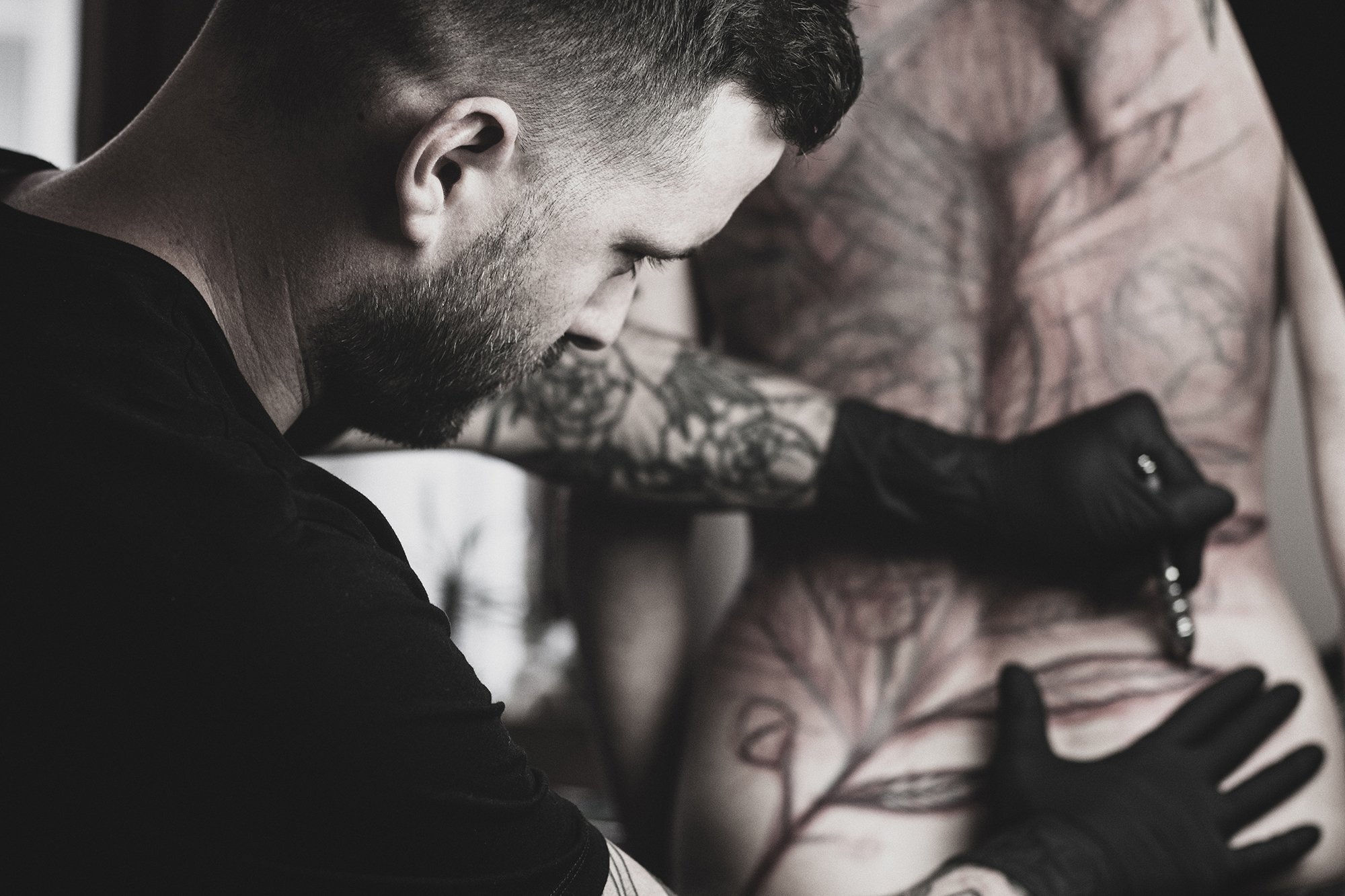 Known a decade ago as one of the youngest painters to participate in reputable art galleries in Buenos Aires, Daniel the Gardener, is presently recognized for his career in tattoo art.

The twist is that although he's a home gardener and understands much about plant life, he wants to go beyond—artistically and emotionally—to fuse petals and stems from different flowers to create unique tattoos on his clients. Since 2013, he has been tattooing, yet doing it professionally for three years. He has been based in Berlin, currently working at Pechschwarz studio and carrying out guest spots in Europe.
An intimate look at Daniel the Gardner working in studio with client. Photo © Yonne Hartmann.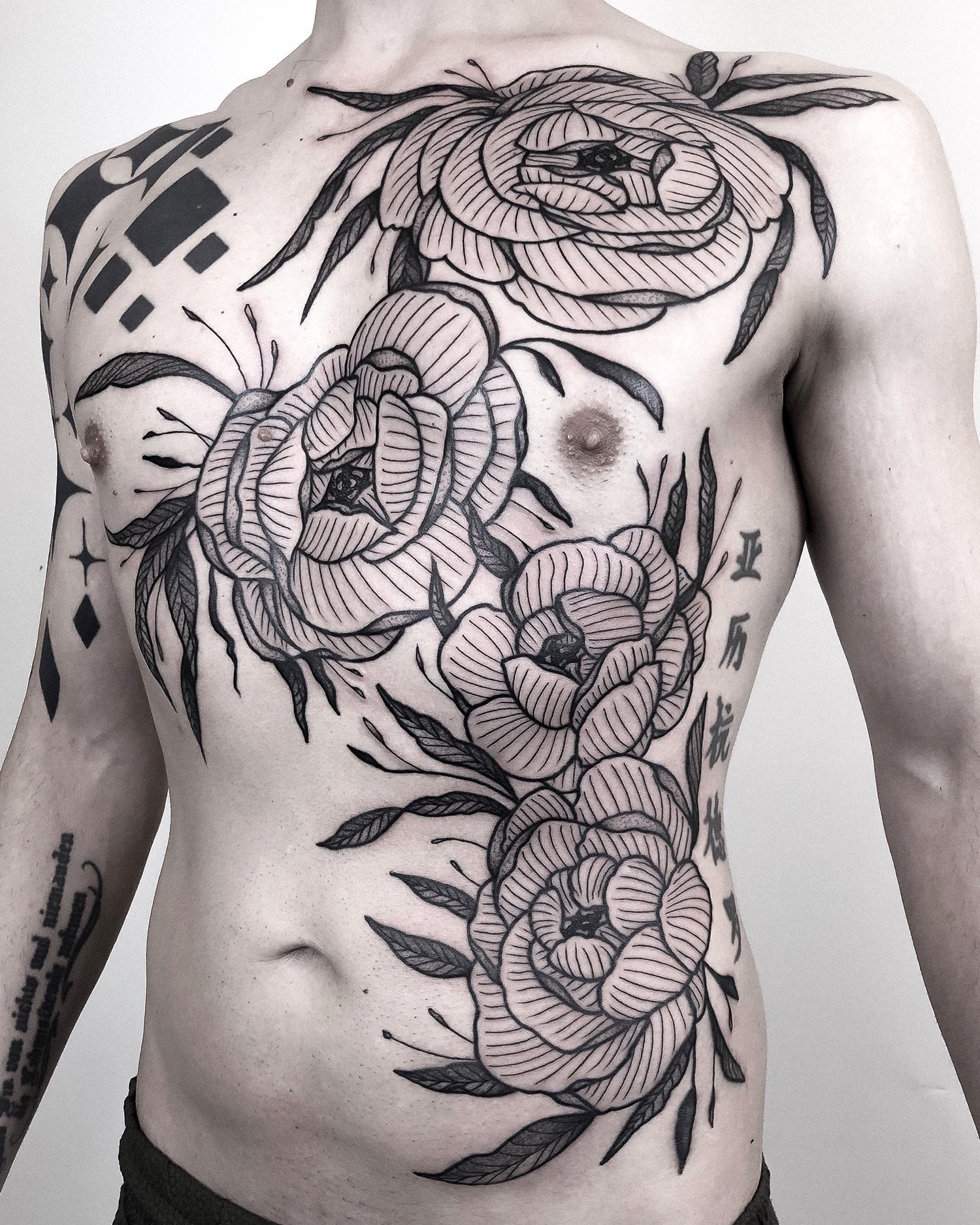 Bigger the better—Daniel the Gardener loves to do large-scale art pieces.
You love home gardening, and have found a way to tie that passion into your tattoo creations. Do you see your clients' bodies as "blank garden beds"?
I feel more like revealing fragments from my customers' own inner gardens, than laying my own flowers into a blank bed. Most of them already have a feeling for which type of flora they would like to have on them. I find it interesting the parallelism between the care of a garden and our body's needs. Both going through cycles, storms and sunny days. Needing water and maintenance in order to flourish and grow. My designs should talk about this intrinsic relationship we have with ourselves. Getting tattooed impacts the way we feel about ourselves, and should be a reminder of who we really are.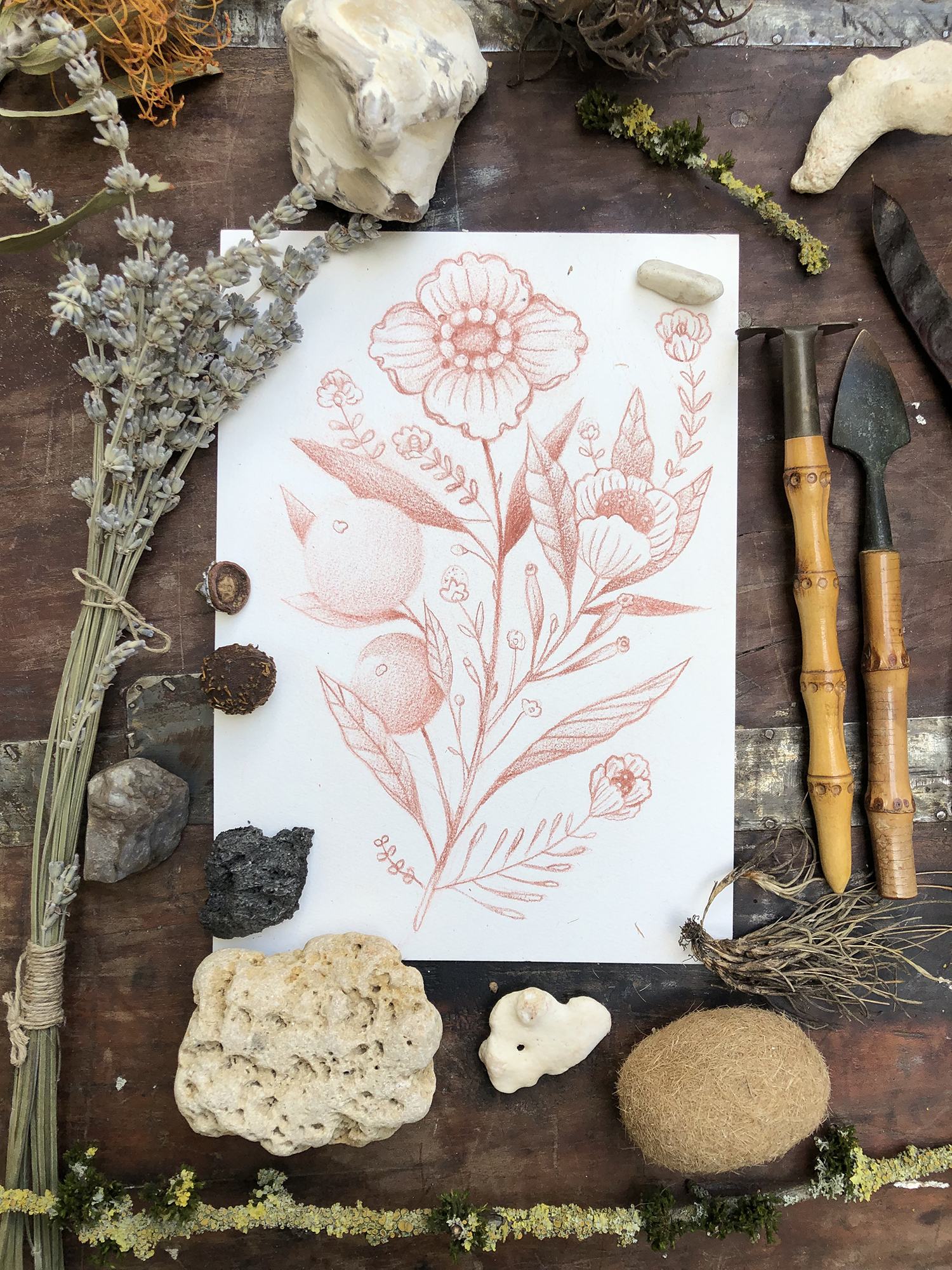 Whether drawing on paper or skin, he is a very talented person.
What are some of your favorite flowers?
It is hard to pick, but here are some: Proteas, Seaside Mahoe, Gardenias, Jade Vine, Expanded Lobster Claw, Chocolate Cosmos, Night-Blooming Cereus, and Middlemist Red.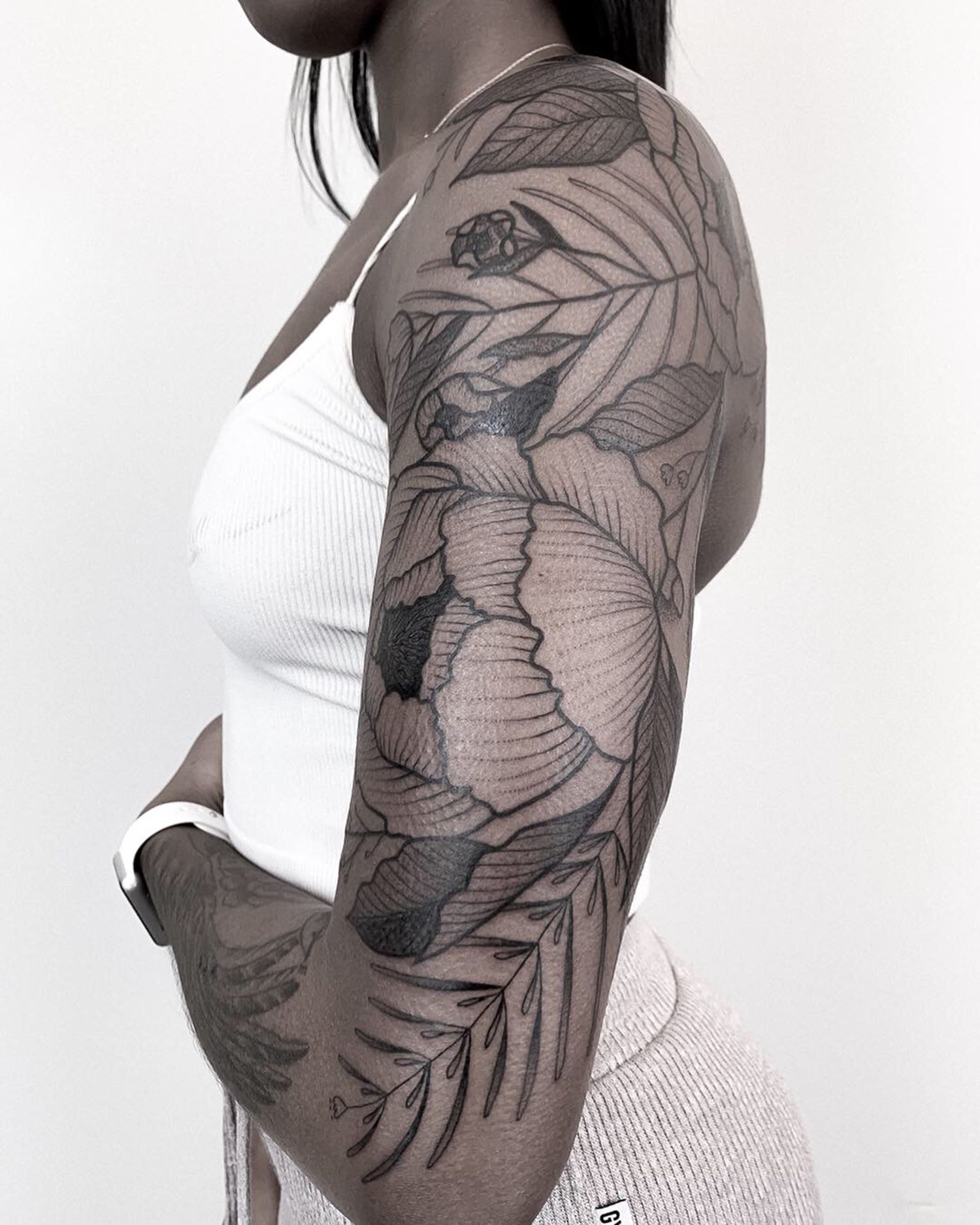 His floral tattoos must flow-and-fit well the human anatomy.
Your career has been on the rise with many clients flying from afar to get tattooed by you. What are some of the pros and cons of all this success?
Having people travel to get tattooed is a good reminder of the importance this event [tattooing] has for them in their lives. Improving and developing my graphic and technical skills is pretty much what I'm working hard for. Also, finding ways to give them an enjoyable experience during our day session at the studio is one of the things I'm lately more concerned about. Above all, getting tattooed is not only about the tattoo itself—[i.e.] the experience offered during that day to the client will shape the perception from their tattoo in a positive or negative way. I also travel to get tattooed and I know my expectations go higher because the commitment for getting that piece involves way much more time and planning than just getting it in my home town, so I assume my clients should go through something similar (that there are a lot of emotions going on).
Seeing my clients trust in me, makes my expectations often skyrocket and I'm hard on myself—self-criticizing and with deep judgment … I'm still working on these aspects.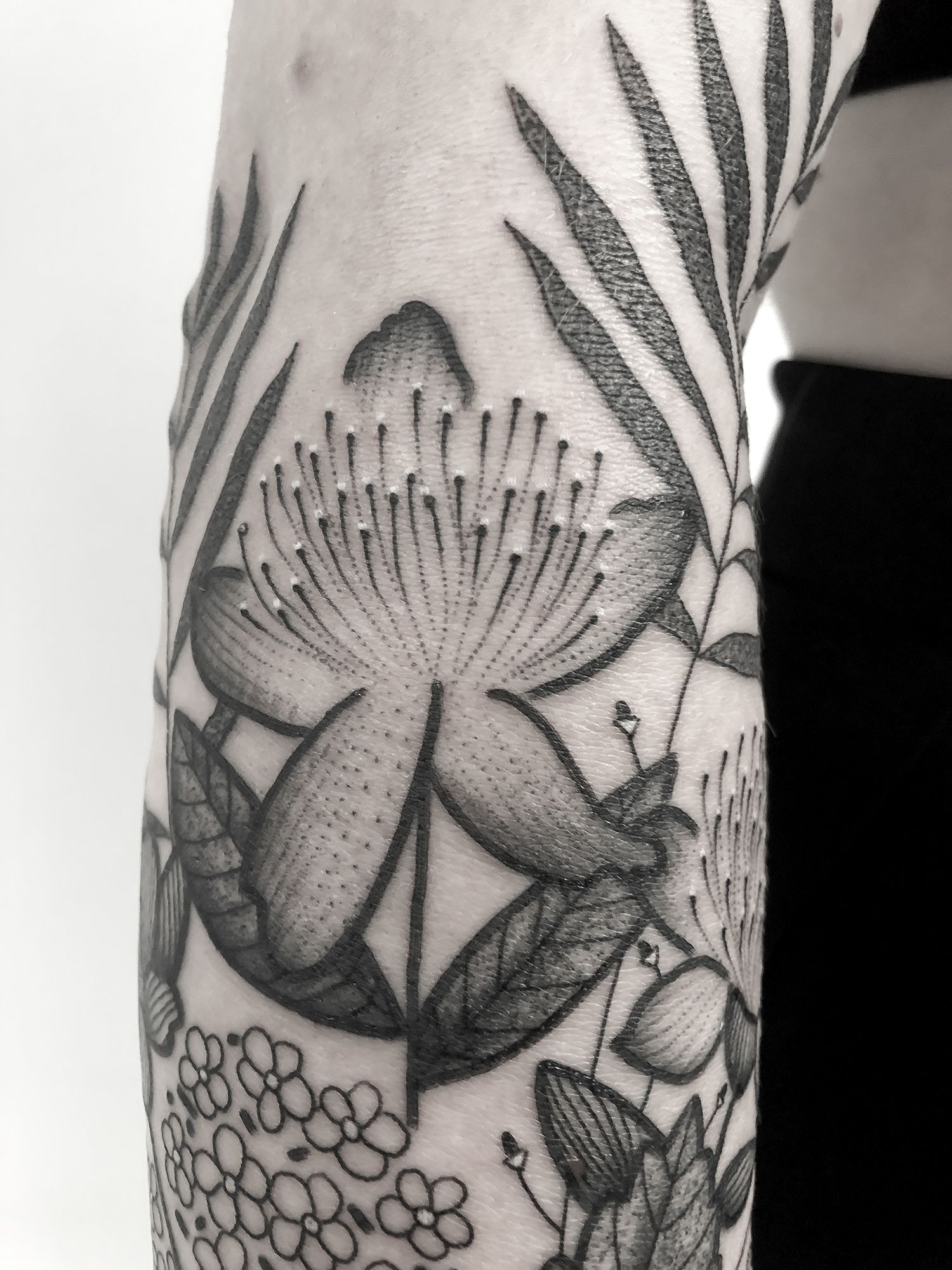 Sometimes Daniel the Gardener adds white-ink highlights to his blackwork.
You did guest spots at Sang Bleu Zurich and A1BCN. What was it like working in these studios?
Working at Sang Bleu was great! I was impressed about the process their apprentices have to go through to become a tattoo artist; working hard on thousands of flash sheets before even grabbing a tattoo machine. It was a beautiful experience—I traveled with my friend and colleague Julim Rosa, everyone was really welcoming and friendly. Unfortunately, Maxime Plescia-Buchi was not there, but you can tell how present and the admiration all of his team have for him.
I recently did a guest spot at Nazareno Tubaro's studio A1 BCN. I actually started getting my back tattooed 12 years ago by Nazareno in our hometown of Buenos Aires. Then I moved to Berlin and it was really hard to book an appointment during my visits there. Since he opened his studio in Barcelona, it was much easier to continue working on this project. I got my first tattoos when I was around 14 – 16 years old and never had great experiences, until meeting Nazareno when I was 18. He has been my biggest inspiration, and because of him I considered becoming a tattoo artist. His vision and passion for what he does changed completely my perception from what being a tattooer means and encouraged me to follow this path.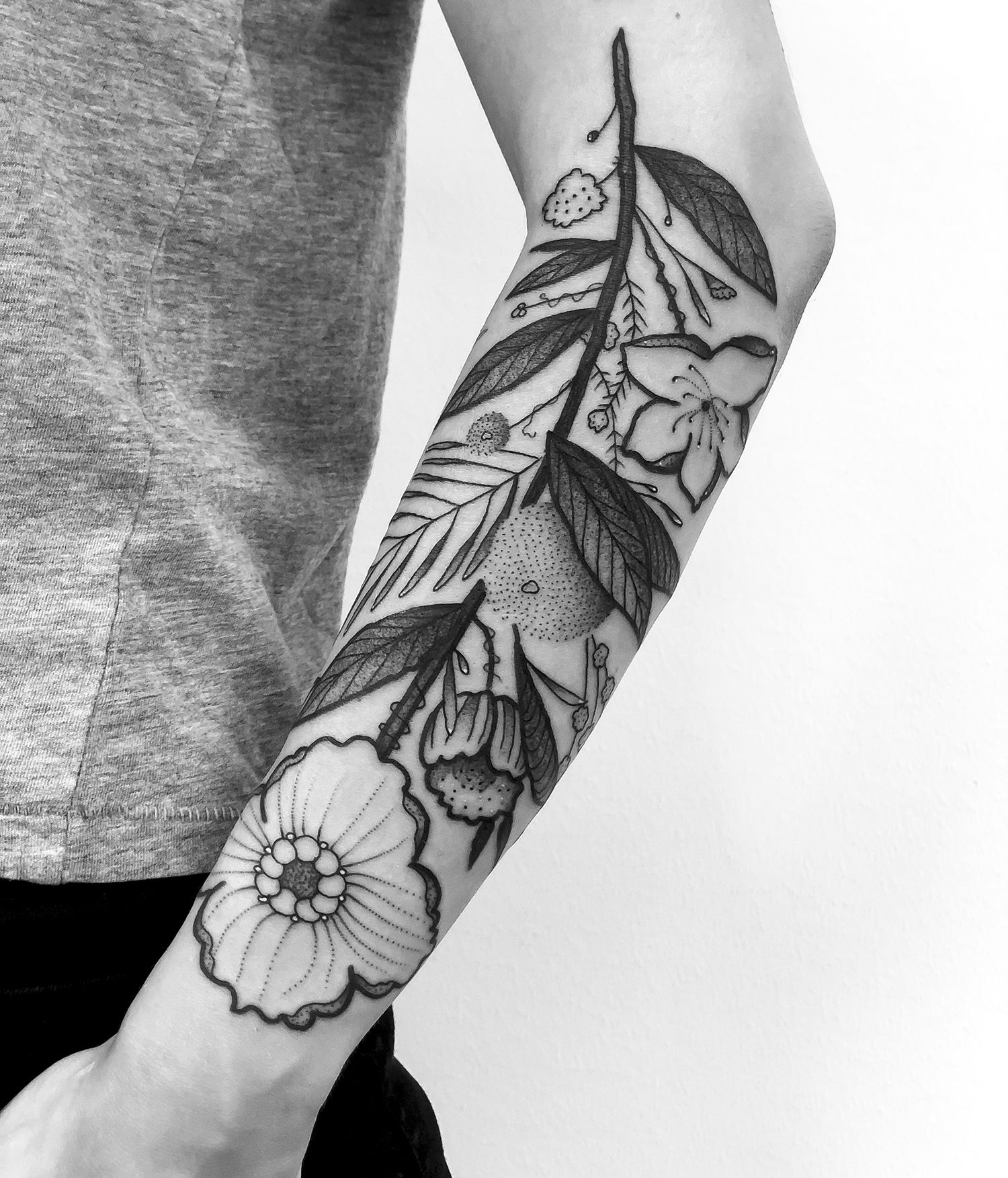 The artist's creativity is apparent in the blend of flower-heads on one stem.
In 2018, you had mentioned to us that you were merging various plant species to create hybrid designs. It is more imaginative and not an exact replica of flora life.
I like focusing on the atmosphere my designs have and that the shapes I draw are organically fitting for that particular body part, rather than representing all the real aspects of plants. That's why I will combine different types of flower (petal) species if needed, and not worry if the stem—[because in the end it often] improves the outcome on my whole design. I prioritize my designs to be decorative and harmonious with  human anatomy.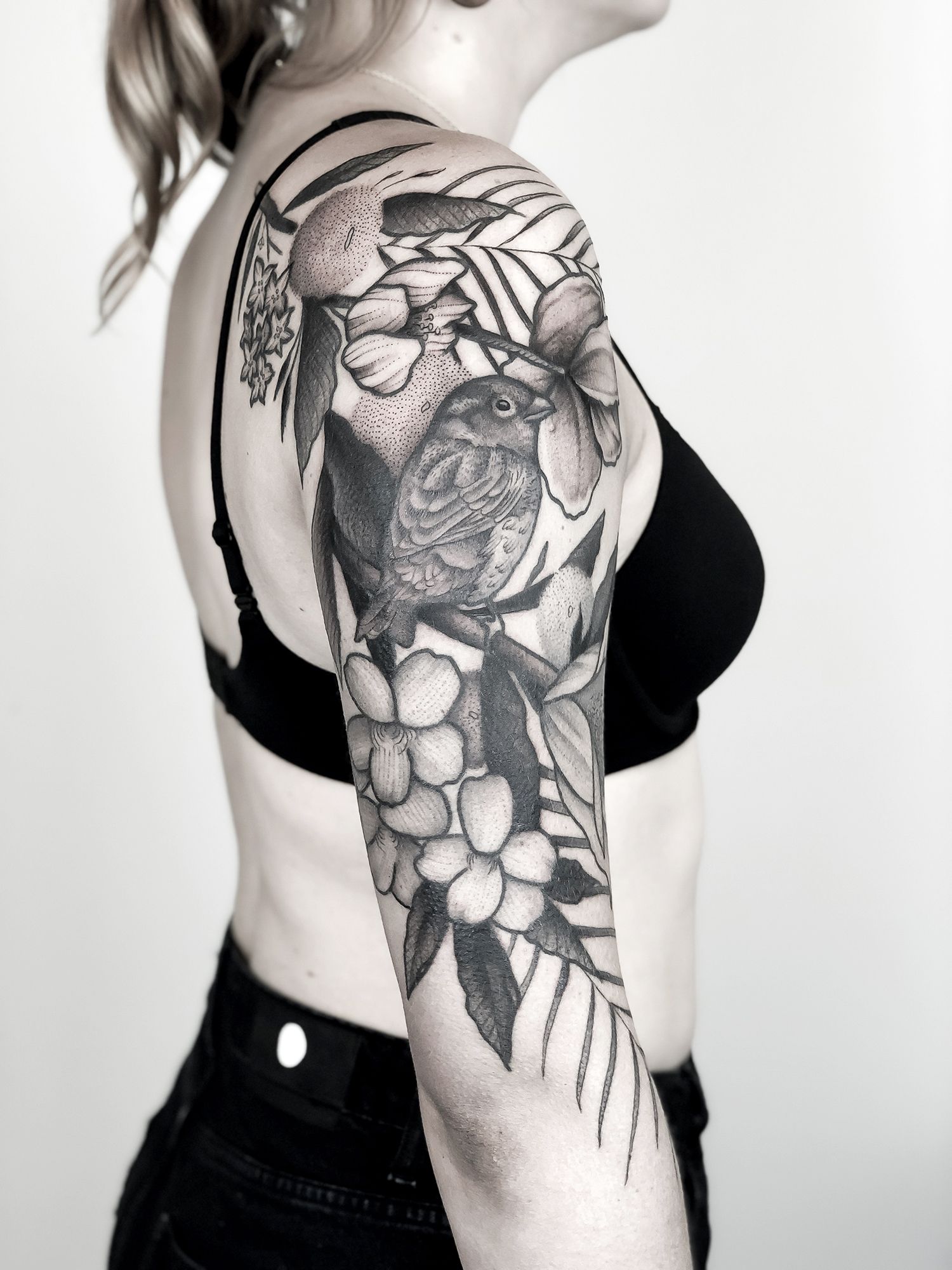 Birds, snakes, and other creatures emerge in some of his skin art.
In addition to being known as the "Gardener Tattooist," you have started to add some wildlife and human anatomy parts into your compositions. What inspired this change?
About a year and a half ago, I started specializing in freehand botanical tattoos. I'm slowly getting more confidence with this; I'd like to start adding elements to my floral theme and explore ways to interact with them. I like to see how these elements could resymbolize the whole meaning and erupt the silence and calm which plants and flowers have.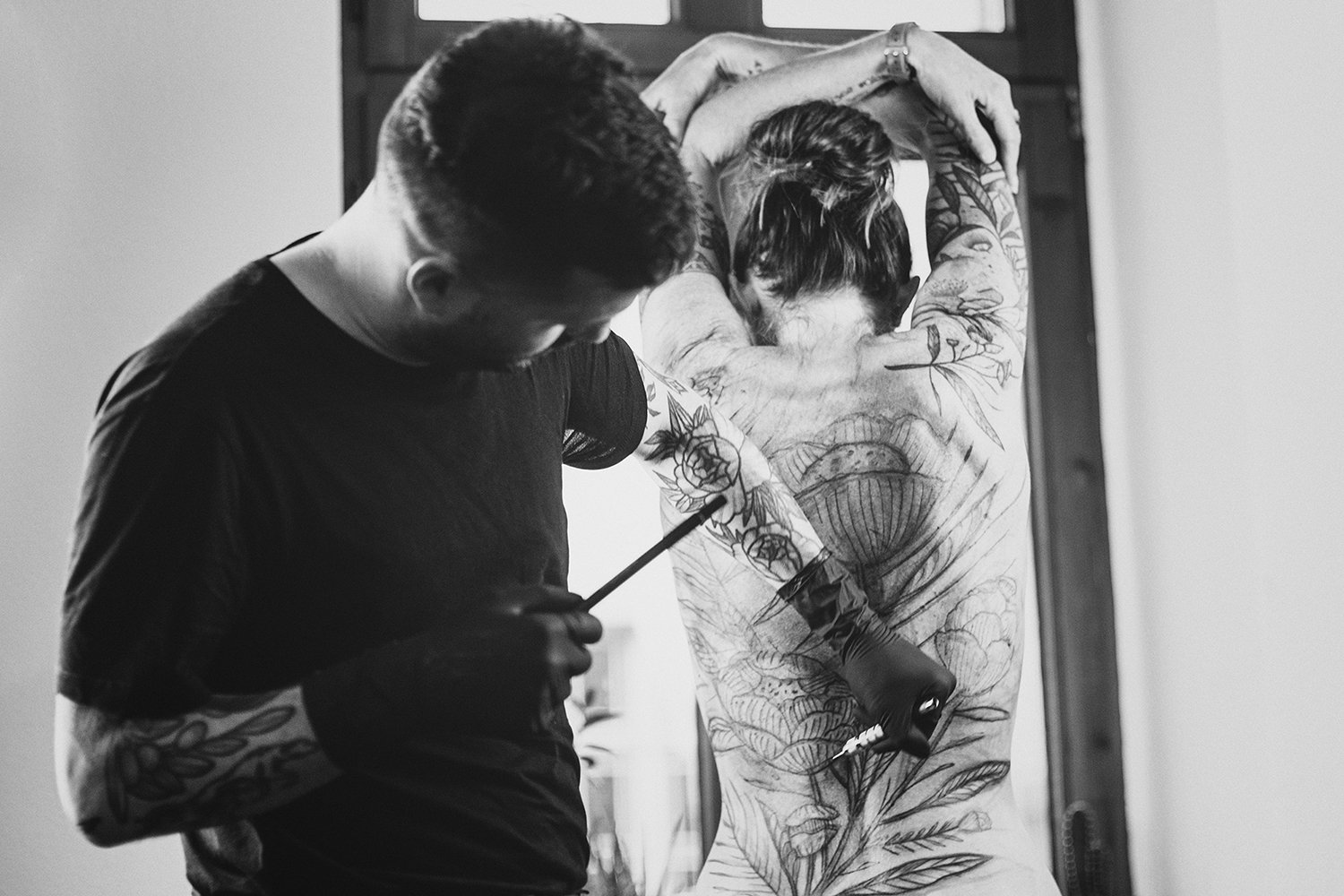 A glimpse at the gigantic back piece in progress. Photo © Yonne Hartmann.
Your large-scale freehanding is impressive! Please tell us about your creative process.
I realized I could approach my practice and clients way better than before through this process [of freehanding]. I have a strong background in painting—so drawing with brush-pens on the skin brings me a sense of freedom. I try to create pieces which look organic, almost as if they would belong to that specific area on the body. Having the chance to draw directly on my clients, adapting my designs to each muscle and body part simply fascinates me! Especially when it is big tattoo pieces. I never felt that comfortable with having to present a final design to my customers on our appointment day. I enjoy discussing about the project and getting a feel for what they would like to get right before starting to draw on them, giving them options and showing them different ways their piece could be designed—its a fundamental part of my work. It is more like team work [collaborating in real-time with the client], rather than drawing at home by myself and then showing the design—something they are supposed to wear for the rest of their lives.
I also draw a lot in my sketchbook, and some of my sketches are available for tattooing, but these normally belong to my studies of a particular type of plant or a new way composing [artwork].
Photos © Daniel the Gardener