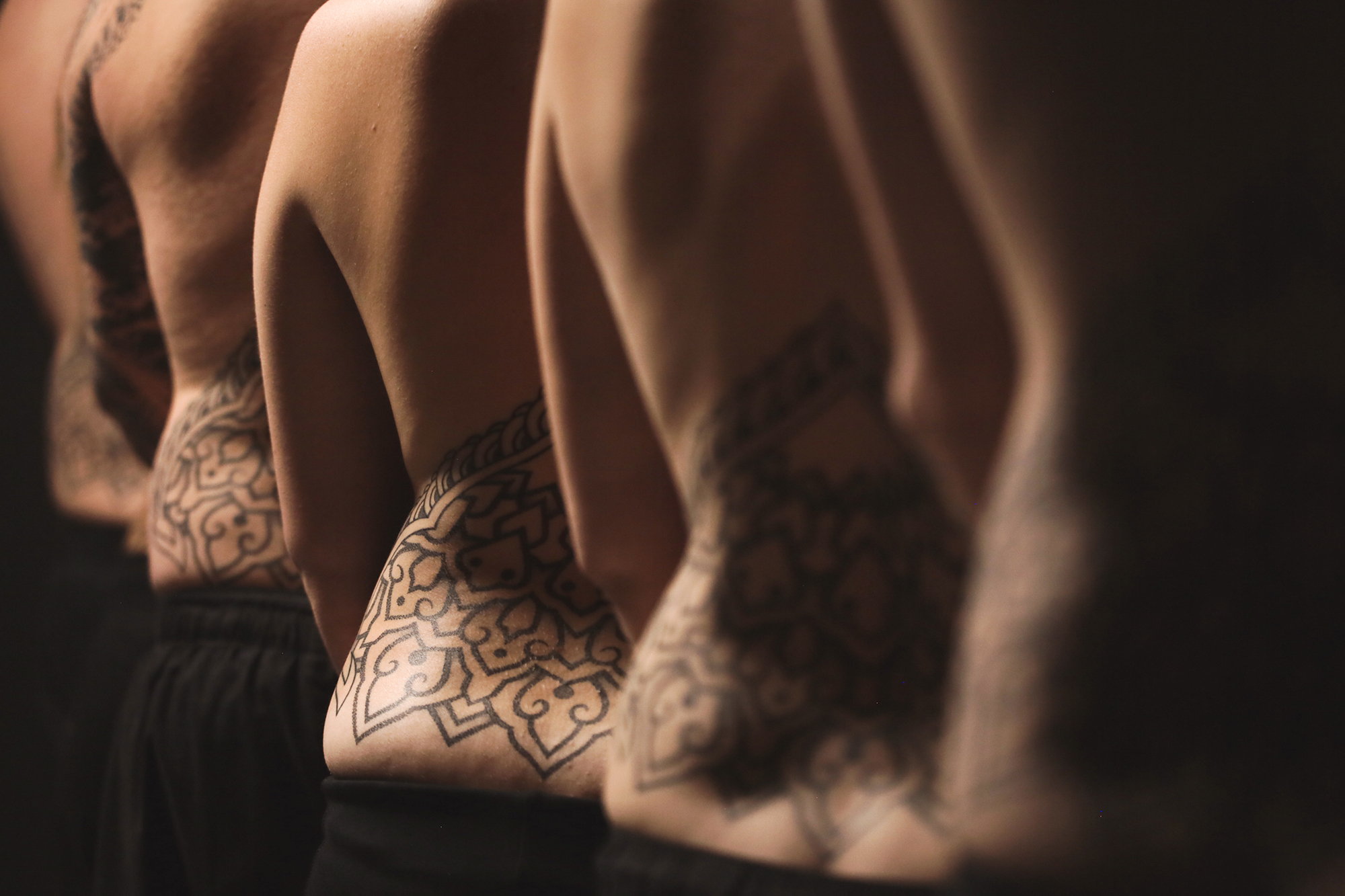 Traveling all the way from his native Australia to Portugal for the 2018 Lisbon Tattoo & Rock Fest, we met Keegan Sweeney there and got a hint about a tattooing project he was working on that included half-a-dozen people.

The "Unified Back Project" is a massive undertaking that would take Sweeney many months to complete till its launch in spring 2019. He  tattooed the same ornamental design on six backs, and then by aligning the bodies in a full circle the beauty of their connection visually emerges. Sweeney also experimented with projection mapping to give us a feel for the movement and flow of his artwork—all of which can be seen in a short film on Youtube.
Above: Through this tattoo project, Keegan Sweeney was able to express human connection.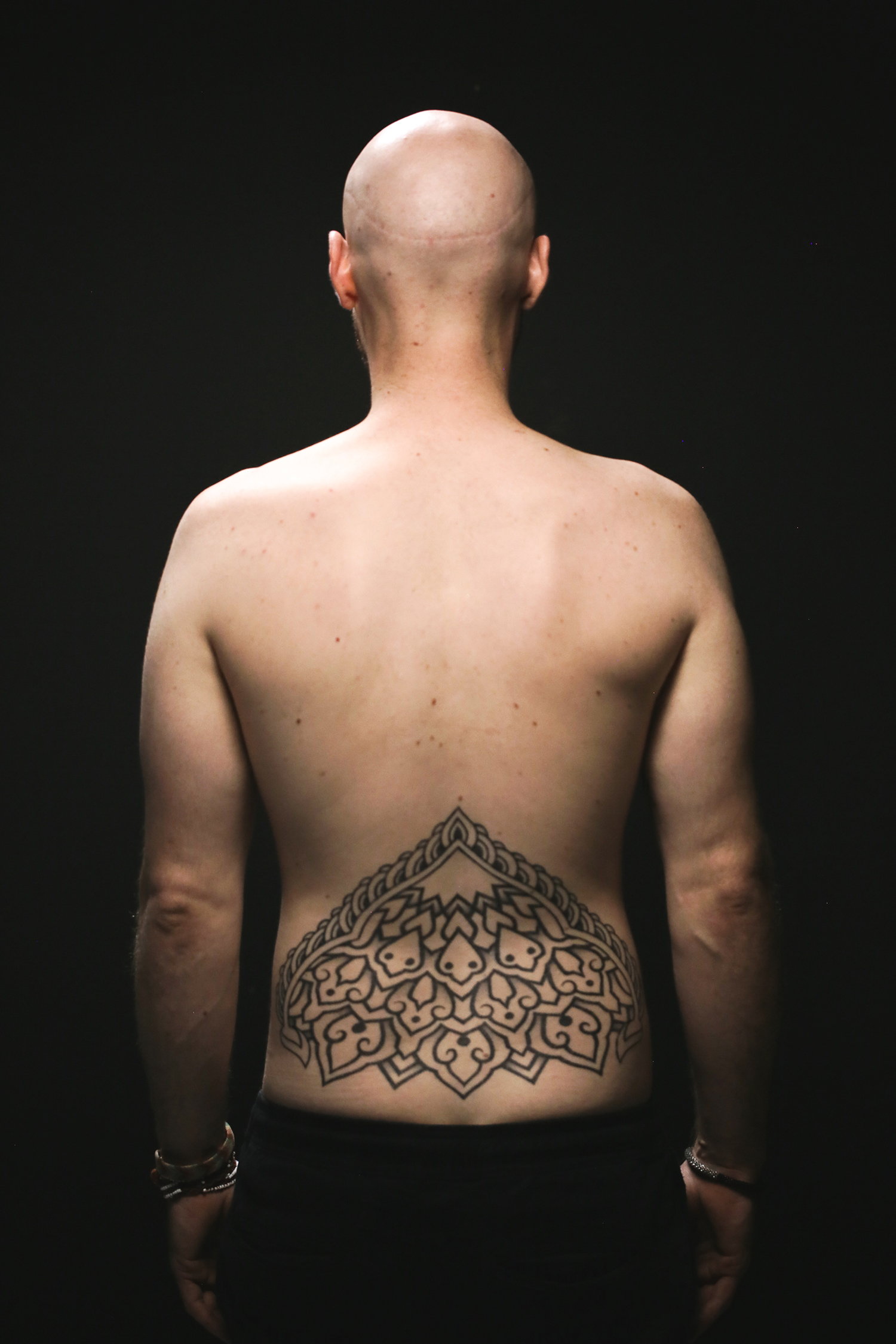 Sweeney's signature style is "Sacred Geometry."
You tattooed six people for the "Unified Back Project." Please explain about this rather large and epic accomplishment.
I have loved investigating and navigating through life with artwork of various pattern work and mandalas; it's been a natural progression for me to work more large-scale with how things fit and flow with the human body, so naturally the next step was to create 6 identical segments across six peoples backs to form one large mandala from bird's-eye view. I enjoy challenging myself, and giving myself projects that I have to figure out how to bring together and make it work the best I can. From finding 6 people willing to be apart of it, and finding days for them to be able to fly in from various locations, and then once again a couple of months later altogether to film was quite the challenge. I'd say from initially planning to having the end result would have been 12-16 months of work and prep around already a very busy schedule.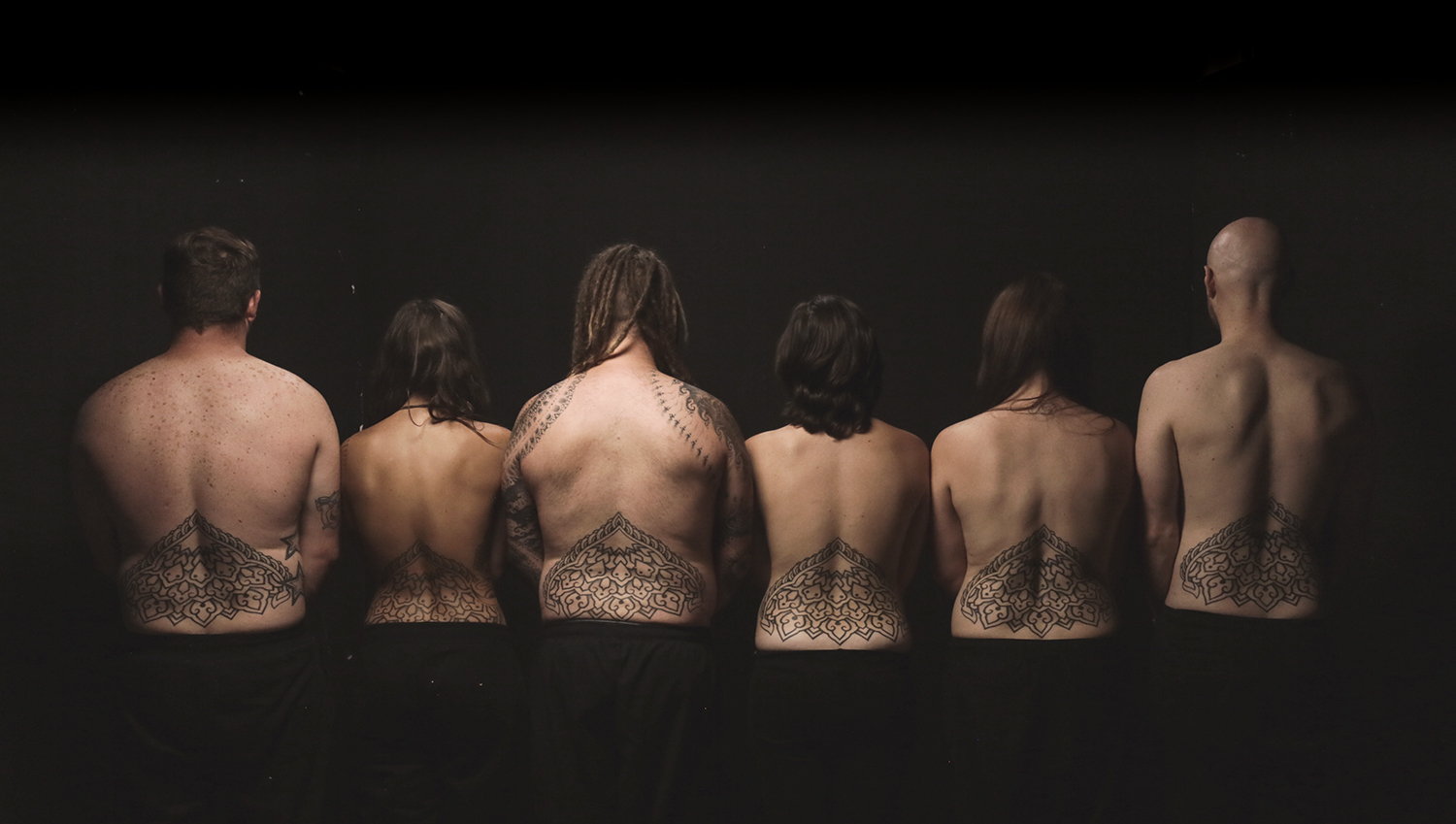 The tattooed group lines up to show their back pieces.
A "mandala" represents the universe. Are humans really connected?
I truly believe we are all from the same source. Humans are connected social creatures and we can choose to connect in either a positive or a negative way. There is a lot of negative in the world that humans have been the main source of. I think it is an artists obligation to either raise awareness of these issues, or alternatively (the path I chose) is to spread positivity and optimism through what I create and share with the world, with the hope to inspire others to do the same, or perhaps just be a bit kinder to themselves and others.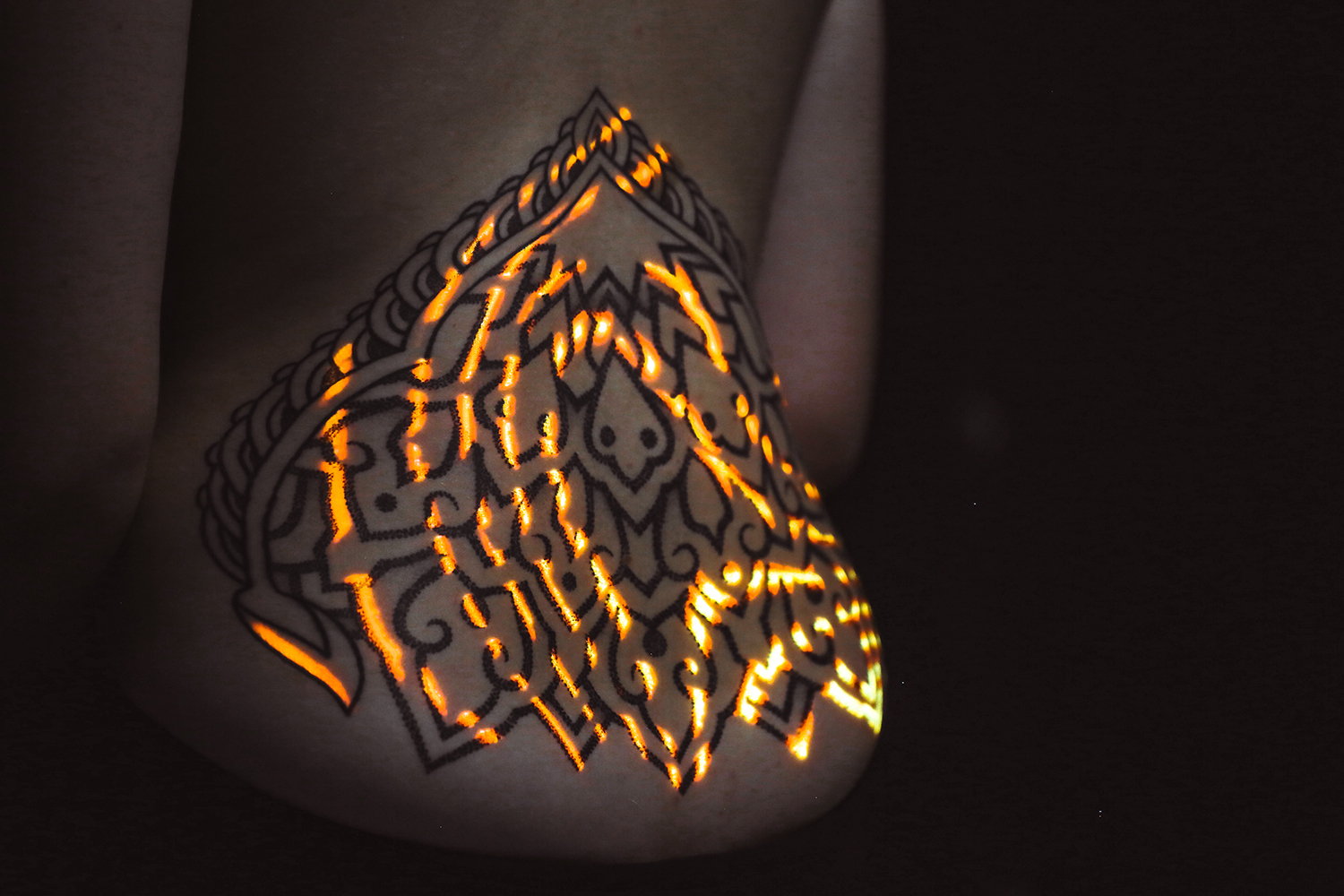 To create motion over the tattoos, Keegan Sweeney cleverly used project mapping.
It was interesting to see your use of projection mapping, similar to an interactive art installation. What led to utilizing animations over the bodies?
Ever since I have had a fascination exploring patterns and mandalas I have felt their movement and flow; it's something that I visualise every time I tattoo. Being able to use projection mapping and express that visualisation in real time has been not only a challenge with a living, breathing, moving canvas, but a unique aspect of tattoo art that I hadn't ever seen before. I'm still very new to using this technology and its something I plan to develop a lot more over time for future projects.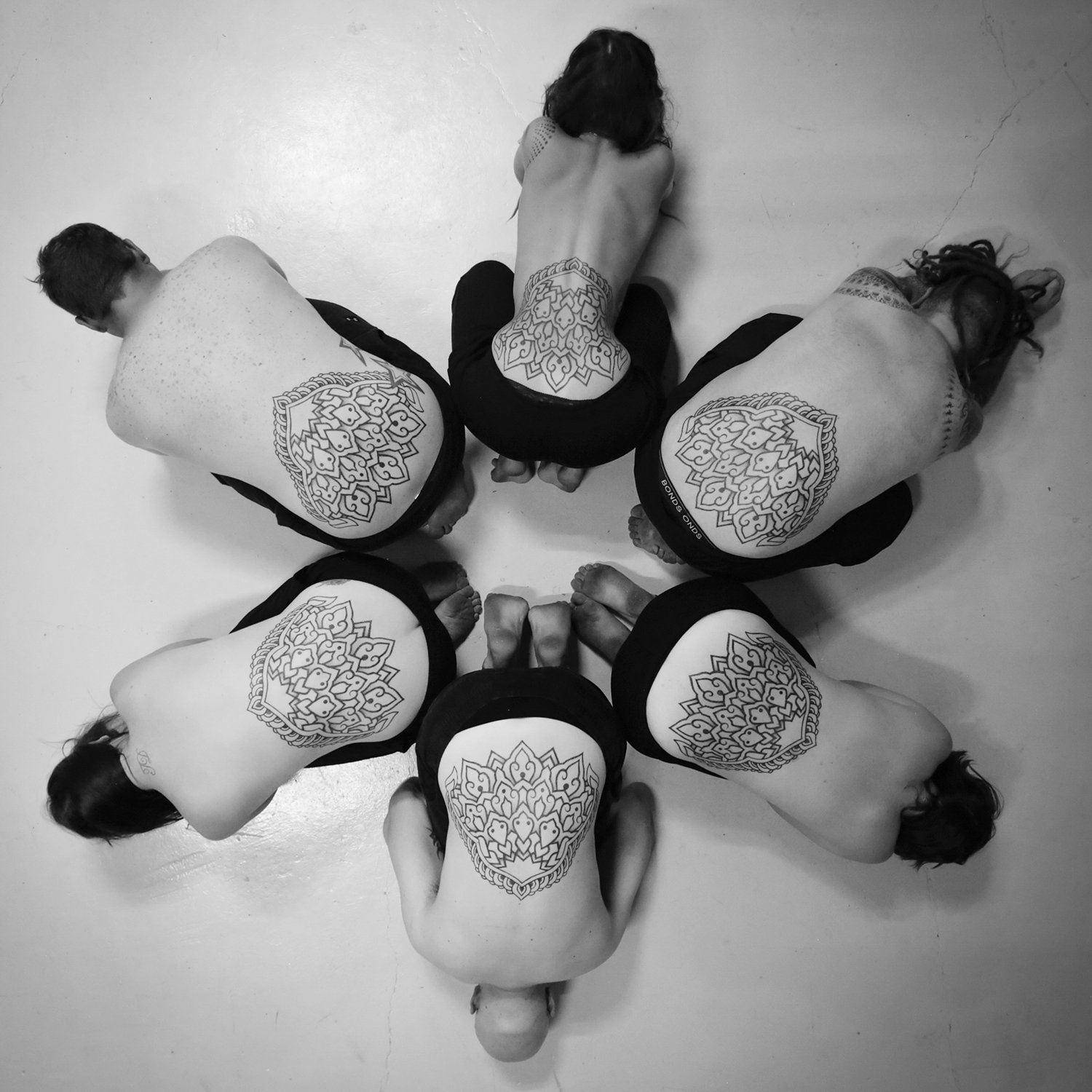 The mandala is visible once the tattooed group is in circle alignment.
Do you think you elevated your tattooing to a "fine art" level? Do you think art galleries and museums should invite tattooists to do performance-art pieces for visitors?
The hours-and-hours of discipline and time I put into what I do, I do believe that it can be under a "fine art" level, there are many artists in tattooing now that I see as masters of their craft just in the same light as traditional artists displaying gallery pieces.
I do think that galleries and museums should invite tattooers to do performance-art pieces, it would bridge the gap and could then include people to learn more about the art and different directions it is headed (even if they are people that never plan to be tattooed). Although I don't believe it will happen by invite, I believe we as tattooers will need to make it happen and pursue them, which is exactly what I plan to do with my next large project with a couple of fine art exhibitions, where I'll be working with another artist [including] a photographer, but I can't say too much about that (right now) as it ss well over a year away from happening.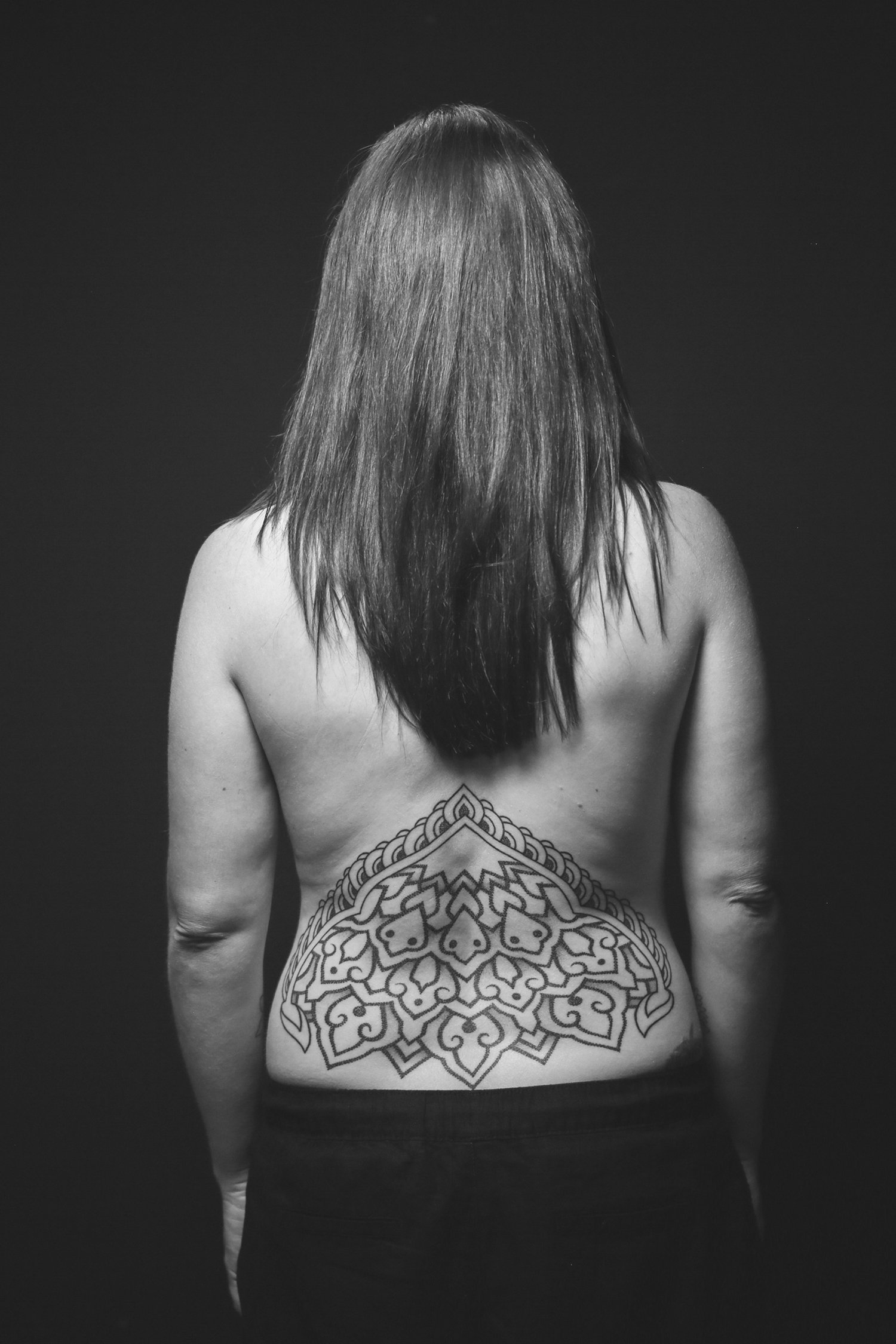 This is one person part of a group of six that got the same tattoo design on their backs.
You dedicated this project to your friend Matt 'Eddy' Edwards. Why him?
My friend Eddy always had a larger than life attitude, a jokester who made people laugh and genuinely cared about the people in his life. He showed me how to be more responsible in my younger years when I needed it most. Unfortunately Eddy lost the battle with cancer a few years ago, and I wanted to do something positive through doing what I love with raising some money, I'd hope he would have been proud of that.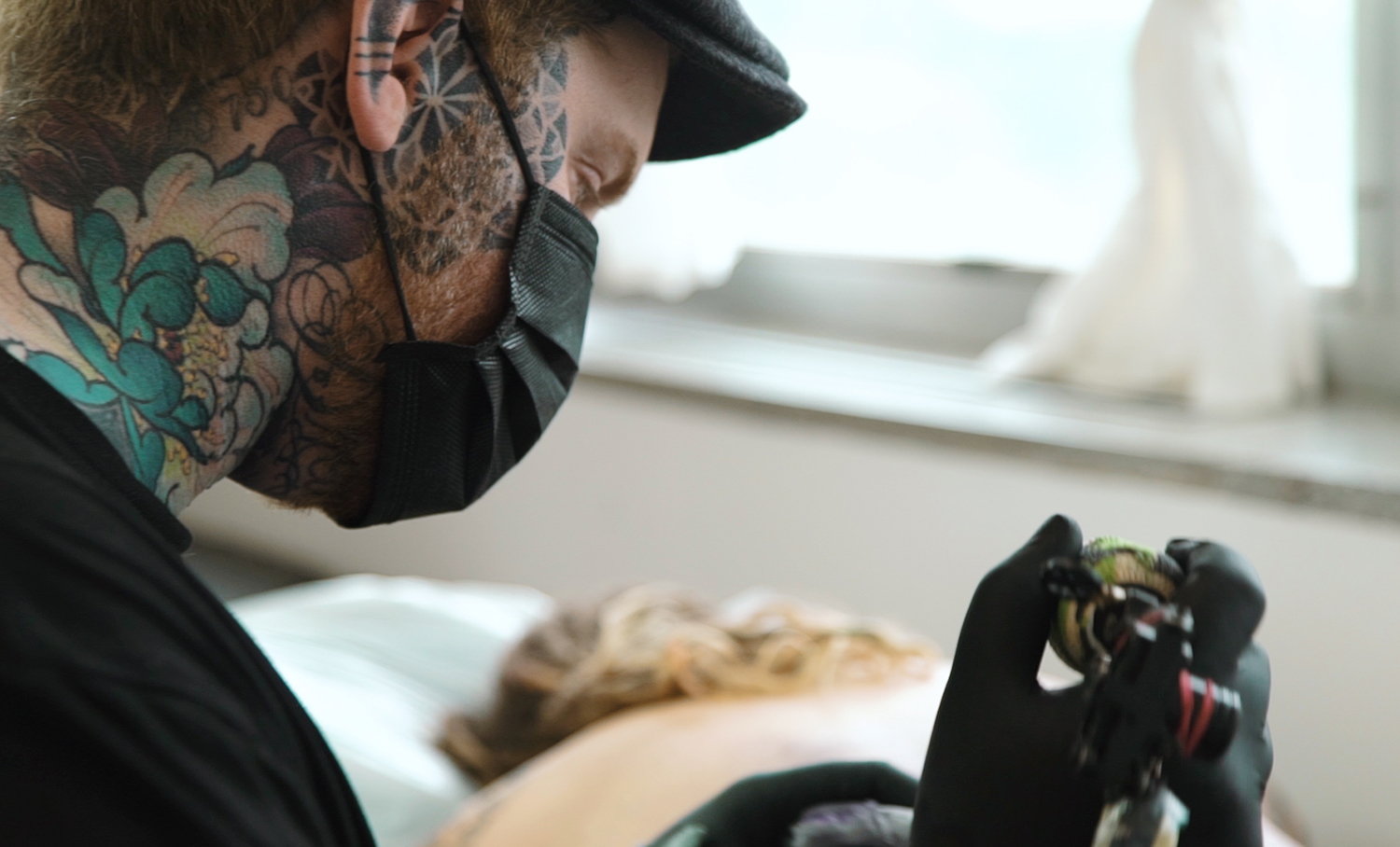 Keegan Sweeney gets in a semi-meditative state when tattooing.
From the "Unified Back Project," you are going to donate $3,000 to cancer research for children. Which charity are you giving to, and how important is it to give to others?
I raised $3000 from this project for the Children's Cancer Foundation. I like the concept of give more than you get. I'm really blessed that through my hard work I get to live my dream lifestyle and travel the world tattooing, if I can do some good a long the way I think that's great, and again hopefully it will inspire others to do the same. In the past, I have donated a lot to local dog rescues, and with a group called "Foreshore" we do fundraising events for "Sea Shepherd," which keeps growing each time—we have raised over $10,000 in the last couple of years and am excited to see where my relationship with "Foreshore" and "Sea Shepherd" grows too. I want to see what I'm capable off achieving and helping others do the same.
Over 3-minutes-long is a film showing Keegan Sweeney's "Unified Back Project."
You recently opened a private studio called "Seven Mirrors" in your hometown of Adelaide, Australia. Tell us about the launch, and where some of your clients are flying in from to get tattooed by you?
I have recently opened up my studio called Seven Mirrors, I'm really happy with the direction it has taken and the years it took to get to this point, creating a comfortable environment that not only reflects my personality and art values, but also a place that my clients feel at home and at ease as soon as they walk in. People have been travelling from all over the world such as Canada, United States, Singapore, Hong Kong, New Zealand, UK… It has blown my mind and I'm forever grateful! I also travel quite a lot and try to get to as many places as possible.
Photos by Capital Waste Pictures
Tattoo art © Keegan Sweeney
Video by Liam Somerville
Music © Michael Ellingford