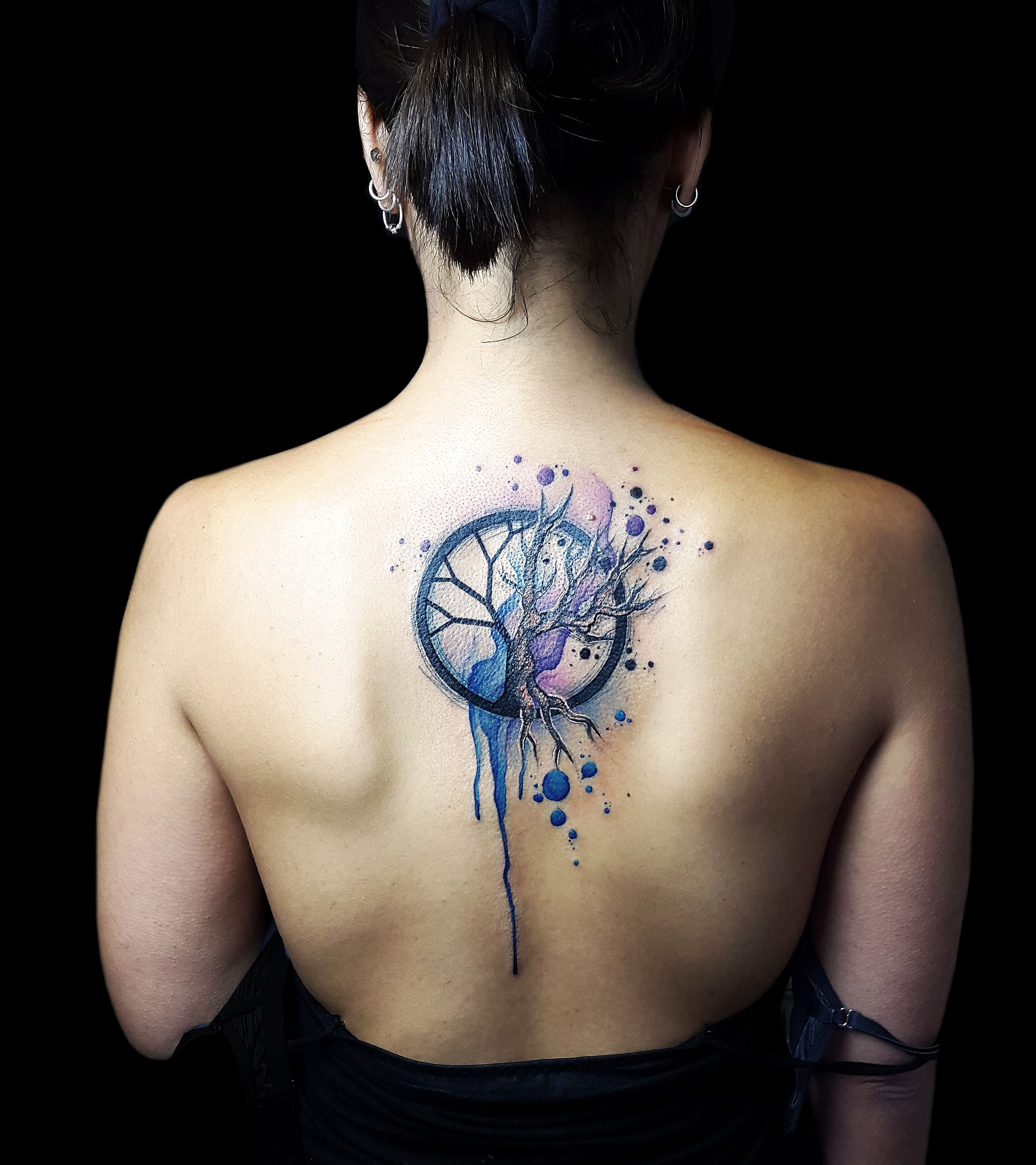 Brighton-based artist Santa Perpetua combines a lifetime using a variety of different artistic medium with an abstract, emotional approach to tattooing. The result is tattoos that combine the fluid vitality of nature with the technique of a traditional painter.
She brings the same intuitive approach to all aspects of her practice, choosing to work out of a private Atelier as opposed to being part of a shared studio. It seems fitting that such uniquely intimate artwork would come out of such a relaxed and personal setting, and that it would be created by such an eclectic artist. Scene360 was fortunate enough to speak to her about her time travelling, her artistic background, and the things she draws inspiration from in her work.
Above: Perpetua's passion for painting is evident in her tattoo art.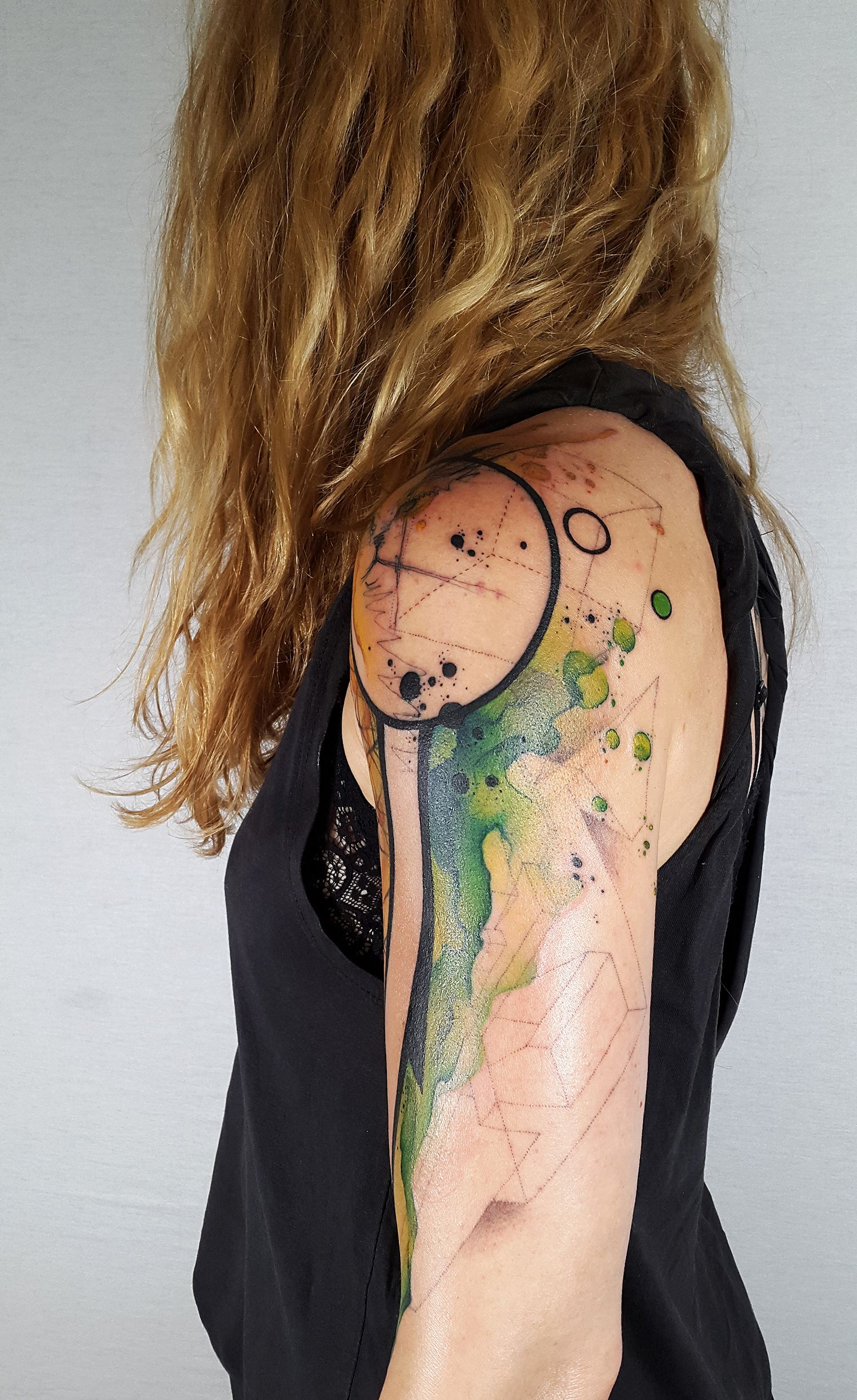 Sacred geometric shapes contrast with natural fluidity in this piece.
You were born in Montevideo, Uruguay. Explain about your move to Barcelona and then to the UK.
I was born and lived in Montevideo until the age of 6. Then my mother and I moved to Madrid (Spain), where I stayed for another 6 years more. After that, we returned to Montevideo, but even being a child I really wanted to come back to Spain. Being raised in that country printed a deep mark on me. It could be seen like a mystic idea: I consider one belonging to the place in the world you were born in, but on the other hand you also are from the place you left your heart at.
I had the great chance in my life of being raised in a foreign country. That was hard at a times, but it gave me another perspective about nationalities and the feeling of belonging to one place or another. I definitely love Spain. It is a great part of myself, so that was the biggest motivation to come back one day. However, when I thought of that, the time wasn't the right one for me. I was too young and needed to wait, grow and collect experiences before any movement.
I attended secondary school and then university. I later on worked as a graphic designer; things were almost alright to be living in an undeveloped country like Uruguay. But in the early 2000's, the economic crisis took over and as many other fellow nationals, I had to emigrate to Europe in order to make ends meet. At the beginning it was hard and sad. I had my true friends in Montevideo, my mother and other relatives.
I finally went back to Spain. I arrived to Barcelona, fell in love with it, and settled myself there for almost 12 more years. When I started tattooing, it was really difficult making a space for myself in the Spanish tattoo scene. I hadn't developed yet a style or technical knowledge (that I now have), and I was sure I didn't want to do any of the traditional tattooing styles. So I moved again, left Spain and went to the UK. That was another difficult situation, specially considering the cultural and linguistic differences, but every situation that one bumps into makes you learn and grow a bit more.
It's been 6 years in Brighton now, and when I look back I feel really grateful, proud and lucky for what I could manage to develop in here. I feel I am in the right time and place.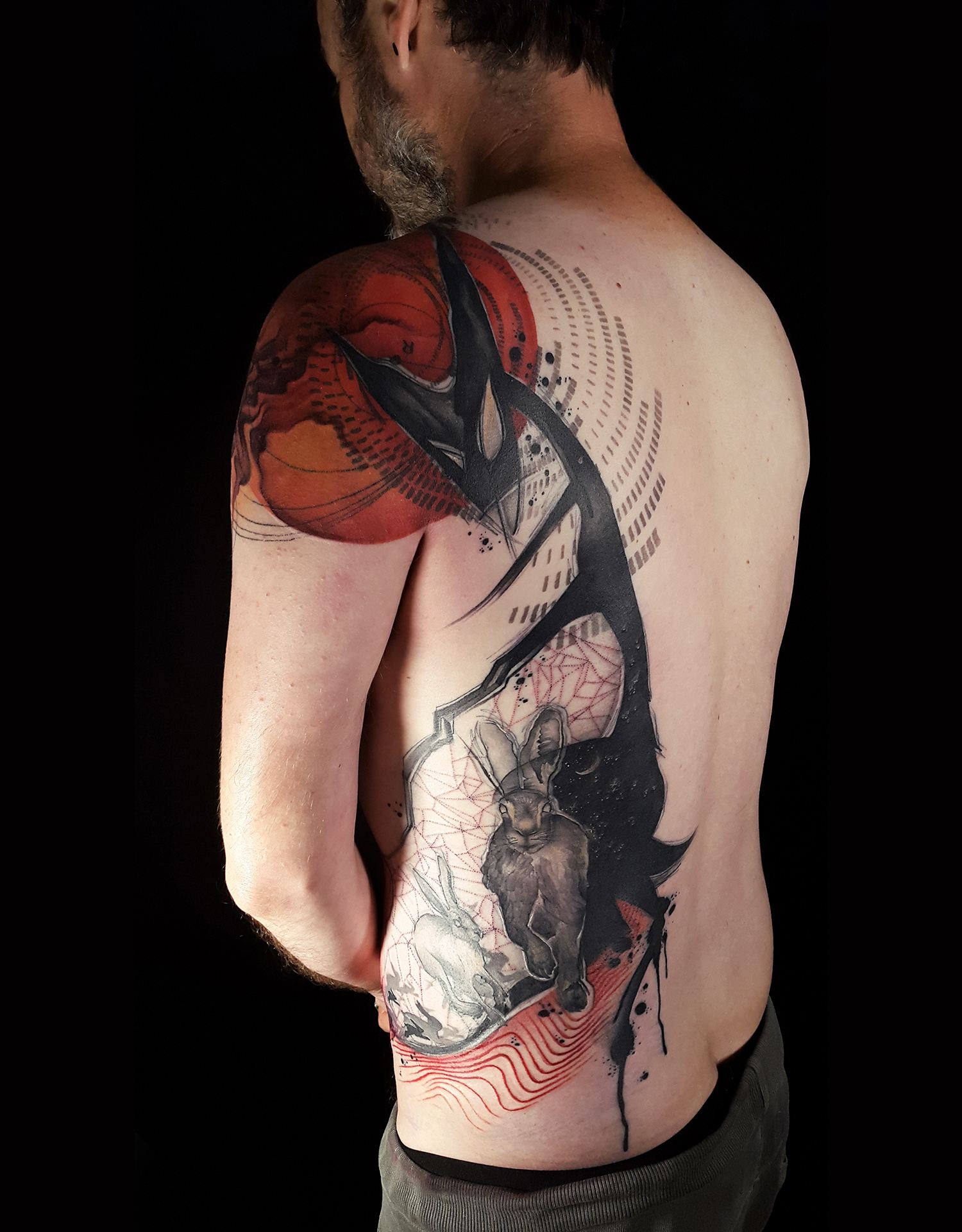 A back piece that shows Santa Perpetua's ability to convey motion.
Are you a self-taught artist, i.e. in fine arts and graphic design, or did you go to university?
My mother is an artist too, so I was lucky for growing up surrounded by art materials: Indian ink, oils, clay, watercolours, and many more were my day-by-day entertainment. My mother led me to the use and knowledge of different techniques as well as art history. When I was a child, all that was so natural to me that I can't say when my formal fine art education started: I've been nursed in it.
Years after, when I started Communication Sciences at the university in Montevideo, my natural curiosity led me to explore into the graphic and multimedia design world. I started learning with the old Windows '95, CorelDraw 5 "suite," Flash and Photoshop 3; I bought the best PC I could (it would be a good piece of vintage now!) I had a job as a graphic designer in an advertising (in my native country) and that gave me the chance to create some pieces for L'Oreal, Coca-Cola and Nike, but my independent projects were the most fulfilling. When you are part of a company, you need to follow rules and be told about how to do things. I never got on very well with that, so with two other friends we got embarked in a crazy project: giving birth to the first skateboarding media in Uruguay—Madpoint skatezine and the skateboarding videos "Demo I" and "II."
While living in Spain I also worked independently on Freeriderzine and more, but I became tired of the graphics and media. I wanted something closely related to my passion for drawing and my curiosity pointed to the tattoo world.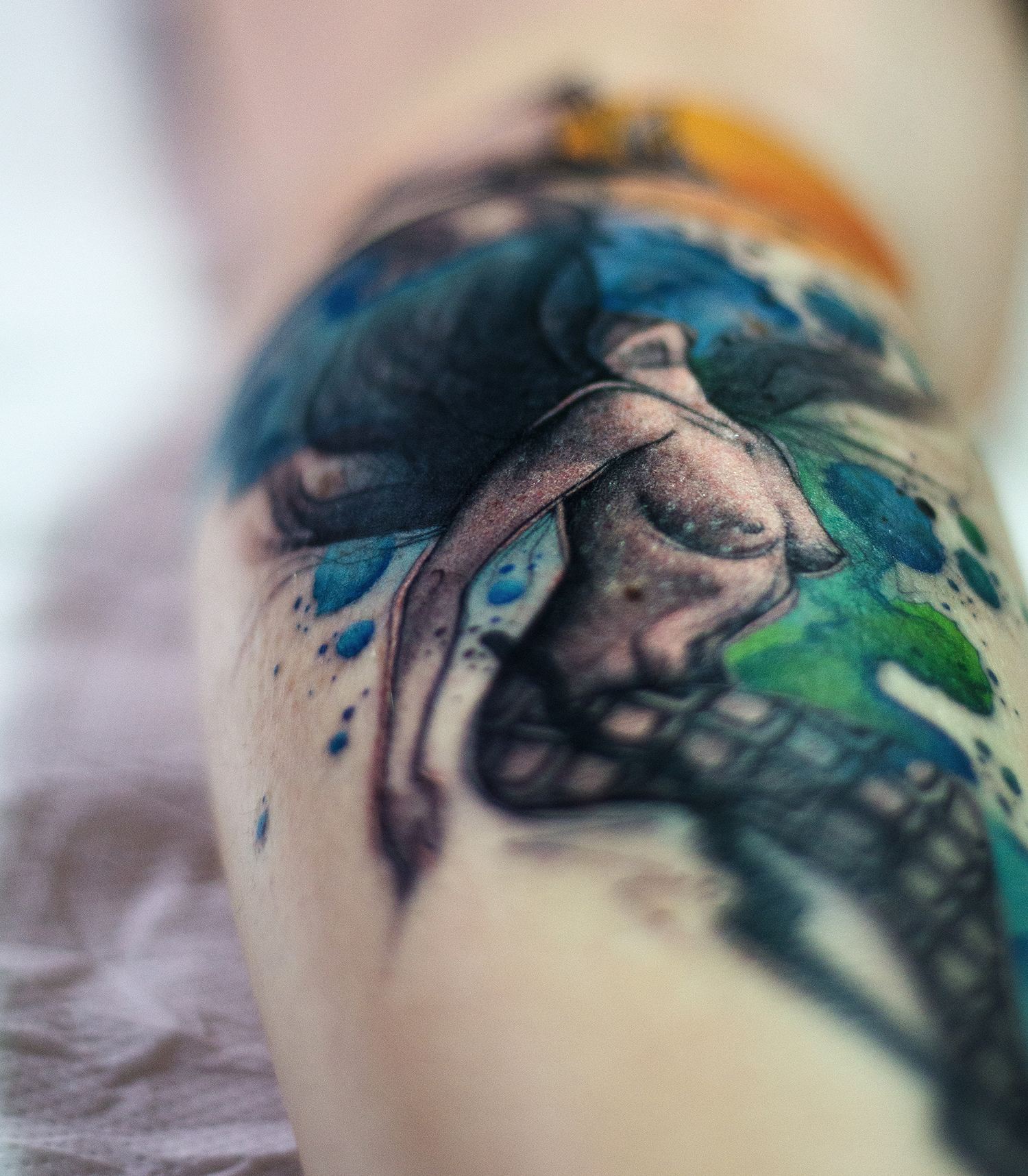 Splashes of colour help bring this mermaid to vibrant life.
Much of your pen drawings on your current portfolio are in black and white. What led to your colorful tattoo style?
I always loved the use of colour and I really enjoy perfecting my chromatic technique but somehow I consider my favourite tattoo and pen pieces are the ones done in black and white. Making a composition using colour in it is relatively simple: one always has extra tonalities to give depth to an image. Composing in black and grey is totally different—harder and limiting. But it is my favorite way to create.
My pen canvases are done mostly like that because in my personal projects I can communicate anything I want using a monochrome palette. Sometimes I use certain hints of colours to highlight parts of the composition, but they are mostly plain blocks that exist in order to guide or break the eye and blend all together. But the use of colour in my artwork frames, depending on the topic, could be distorting the message if not used carefully. For the messages I want to transmit, black and white are the best for me.
In my tattoos colour performs part of the idea I want to represent. Colours are super connected with feelings and emotions and they are another tool to "write" ideas in the tattoo script. Happiness, energy, peace, love, brightness are really abstract concepts that can be brought to life through colourful explosions, and the use of them depends of the emotional language I want to speak.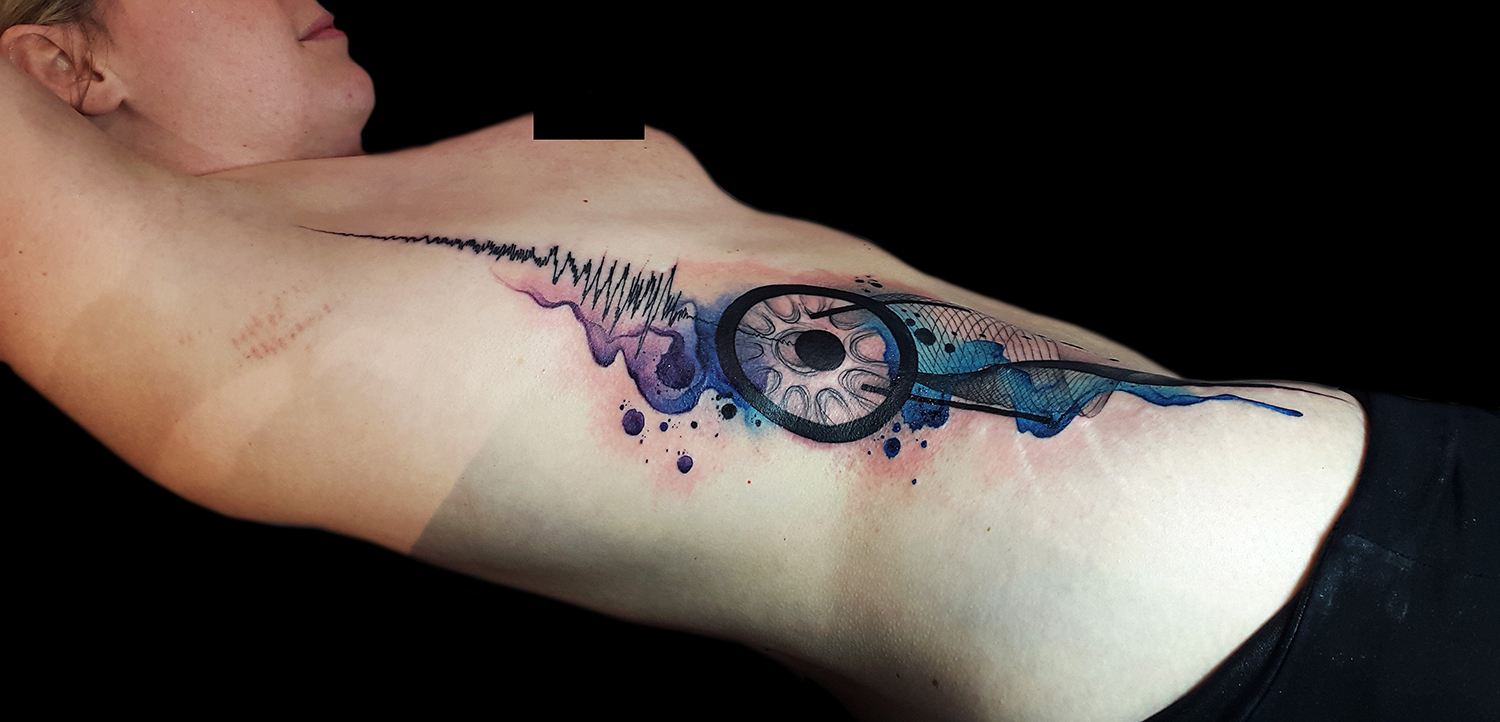 A piece that combines the natural sensations and artificial constructs that Perpetua cites amongst her inspirations.
What has inspired your tattoo art?
Basically observing natural shapes is a great part of my creative outlet: trees, birds and the sacred geometry you can find in the natural world are a bit of an obsession. Photography, advertising, music, philosophy, myths and even talking to people are good sources of inspiration. And of course tattooing! Regarding to that, I must admit that even following different tattoo artists that admire; I try to keep myself out of the media and obey my own instinct. It is really nice seeing other colleagues work and learning from them but I'd say that my inspiration, apart from what I mentioned before, mainly comes from painting: Goya, Schiele, Munch, El Bosco, El Greco and so many more!
Although being in the tattoo industry, I don't follow any school or tendency.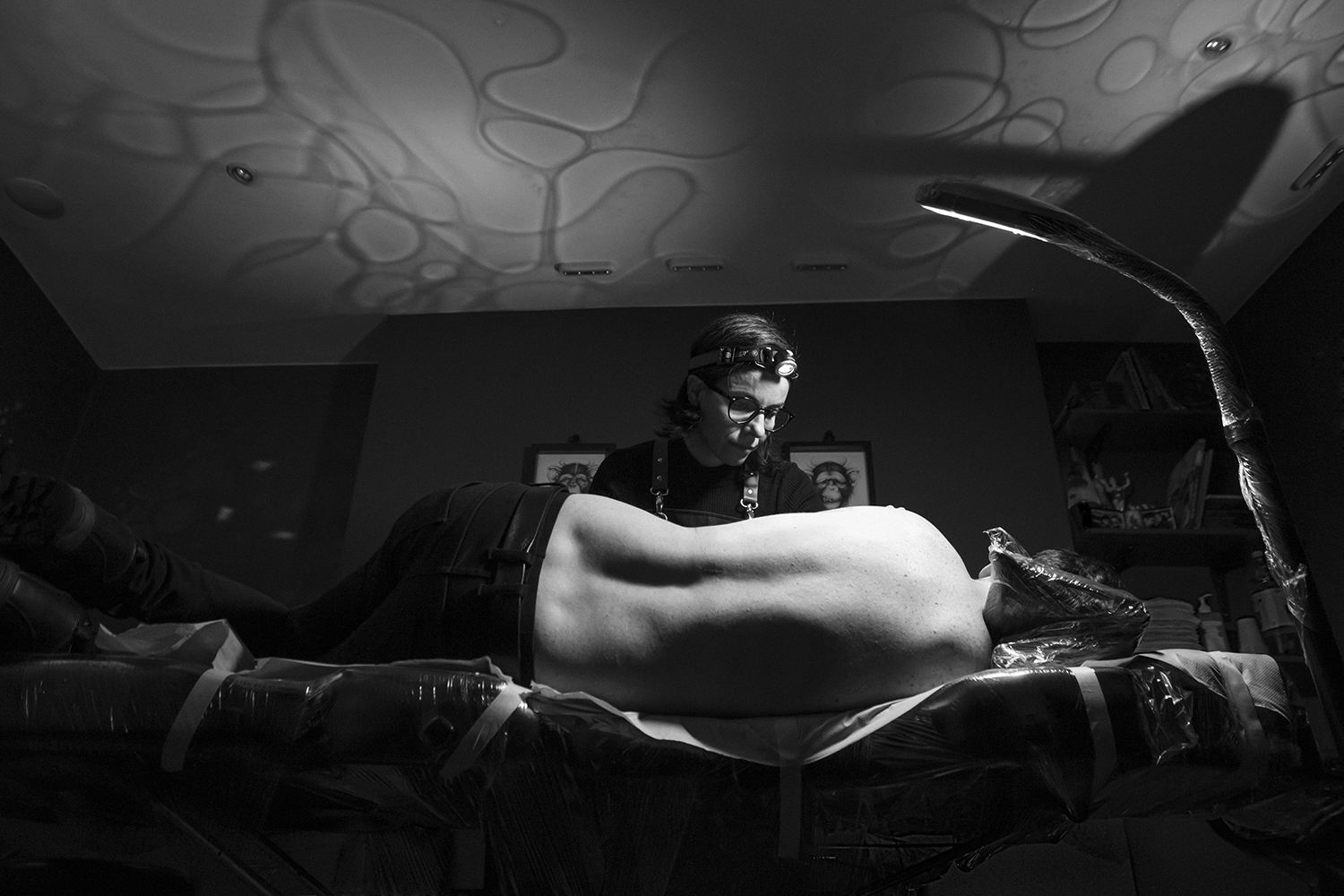 The intimacy of her Atelier is highly conducive to the artwork that she creates. Photo © Manon Pauffin.
Tell us a bit about your private studio. You say it isn't a regular studio but rather an Atelier.
When I took the decision of opening my own place, my priority was creating the best possible space for the clients and myself. Due the nature of my creative process I found that a private area in which I can make my pieces without interruptions is the ideal atmosphere to give my utmost to every project. In addition, I found that most of my clients feel a bit odd when they have to share a common space with more clients and tattooists.
Entering to my studio gives the impression of an atelier, not a shop: A relaxed atmosphere with my music, artwork on the walls, my shrine with all my mental collection of little souvenirs and silly objects, my plants and, the most important, the lack of interruptions. No phones ringing or walks in. No common spaces shared with other clients and artist. Just me, the client and sometimes, his or her supporter.
It's been a year and a half since I started with the studio and I can't be happier. Every time I open the door of my place I feel at home.
Images © Santa Perpetua