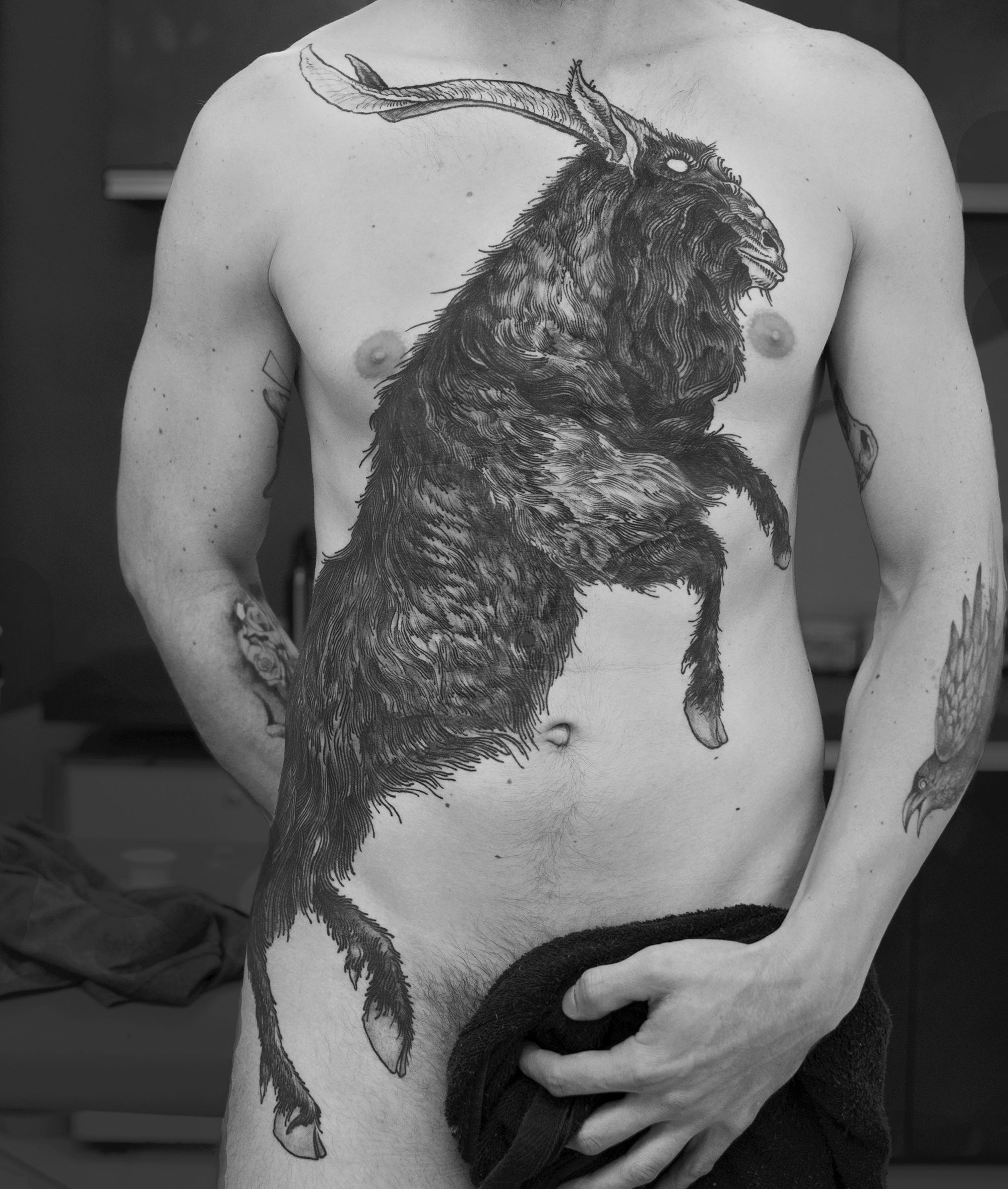 "Contemporary tattooing is one of the most important visual languages of our generation," states Frederico Rabelo, a Brazilian tattooist inspired by art history and giving his intellectual and cultural take on it through skin art.

Rabelo studied fine arts in Brazil and Portugal, explored graffiti with his crew in the mid 2000s, and now dedicates his time fully to tattooing—taking it to the highest level possible by creating each work into a masterpiece on the bodies of his clients. Pheasants, snakes and spiders are in epic-sized proportions inked gracefully on hips, ribs and backs—the nudes are sublime canvases of artistic expression and form.
Tattooing has been evolving and Rabelo has contributed positively by pushing the boundaries of the New School generation, which will make him rise in forthcoming years as one of the best in the world.
Above: The powerful blackwork of Frederico Rabelo.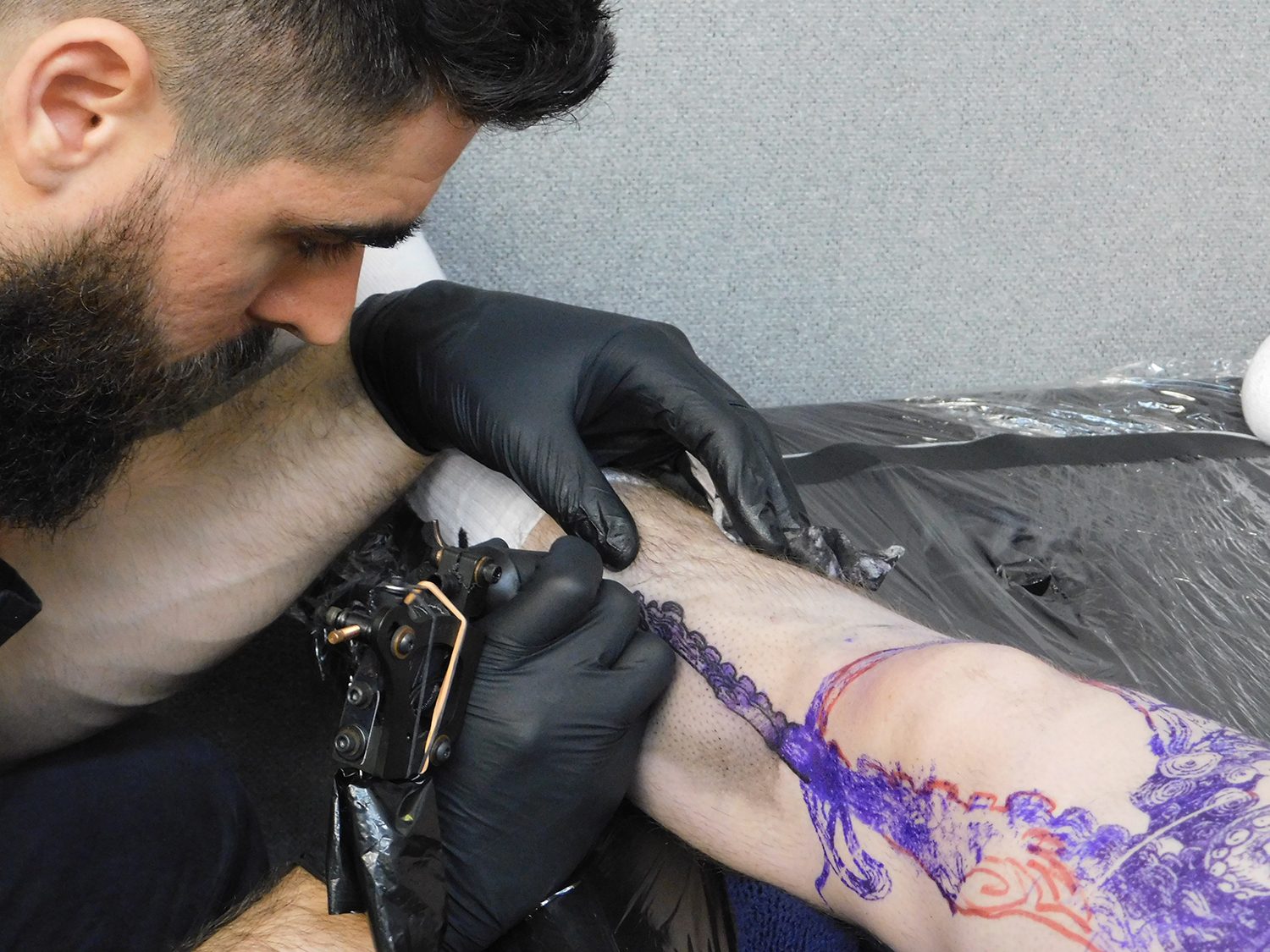 Artist Rabelo tattooing at the London Tattoo Convention.
What led you to becoming a tattooer?
When I graduated from college, I knew I was going to work on something related to the visual arts. I didn't know what exactly. I started to try different things, and tattooing was one of them. After experimenting, I had a quick connection to tattooing and found my calling.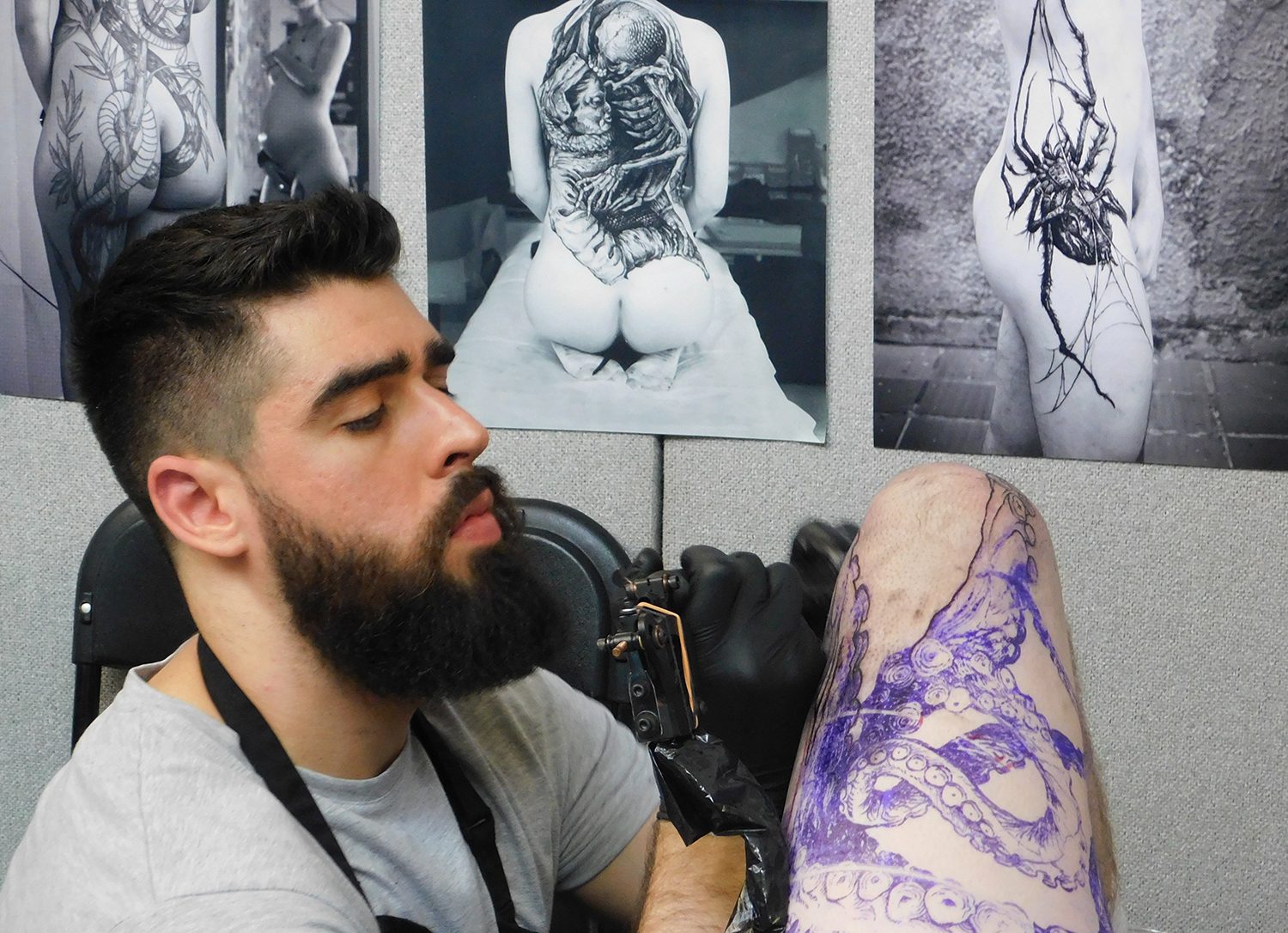 Another close-up of the octopus tattoo on a client's leg.
You also did graffiti.
Yes, during my preadolescence, my entire adolescence I was involved in graffiti (pixacao). Certainly the fundamentals of graffiti have weighed on today's tattooing.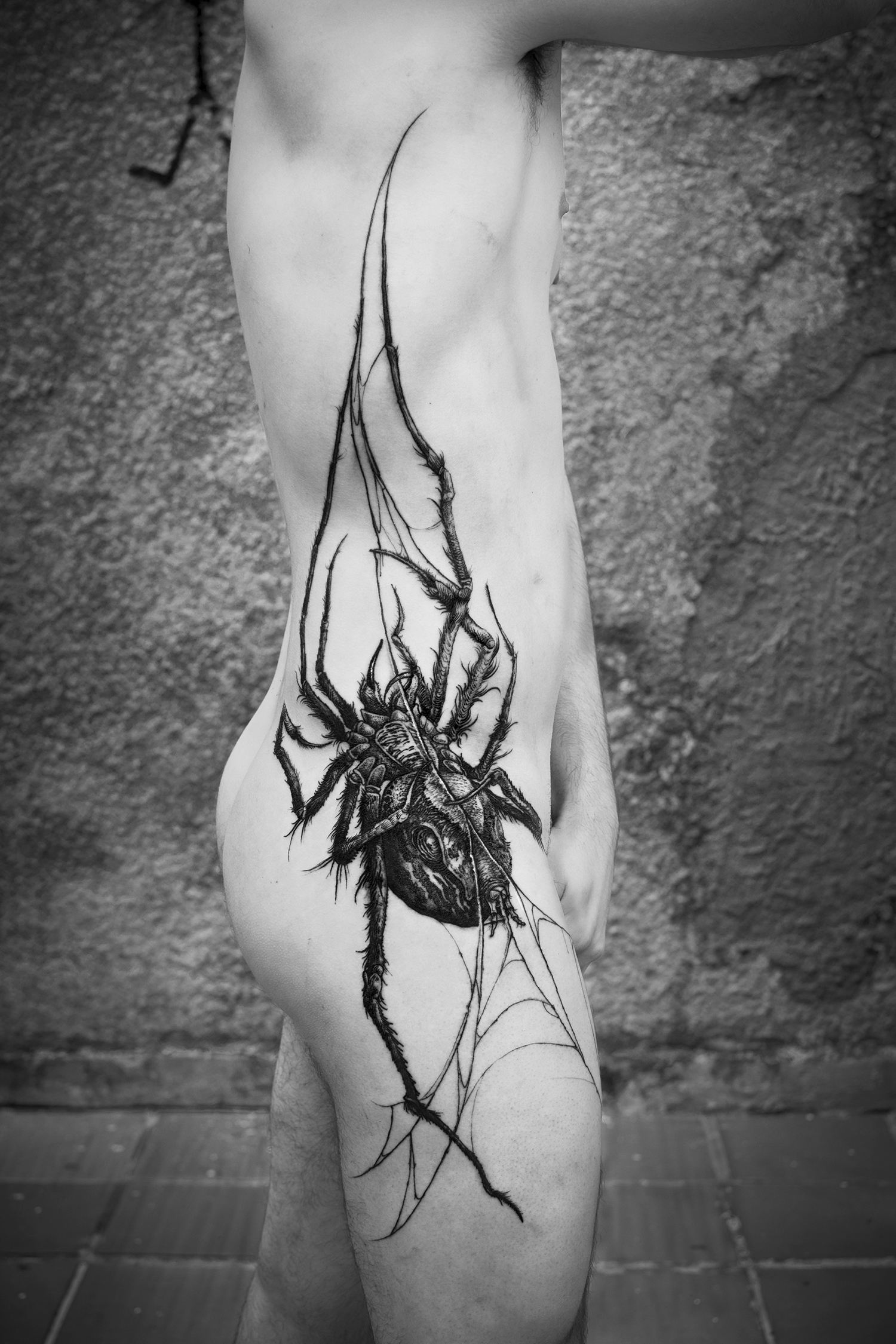 The giant spider composition part of "Ye Are Gods" series.
You studied Fine Arts at University, how was that helpful for your job as a tattoo artist?
I believe that any kind of knowledge helps shape you as human being, and helps you locate yourself in the world—i.e. understanding that the world was already made by other extraordinary people. The more you form this awareness of yourself, the more apt you are to producing something and delivering it to the world. So any study, any knowledge helps people in this regards. By building yourself you have basis, a better foundation.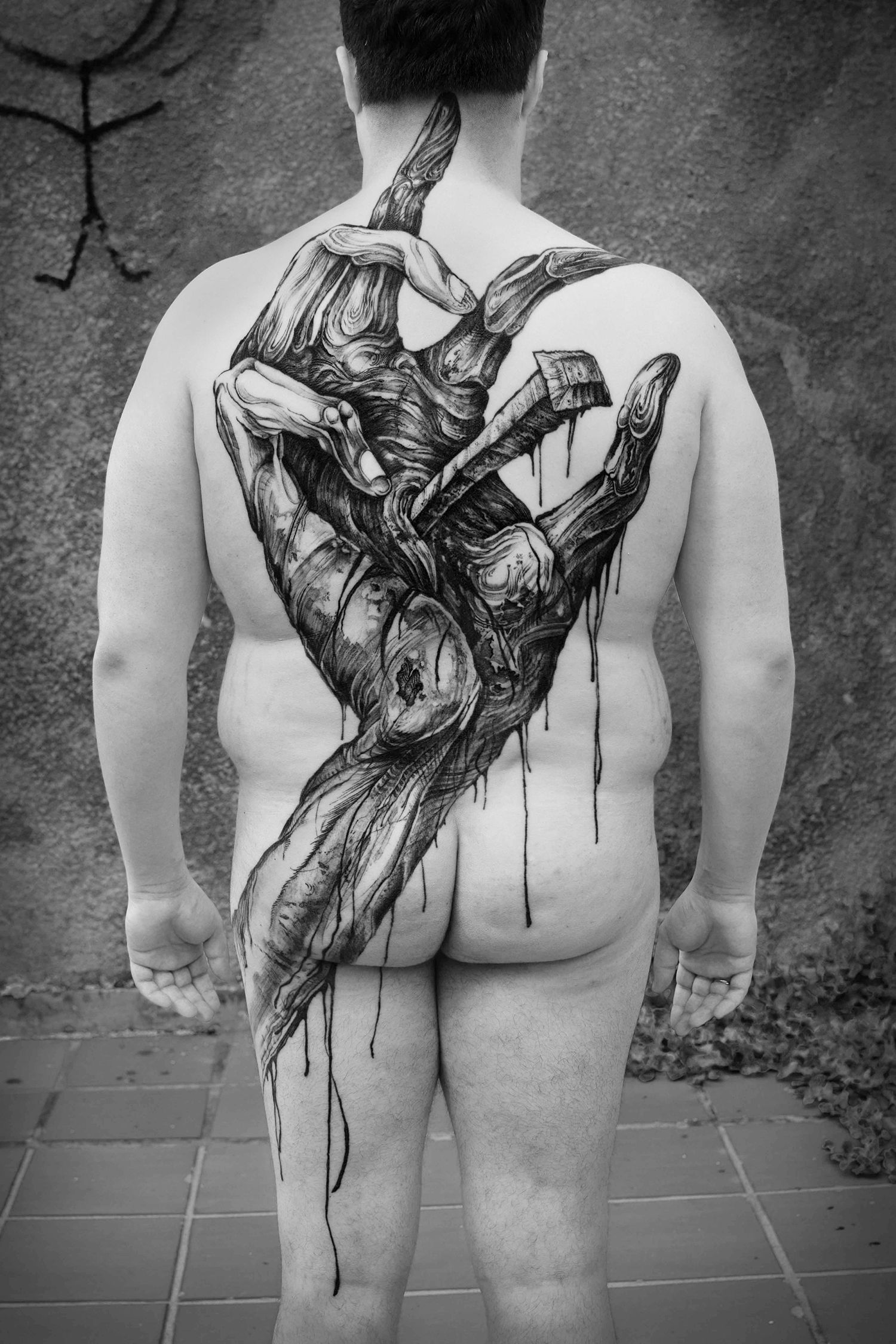 Rabelo's tattoo inspired by the art of Matthias Grunewald.
In "Ye Are Gods," you reference the work of Matthias Grunewald ("The Crucifixion," a hand detail), which seems like an inspiration for the spectacular back piece you did. Explain about this new tattoo season/series?
Yes absolutely! In this new season titled, "Ye Are Gods," I take references from various masterpieces in art history, especially in the field of painting and use them as direct references in my tattooing. One of the all-time-best images produced (to-date) were actually done in painting. And it makes sense to take advantage of this; transform it into something contemporary through tattooing.
Are there specific painters or art movements that have inspired you more?
Not specifically. I look through much of art history. But I am really interested in European painting, especially from the 1500s to 1800s.
The flowing pheasant tattooed on client Milena.
Nature, wildlife is a big source of inspiration. The movement of the birds, the spirit, etc. Tell us about your interest in Nature.
That's a very interesting question. I think that nature gives dimension to people, gives them life in a broad, embracing way. Nature is a channel between man and earth but also the divine. (Which ever way you view this). But I think by observing nature, in that in itself, helps give us dimension. It helps us to better understand who we are. What we are doing here [on earth]? Where we're going from here? It contributes to making a lot more sense of things. I think nature allows you to ask for input, in your personal way, I think it leads to the divine in some way.
The continuation of the octopus tattoo (from London convention).
Most of these works are large-scale; how easy has it been finding clients for them?
It's enthralling because since I proposed my new season, where I have pre-made projects; I began to communicate and propose them … the public was very interested in what I was saying. People who usually want my tattoos are people who connect with the grand idea of the new season. They are open-minded and willing to offer much of their body for these works. I had never imagined previously that this would happen, but I'm extremely glad it did and it is occurring more and more.
A video of a blackwork tattoo by Frederico Rabelo and Fredao Oliveira.
You collaborated with Fredao Oliveira, what was it like?
It was very interesting doing a collaboration. You can observe closely the way another person thinks, how they resolve problems. When I proposed making a tattoo together, I wanted to see the clash of [us] dualities, both our truths [i.e. our artistic ways]. And one wonders what is going to come out of that? It is always a surprise, we do not know what the end result will be. It is a enriching process that draws us out of our comfort zone. You have to respect the work of the other artist, but you have to impose your own work to build one thing together. This [experience] leads to progress.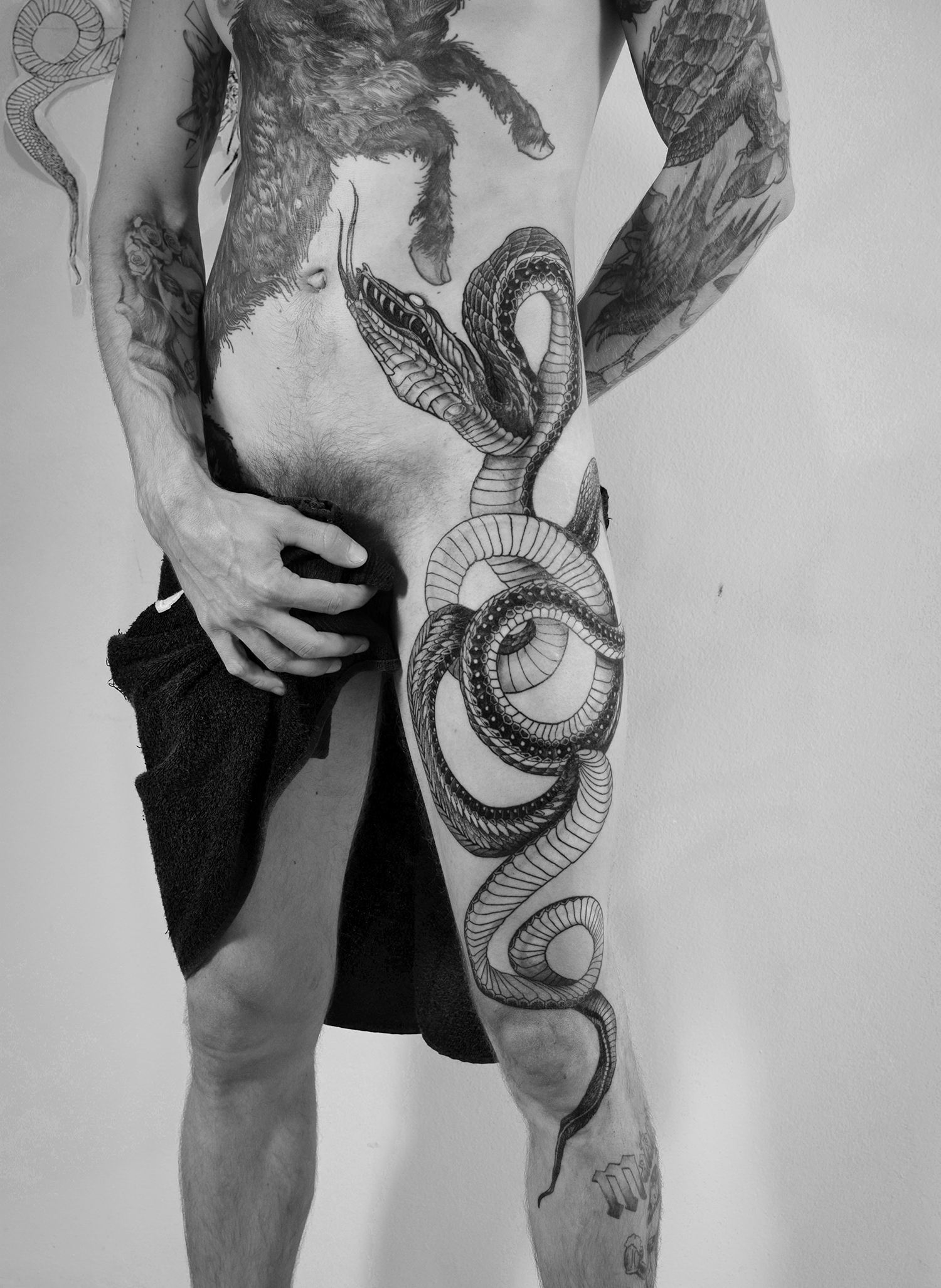 Rebirth and immortality represented in this majestic tattoo.
Are you doing more collaborations?
Yes, I hope next year there will be many.
Who did you choose?
I have spoken with Joao Bosco. And also another tattoo artist from my studio: Giuler Rodrigues, who does excellent realism work.
Tattoos and video © Frederico Rabelo
Convention Photos © Scene360