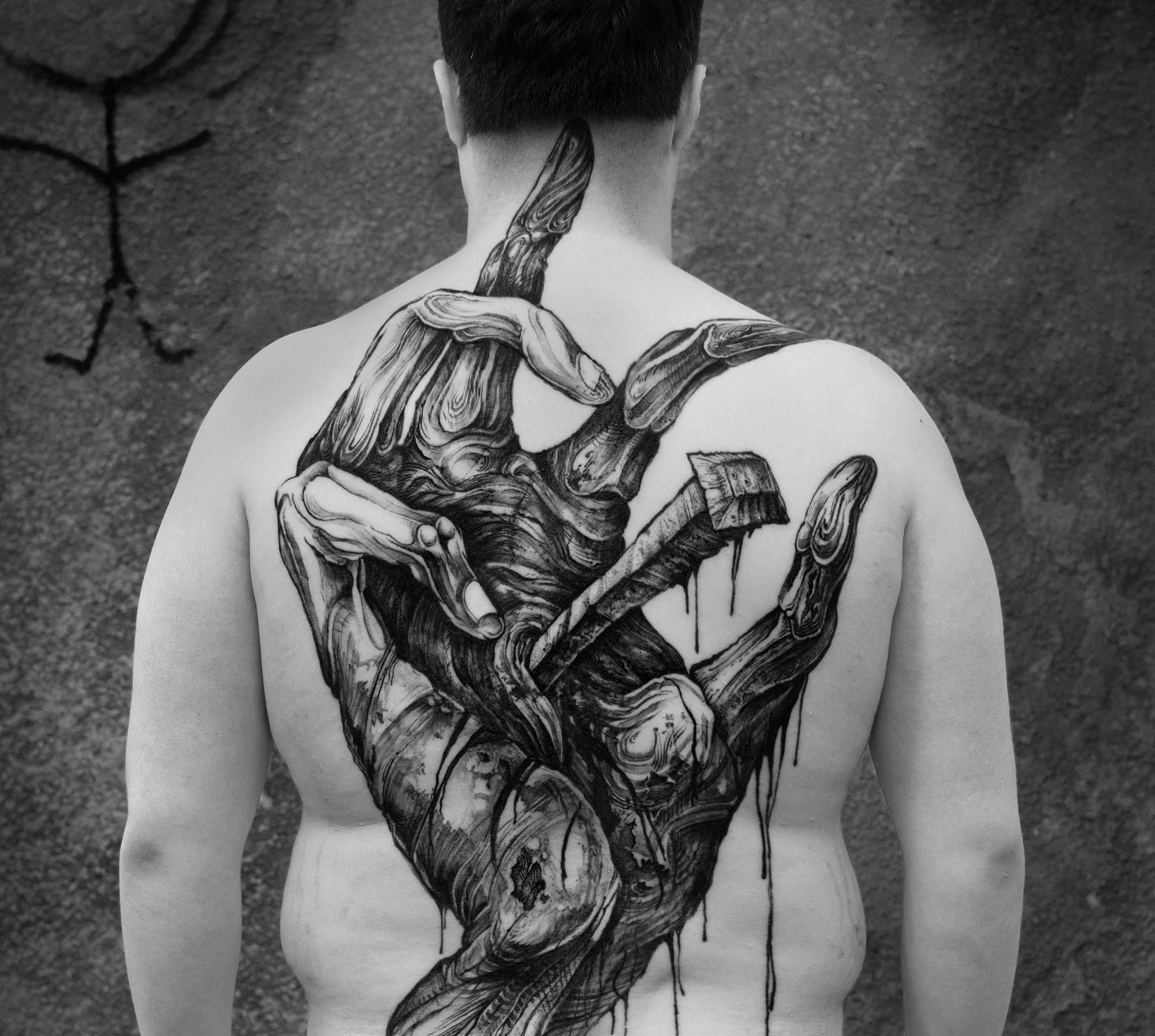 The tattoo industry has grown immensely in the last decade. There is demand and appreciation for both old-school and new-school artists.
Nowadays not everyone goes through a grueling apprenticeship (yet there may be a need for it as Ami James states in our interview); the new generation is often coming from universities (from fields like graphic design, fine arts, computer engineering…) and decide early on to become tattooers and make a living off of it. There is more diversity for clients, tattoo shops and conventions at almost every corner, which can be a good and bad, because not all that is produced is of quality. Not every artist or space is done at high standards, and therefore it is still required to look around to see who is taking art to a superior level, tattooing with creativity, originality, passion, expression and technique.
Above: Frederico Rabelo's blackwork inspired by Grunewald's painting, "The Crucifixion."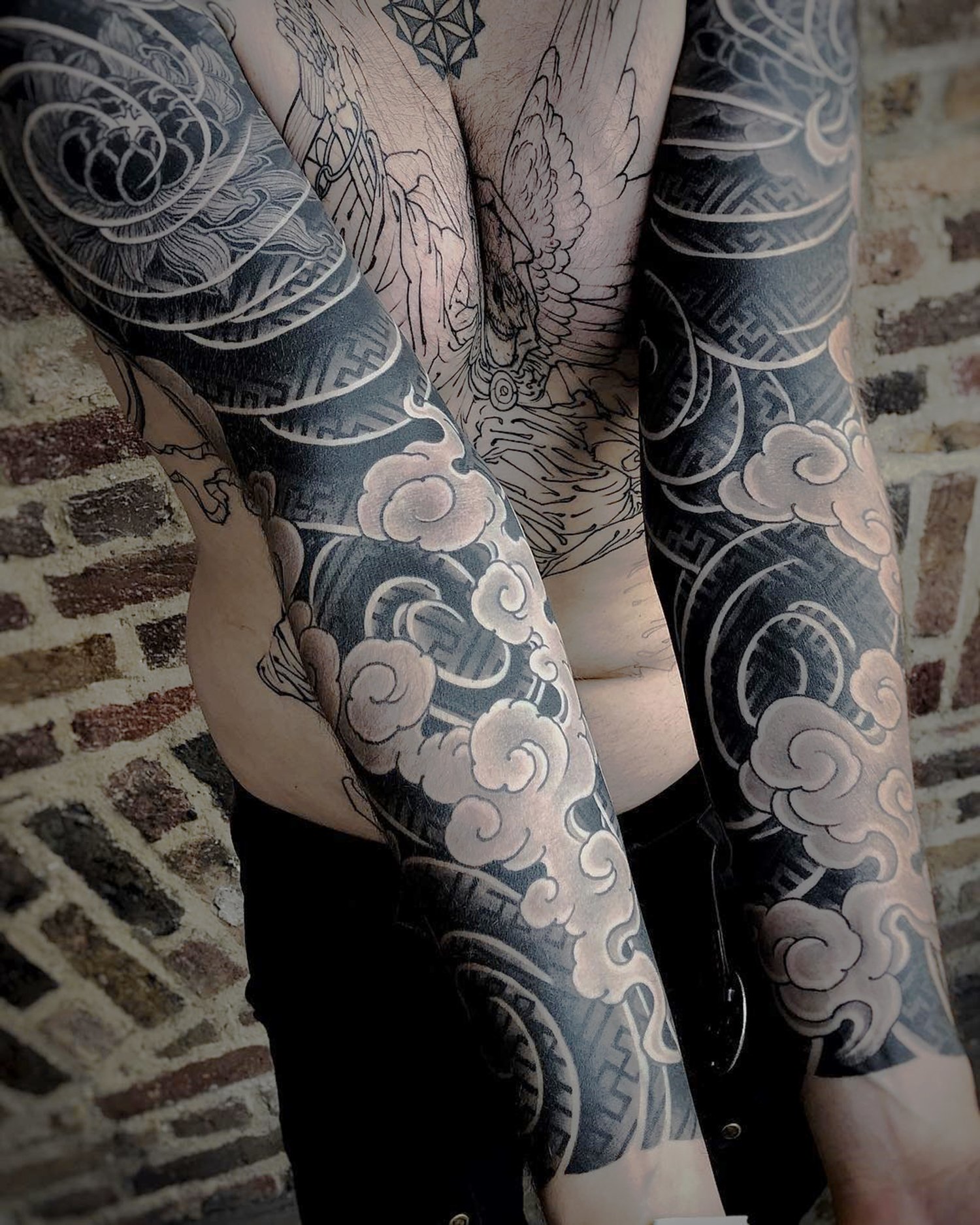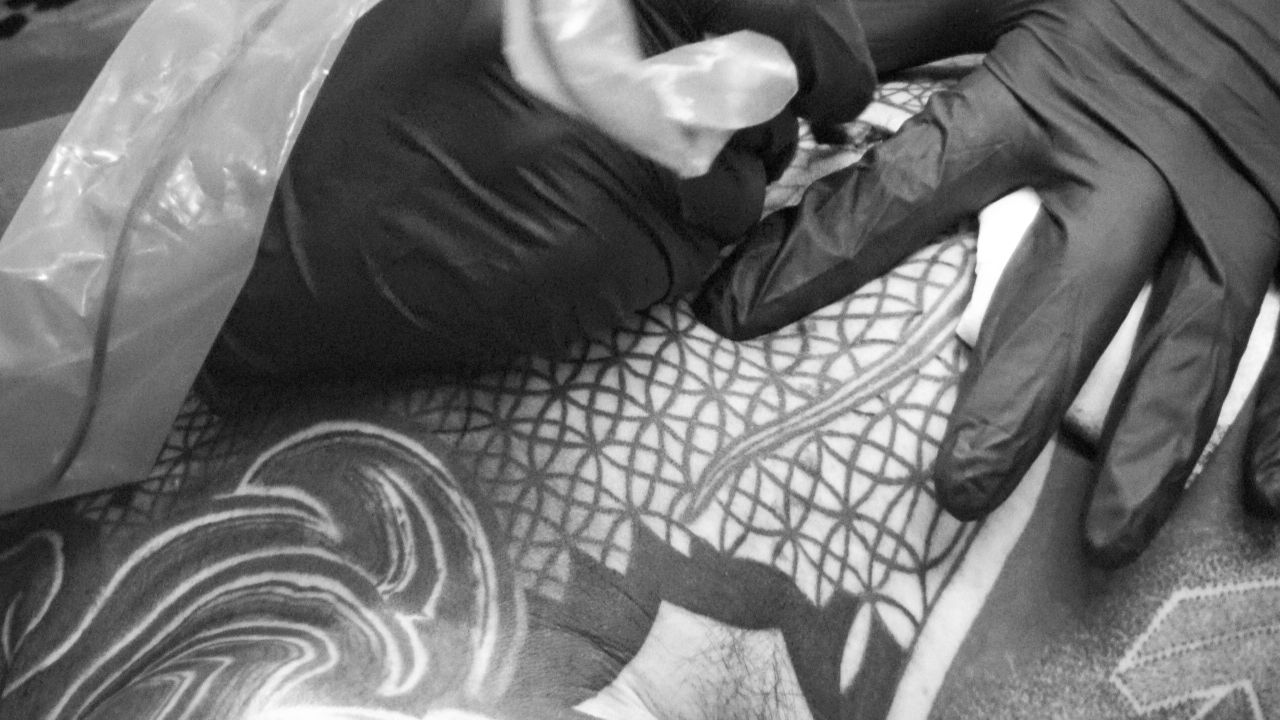 Working in Amsterdam since 2016, Gakkin is well-known for freehanding his designs.
Gakkin
Already an admirer of Gakkin's work at a distance, it was impressive to see his clients' bodysuits in person and watching the artist meticulously ink in black pigment. While many Japan artists still follow the traditional style, Gakkin has brought it to a 21st century level—i.e. by taking a bit from the old and inspiring from the new. His fusion of patterns and forms make his art fresh and popular among clients, spectators, magazines, and conventions. He's been tattooing for over 20 years and used to work in studios in Osaka and Kyoto, however, the Japanese government ruled in 2001 that tattooists must have a medical license or else they can be fined or put in prison. He no longer works in Japan, but some of his compatriots who do were arrested in the past.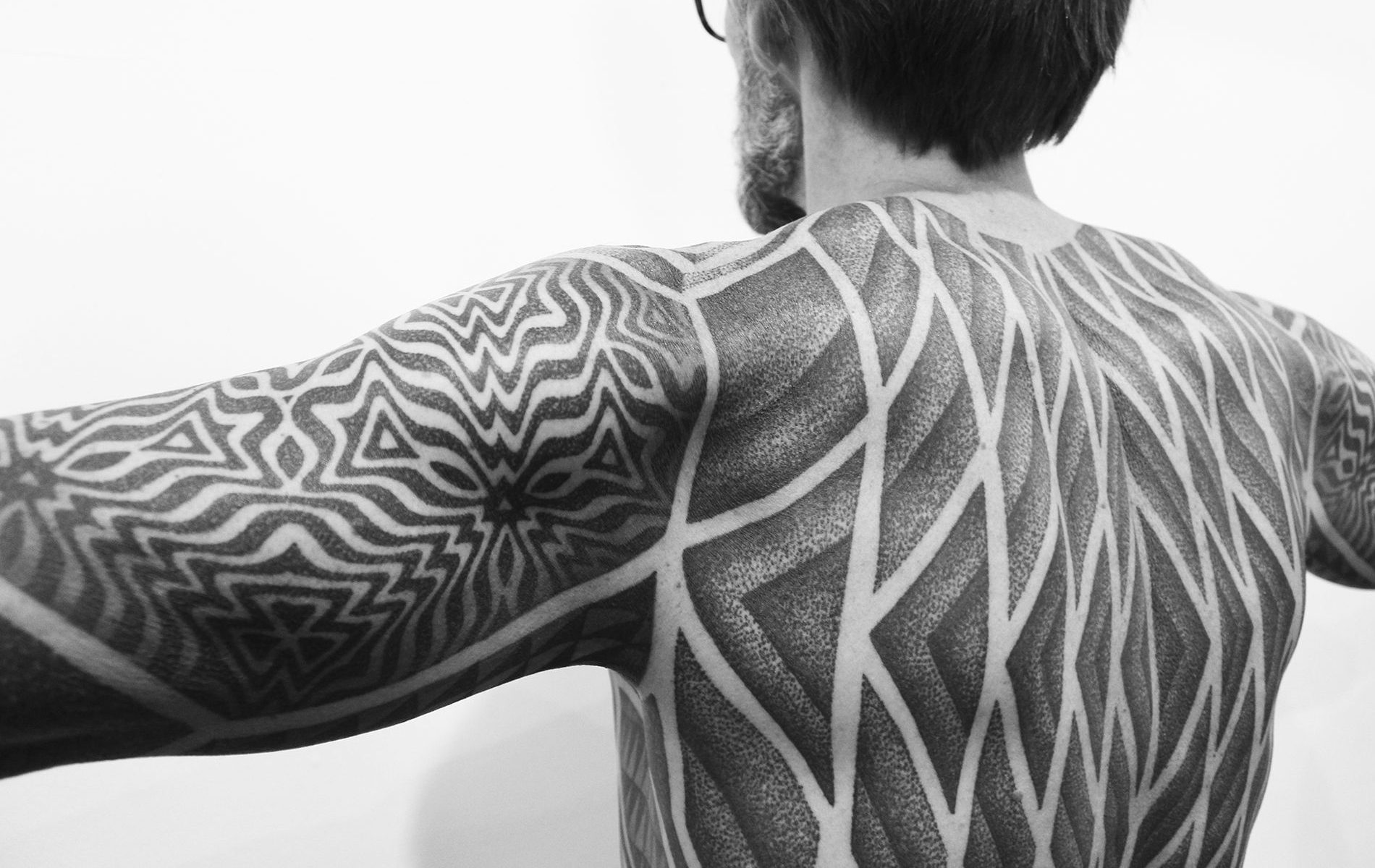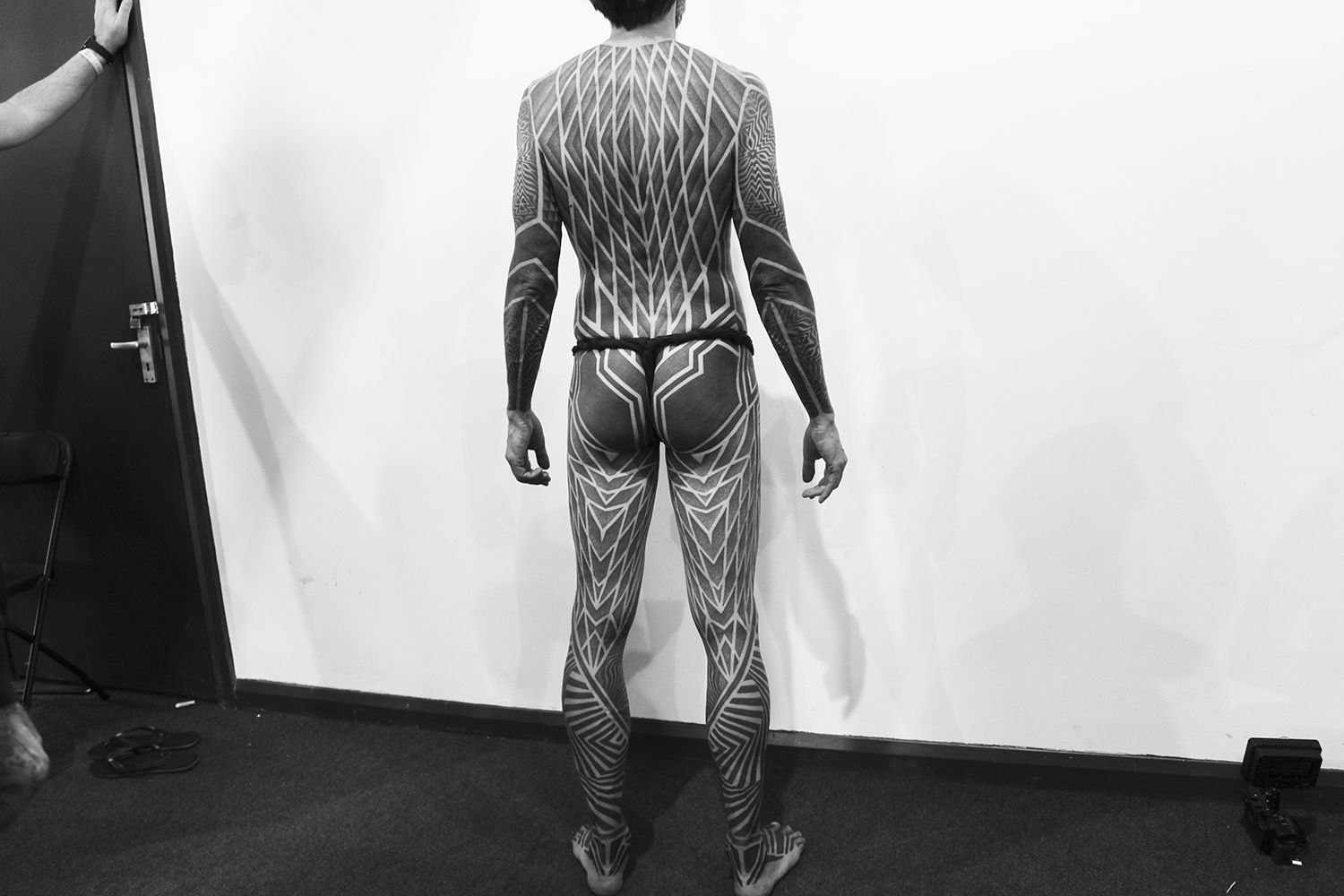 The dot-by-dot and 30 sessions later, the bodysuit came to life by Lewisink.
Lewisink
Rarely seen at conventions and working almost strictly in his private studio in Paris, Lewisink is a perfectionist and creator who seeks to envision and produce original art on skin, especially in the form of bodysuits. Geometric shapes, symmetry and motion illusion are commonly implemented in his psychedelic and neotribal suits, like the one he did on client E.ric, which took Lewisink more than 200 hours to complete. All of it done in an arduous stippling technique that is intentionally applied to endure on the body. Another great example is the blackwork on Patrick, aka Couture Birthday Suit.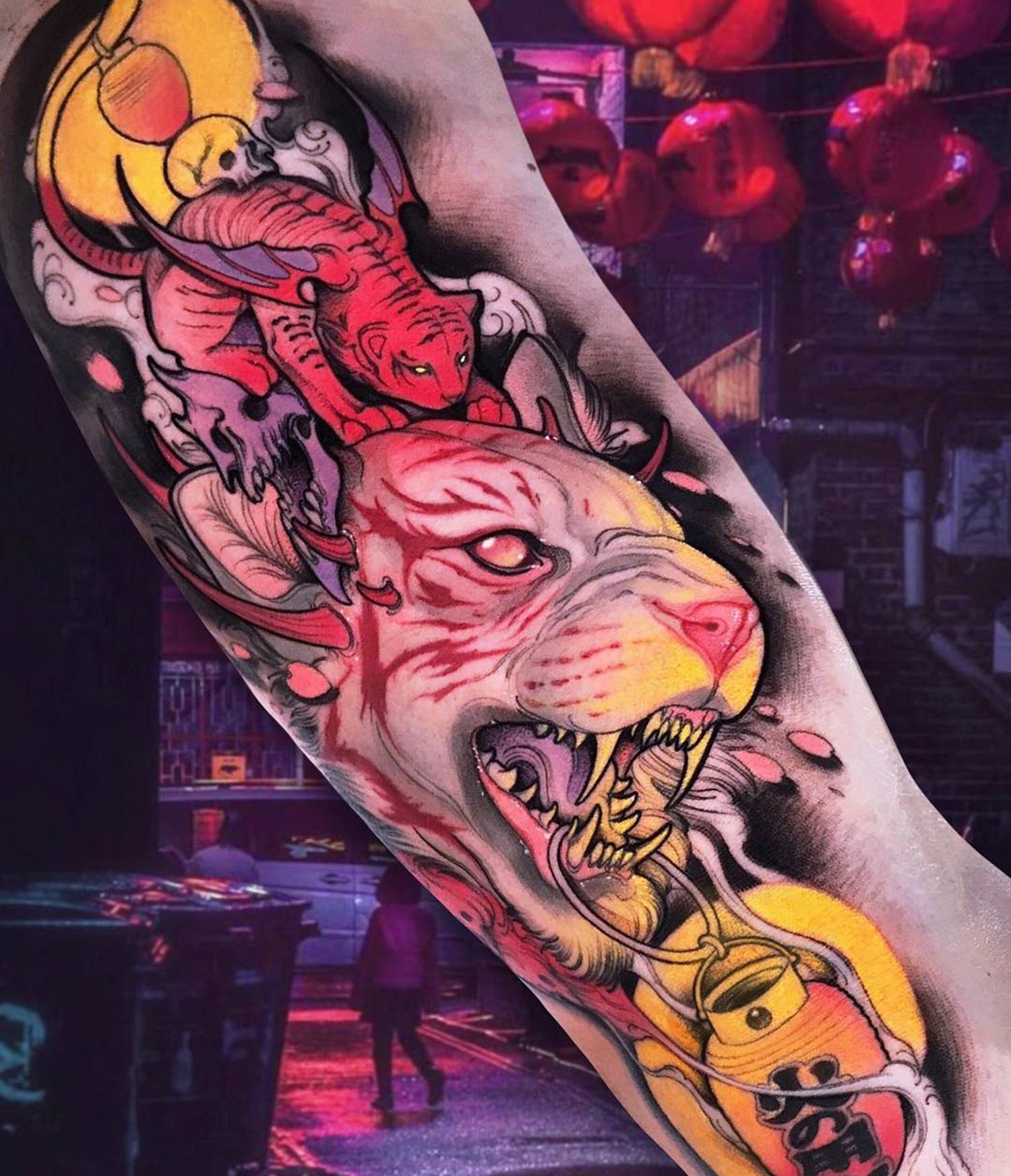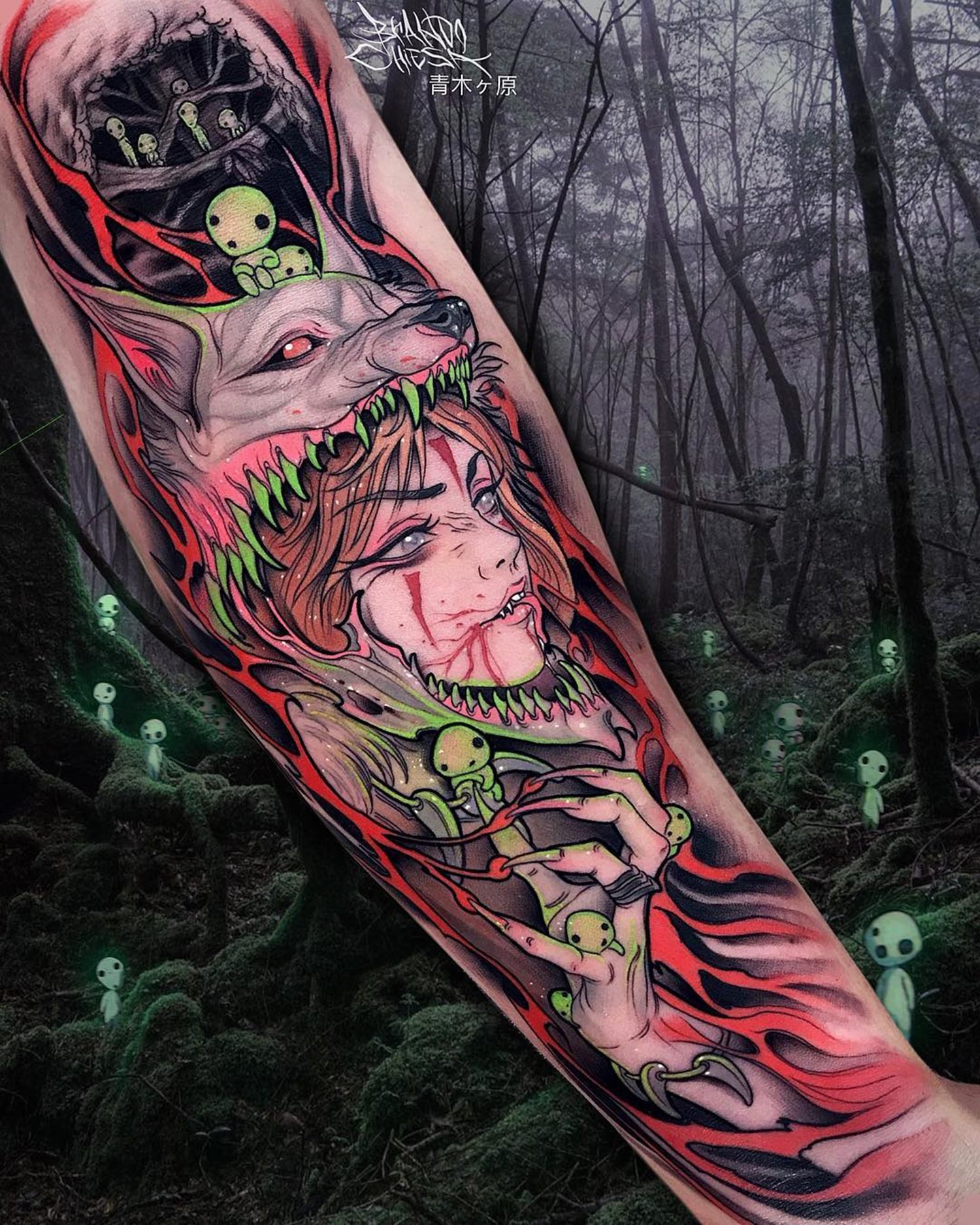 Pastel and neon colors fill the outlines of Princess Mononoke and a Demon Tiger.
Brando Chiesa
"Pastel Gore" is what tattooist Brando Chiesa labels his tattoo genre—violent, vibrant and erotic—influenced from Japan's Hentai subculture and his love for traditional manga and anime. From Princess Mononoke to Naruto, to video game heroes, and folklore cats, he elaborately illustrates them in pinks, blues, greens and purples. "I absolutely love the craziness and exaggeration which is so different than our western culture,"states Chiesa. His eye-popping compositions have been heavily imitated by others; the artist states if he ever gets tired of this style he will come up with another innovative one in time.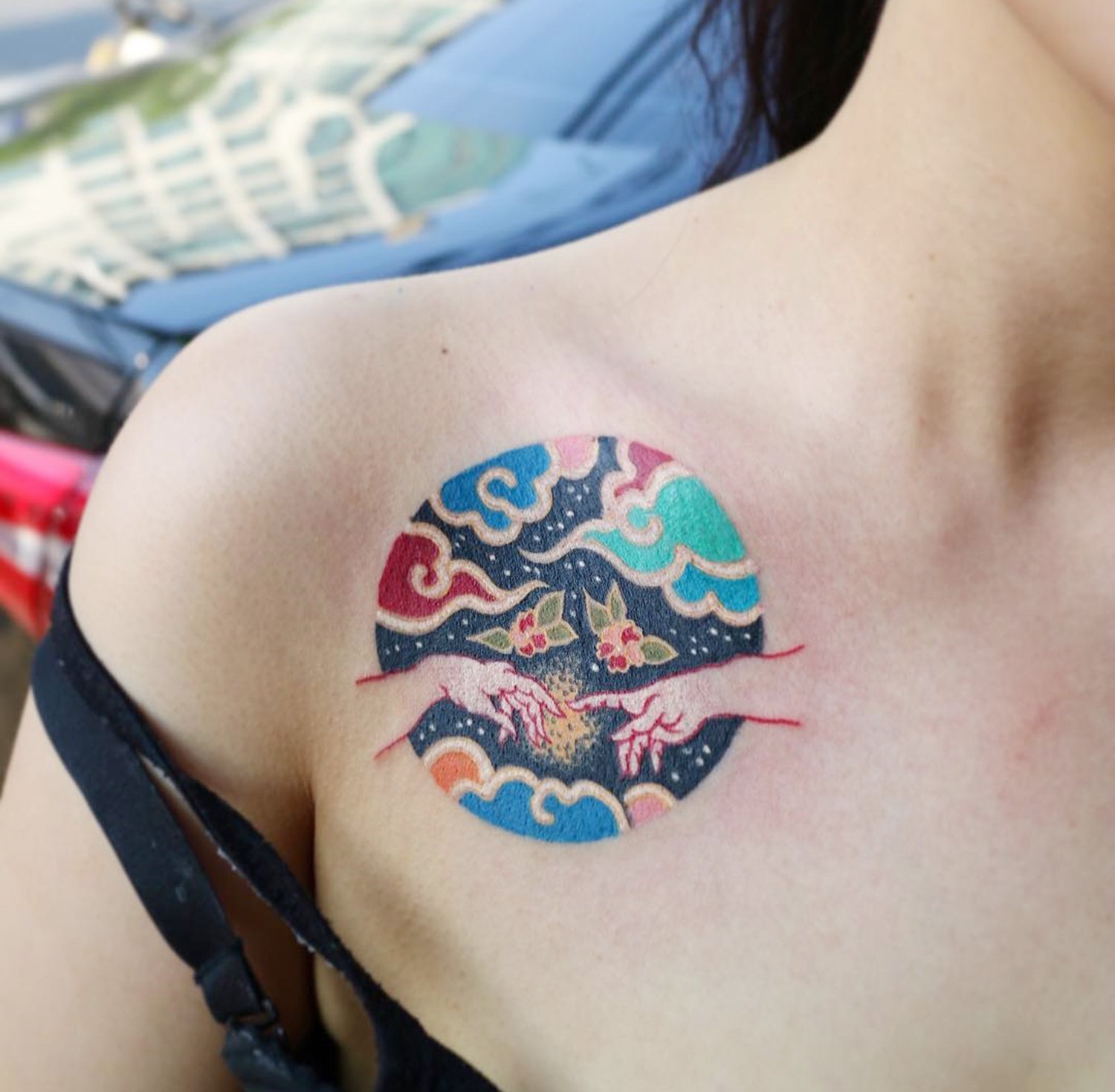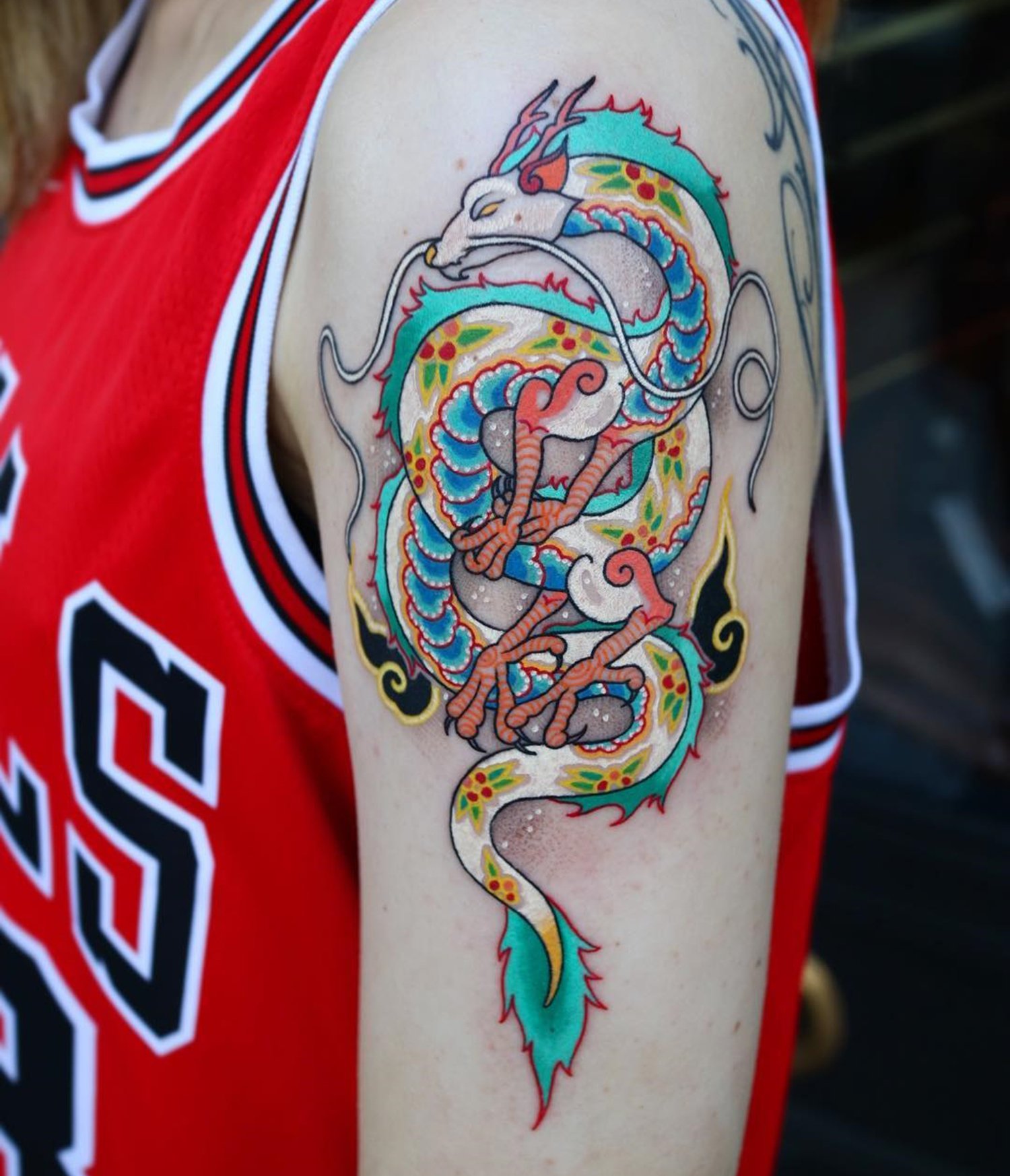 The five cardinal colors are directly used and blended to form a consistent palette.
Pitta
Working at the Robin Egg Studio in youthful Hongdae in South Korea, artist Pitta is similar to Gakkin in that he also faces governmental restrictions in his country, as well as inspiring from traditional Asian art and giving it his own modern spin. Such as beautifully combining Van Gogh's "Starry Night" with a Korean-style sky and landscape just as you'd see in work from the 17th century or earlier. "I always use clouds and colors in the traditional pattern, with some elements like Tiger, Crane, Lotus, and 'Dancheong' from Korean architecture," Pitta comments. His harmonious palette is based on the five cardinal colors.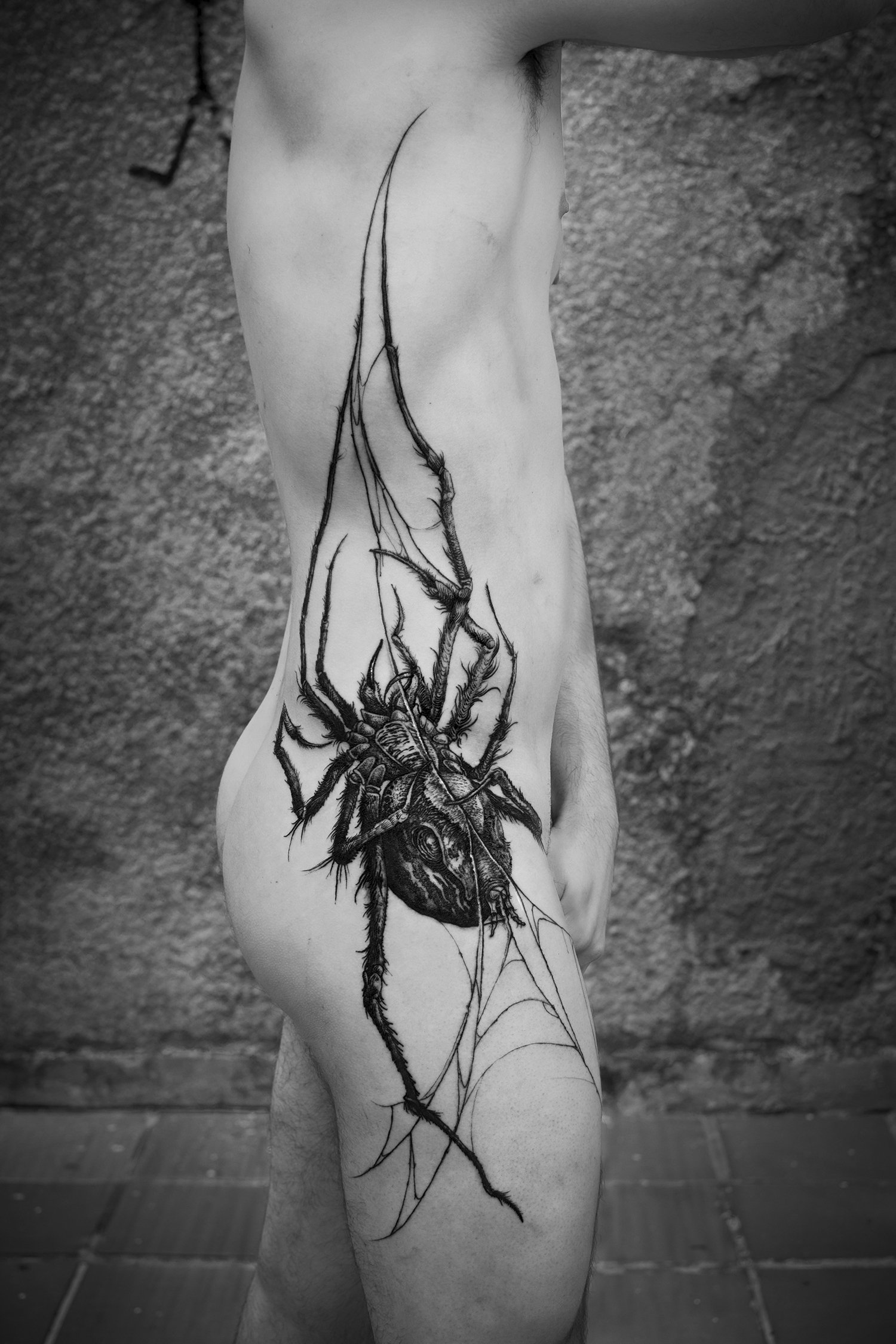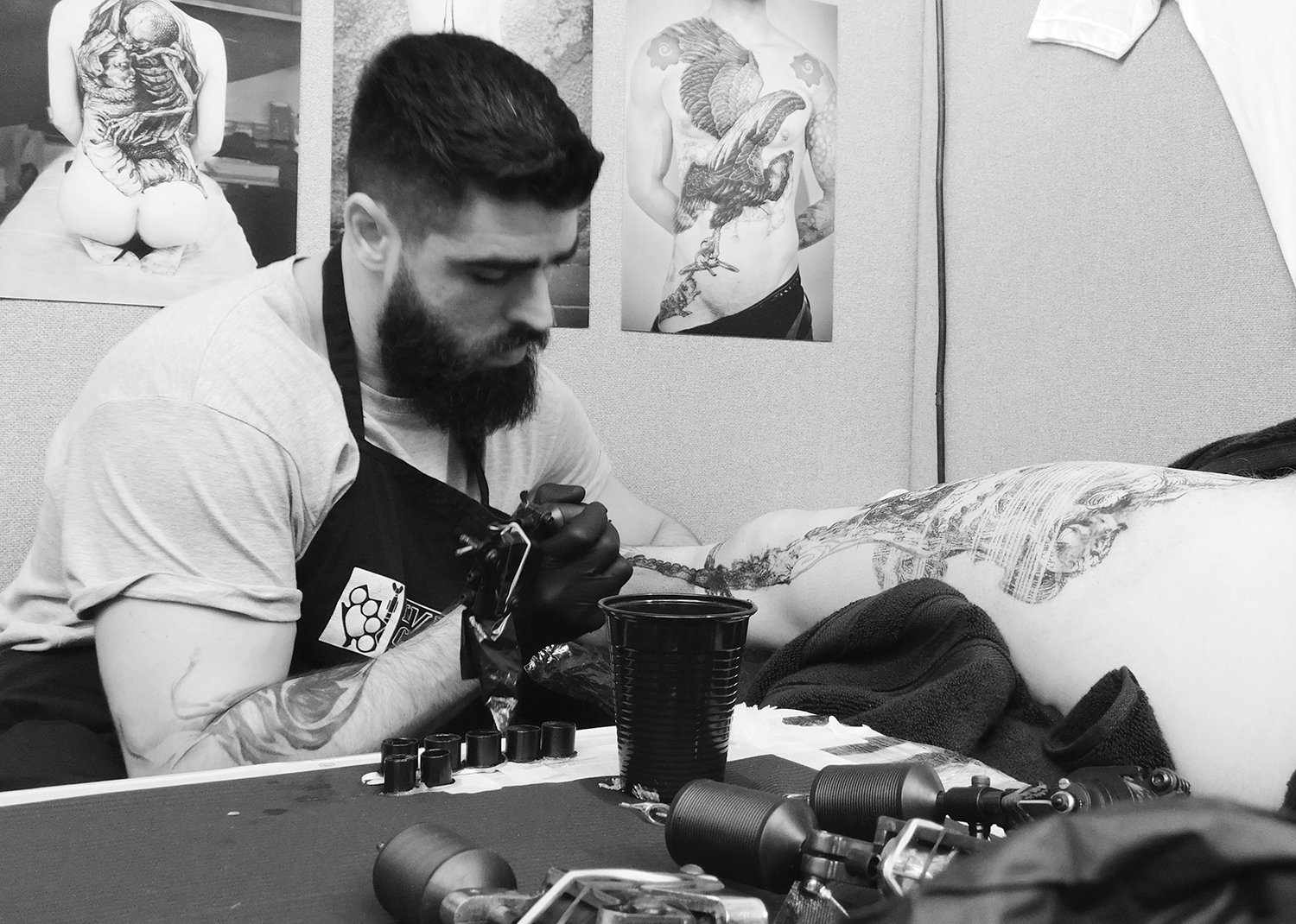 The massive spider is part of Rabelo's series "Ye Are Gods," and below: the artist tattooing at a convention.
Frederico Rabelo
As I wrote in the Scene360 interview with Frederico Rabelo, he has "contributed positively by pushing the boundaries of the New School generation, which will make him rise in forthcoming years as one of the best in the world." His tattoos have been based on important works from master artists of past centuries—such as Renaissance painter Matthias GrĂŒnewald and others—and adapted in his own way to large-scale blackworks on the body. They become individual masterpieces on his clients' anatomy, which also deserve display in galleries and museums just like engravings or paintings, but obviously not as practical to exhibit as inanimate objects—so seek tattoo conventions for full viewing.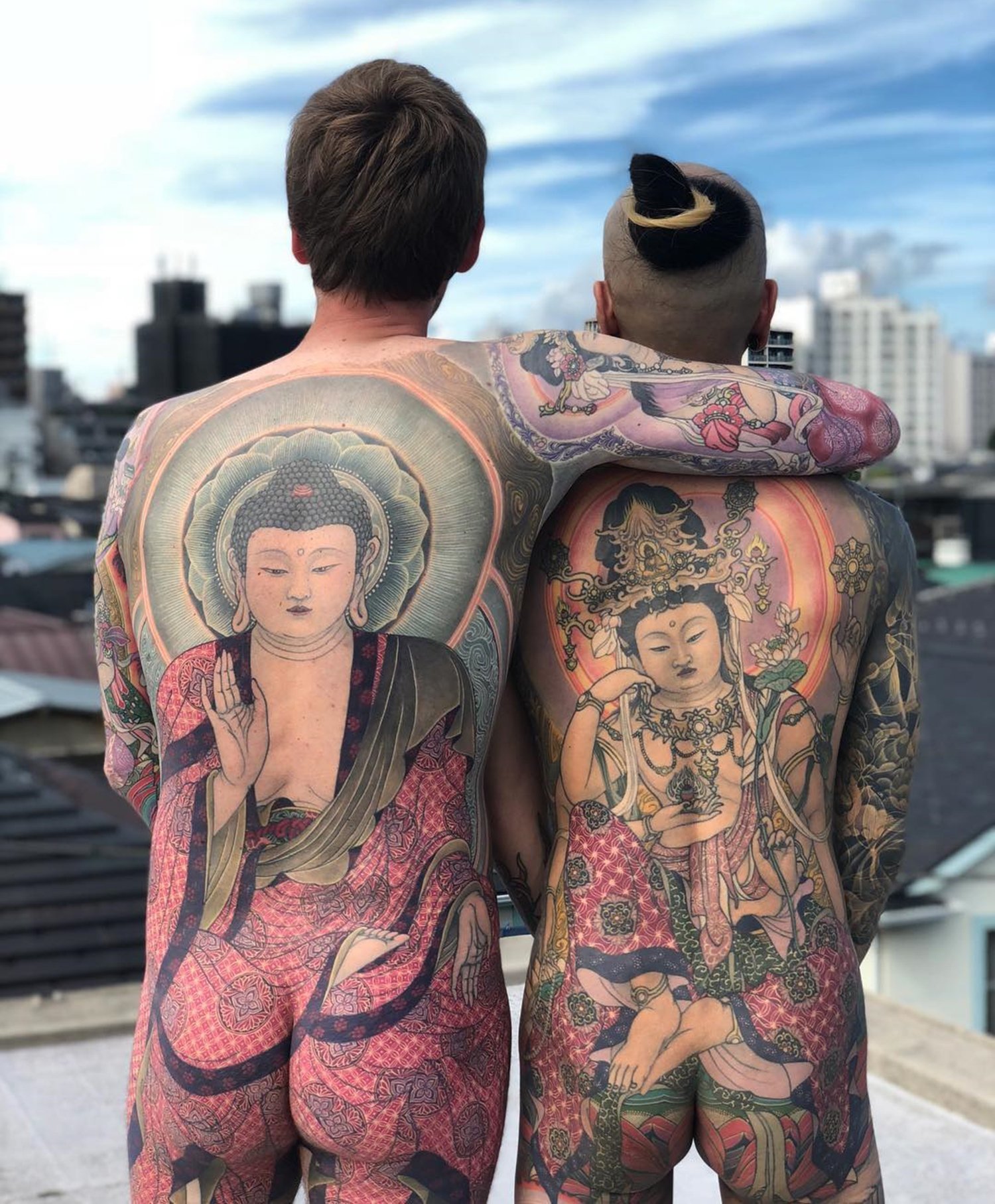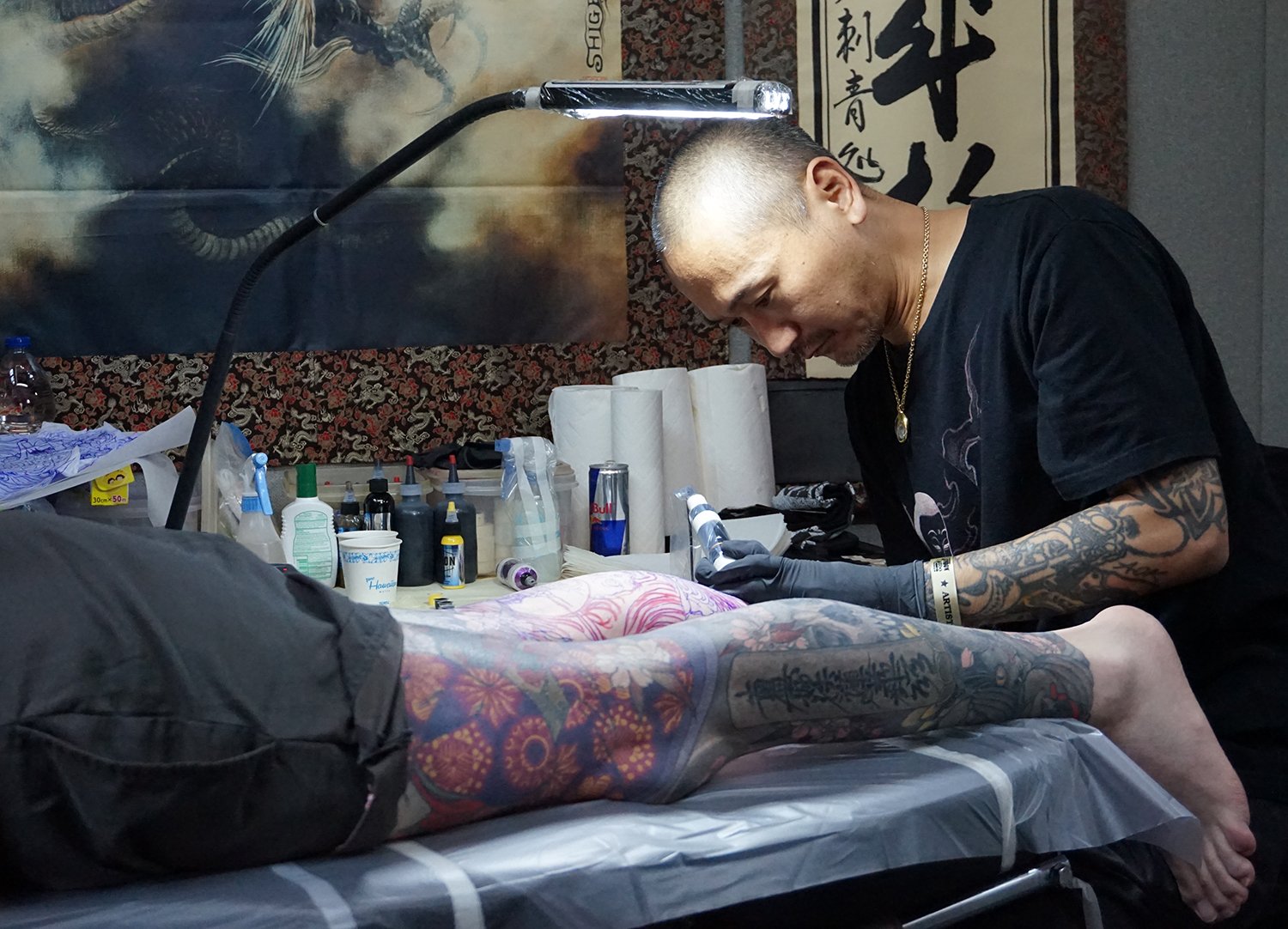 Some of Shige's favorite work, and below the artist tattooing at the 2018 London convention.
Shige
Meeting Shige two years ago at the London Tattoo Convention was a strange coincidence, because Scene360 was filming an interview with Carlos Torres who was in the booth attached/next to him. And as we filled up Shige's booth with our equipment, he was so considerate and welcoming that we sat down to talk to him and look closer at his portfolio. The best description of his tattoos is by Mick and Sana Sakura: "Deeply influenced by Japanese art and symbolism, is a unique take on a traditional and time-honoured style and his magnificently detailed bodysuits are instantly recognisable." His careful arrangement and flow of artwork on the body, the color combinations, the diverse textures and patterns make him stand out. In 2018 he had the biggest booth in the London convention and worked intensely on the legs of this client.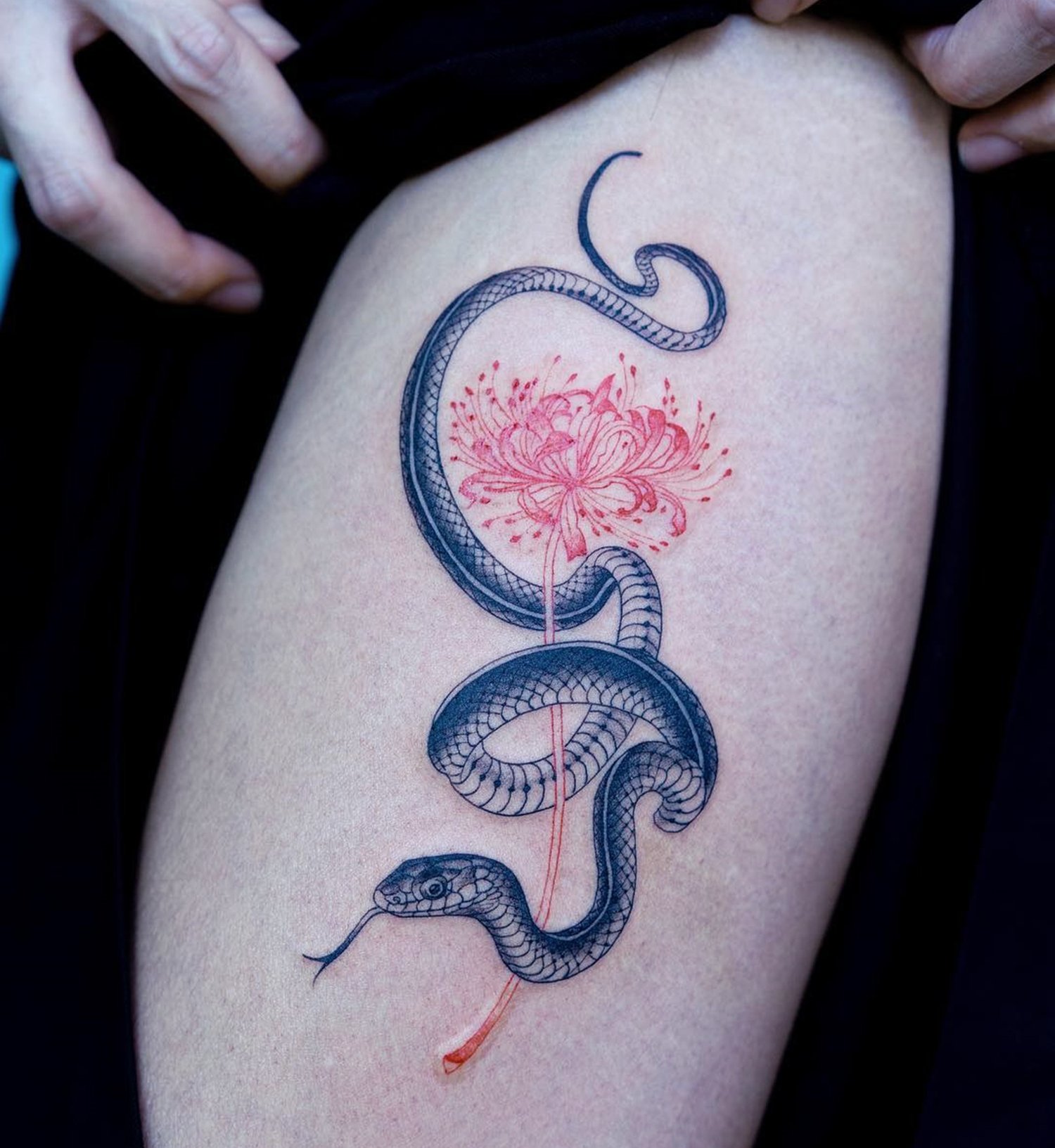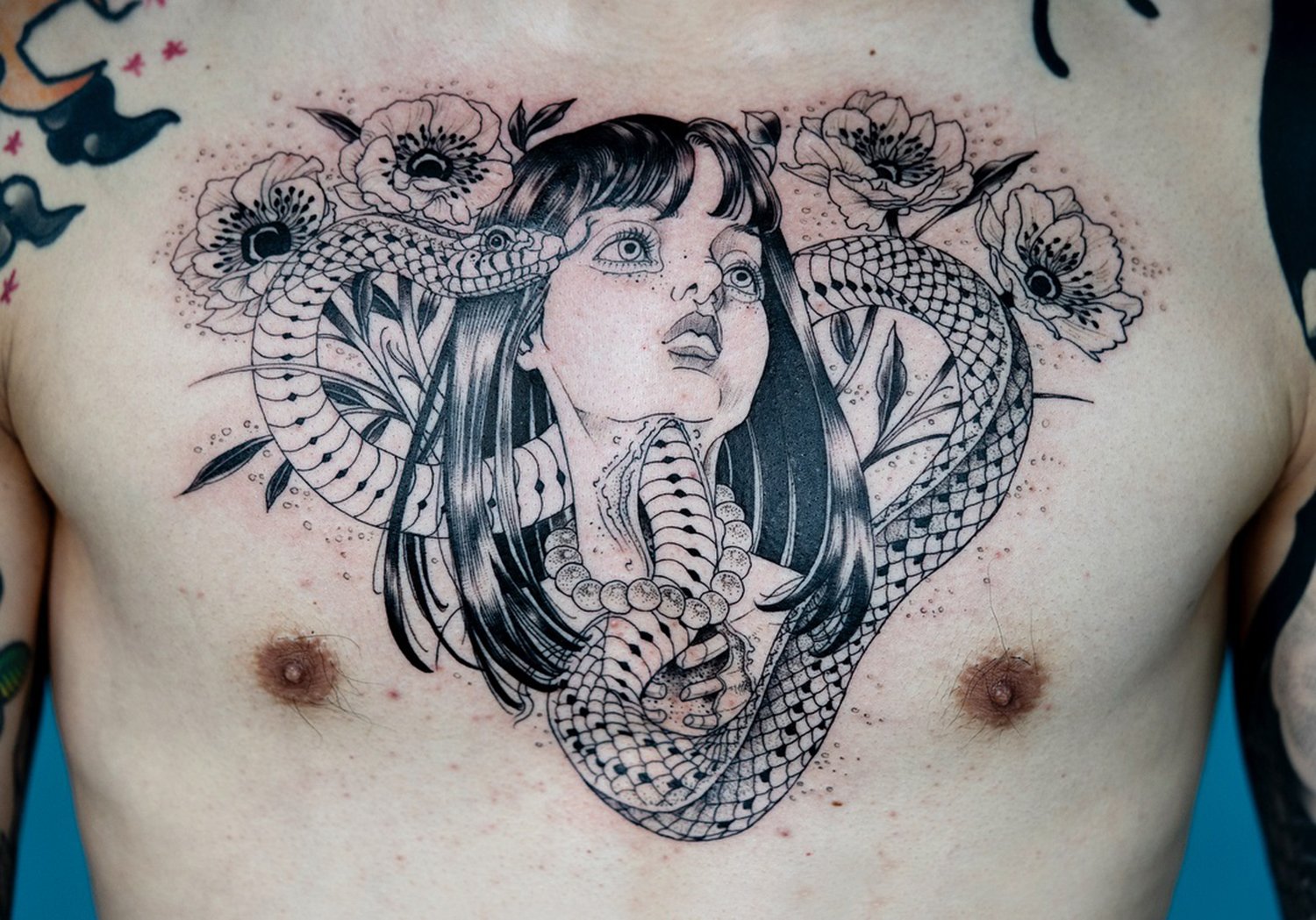 Snakes are one of the common themes in OOZY's artistic briefcase.
OOZY
Another creative from South Korea makes our list: OOZY. The exciting world of Anime is once again a recurring tattoo theme; plus macabre "ero guro" art, shibari rope bondage, science-fiction, nature, and Korean cuisine. From an innocent Kimchi dish to someone using chopsticks to eat soft human brain, OOZY surpasses the threshold quite easily. It is brutally entertaining to see what he will illustrate next, always tattooing diligently with his machine and shading in hatching and stippling techniques. Clearly another perfectionist, he excels with the quantity and quality of work that he's made in 2018.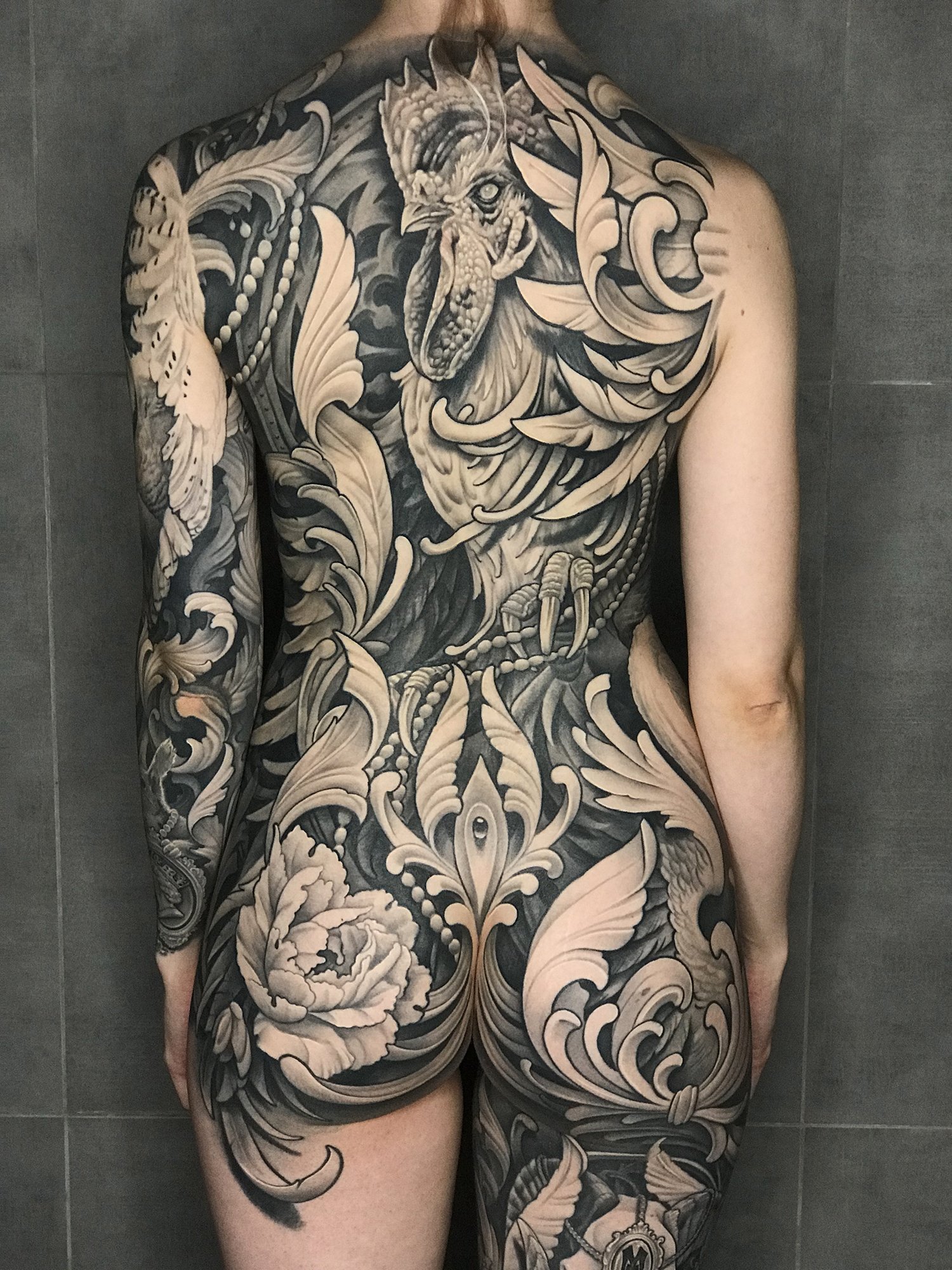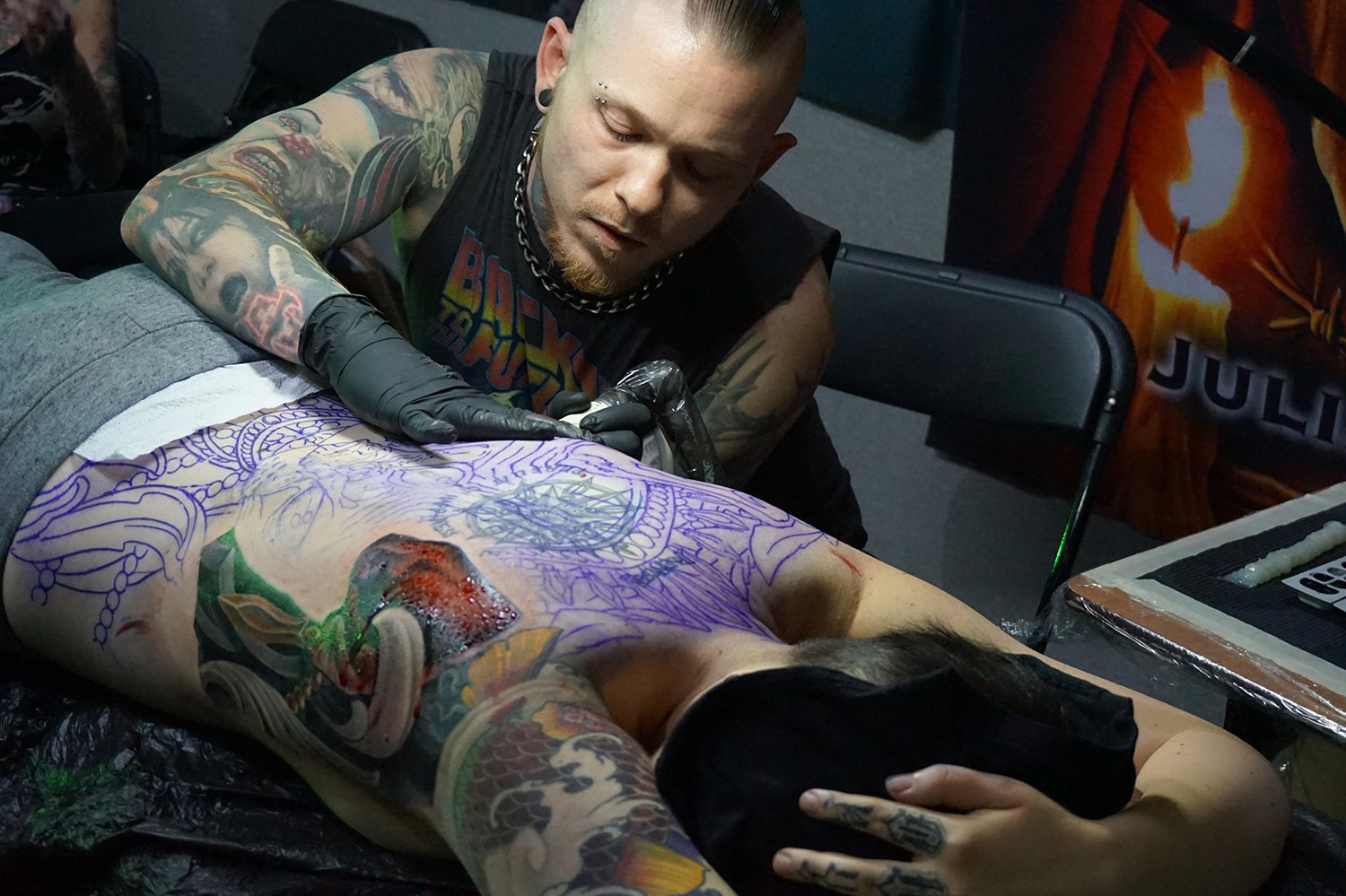 The three-dimensional shading effect is one of Siebert's visual trademarks.
Julian Siebert
One of the hardest working tattooists at conventions, Julian Siebert is generally in his booth for the whole three days of event with machine-in-hand producing a massive back or chest piece. From biomechnical to ornamented neotraditional, he shines in various art styles as well as tattooing in both color and black-and-gray. The depth and detail he puts into each composition is superb and painstaking and it is why he has been selected to this list. Two years ago he collaborated with the HR Giger Museum to do an original "Baphomet" design in honor of the late Swiss painter, and this year he was awarded "First Prize" for his extraordinary tattoos on model Makani Terror at the Venice convention.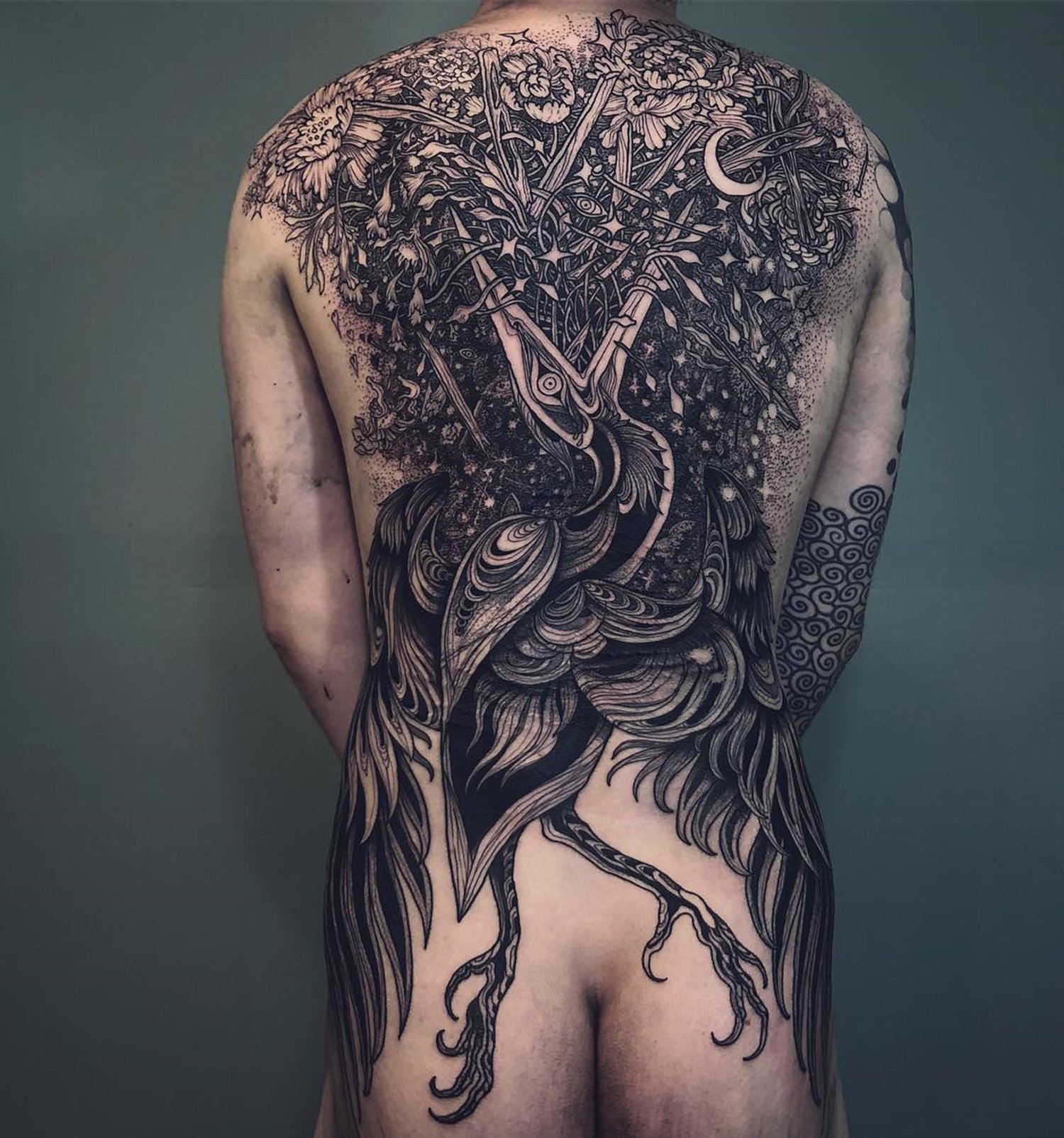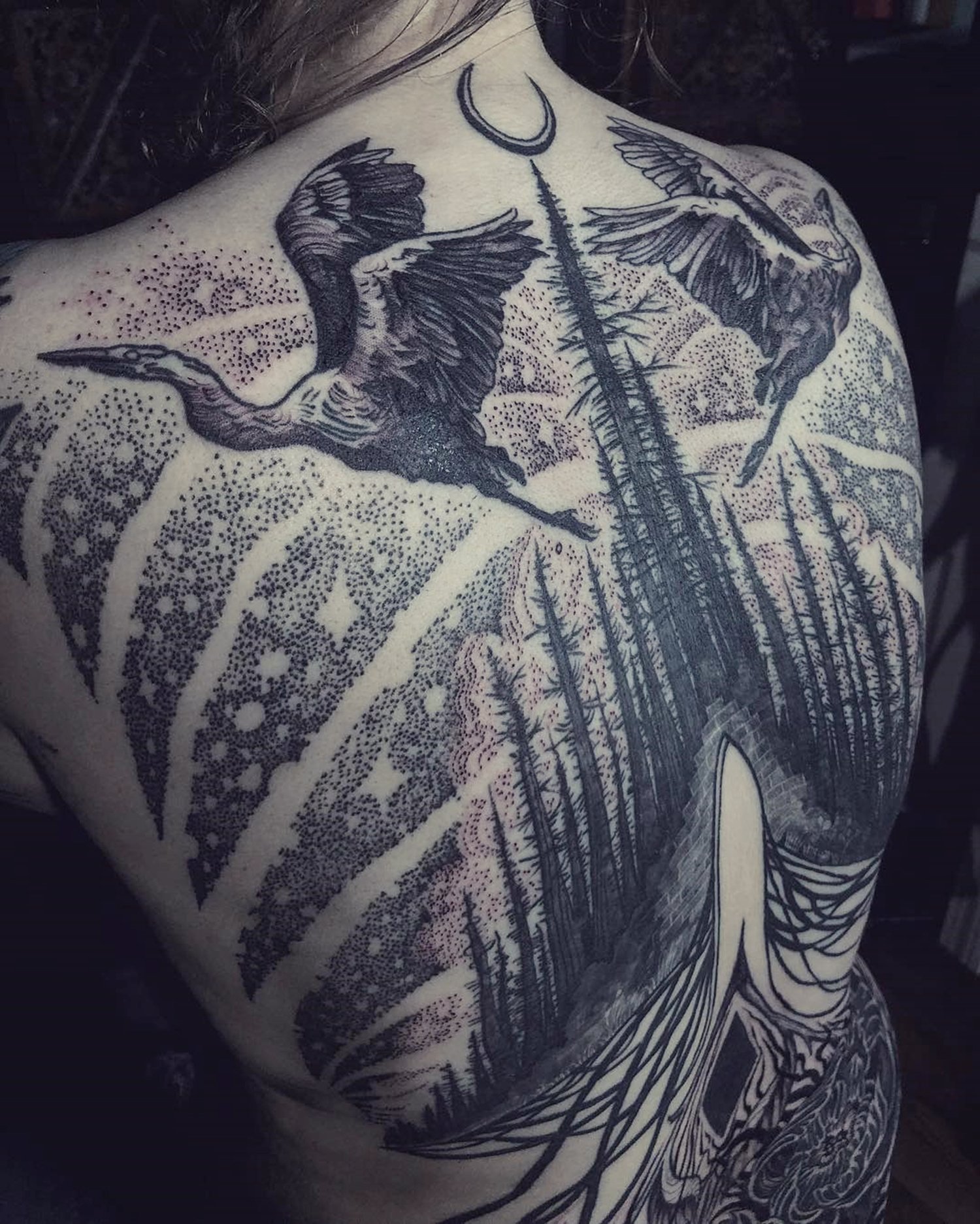 Above: The collaborative back piece made in two-days by Longhaul and Makoto. Below: Another nature-inspired work by Longhaul.
Noelle Longhaul & Makoto
Not one but two artists have been chosen here for their extraordinary collaborative effort (see first photo from the pair at top), tattoo made at a vegan and LGBT-friendly studio, Tatouage Royal in Montreal. Noelle Longhaul already featured on Scene360 before, has inked only part of the year and in the Fall took a break for self-healing and music making. They did put passion and soul into the smaller portfolio accomplished in 2018, and having worked with dear friend Makoto, they both made something out of this world—exquisite, artistic and meaningful for the client. It is without a doubt one of the best tattoos of the year!
Images © respective tattoo artists.
Tattoo convention photos © Scene360