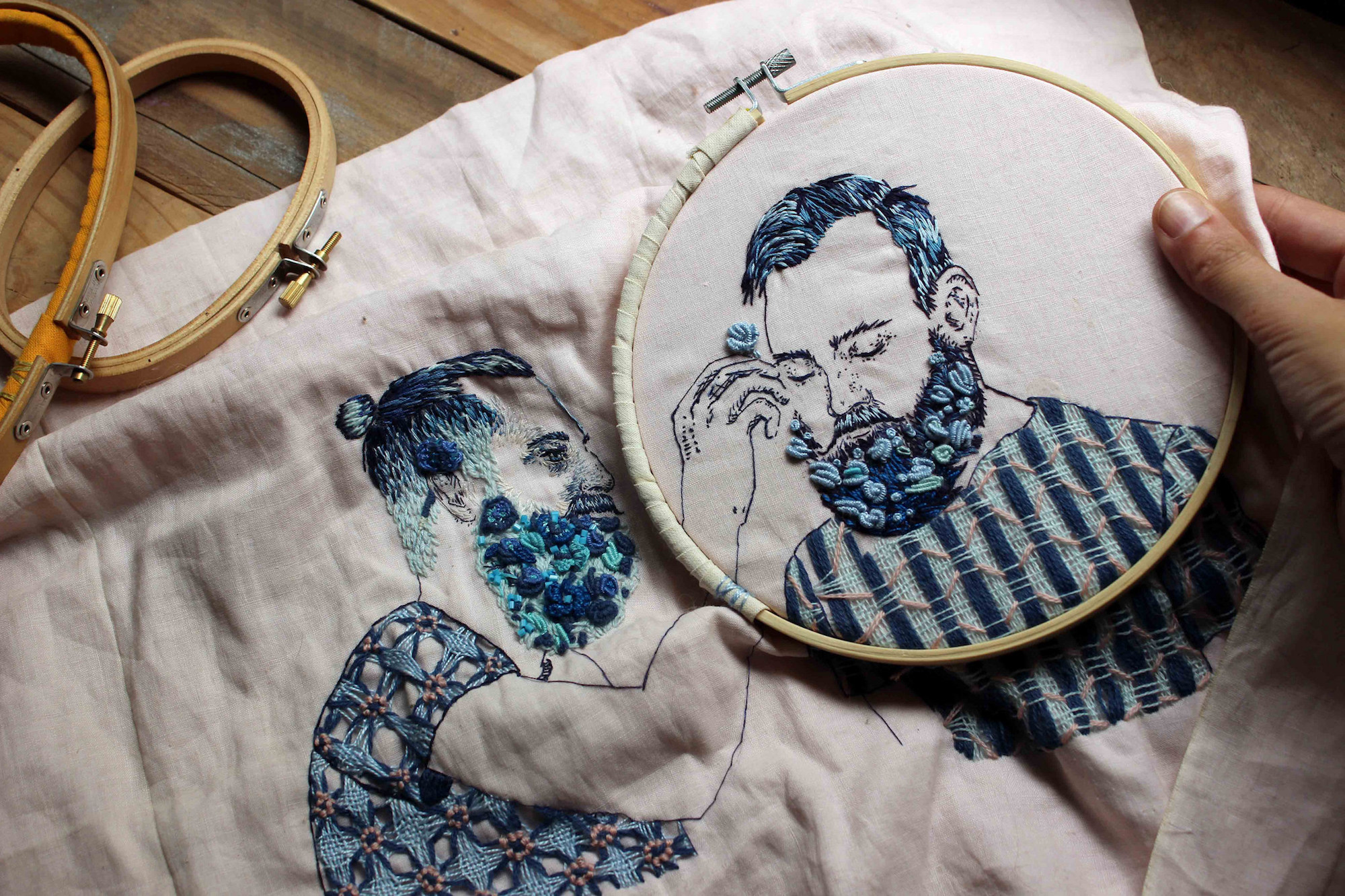 There's no stopping embroidery. As more people discover the traditional craft, the more that it continues to grow and change. Although many people work in traditional stitches and application techniques, their use of contemporary imagery makes the age-old practice new and modern.
Sol Kesseler's work is an example of new-school embroidery reinterpreting techniques from hundreds of years ago. She employs a style called blackwork, which dates back to the 16th century. The approach uses thin black thread to create images and patterns akin to a fine line drawing. Bugambilo creates portraiture and stitches in blackwork to give details to, most notably, the facial features. But she makes it modern by fusing abstract patterns, bright colors, and other stitches into her work.
It's no longer applicable to only call embroidery something that "grandmas do." Here are 10 artists contemporizing the craft. And this isn't the only time we've featured incredible embroidery artists; in 2016, we picked 10 artists who advance the field with their work.
Bugambilo uses basic and advanced stitches to produce complex portraiture.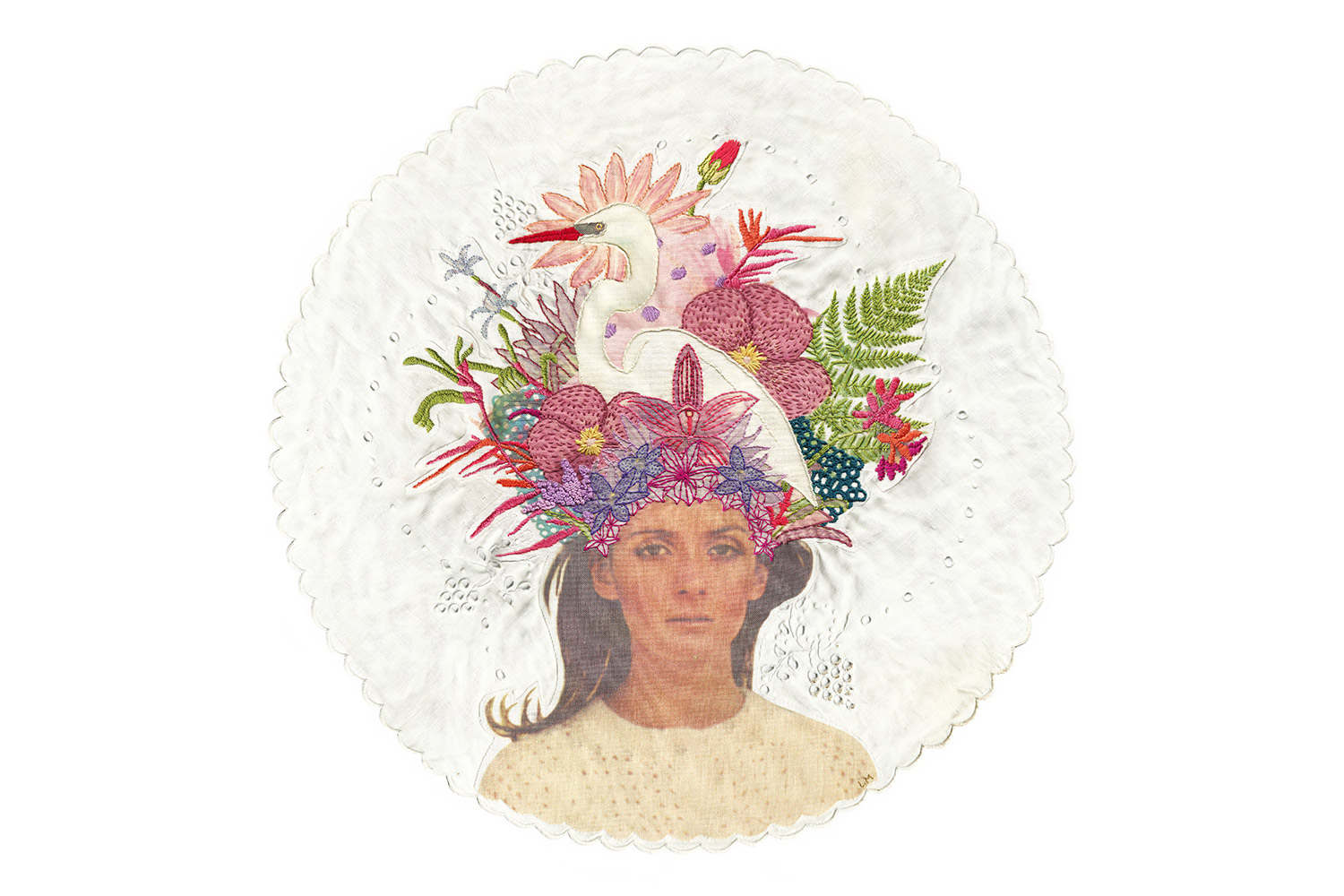 Laura McKellar's pieces start on the computer and are completed offline.
Laura McKellar
Laura McKellar combines photography and embroidery into peculiar portraits of people. This approach was fostered by her childhood; she learned photography and sewing when she was young. Later, she was formally trained as a graphic designer and now uses technology in her creative process. "These pieces start on the computer by creating collages from collected images, then digitally printed onto textiles and finished with embroidery," her website indicates. "These intricately detailed pieces align with Laura's values of creating beautiful handcrafted work that emanate the same emotional connection and sentiment she felt as a child receiving handmade gifts for birthdays and Christmas."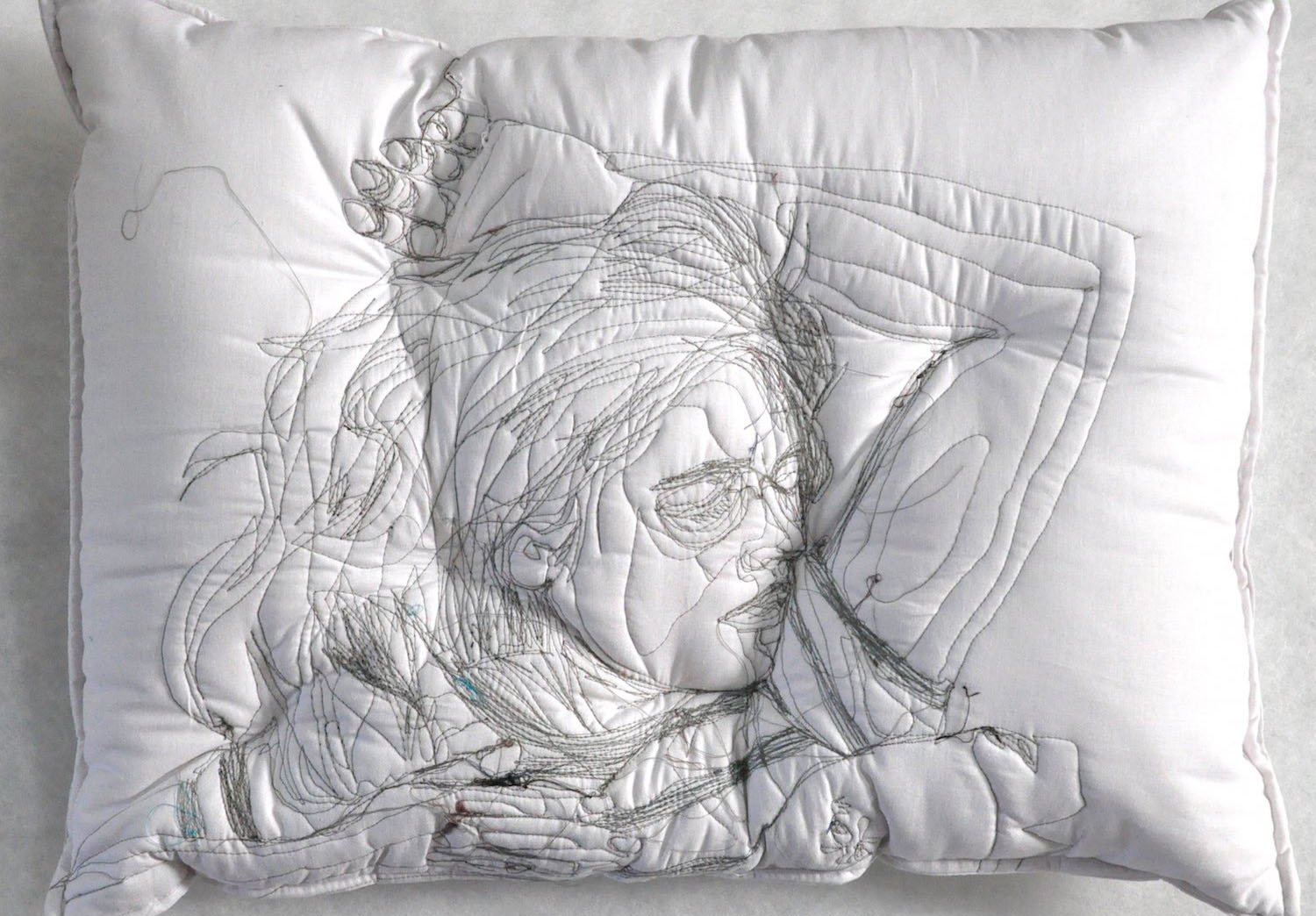 Maryam Ashkanian's "Sleep Series" is an ongoing project.
Maryam Ashkanian
Many contemporary embroidery artists are thinking outside of the hoop. Iranian artist Maryam Ashkanian creates her work on pillows. Called the "Sleep Series," her stitches feature individuals in a deep slumber. The embroidered lines have the spontaneity you'd find in a sketchbook; the frenzied marks collide and go over one another many times to imply visual depth and darkened outlines. Beyond the formal qualities, Ashkanian imagines us dreaming as another way to engage with what lies beyond us. "Images of us in dreams are revealed in the right truest evidence; an original icon which introduces us to the peripheral world wildly."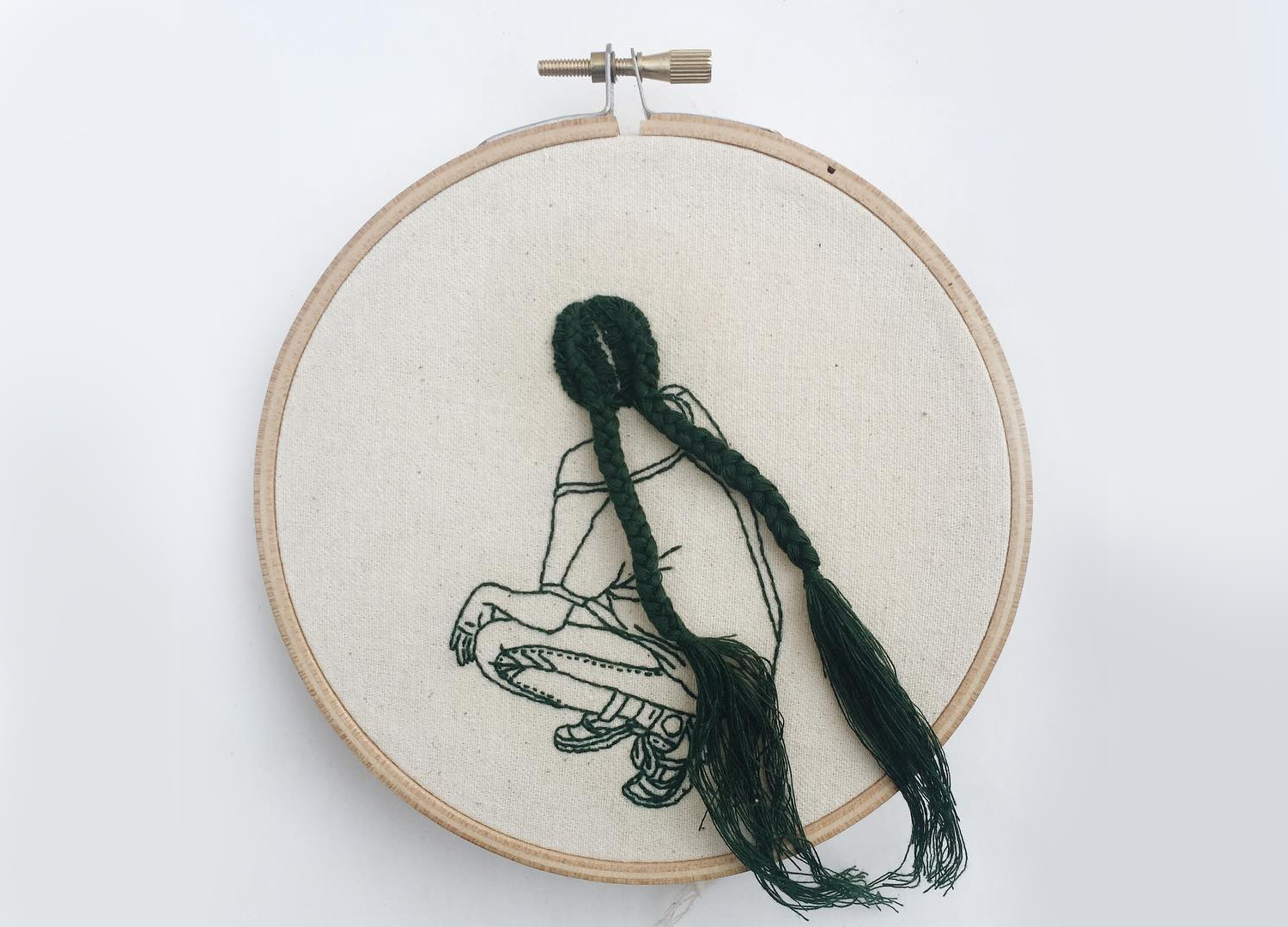 Sheenna Liam never imagined she'd be working in embroidery.
Sheena Liam
Sheena Liam's portraits look like models that are poised for a photo shoot. Her hoop art's emphasis on posing and beauty make sense given Liam's history of embroidery; she says that she picked up embroidering during her "downtime traveling around for modeling." Perhaps her real experiences with hair styling inspired the most striking characteristic of her work—Liam lets the embroidery thread hang loosely from her fabric and styles it like a real hairdo.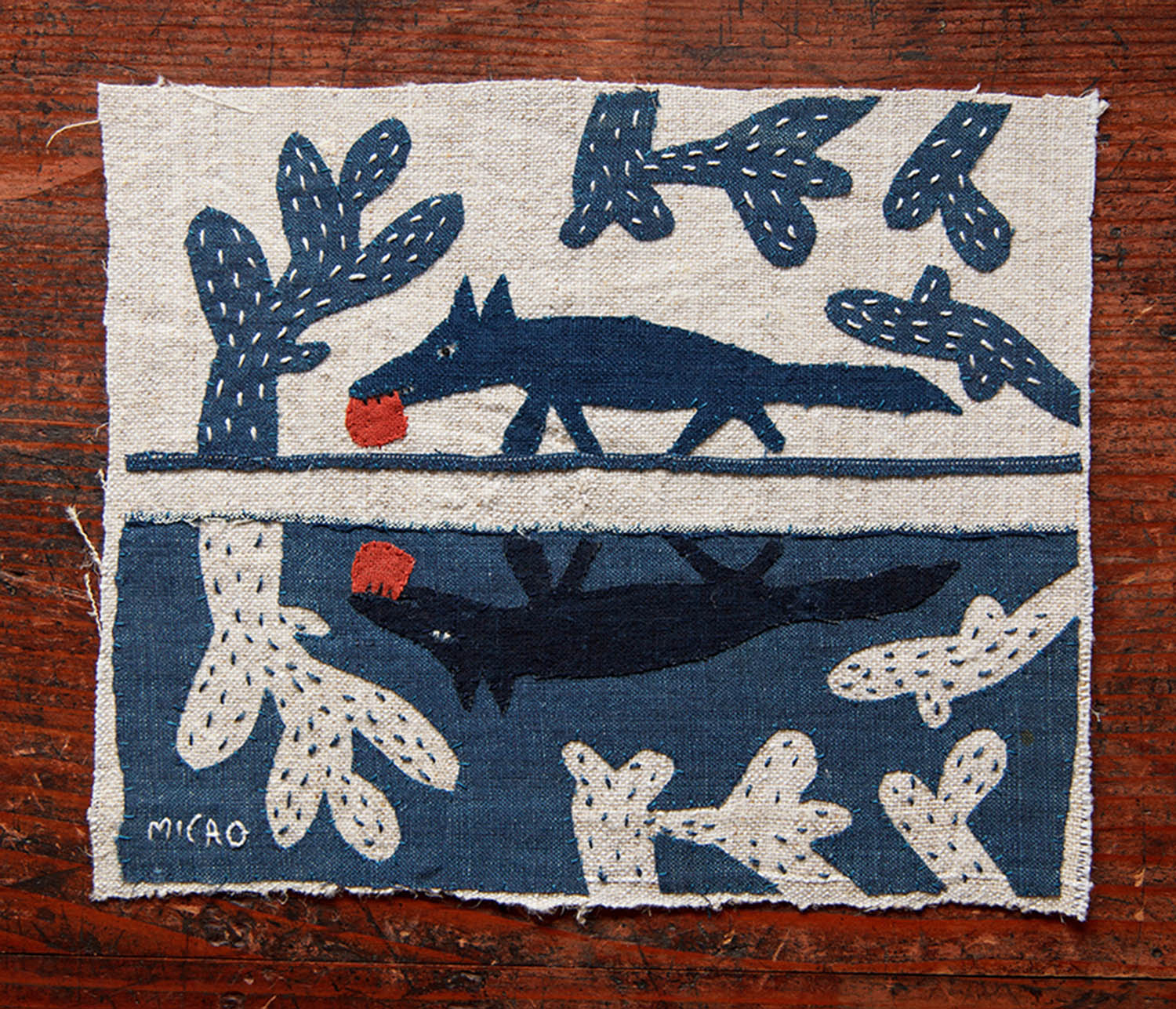 This piece by Mika Hirasa is based on an Aesop's Fables.
Mika Hirasa
Mika Hirasa produces narrative illustrations using a fusion of embroidery and applique. Applique is akin to collage, except it uses fabric. In Hirasa's case, she cuts out pieces of cloth and tacks it to a larger piece of fabric using stitching. Embroidery is used like a pen or pencil; it accents fine details that bring the applique to life.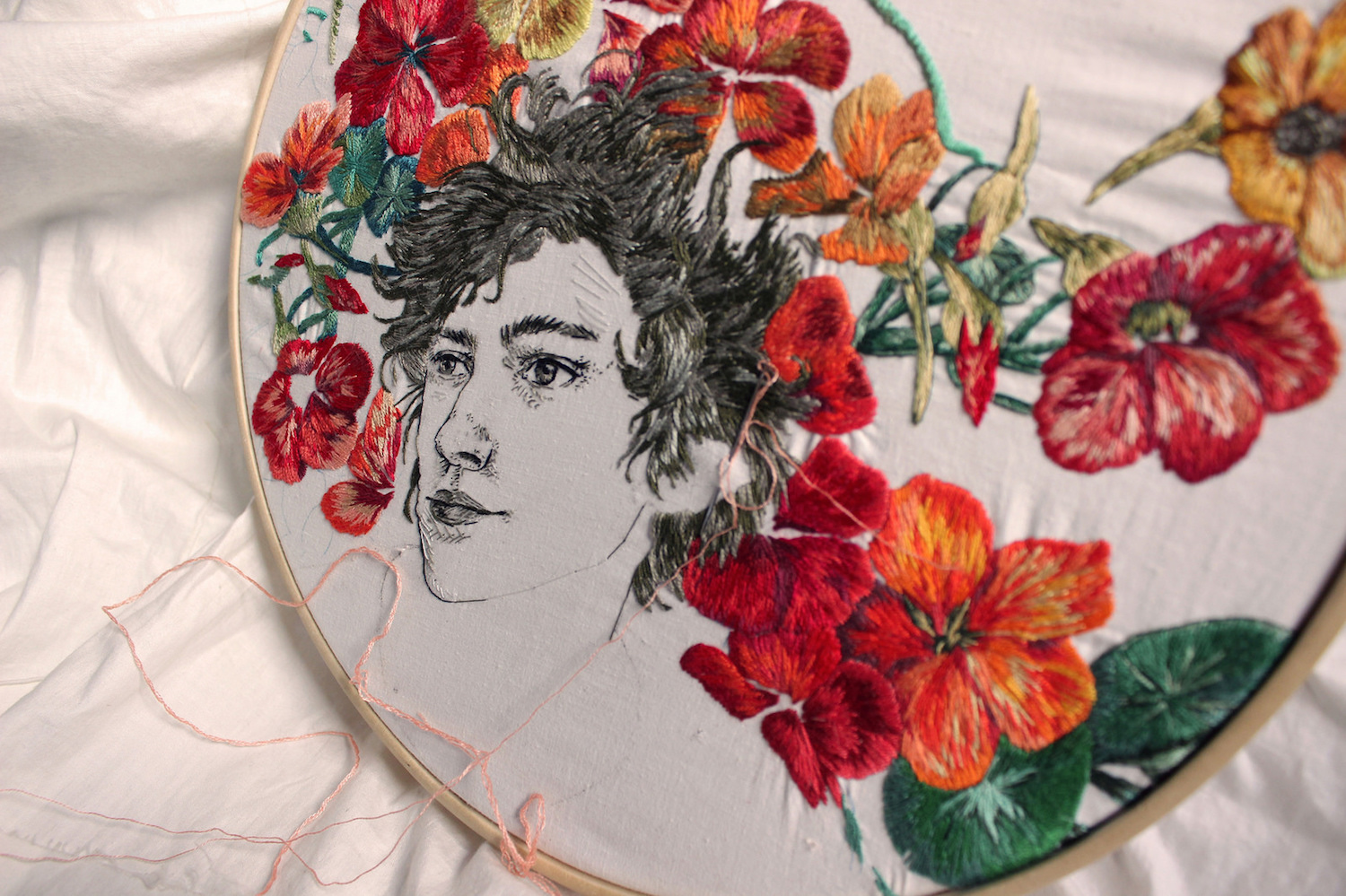 Bugambilo often shares her captivating works in progress.
Bugambilo
Sol Kesseler, aka Bugambilo, redefines portraiture by combining delicate stitched lines with abstract patterns and bold colors. The black thread is handled like you would a pen, complete with tiny "stippling" and varied line weights. This style is just one facet of Bugambilo's portfolio; in her online shop, she sells one-of-a-kind hoop art from tiny kitties to embroidered herbaria.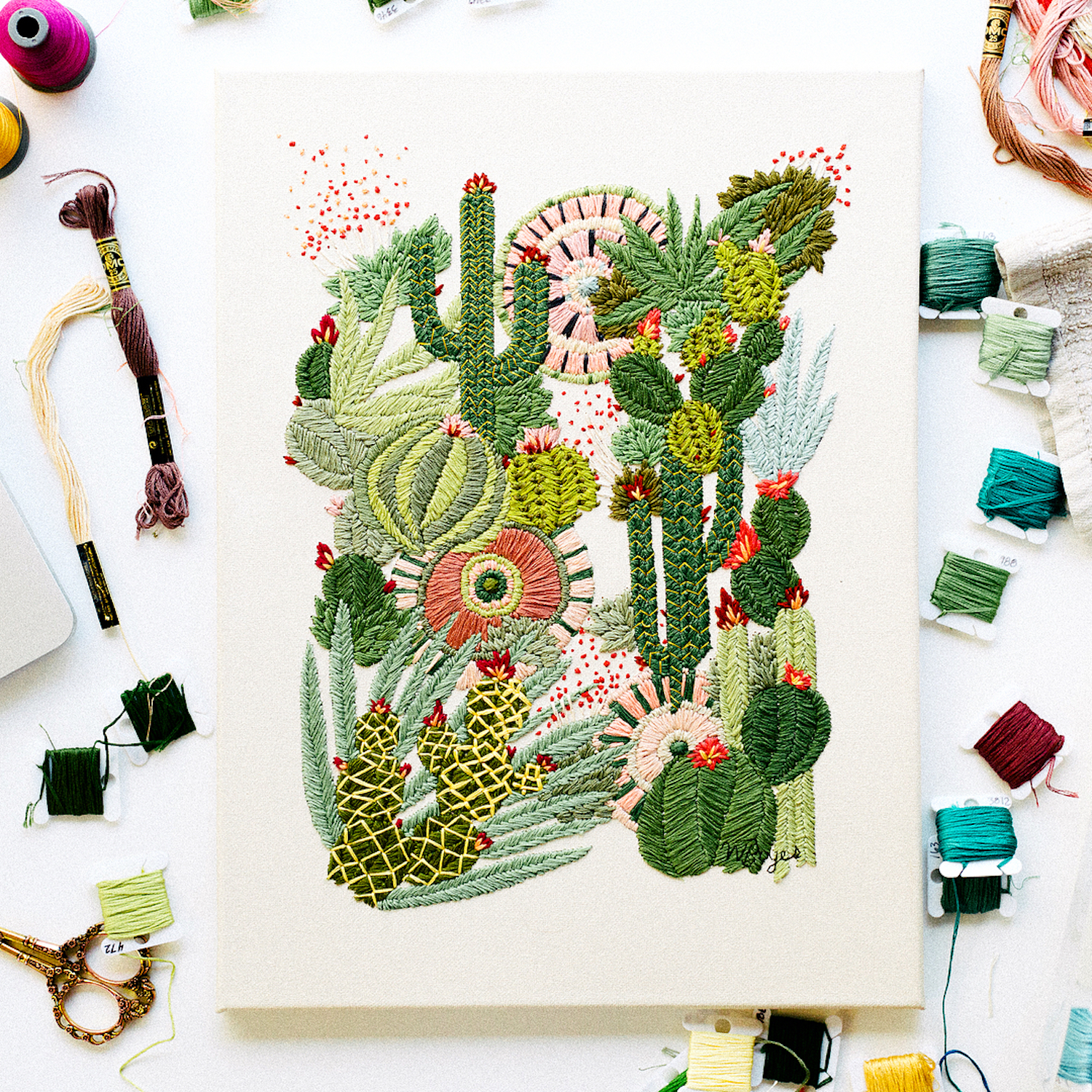 In addition to cacti, TrueFort has a bustling series of floral bike embroideries.
TrueFort
True Fort is the studio name for Walker Boyes. Citing himself as a "constantly creating" photographer, embroidery artist, and pattern designer, his shop is almost exclusively displaying his embroidery work. Unlike many embroidery artists, Boyes works on stretched canvas. When complete, his embroideries hang on the wall like a thread painting.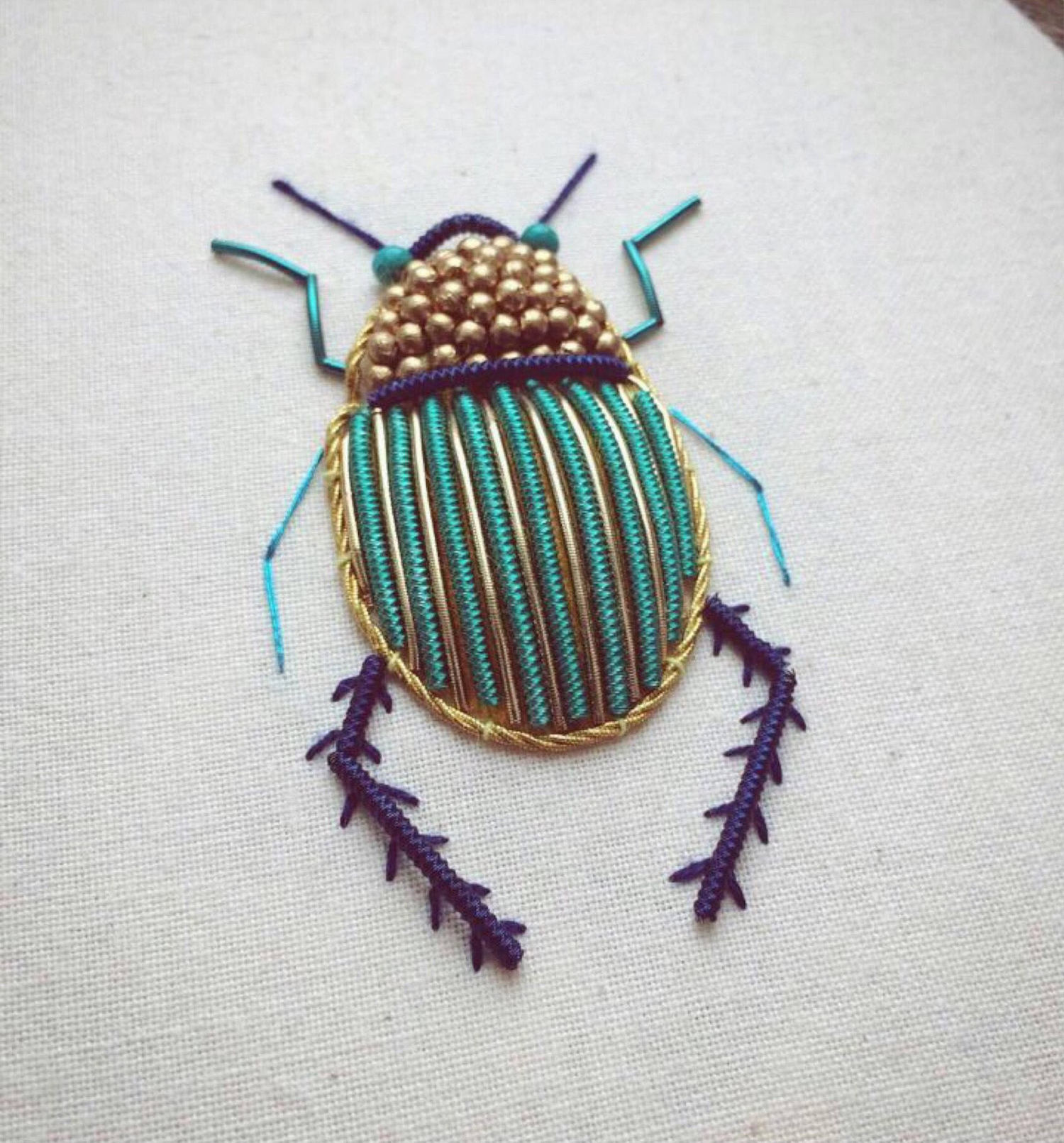 Humayrah Bint Altaf was educated at the Royal School of Needlework in England.
Humayrah Bint Altaf
Though we often think of embroideries as being just with thread, it encompasses much more than that. Beading and metalwork is another form that stitching can take. Humayrah Bint Altaf creates sculptural insects using wire and layers of padding to produce a tapered effect on the bug's body. The meticulous process involves her cutting individual metal strips to size and then using beeswax to sewn into place. In addition to the wire, she uses antique gold, turquoise beads, and antique gold cords.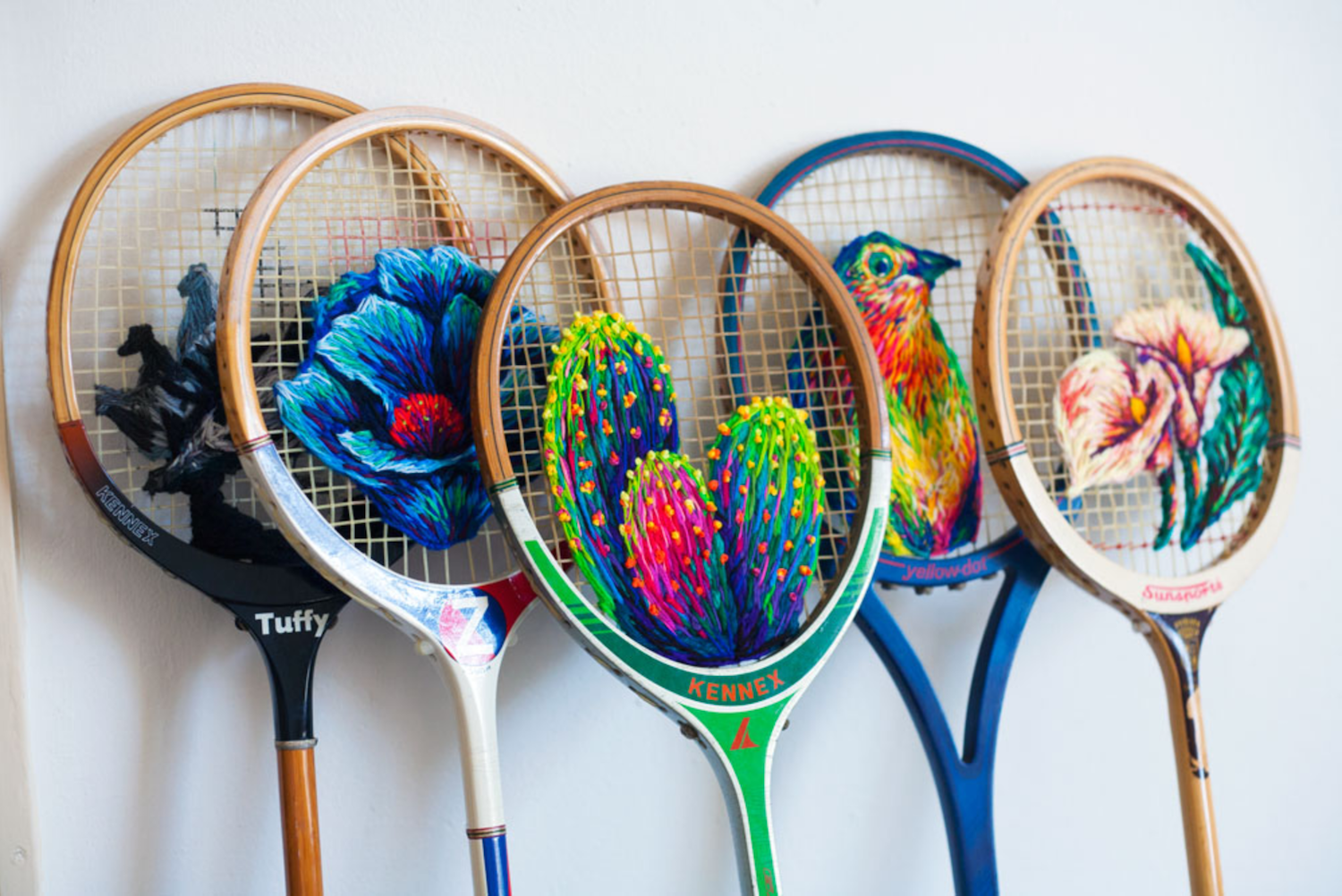 Danielle Clough's unusual embroideries have grown worldwide acclaim.
Danielle Clough
Another artist thinking beyond the confines of a hoop, Danielle Clough uses old tennis rackets as an unconventional canvas. She got the idea to use this gridded surface after seeing a pixelated heart pattern on a grid. "I thought, 'I can do that. But in my own way,'" she recalls. Her process uses a photographic reference which is turned into a black-and-white image that's drawn on the racket. Then, it's like a coloring book, with thread.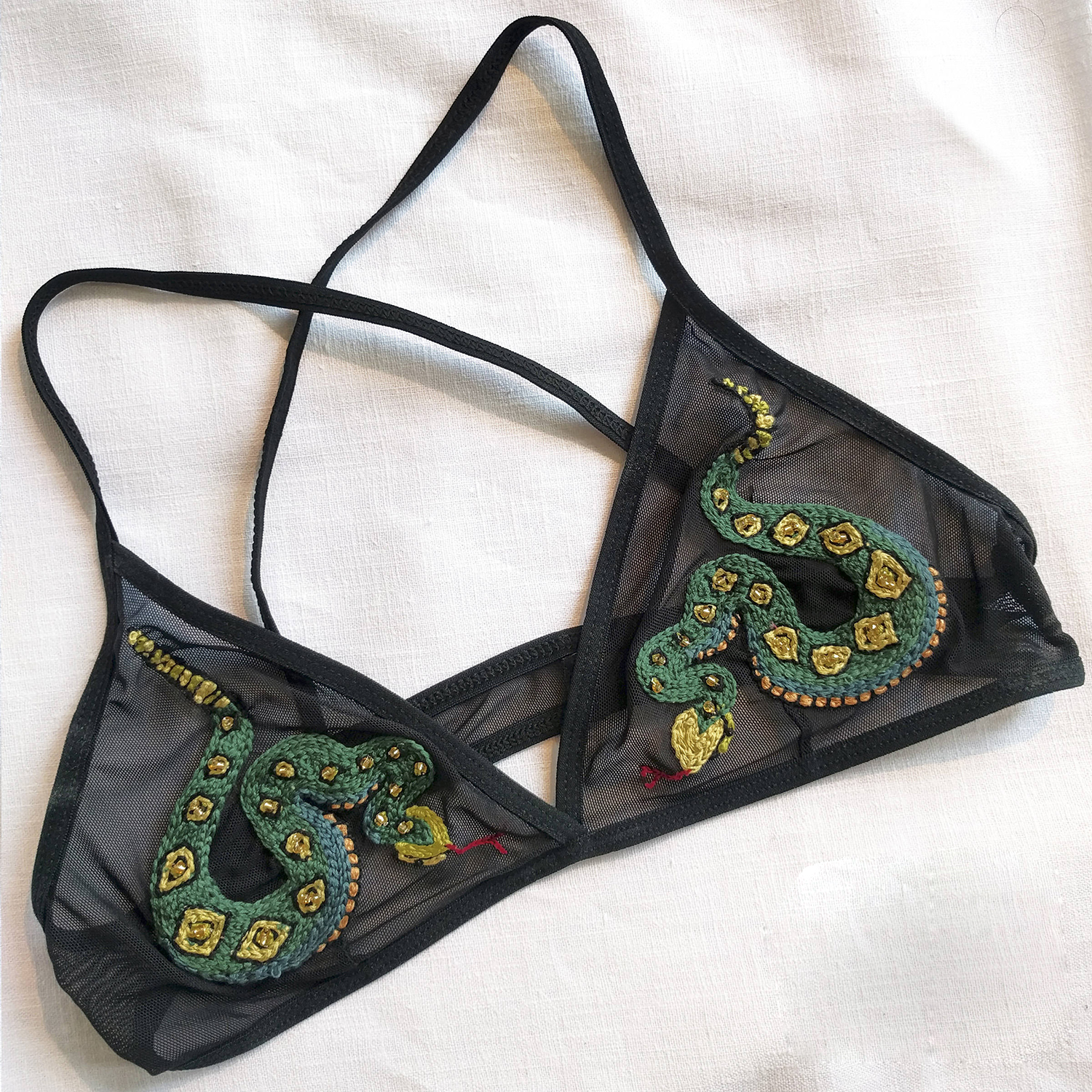 The jewel-toned serpents sparkle thanks to sequins.
Birds and Beestings
Emily Parkinson is the woman behind Birds and Beestings, a brand that calls itself "playful lingerie." Using embroidery thread and sequins, Parkinson handcrafts bralettes with characters, fungi, and plants covering the center of each cup. "Pair it with your favorite skivvies," she says, "take it for a dip as a bikini top, or wear it under a sheer blouse."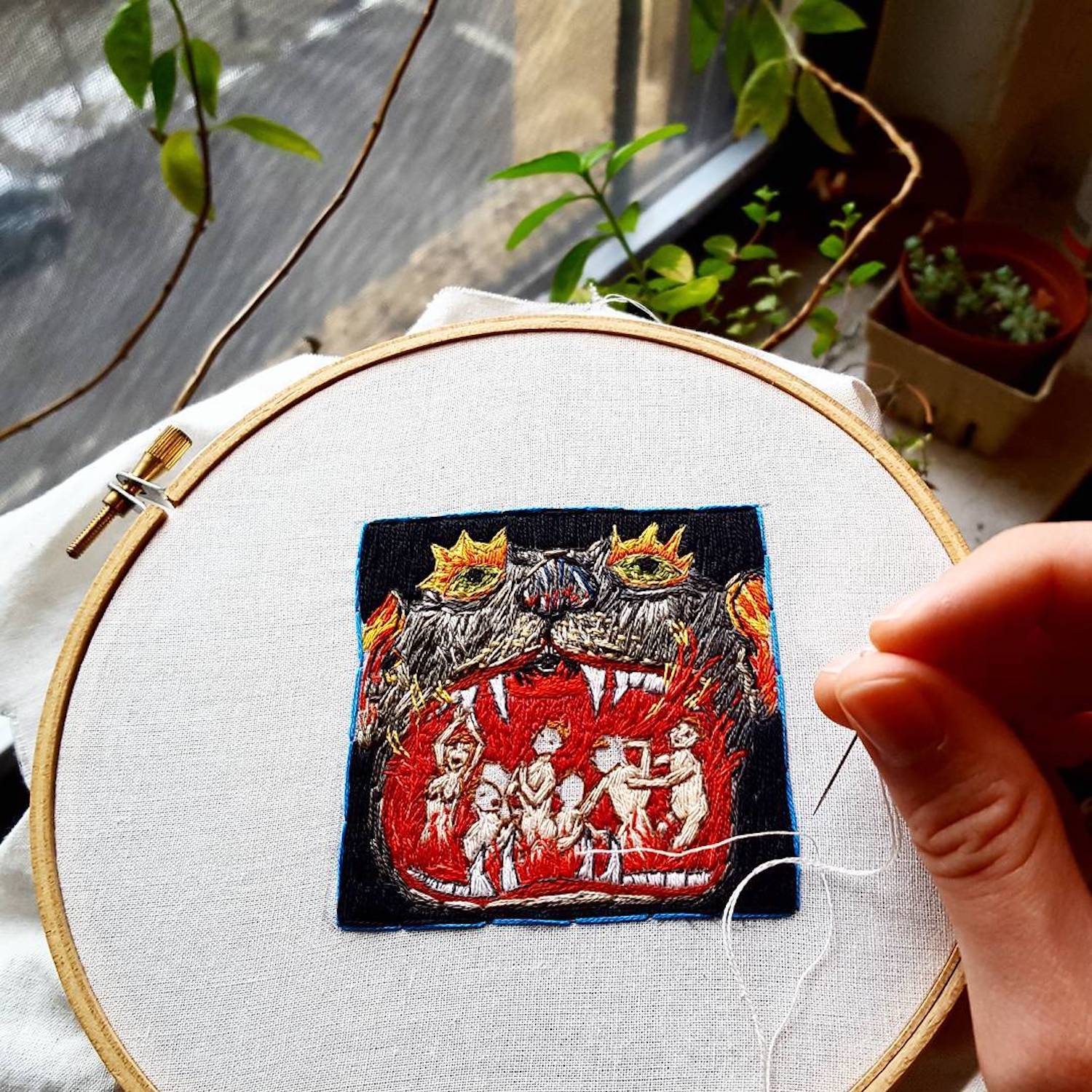 After completing this embroidery, Molly Stern turned it into a patch.
Molly Stern
Molly Stern takes inspiration from illuminated manuscripts and translates them into small, detailed embroideries. This particular piece is from the "Book of Hours" and features the famous "Hell Mouth" painting that appeared in the book. Medieval literature isn't all that inspires Stern, however. Her latest work in progress is a recreation of Henry Darger's "The Story of the Vivian Girls, in What Is Known as the Realms of the Unreal."
Images © respective artists.