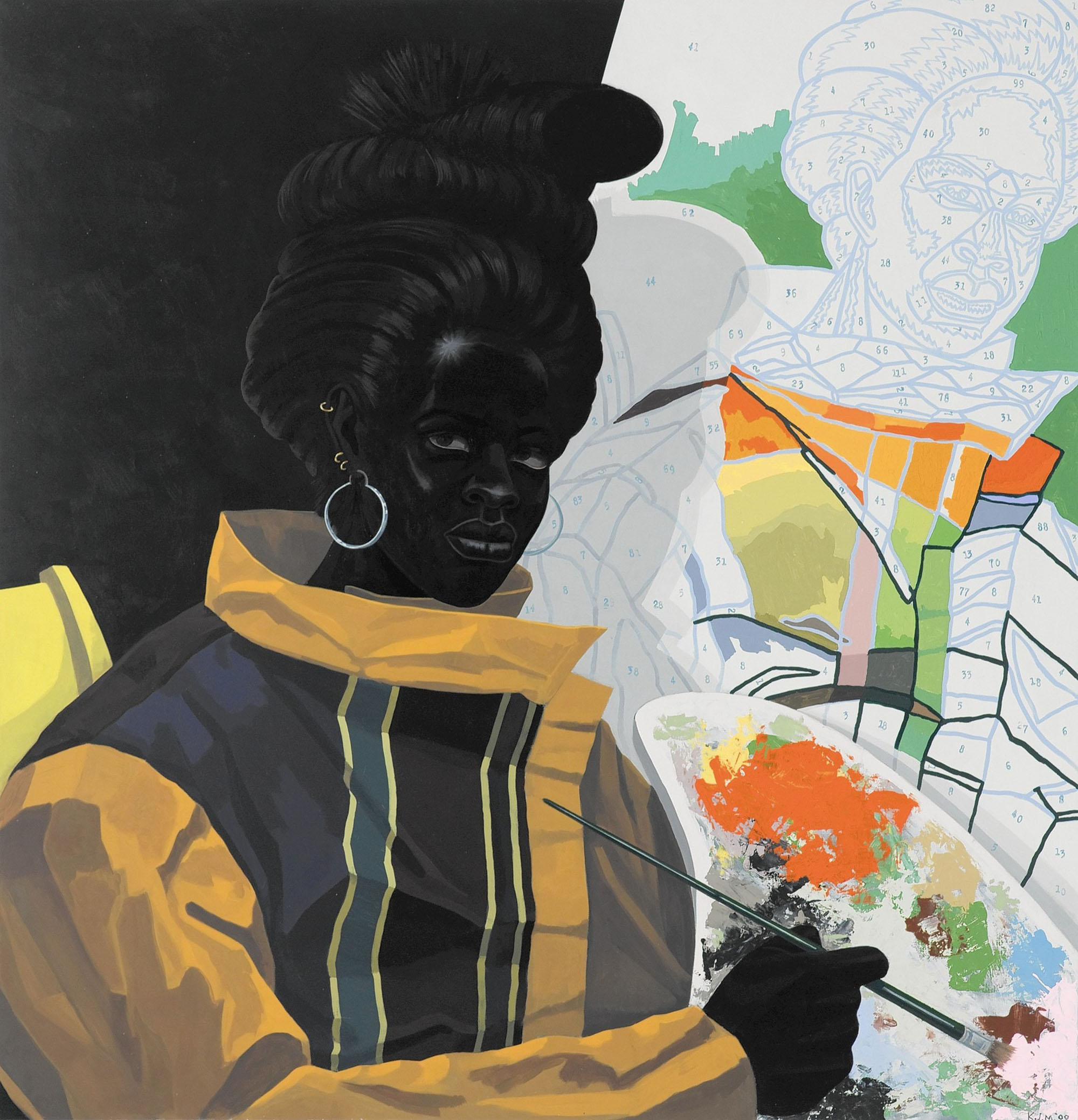 Visual art allows anyone to confess their truth—no matter how different or inconvenient it might be for someone else.
The likes of painting, photography, and film acts as a vehicle for exploring identity, reflecting on history, and celebrating culture. Of course, this isn't specific to a race or society, but it is helpful, at times, to recognize the makers from a particular group—especially those who are marginalized.
Through the Ello account, Black Art Matters, it features a trove of work made by contemporary black artists. Designer Mario Hounkanrin curates the profile with this in mind: "People of African descent have contributed to all aspects of our societies and cultures. It is important to get to know what they created and developed because this contribution is still often denied or diminished. Explore Black History and Black Art from Africa to the other continents."
Above: With nearly a four-decades career, artist Kerry James Marshall continually focuses on paintings of black figures.
After painting her body, Lina Iris Viktor takes her photo, prints it on canvas, and then paints on top of the image.
Lina Iris Viktor
Gold inspires artist Lina Iris Viktor. "It is one of the softest, most malleable metals in existence, yet, in its purest form (24 karats) it is practically indestructible," she told The Huffington Post. Looking at other artists such as Kerry James Marshall and Kara Walker, Viktor's work is also guided by science, math, and otherworldliness. These varied influences are united by a bold color palette. Beyond gold, she uses blue, black, and white as part of her visual language. In addition to her choices of hues, Viktor fuses "apparent contradictions" like "decadent and the minimal" in order to take her viewers to places we've never seen before.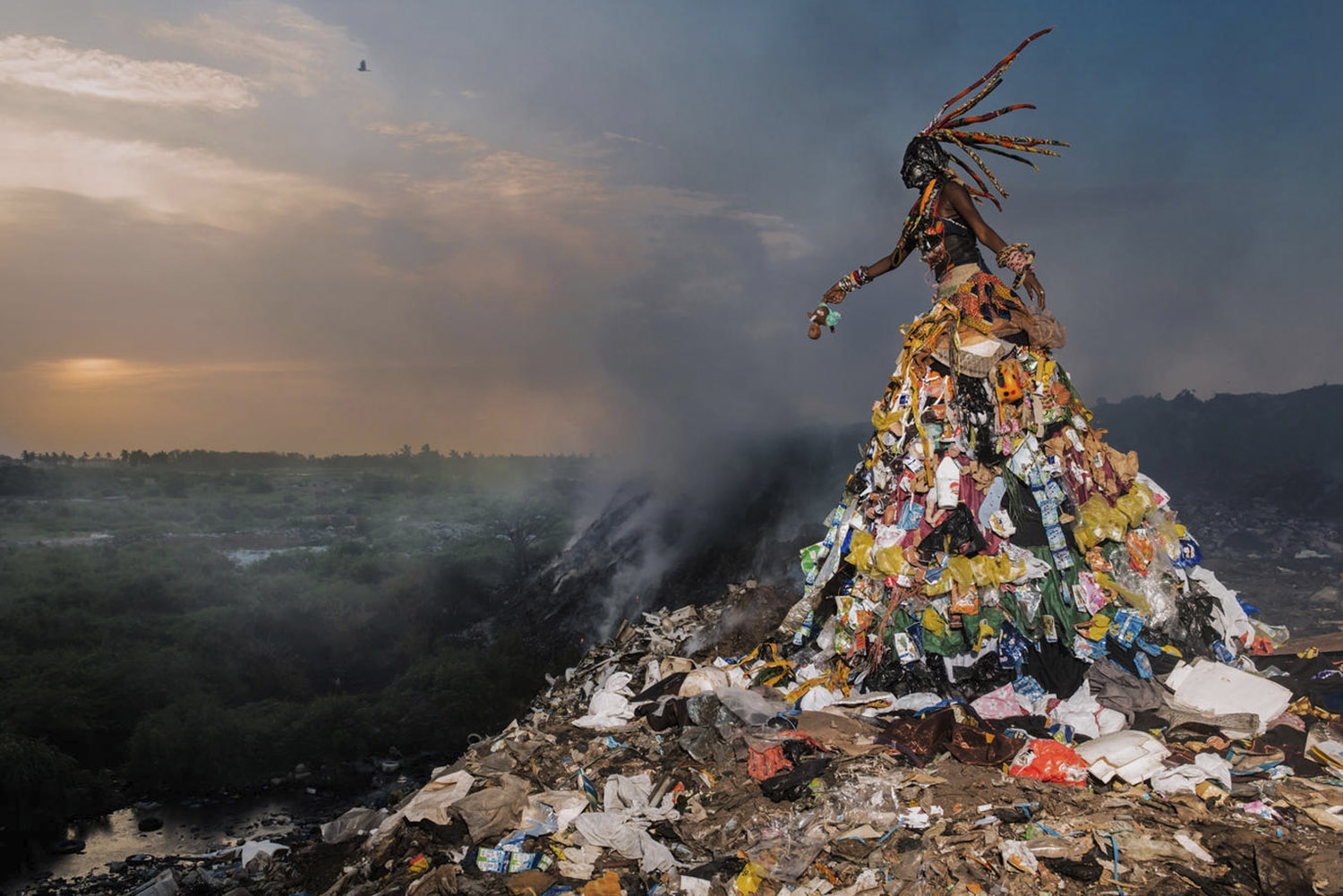 Fabrice Monteiro's series "The Prophecy" features a collaboration with costume designer Doulsy.
Fabrice Monteiro
Dakar, Senegal-based photographer Fabrice Monteiro has had a rich career history, one that was "not particularly oriented towards art." Trained as an industrial engineer and later a model, he gathered the skills and knowledge in photography—but wasn't directly involved in it. That changed in the mid-2000s after traveling the world as a milliner. He met photographer Alfonse Pagano, who later became his mentor. Describing his work as part "photo-reportage and fashion photography," his series "The Prophecy" communicates the environmental issues that have taken over the African landscape.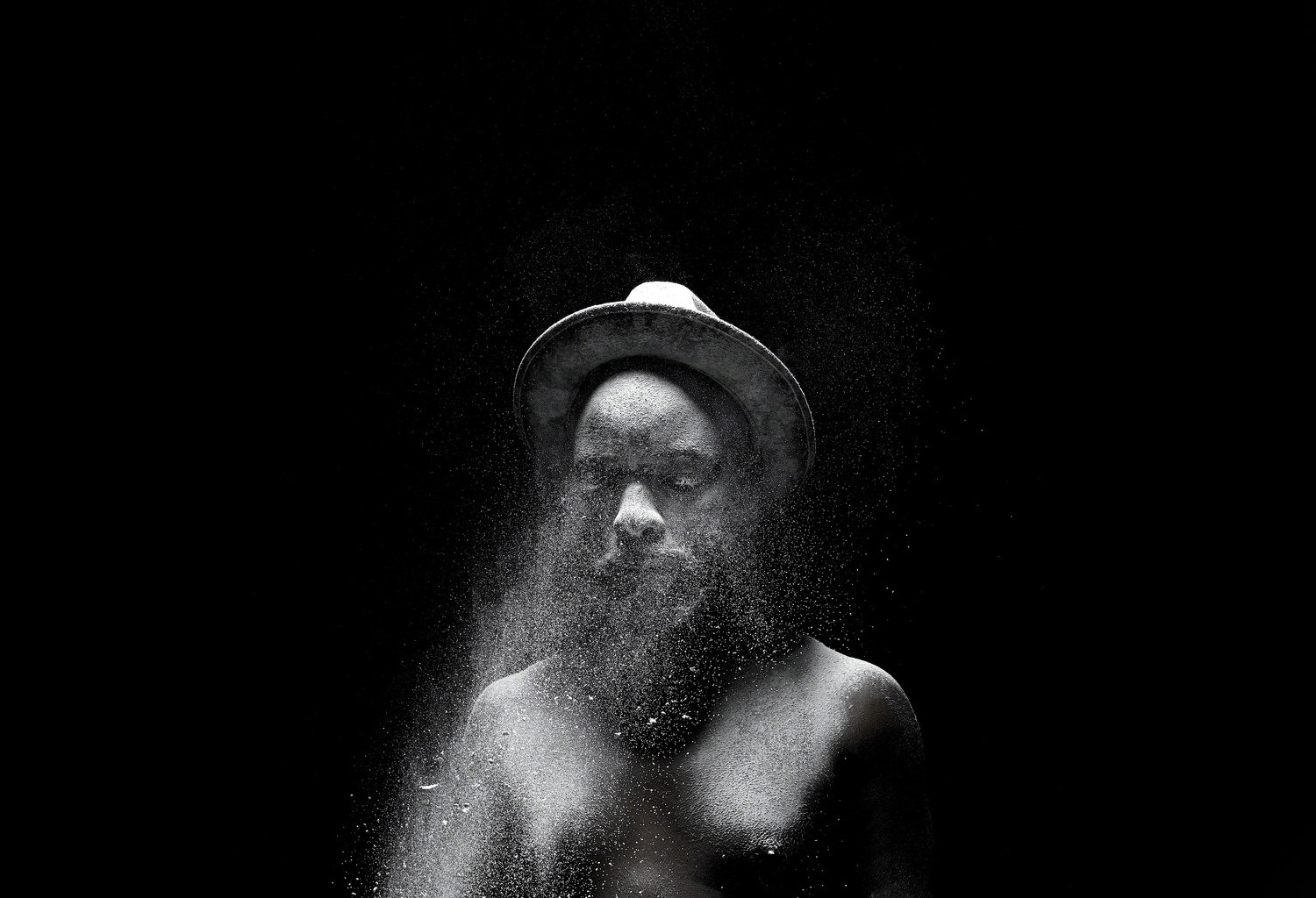 Mohau Modisakeng says that although his work is influenced by a violent history, that it "doesn't start off with an attempt to portray violence."
Mohau Modisakeng
Based in Johannesburg and Cape Town, photographer Mohau Modisakeng uses "material, metaphor, and the black body" to "explore the influence of South Africa's violent history that has been ignored in today's society," he writes. Modisakeng uses his photographs as a vehicle to understand the "cultural and social roles" that humans adopt in both post-colonial Africa as well as South Africa after the apartheid ended in 1991. Though this will speak to anyone living in contemporary South Africa, Modisakeng's imagery is guided by searching for his identity in this context.  This year, he's representing his country at the Venice Biennale.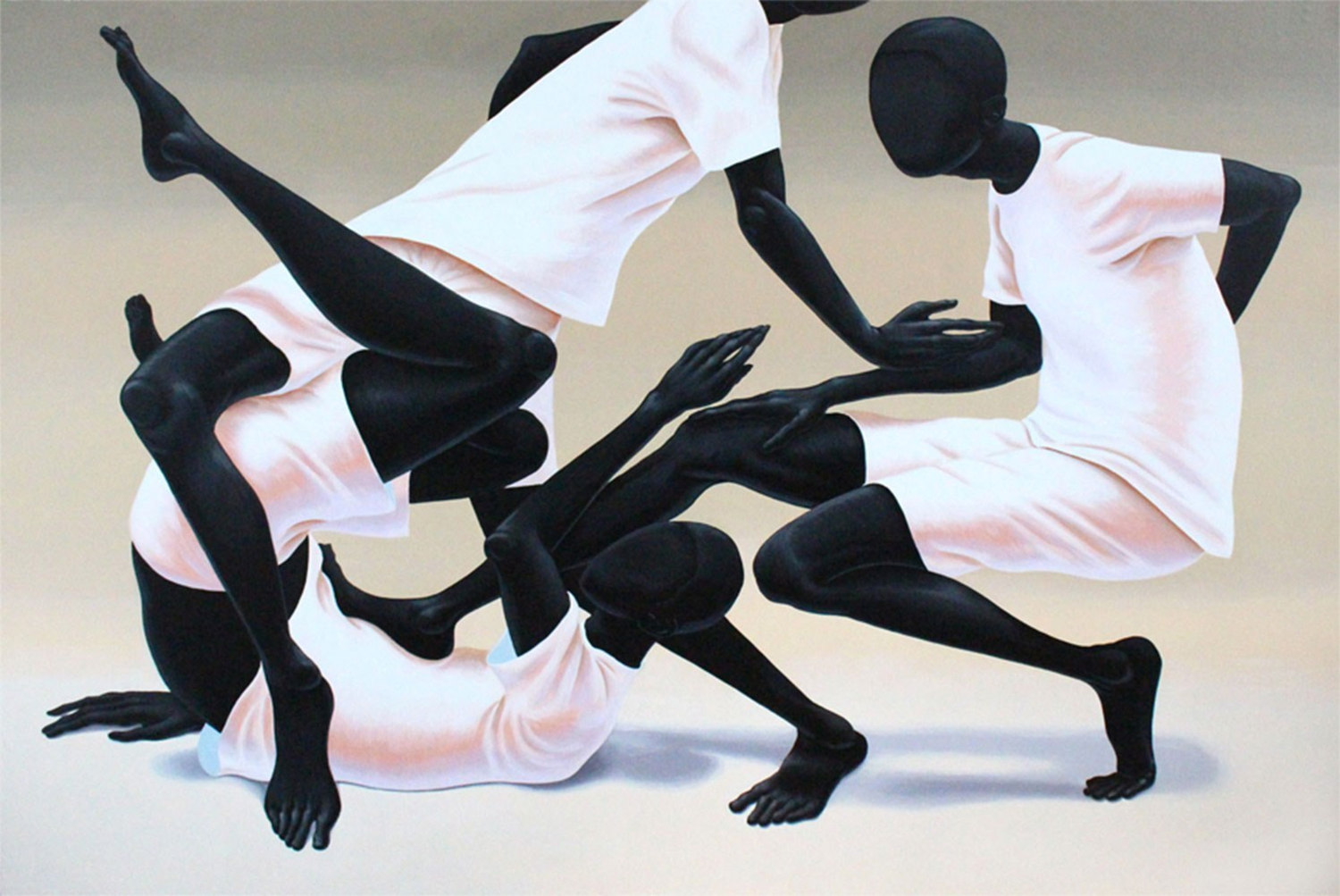 Alex Gardner is half African-America and half Japanese, a fact that greatly influences his work.
Alex Gardner
Expressive yet minimal, artist Alex Gardner draws from the past to create work that resonates today. His graceful figure paintings depict subjects that are anonymous and lack facial features. Their skin is painted a deep, rich black—a complete 180 degrees from the lighter skin subjects he used to illustrate. "I don't know if I'm trying to paint black people, but I guess that's what I'm doing! I'm certainly trying not to paint white people," he told AnOther, "but I feel like [the bodies] are so black that they can be perceived as not just of African descent," he says. "Growing up, identity was always an issue because I'm mixed race, but in a broader sense I want the viewer to have non-specific figures in the composition … so they have the chance of seeing themselves and people they know."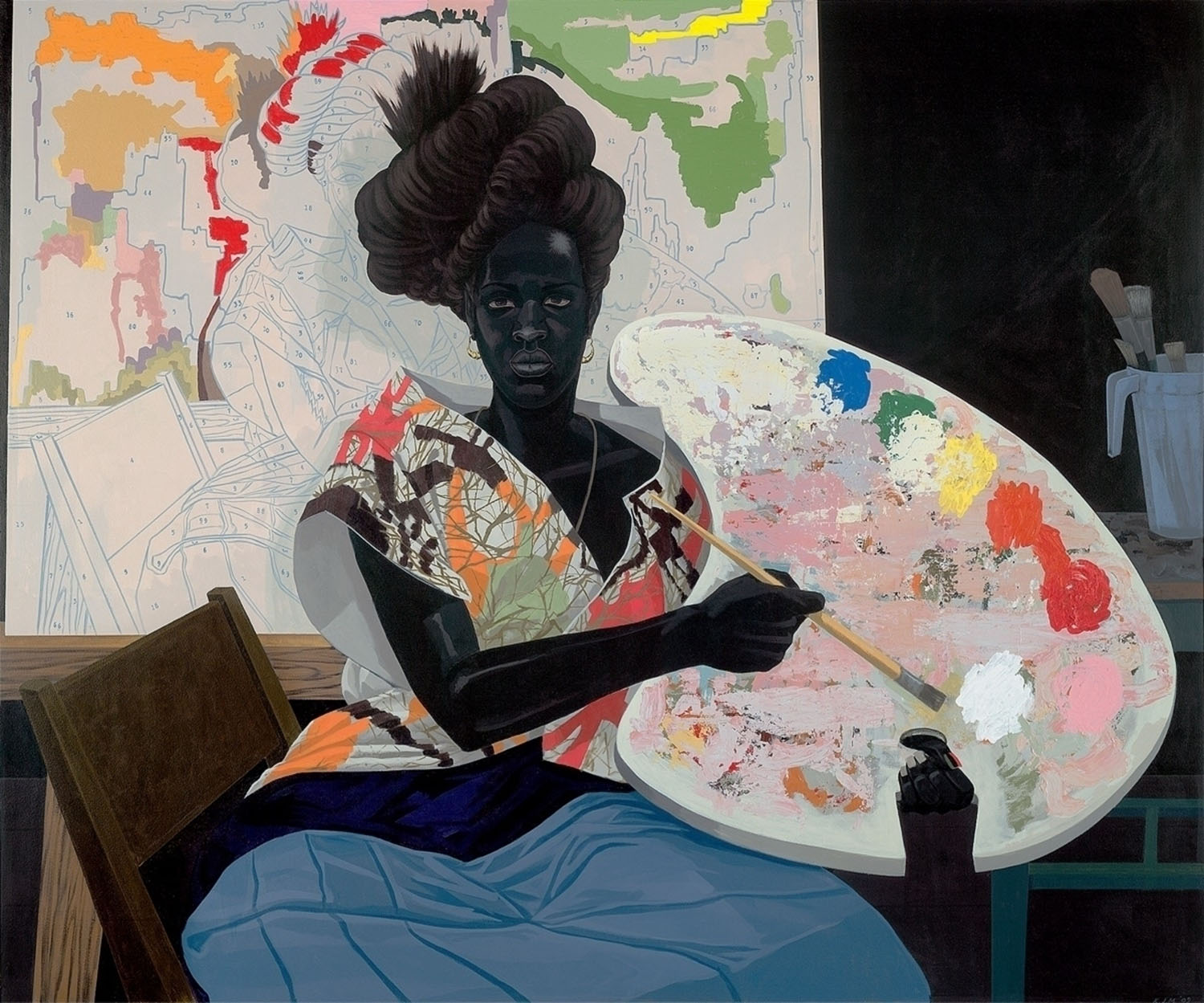 Kerry James Marshall's painting makes reference to paint-by-number art sets that became popular in the 1950s.
Kerry James Marshall
Artist Kerry James Marshall uses a variety of media—including painting, installation, and video—as a means to "comment on the history of black identity" as it pertains to the United States as well as the Western art canon. He's gone this direction to provide black culture more visibility in these spheres. He sees it as fulfilling a duty towards his culture. In the documentary titled "Art21," he explains, "You can't be born in Birmingham, Alabama, in 1955 and grow up in South Central [Los Angeles] near the Black Panthers headquarters, and not feel like you've got some kind of social responsibility. You can't move to Watts in 1963 and not speak about it. That determined a lot of where my work was going to go…"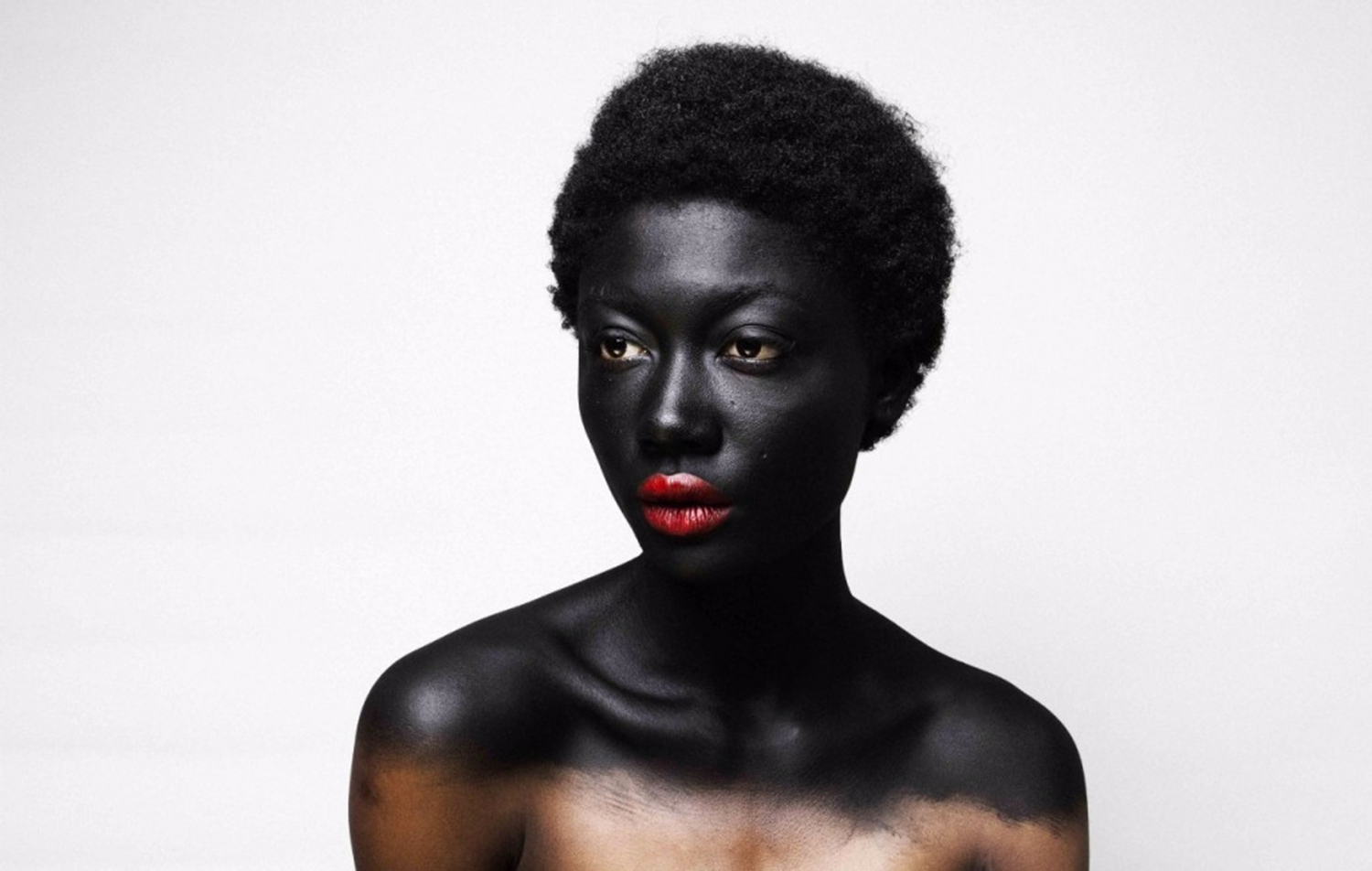 Calling himself a "visual person," Lakin Ogunbanwo started to seriously pursue photography in 2012.
Lakin Ogunbanwo
Lakin Ogunbanwo uses photography as his chosen medium; he is a fashion-forward thinker. Before a photograph comes together, he imagines the aesthetic qualities of the piece. This career path is much different than what he was doing five years ago; he originally studied law and diplomacy. "When I started out I shot from a very honest place," he tells Nataal. "I just did whatever I wanted to. Now I'm more consciousness of the world at large, of being both an artist and a commercial photographer."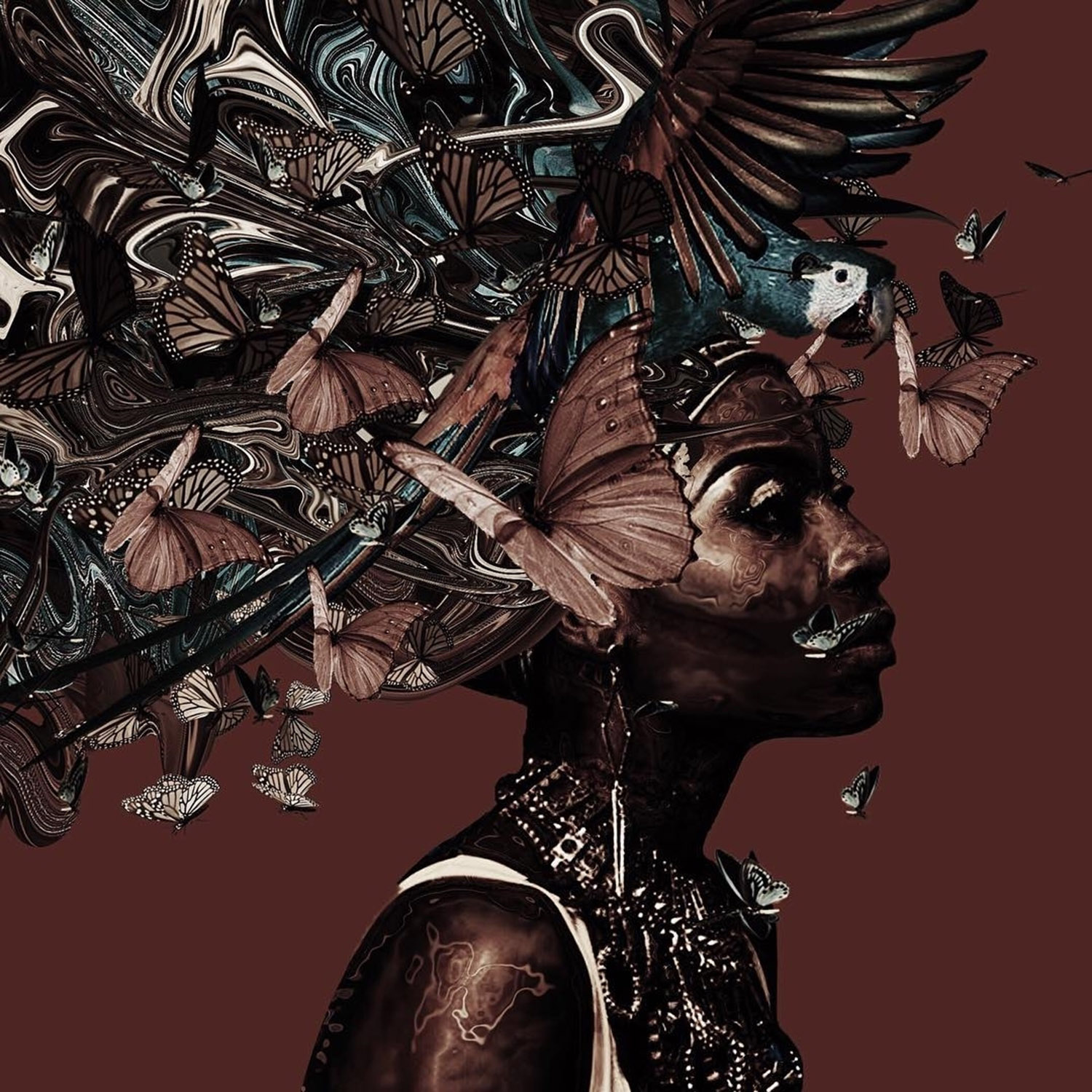 Album covers are what first inspired Jeff Manning to get into graphic design.
Jeff Manning
Fueled by "music, in particular, the Neo-Soul genre," Jeff Manning uses these tunes to get his creative juices flowing. A graphic designer and digital artist, his work aims to connect—to "bridge the gap"— between design and Afrocentricity. He puts himself in his designs. In an interview with Dapper Lou, he explains, "The work that I create reflects my personality 100%. Even the color palettes that I use reflect that." Continuing, "If I could change/add to anything in the world, both personally and artistically; it would be to motivate others (especially the youth) in the world to be more aware that they can do ANYTHING that they set their minds to do."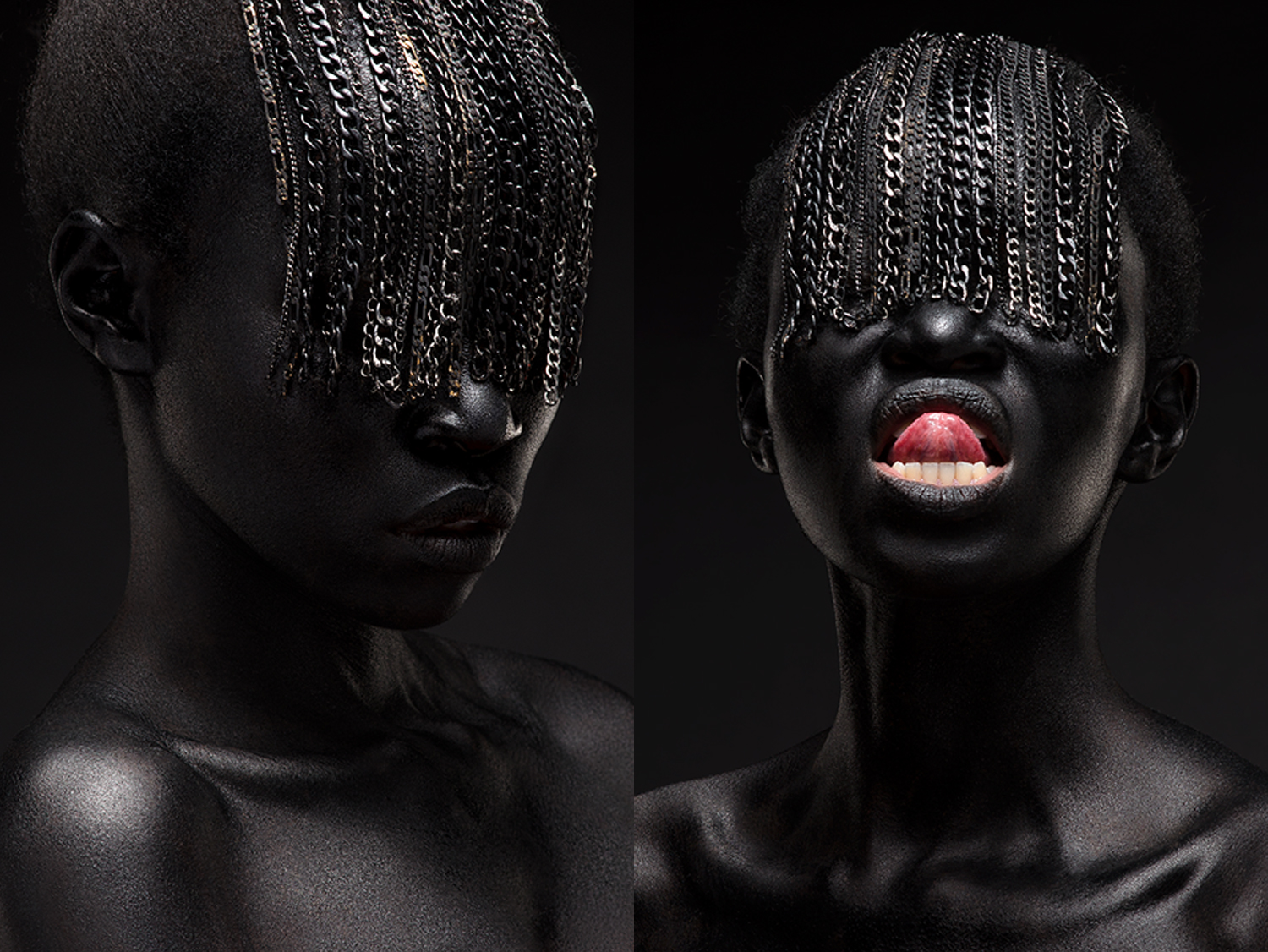 These images are from Thandiwe Muriu's series called "Silver."
Thandiwe Muriu
Born in Kenya, photographer Thandiwe Muriu works within the realm of commercial images to represent beauty from a variety of social groups worldwide. Finding "fascination with facial structure," her formal considerations include vibrant colors and lighting to produce stylish photographs that not only showcase a product, but a commitment to artistry as well. In addition to image creation, Muriu also holds workshops in the region.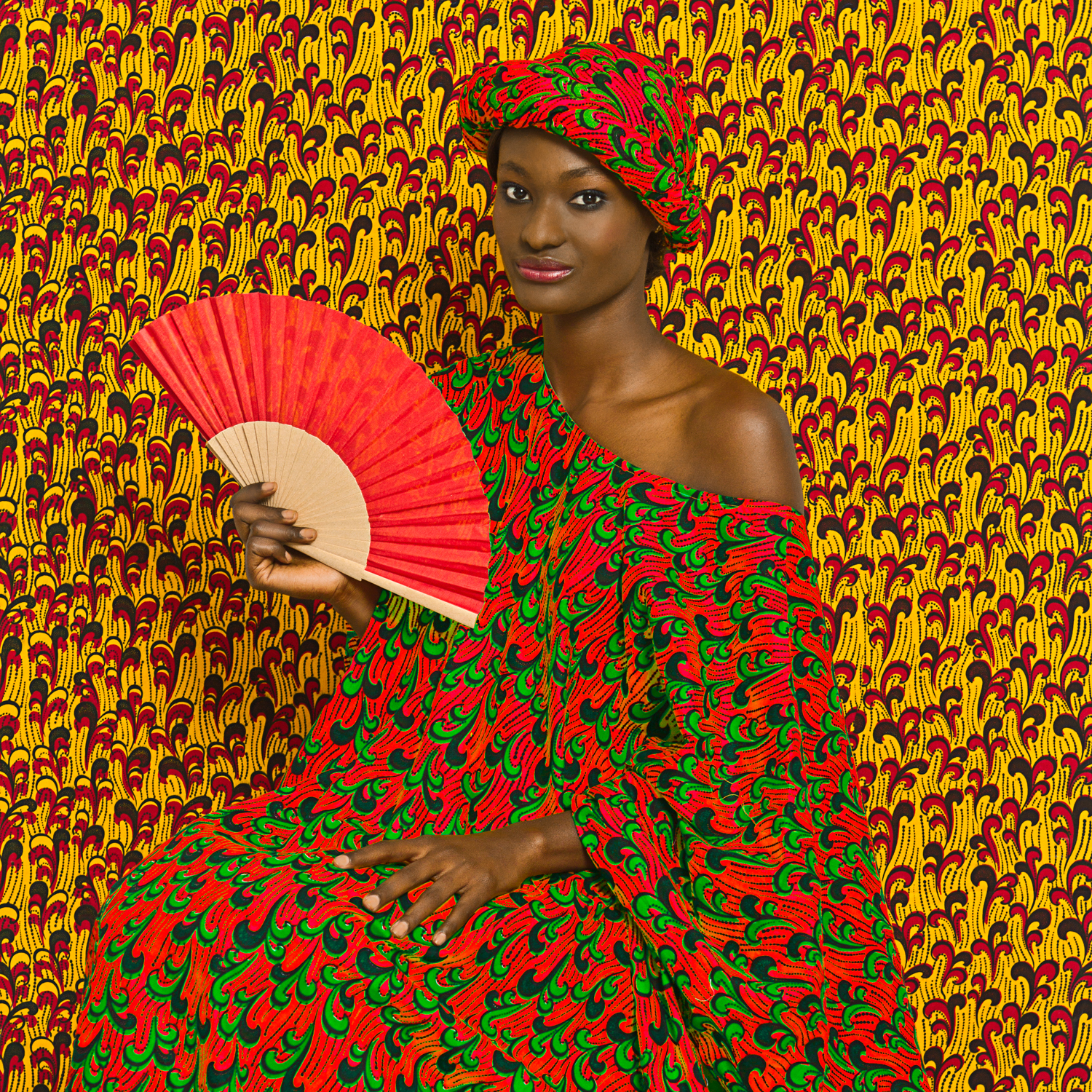 This portrait is of Aminata Faye, a model based in Sengal.
Omar Victor Diop
In Omar Victor Diop's series "The Studio of Vanities," he captures "staged portraits of Africa's contemporary urban scene." Celebrating the creative and ambitious people of the continent—of various ethnicities—each photograph is a collaboration between Diop and the sitter. The results are captivating images that pair indigenous fabrics with en vogue styling. Diop himself is relatively new to the creative scene. In 2011, he left a corporate gig and devoting himself to life behind the lens.
Images © respective artists