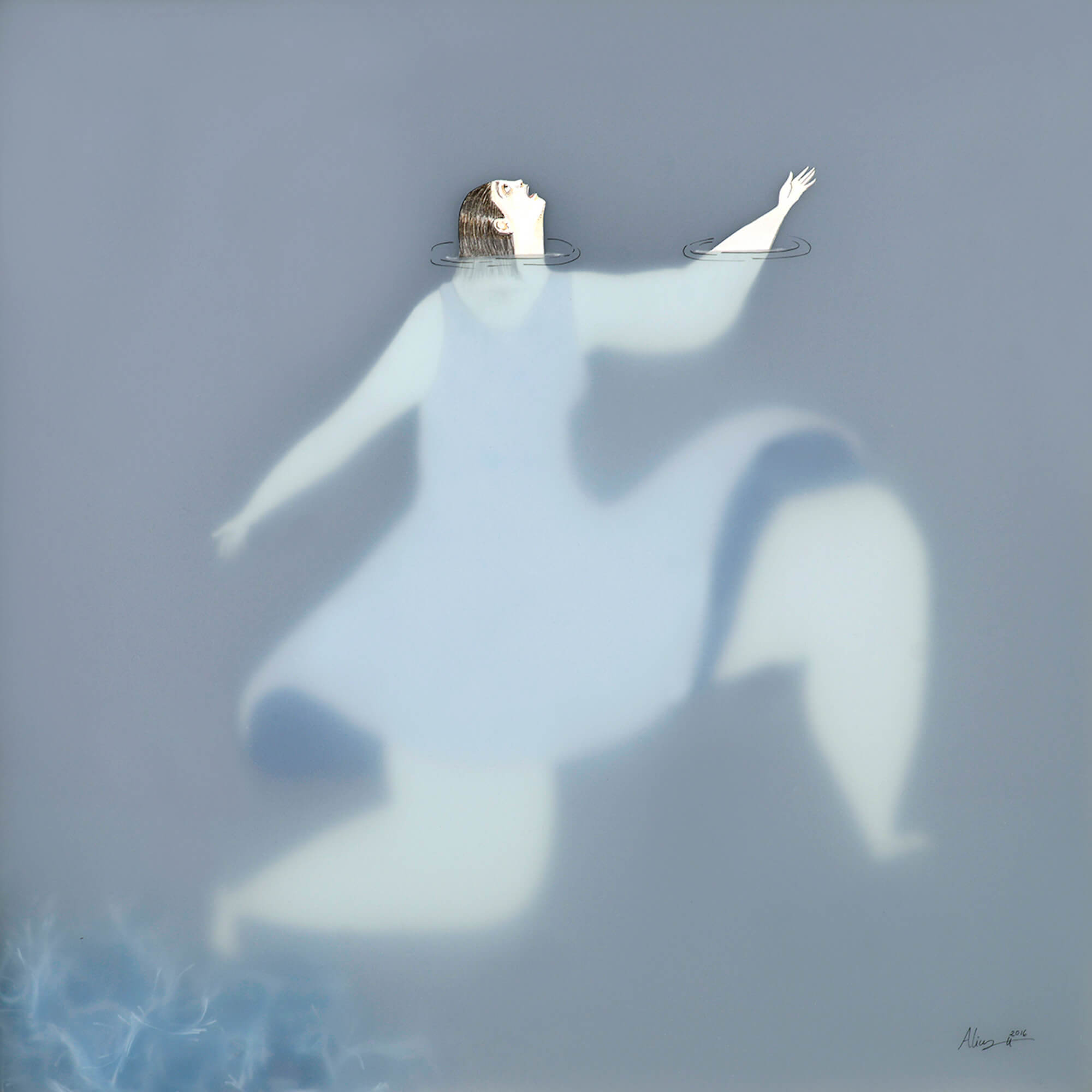 In Stephen Sondheim's critically-acclaimed musical Into the Woods, characters from several iconic fairy tales are intertwined as they each venture into the one place they're all unsure of—the dark woods.
This is the place where Cinderella, Little Red Riding Hood, Jack (from "Jack and the Beanstalk") and others have to leave their comfort zones and take risks in order to get the things that they really want.
Sondheim isn't the only one that has viewed nature as a metaphor for the problems we humans face and the solutions they inevitably require. Artists and illustrators have also equated nature with the things that trouble us. Some of the most intriguing works use it as a mirror for what's going on inside our heads. Sonia Alins does just this in her series "Dones d'aigua II." Here, her characters are simultaneously above and below the water. You get the sense that they're trying to get what they want, but when they get it, will it satisfy them? Just like Cinderella and her Prince Charming, nature will help them figure it out.
Here are 10 illustrators that approach nature in a complex and intriguing way.
Above: Illustrator Sonia Alins uses the overlay effect to conceal important parts of her images.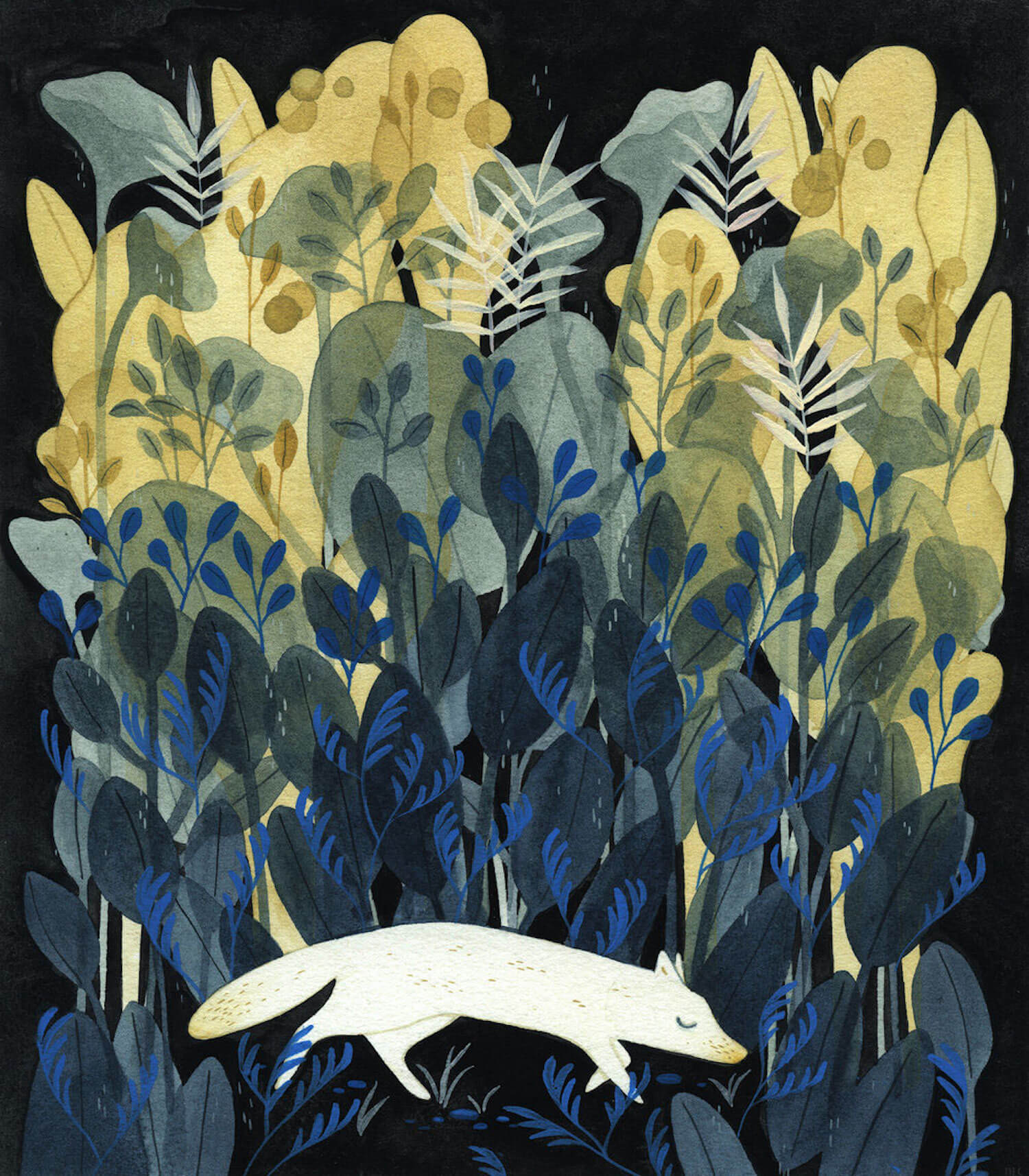 Maggie Chiang's illustrations have found success among commercial publications and private collections.
Maggie Chiang
Artist Maggie Chiang depicts a dreamy-yet-stylized idea of the outdoors in her watercolor paintings. "Inspired by both places real and fictitious," her website states, "Maggie's illustrations evoke a longing for adventure and the pursuit of the unknown, exploring impossible landscapes and places unseen." Contemplating the "relationship between humanity and nature," the paintings represent grandiose scenes. Often, these settings are accompanied by a person. Their scale, however, pales in comparison to the seemingly endless locale. It reminds us that against the backdrop of nature, we're simply a blip on the radar.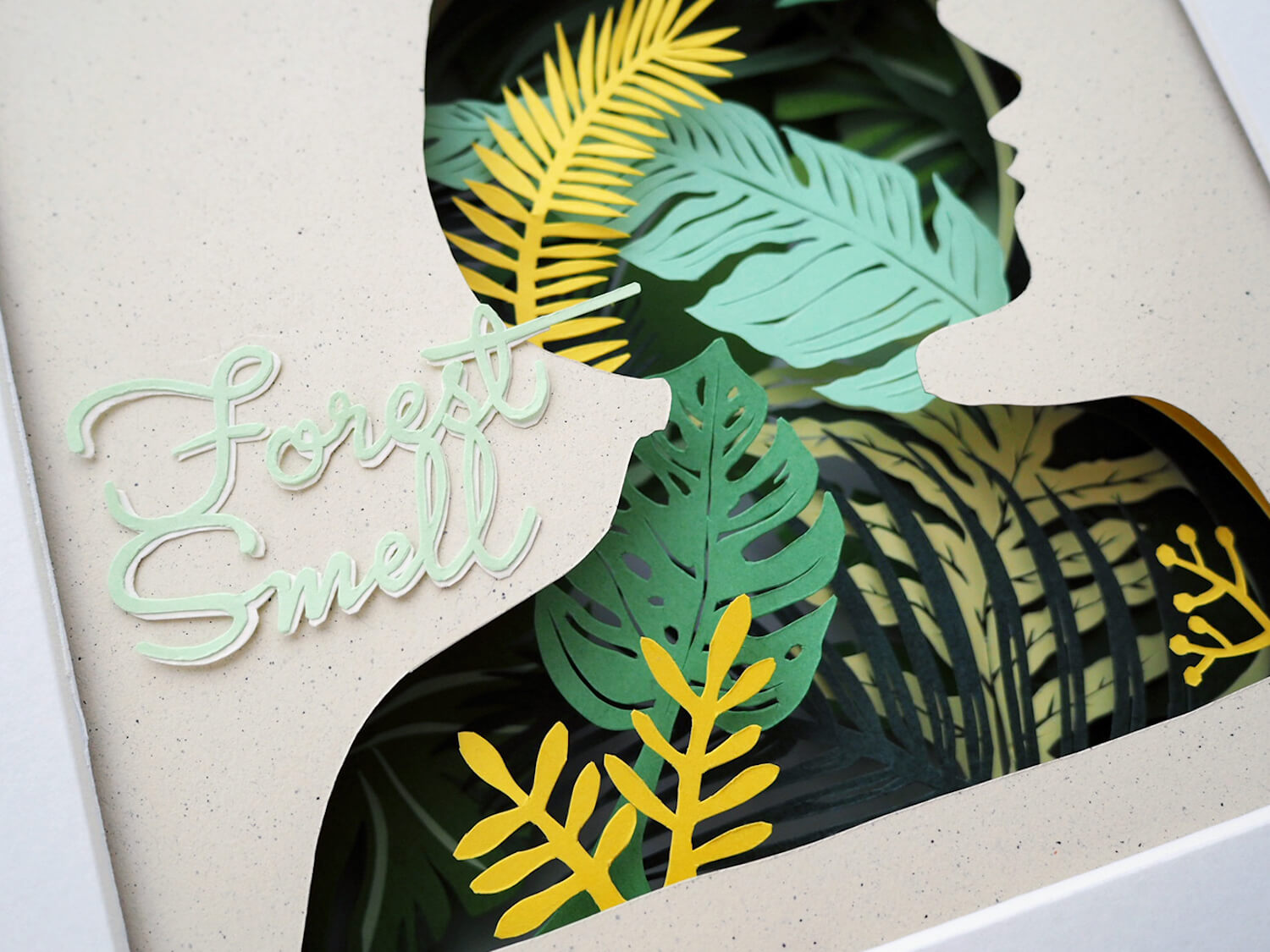 Every part of this piece by Chao Zou was hand cut—even the type.
Chao Zou
Aroma is the inspiration for designer and art director Chao Zou's paper craft project called "Forest Smell." "My wife sprayed herself with my perfume," he explains, "who [wore] the [smell] of the forest for all day
" To commemorate this pleasant feeling, Zou created a shadow box illustration. Layers of paper—cut as leaves—fill the silhouette and create an unconventional love letter. This isn't the first time that Zou has produced cut paper creations. His intricate, 3D works have also appeared in advertisements in China.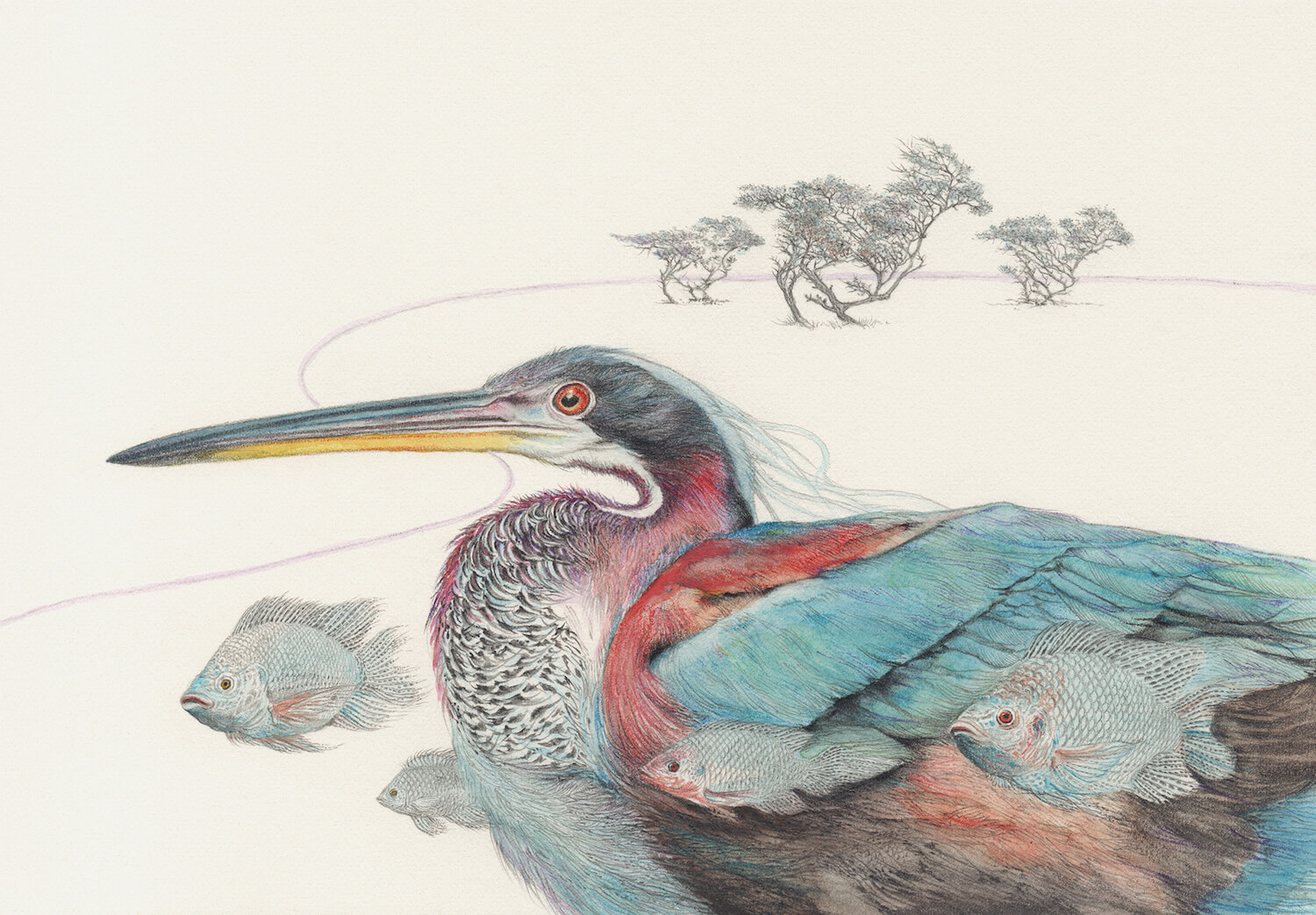 "River" is a triptych originally created as part of a 2017 calendar.
Alejandro GarcĂ­a Restrepo
Colombian artist and illustrator Alejandro García Restrepo typically works in monochromatic black and white, but for "River," he's ventured into the world of color. Crafted using colored pencil and watercolor, this image represents the forces of water. "Colombia is a country privileged by the abundance of water resources," he explains. This has positive effects for the future of sustainable energy in the country, including "making possible the development of agricultural, tourist, and environmental projects."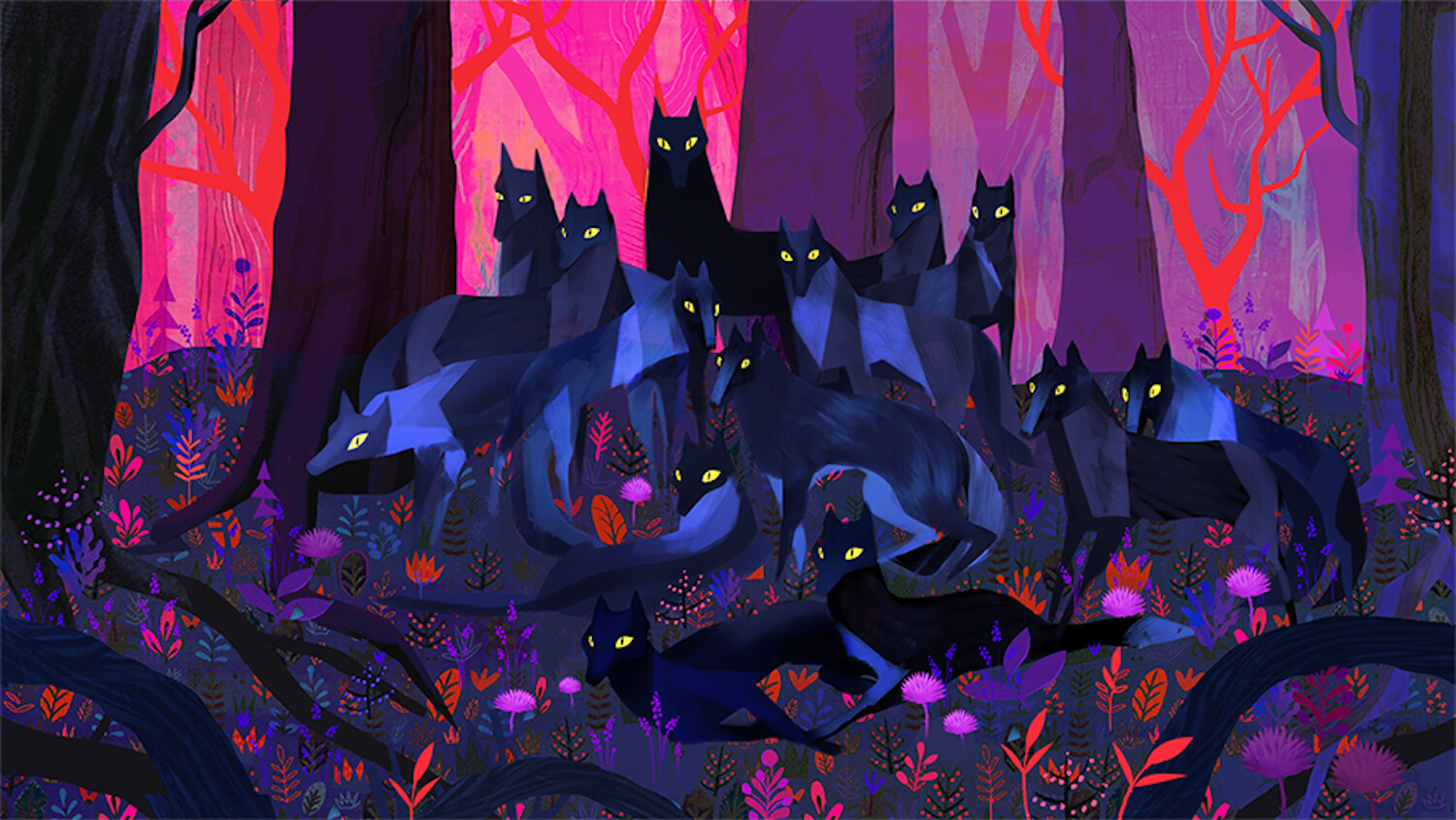 The woods is a common setting for Juliette Oberndorfer's concept art.
Juliette Oberndorfer
French-born, Canada-based concept artist Juliette Oberndorfer creates landscapes that have a mystic glow. Clad in brilliant neon hues, the sky is seemingly on fire—just like the eyes of these wolves. Oberndorfer's striking palette choice extends beyond just this image. Her entire portfolio features this enchanting use of these jewel-toned colors, and their intensity is also seen in her experimental animation called "Lux."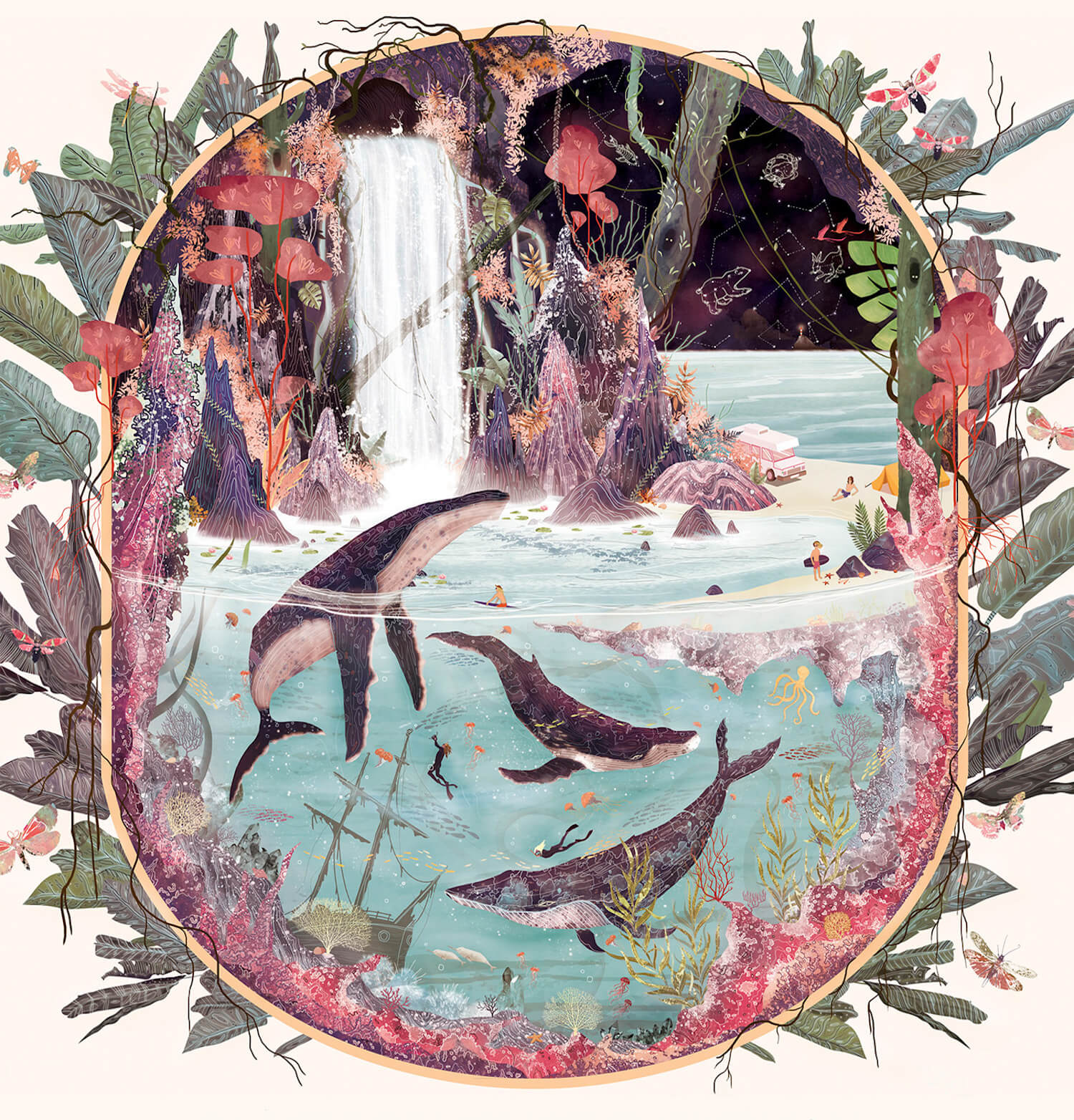 Svabhu Kohi has found a kinship in music. He's also created album artwork for other musicians.
Svabhu Kohli
Using nothing but digital tools like Adobe Photoshop and Illustrator, Svabhu Kohli creates scenes that have a painterly appeal. This particular piece seems to build off another ocean-centric illustration he produced in 2015, but Kohli's latest iteration is a lot more detailed and full of visual depth. Despite the thematic similarities between the two, they're born from completely different assignments. This image was used as artwork for musician Ziggy Alberts' Summer Tour 2016.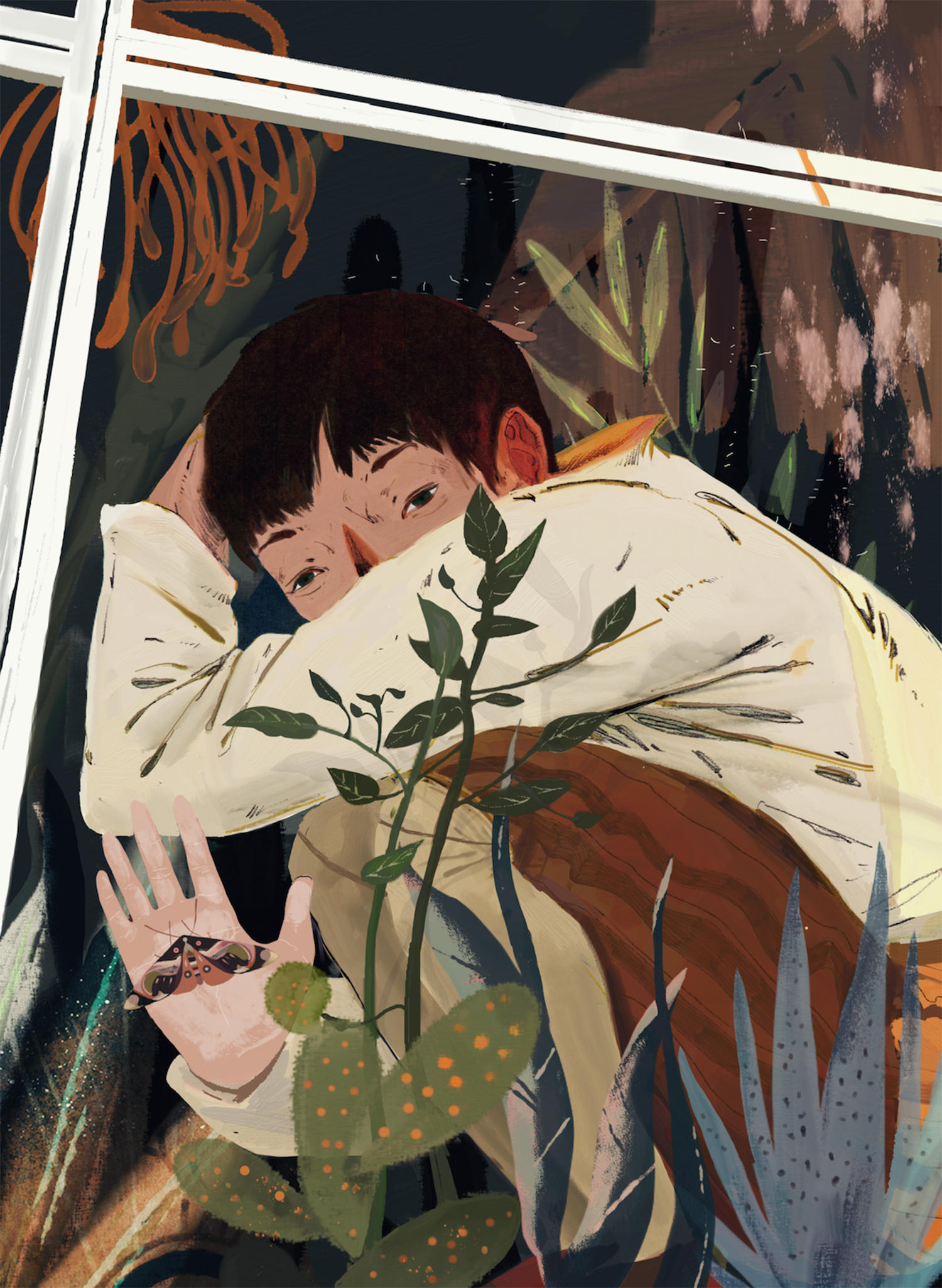 As Nix Ren's style develops, his portfolio grows conceptually darker.
Nix Ren
A single moth is enough to overwhelm the character in an illustration by Nix Ren. Trapped behind glass, he shoves the creature up to the pane as he covers half his face, obviously disturbed. Its tiny body acts as an ominous sign, like those who pass should understand the truth of what this place really is. This foreboding opinion of the landscape is seen in Ren's other works, where humans contend with nature—sometimes, they control it, while other times, it has conquered them.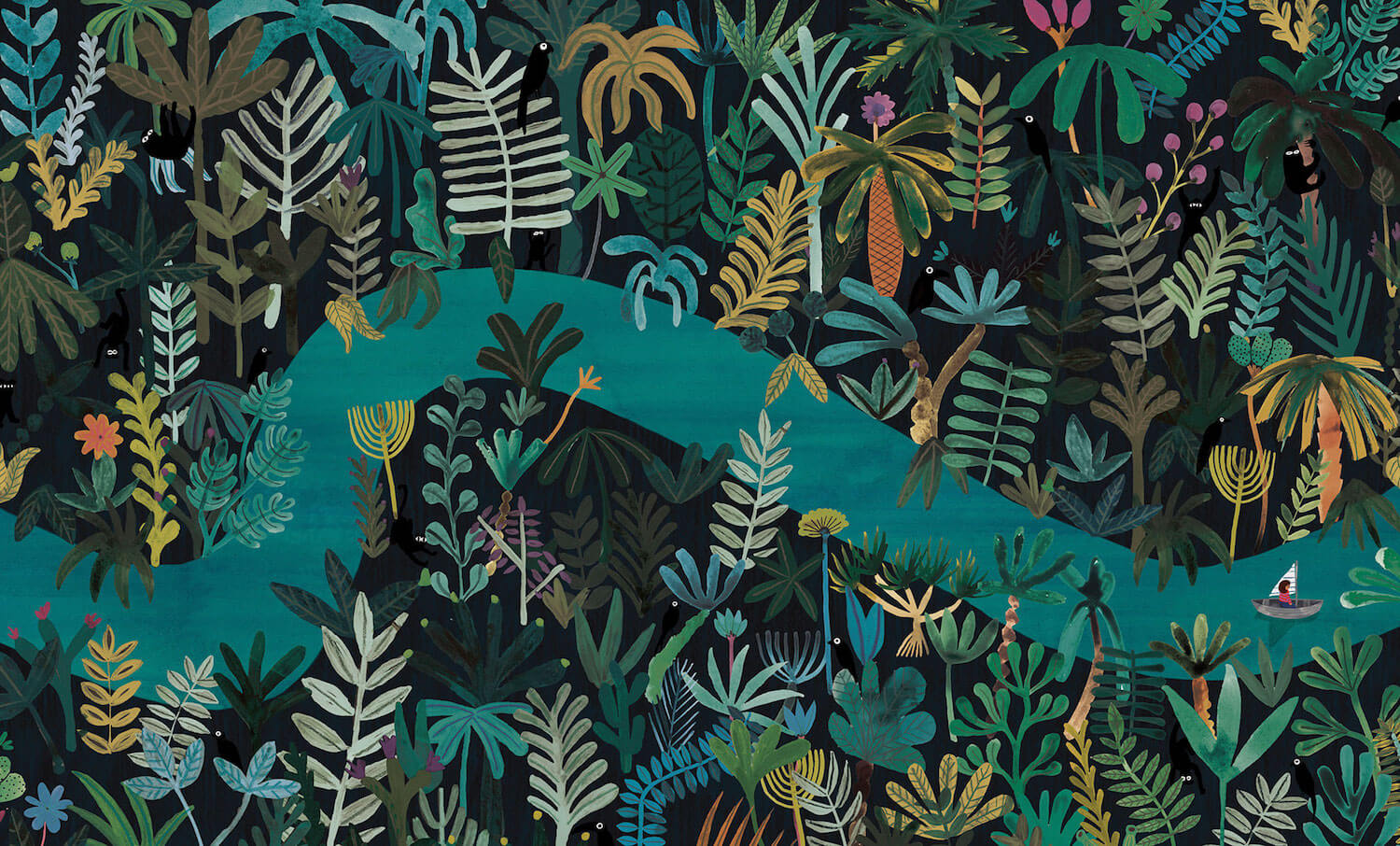 Marc Martin finds visual inspiration in illustrators from the mid-20th century, like Charley Harper.
Marc Martin
"There's a river outside my window. Where will it take me?" That's the question behind Melbourne-based illustrator Marc Martin's book "A River," and a very similar image (like the one above) graces the cover. "So begins the imaginary journey of a child inspired by the view outside her bedroom window: a vast river winding through a towering city." Throughout it all, a small boat guides the way through other fantastical landscapes. This is the newest of Martin's five books, all of have to do with nature.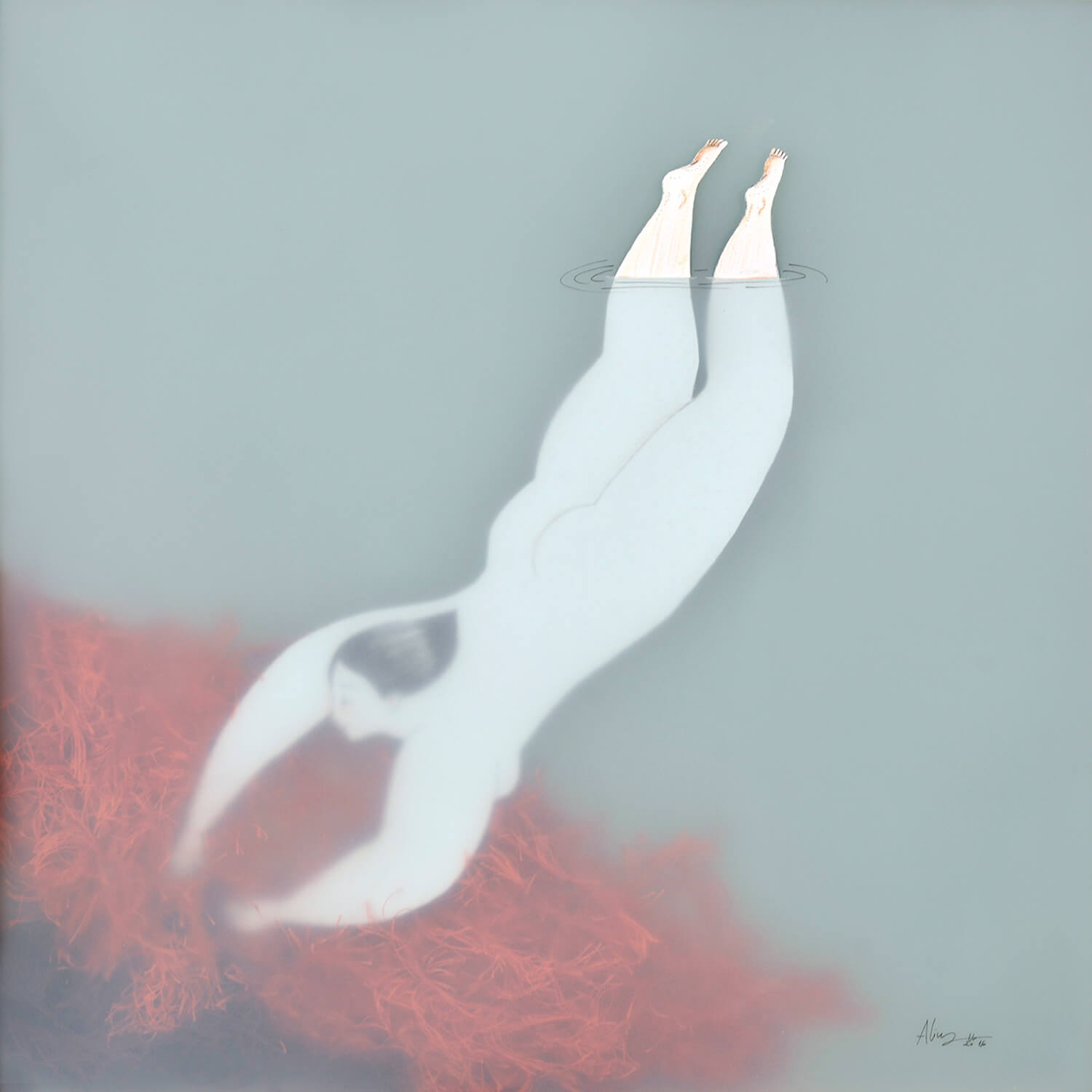 "Dones d'aigua II" is a continuation of Sonia Alins' 2014 series, "Into the Water."
Sonia Alins
Spanish illustrator Sonia Alins places women in the water for her series called "Dones d'aigua II." Using an overlay, hazy effect in her work, she obscures the majority of the images, trapping her figures in a liminal space that represent fears, feelings, and desires. To Alins, "the idea of transparency and blur" establishes "different levels of perception" and explores how these various emotions play off one another to reveal themselves at different moments in time.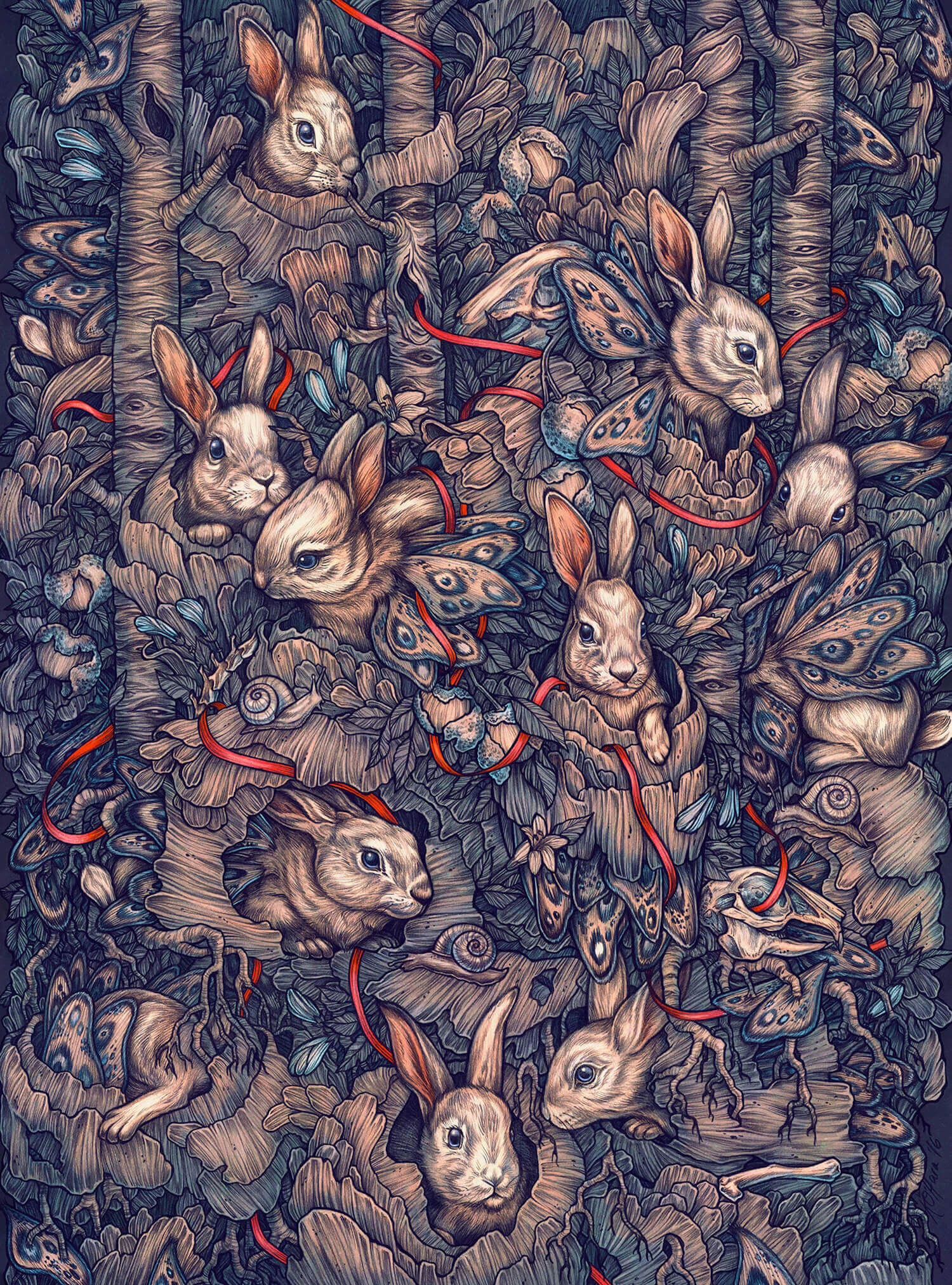 Kate O'Hara had her work recently featured in Communication Arts as "Fresh."
Kate O'Hara
Kate O'Hara has made a name for herself by drawing nature-inspired illustrations in stunningly intricate detail. This particular piece was first created in her subconscious. "'Bunnerflies' is from a dream I've had of rabbits, who through contraction of a parasite or some mutation, have begun to sprout butterfly wings from all over their bodies," she explains. "Although painless, the process renders them mostly immobile, so they sit in their warren and wait patiently. In my dream I'm not sure whether the change is fatal, or if they will emerge as some other creature at the end of their evolution."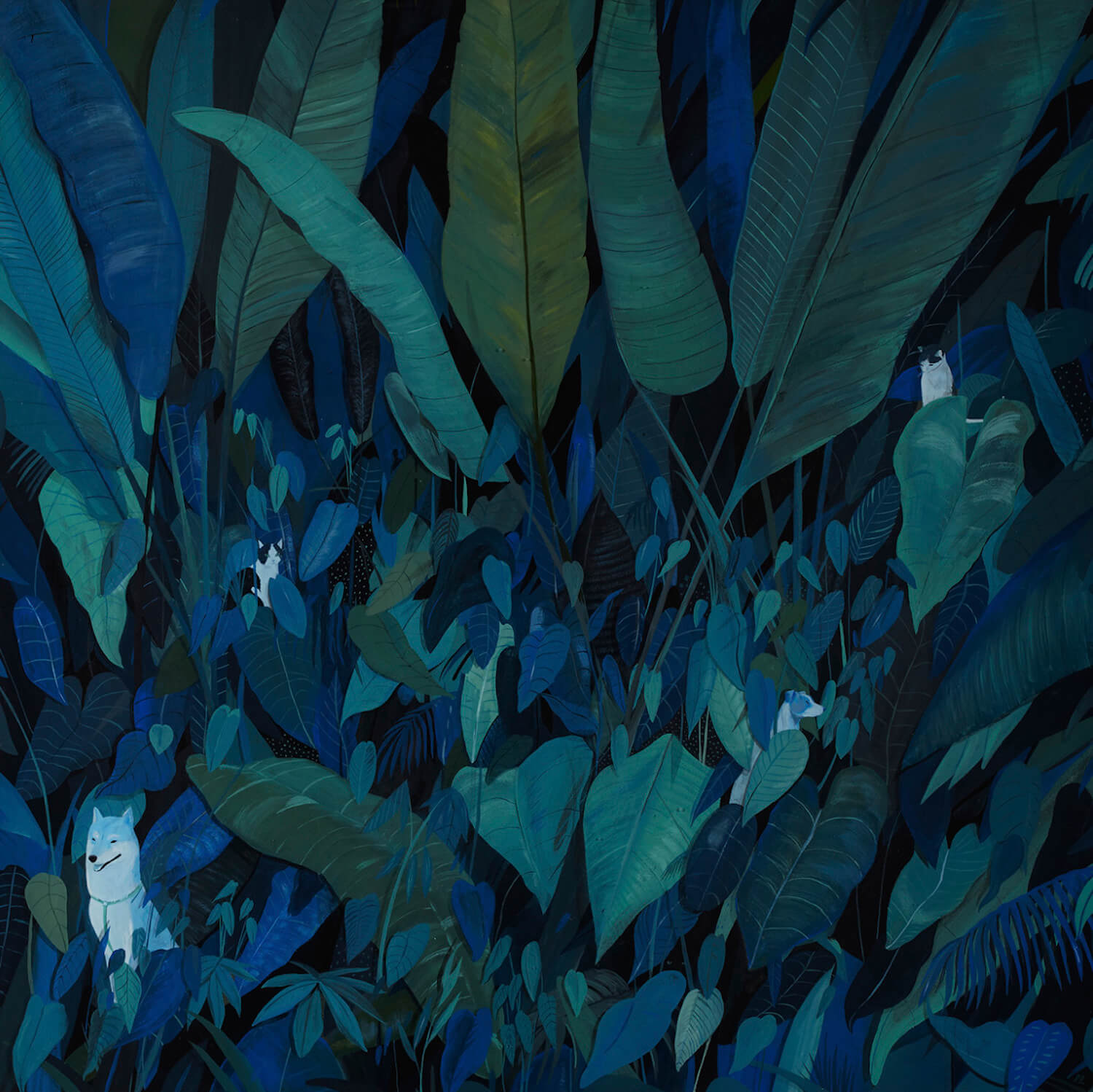 To produce this luminous piece, Robert Bowers painted resin and acrylic on panel.
Robert Bowers
For over a decade, Robert Bowers has refined his painting technique "with the wild world a common theme over this time." He depicts colorful, lush landscapes that have some surprises hidden within; look closely and you'll find animals hidden behind the huge leaves. This is a common theme in his work, which varies in size. Some pieces are massive murals that spread across the walls. Other pieces, Bower writes, are "the size of a postcard." Regardless of their scale, each "still present the same amount of detail."
Images © respective illustrators.