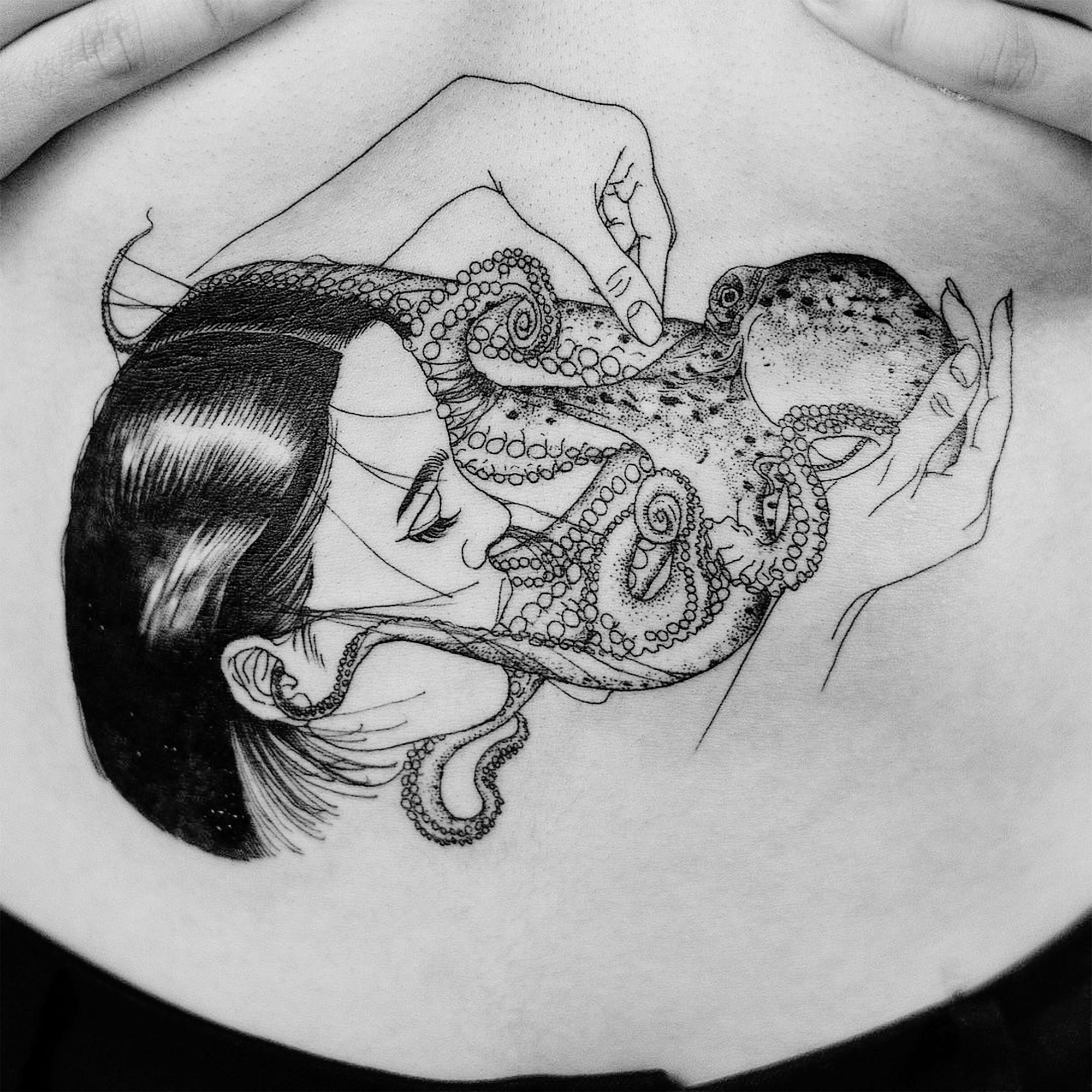 In the past several years, South Korea has becoming a powerhouse for great tattoo artists. But technically, their practice is considered illegal in the eyes of the South Korean government.
Why is this? The reasoning makes sense, but doesn't reflect the current state of tattooing. Basically, tattoos are seen as a "medical procedure" that should be performed by a doctor, not an unlicensed artist. "It's invasive," explained Korea Medical Association spokeswoman Ahn So-Young. "The skin is punctured and it bleeds. That's why we look at it as a medical procedure." To them—and rightfully so—there is a risk of disease from improperly sterilized needles. The government has, however, began to look into the possibility of reversing the law by studying tattoo shops.
Despite the illegality—including random raids and health department fines—tattooing continues to thrive in South Korea. Professional artists and K-pop stars wear them, which has began to turn the tide of public opinion. Tattoos are becoming less associated with organized crime and more mainstream. You'll notice that much of the body art is smaller in size. That way, it's easily concealed if necessary.
Above: OOZY describes this tattoo simply as "love octopus."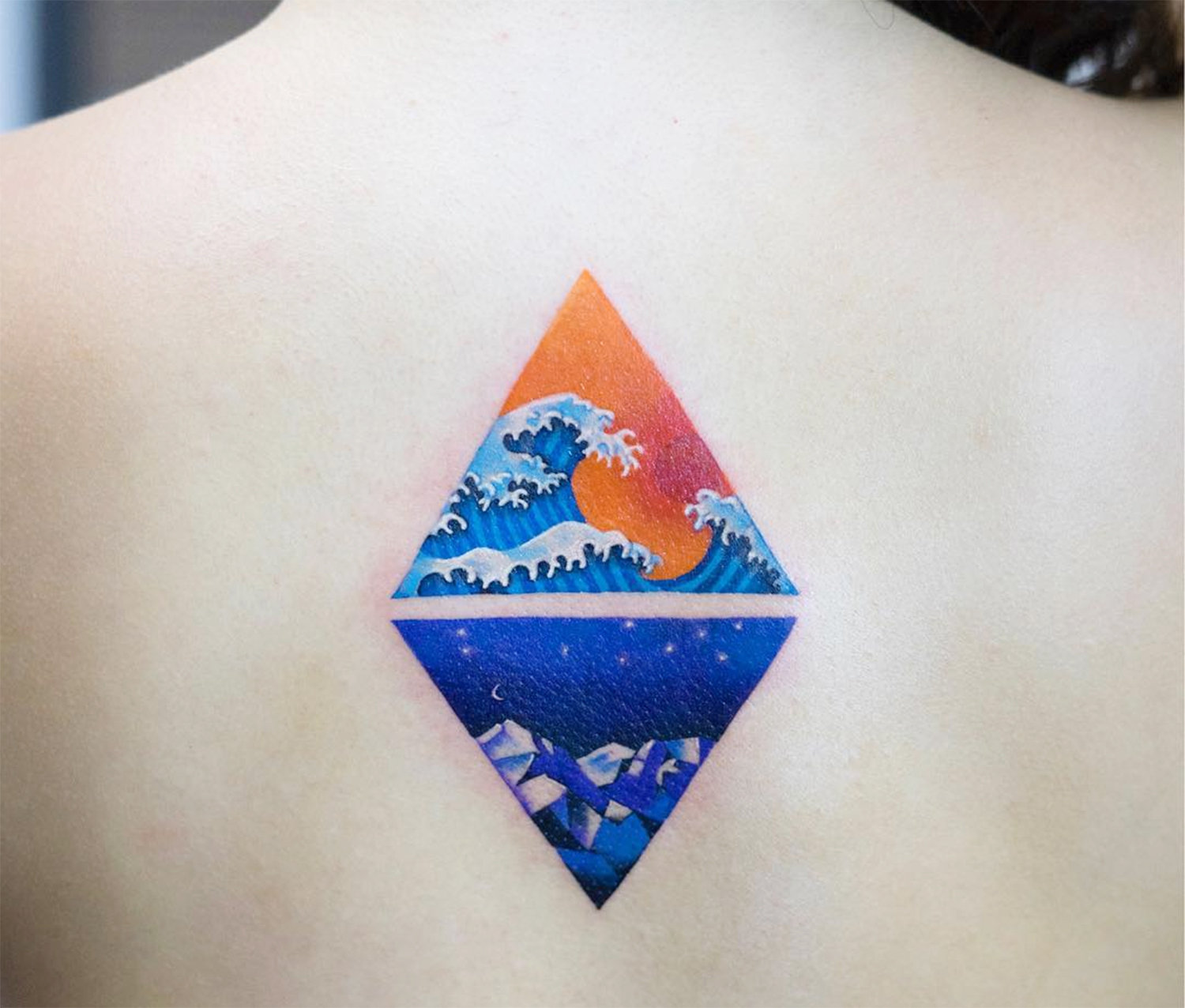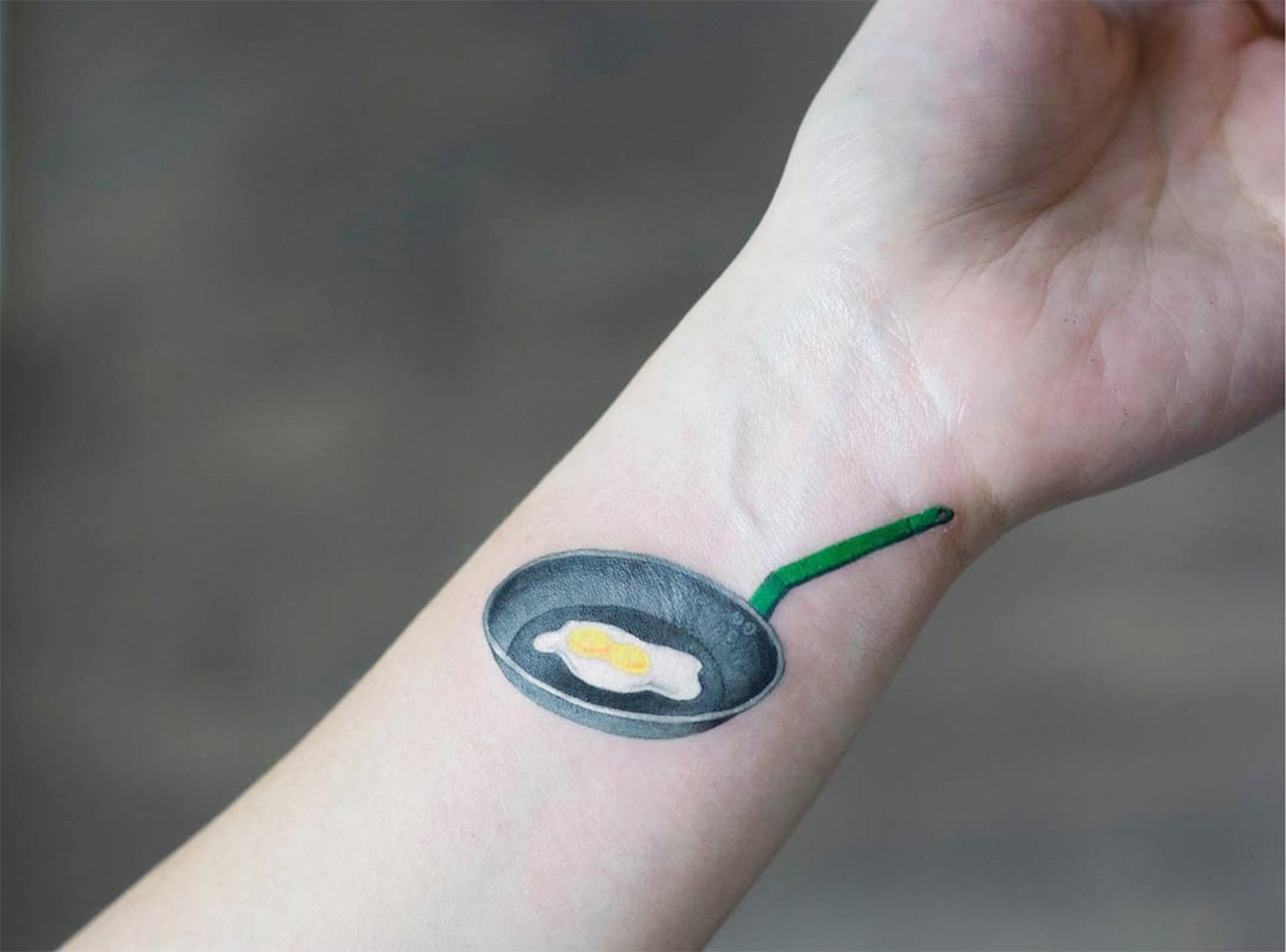 In addition to a simple fried egg, Zihee pays reference to the iconic painting, "The Great Wave Off Kanagawa."
Zihee
Seoul-based artist Zihee crafts small, colorful pieces that avoid using any line work. Rather, the bold pigment defines geometric-inspired shapes. As a result, they're simultaneously minimalist and embellished; the details are often sparse, but each tattoo is completely filled—they're a feast for the eyes. Some of her most unusual tattoos involve placement; they wrap around the ears and onto the lobe, or are a permanent set of earrings.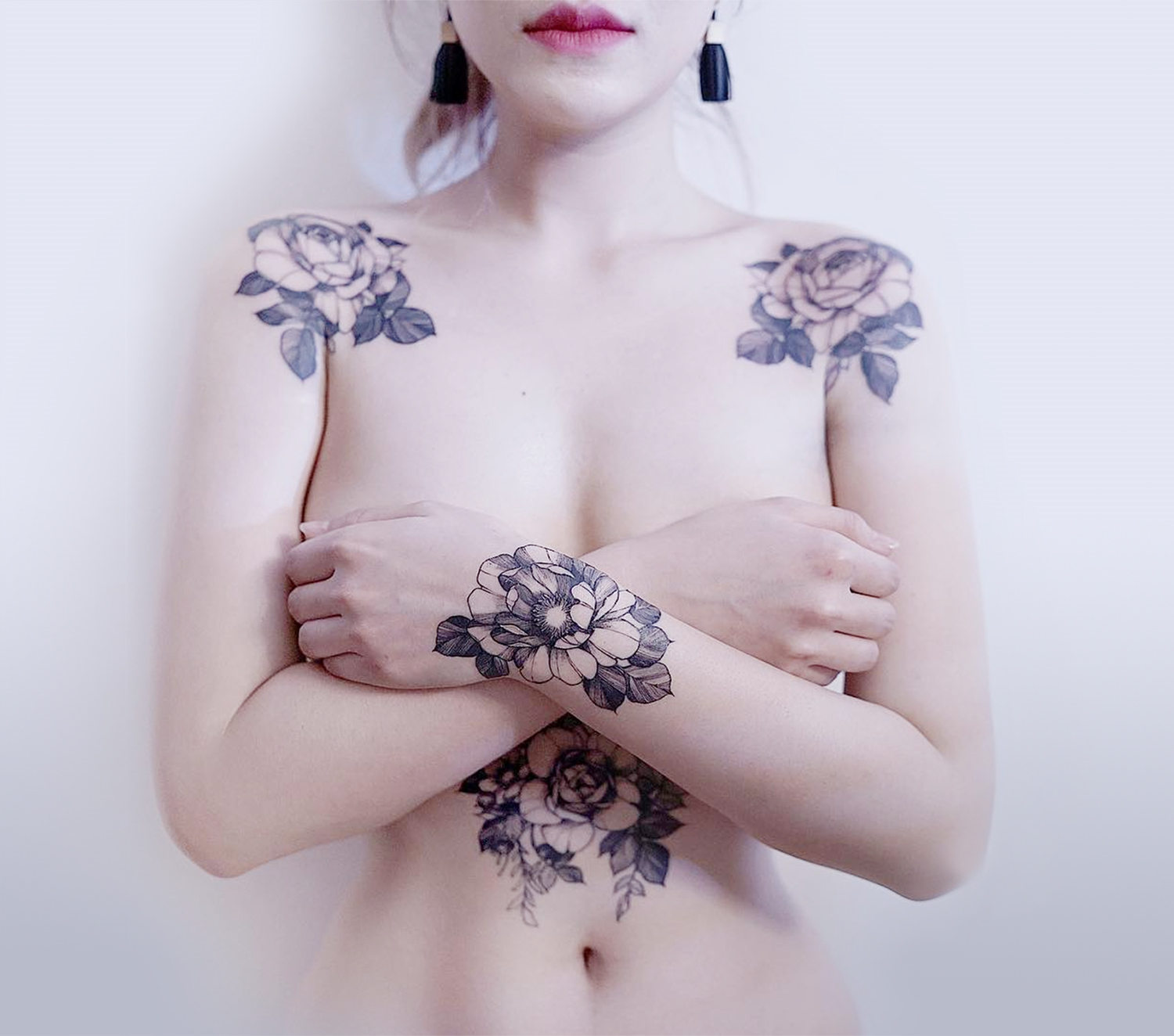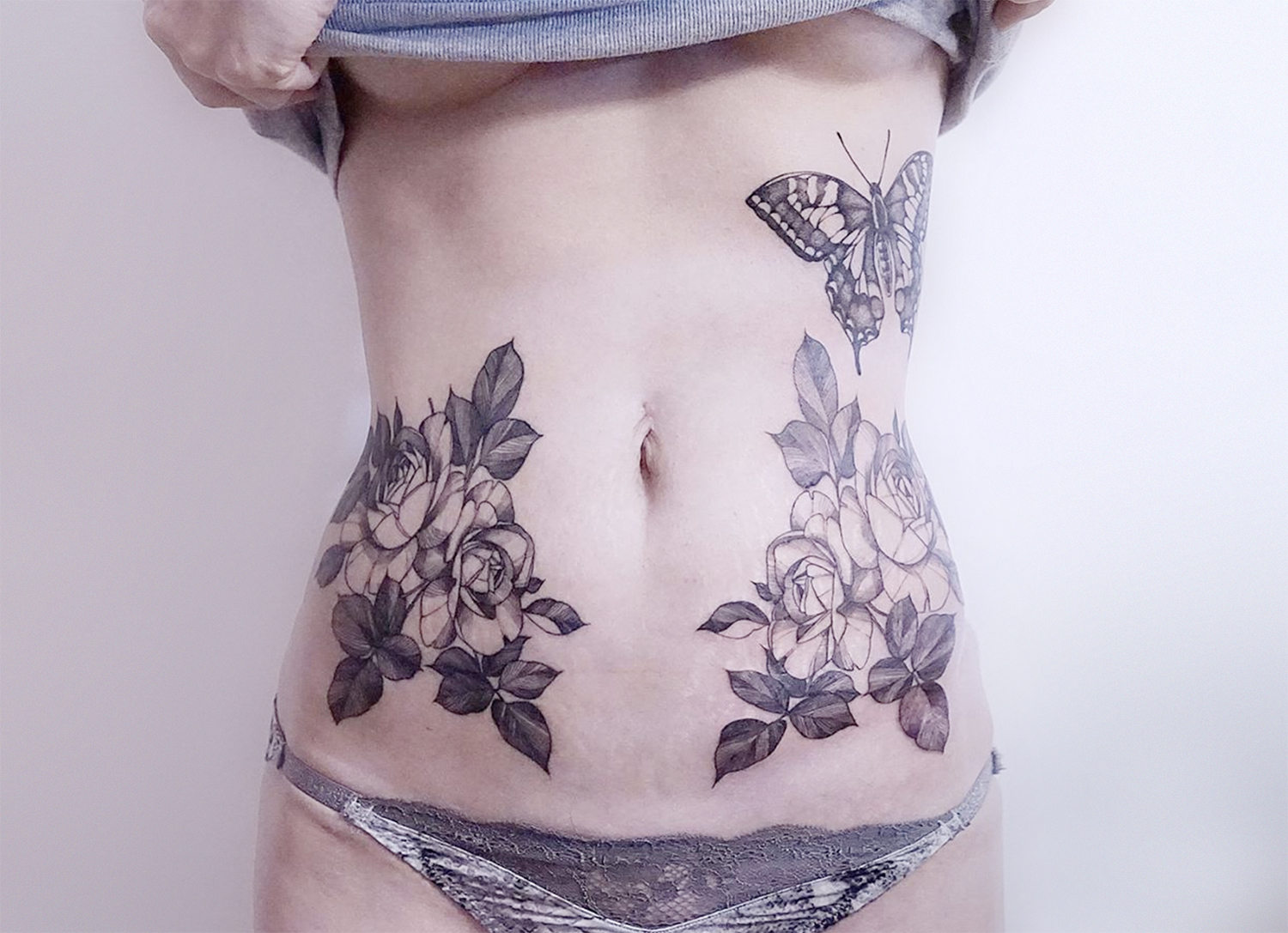 Beautiful floral tattoos, the one below is a scar cover up.
Zihwa
Zihwa is bolder than most when it comes to style. A tattoo artist—and one half of Reindeer Ink—with a massive Instagram following, her blackwork flowers isn't shy when it comes to size or placement. She often adorns the shoulders, back, and chest, using floral arrangements to frame (and highlight) certain body parts. For those that can't travel to Seoul, Zihwa is on the cusp of opening up a shop on the Reindeer Ink website.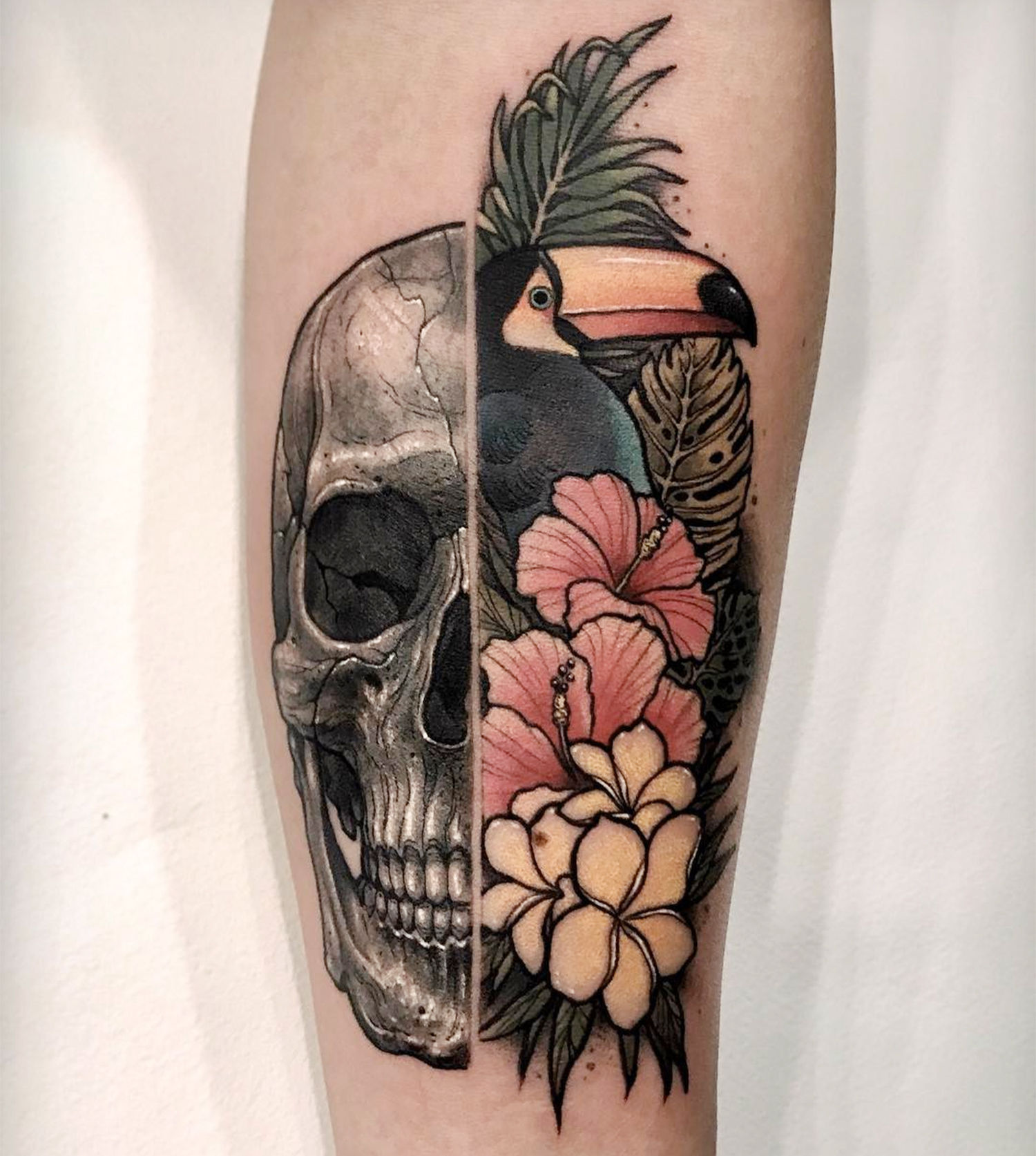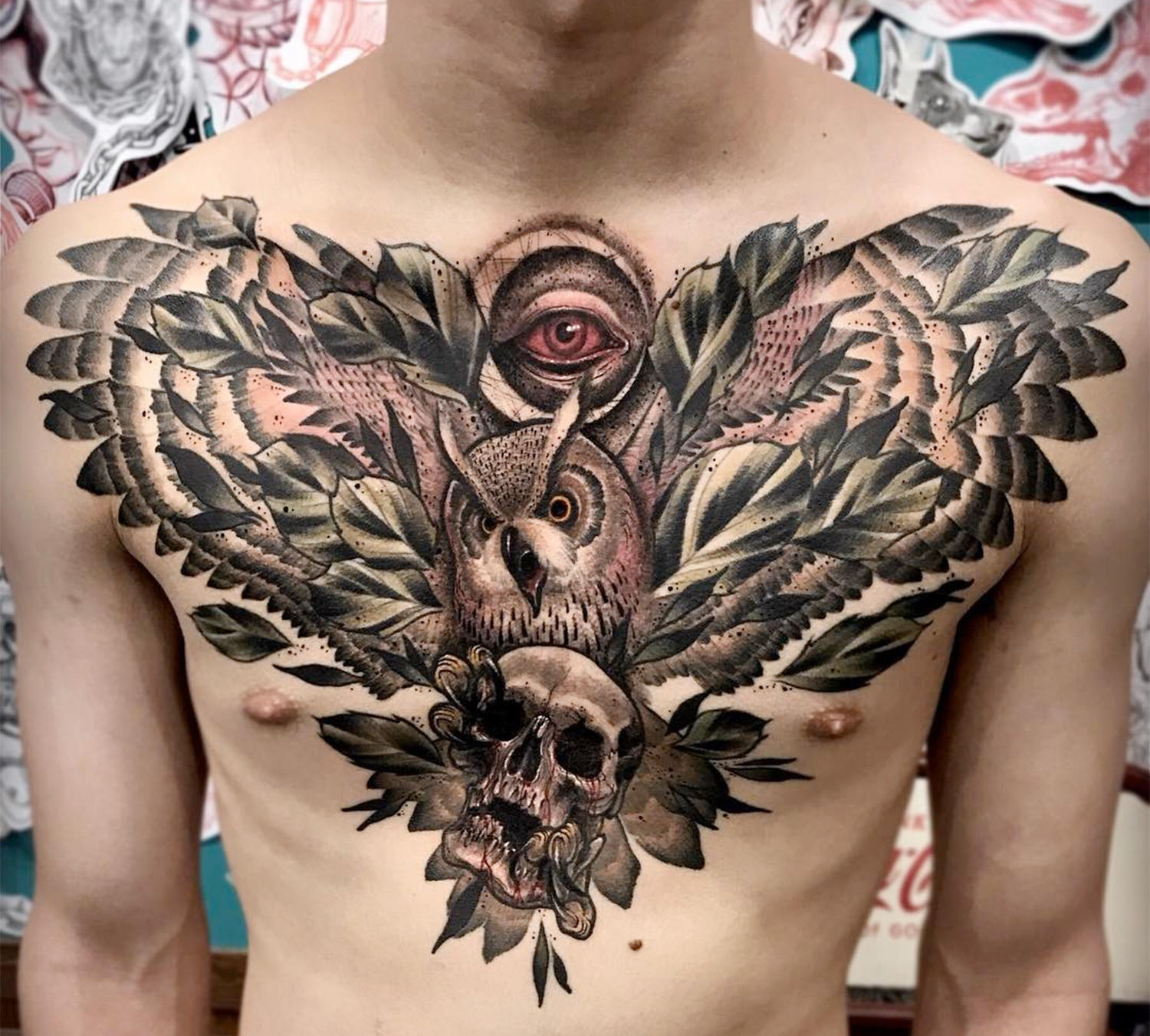 Totem pole and tropical skulls are just a few cranial variations by Varo.
Varo
Varo splits his time between Busan and Seoul, working in affiliation with LightHouse INK. His particular style places him solidly within the neo-traditional camp. It's a departure from the minimalist aesthetic that's seen by many tattooers on this list. After all, you can't hide a recreation of the Korean flag as fire and water—especially when it sits in the center of your hand.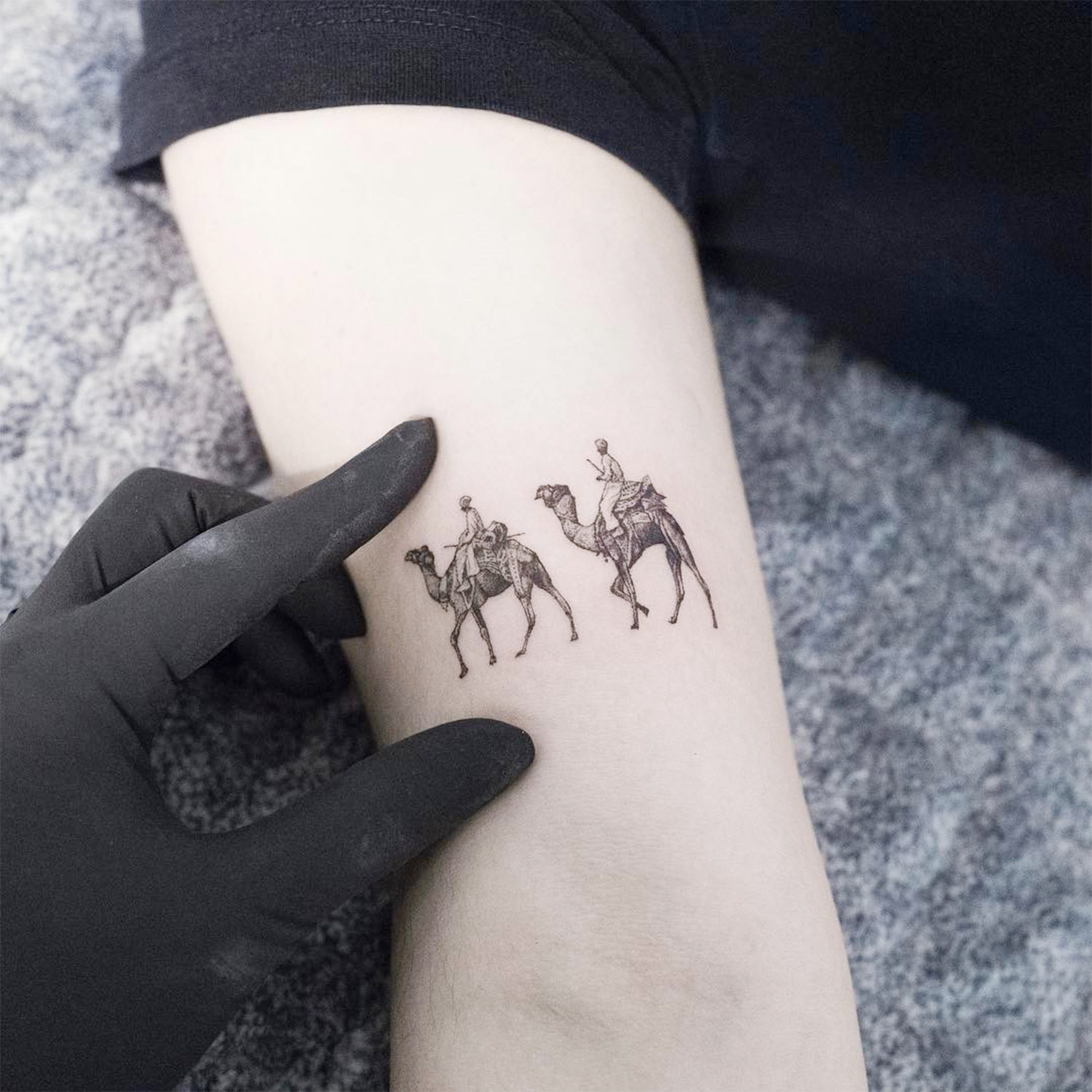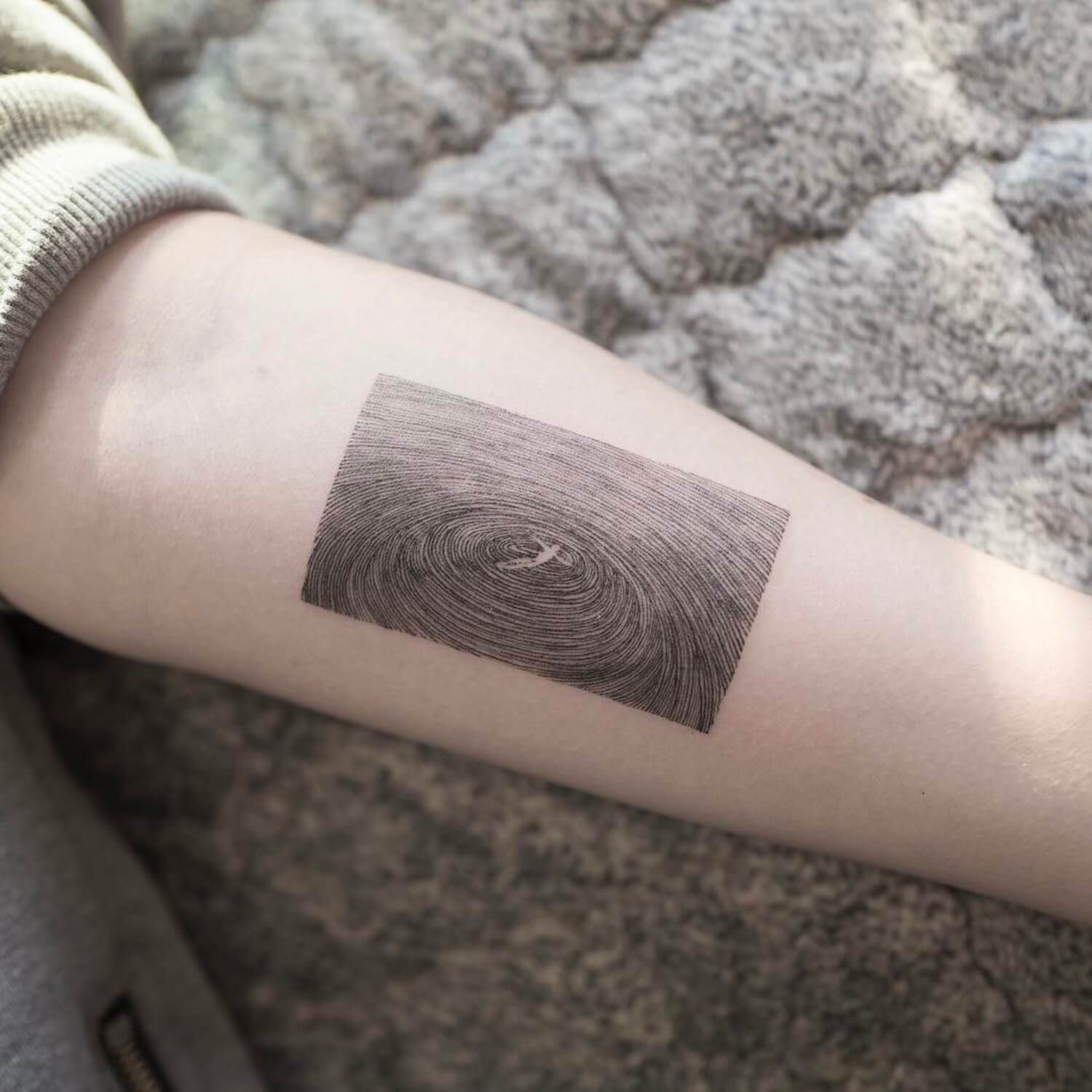 Hongdam calls his foray into tattooing "inevitable" based on his training in art school.
Hongdam
Hongdam put his art school degree to good use to become one of South Korea's most renowned tattoo artists. After graduating, he was looking for a job that "involved drawing and involved getting paid," and he then decided to learn how to ink. "It is not as complicated as people think as long as you [are] good and you are disciplined," he told Yo Tengo Un Sueño. Continuing, "The drawing and creating the design is same, the only difference is the medium which is used, which in this case is a tattoo machine. I can say my background and years of practice drawing made the transition much easier."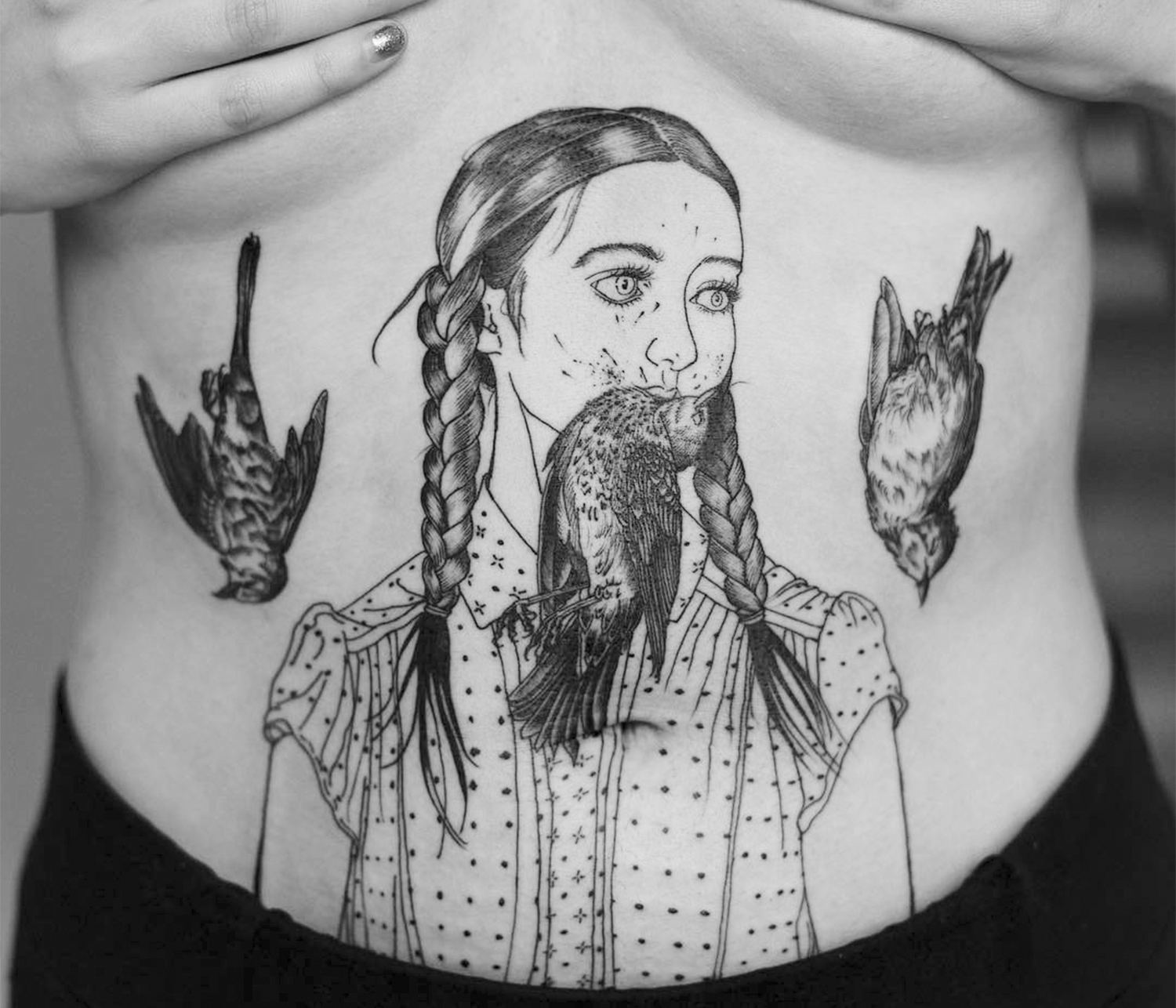 Coiled snakes are a common motif in OOZY's portfolio.
OOZY
Oozy is tattooer who I've admired before, specifically for his impressive interpretations of famous paintings. In pieces like Da Vinci's "The Last Supper" and "Vitruvian Man," Ozzy adds a glitched-twist and fractures and distorts faces. This seems less common in his recent work, and instead he focuses on surreal scenes with a macabre feel. Death and decay are common themes as nature reveals the full scope of its ruthlessness.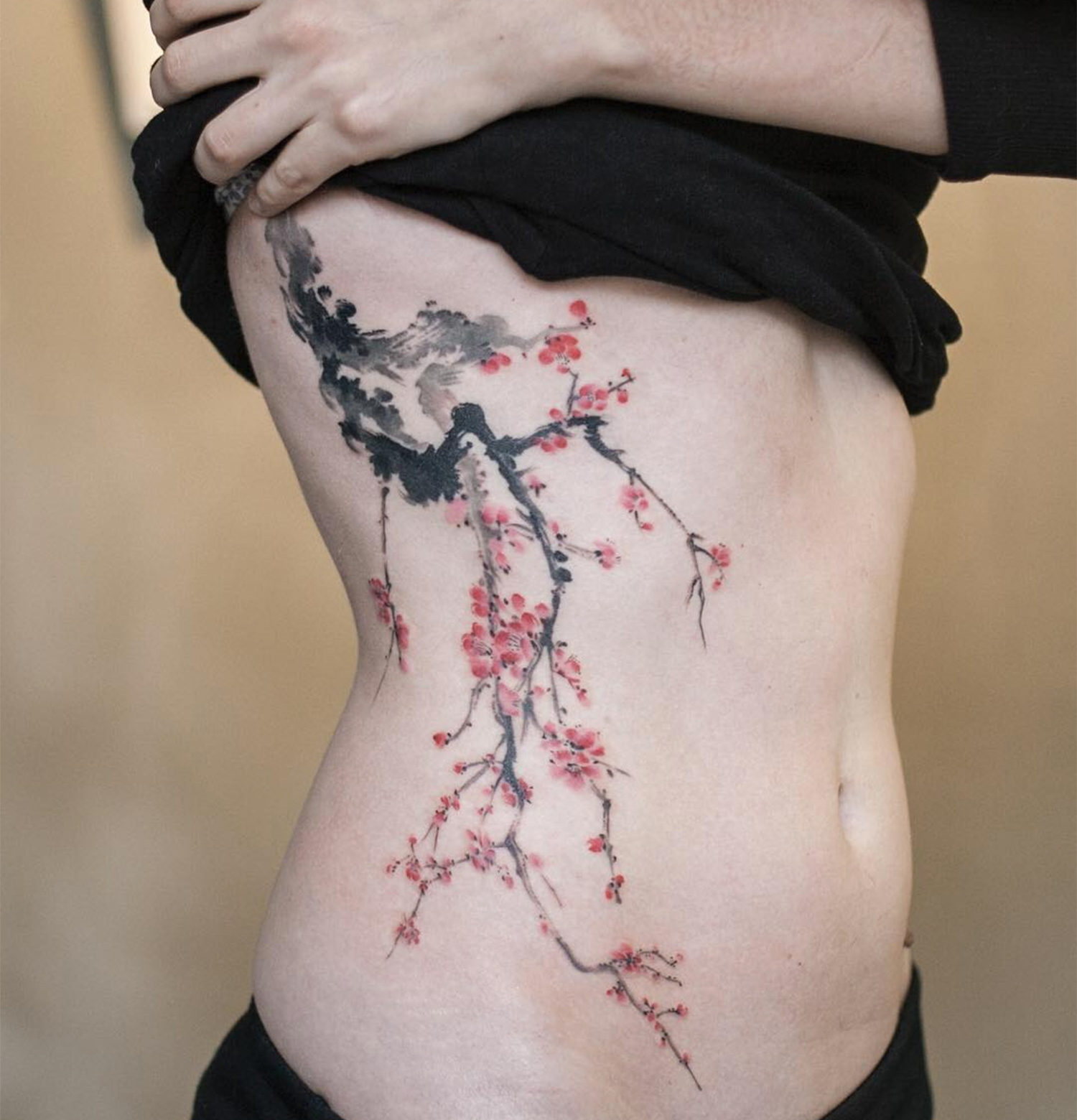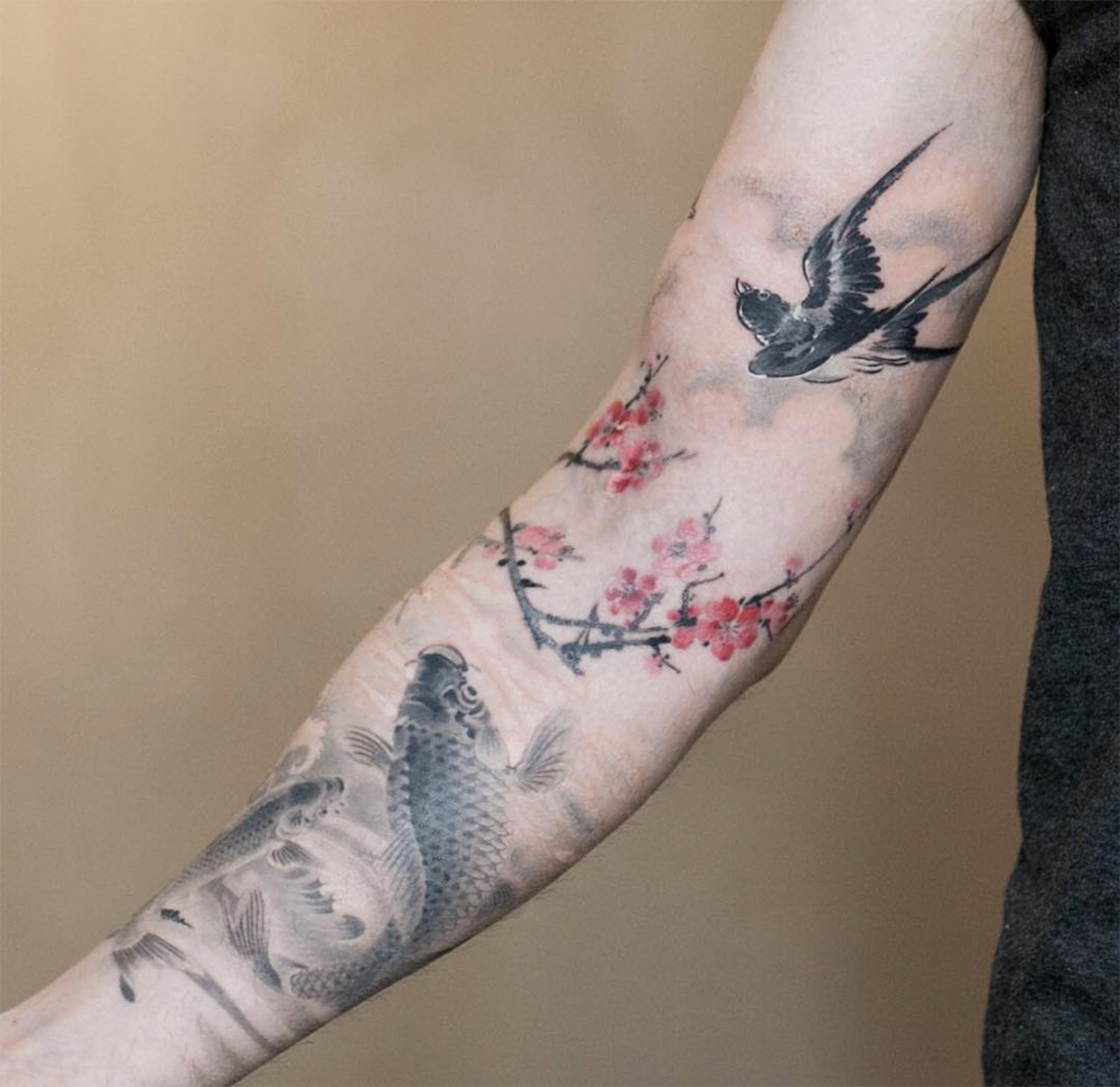 This (almost) full sleeve by Graffitoo is inspired by oriental painting techniques.
Graffittoo
Working under the moniker Graffitto (a fusion of the words graphic and tattoo), the Seoul-based artist prides himself on creating "unique and graphical tattoos." Continuing, "I make designs for every single [person] who asked me [about] tattoos from tiny tattoos to big size of tattoos. All designs are only for one person and can not be used again." They run the gamut of soft florals to storybook vignettes to old school-style swallows with a technicolor twist.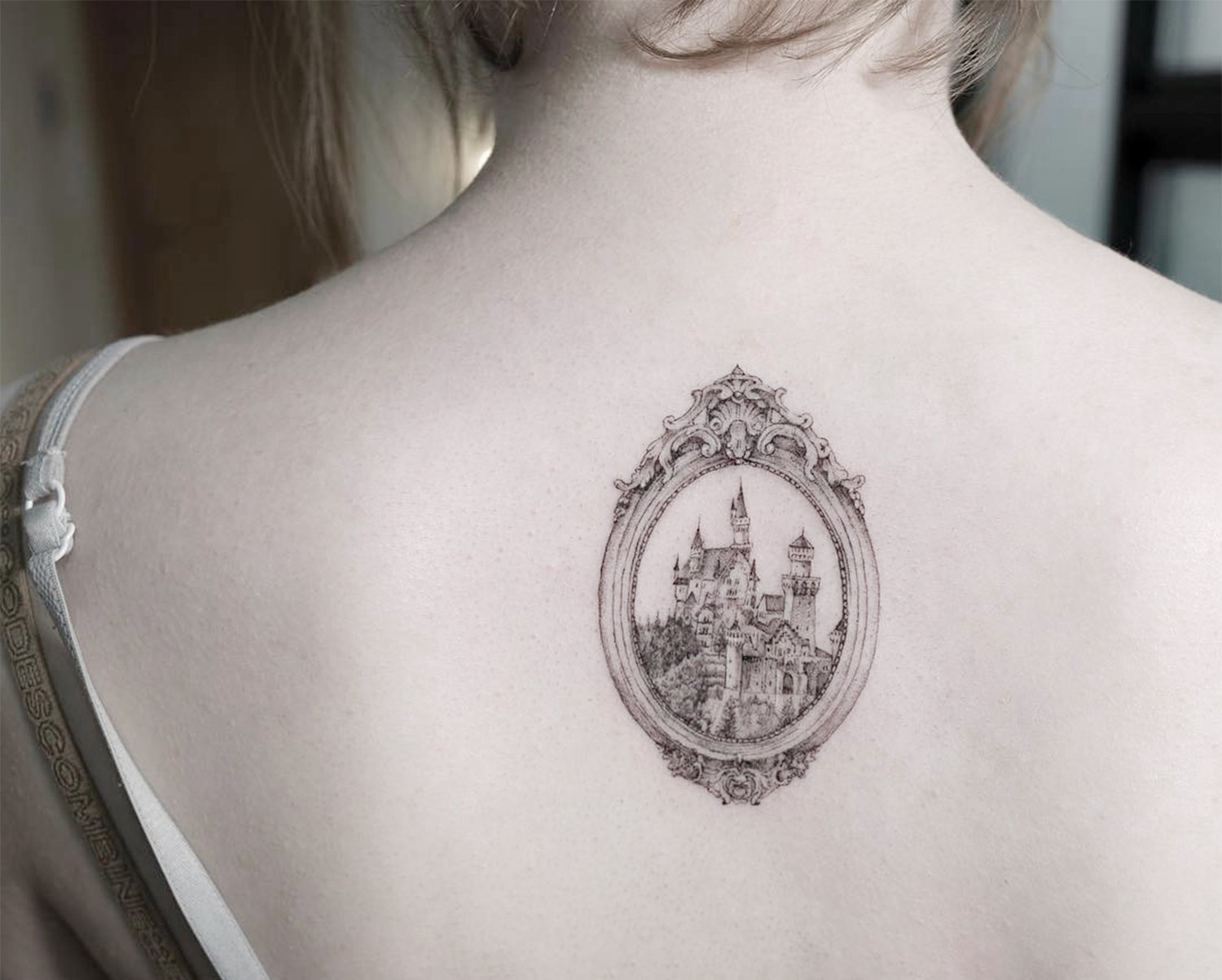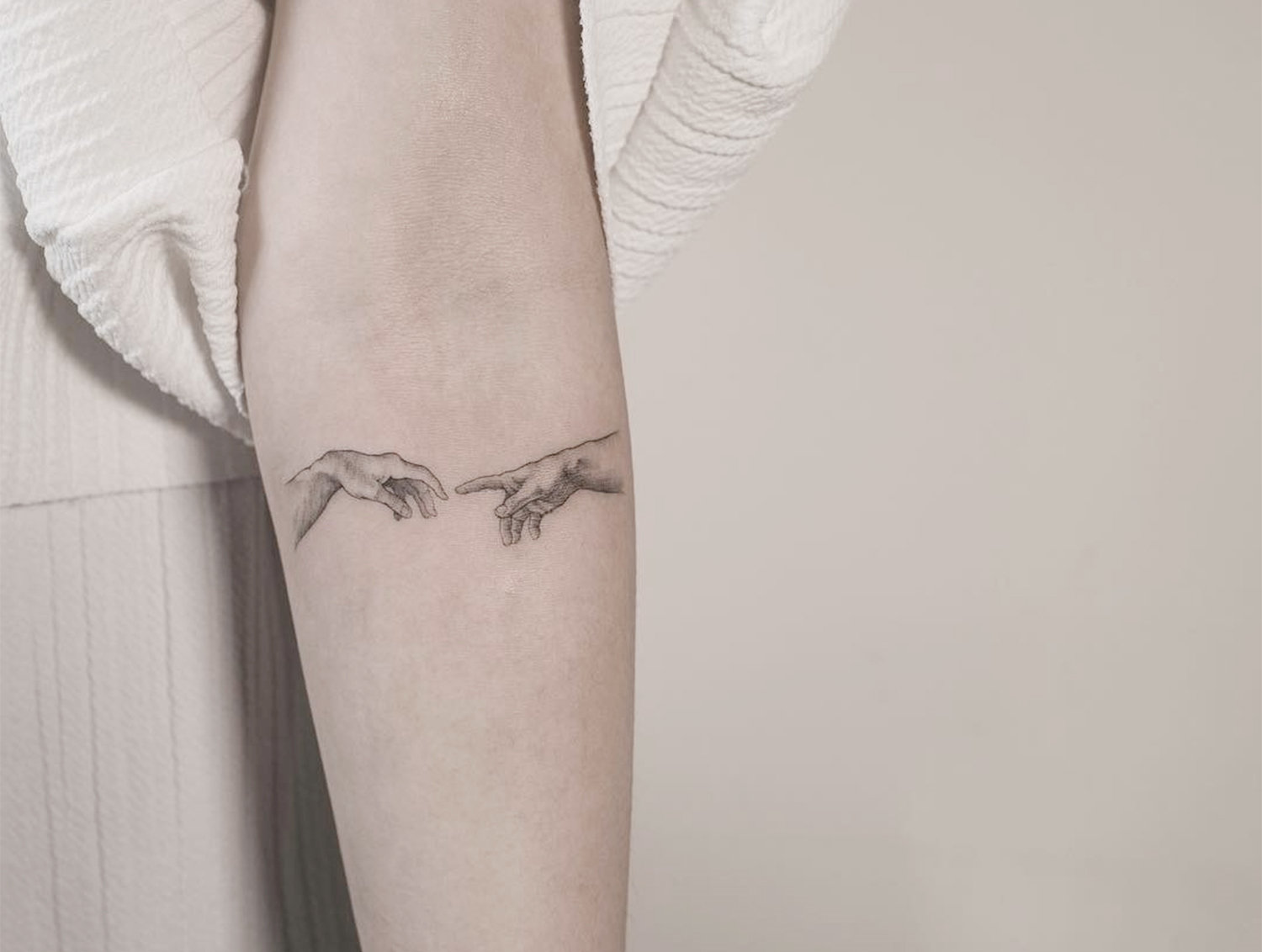 This castle is a departure from Sol Art's floral and figurative tattoos.
Sol Art
Sol Art first made waves in 2015 for her minimalist pet tattoos. Although they haven't completely disappeared from her portfolio, she does vary her choice of imagery. Her delicate, fine-lined style lends itself well to portraits and recreating iconic art like Da Vinci's "Mona Lisa" and Botticelli's "The Birth of Venus." Like many South Korean tattooers, she doesn't advertise a studio. Instead, you can contact her privately about getting a tattoo.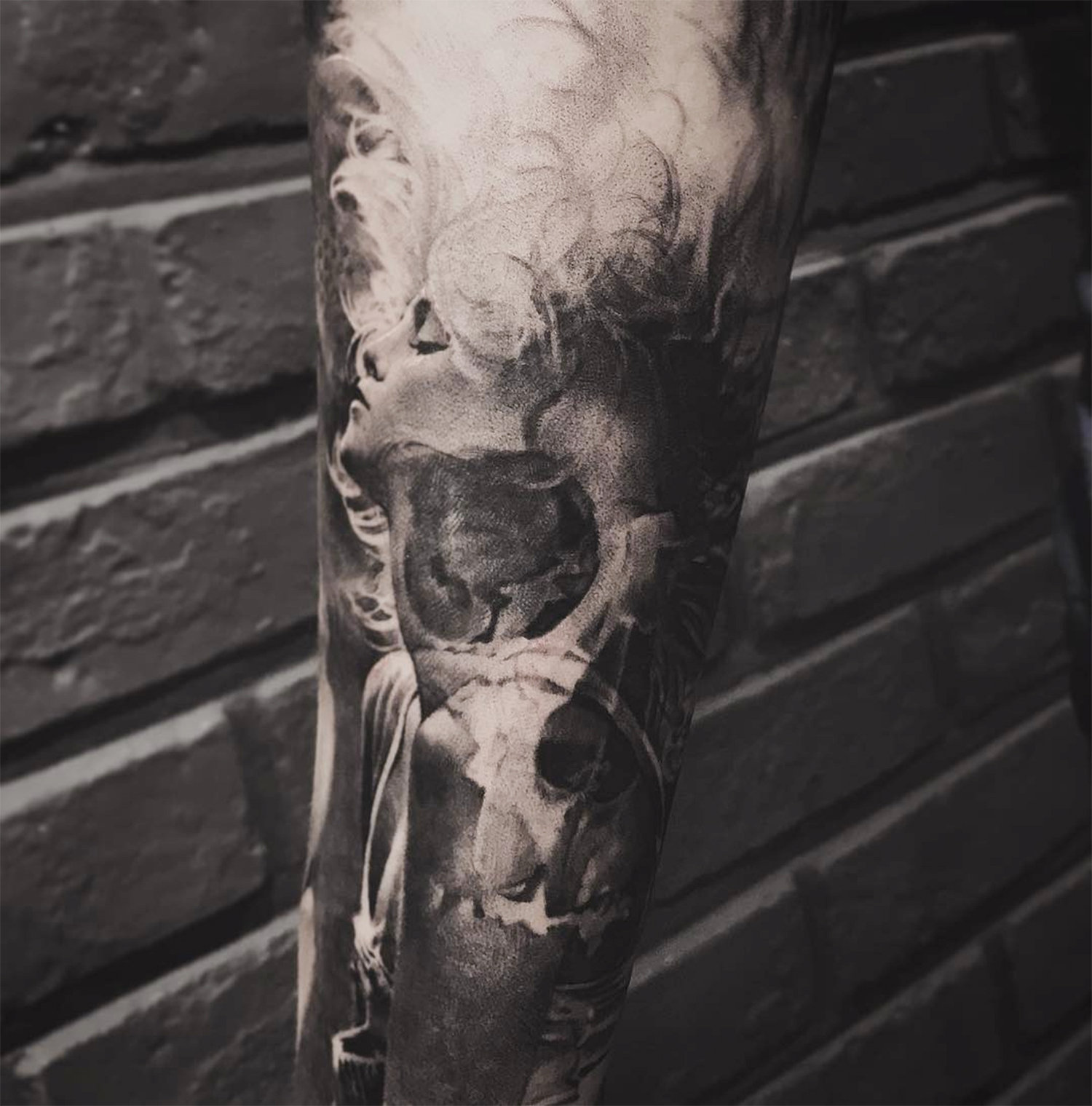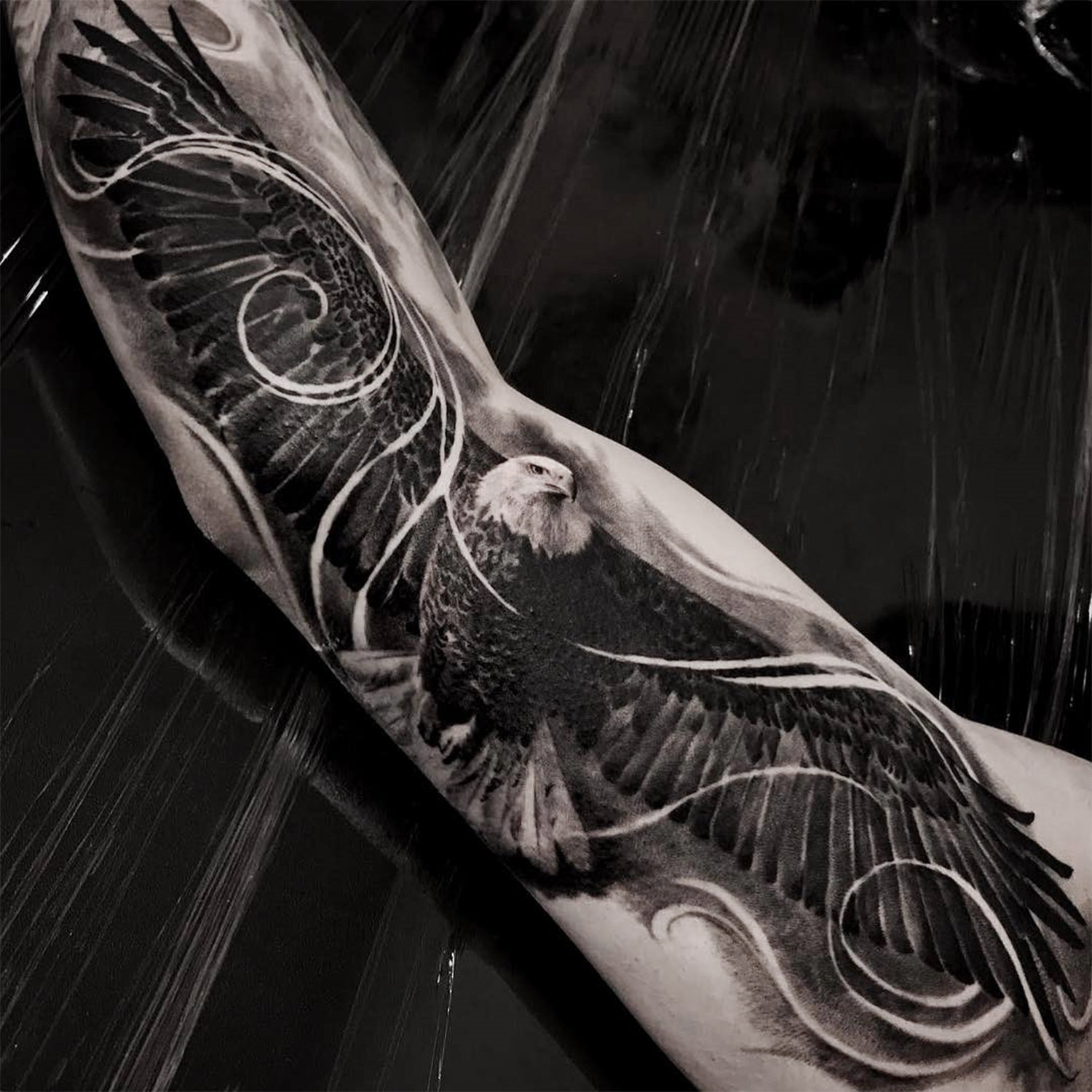 JeongHwi uses the negative space of skin to give his figures depth.
JeongHwi
Working in the photorealistic style, JeongHwi produces an incredible feeling of depth and atmosphere on skin. With soft and diffused shading (in black and grey pigments), he reproduces a hazy texture that lingers like smoke. His work is done in his studio called Cold Gray Tattoo, where they say that "Empty vessels make the most sound"; meaning that they prove their skills with results, not words. "We don't brag about ourselves like others do, but we prove ourselves with actions and skills, bringing truly artistic soul to your skin."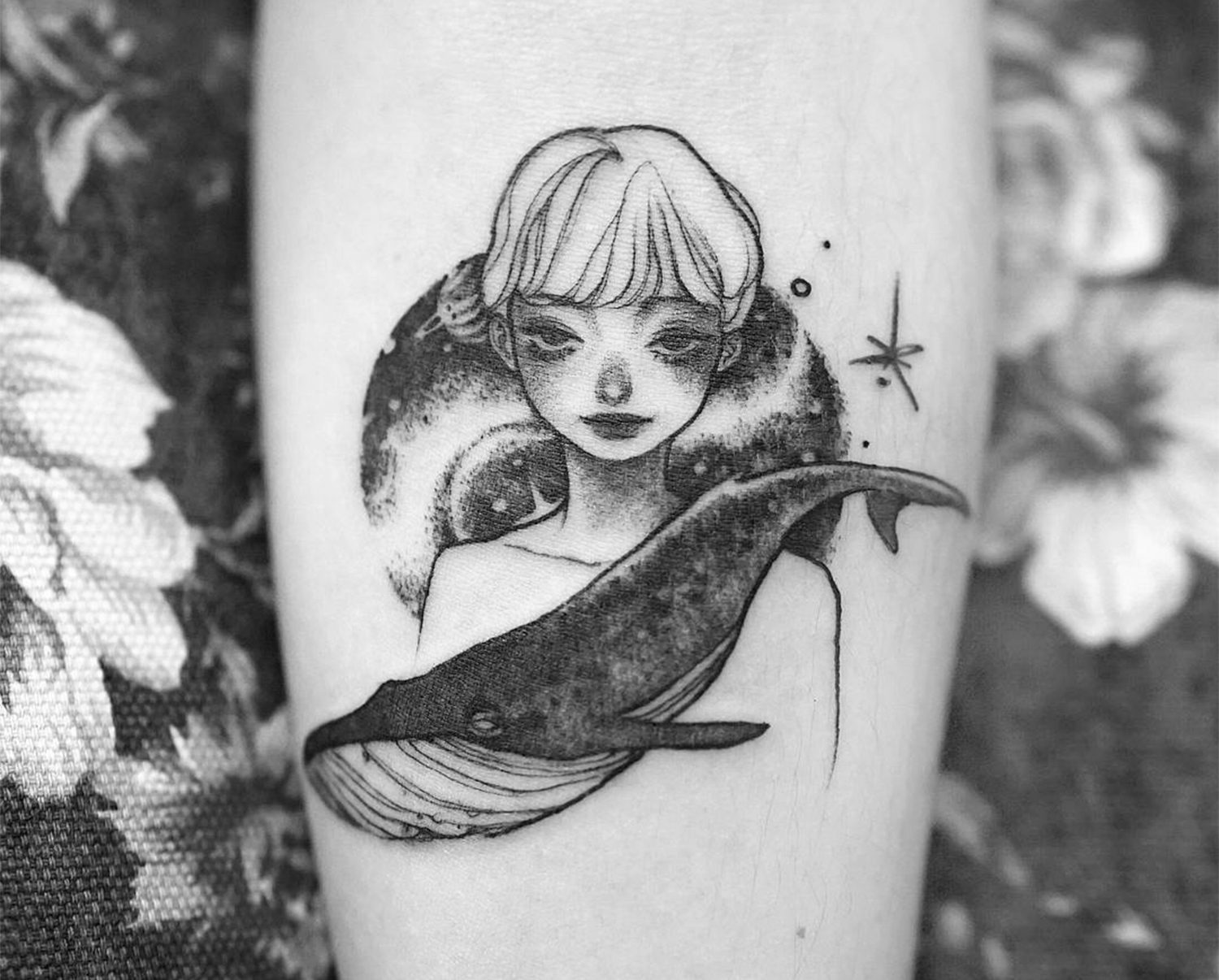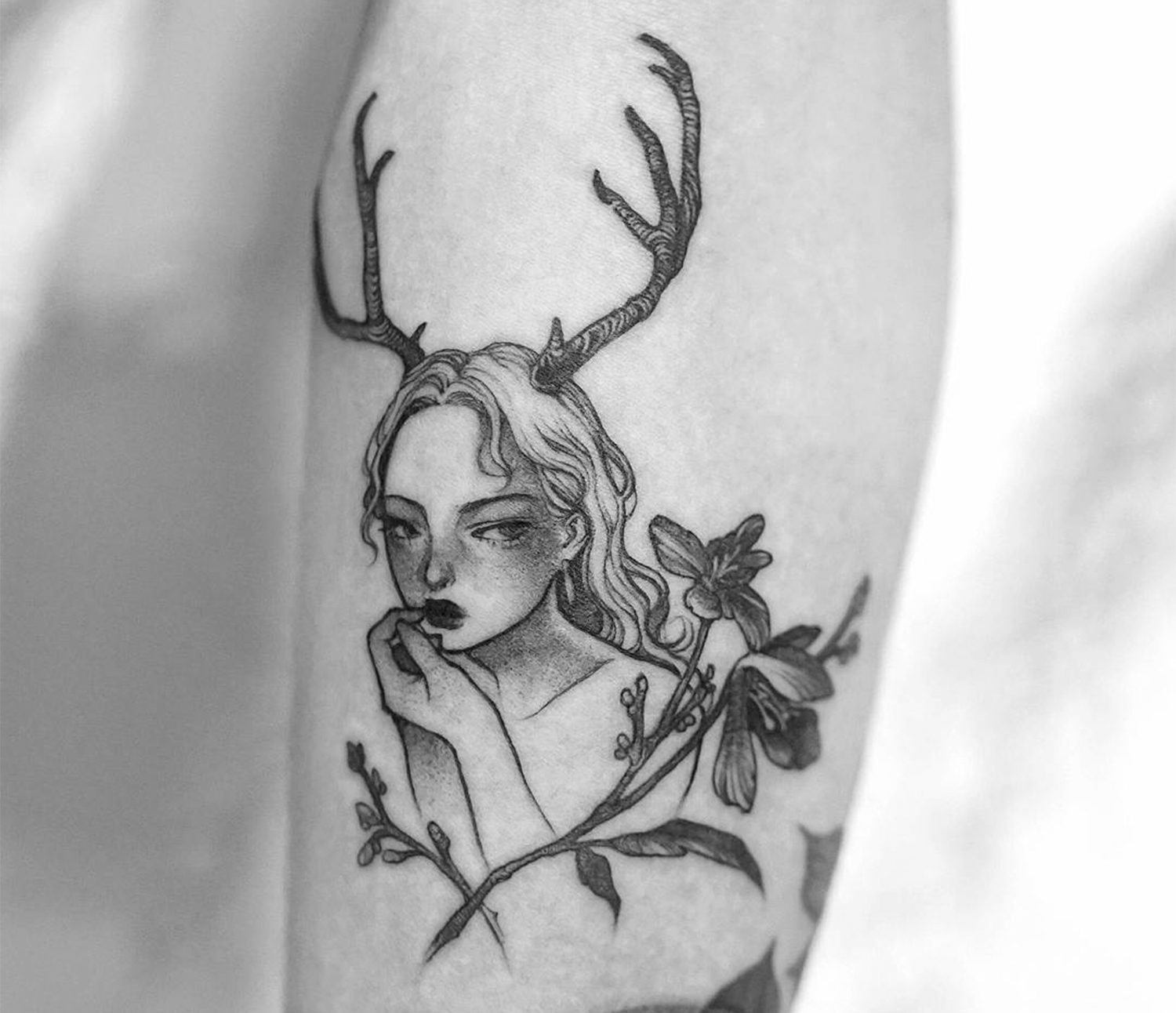 Zihae's characters are consistent among her work, like we're viewing the ongoing tale of one big family.
Zihae
Zihae is the other half of Reindeer Ink, which she runs with the similarly named Zihwa. But rather than following along with Zihwa's bold florals, Zihae transports us into a dream world thanks to her fantastical subject matter. The small blackwork tattoos are very character driven—often with a fantastical twist. From Alice in Wonderland-inspired portraits to whales swimming in the galaxy, Zihae's drawings of men and women have dreamy eyes and sleepy smiles. And if you're ever looking for a cover up, Zihae will transform that into something more exciting.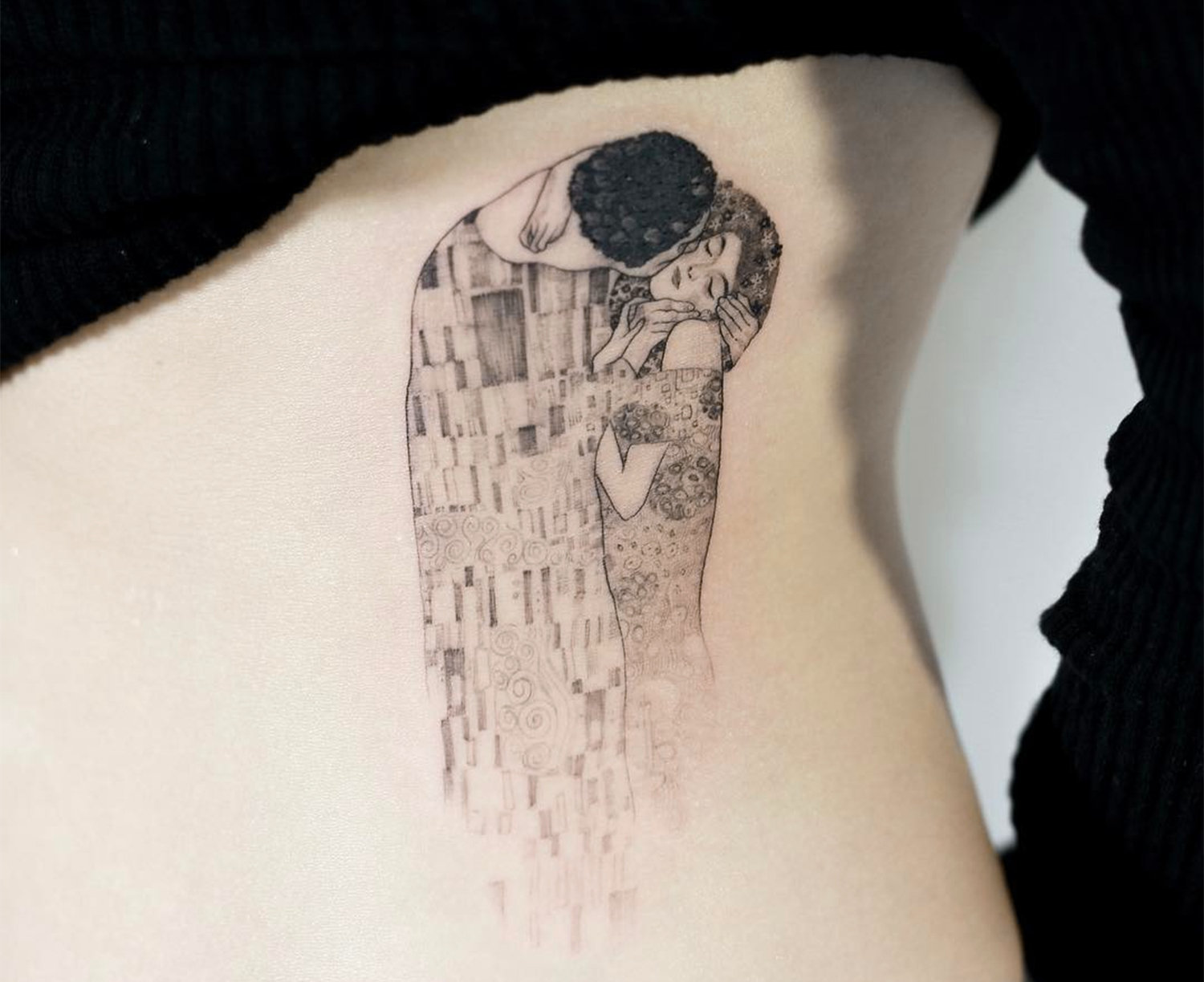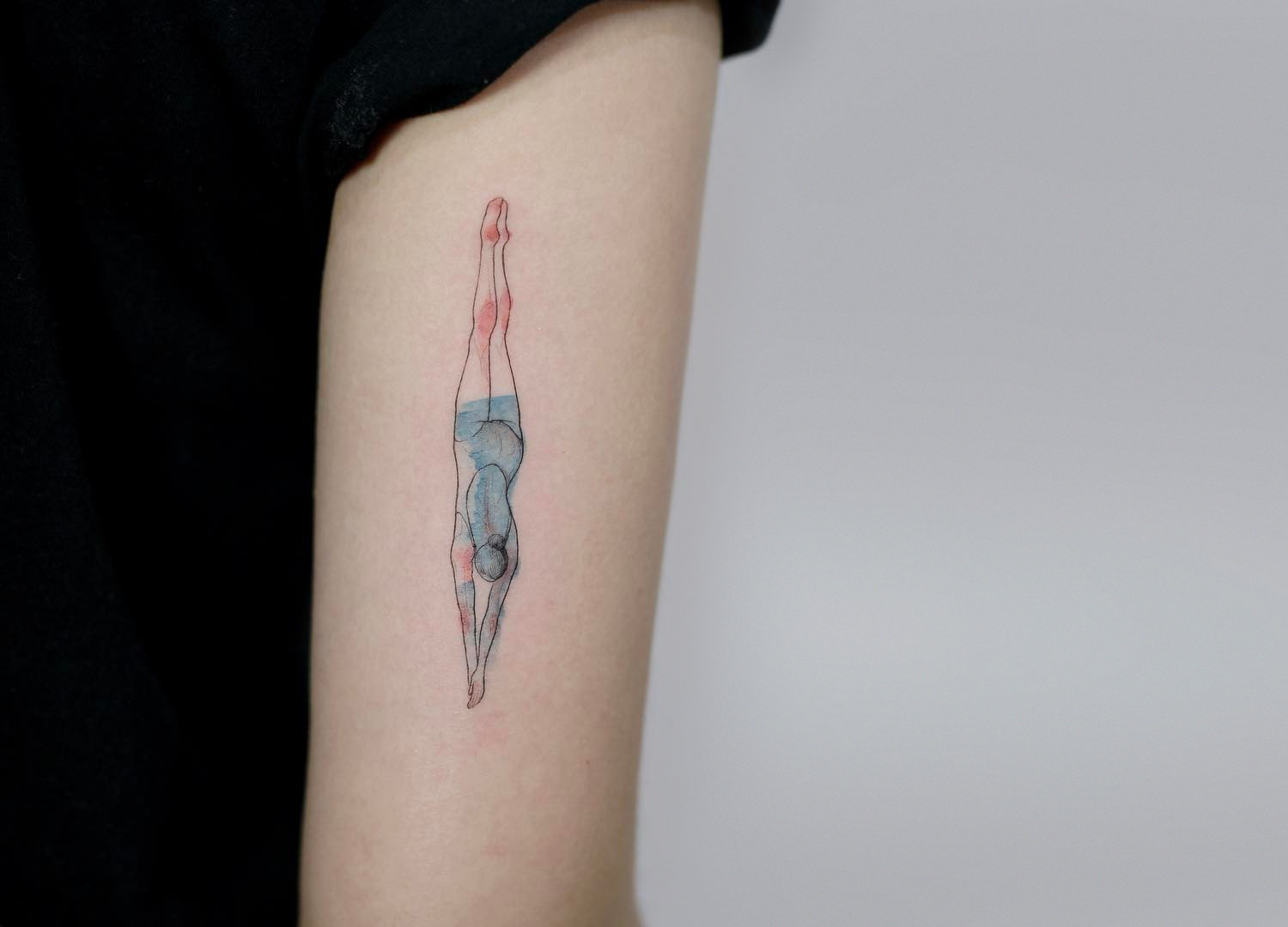 Gustav Klimt's "The Kiss" is a popular tattoo subject, but here, Doy adds a ghostly feel to the timeless painting.
Doy
Tattooist Doy works with a single needle to depict a wide range of subjects, from floral imagery to animals to pop culture-inspired pieces. Their common thread is the very fine lines that make up his work. It's a style that Doy flawlessly translates between mediums. Recently, he drew a portrait of the late singer Amy Winehouse using colored pencils, and then later tattooed it on a client's arm. The two are almost indistinguishable from one another—an impressive feat considering skin is way more fickle than a sheet of paper.
Images © respective artists.