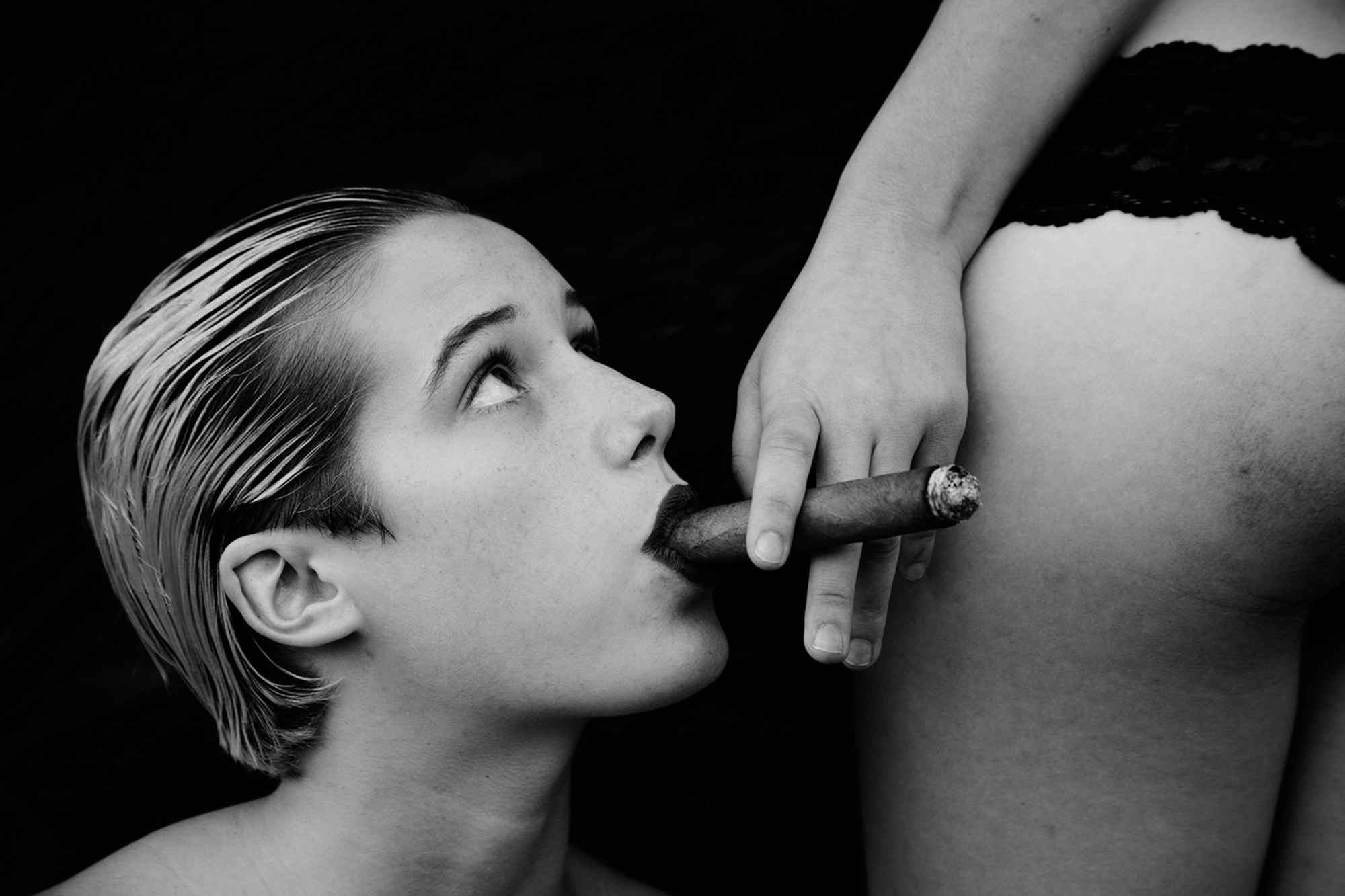 As defined by Judith Roof in the Encyclopedia of Sex and Gender, erotic photography "consists of images produced with a photographic camera that inspire sexual feelings."
However, definitions aside, it's not that simple; erotic photography is a style that has been historically marked with contentious and ever-shifting boundaries. Artists have long debated "art" vs. "porn," and they've battled censorship laws when someone (or some institution) has deemed their work the latter. Erotic photography has also been widely appropriated for marketing purposes, operating under the "sex sells" mantra, and over time, such images have been used to sell us homogenous (and often toxic) body ideals. A Google Image search will quickly show you that the phrase "erotic photography" conjures up a number of things, from black-and-white artistic nudes (mostly of women), to sexually explicit shots that would be considered pornographic by most. Nevertheless, despite these differences in content and the nuances of their production, as Roof pointed out, all erotic images share the purpose of stimulating feelings of desire and sensuality.
However, eroticism in art isn't just about turning us on; it makes us think, and it challenges and/or widens our perspectives on bodies and sex. In this list, I've made an effort to show a diversity of erotic imagery. They don't always include nudity, and while some images are indeed intended to shock and provoke us, others find eroticism in quiet expressions of human pleasure and connection. In their own ways, they liberate erotic photography from the arbitrary rules and standards that have been placed on it to define, contain it, and sell it.
Top: This suggestive image is from Tyler Shields' "Provocateur" series.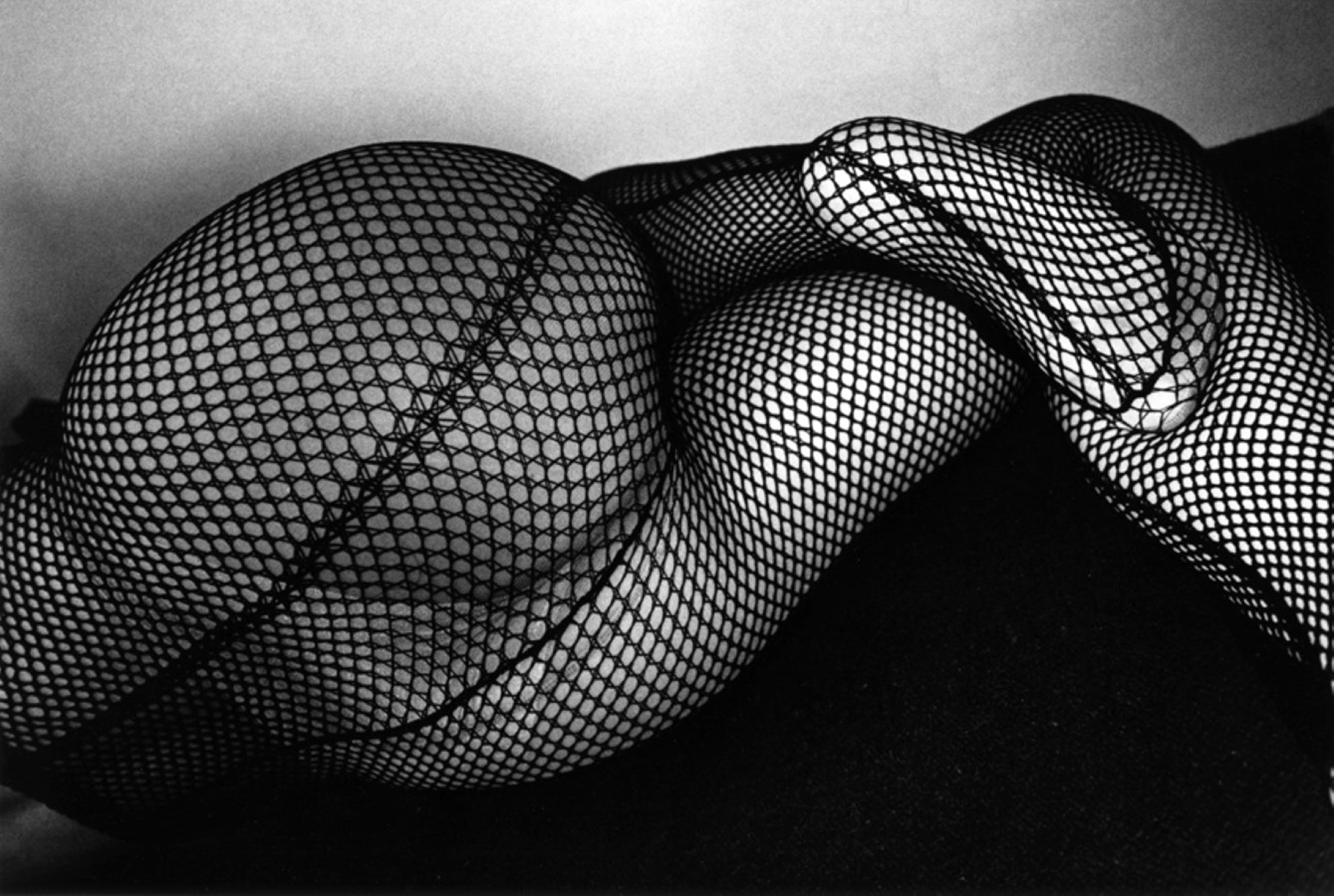 Moriyama's close-ups of fishnets almost resemble optical illusions.
Daido Moriyama
Daido Moriyama was born in Osaka in 1948. He began taking photos in the 1960s, and is mostly known for his black-and-white street photography of Tokyo. His work has occasionally taken an erotic turn, focusing on a woman's legs or lips to accentuate the beauty and sensuality of those parts. In 1986, he took some photographs of his girlfriend's fishnet-clad legs, and in 2012, he expanded the series with new images that were shown at The Michael Hoppen Gallery in London. By zooming in and focusing on the various shapes and patterns of the stockinged legs, Moriyama evokes eroticism in fun and unexpected ways. In an interview with The Guardian, he explained his approach to these photos: "Being a photographer is a constant battle with countless fragments; the camera allows me to get closer to a subject and capture its detail. The world appears very erotic in my eyes. Tights are only one example."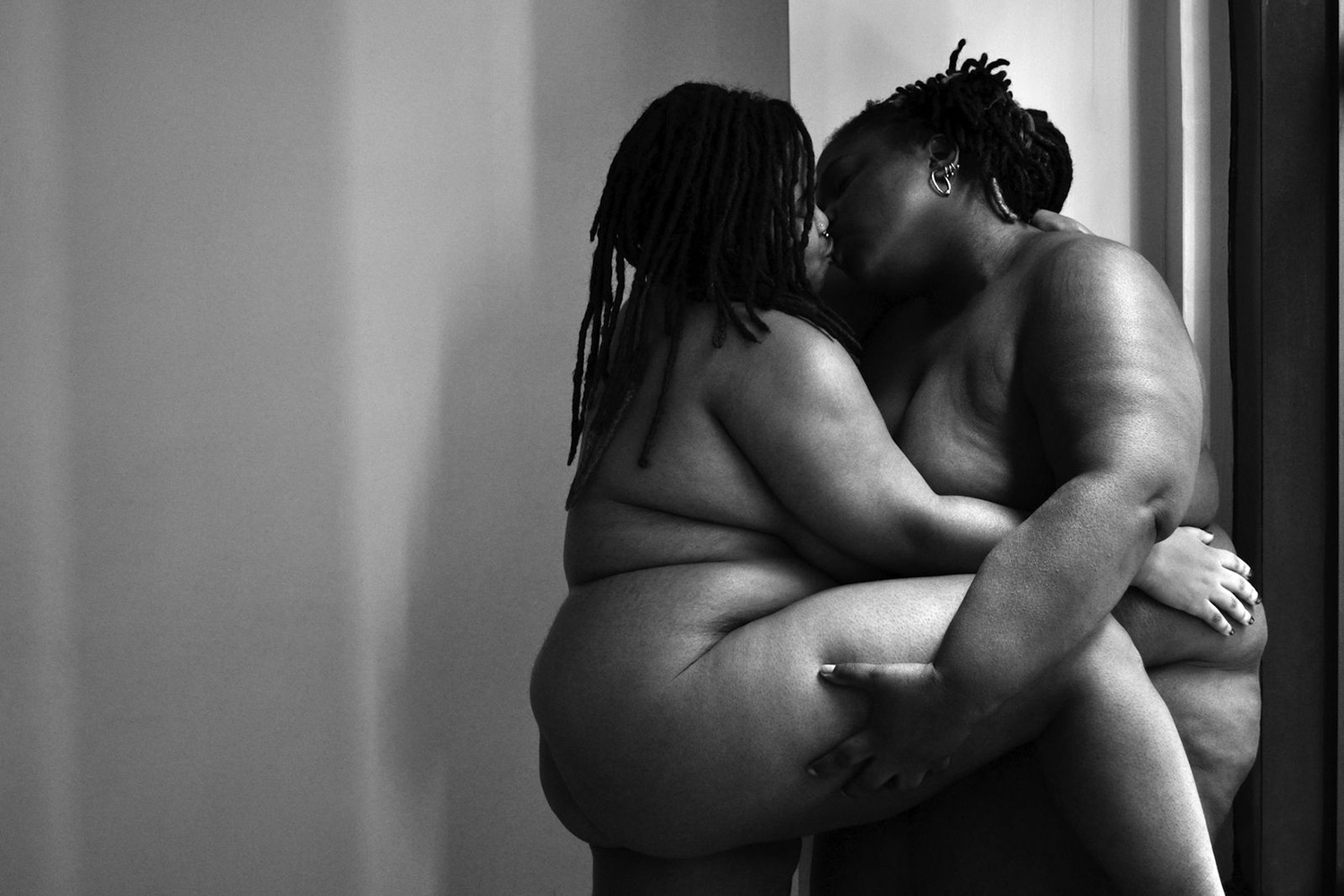 Substantia Jones' photography seeks to alter accepted notions of beauty.
Substantia Jones
Substantia Jones is a New-York-based photographer whose work focuses on encouraging informed discussions of body politics. In 2007 she started The Adipositivity Project, a photo-activism campaign that she describes as "Part fat, part feminism, part 'fuck you.'" Fat women (as well as men, couples, and transpeople) of all backgrounds and professions are photographed nude in various locations, revealing body types that are too-often ignored (and thus made culturally invisible) in nude photography—and certainly in erotic photography, where the slim white female is featured and idealized the most. In an email to The Huffington Post, Jones observed the following: "There's this curious misconception that fat people don't experience love, sex, and romance . . . Or perhaps that they aren't worthy of having satisfying relationships." The above image blasts these misconceptions to pieces by showing us a couple engaged in a passionate and loving embrace, reminding us that all consenting bodies are beautiful and blessed with the power of eroticism.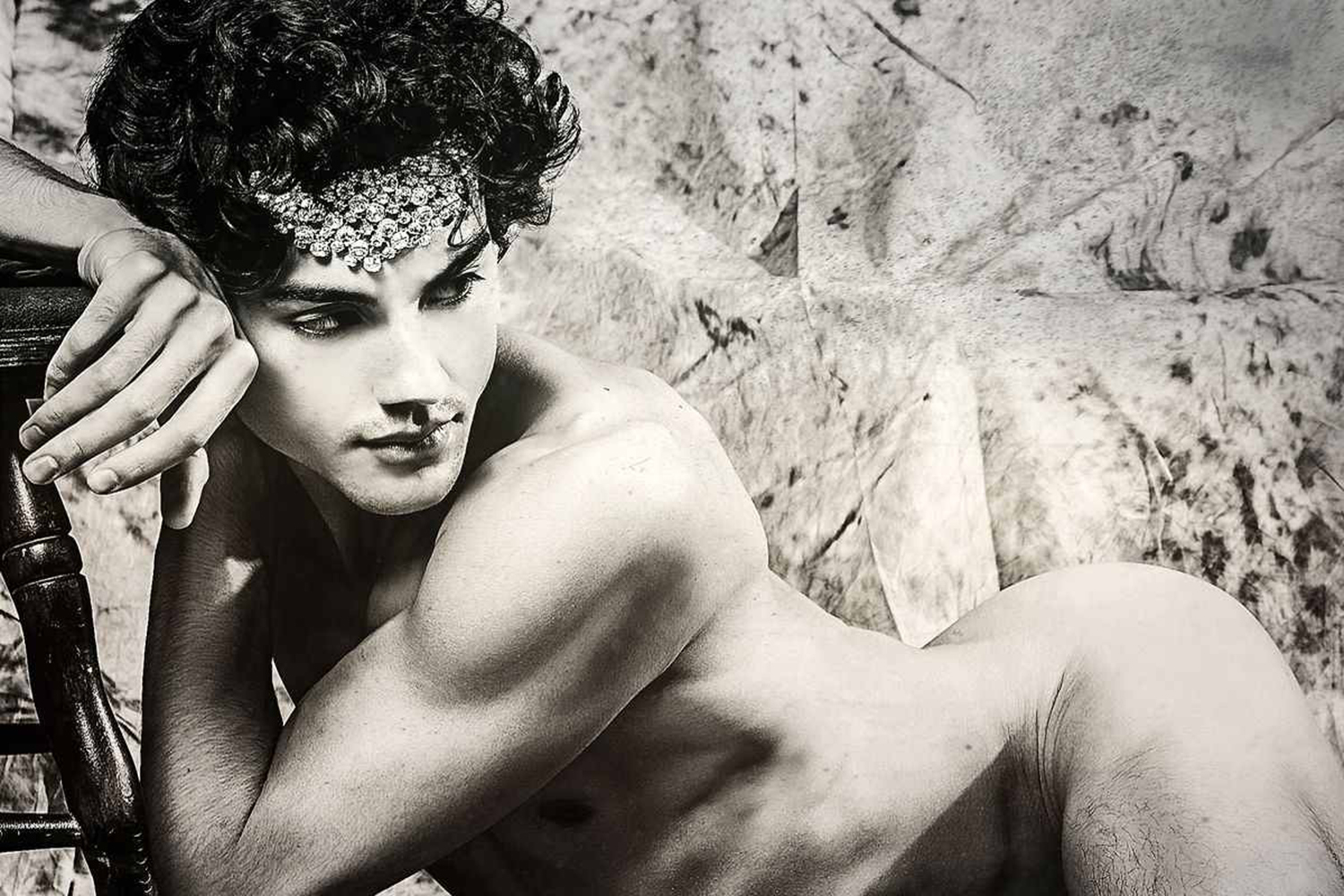 This seductive photo is part of a series called "Le Monsieur Francais," shot for Dark Beauty magazine.
Denny Walentin
Denny Walentin is a photographer from Germany who takes moody and sensual photos of the male body. Inspired by French cinema—such as the movie "The Dreamers"—his portraits have a provocative feel to them. His work operates as a kind of poetic voyeurism, creating complex characters and half-revealing their secret fantasies. In an interview with Widewalls, Denny talks about how each shoot is different because each man brings "their own beauty and eroticism" to the set. Denny's images also explore a side of masculinity that is underrepresented in nude and erotic photography; in the same interview, he explains how his vision of men "is formed by the deep belief that we are just as sensual, emotional, and soft as any woman (has to be), or that we at least could be, if allowed so." Shadows, mirrors, props, and pensive expressions combine to offer us a refreshing look at the sexuality and emotional presence of the male body.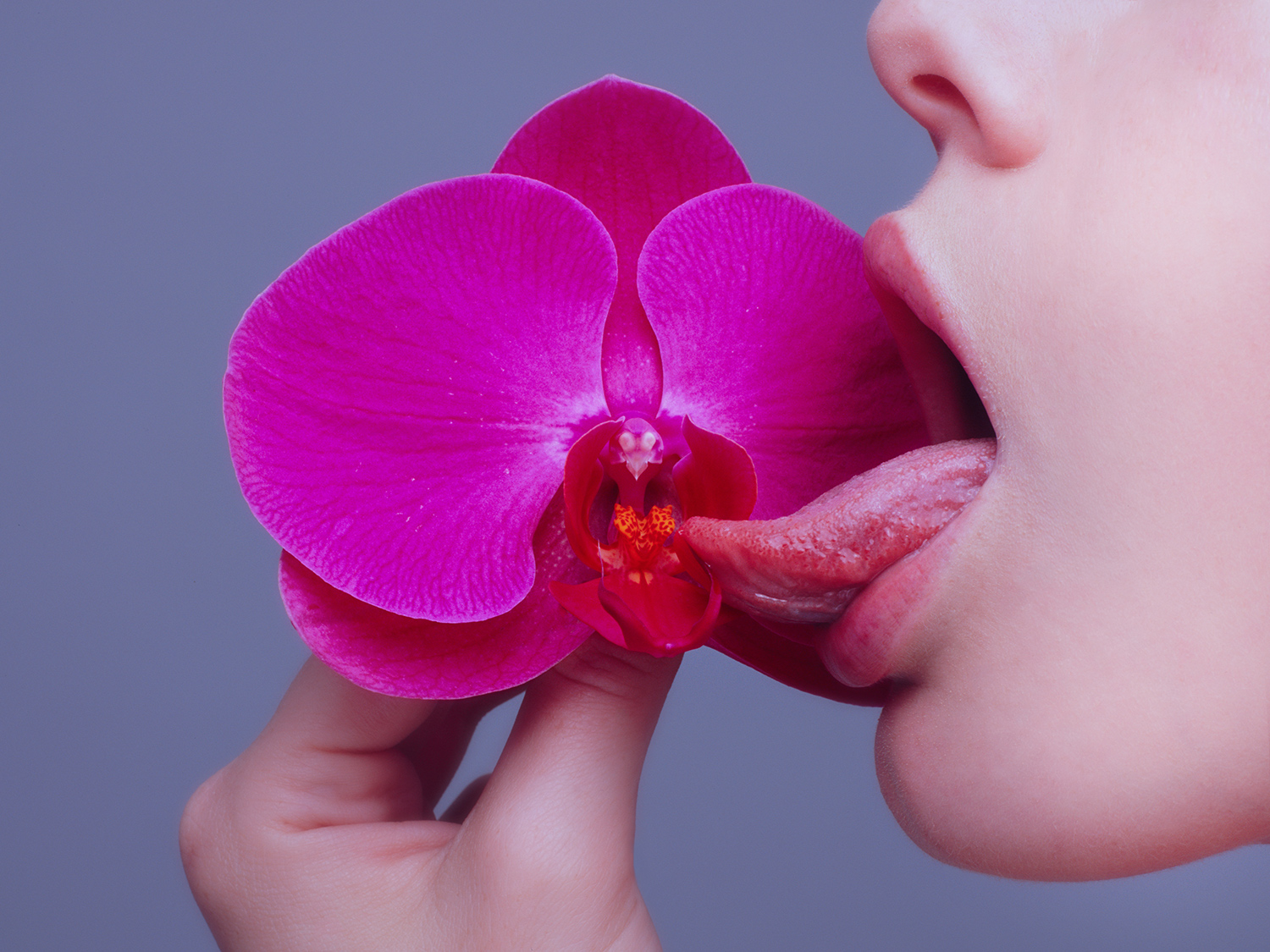 This orchid takes on a shamelessly obvious new meaning.
Tyler Shields
Tyler Shields is a photographer based in LA who often incorporates attention-grabbing erotic imagery into his work. In his earlier years, he was known as "the bad boy of photography," and has since evolved into "Hollywood's favorite photographer." One of his more controversial shoots was one he did with Lindsay Lohan, where she was doused in blood and wielding a knife. While some might say the decadence and erotic nature of his images is purely for shock value, he insists that "many of the images he creates come from simple everyday situations that trigger thoughts." Women smoking cigars, posing in run-down washrooms, and behaving suggestively with guns are all part of his signature, gritty style that depicts the modern lives of Hollywood's young elites "while [also] exploring the fictional nature of the historical and the classic." This clash of new-and-old makes his erotic imagery undeniably intriguing.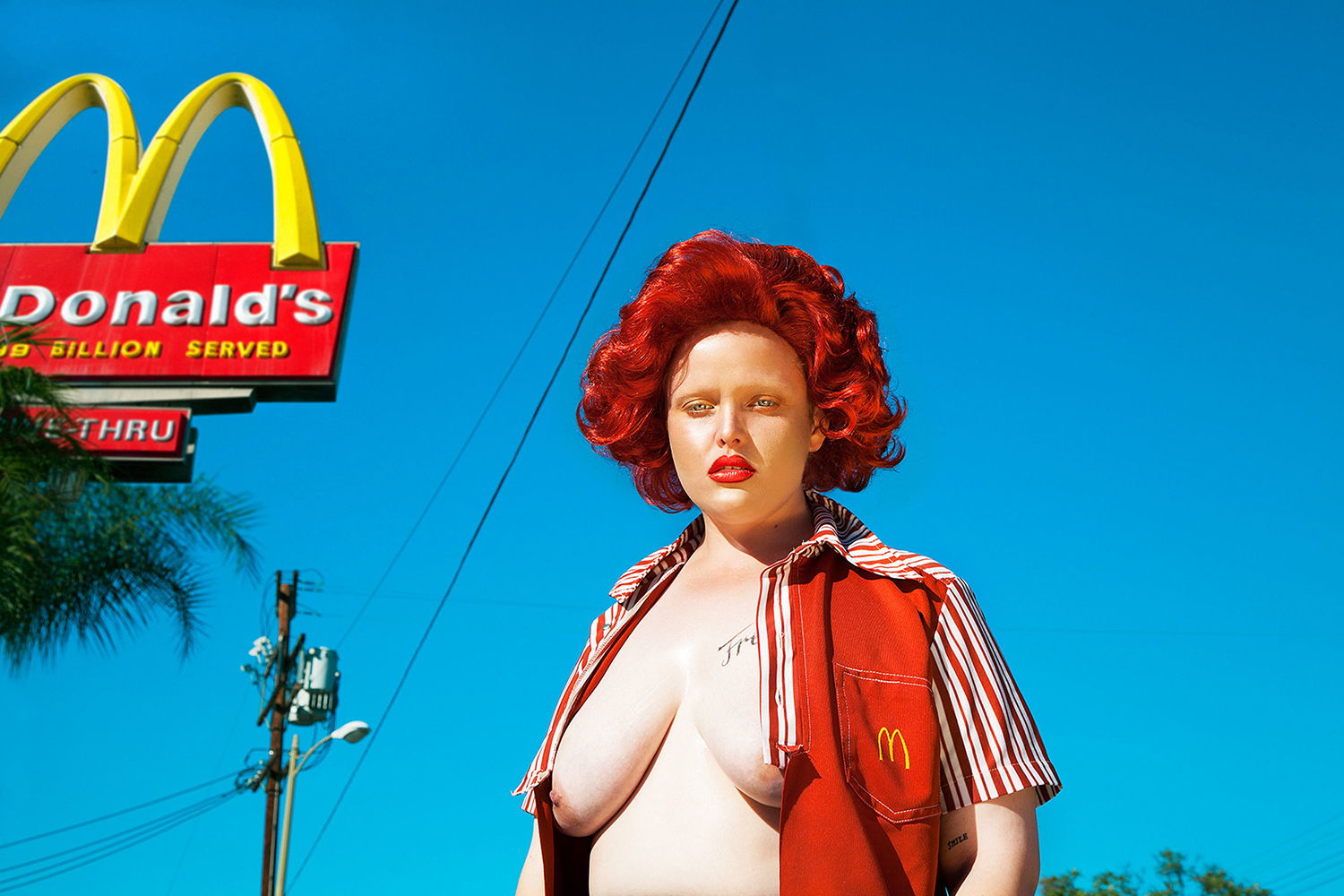 Absurdity has never looked so enticing.
Nadia Lee Cohen
There is nothing average about the work of Nadia Lee Cohen, a British photographer, filmmaker, and model whose entire portfolio buzzes with 1950s/60s/70s nostalgia and a latent sense of humour and dread. Influenced by cult directors such as David Lynch and Alfred Hitchcock, her work boasts a cinematic style with a bold flavor of bizarre eroticism. Women cavort with ape-suited figures (i.e., the image above), pose seductively with cigarettes and rotary telephones, or lie on the floor with food items ranging from spilt milk to lobsters. Cohen is inclusive in her model selection, choosing people of a variety of body sizes to play her quirky characters. In her newest series, "A Guide to Indulgence," Cohen critiques "society's quest for beauty and perfection" by displaying models wearing creepy doll-like masks. These figures are sensually posed—lying draped over beds and posing topless—but the eroticism kickstarts feelings of unease in the viewer, thereby creating a palpable, playful satire of our obsessions with beauty.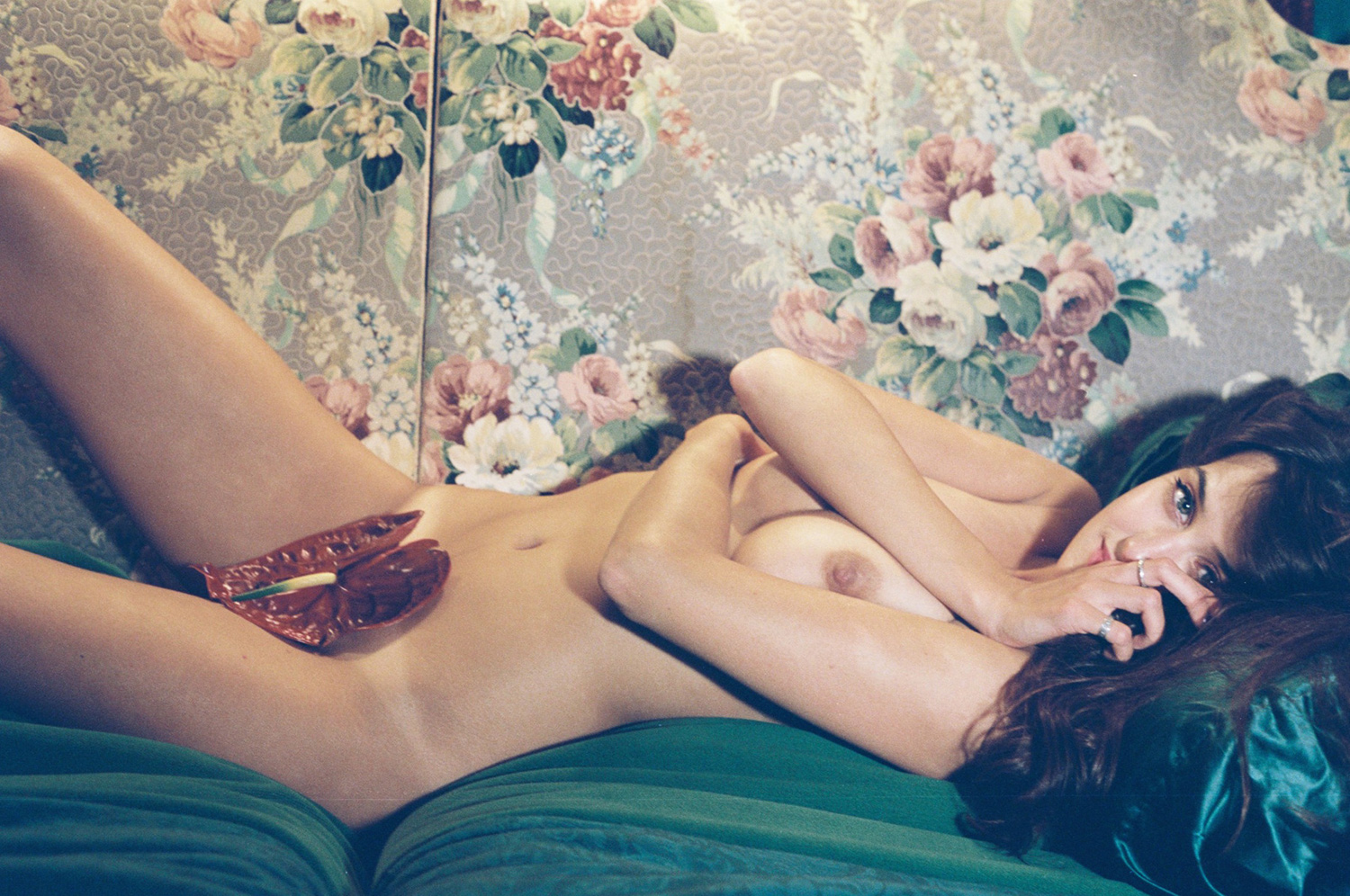 Eagles makes sure her models always feel comfortable and empowered during the shoot.
Megan Eagles
Megan Eagles is a London-based 35mm photographer and filmmaker who specializes in fashion photography and feminist erotica. None of her images are Photoshopped, and they are created for both men and women to enjoy. Her style is warm and nostalgic, recalling scenes from vintage Playboy magazines or stills from a '70s softcore porn. The models are nude, and their genuine smiles and playfulness tell the viewer that they are comfortable in front of the lens and confident in their bodies. In an interview with Maxim, Eagles describes her desire to reunite feminism with a celebration of the beauty and power of the female body. "There's nothing wrong with being a sexual woman and being a feminist, too," she explains. "I want my subjects and my audience to feel the same way." Eagles' images help to diversify modern erotic photography by providing a special focus on female joy and pleasure.
Poem Baker provides an intimate glimpse into a range of human experience.
Poem Baker
In a series titled "Hymns from the Bedroom," photographer Poem Baker captures people as they are within the sanctuary of their own homes: sensual, vulnerable, nervous, brave—everything. Featured in the candid, black-and-white photos are people she's met while wandering around the streets of London, and they are often her friends, allowing her (and thus the viewer) a special insight into their emotional lives. In a statement regarding her project, Baker describes how most of the subjects are "creative twenty-something's on the threshold of their dreams and ambitions, ranging from performance artists, musicians, actors and fashion designers to strippers, transvestites and those who live on the fringes of society." Gender and sexuality are represented widely and without hierarchy, providing real glimpses of real people. The lack of captions for each photo allows the viewers' imaginations to dream up a multitude of stories and possibilities. More than an act of subversion, Baker's work reveals pain, eroticism, and passion as the intersecting and powerful forces that they are.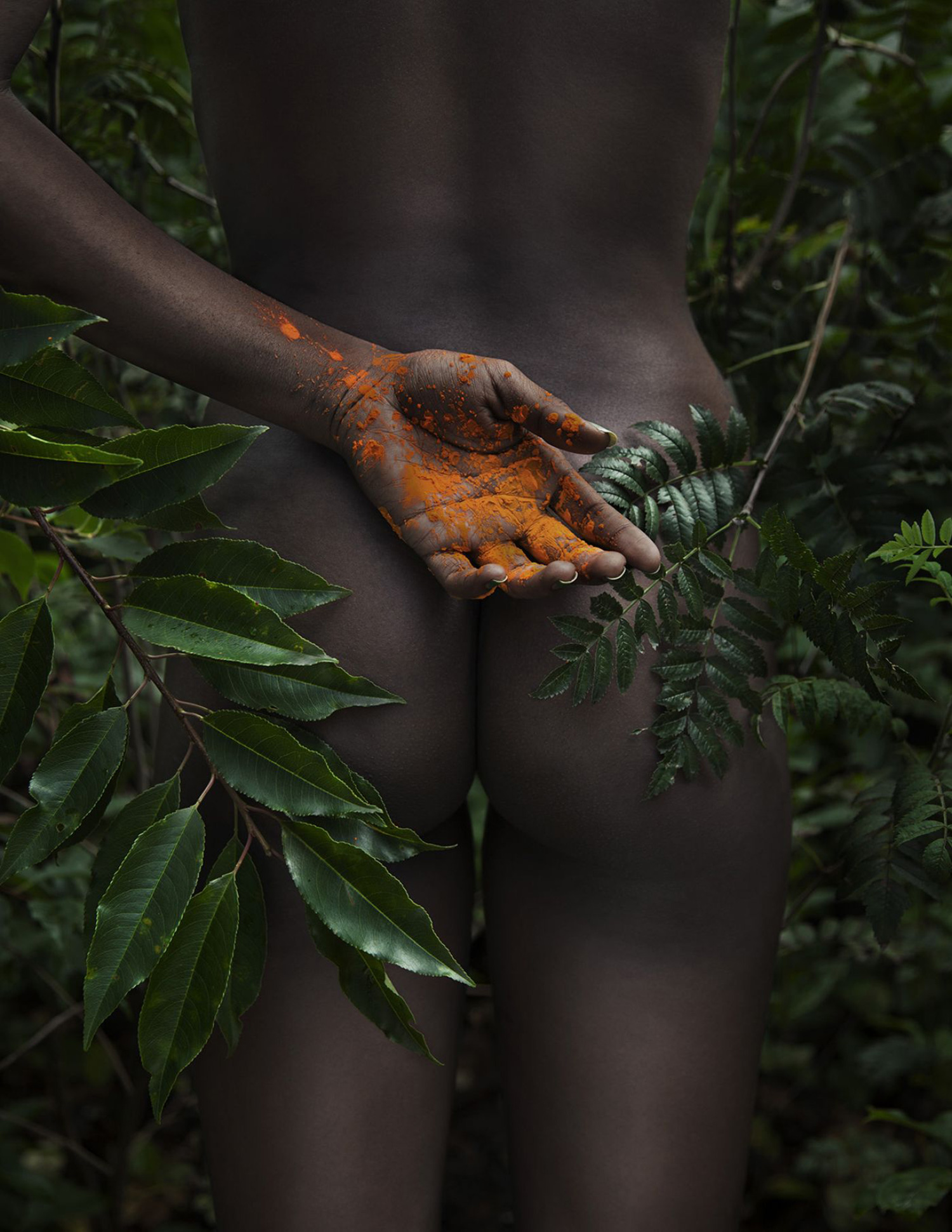 Sanne van Rozendaal's vibrant colors and clever imagery invites our curiosity.
Sanne van Rozendaal
Sanne van Rozendaal is a photographer based in the Netherlands who describes her style as "clean, romantic, and sometimes with a dark spirit to it." She is inspired by many things—colors, textures, people, emotions—which makes her work a form of visual poetry as she fuses these elements together. Location is also of utmost importance to her, such as the edenic backdrop shown above. This image was part of a series shot for The Green Gallery. Titled "Organic Beauty," it evokes the essence of the Belle Époque, the "Beautiful Era," a time during Western Europe's history when the arts flourished, nature was celebrated, and makeup came openly into vogue. The orange pigment clearly refers to makeup in this sense, but its resemblance to a handful of pollen resonates with a subtle sense of organic eroticism.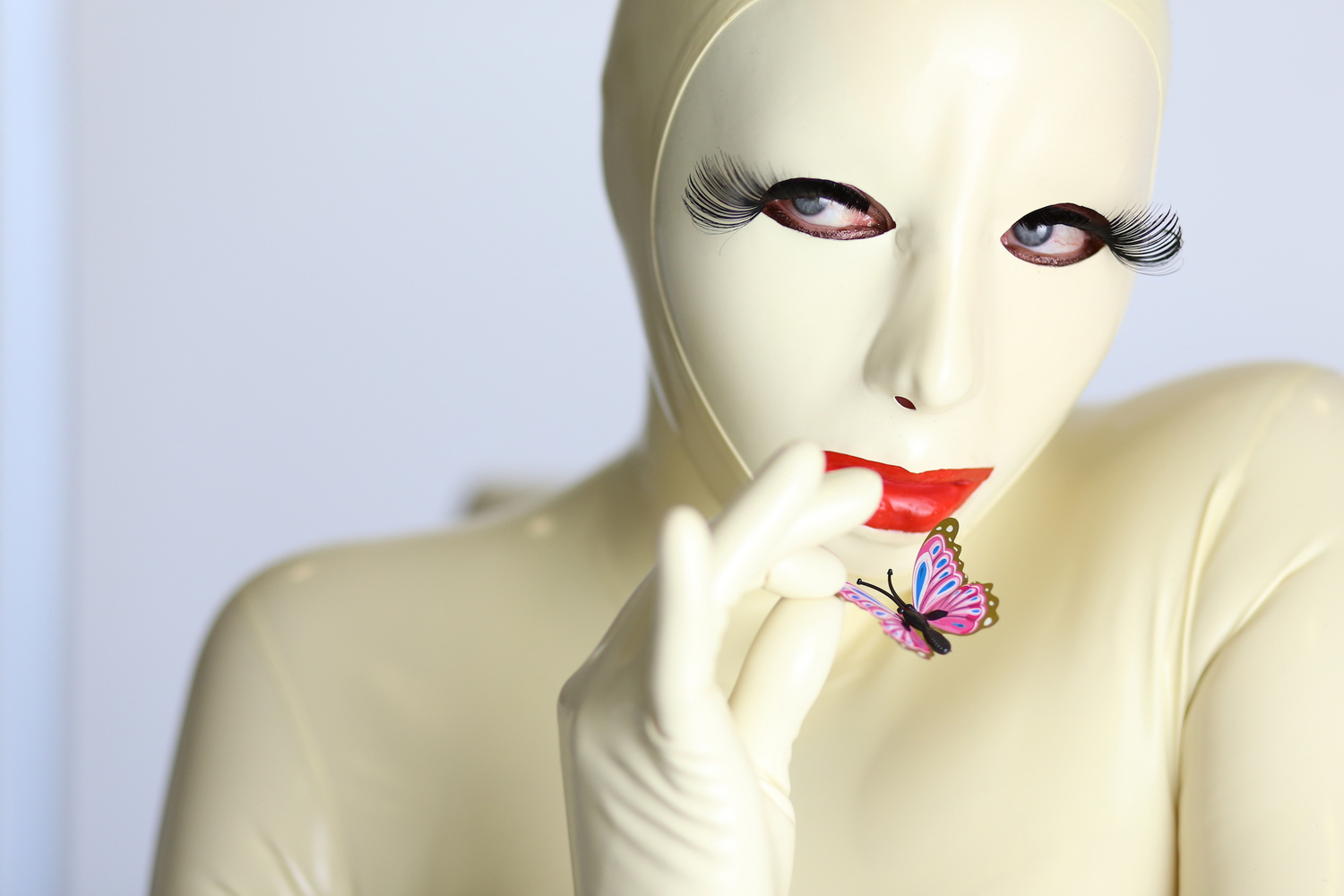 What desires lurk beneath the mask?
Frank Miersch
Sterility and fetish merge in the beautiful photography of Frank Miersch. Latex is a recurring motif, donning the body of the model as she engages in every day or subtly erotic behaviours. The above image is from a series titled "The Butterfly Effect," which serves as "a modern take on ying and yang," offering the viewer "different perspectives of the same subject." The white-latex-clad model regards the pink butterflies in teasing and contemplative ways, creating a sense of seduction and ambiguity (what does she intend to do with the butterflies, anyway? We are left to wonder their symbolism). Miersch's obsessive focus on detail heightens the erotic sense, acknowledging the beauty and power of the model as she reveals secret desires through her illuminated eyes.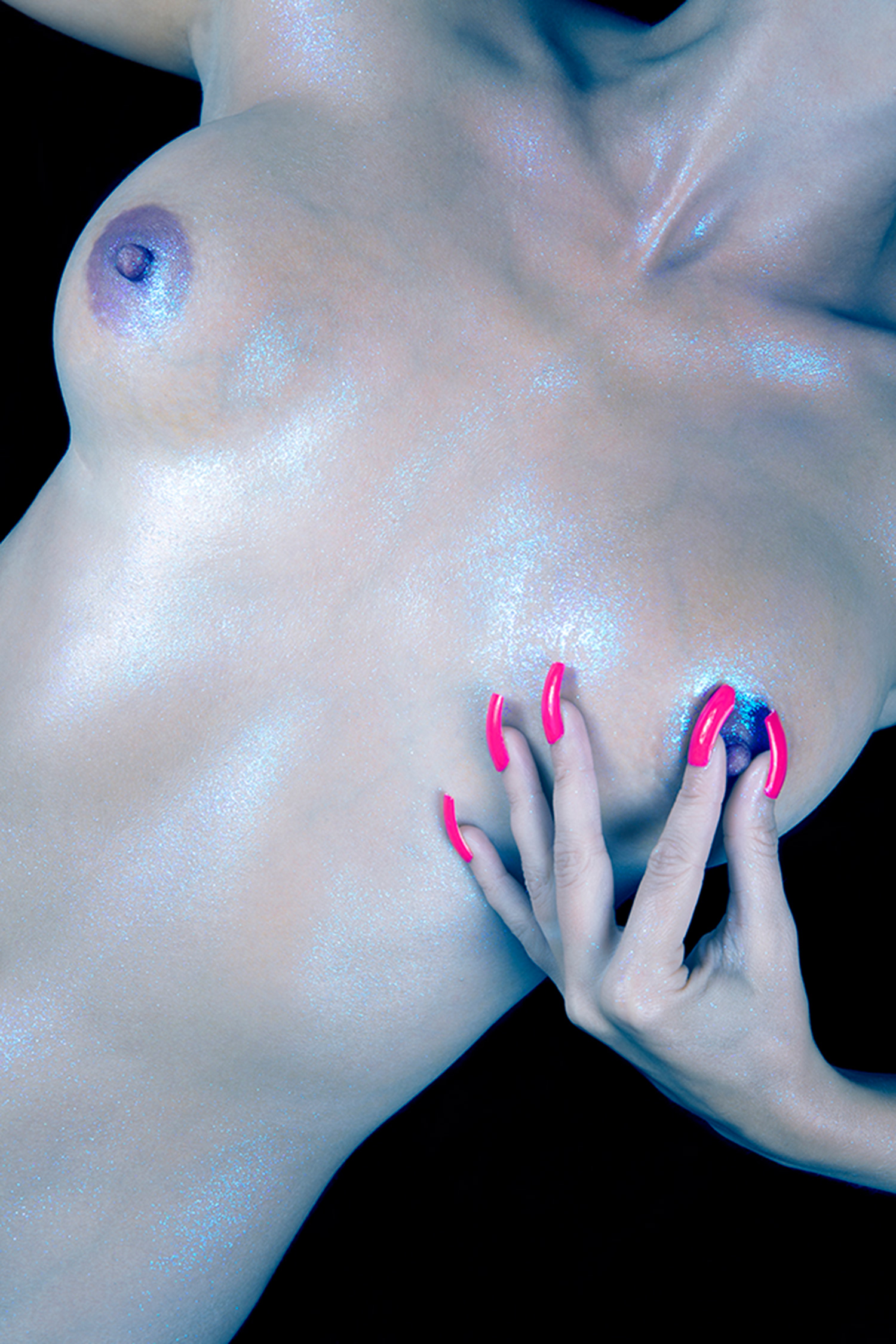 Newman makes images that are both thought-provoking and pleasing to look at.
Chloe Newman
Chloe Newman is a London-based photographer who creates visual riddles and cultural critiques with her eye-catching, surreal, and suggestive imagery. In the photograph above (which is from a series titled "Black Tropicana," made in collaboration with photographer Rebecca Scheinberg), a woman pinches her own nipple. However, there is something unsettling about the presentation; like an over-the-top fashion or beauty advertisement, the sexualization of the image is exaggerated by the long, neon-bright nails and the iridescent shine of the model's skin. Appealing to our attraction to bright colors and erotic imagery, Newman is also playing with our minds a little bit, fostering an examination of how the body is used as a vehicle for our consumerist desires. And given the power of the camera to transform bodies into objects of desire, her work reminds us of a need to be aware of gender and body politics in the ever-evolving fields of photography—especially erotic photography, and especially where erotic photography leaks into the commercial world.
Images © respective artists.

Sources:

Widewalls: Tyler Shields
Widewalls: Denny Walentin in an Interview
Widewalls: Megan Eagles Photography
PAPERMAG: Nadia Lee Cohen's "A Guide to Indulgence"