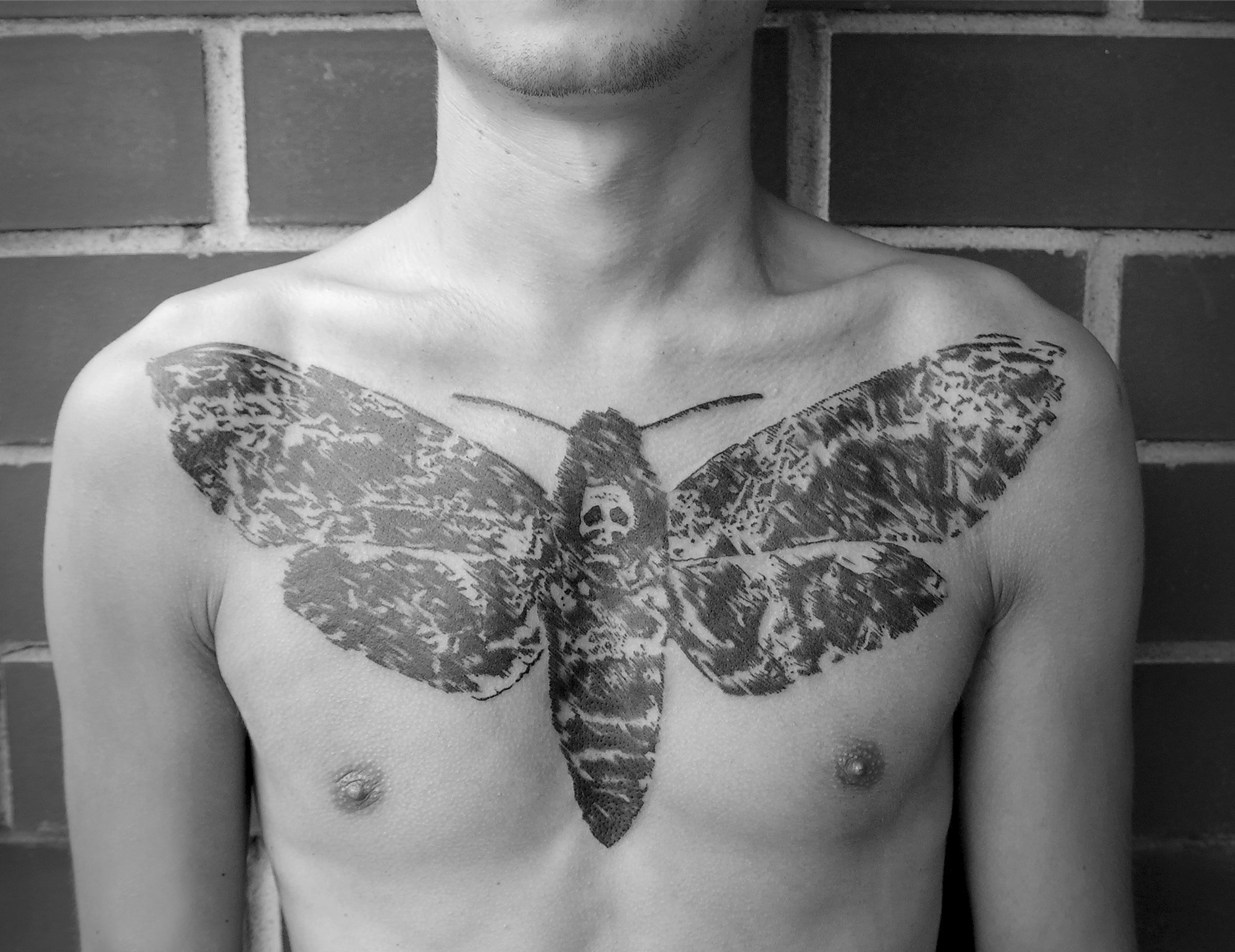 You know a Acherontia atropos—better known as Death's-head hawkmoth—once you see it. The name refers to one of three species of moths that each have the easily distinguishable human skull-shaped marking on their thorax.
The unusual patterning has both intrigued and frightened people. Long ago, its ominous marking was considered a bad omen; entomologist Moses Harris wrote in 1840 that the moth, "It is regarded not as the creation of a benevolent being, but the device of evil spirits—spirits enemies to man—conceived and fabricated in the dark, and the very shining of its eyes is thought to represent the fiery element whence it is supposed to have proceeded. Flying into their apartments in the evening at times it extinguishes the light; foretelling war, pestilence, hunger, death to man and beast." This wasn't helped by the fact these moths make a loud squeak when irritated or disturbed.
The Death's-head hawkmoth appears in pop culture. They're mentioned in the Bram Stoker's 1897 classic "Dracula," in which the main vampire sends them to his servant, Renfield. And in Thomas Harris' novel "The Silence of the Lambs," Buffalo Bill placed the pupae in his victims' throats.
From books and movies, the Achertontia atropos regularly shows up in tattoos. (And temporary tattoos, too.) Here are 10 contemporary interpretations of the unforgettable creature. They might vary in style, but one thing you'll always see is that eerie skull.
Above: Mike Amanita was inspired by woodcarving and engraving for his death's-head hawkmoth tattoo.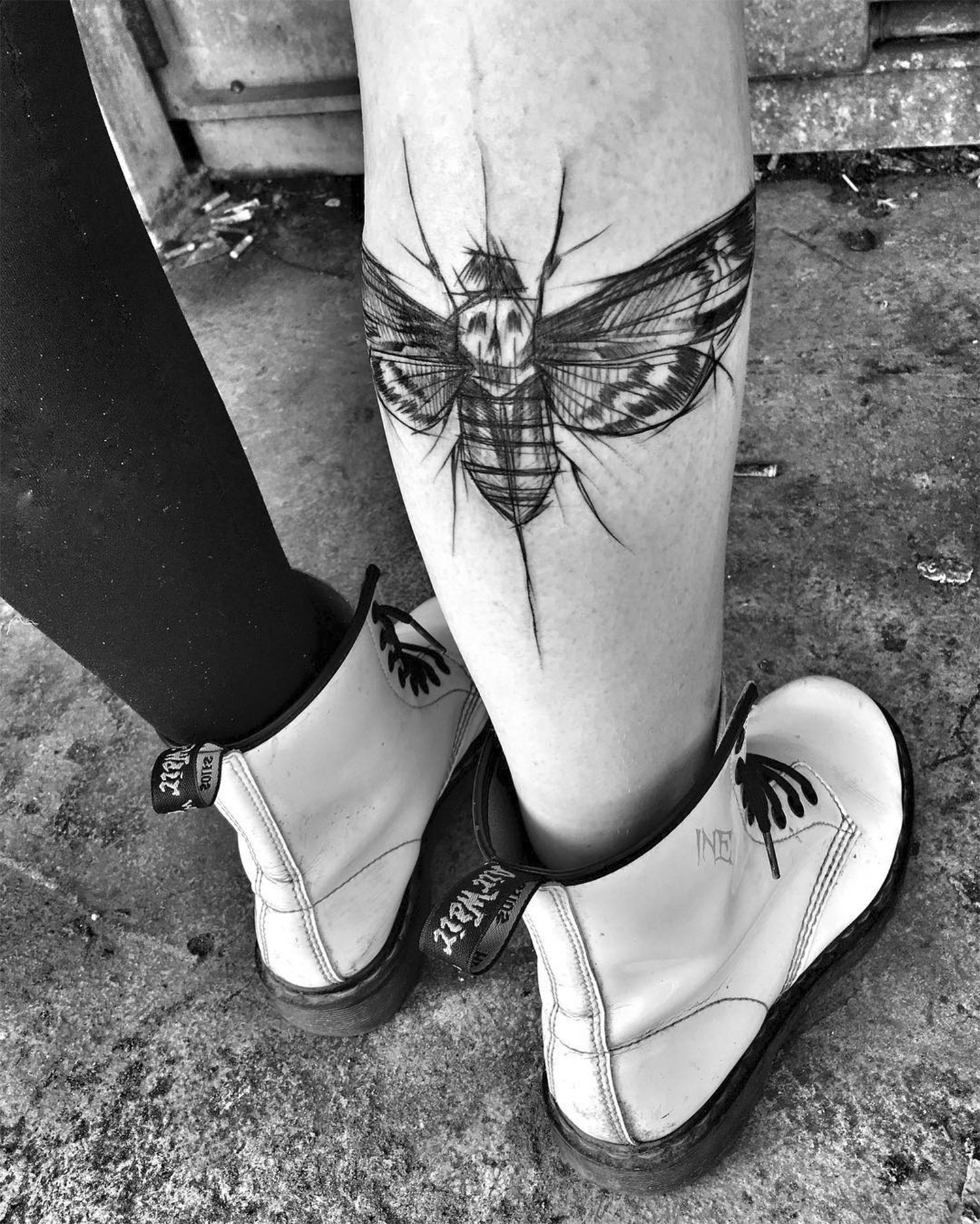 Inez Janiak's short, frenetic lines faithfully capture the rapid movement of moth wings in air.
Inez Janiak
I first admired Inez Janiak's tattoos last year for their incredible visual energy—it's as if the Poland-based artist drew them with charcoal or pen. Her style lends itself well to the iconic moth; the quick, short lines are reminiscent of the type of stylized motion you see in comic books and cartoons. Varied in thickness and intensity, the wings vibrate on the skin, like they're about to fly away. If you want to get a tattoo from Janiak, you'd regularly head to Lodz, her home base. But she travels, too. She'll soon be guest tattooing at Blackstar Studio in Warsaw.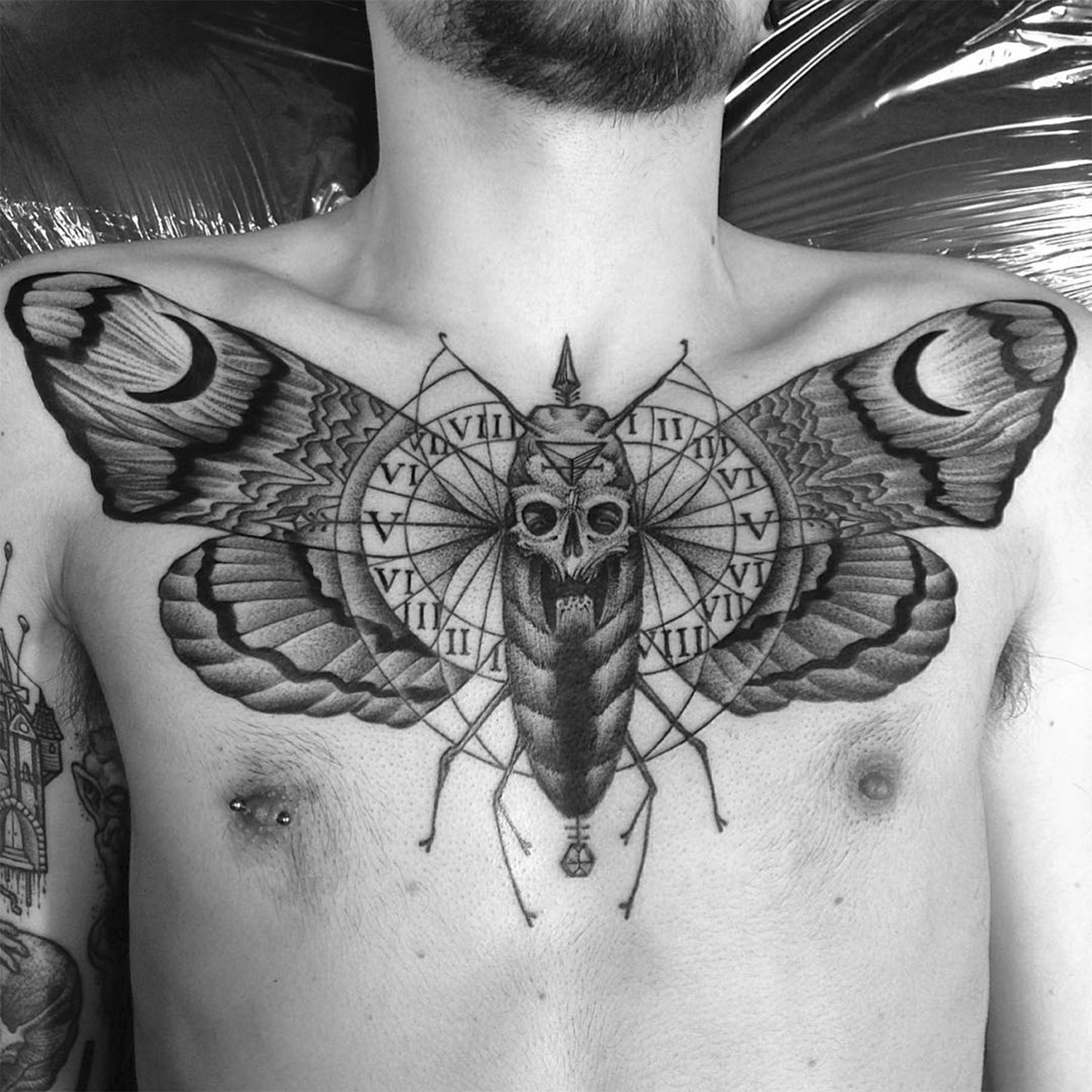 MaxAmos has a portfolio that's full of glitch-style drawings. Even here, he makes a subtle nod to the fractured imagery.
MaxAmos
Wirral-based MaxAmos is known for his glitch-style tattoos that take a modern malfunction and translate it in an analog fashion. He applies this to more than just digital subjects, from The Evil Dead to Medusa from Greek mythology. His adoration for glitches know no bounds, and MaxAmos even incorporates them into this surrealist moth piece. The same high peaks and low valleys appear on the wings under black radiant moons. If you're familiar with Amos' work, you recognize them right away. Otherwise, they look like psychedelic sand dunes.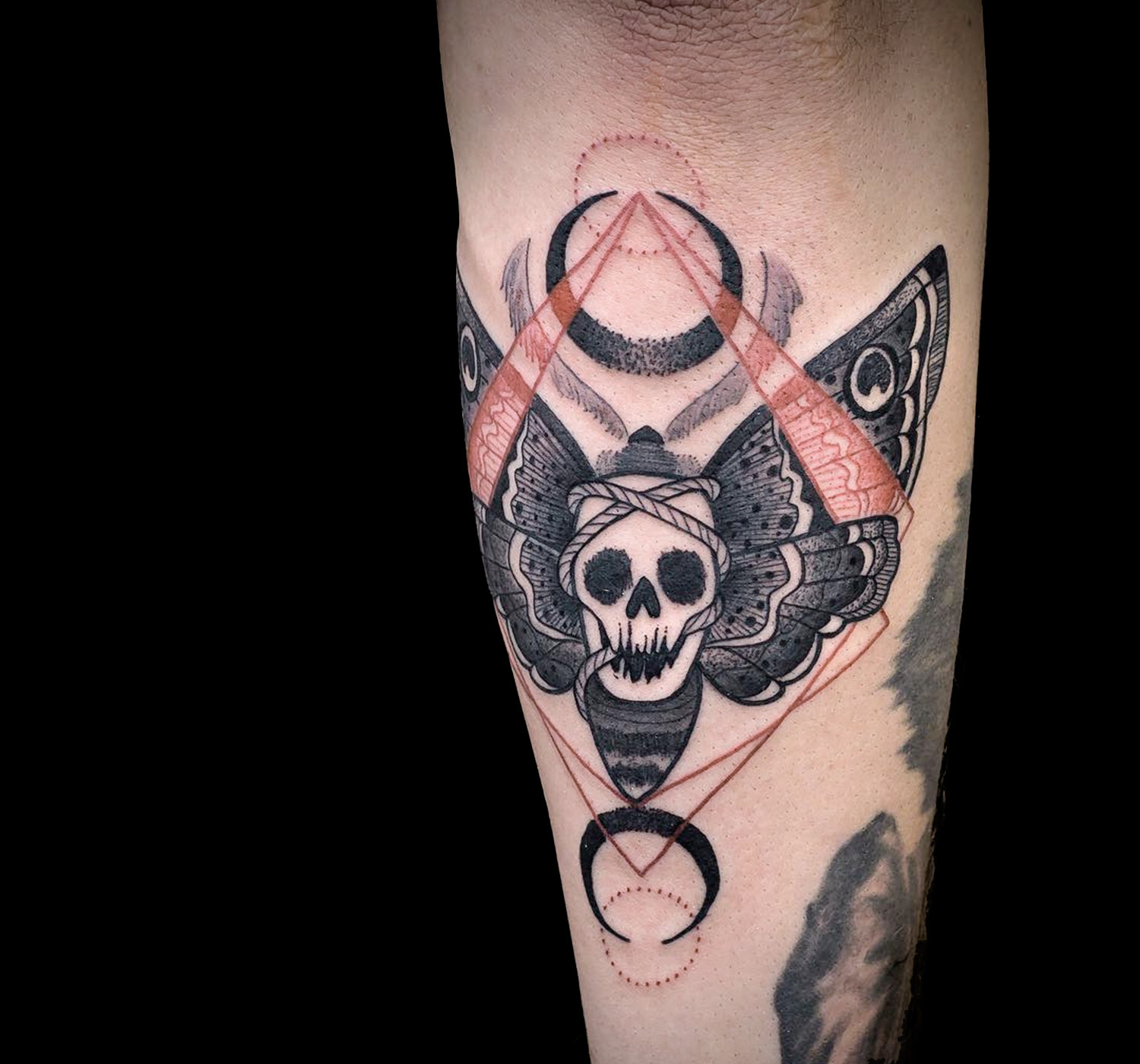 Chris Rigoni learned that saying "no" helped pushed his art and career to new heights.
Chris Rigoni
Inspired by "space, the universe, quantum physics, astrophysics," Chris Rigoni incorporates elements of these into his work. Even when he's concentrating on Earthly creatures, Rigoni manages to still add some interstellar influence with the symbol of the moon anchoring the moth. This desire to create work that he's passionate about is reflected in decisions he's made for his career—ones that could make or break it. Most recently, he declared that he's just opening his books for a few weeks and "take[s] emails every few months." Continuing, "I feel so rude that there are hundreds of unanswered emails that I just won't get too [sic], and I would rather people only emailed if they were going to definitely get a response." This is coming from a good place. "I'd just prefer to spend all my energy at designing and tattooing your tattoo, than answering emails all day."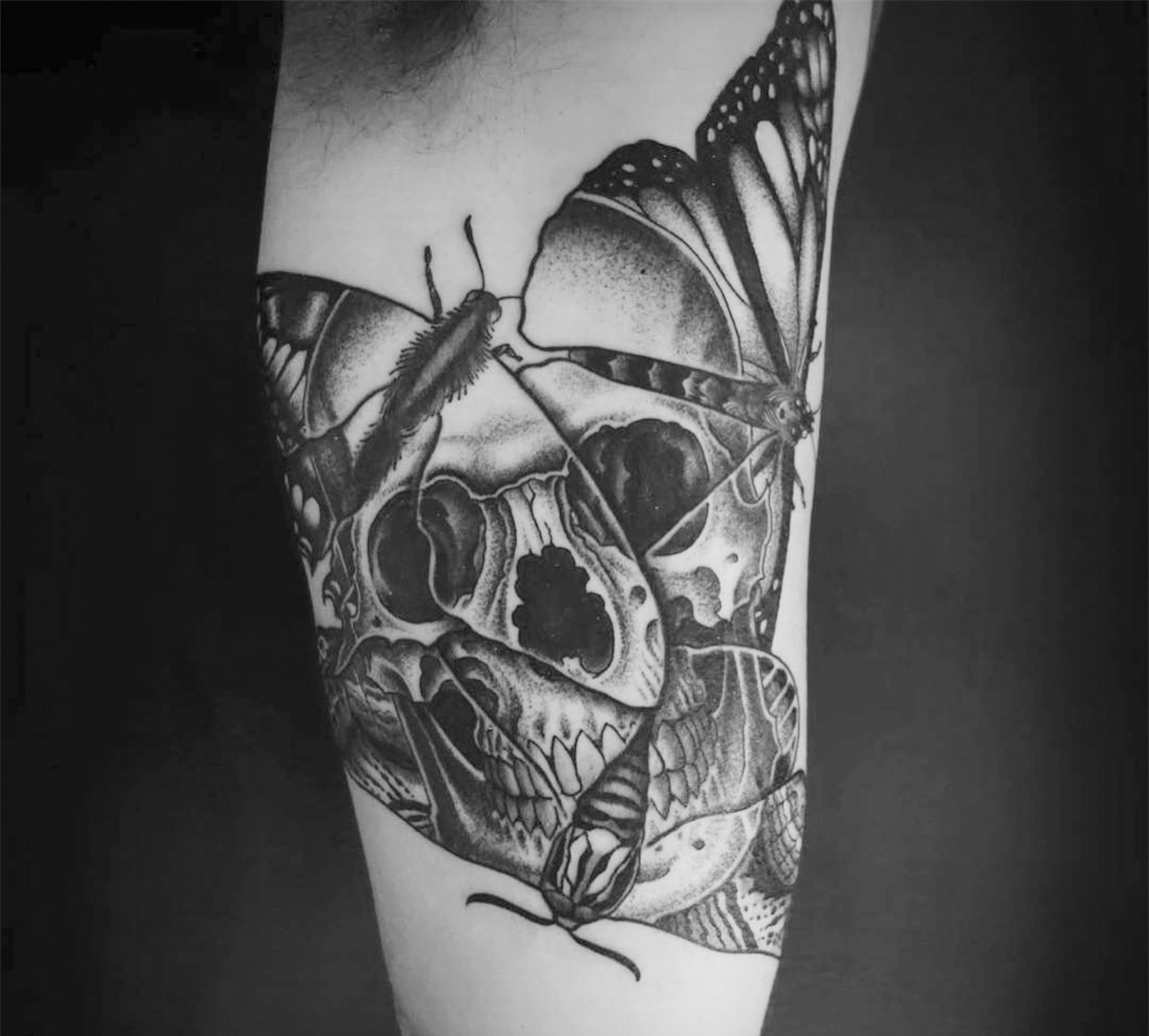 Each of the moths in OKED's tattoo reveals part of a skull.
OKED
Taking the term "Death's-head" to a whole new level, artist OKED deviates from a single skeleton head on the thorax to three moths forming a giant solitary skull.  This approach is in keeping with the rest of OKED's work, in which single skulls are fused with architecture, flowers, and swords. In this case, it's less about the skull and more about the components that form it. Aside from this surrealist subject matter, OKED has delved into the world of typography and illustrates bold phrases down the bodies of his clients at Tin-Tin Tatouage studio in Paris.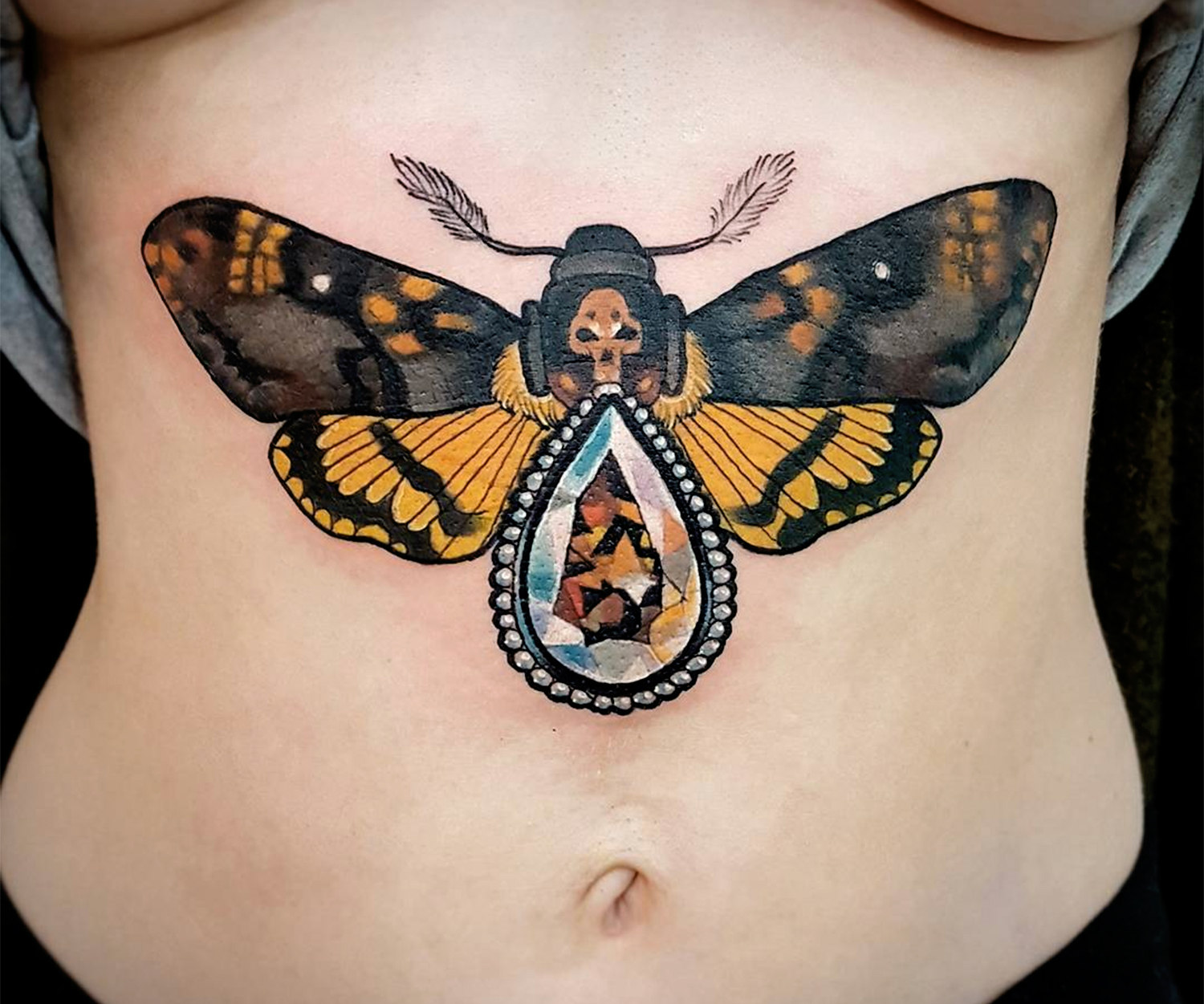 Nastia Zlotin regularly incorporates bling into her portfolio, pairing the jewels with flowers and fruit.
Nastia Zlotin
Moth imagery and precious jewels might seem like an odd combination, but Berlin-based tattoo artist Nastia Zlotin seamlessly integrates the two into one believable form. If this pairing still strikes you as strange, know that the death's-head hawkmoth has a place among royalty. In 1801, one of them was found in King George III's bedroom after his second episode of "madness." It was collected by his physician Robert Darling Willis and now remains at the University Museum of Zoology Cambridge.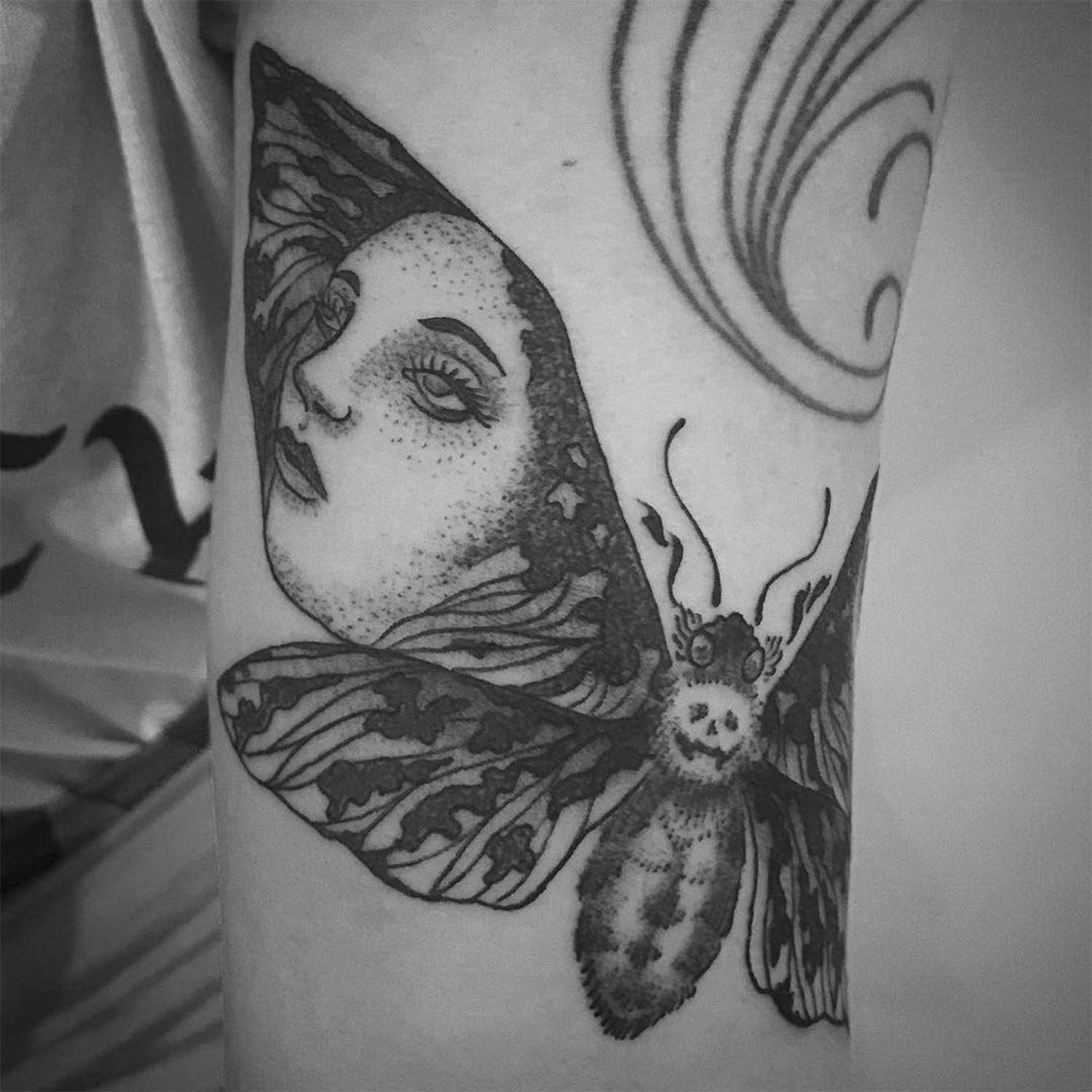 Aside from tattooing Marcus Filiputti is a graphic designer and illustrator.
Marcus Filiputti
In this recently completed tattoo, Marcus Filiputti integrates the portrait of a woman into the wing of the moth. The thought-provoking fusion brings up the historical symbolism of the death's-head hawkmoth. As I noted earlier, they've been viewed as ominous and a sign of death. With the addition of this female face, Filiputti is saying that she has some mystery to her and uses powers of seduction to draw people to her—just like a moth to a flame.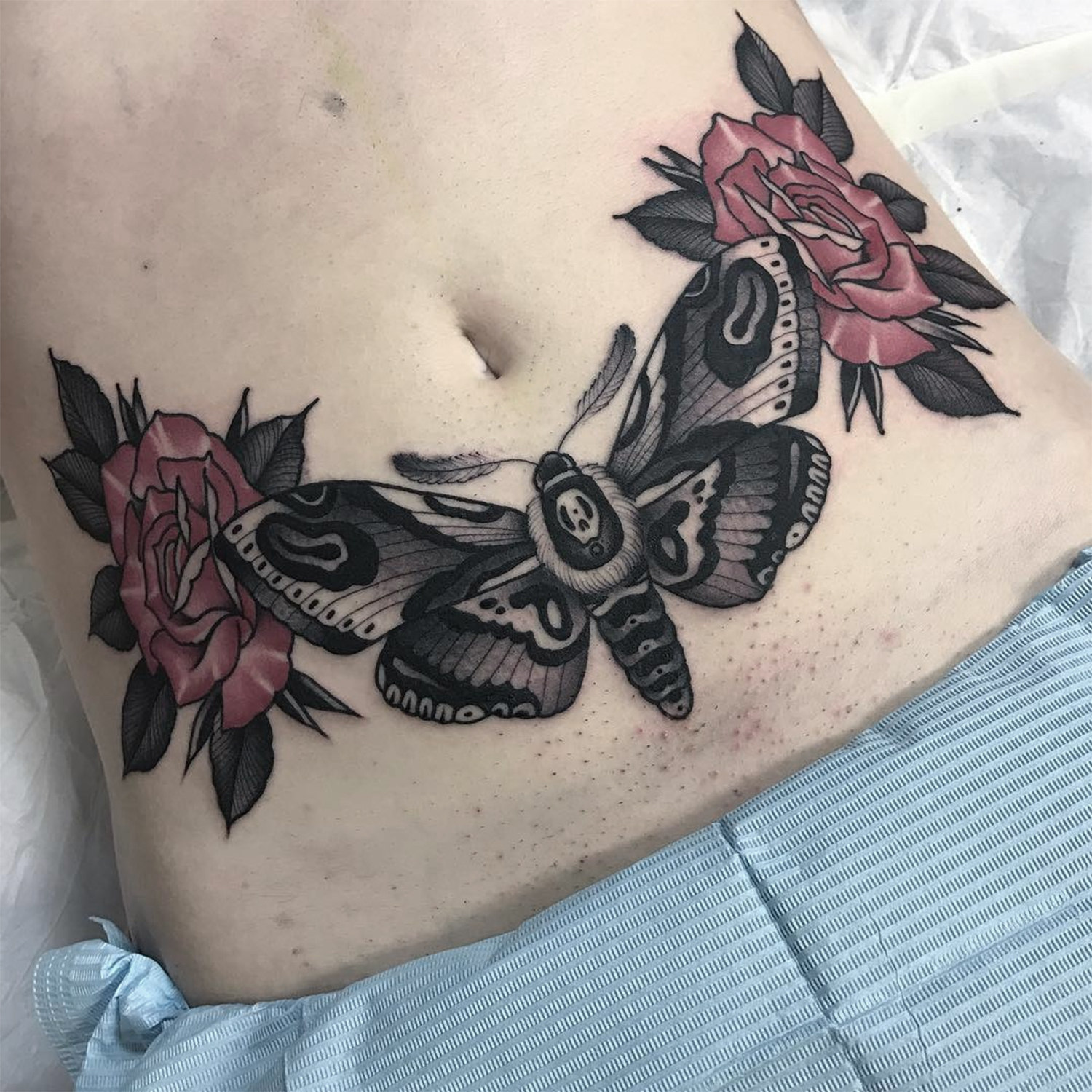 Jean Le Roux did his apprenticeship at Black Garden Tattoo, and it's where he calls home today.
Jean Le Roux
London-based artist Jean Le Roux uses the skull as the focal point for this entire lower-torso tattoo. The inclusion of common, old-world icons—here it's both the moth and roses—is common in Le Roux's work, which regularly features snake charmers, vintage sailors, and pinup girls. But, rather than use a traditional American style (think Sailor Jerry) to depict these subjects, Le Roux uses a Neo-traditional approach to bring them into the future. For those that can't travel to the Black Garden Tattoo studio for one of Le Roux's pieces, he also sells prints, t-shirts, and patches online.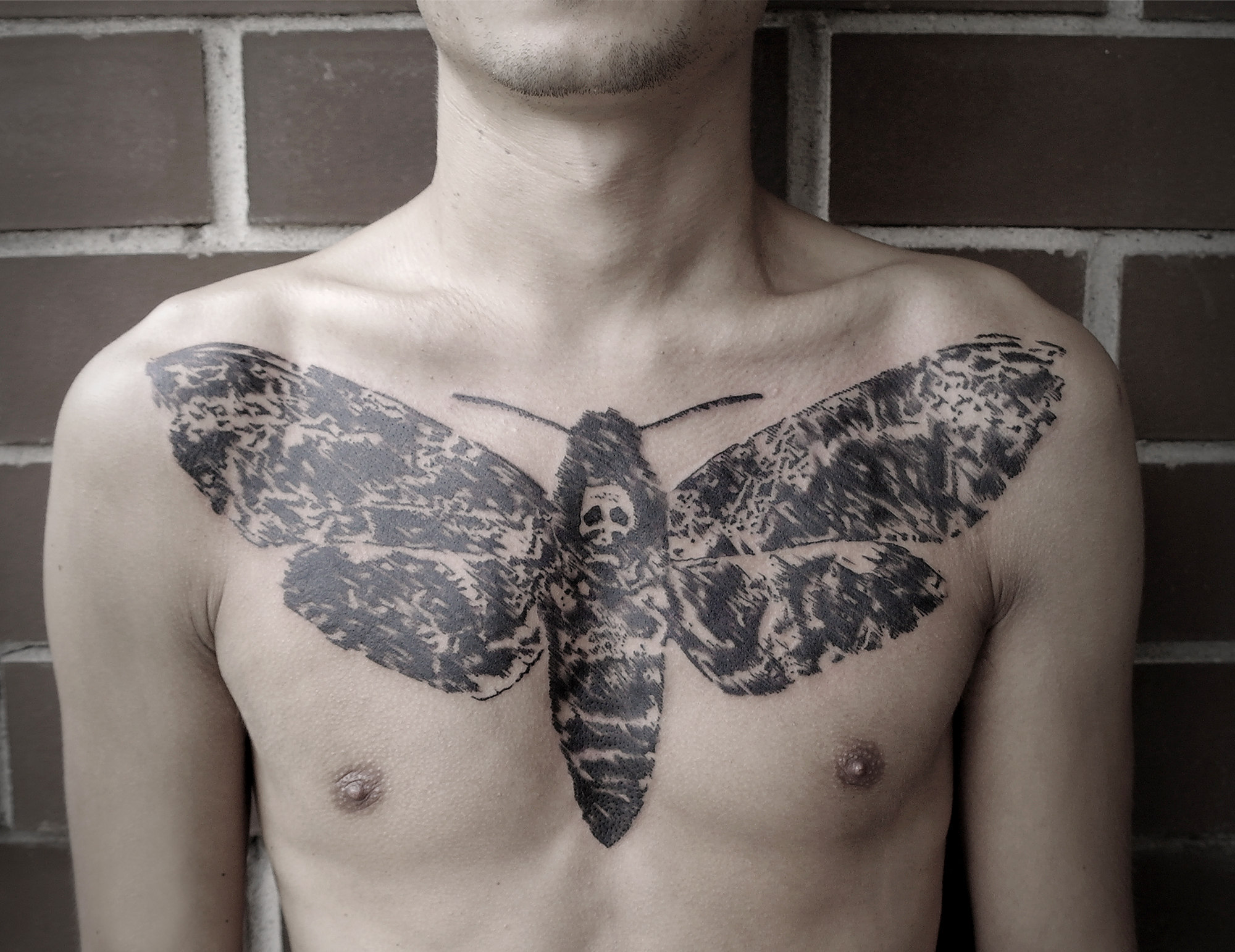 This year, Mike Amanita is working on a giant back piece for a client that combines ornamental with a touch of Art Nouveau.
Mike Amanita
Mike Amanita, aka Amanita Sacred Tattoo, has a portfolio that's full of ornamental and sacred geometry pieces that engulf the body in beautiful, complex flourishes. For this particular piece, he abandoned his usual style to create a death's-head hawkmoth that spans the width of his client's chest. Influenced by engravings and wood cuts, Amanita mimics wood grain with directional, splintered-looking marks. The result looks like less of a tattoo and more a stamp, meaning that Amanita has paid a proper homage to these non-mechanical techniques.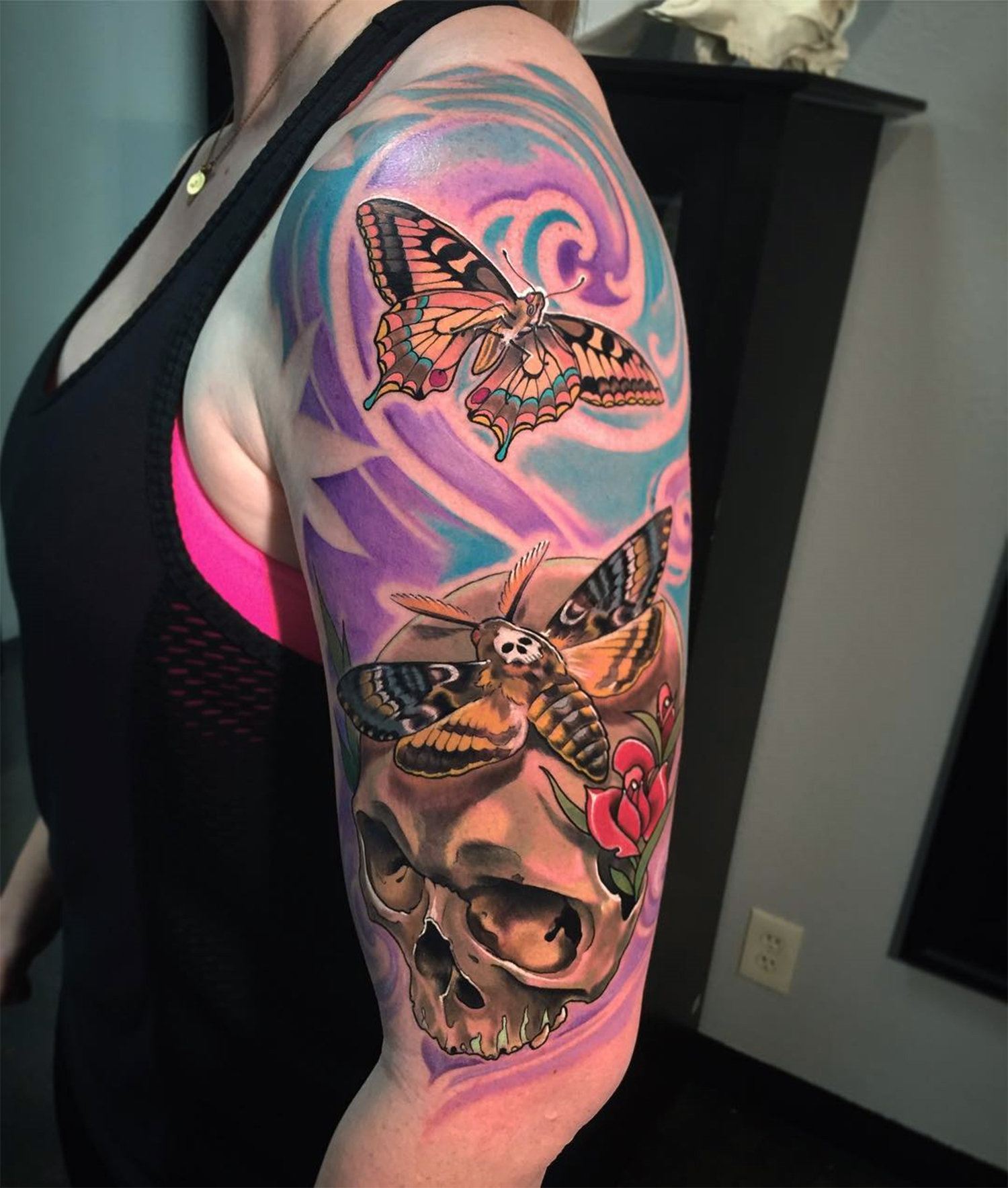 Specializing in Disney tattoos, there's a lot of characters from pop culture in Kevin Furness' portfolio.
Kevin Furness
Las Vegas-based tattoo artist Kevin Furness is, among other things, a Disneyland Annual Passport holder—meaning that he's a regularly visitor to the theme park. Influenced by the "happiest place on earth," Furness infuses color and playfulness into this tattoo, making it a more upbeat take on the Death's-head hawkmoth. It makes sense given his specialization. Residing at Seven Tattoo Studio, he specifically counts Disney and color as the styles that he works in, and he's the only artist at that shop that creates traditional pieces.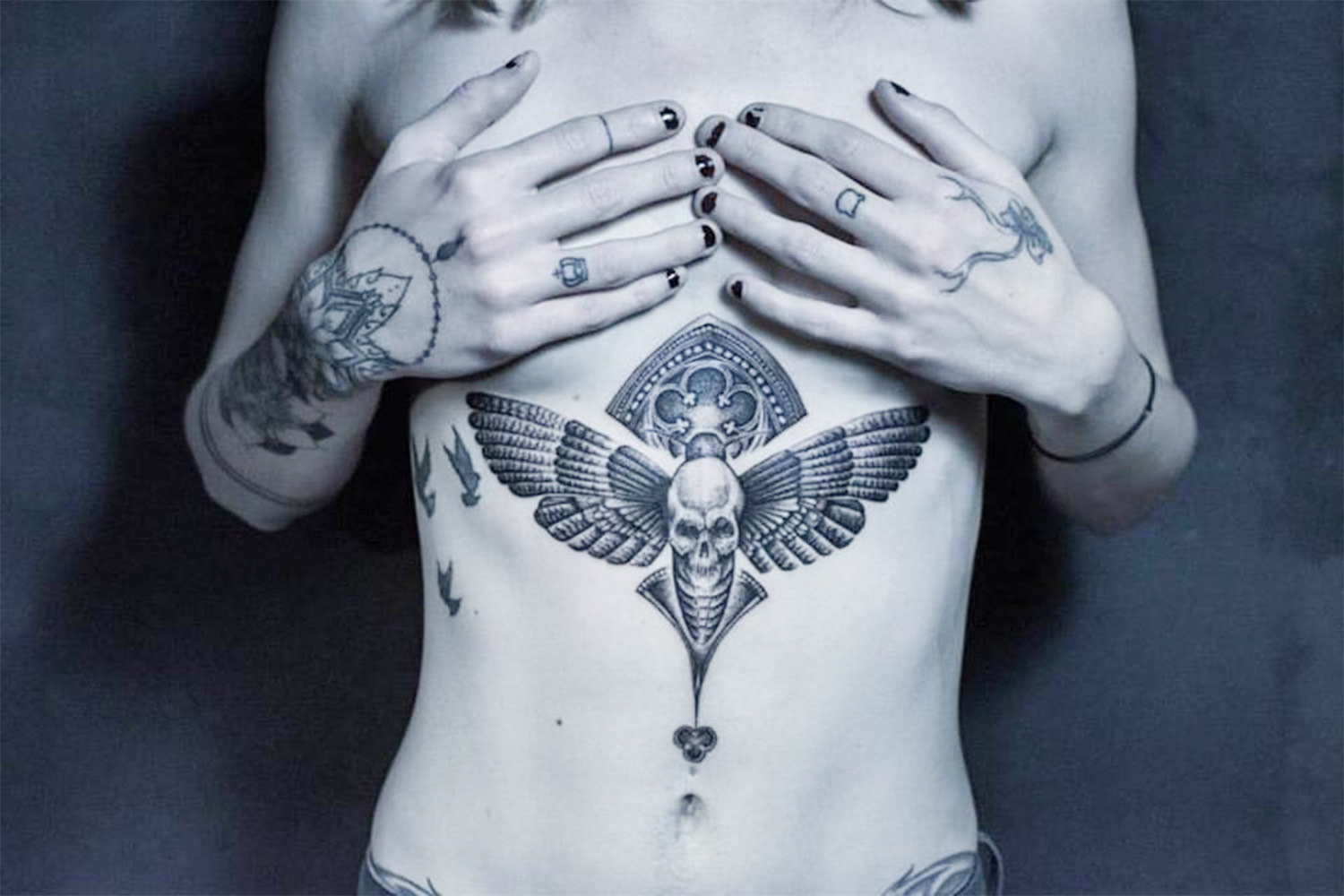 In addition to tattoos, Placide Avainta has a clothing band that reflects a fascination with dark imagery.
Placide Avantia
French tattooist Placide Avantia has incorporated the occult into her striking moth portrait, combining nature with dark secrecy. Here, the skull is an overwhelming presence; as it seemingly enters a cathedral window, it's a comment on the mystery that all religions hold. What do they know about this world? Avantia's tattoo doesn't give us any clues, but instead reminds us of the role that religion plays throughout life and the cusp of death.
Images © respective artists