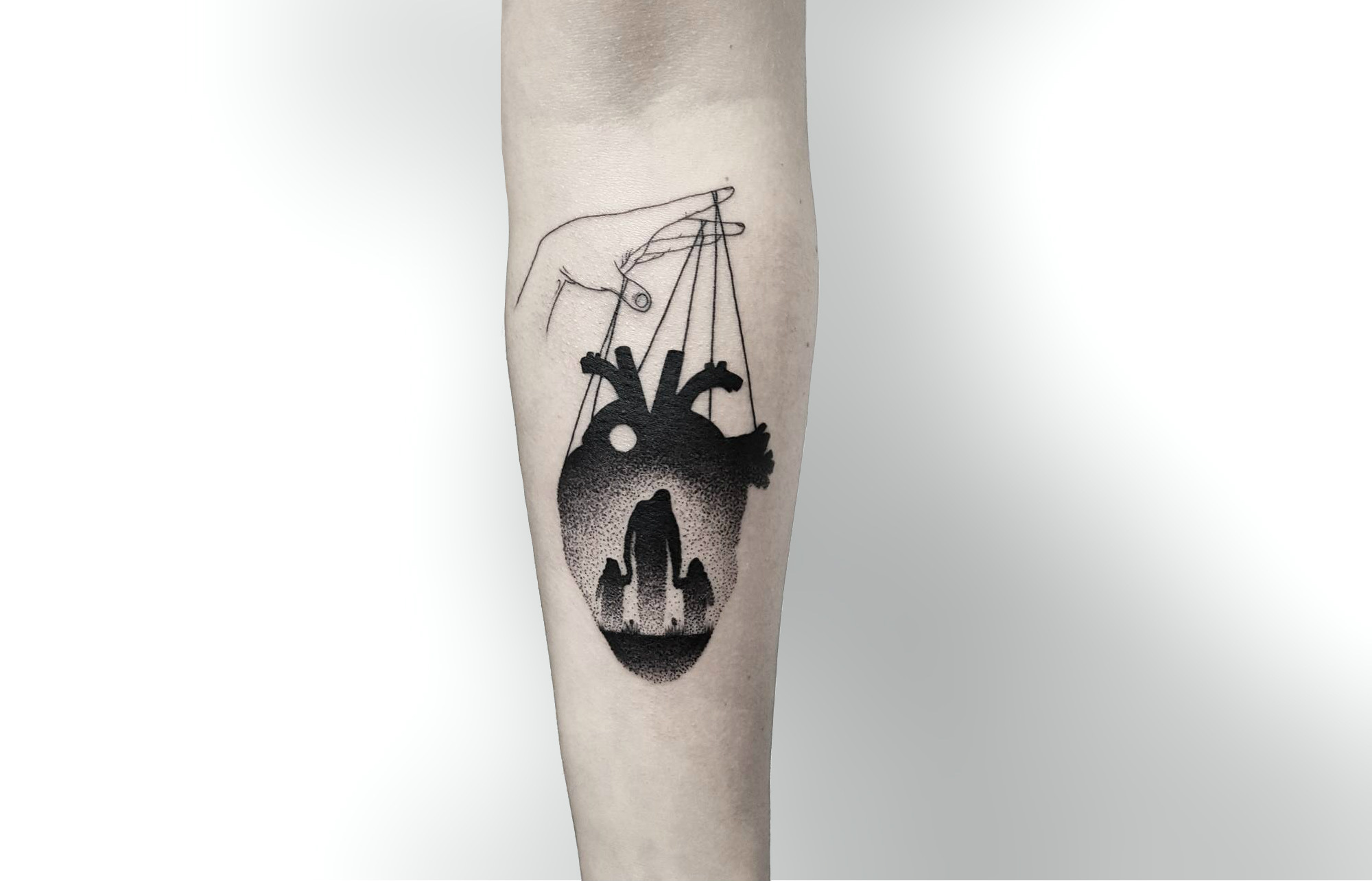 Every year, the tattoo talent pool grows infinitely more diverse. Every art style that has ever existed can be transferred to skin, and clients are more engaged than ever.
It's all about the niche, now. Instead of "what's in?", people are asking, "who am I?" Identity-driven tattoos are transcending the fad of the moment. It's a heartening evolution of consumer consciousness, and can only mean good things for the trade to come. Today, we take a look at a handful of artists in no particular order, all of whom add something interesting to the collective conversation.
Top: "Don't Forget To Love Your Family" by Matteo Nangeroni.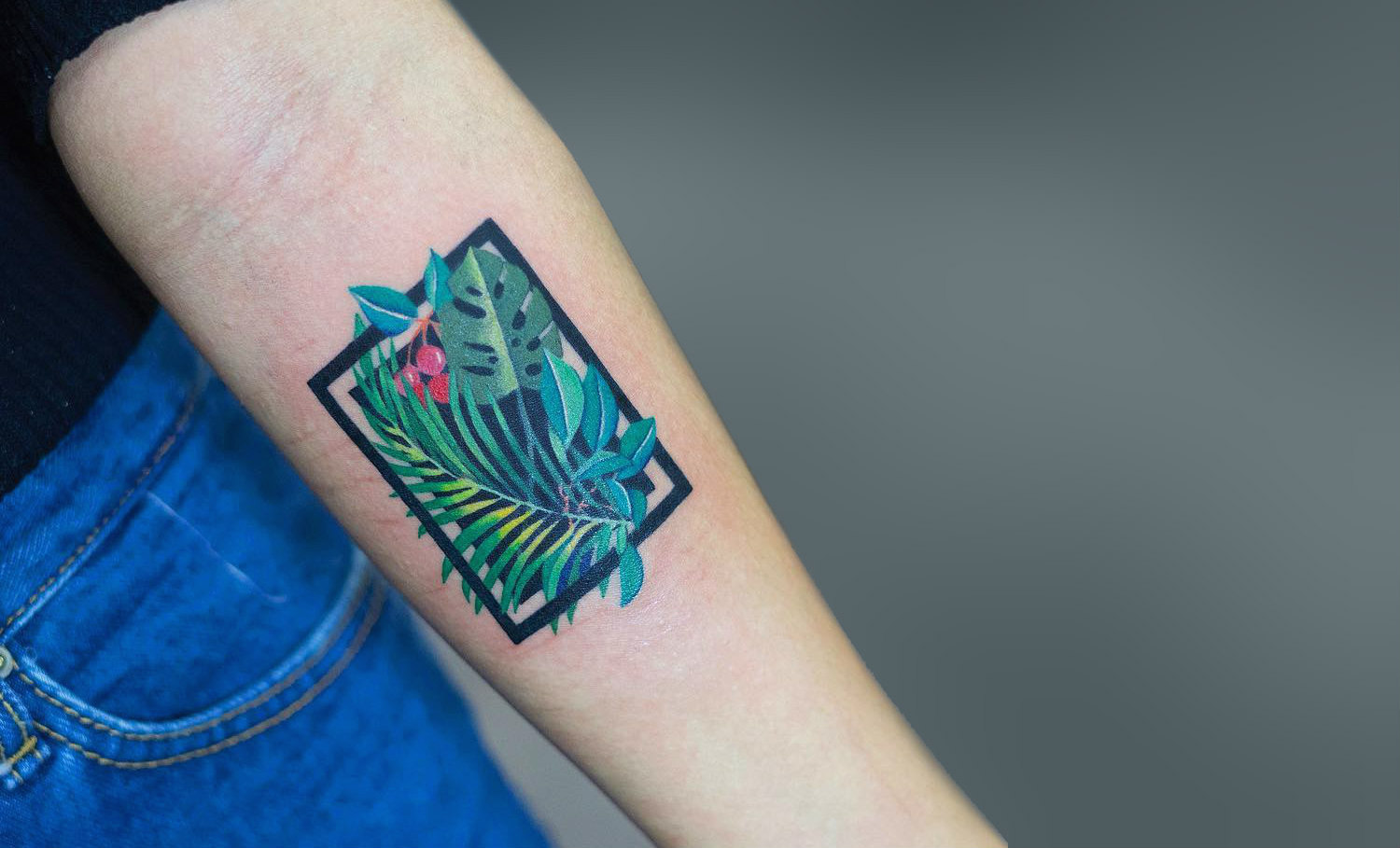 A window to tropical paradise by Zihee.
Zihee
Seoul's Zihee explores complex miniatures in painstaking detail. A vibrant palette is both her personal preference and a strategy to boost the tattoo's lifespan.
Miniatures are still experimental. All tattoos are constantly fading, and tightly packed lines can be the first to blur. Zihee uses high contrast colorwork to define boundaries, and stabilize the design as much as possible (considering there's no black outline nor breathing room on the body). Healed photos prove she studies the results, too. She posts unfiltered progress shots whenever possible, a commitment to transparency and her clients' happiness.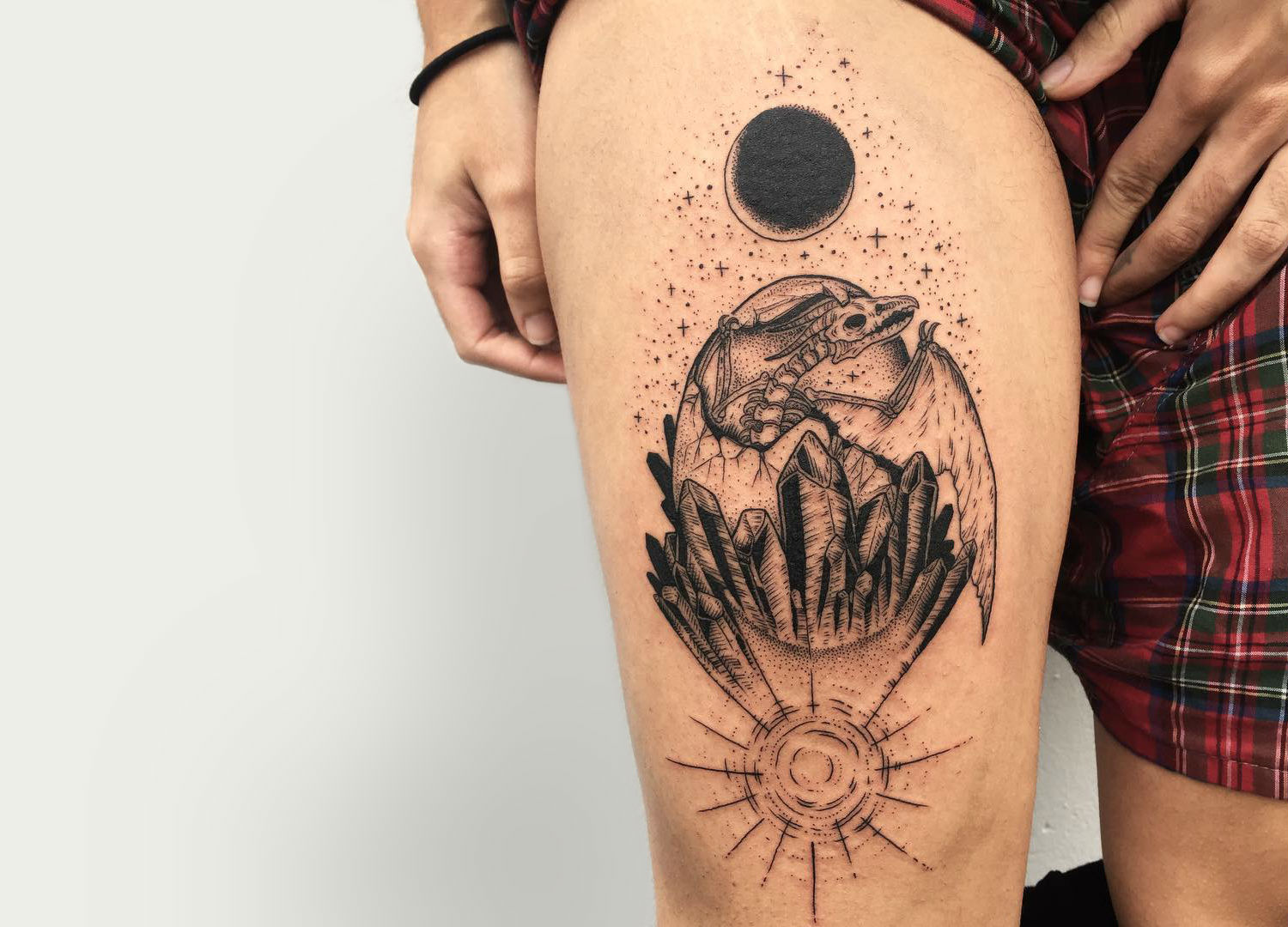 Solar powered crystals tattoo with a hatching dragon skeleton by Junko Osaki.
Junko Osaki
Portland's Junko Osaki is an "introverted conversationalist." They explain, "I have a lot to say, but am only inclined to share my thoughts when I know I'm being heard." It's one of many reasons you'll only find Osaki in queer-friendly studios with other mindful artists.
Manga and Japanese folklore influence their designs. Born and raised in Japan, Osaki was immersed in the culture during formative years. "When I moved to the U.S., it felt like almost all of that disappeared and was denied from me, as I was teased about my differences. I held back my natural draw to my own culture for many years, and am more recently re-discovering the missing pieces of my identity. That definitely carries through in my artwork!"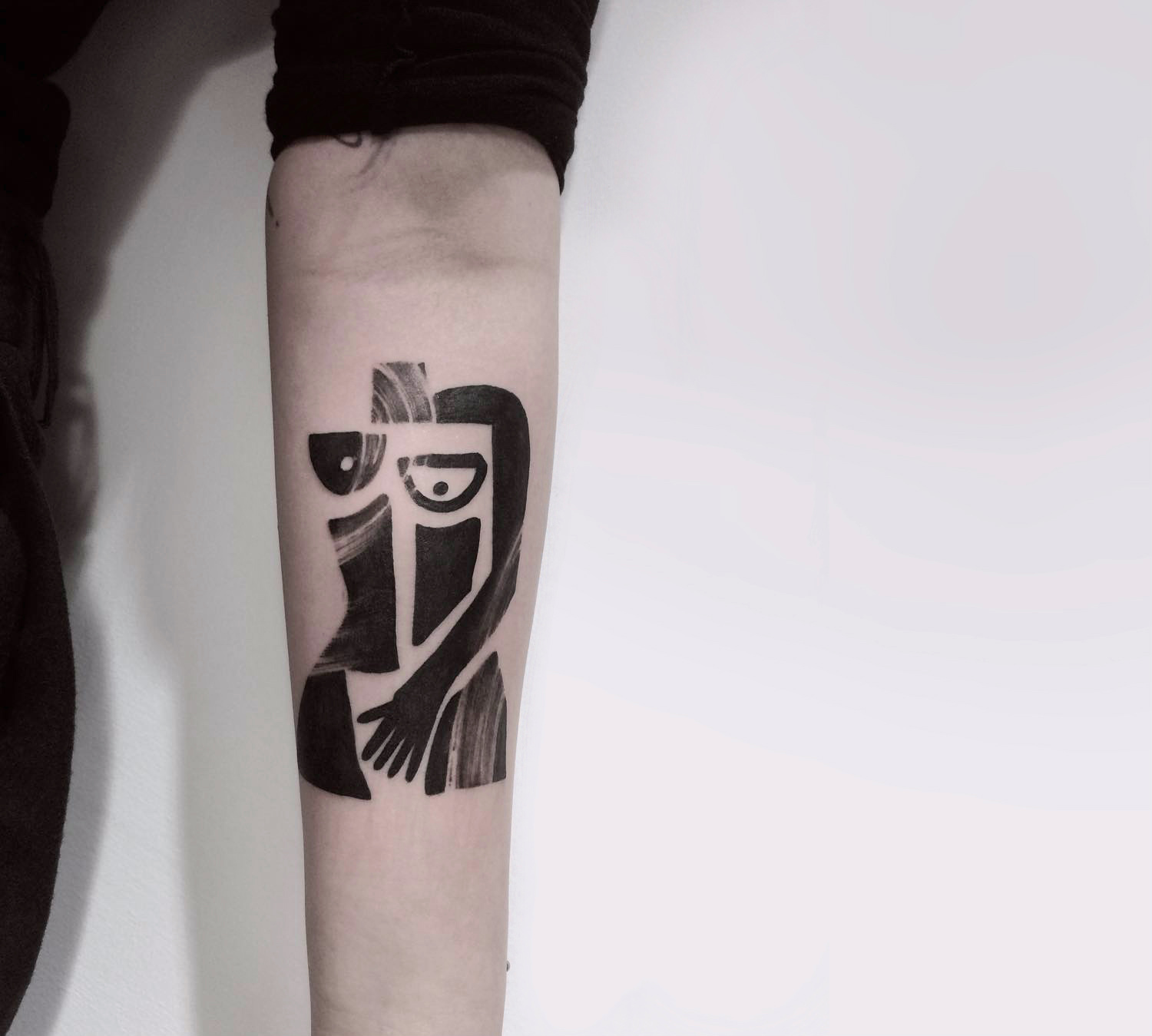 Cubist figure painting with black and grey textures by Viktor Gusev.
Viktor Gusev
Russia's Viktor Gusev tends "to practice a different approach every time" he paints. He may transfer ink to paper, use digital software, or just improvise directly onto skin. He considers freehand tattoos to "raise the 'less is more' concept to its purest, most powerful form. This method leaves no room for compositional mistakes, but at the same time praises the accidental elements" of the artist's hand.
"I confess that I mostly enjoy the overall contrast between clear skin and black-packed, heavy forms." Gusev is inspired by traditional Chinese paintings, aiming for his own brand of bold minimalism.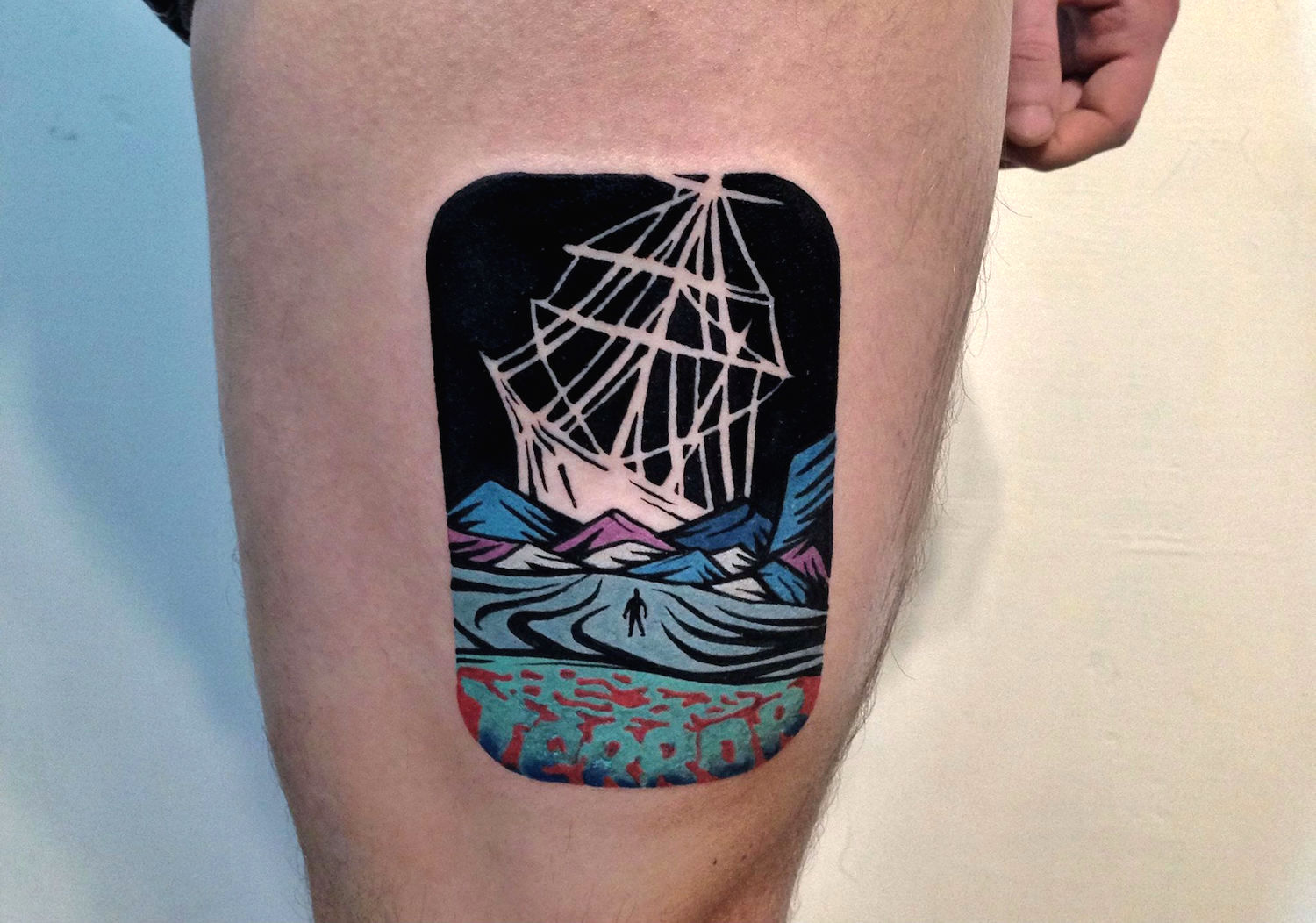 Linocut ship tattoo by Dusty Past, inspired by Dan Simmons' novel, "The Terror."
Dusty Past
Linocut-inspired artist Dusty Past started his career in a cacti greenhouse. Seeing the delicate conditions some plants need to survive, he grew fascinated by the natural world. It inspired him to take to the road, to explore every climate on Earth, and to dream of other planets that don't play by our rules. This curiosity is the backbone of his creative life.
"You shouldn't be surprised to see something strange," he admits. "I like to have one eye always looking at what's happening in some other place in the universe." And as for the neon color palette, he credits vintage comics for that. "Early issues of Metal Hurlant still have a huge influence on me and my art. I read a lot of sci-fi from the '60s-'70s with awesome and colorful illustrations."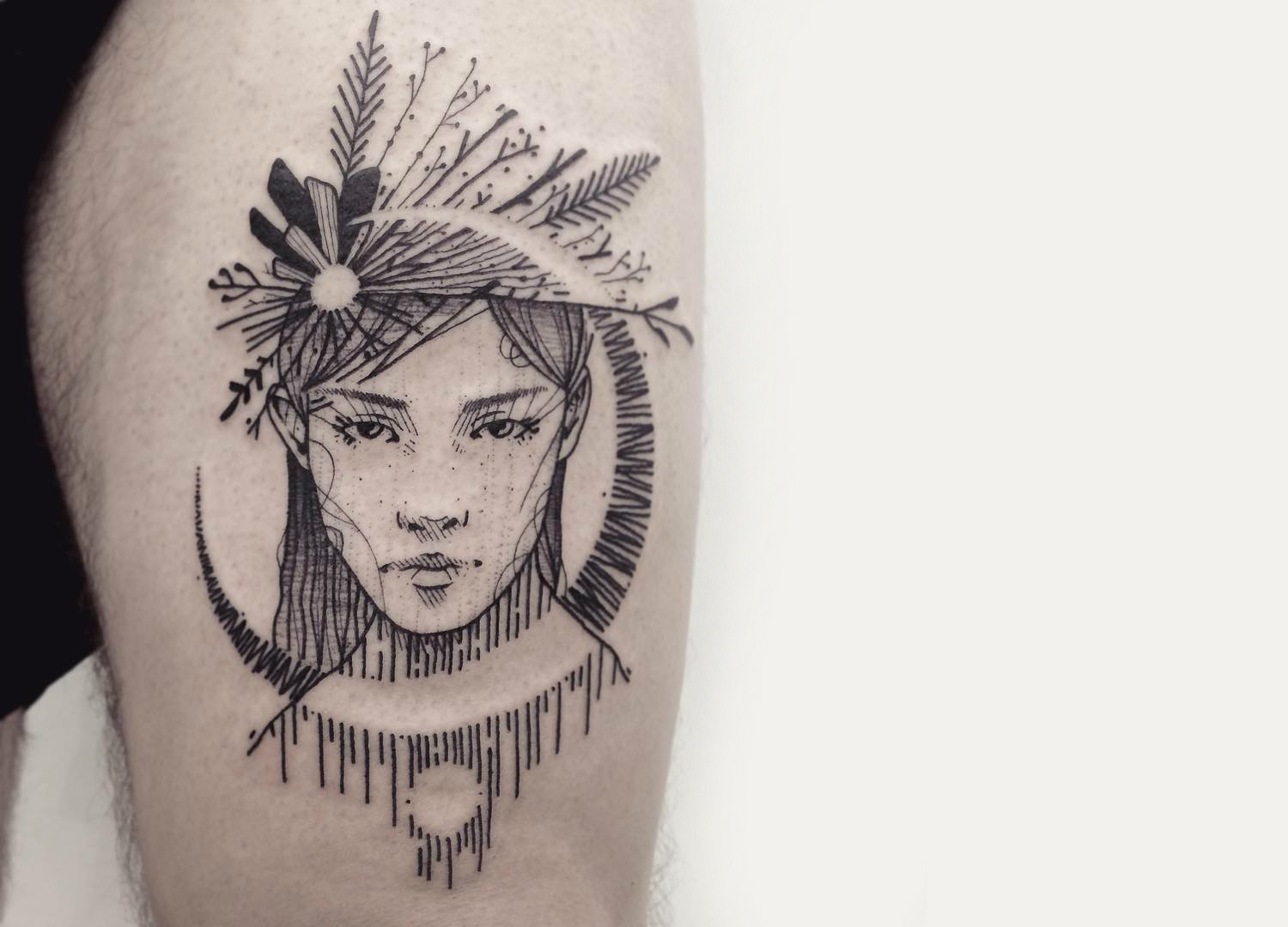 "The Woman and the Moon" by Guga Scharf.
Guga Scharf
Monochrome is never bland with Brazilian artist Guga Scharf. "The language of my tattoos is more interesting in black." He explains that each sketch is a choreographed dance of different textures and negative space. "I work with elements intuitively. I do not plan what I create. The intention is to always balance and build strong compositions."
Clients sometimes ask if he's a spiritual man. "I've been told that I transmit calmness," he laughs. "But I do not see it." He does attend a Kardecist Spiritism center, though, which offers an alternative to organized religion. "For me, that is a form of reflection, and a search for inner reformation. Maybe it comes out unconsciously in the art."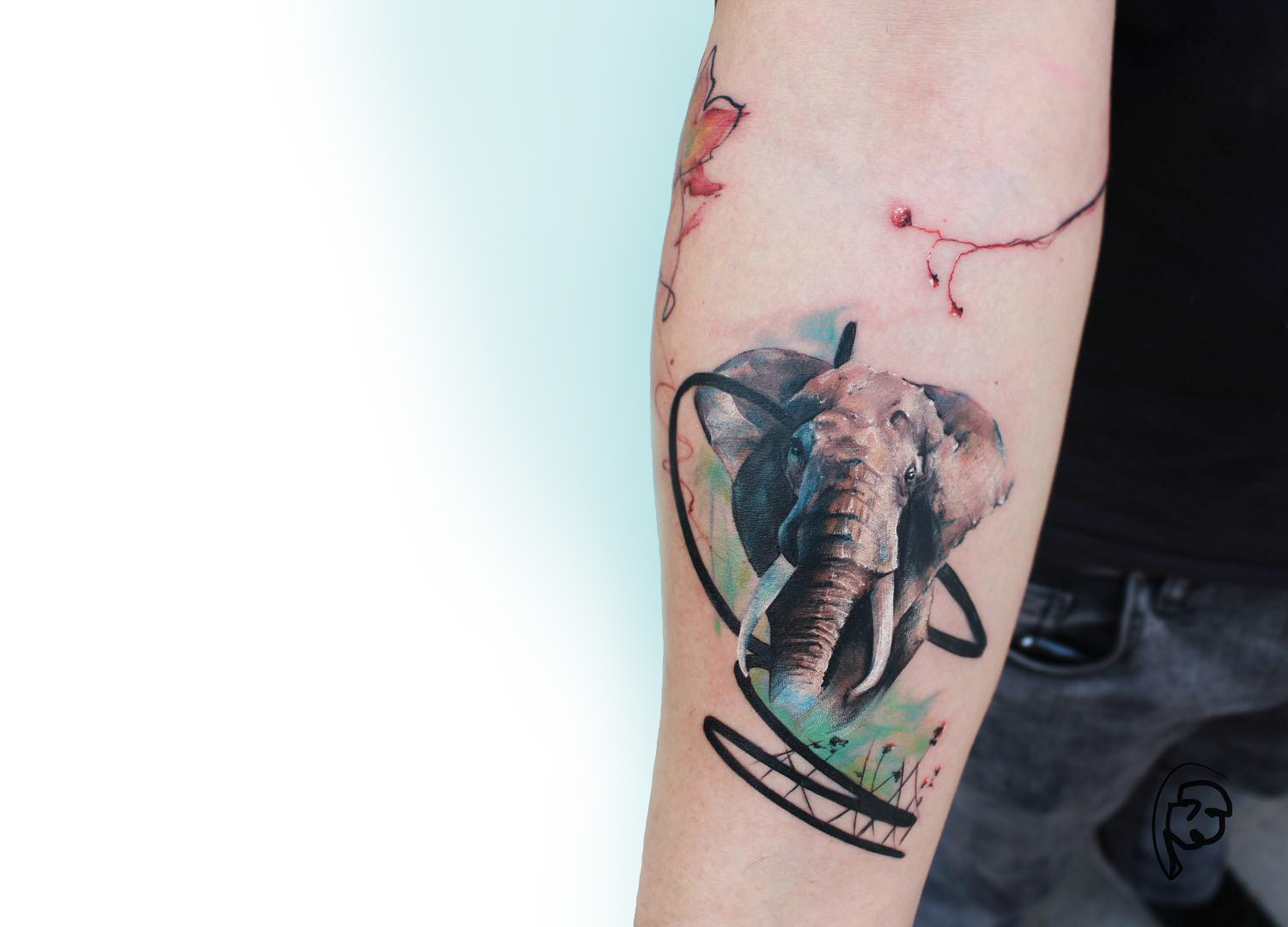 "On My Mind" by Tayfun Bezgin.
Tayfun Bezgin
Turkish Ebru art inspires the linework of Tayfun Bezgin. Ebru, a method of painting atop the surface of oily water, creates unique marbling patterns. The organic swirls, the variations of weight and balance all influence his tattoos. From there, he continues to build.
"I separate my styles with different seasons," Bezgin explains. "Art Nouveau and [Austrian] Secessionism influenced season one. I imagined myself living in the periods affected by those movements, and tried to express what I saw." Season two will focus on minimalism. The goal is to "transform conceptual themes into simple lines," to edit details without sacrificing depth of emotion.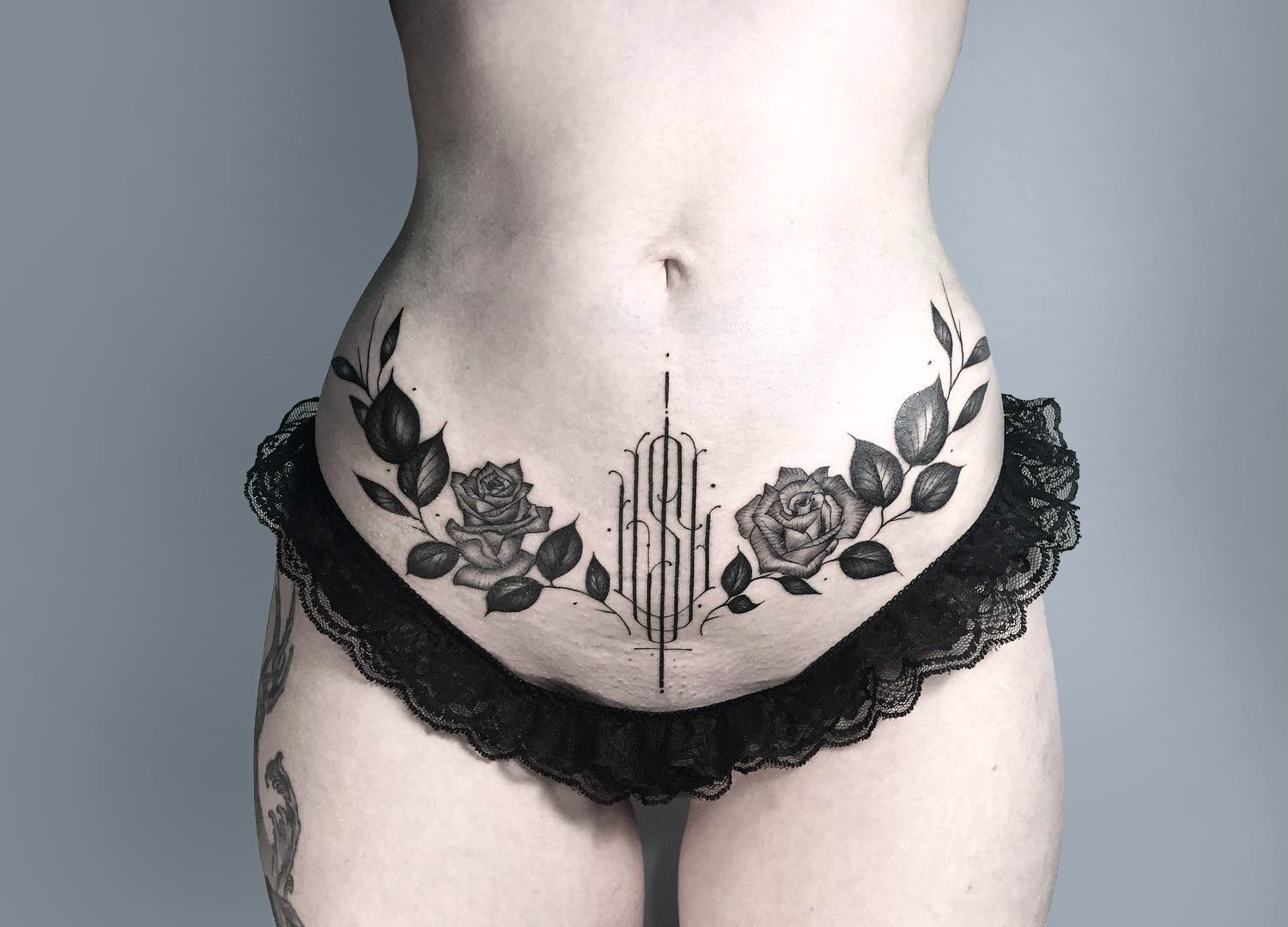 "LUST" custom typography design by Leo Gavaggio.
Leo Gavaggio
Parisian tattooer and typography specialist Walter "Leo Gavaggio" designs custom monograms. Every emblem is a coded message, using clever overlays to disguise lettering from the untrained eye.
Gavaggio took on more challenging projects last year, mastering finer linework, and adding botanical details. Recent sketches give us a sneak peak to his future plans. Erotic figures in optical patterns suggest an Art-Nouveau-meets-M.C.-Escher vibe for 2017. Regardless of where he moves next, it's bound to be compelling and always precise.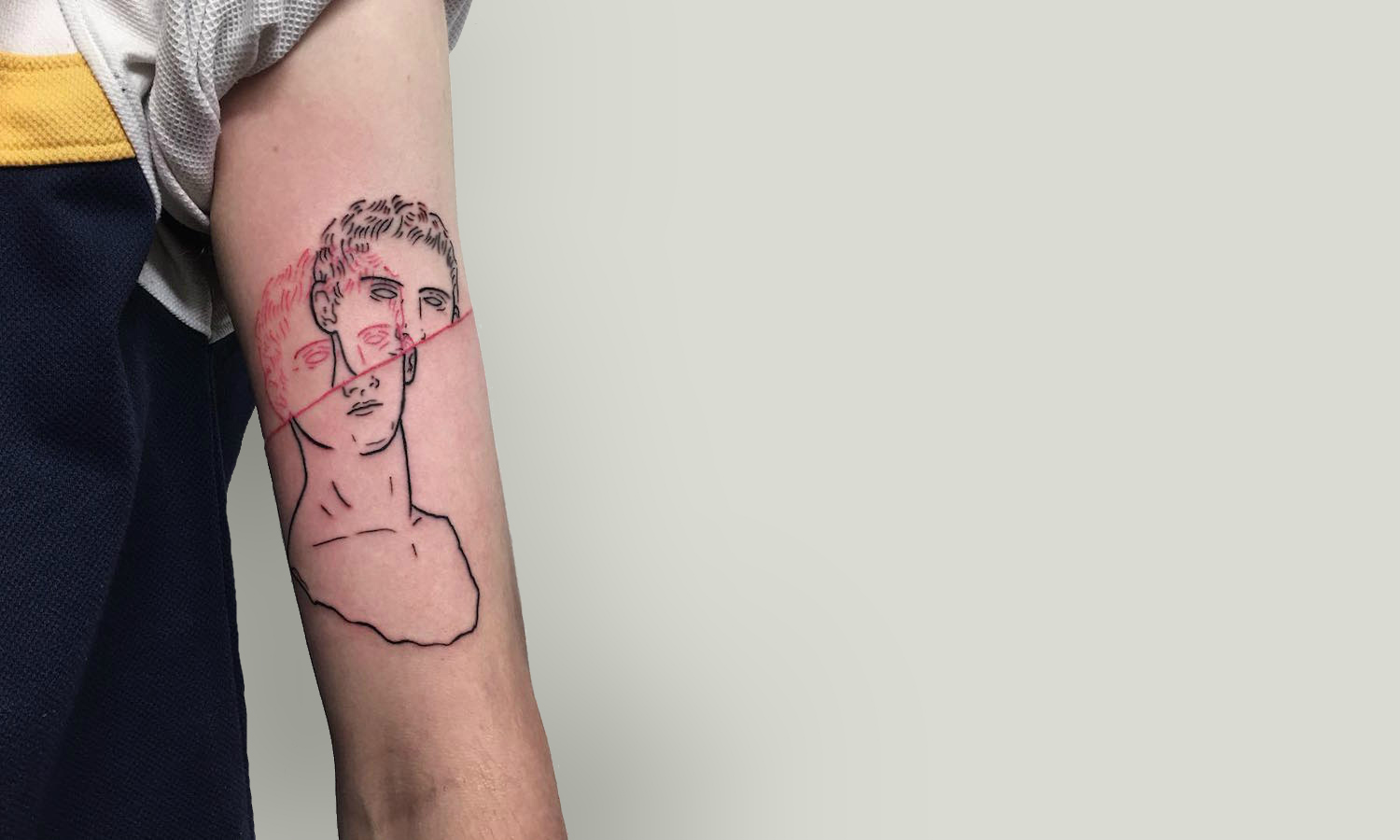 Distorted Greco-Roman bust tattoo by Disinhibition.
Disinhibition
Melbourne-based illustrator Disinhibition confronts the status quo with #ignorantstyle. This crude aesthetic "reflects the shift in tattooing away from traditional values and old school thought," he says. "As a social movement, it fascinates me. Simplistic as the style is, it speaks volumes for the wearer, especially considering the rigid expectations and judgments that society places on our bodies."
Mocking western beauty ideals is a form of civil protest for this loud-and-proud queer artist. Harmony and perfection, the core standards of Greco-Roman Classicism, are challenged by his statue series. Disinhibition's sculptures glitch and crumble, imperfect by design. Each new piece expresses, "I am not the traditional identity. I reject these social norms."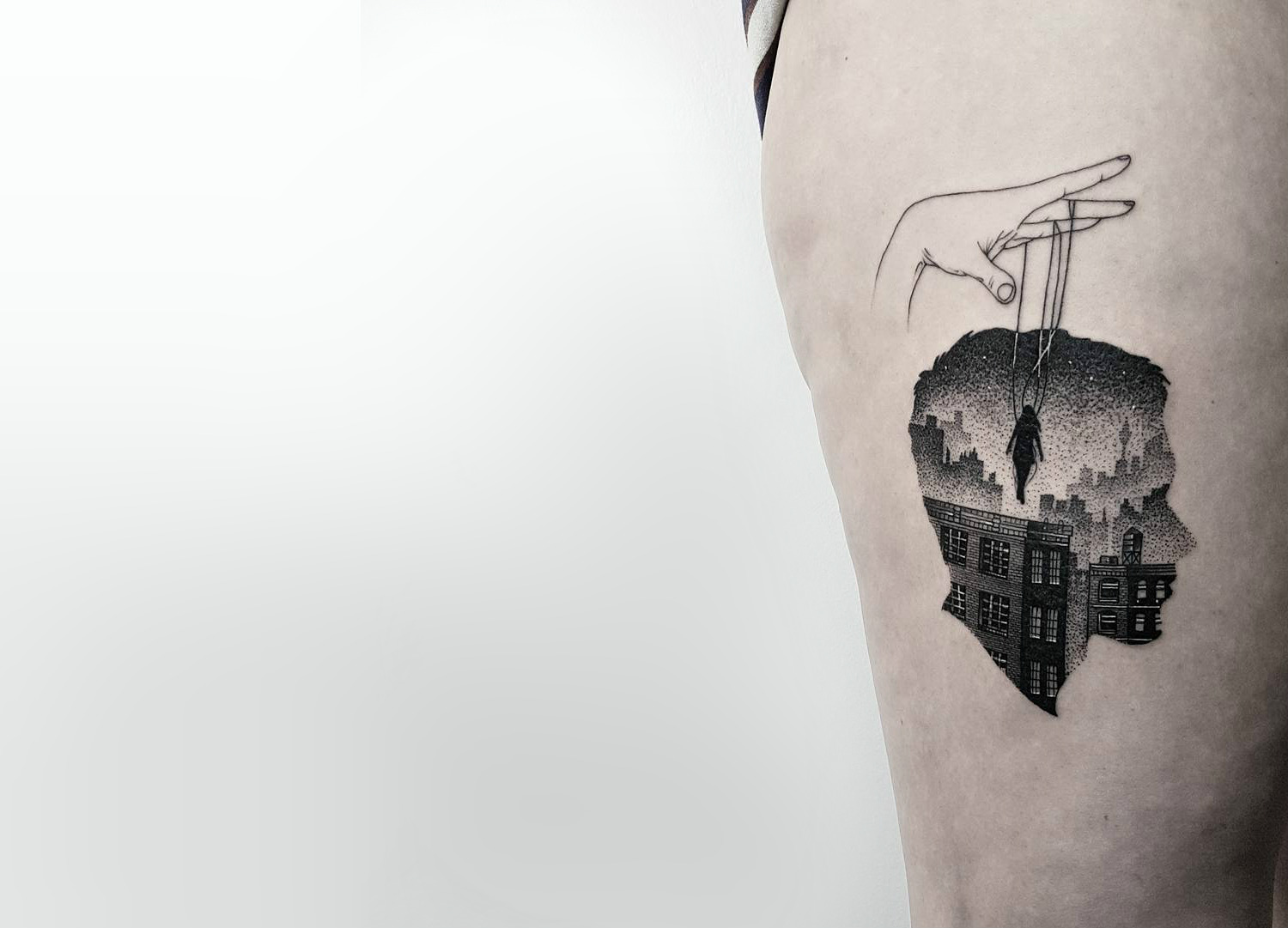 "Take Me Out From Routine" by Matteo Nangeroni.
Matteo Nangeroni
Self-taught from YouTube, Matteo Nangeroni originally went to school for accounting, not artwork. "It was February, 2014," he remembers, "a strange month for me, because I left work for my dream." The first tattoos were on his thigh, then on friends, until a studio accepted him.
Nangeroni's training was built through humble persistence and hard work. "I got a piece from Marco Galdo and asked him questions about dotwork. I tried and tried and tried, making dots all day and night." First sacred geometry, then surrealism and solid blackwork. "I'm not linked to traditional ways of working; mixing styles is what I love to do," he adds. "Tattoo, for me, is freedom. And when someone gives me a piece of their skin, it is always an honor."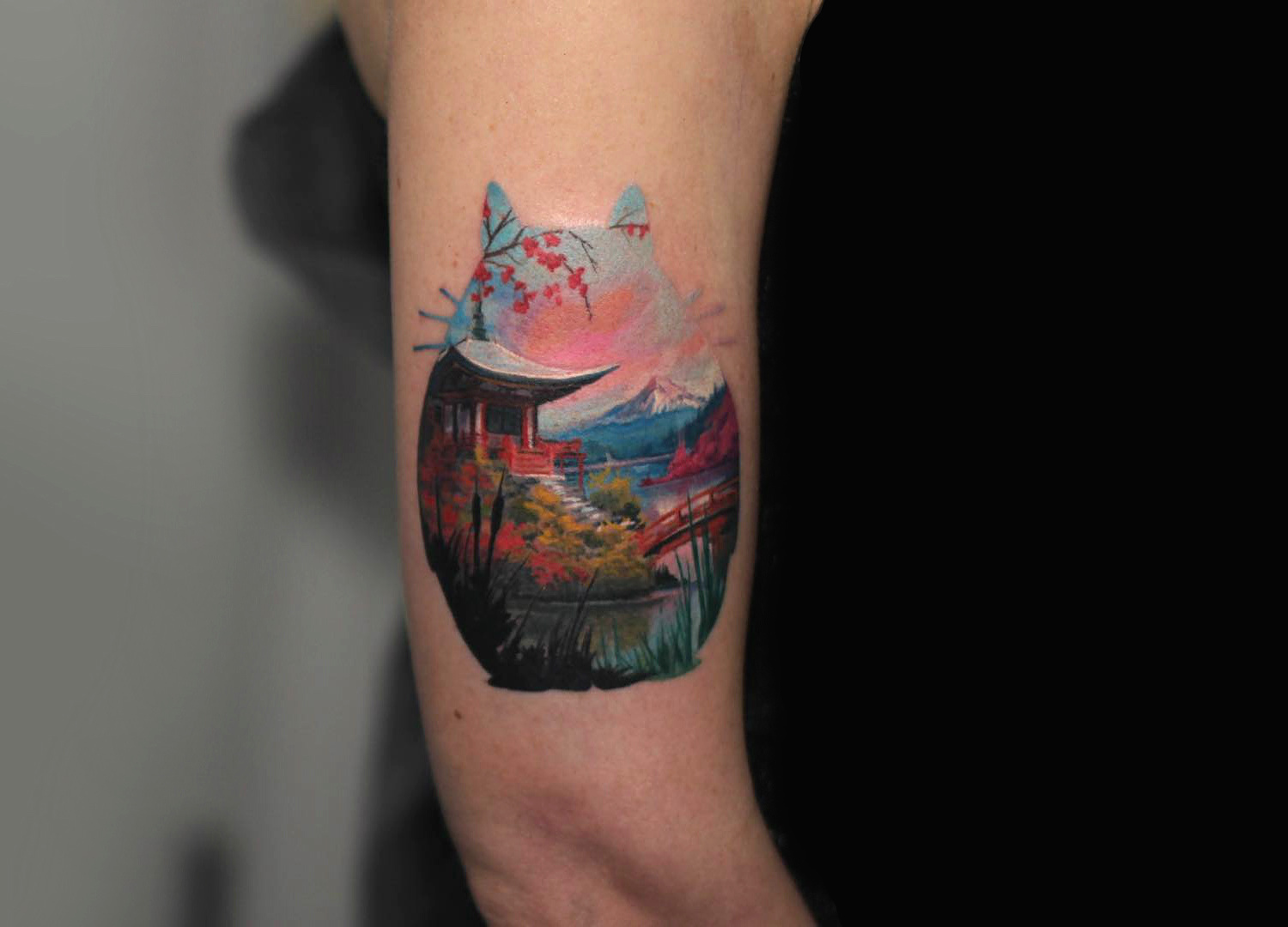 Japanese landscape within Totoro silhouette by Royal Jafarov.
Royal Jafarov
New York's Royal Jafarov keeps a low profile in a private studio, focused on perfection over self-promotion. After mastering realistic tattoos for a decade, he's eager to try new things this year.
"I've been doing abstract works recently and really enjoy it." He describes the freedom that comes from a creative change of pace. "It's the opposite of the detailed realism I do every day, so it gives me a chance to loosen up." New York's diverse clientele bring fresh ideas, too, from optical illusions to conceptual paintings. "I like to work with clients who are open minded, and see it as a collaborative process," always exploring new territory together.
Photos © respective artists.