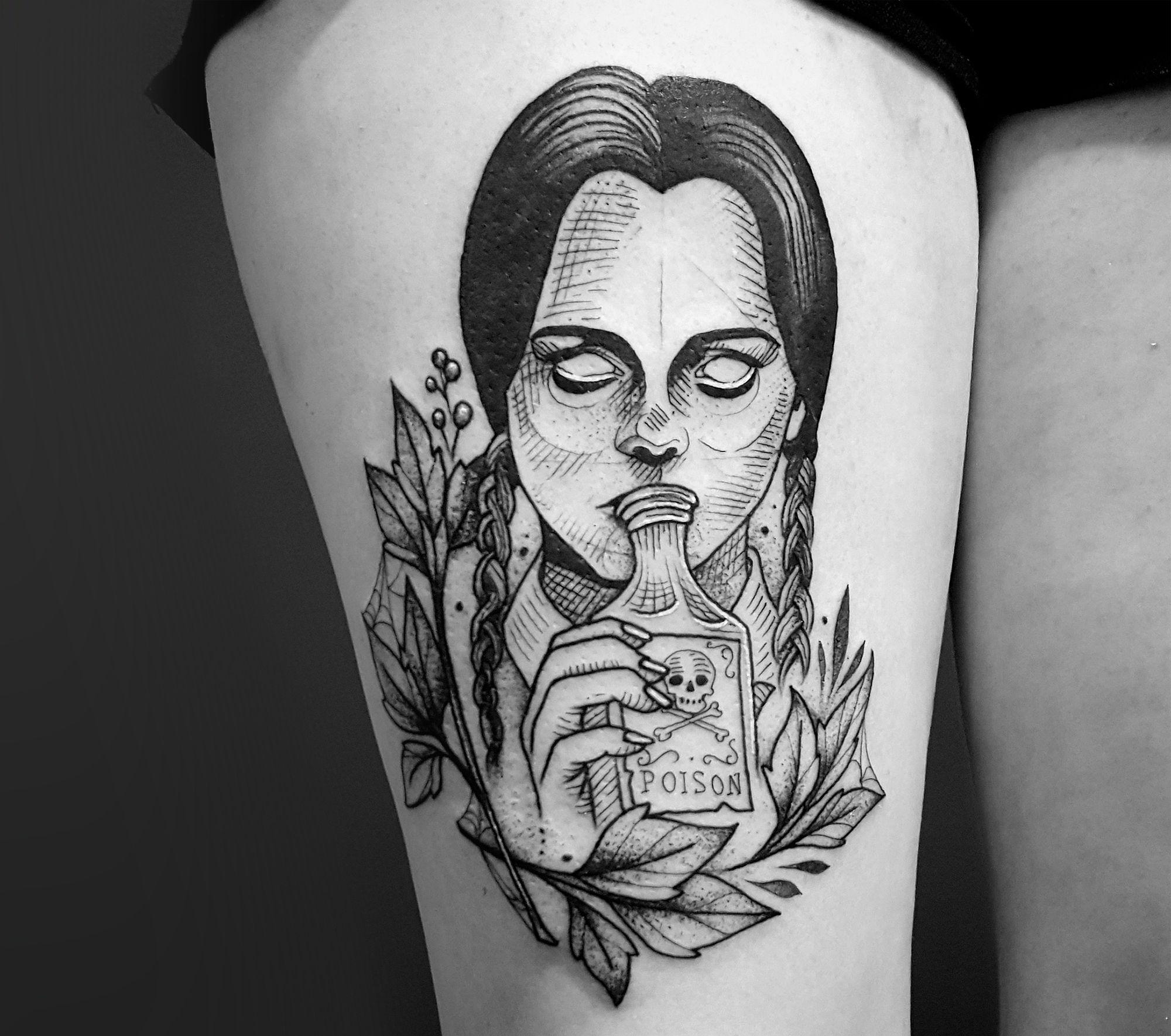 Portraits come to life in the tattoos of Cutty Bage, an artist working from Speakeasy Tattoo Co. in Boone, North Carolina. Inspired by horror and mystery, she uses her skill to add new dimensions to peculiar characters from comics, film, and literature, such as Wednesday Addams, Agent Cooper, and Edgar Allen Poe.
Cutty Bage began tattooing at age 23 after teaching herself to draw and finishing an apprenticeship. Her style is practiced and highly original, bringing drawing techniques into the tattoo medium. Complete with dotwork, cross-hatching, and dramatic shading, her works resemble sketches from a comic book, infused with her own imagination. Unlike most blackwork and greyscale tattoos, Bage adds white highlights that give the portraits an extra shine.
While she's still relatively new to the tattoo industry, Bage is quickly making her mark as a talented artist. We were able to contact her and ask some questions about her style and experience as an artist.
Top: Bage captures Wednesday Addams' fearless attitude perfectly.
Can you hear the beating of the Tell-Tale Heart?
I'm assuming you are using an artistic name. How did "Cutty Bage" come about?
Bage is my real last name, and Cutty is just a long time nickname that's stuck with me over the years.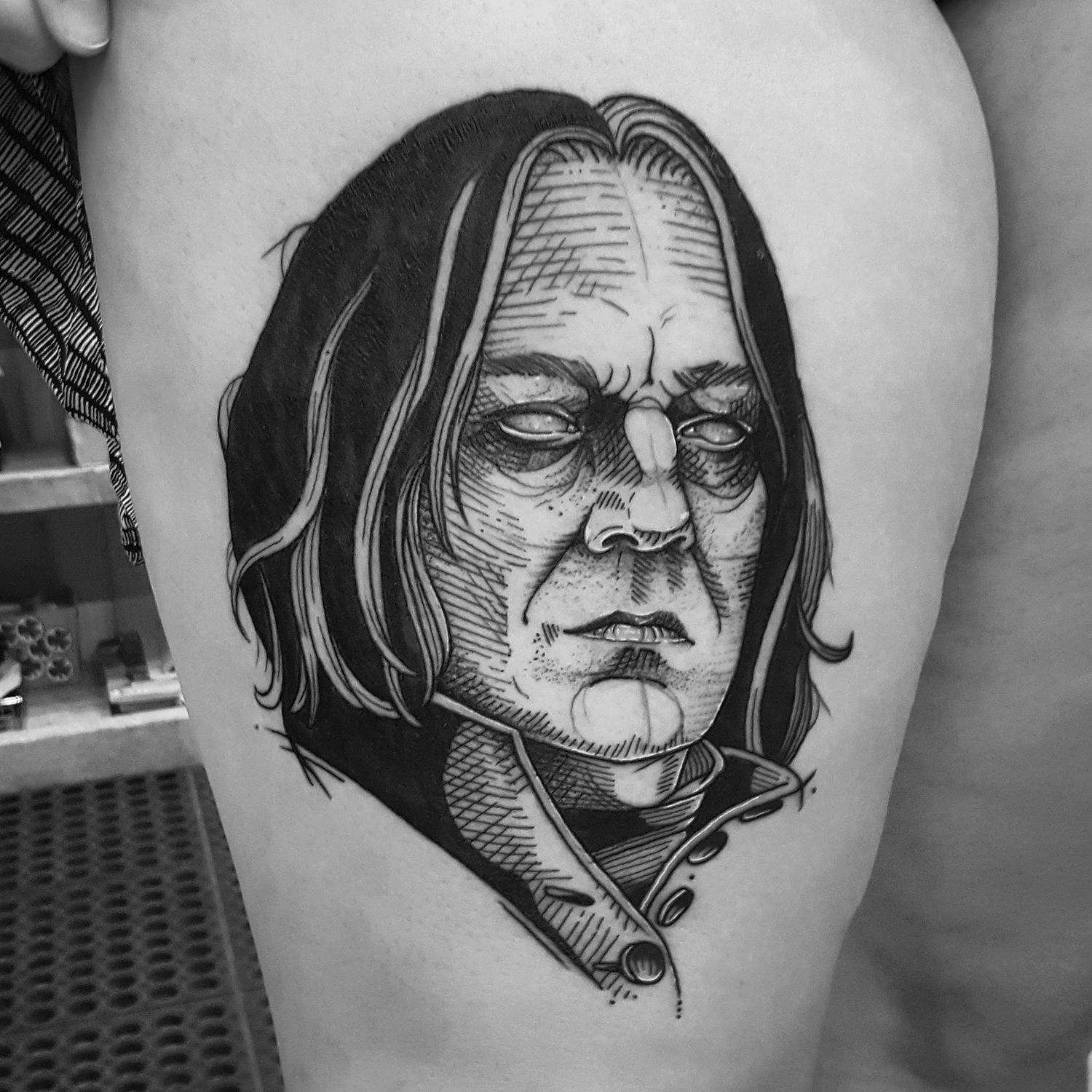 Harry Potter fans will recognize this familiar face.
How long have you been tattooing?
I did my first tattoo (on myself) during my apprenticeship in 2011, I took a two year hiatus from tattooing to focus on illustration and then got back to tattooing around 2014, so I've probably been tattooing around 4–5 years total.
It's bat country, all right.
With reference to your black and white portrait tattoos, what inspired this art style/technique? (E.g., comics, etching … )
I'm a huge comic art fan, I think I pretty much learned how to draw by studying Jack Kirby. I also started out in art doing illustrations for t-shirts, so everything had to be screen-print ready, stark black line work with no real smooth shading.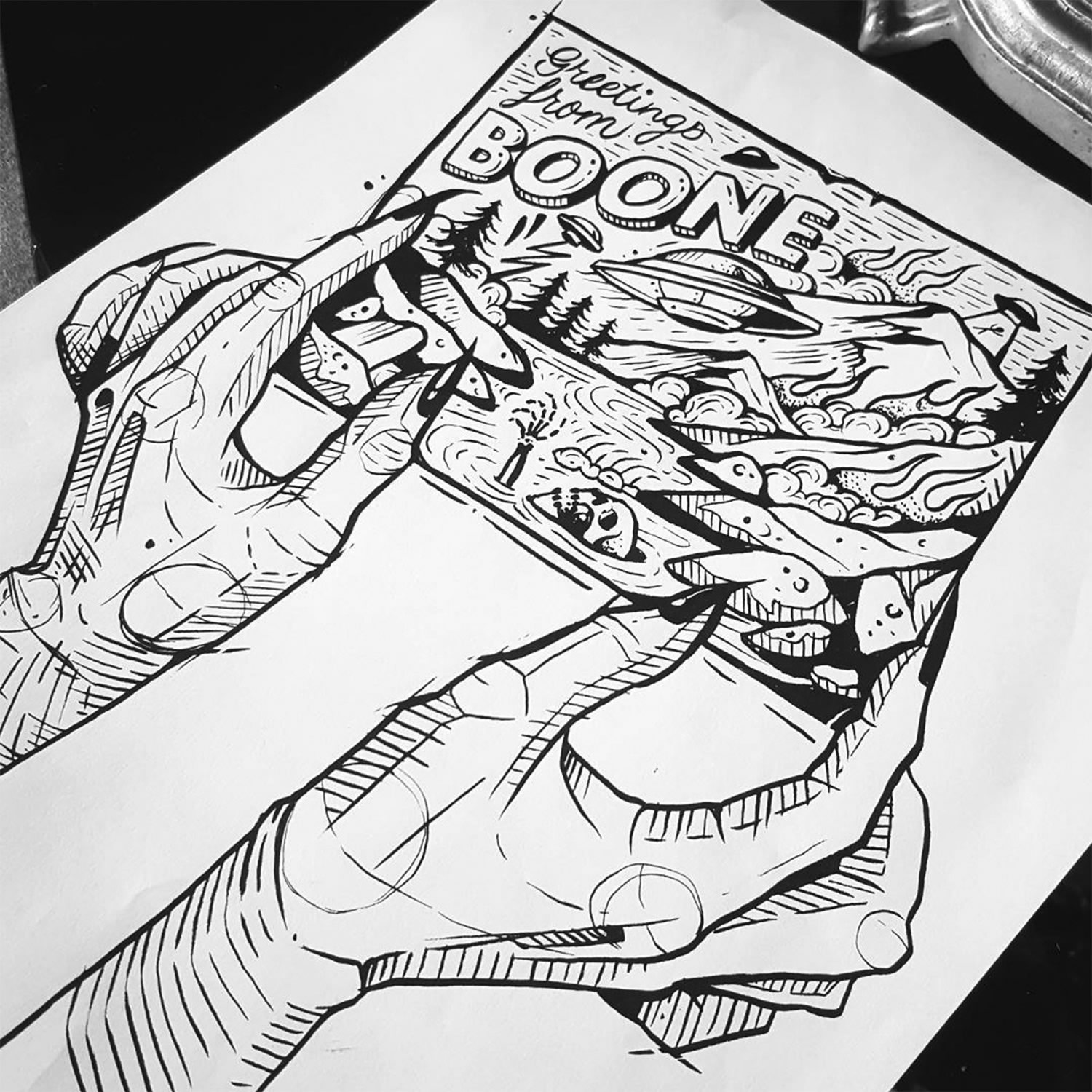 Whether it's on on skin or paper, Bage's creepy-comic-book aesthetic is a delight to look at.
A lot of your tattoos have a dark edge to them. What attracts you to dark art?
I love horror stories and mysteries. I guess, to me, there's a lot more mystery in the dark than in the light, you feel things much more deeply when you don't know what's around the corner or what's happening under the surface. That's part of the reason I like tattooing animals and people, because you always wonder what they're thinking, where they've been. I guess that darkness helps imply that there's more to the story than just what you're seeing.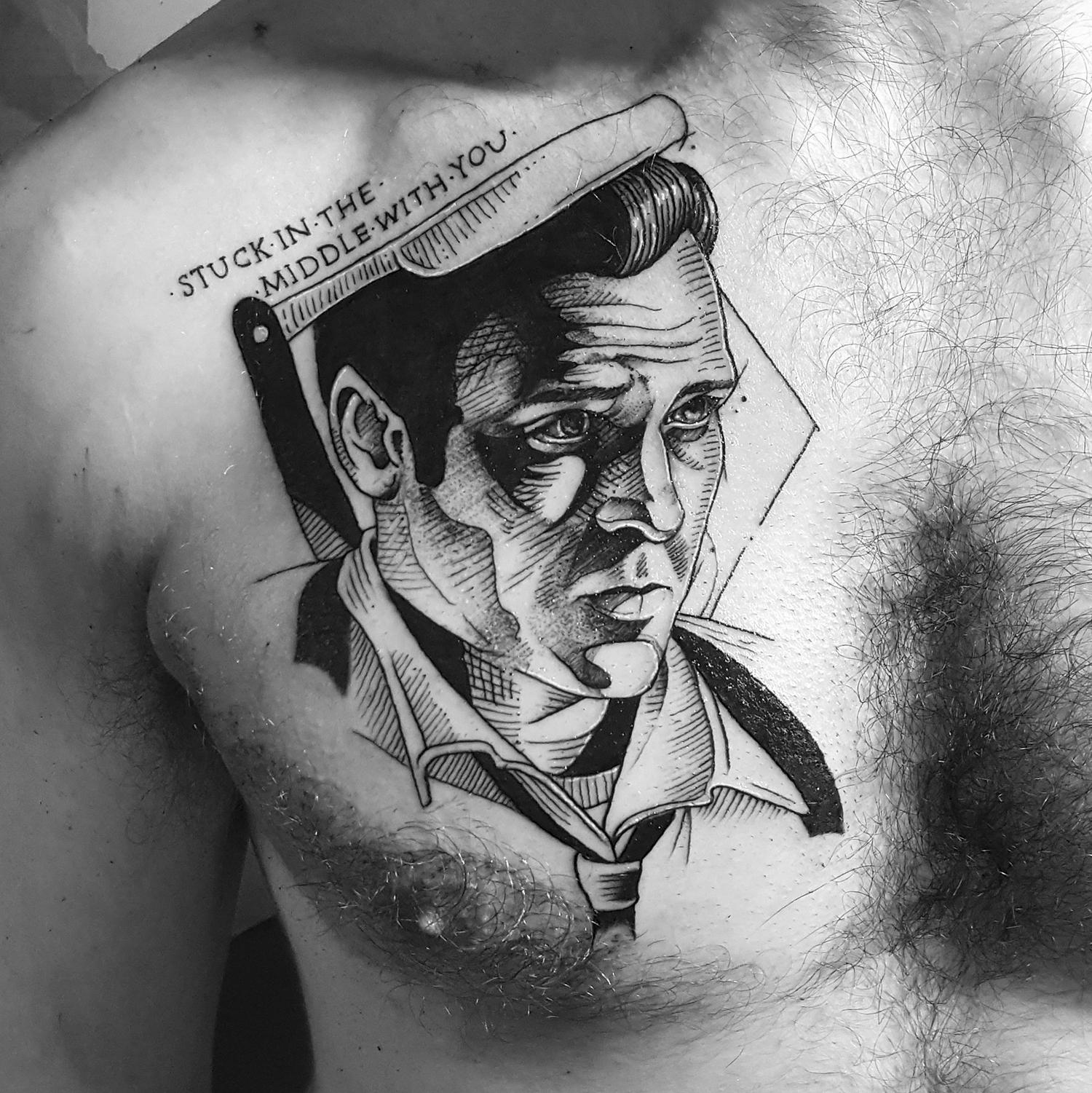 You don't want to get in-between Mr. Blonde and a straight razor.
As an illustrator, are you self-taught or have an academic background?
I tried college a few times (I wanted to be a psychologist, or a game developer, or an astronaut), but I just didn't have the attention span for school. I started drawing when I was 23, kind of just as a personal challenge to see if I could, and I fell in love with it. I always figured art was in your genes, you either have it or you don't, but after practicing for a few months and seeing improvement, I realized it was just like learning anything else. If you have the patience and dedication to work towards it, you can figure it out.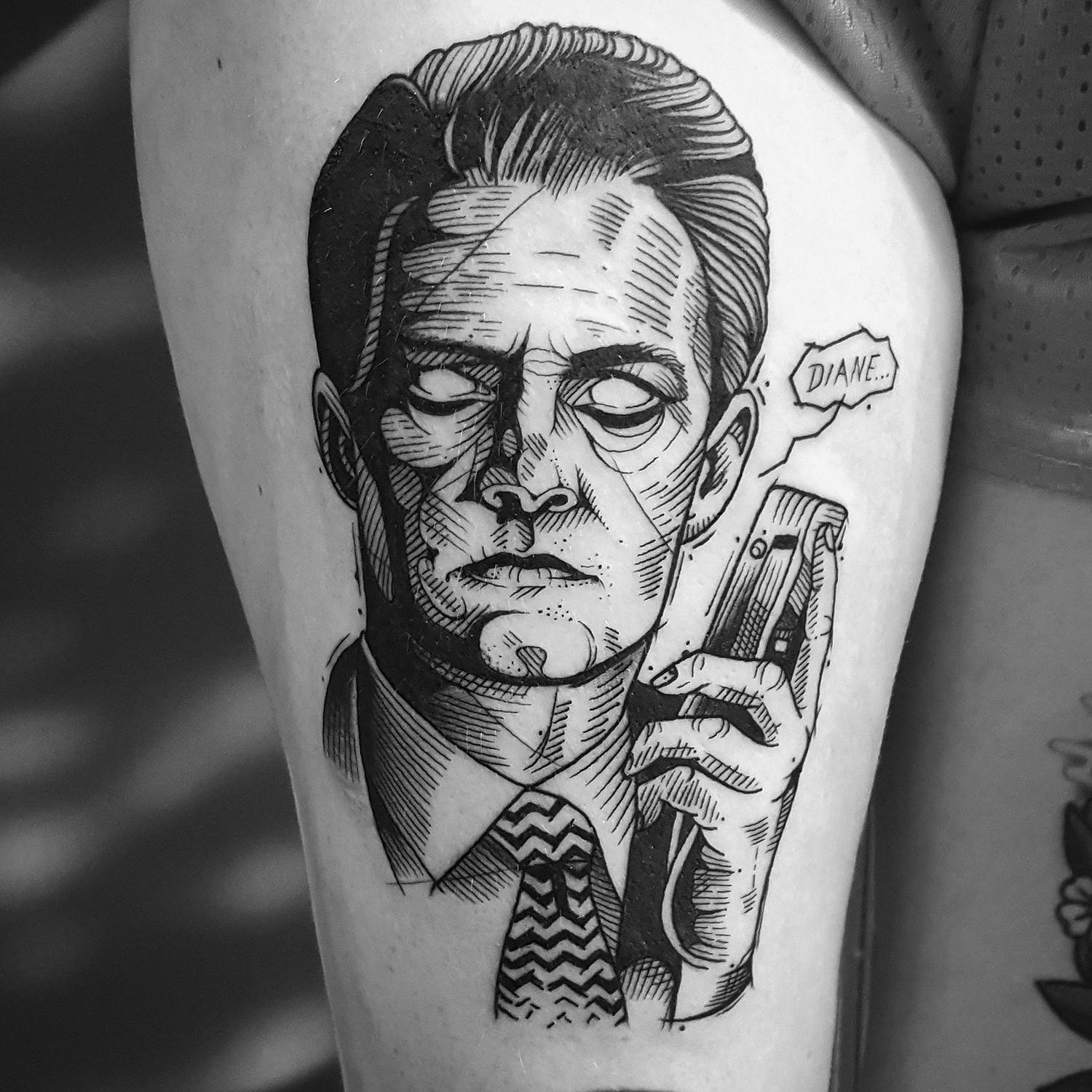 Agent Cooper is ready to solve this grisly crime.
Which tattoo do you consider your best from 2016?
This Agent Cooper is pretty near and dear to my heart. It was the first portrait I did in this style, and helped me realize that I could translate my illustration style over to tattooing and people would still dig it!
Follow the artist on Instagram.
Images © Cutty Badge