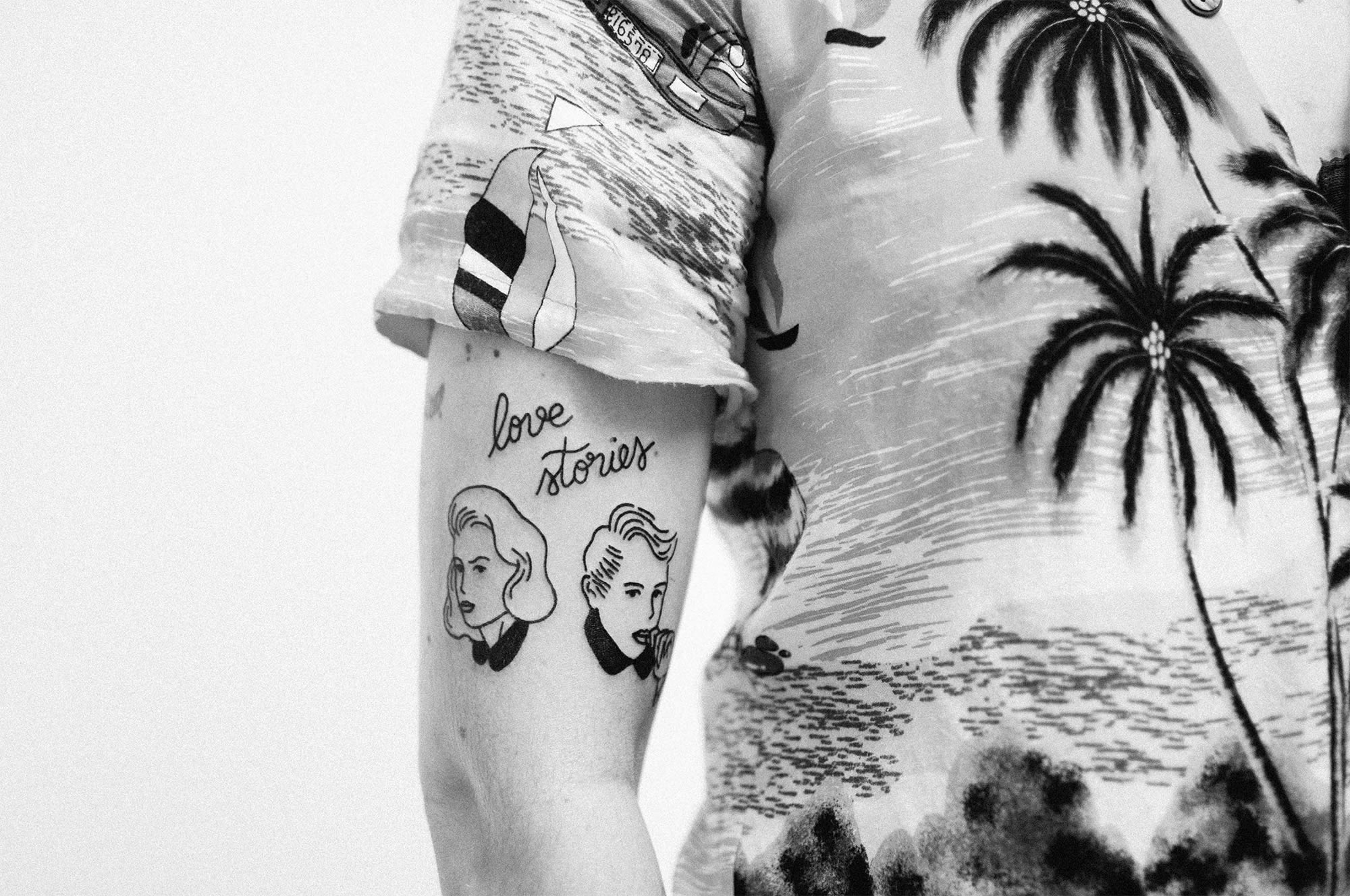 The art movement known as minimalism is ubiquitous today, but it only emerged to prominence about 60 years ago. Established in the United States, it initially referred to artworks comprising geometric shapes.
This approach, which included painters like Frank Stella, Donald Judd, and Agnes Martin, implores the viewer to respond to "only to what is in front of them." Stella describes his artwork as, "What you see is what you see." The advent of minimalist art movement was born from minimalist design, which had its start around the 1920s with architecture. Architect Van der Rohe was one of its first designers who used the materials available—glass, concrete, and steel. Here, it's more of a principle rather than style that favors clarity.
Like all things in art, nothing lives in a vacuum—minimalist art and design has influenced other areas of creativity, including tattoos. Body art takes on these aesthetics and standards, using them as guidelines for imagery that says a lot with a few lines and shapes.
Relationships are complicated and Johanna Olk-Rolland expresses that in the "Love Stories" tattoo.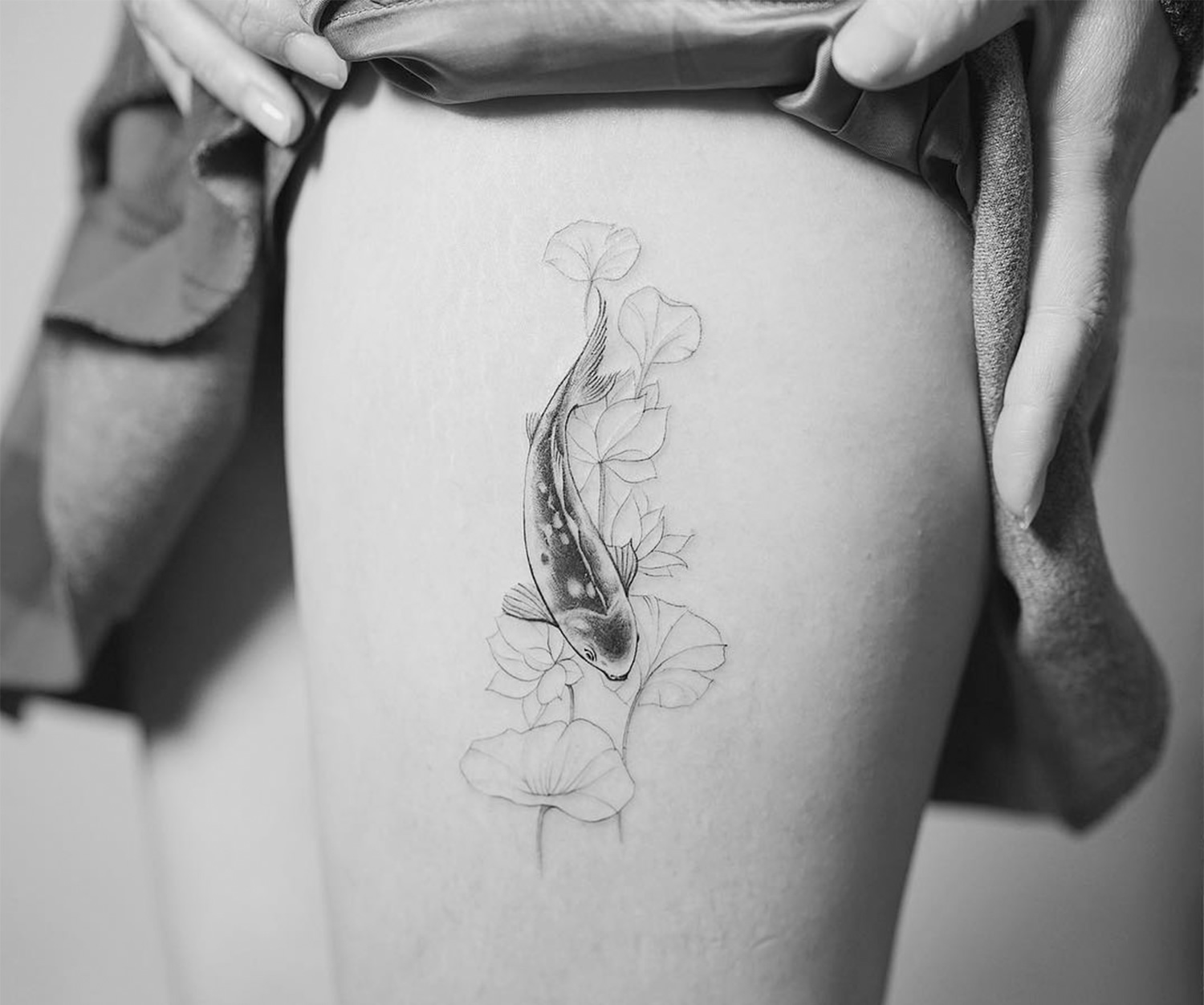 Nando has depicted a delicate carp swimming down the thigh.
Nando
Tattooer Nando represents a growing change in the culture of South Korean tattooing—once associated with organized crime, it has been championed by ardent fans and K-pop stars. This Seoul-based artist has a delicate hand when it comes to creating nature-themed body art—each is handled with razor-thin lines and soft rendering. A style that permeates through the entire portfolio, which places tiny icons on the back of clients' necks, their wrists, and sides of their legs. Because of their small size, these tattoos are easily concealed and keep their meaning and beauty just to the wearer.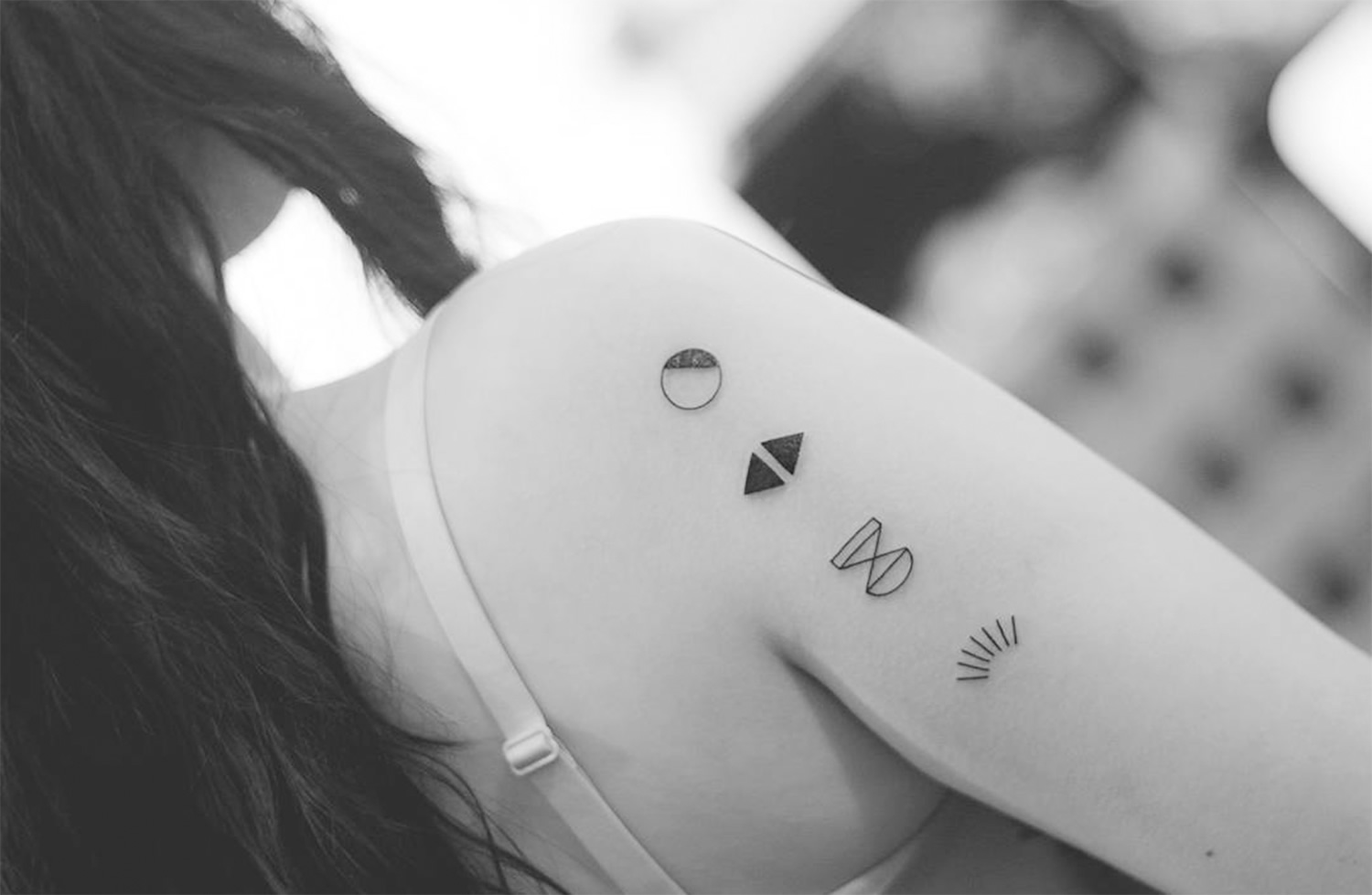 In addition to small images, Seoeon also tattoos text.
Seoeon
Seoeon has produced tattoos done in the Old School style, but has concentrated her efforts onto minimalism, which has given her the most attention. Known for her inconspicuous work that makes even the most apprehensive clients get inked. The barely there icons and text are, like Nando, comprise delicate and fine lines. Although she's based in Seoul, Seoeon travels the world—from New York to Hong Kong to Paris—as a guest in tattoo shops. For 2016, she made an appearance in four different cities, bringing her signature miniature designs onto new clients.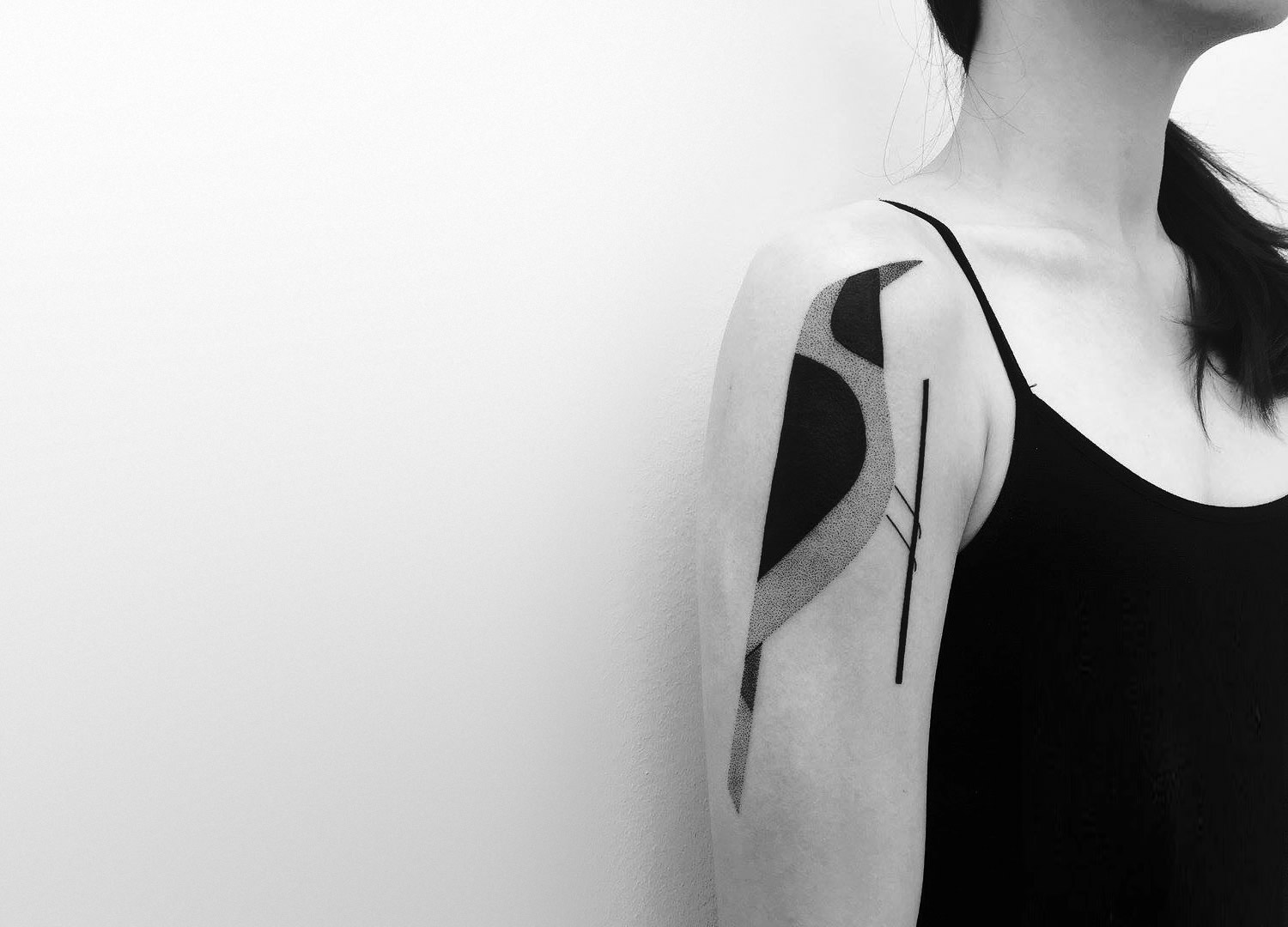 Axel Ejsmont (Marta Sławińska) combines dotwork with bold lines.
Axel Ejsmont
Axel Ejsmont is the tattoo moniker for Marta Sławińska, a visual artist based in Berlin, Germany. She refers to Axel Ejsmont as a "tattoo project" that was started in 2013 as a study of "human body in movement." The clean, structured designs are "a summary of an art practice and past experience as a graphic designer and illustrator," using combinations of repeated shapes formed in complex patterns. Ejsmont is one half of the studio Ejsmont & Fenris Tattoo.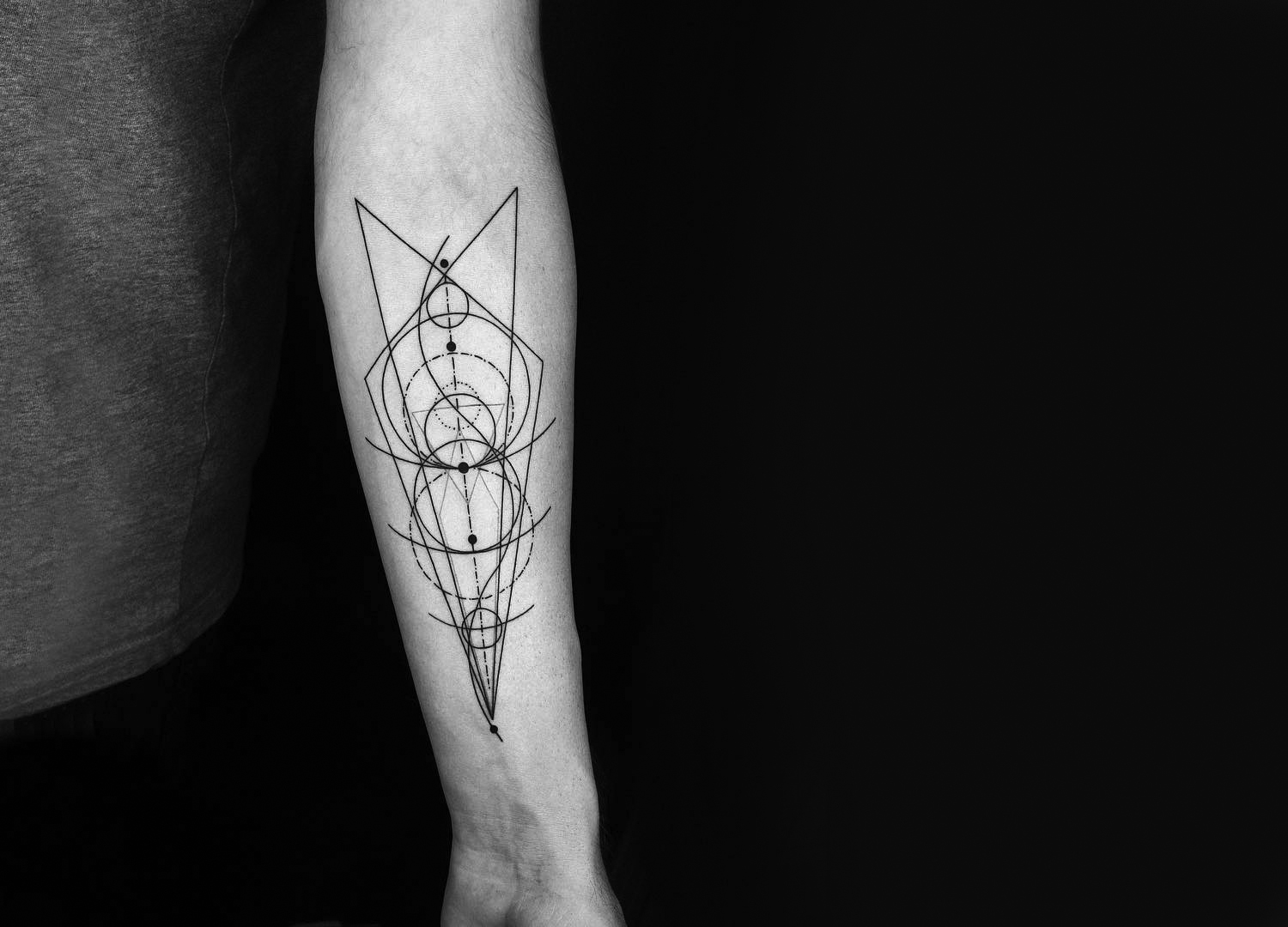 Okan Uçkun represents a burgeoning tattoo scene in Turkey.
Okan Uçkun
Istanbul-based artist Okan Uçkun believes that a tattoo is only complete through motion and action. Part of a burgeoning tattoo scene in Turkey, he told us last year that artists have been educating themselves to cultivate their own style and designs. "Now you can see some artwork on people. And I believe that we should be able to see more and more talented people coming out of here," he said. To keep his style fresh, Uçkun is actively working in fields such as video, photography, and plastic arts.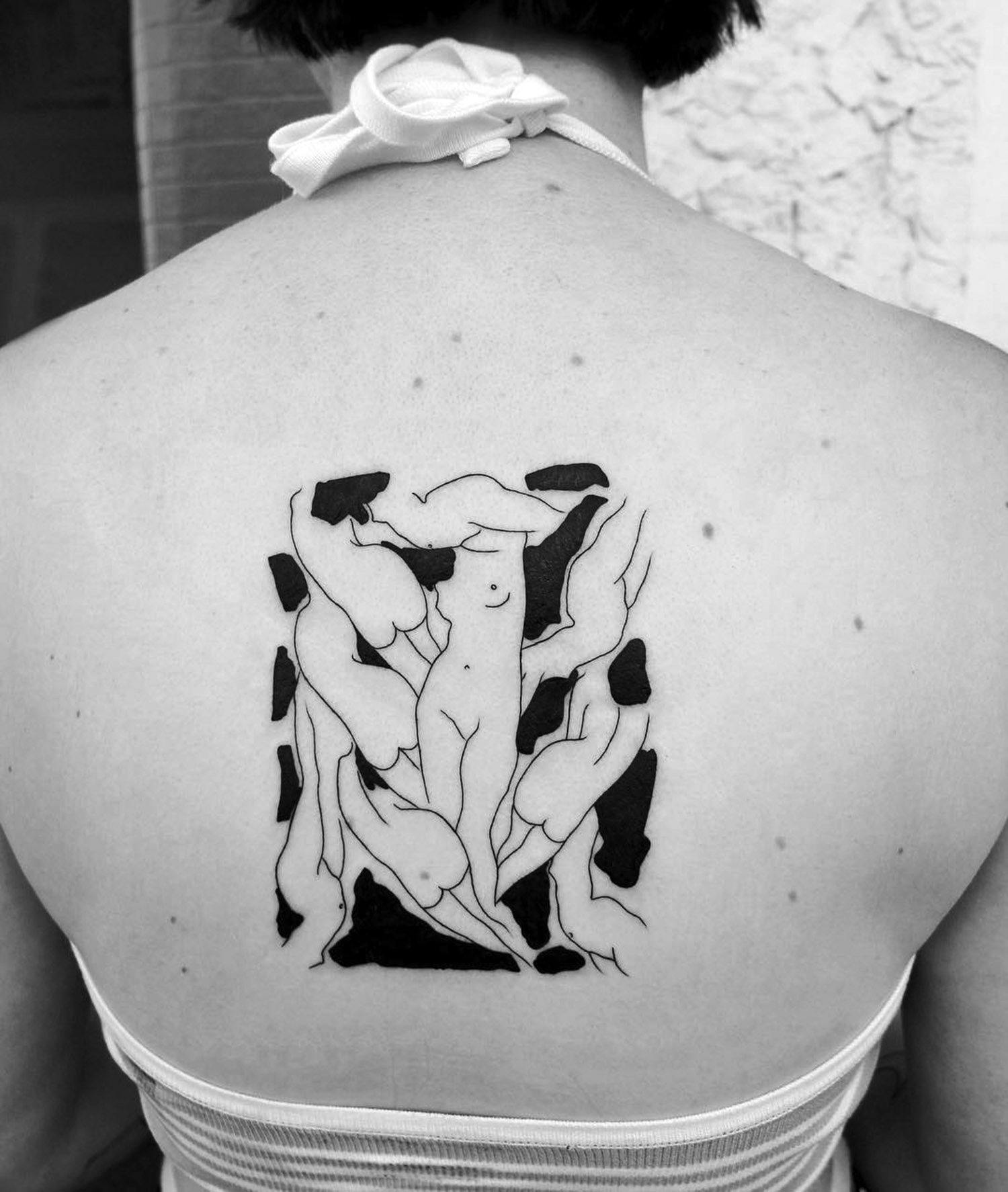 Jessica Chen creates imagery inspired by art history.
Jessica Chen
In 2015, Toronto-based artist Jess Chen shifted her career from freelance graphic design and painting to tattoos. "I love anything referencing fine art, whether it's art history or contemporary," she shares. This particular piece was originally one of Chen's selection of flash—it's a drawing by the French avant-garde painter Francis Picabia. He was known for his abstract, planar compositions like this one. Here, Chen mimics the boldness found in Picabia's work with thick, black shapes that offset the elegant lines.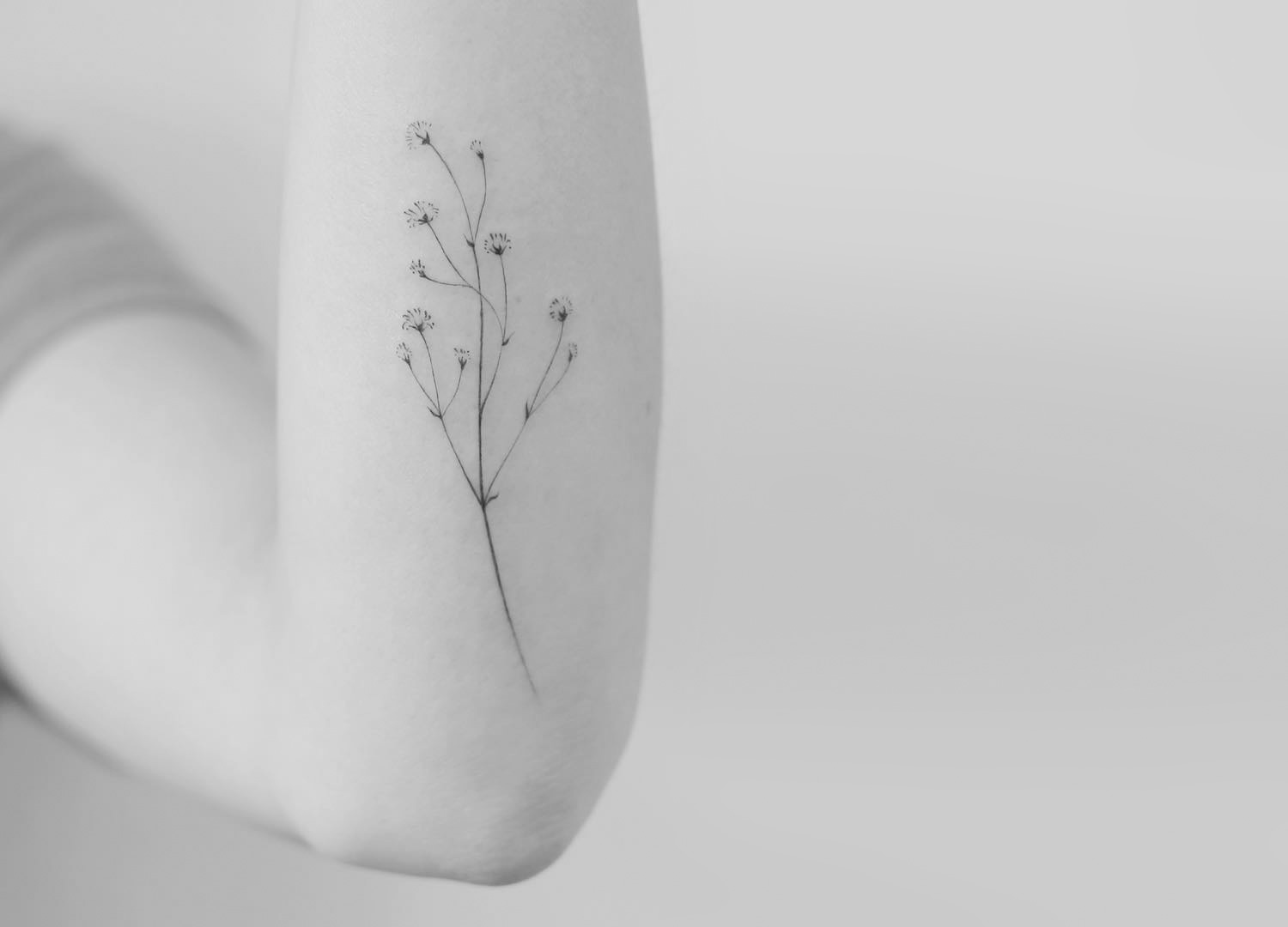 Fluid, thin lines mimic the delicate nature of the plant.
Tattooist Doy
Some tattoo artists start their practice because of their obsession with the field. Others are more practical. Tattooist Doy told Yo Tengo un Sueño, "I always questioned my artistic value; it was something that was always on my mind. So one day I decided to calculate my hourly pay and decided to find what kind of job would pay me the most with the skill I had." At the same time, he saw documentary about the New York tattoo scene on TV. "I decided to call one of those tattoo shops in NYC to see how [much] it cost. It was a shocking discovery for me! Those tattoo artists were earning 10x more than I was getting paid." That was over 10 years ago. Now, Doy is one half of INKEDWALL with fellow tattooer Hongdam.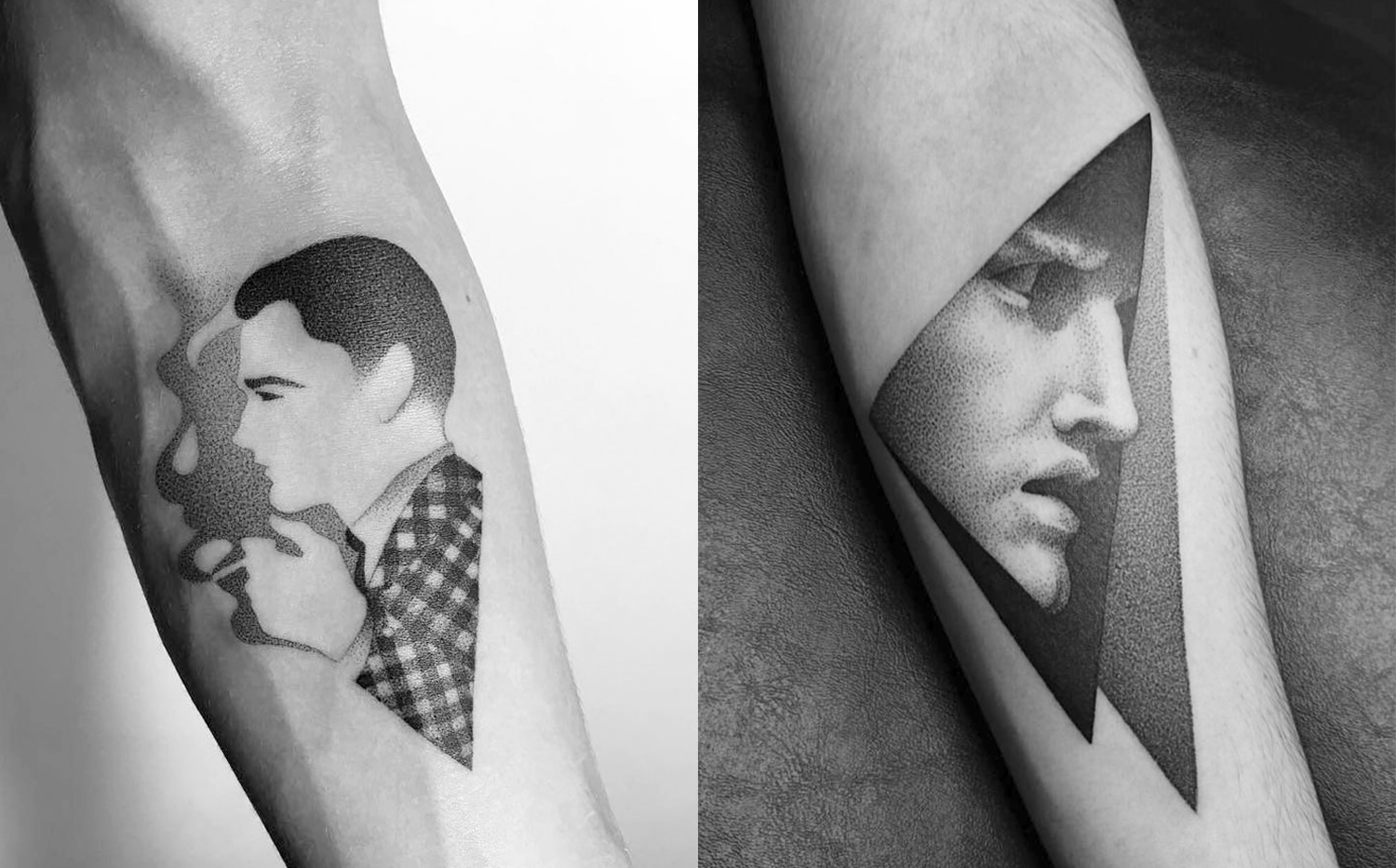 DOTYK creates minimalist work build on the foundation of the movement—shape.
DOTYK
DOTYK, aka Paweł Indulski, was one of our "10 Tattooers to Look Out For in 2016," and he hasn't disappointed yet. The intricate dotwork forms geometric shapes that frame silhouetted portraits and airplanes, adding a sense of drama to the bold triangles. Using the stippling to effortlessly fuse with the client's skin, there's a noted film noir feel. Combined with an architectural influence, it's positively minimalist.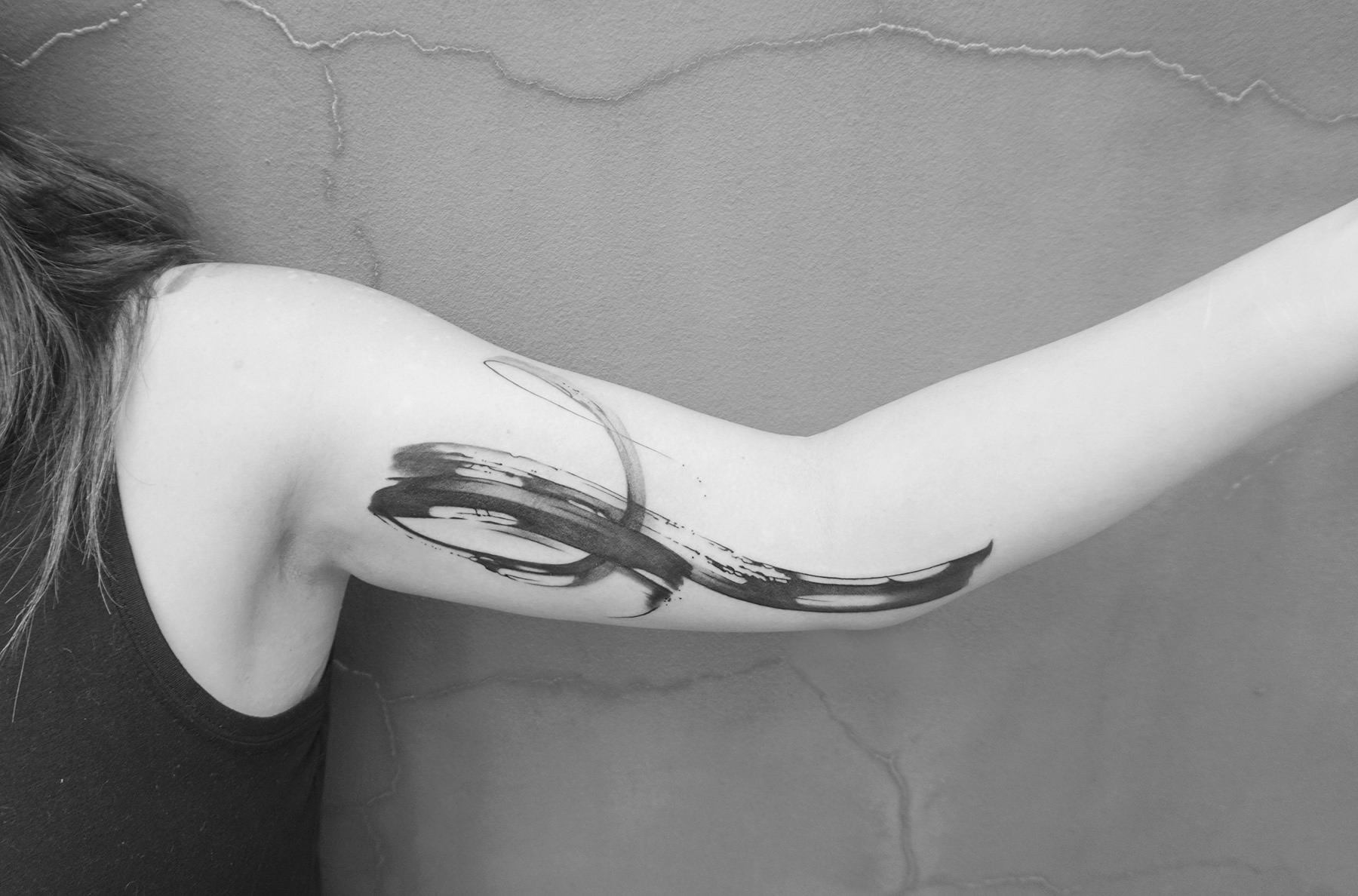 Each brushstroke is tailored to an individual client.
Lee Stewart
In Lee Stewart's work, a brushstroke isn't quite a brushstroke–it's a tattoo. Known for these bold designs, the Sydney-based artist says they're "the current outcome of the abstract work that I specialize in." Continuing, "My work is largely based on textures and mimicking the details of the way the fibers of the brush run parallel, the little splatters they cause and the gradient of dark to light in one stroke." To ensure that these tattoos will complement the wearer, Stewart always gives thought to their location. "Abstract tattoos work," she states, "when these things are taken into consideration and the right parts of the body can be accentuated."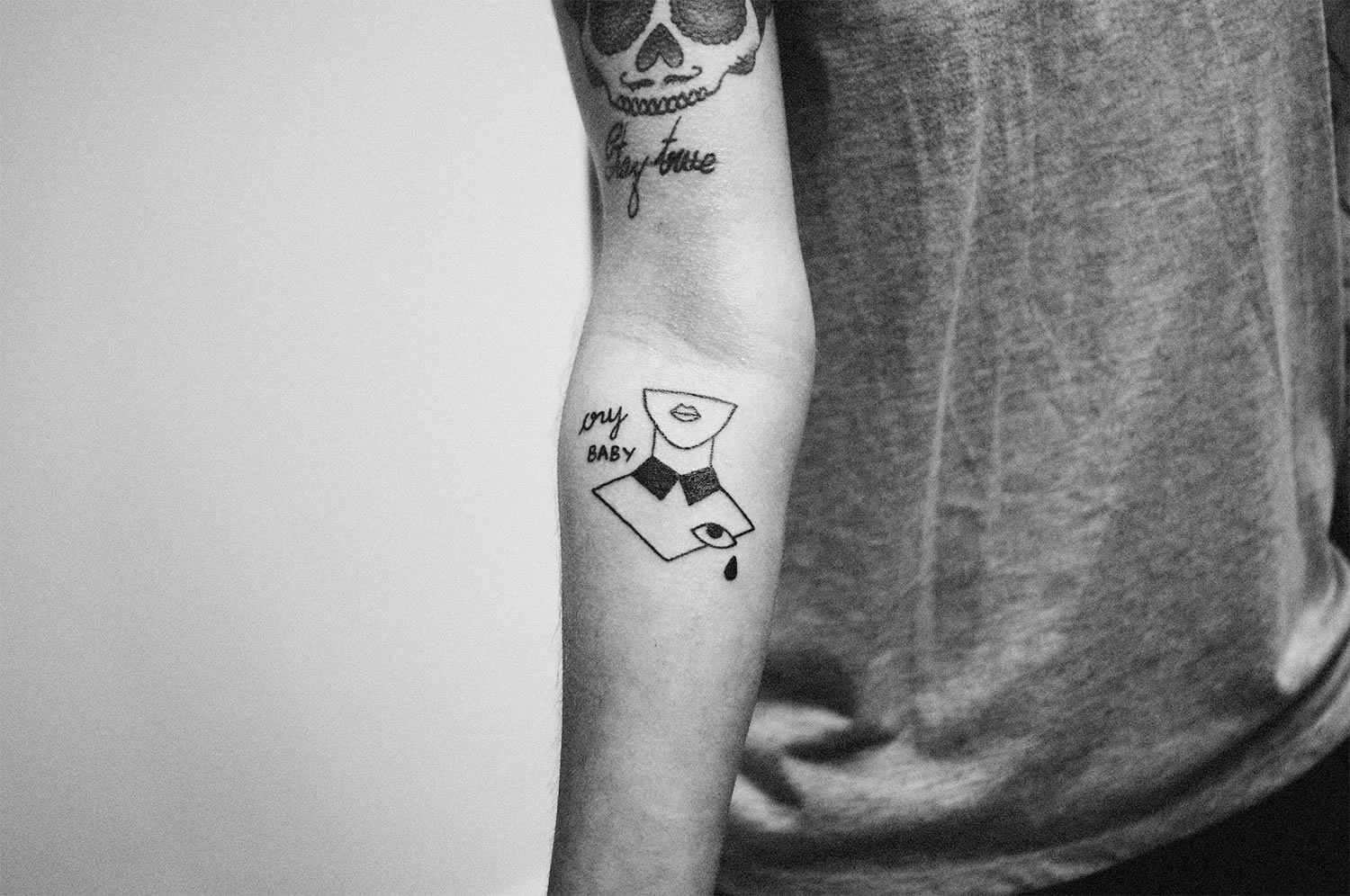 The term "cry baby" has a whole new meaning with this tattoo.
Johanna Olk-Rolland
Johanna Olk-Rolland was formally trained in industrial design before developing a love of graphic design and photography. These interests are part of her creative studio called Olkstudio, which allows her to explore different fields—one of those being illustration. "Her passion for illustration," Olk-Rolland's website says, "has also led her to tattooing." Describing her work as "simple" and "classy," Olk-Rolland strives to ink body art that's unconventional and "far from what you know about tattooing."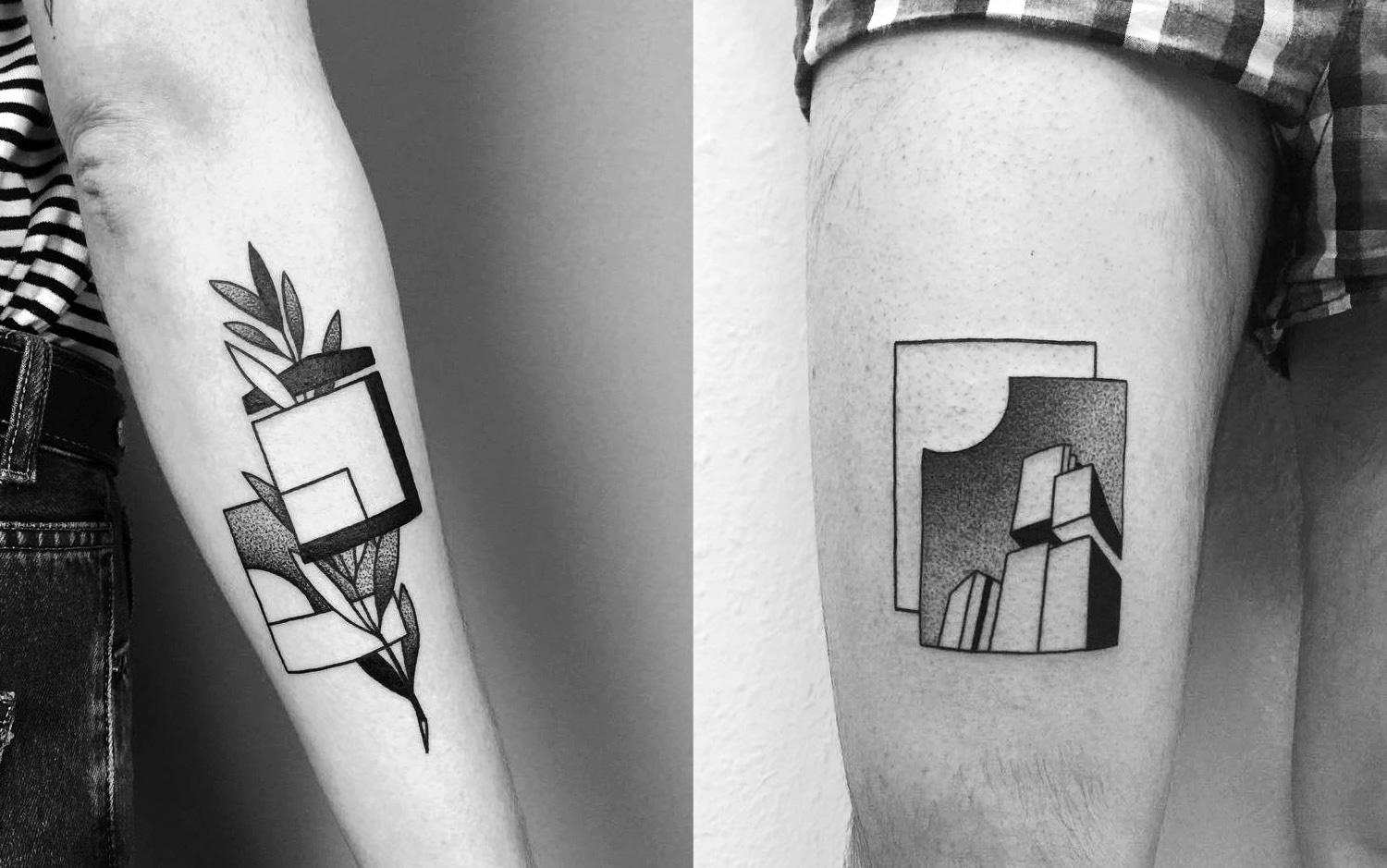 Nico Jacoby uses strong design principles in his tattoos.
Nico Jacoby
Harkening back to the roots of minimalist design, Nico Jacoby constructs structural arrangements on skin. Like many tattoo artists, he started his career as a graphic designer. Tattooing has created an outlet for him to permanently commemorate his imagery, which Jacoby describes as "illustrative elements with a touch of organic details."
Jacoby currently tattoos in a Hamburg-based private studio called Coco Schwarz, along with fellow artists Lara Maju and Frauke Katze.
Images © respective artists.