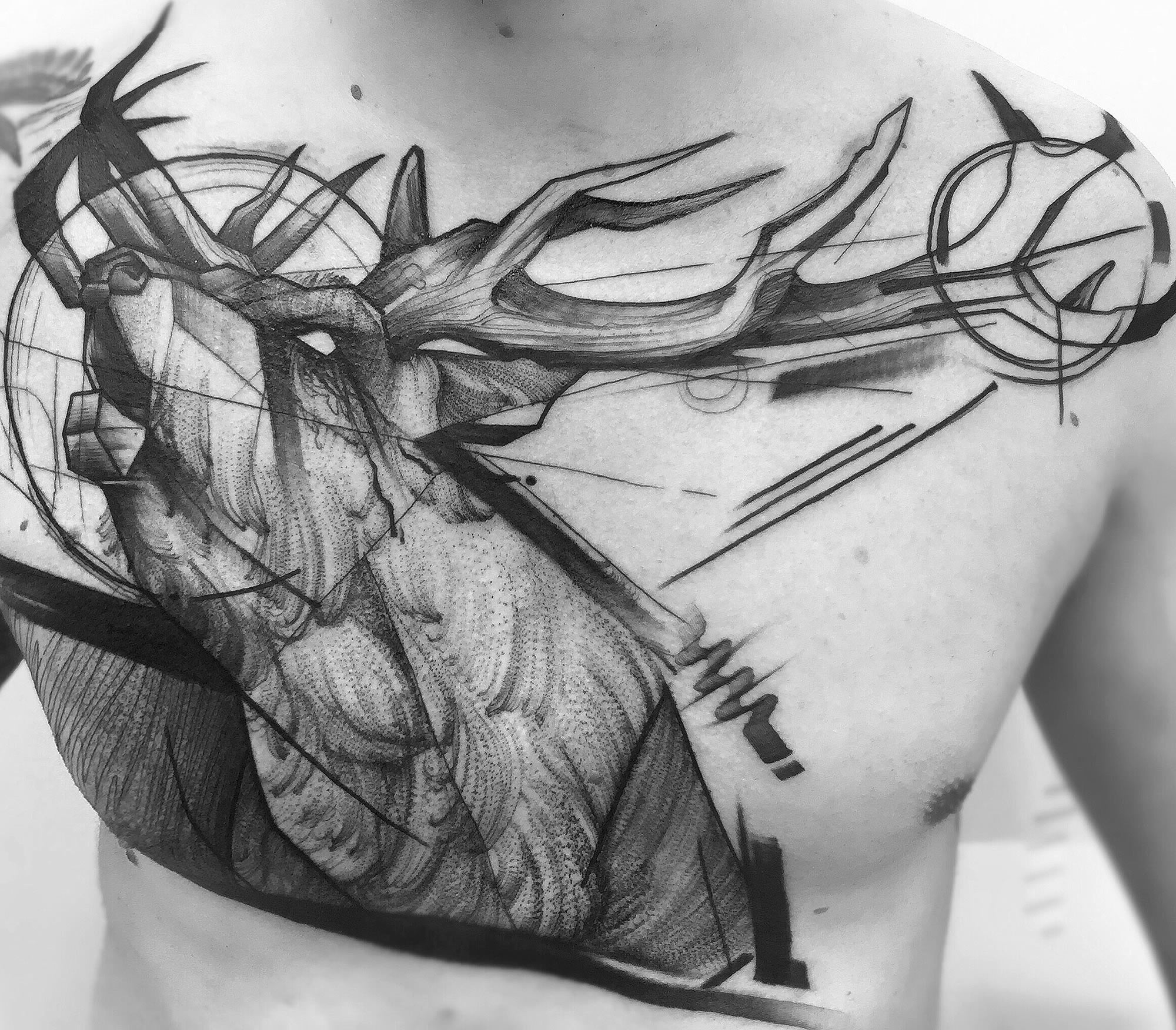 Some of the most memorable works of the year include Longhaul's hand tattoo, Puentes' woman/skull "doubleup" as he calls it, Winston Whale's anaglyph 3D mountains, Arús's animated diver, Roxx's freehanded back piece, and Bouits' peeing ladies. These single designs mesmerized hundreds of thousands of people and impressed me too.
It was a strong year for tattoo art, for the industry that is growing and will elevate in the upcoming calendars. Selecting a small number of artists is nearly an impossible task, but one that was made based on the work featured on Illusion and Scene360's social channels—based on consistency and style of portfolios of current year, technique, composition and placement, innovation and wow factor. In no particular order, these are the tattooers who made the list.
Above: An explosive chest piece by Frank Carrilho, inked at Piranha Tattoo Studios.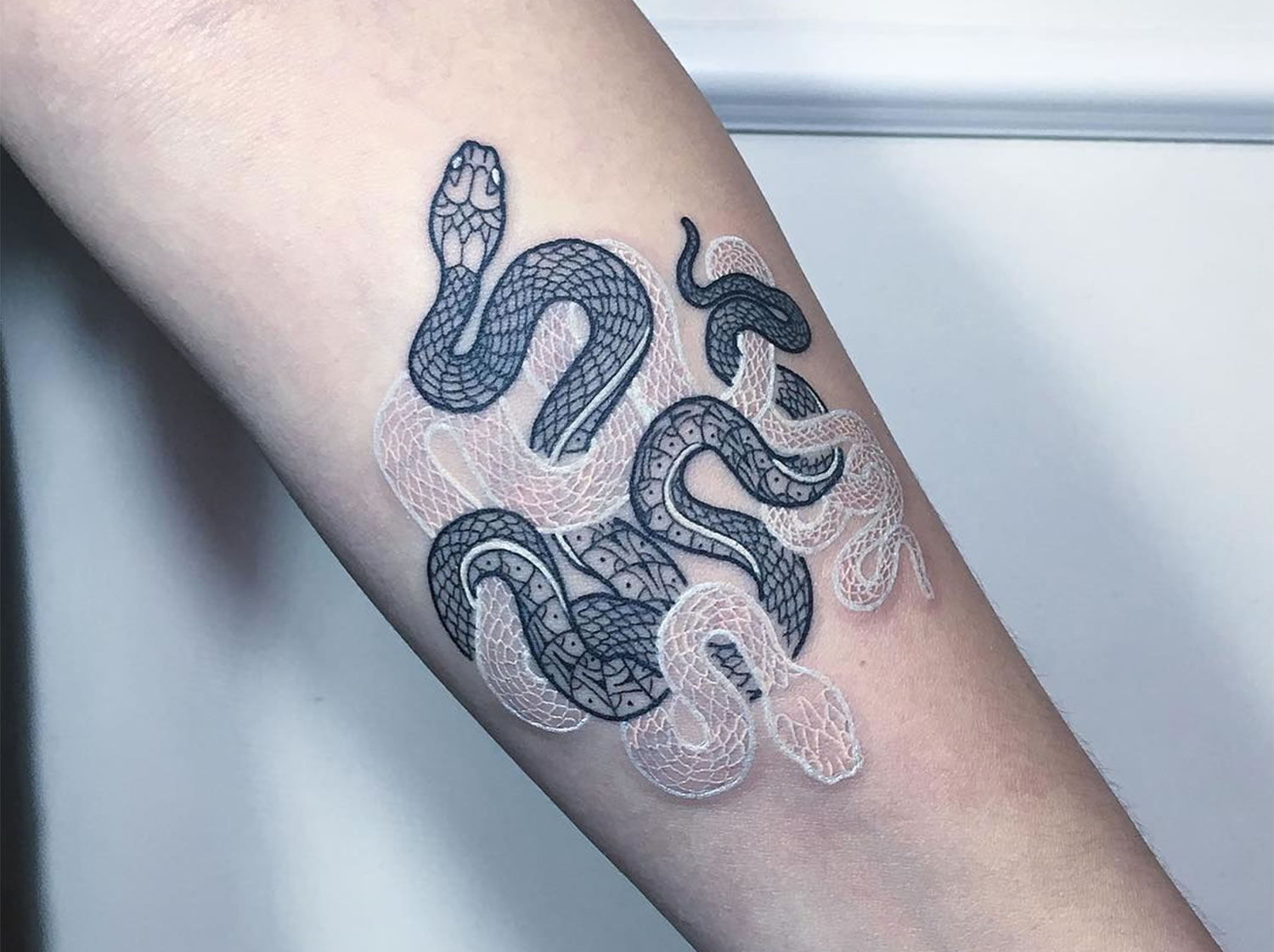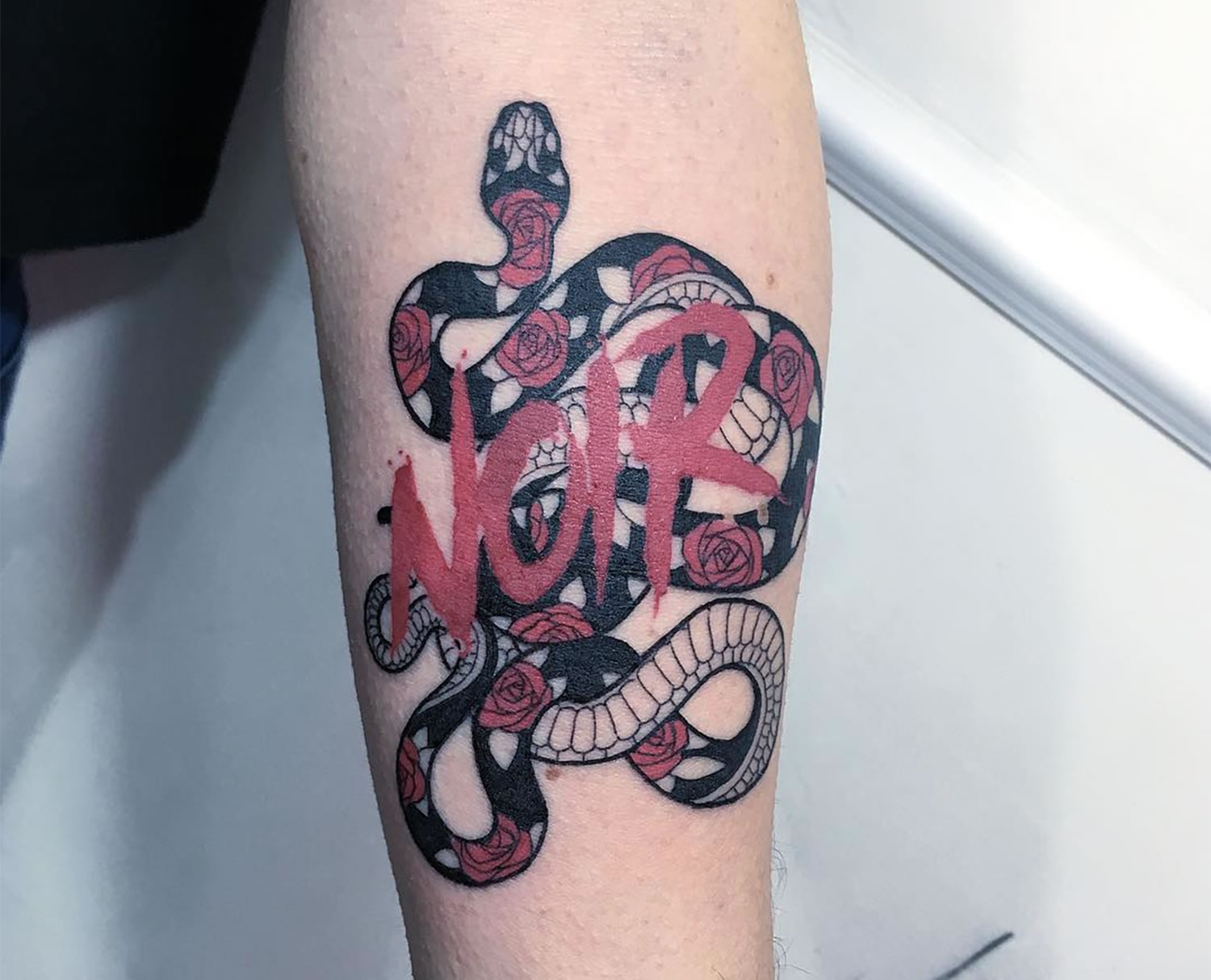 Mirko Sata freehands many of his designs directly on clients. His style is labelled, as he calls it "esoteric vanguard."
Mirko Sata
His yin-and-yang colored snake tattoo is one of the best creations of 2016. Jaw-dropping, magical and showing some thought into ontological dualism. Albino snakes, tie-dyed, red and blue polka dots and rope bound are just some of the other designs and visual effects found in the work of Mirko Sata; an artist who has found inspiration from his recurring dreams of serpents which in mythological symbolism can mean many things from rebirth to transformation to healing. "Esotericism, mysticism, symbolism. These 3 'isms' are my richest sources also because they are instruments to decode the signs of my oneiric world," he writes. Dreams, plus Sata's love for fashion, art, and muse/girlfriend Ilenia are what spark his imagination.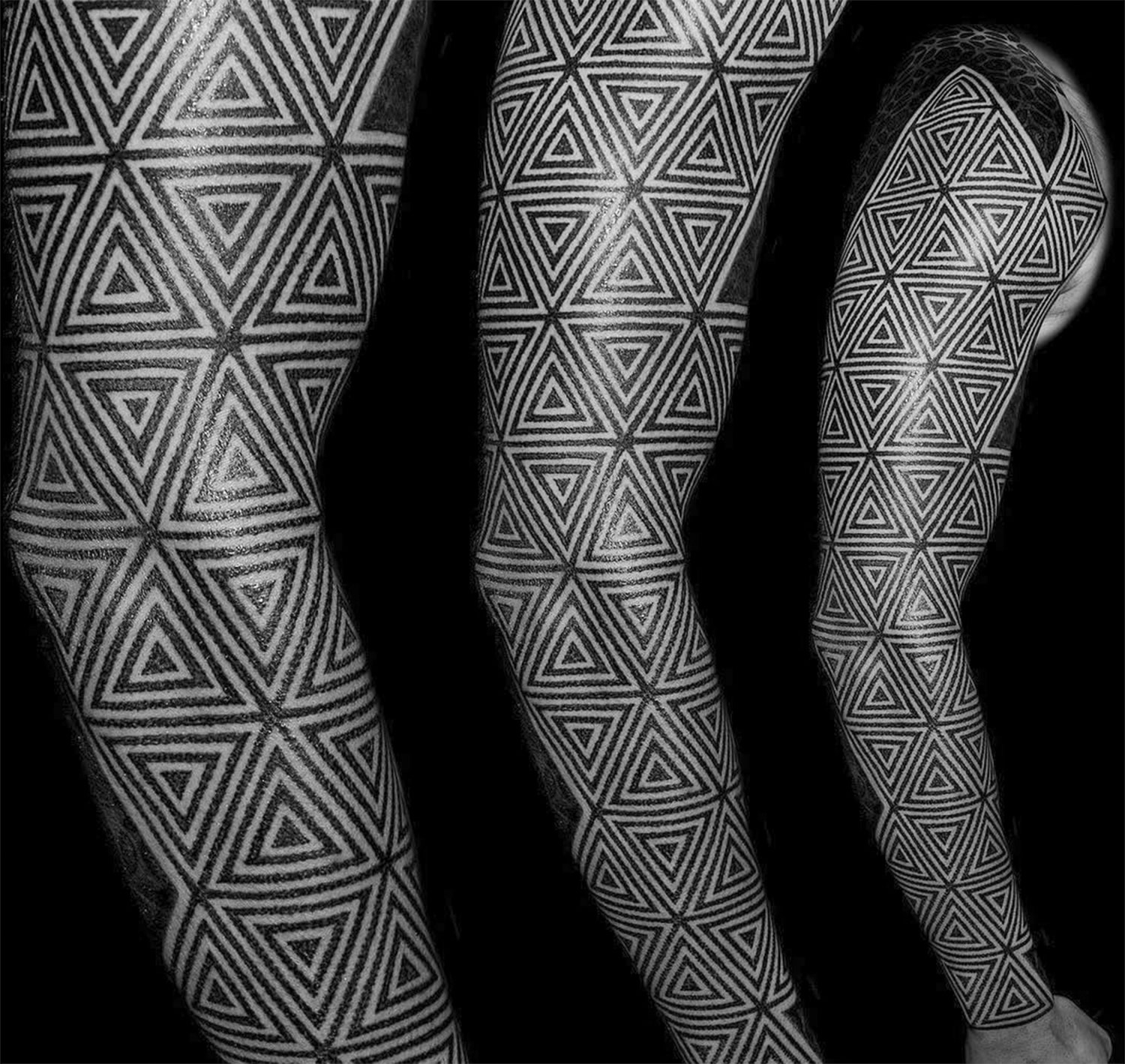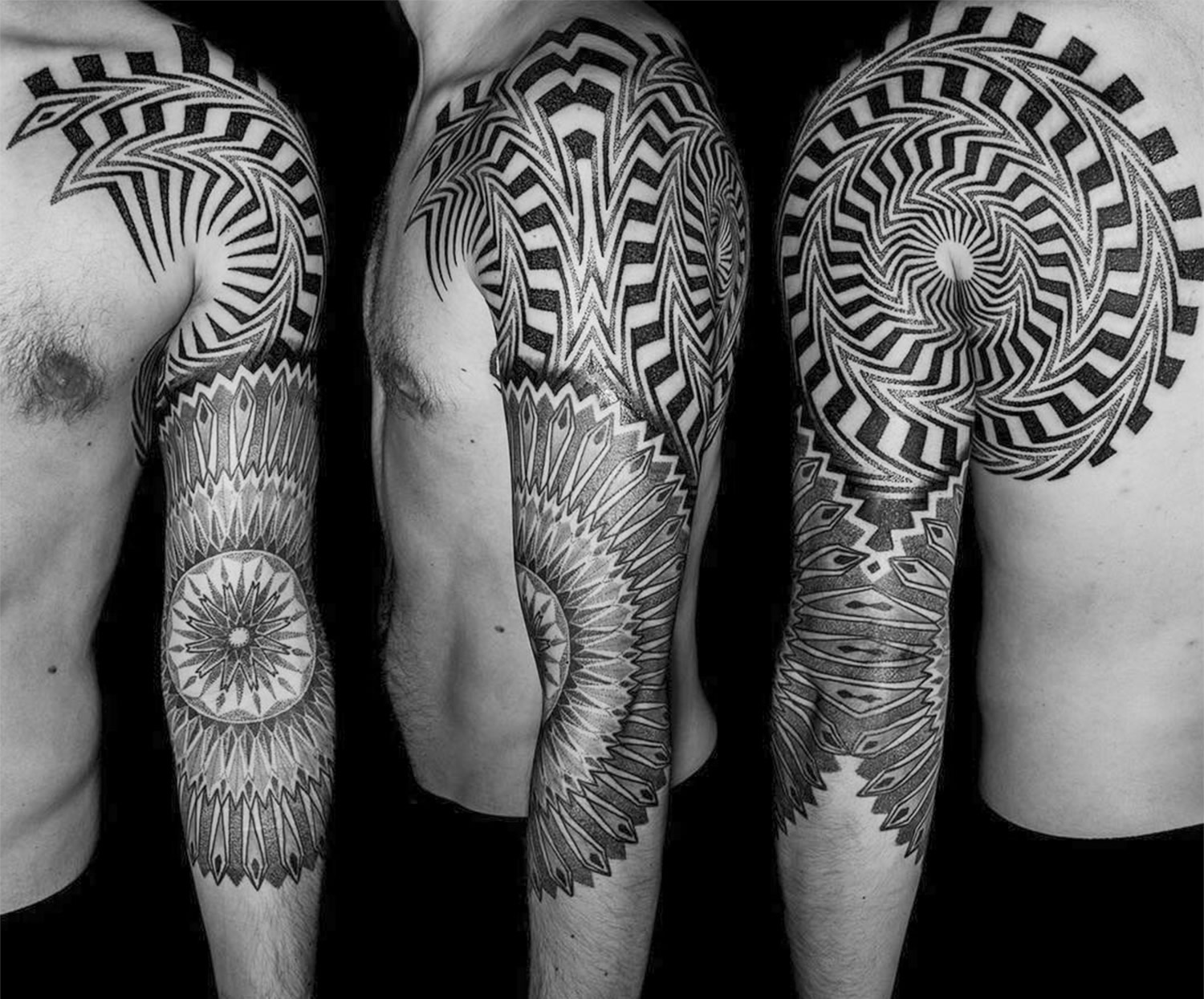 Top: The artist's favorite sleeve of 2016. Bottom: A collaborative piece—shoulder by Lewisink and elbow by (Lewisink's mentor and friend) Matt Black.
Lewisink
This year Lewisink was mentioned twice on Illusion magazine (here and here) for his thrilling optical-illusion body art. Elaborate geometric patterns fill the arms and legs of his clients, black-ink stippled on skin to create a specific texture and also to last the test of time, as Lewisink says, "dots generally age better"; a technique that he owes a lot of gratitude to mentors Matt Black and Xed Lehead. He's also attentive on how each high-contrast tattoo morphs and fits the human body. "I mainly work with my own style of geometry, more based on the optical art and kinetic art, and I only incorporate sacred geometry on people who ask for it, and only when it has a true meaning for them, other than that, [my works] are not inspired by any culture."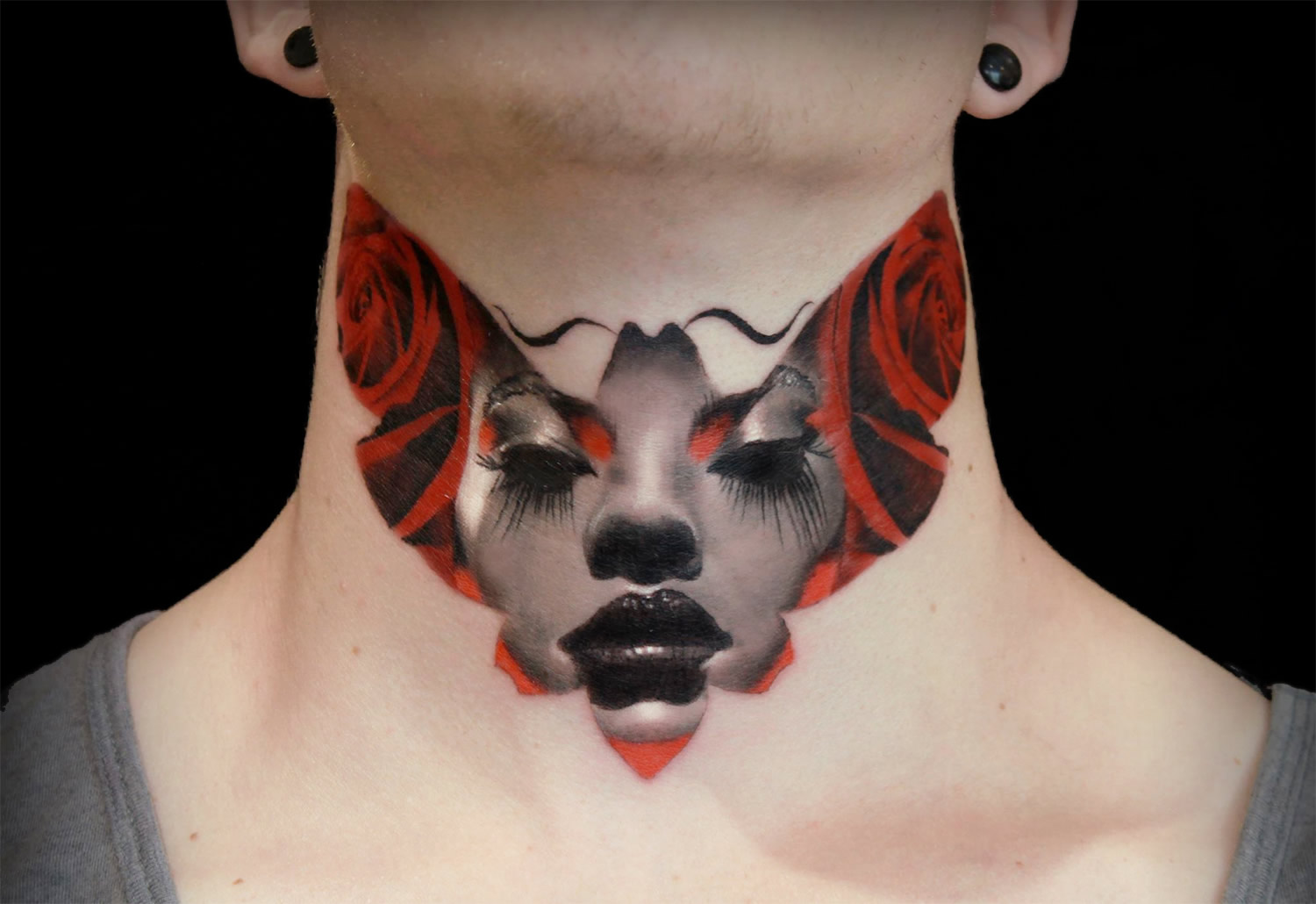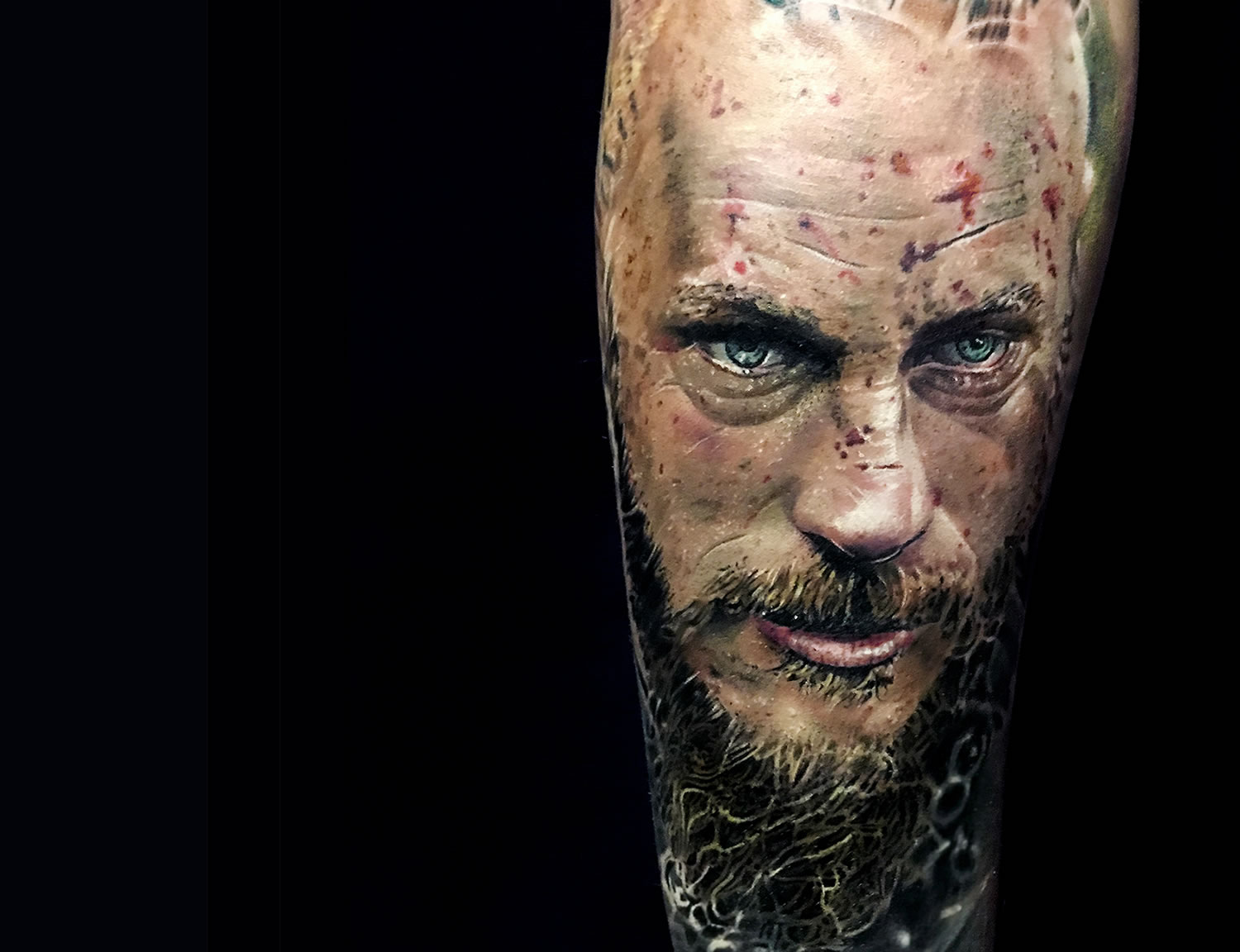 Some of his work is based on found photos, however, the artist gives his spin and puts the most amount of detail on each portrait.
Michael Taguet
Recently featured among nearly hundred top French talents in the print edition of L'Annuaire des Tatoueurs Français 2016-2017, Taguet was a standout for his detailed portrait tattoos. "Realism Color" is what he aims to specialize in after eight years of trying different techniques and styles from dotwork to black-and-grey to scripting. In the last two years he's committed to photorealism and proving it is his forte with works like Ragner, Darth Maul, Floki, and Beetle Juice. He is honored with a handful of "Best of Realism" and "Best of Day" awards at conventions in Toulouse, Lyon, Nimes, Amnéville, and Nancy, France. And he says: "If I have time to finish [the tattoo], I show it on scene, but I will not make my tattoo quicker in order to win something, like the Ragnar I made at Brussels; we finished at 9PM … If my client is happy, I'm glad! And most of time I give the awards to my customers."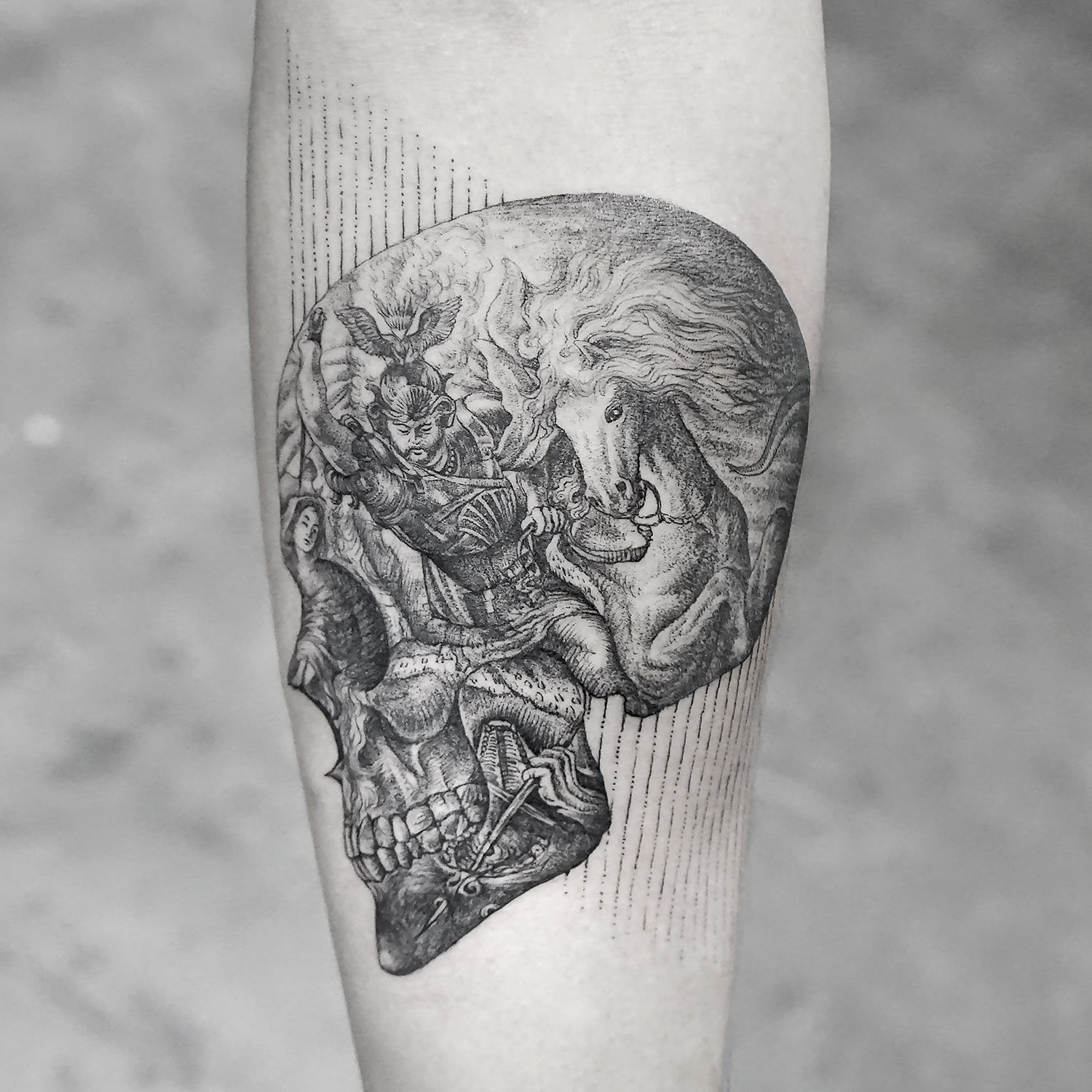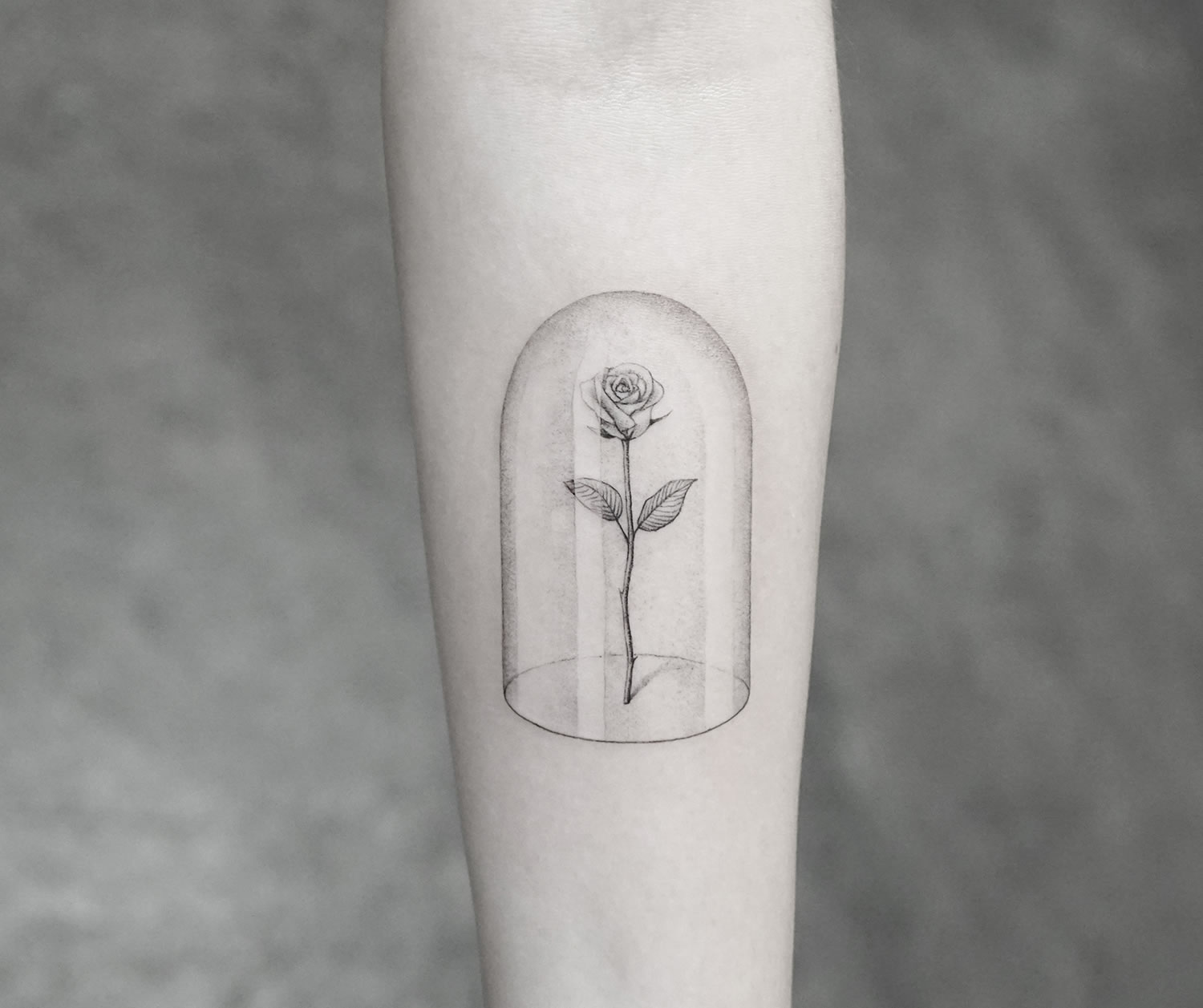 Using Dynamic black ink, Mr. K says "it makes more contrast, lasts long, and less fade out especially with my type of fine line tattoo." Photos © Bang Bang Tattoo.
Mr. K
To the online world, Mr. K has kept himself somewhat mysterious from using an alias to not revealing his face in selfies. "When people call you 'Mr' something, it sounds more polite and respectable," he explains, "my English name is K from my last name 'Ko.'" Under his birth name Sanghyuk Ko he studied graphic design at Parsons and became a fashion designer for almost a decade, launching his own brand k47. "After couple seasons of designing and running business, I realized this wasn't what I wanted to do. I wanted to draw more and didn't want to be sitting in front of computer all day. I had been a huge fan of street culture and tattoo for a long time and while I was searching for a new path, I was thinking why not tattoo, it just naturally led me to this industry." Mr. K worked at Love Hate Social Club in New York City, and since May has been working at the acclaimed Bang Bang studio as the "Micro Design" expert.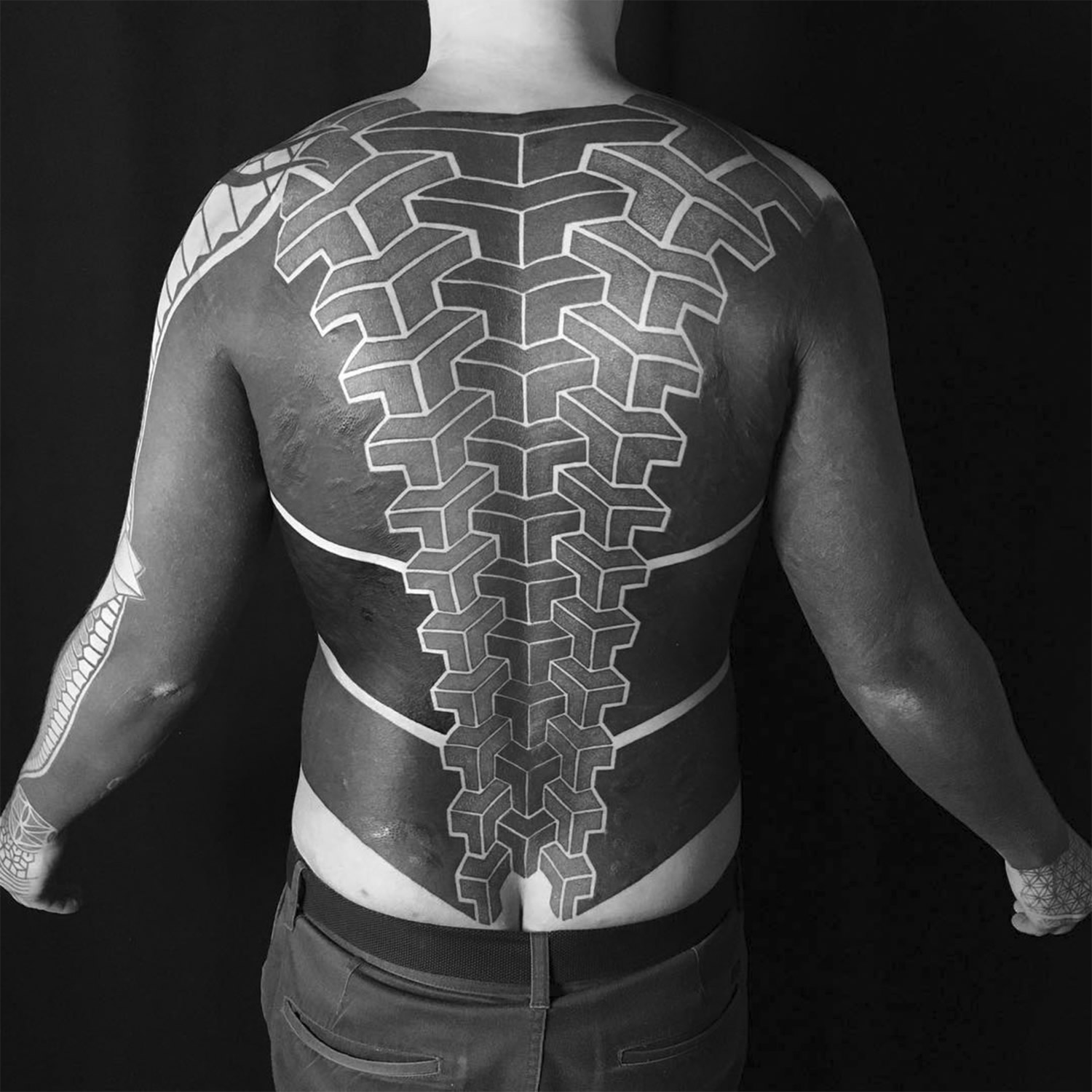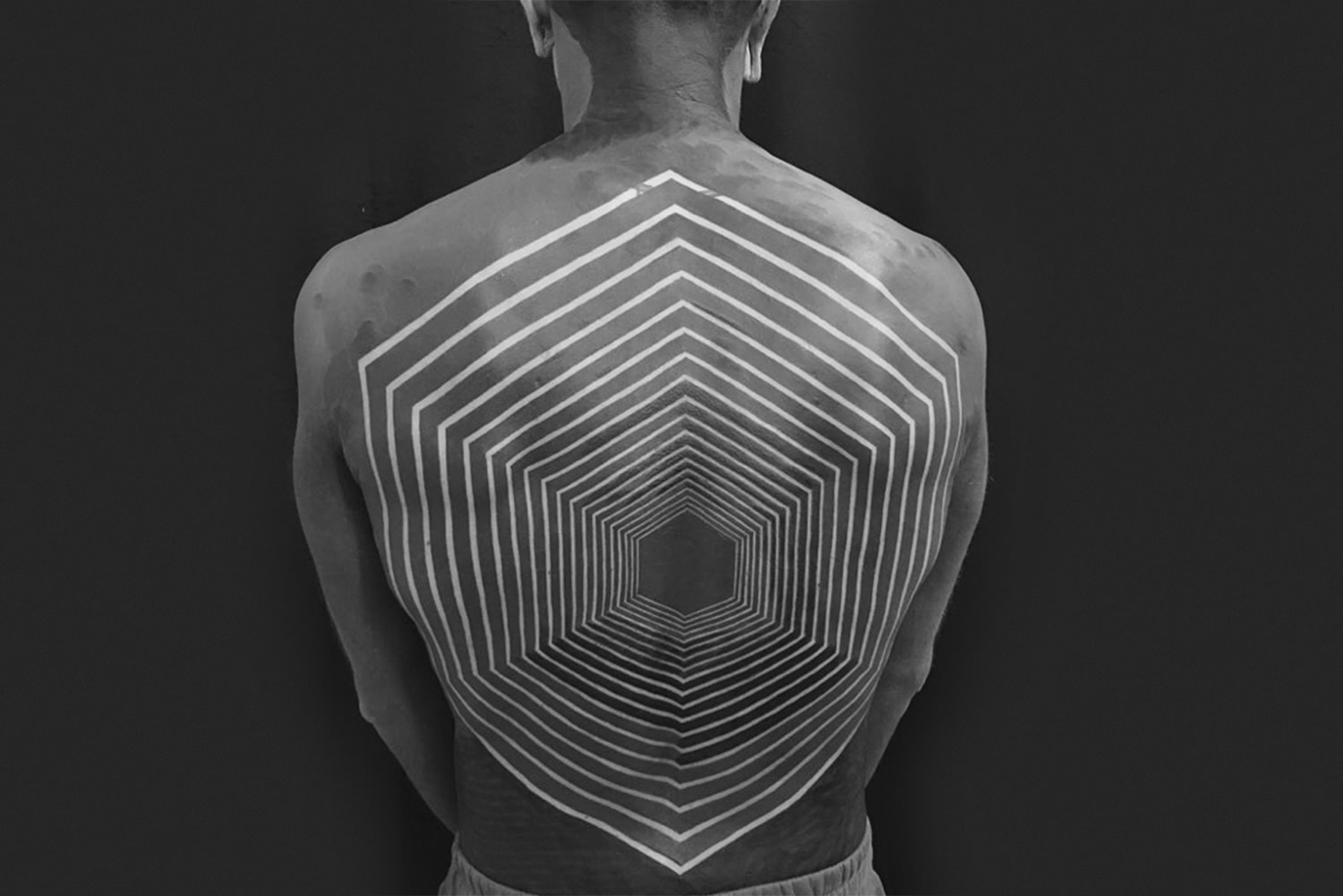 Bold, beautiful, and characteristic is Wiesbeck's heavy blackwork.
Gerhard Wiesbeck
The term "Blackout" is popular in 2016 and some publications call it the latest tattoo trend. Before it became a trend it pretty much existed a few thousand years ago with the Marquesans getting fully covered in tattoos—"hands, feet, and faces, with intricate geometrical designs." Polynesian tattooing has influenced many blackwork artists of today, including Gerhard Wiesbeck. This Berlin-based artist has created compositions that dive into various cultures and art movements—some pieces are more tribal, others spiritual and some futuristic. His most impressive skins of the year are the upper body tattoo on Bam Bam based on a laser cut wood pendant, and the amazing body suit on landscape architect Entity Zero—turning him into a supreme being.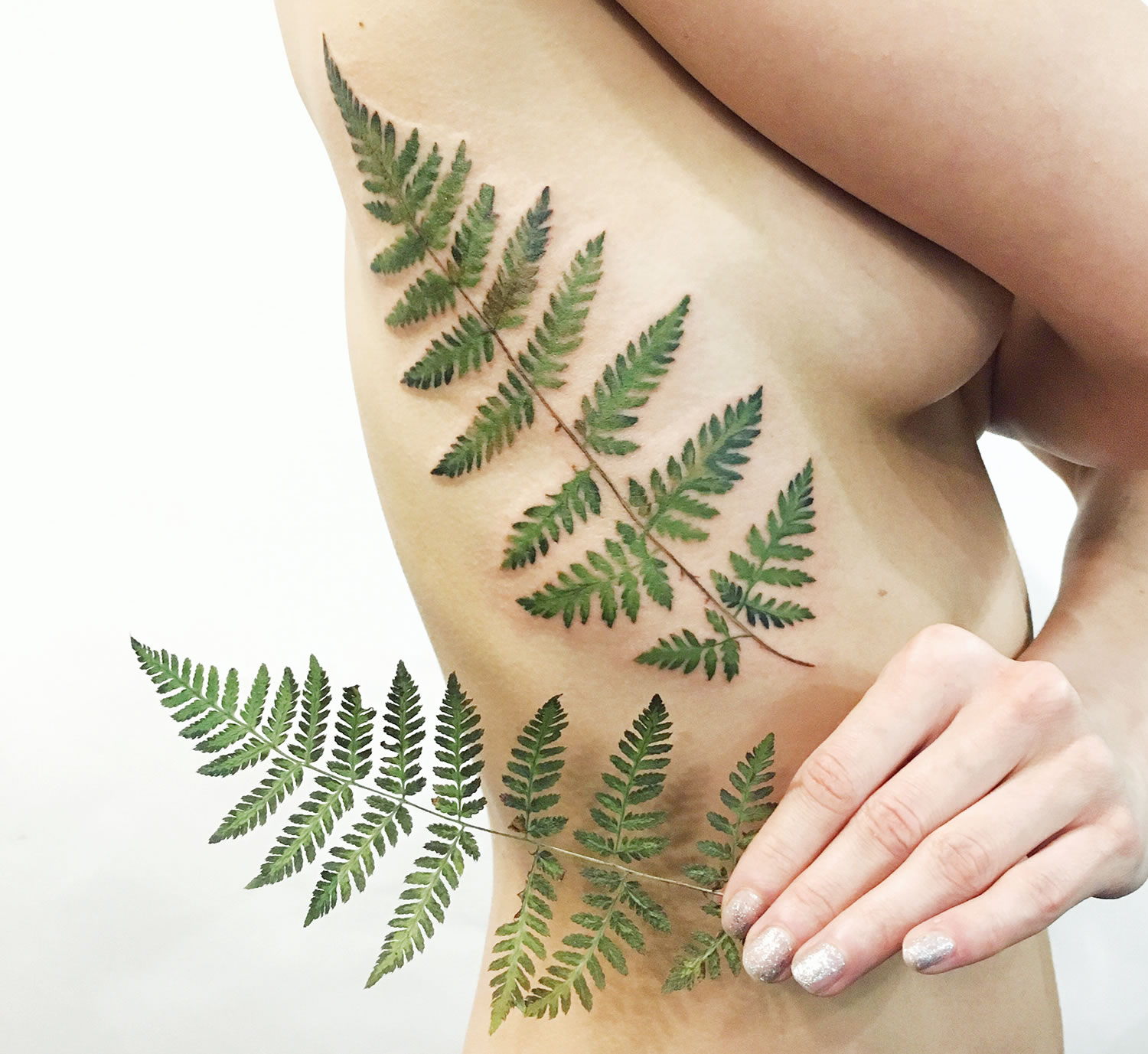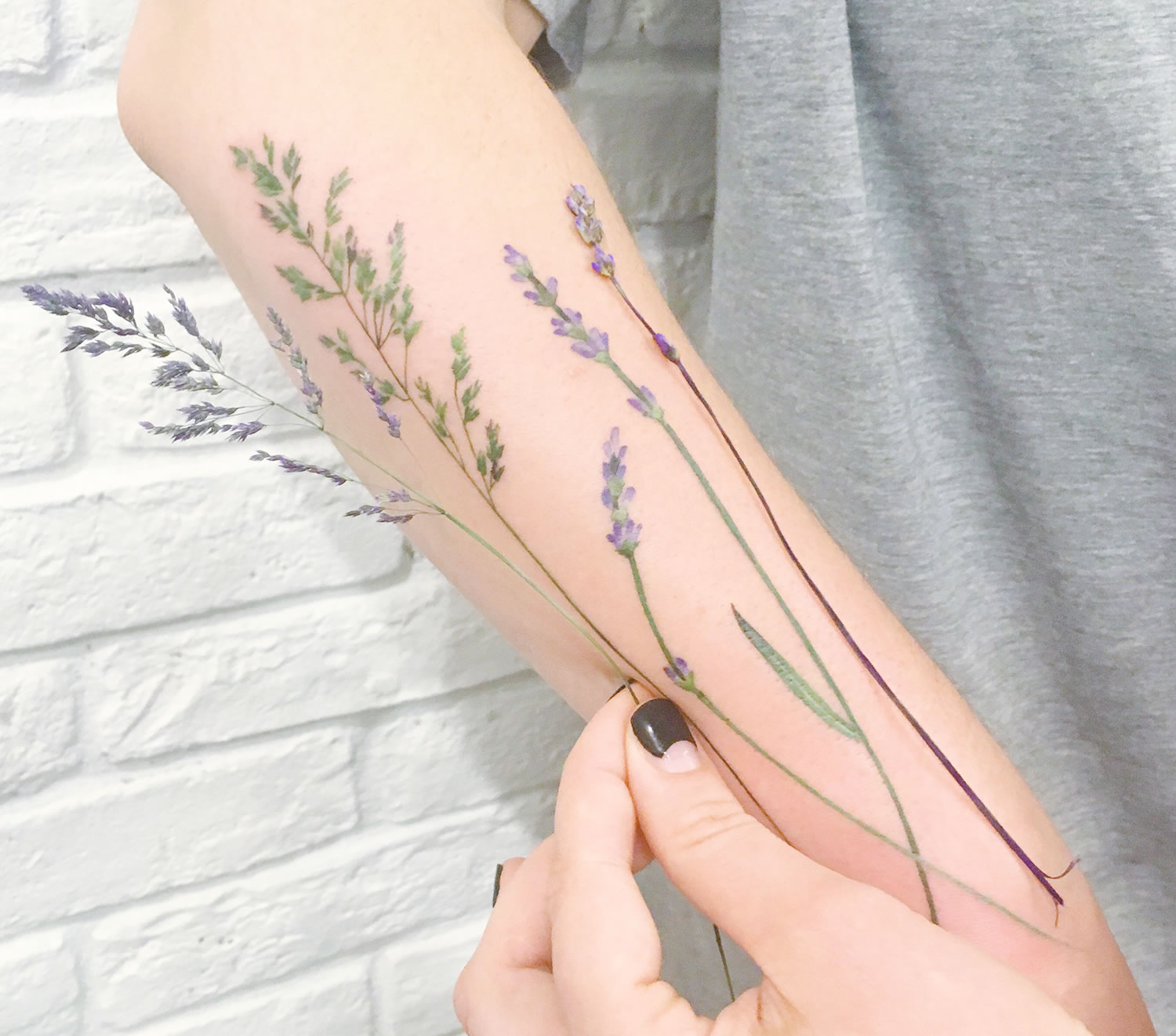 In addition to her #LiveLeafTattoos, Rit Kit has also dabbled in tattoo recreations of paintings by Klimt, Schiele, and Mucha.
Rit Kit
Rit Kit used to be known only in the Ukraine. She opened an Instagram account and after some months had 4,500 followers. In April of 2016 she gets featured for the first time on Illusion—an article showcasing her creative process of using real plants as basis for tattooing—i.e. "dipping live leaves in tattoo stencil ink, pressing them directly on her customers' bodies." The publication ends up going viral—Kit's following booms to 30,000 in just a week and her #LiveLeafTattoos spread like wildfire on The Huffington Post, Mashable, Cosmopolitan and fifty other publications. "A lot of people all over the world wrote me pleasant words for my work, asked [me] about coming to their countries, invited [me] there and sent requests about tattoo in Kiev. I can't believe that people from USA or England or Canada can come to the Ukraine just to make a tattoo, but I got a lot of messages like this, people actually want it." And with success comes imitation, her technique has been copycatted by others; although frustrating, she still keeps a positive outlook on life—"I always try to look at things from all views: I'm very happy that now botanical tattoos have become popular."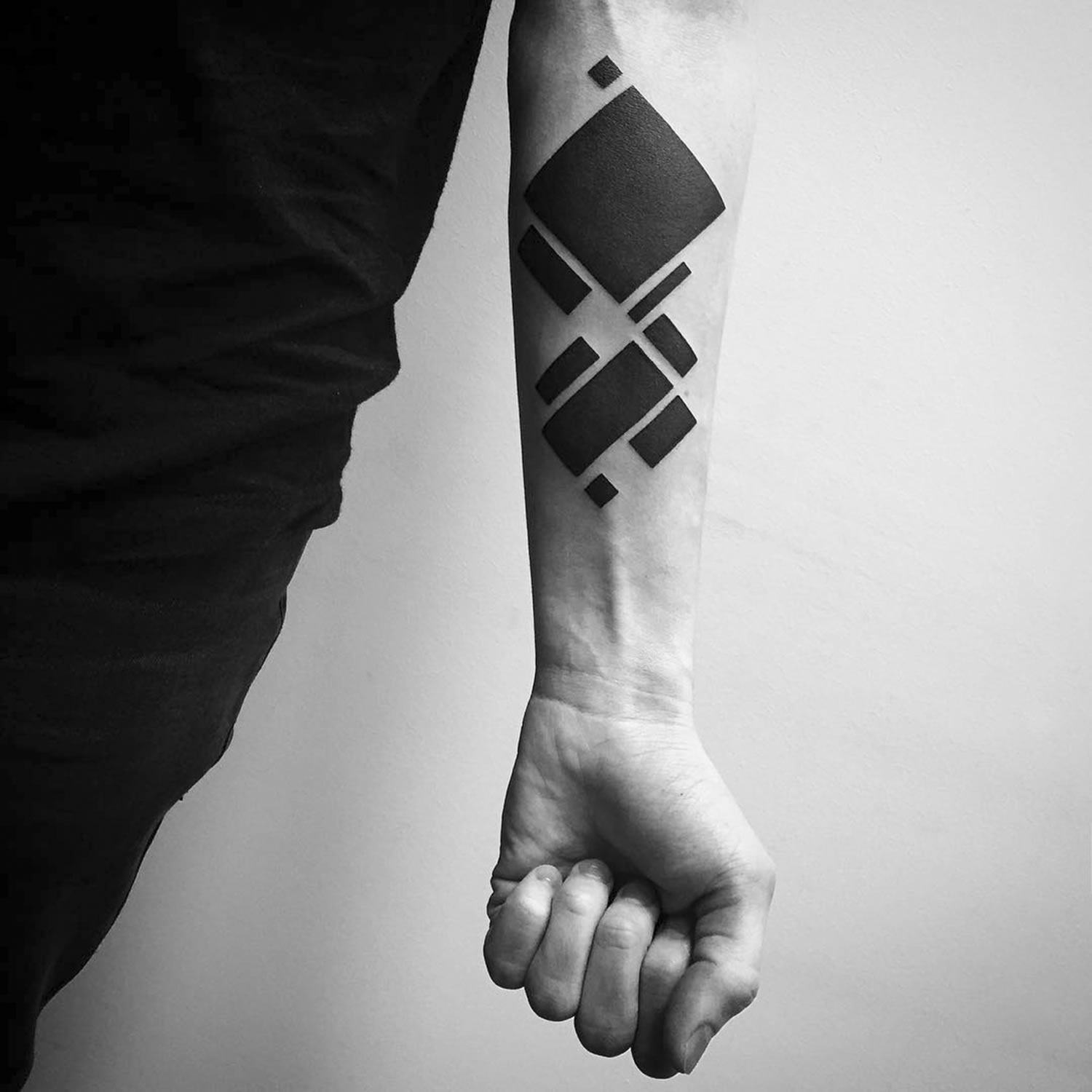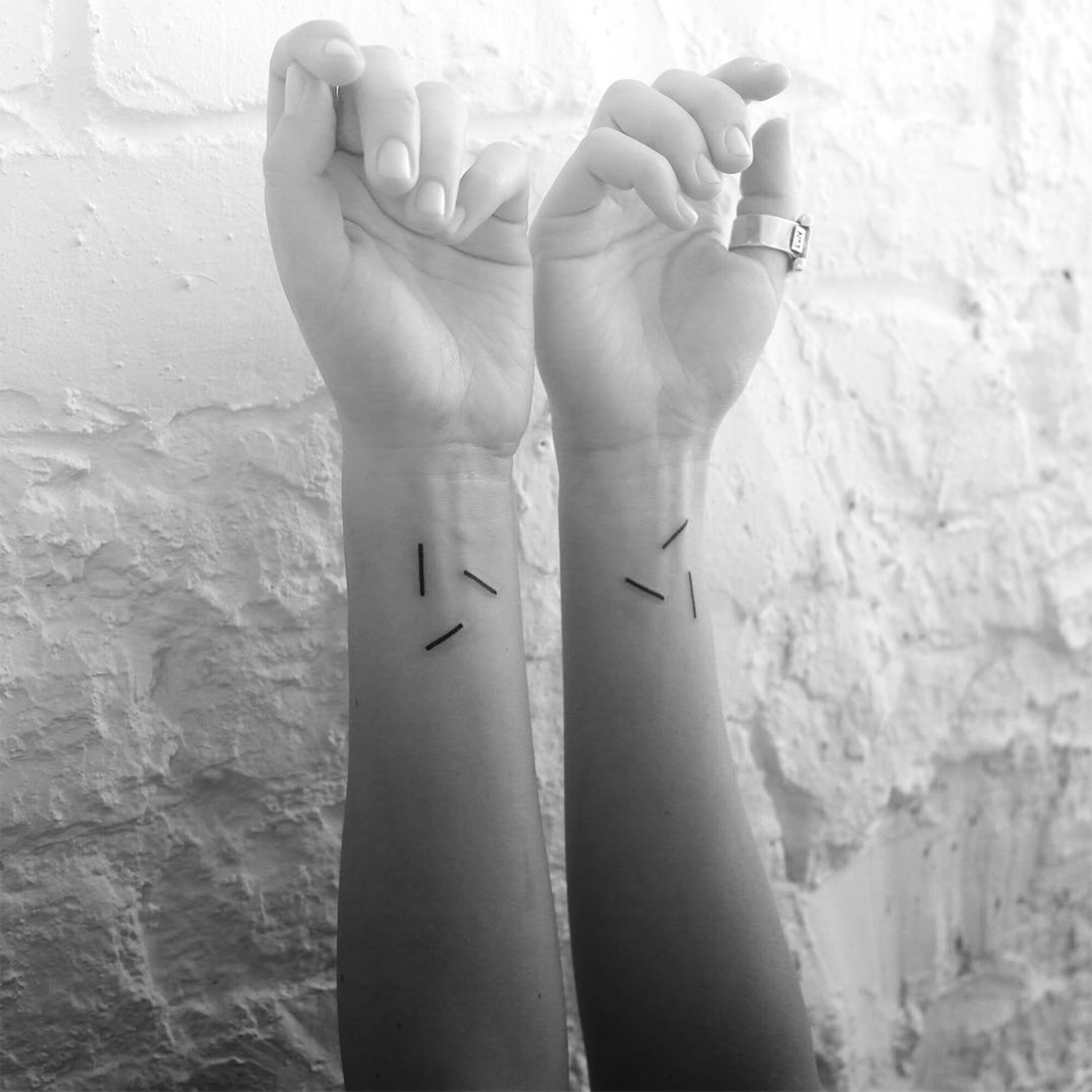 Wilczynski tries to generate his own visual language by combining geometric abstract art with IT technologies.
Stanislaw Wilczynski
His parents were telecommunication engineers in the former USSR, mother working in the field and father as a programmer, and he followed in their footsteps. Wilczynski's past occupation as a computer programmer helped shape his way of thinking (in schemes and tables) and influenced his tattooing of geometric compositions. "Order, simplicity, and harmony" are present in his minimalist designs inspired by modern art from the 20th century. After viewing Kazimir Malevich's "The Black Square" in a Moscow gallery, he had a pure cathartic moment, "I fell in love with Suprematism at first sight. Suprematism seems to be the art of the spotless intellect. Adjusted, thoroughly built compositions." He also gets inspiration from art movements Constructivism, Abstract Expressionism and Minimalism, as well as ambient techno music and Asian culture. "I've never been to Asia yet, but my old and cherished dream is to visit China, Korea and Japan. The more I think of my art, the more parallels with the aesthetics of the East I find: the simplicity of forms, attention to details, value of the ritual. I'm also into Zen Buddhism practices."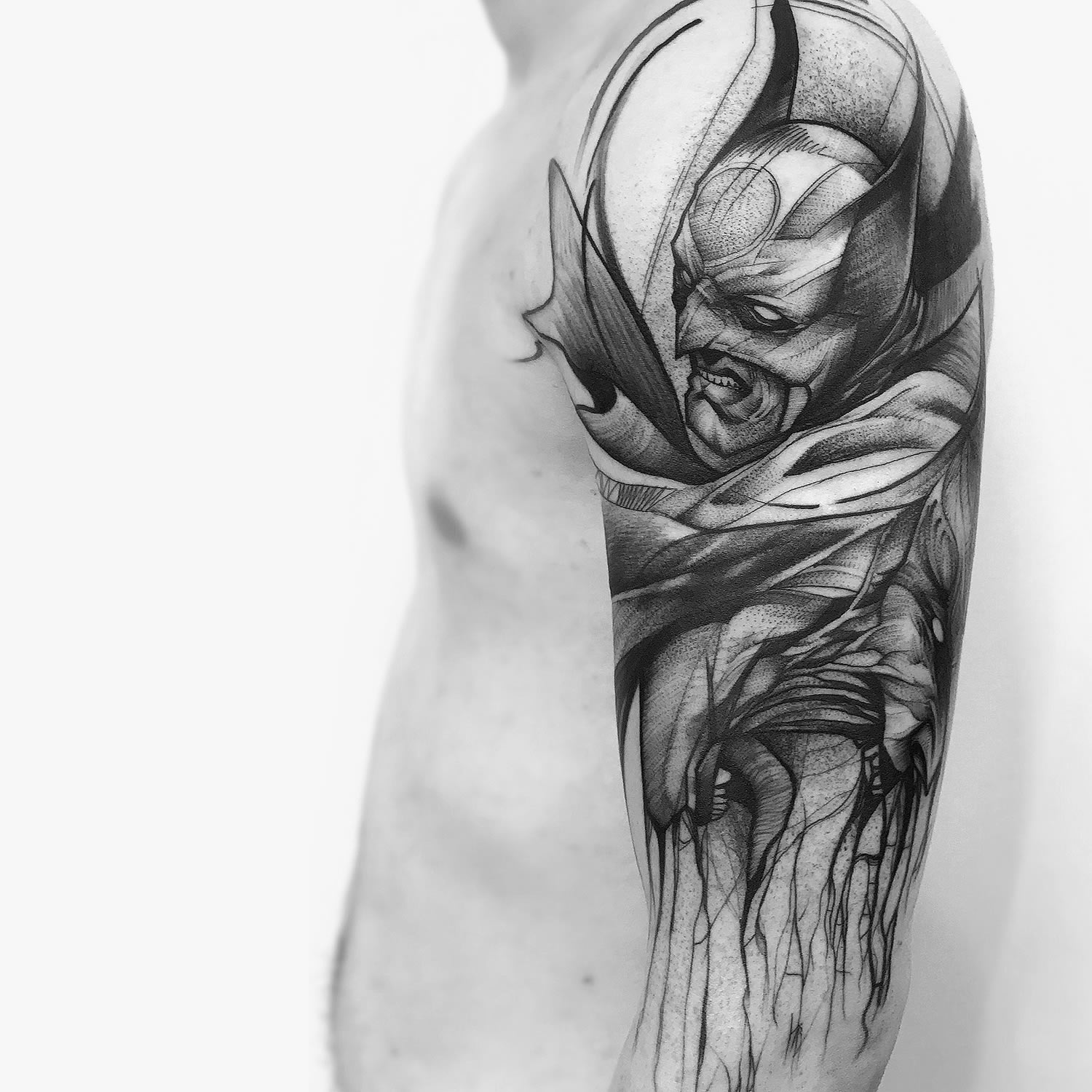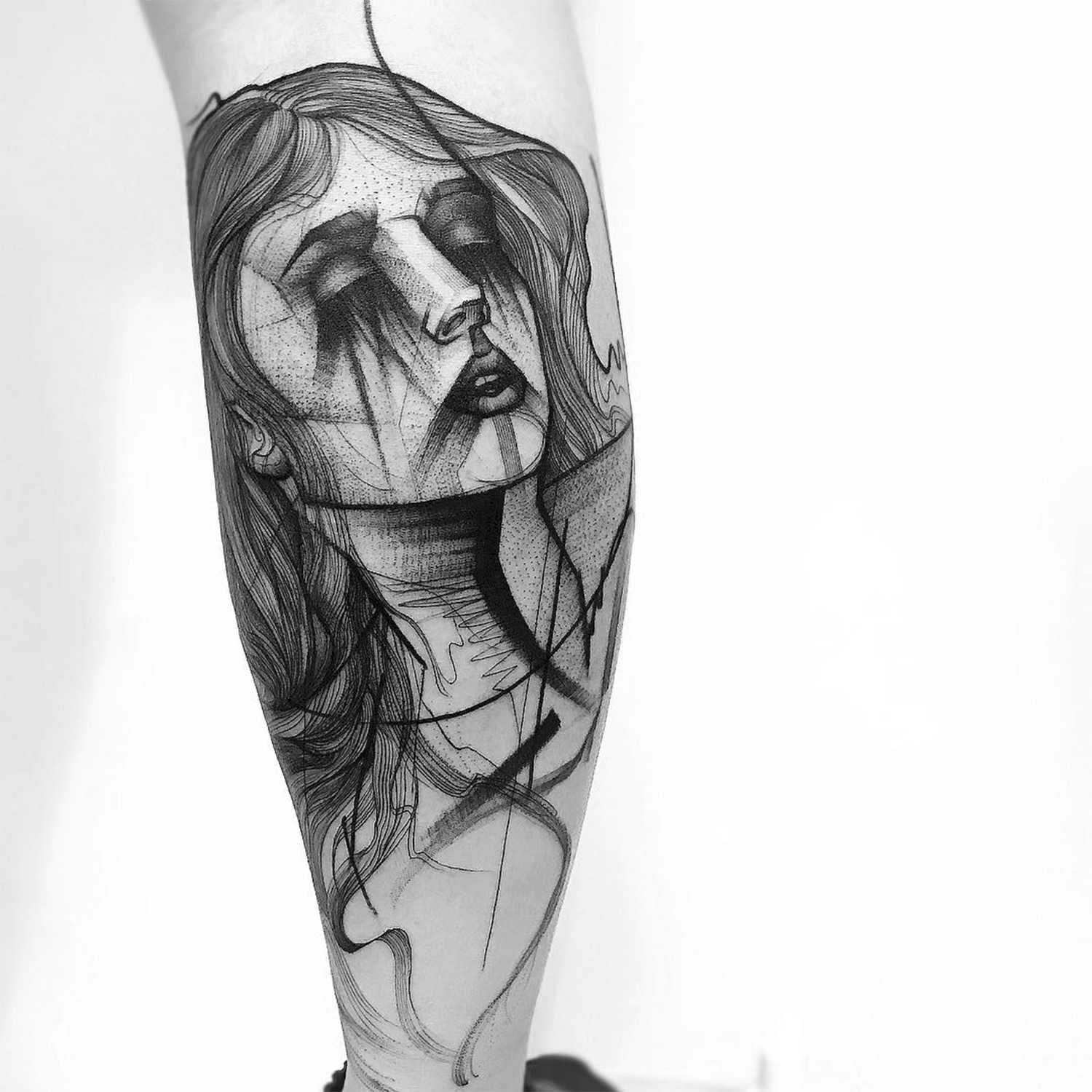 Carrilho's designs are done at random, and for that reason, he presents his clients with rough sketches on paper or tablet.
Frank Carrilho
Sketching energetically on paper, Frank Carrilho (Brazilian-born) artist living and working in Portugal names his art style, "Chaotic Blackwork." It is influenced from comic-book storyboards and a number of great tattooists like Kelly Violence, Róbert a Borbás, Scott Move, Fredão Oliveira, and Felipe Rodrigues Ferod. Carrilho's tattoos of lines moving in and out of the core compositions may appear disorderly to some people but they are actually quite harmonious. It took him time to solidify his line drawing reputation, "every work I had in lines, [I was] trying to convince my clients to do it." And the real starting point happened when a French client asked him to draw a shark in the hatching technique; "It was scheduled for the next day … but I was too tired and couldn't finish the design and decided to post the unfinished work on Instagram, and to my surprise, the client liked how it was and decided to get it done like that. After that, boom. I realized that people liked that style and since I had total freedom with my lines … no rules … I didn't stop anymore!"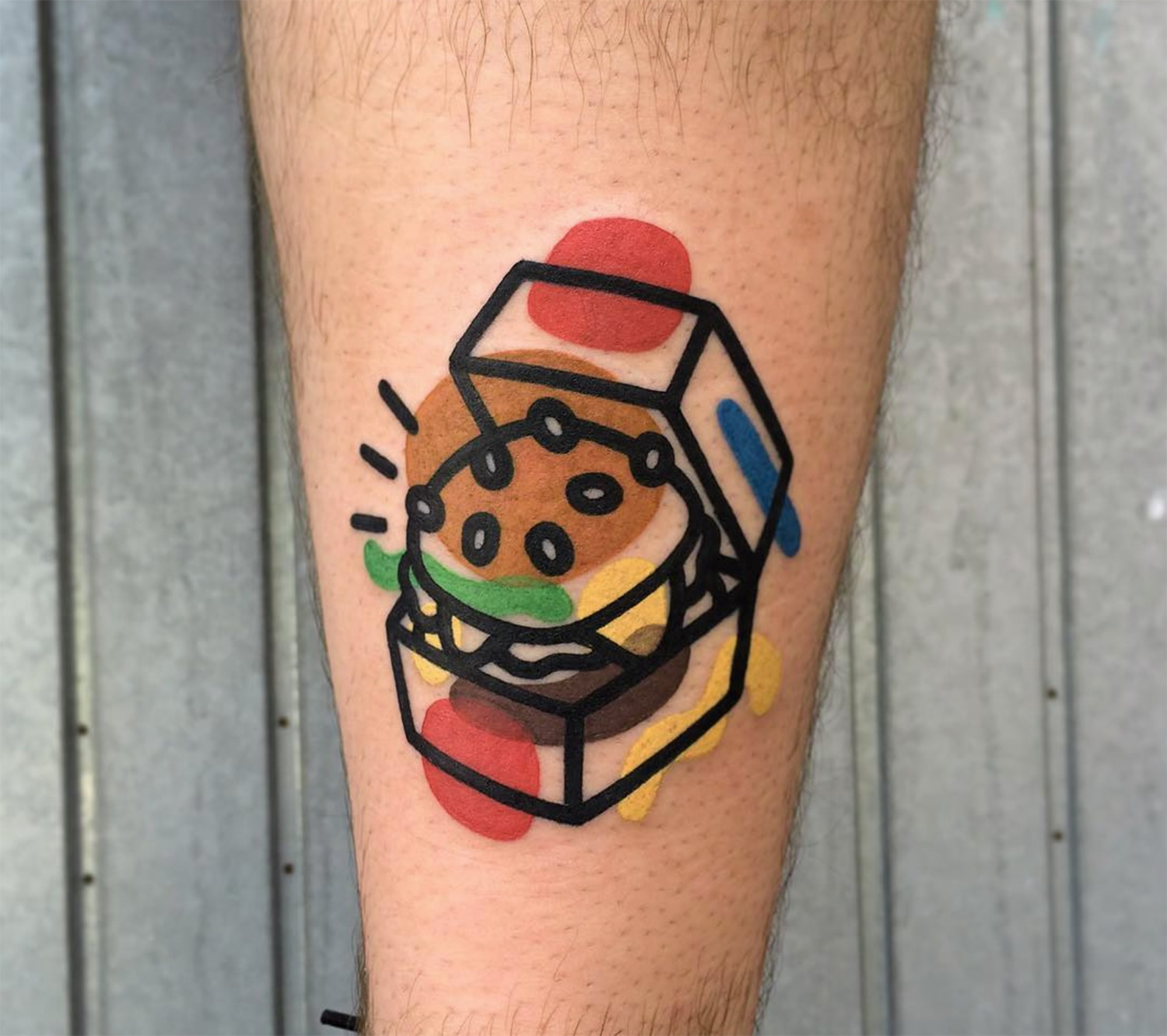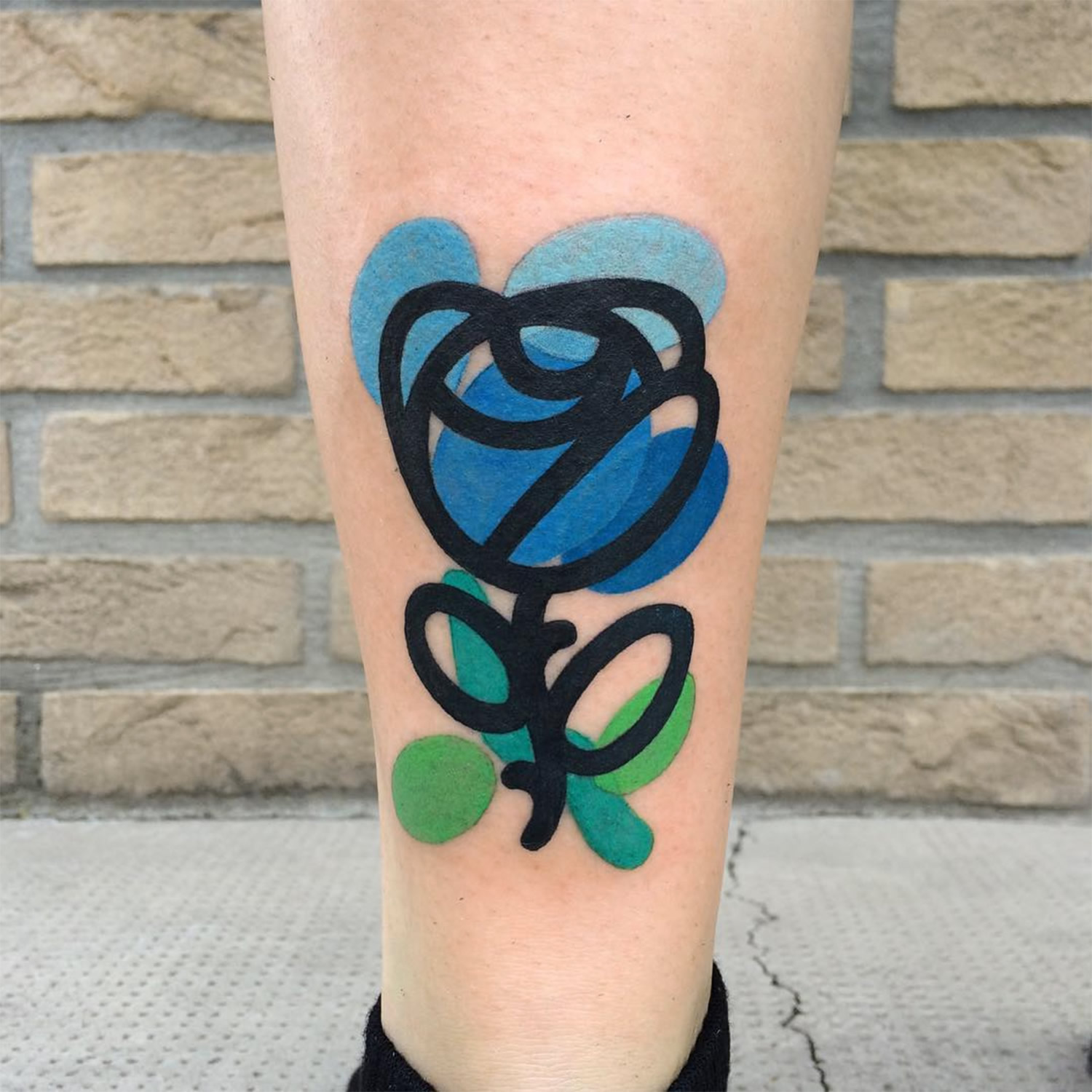 The clever use of solid colors and a consistent style has been Mambo's strong suit this year.
Mattia Mambo
Backtracking to 2015, Mambo states "I have fondness for the Japanese style, the traditional and, in particular, the Sailor Jerry artist" and that is all that can be seen in his portfolio. From then to now there was a big change, he leaped into the stratosphere of recognition because of his "Destrutturato" tattoos. The actual word was picked up while Mambo was watching a cooking show and used it to name his present-day art style, one that nods to the delights of deconstructed foods and Pop Art. Similar to the screen-printing process, Mambo breaks down each subject matter (a burger or popsicle) into basic elements and overlays them with an offset thick outline. It looks like he grabbed a set of jumbo markers and began drawing on his clients' bodies. But not random madness! Precise, consistent, thought-out drawing.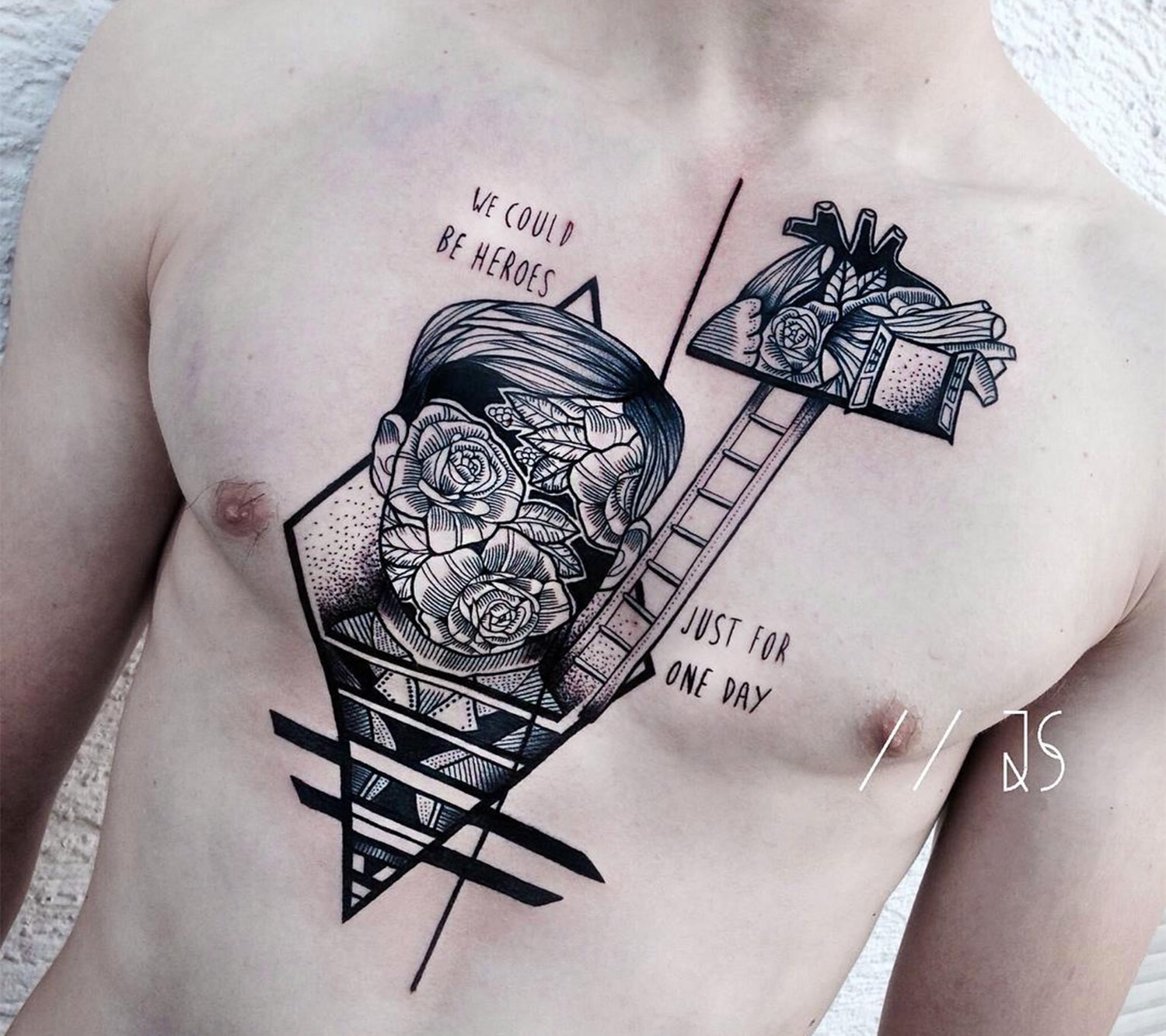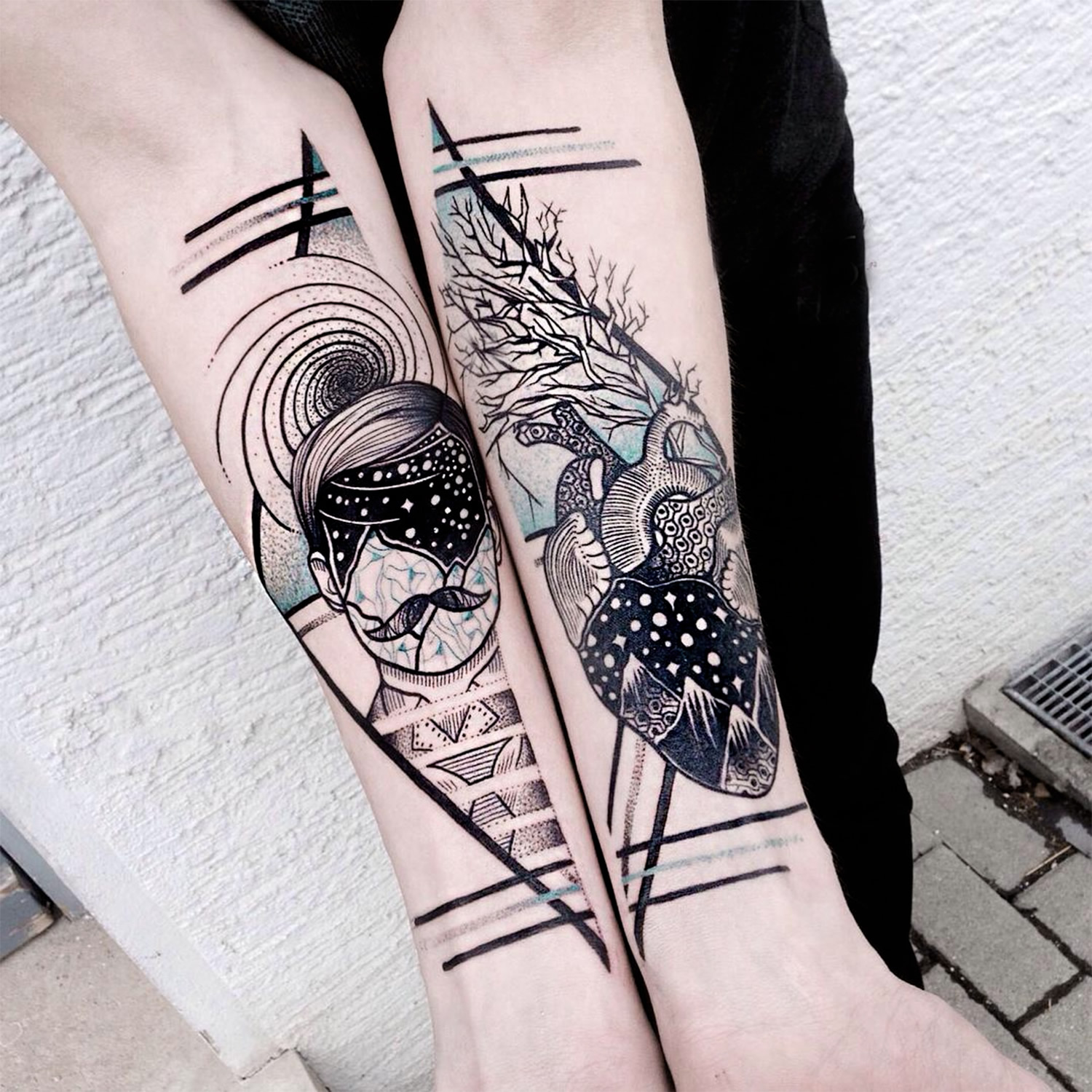 After the loss of David Bowie, Svartvit has done several tattoo tributes. "Music and especially the lyrics will always be a great inspiration for my work."
Jessica Svartvit
Sometimes the talent is just there. Jessica Svartvit has been tattooing for only two years, and in that short time she has made an impression. A big one on her clients, especially in 2016 her coil machine was working non-stop to produce tattoo after tattoo—of wildflowers, townscapes, mandalas, and even surreal combos like matryoshkas fused into pineapples and Fibonacci spirals next to human hearts—all done with an even balance of dot and line art. She can draw, and well, and one would think that she had past experience as an illustrator, but she tells me: "I had no idea about design and illustration at all. I just started drawing randomly while I was bored to death in university. I studied energy and resourcing management. It's the completely opposite of my creative job I have right now. But I pretty like how things just came [about] in my life ;)."
Photos © respective artists and studios