Mimi-Sama is a native Frenchwoman who has tattooed in various locations, including Melbourne and Tokyo. She has subsequently relocated to San Francisco, where she has been employed since 2021 at the prominent Black Serum studio. With her husband's support for travel and work, they share a similar style of life—enjoying new experiences, which led to 15 countries being visited. They are more settled now that they have a four-year-old daughter; their daughter Rosalina is a little too young to understand her mother's career but is an ardent anime fan. Mimi-Sama's art is influenced by anime and manga, which she does in black-ink, more in the comic style than animation, with textures and expressiveness.
Mimi-Sama will also appear as a guest artist at 10K Foxes in Los Angeles and attend Cleveland, Baltimore, Houston, and Kansas City conventions.
Above: Shikamaru in "Mangala" style by Mimi-Sama.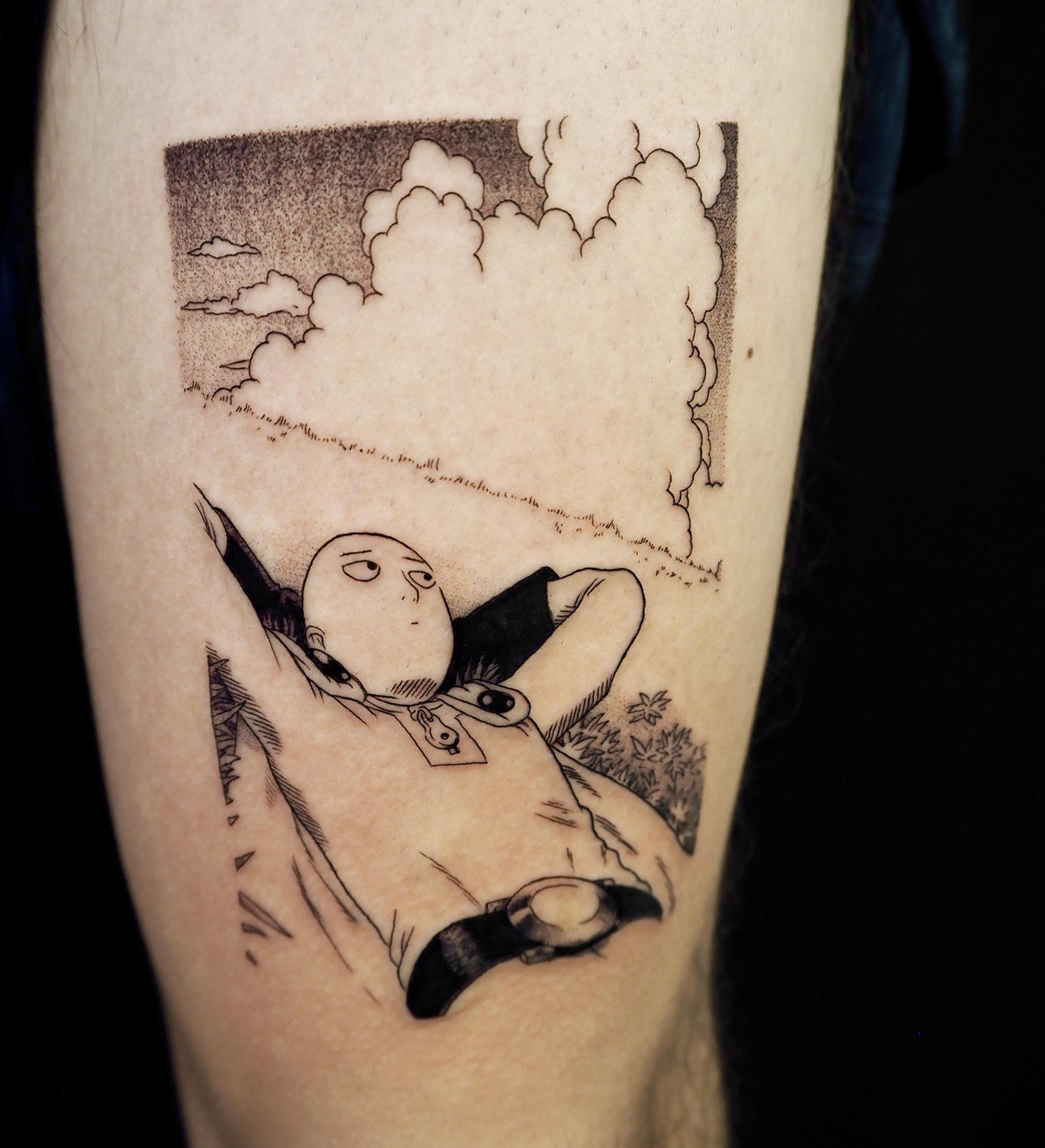 Saitama is the main protagonist in the "One-Punch Man" anime series.
You began tattooing in 2014; what drew you to this line of work?
My entry into the tattoo industry was by coincidence. I continued to draw even when I was working in a stable career as an Assistant Manager of four-star hotels on Paris's Champs Elysées. But my job demanded all of my attention and energy. Even though I enjoyed my previous job: it was a fascinating life, working for important people, organizing receptions, etc., one day I cracked for no apparent reason, just a burnout. I just had the feeling that something was missing. I worked in this branch for six years with only two weeks of vacation, and while I still enjoyed it, it was no longer for me. So I decided to quit one morning, with no plan for the future. I had a friend who owned a tattoo shop, a 20-minutes walk from my Paris apartment at the time. I had already gotten tattooed there, so I called him and asked if I could spend a day or two in his shop to kill time and return to my love of drawing. He agreed but said he'd never teach me how to tattoo.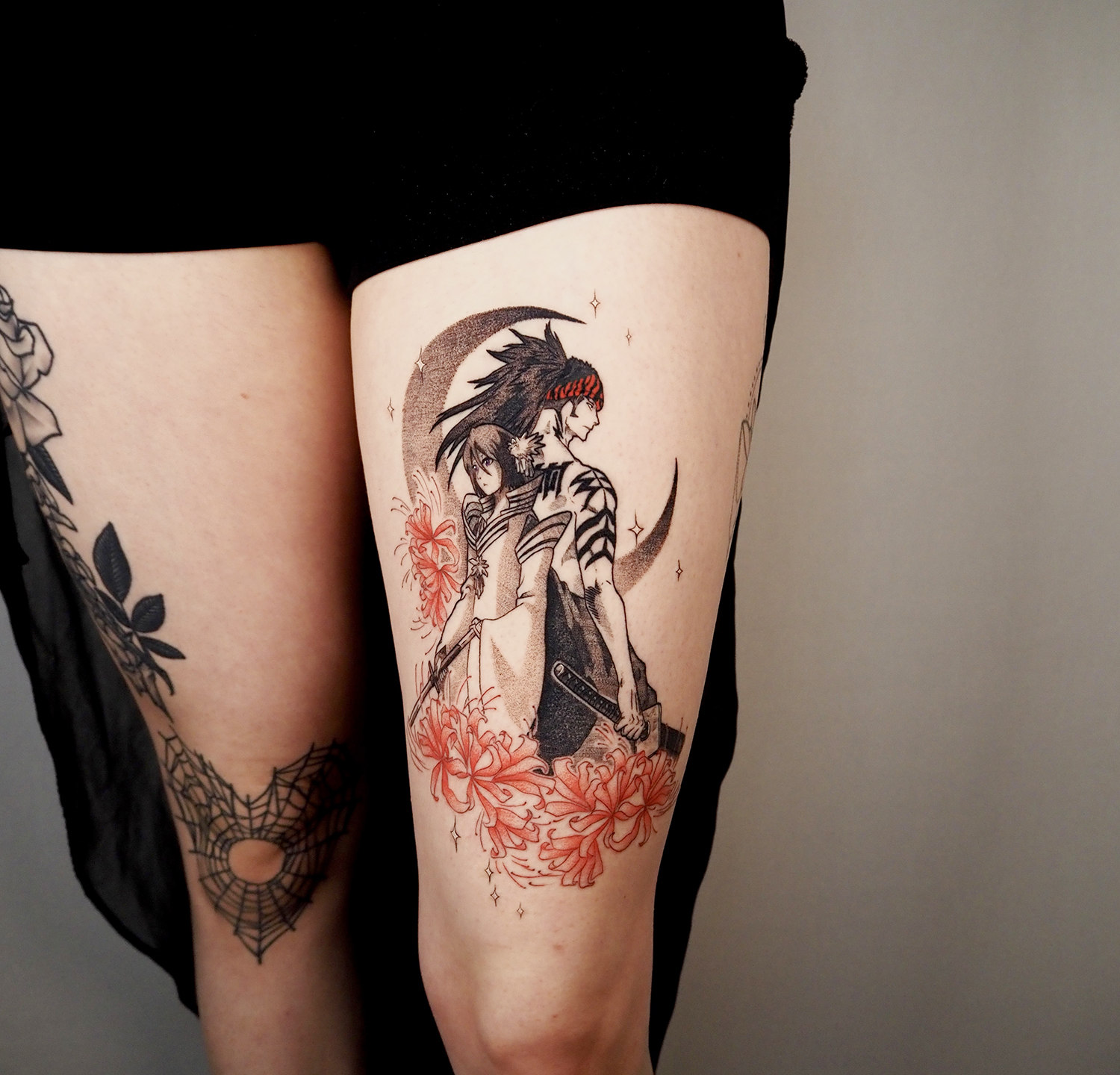 Rukia and Renji in the "Bleach."
I was there every day after, enjoying the atmosphere. I was taken aback by the clients' trust in the artists' work. One day a friend asked if I wanted to be a tattoo artist, and of course, I said yes. A week later, I was training on friends, but the shop was sold to a new owner who didn't want an apprentice one month later. I needed to find a new place quickly, but I was unsuccessful. Some places handed me a tattooist chair without any advice or direction. I wouldn't say I liked the ambiance or how they spoke to the customers as if they were sometimes drunk and didn't care about them.
In my past career I was managing more than 100 people, doing marketing, accountability, administration, and other tasks, so I reasoned, "Why can't I open my own shop with my own rules and welcome customers in a safe space where they will feel listened to and respected?" So I opened my shop and invited talented guest artists to collaborate with me. This way, I knew my customers' privacy would be protected, and I could continue to learn alongside talented artists. This was my first shop, located near the Pantheon in the heart of Paris.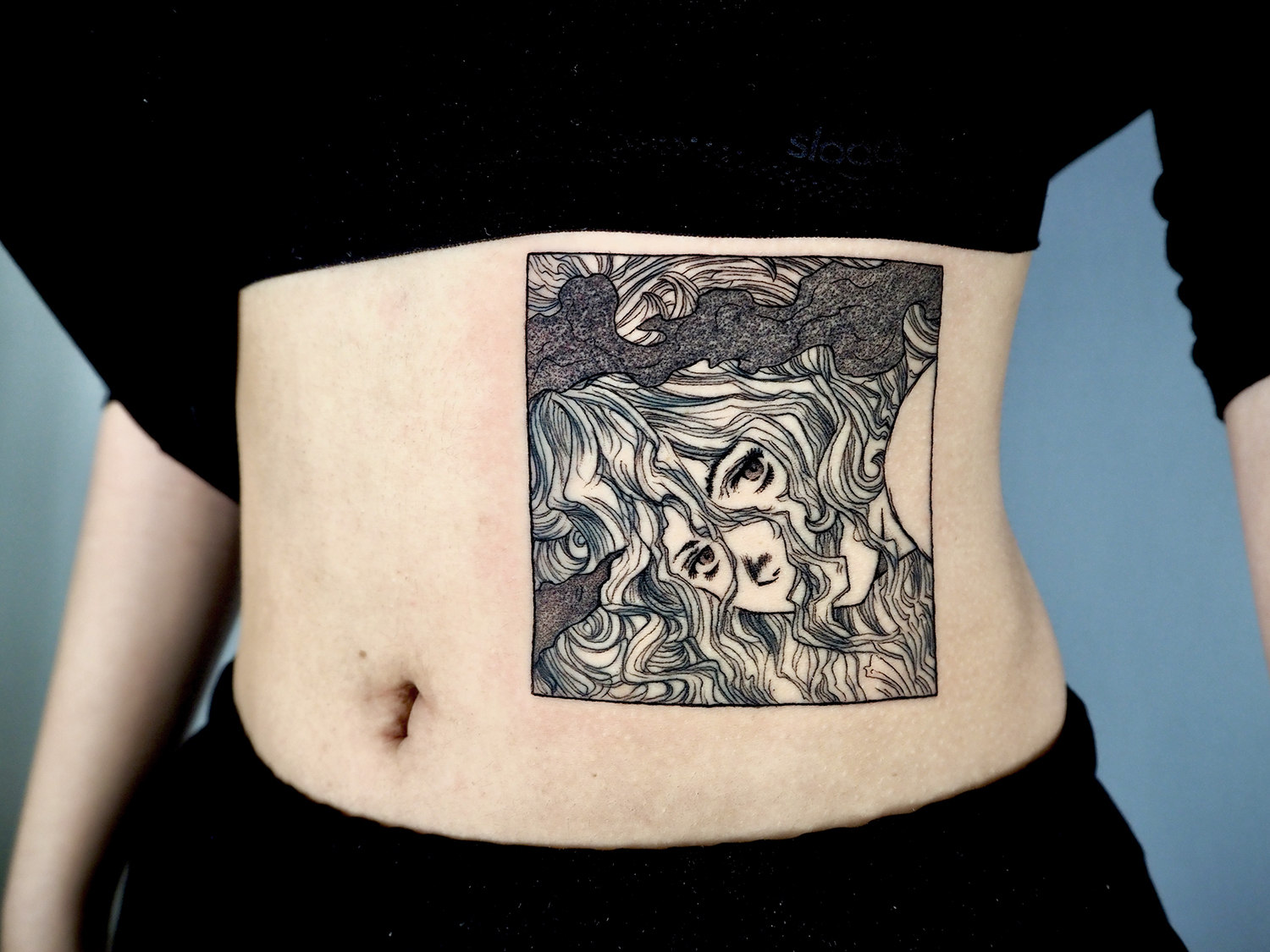 Noi is an anime and manga character from the "Dorohedoro" series.
What led you to the themes and style that you do?
My universe is centered on two major sources of inspiration: graphic blackwork and Japanese pop culture. Even though I didn't get much training, one of the first things I learned was that "a good tattoo starts with good lines." I started doing blackwork with many patterns and mandalas. I also like how those styles blend into the body. The human body is not a flat canvas; it is dynamic and one-of-a-kind. During my many travels (Germany, Belgium, Japan, Nepal, Australia, China, and Vietnam), I met artists specializing in graphic style who taught me the techniques of dot and whip shading and the use of very fine lines.
My second source of inspiration dates back to my adolescent years when I used to read manga and play video games. After the birth of my daughter, I wanted to devote my time to activities that I enjoy, particularly those with uplifting themes. Customers come to express themselves through tattoos, and the pieces they receive are frequently very personal to them. And I enjoy sharing our common interests with them and assisting them in expressing their feelings and emotions through their favorite anime or manga. After deciding to focus on my passion for Japanese culture, I moved to Tokyo and spent nearly a year working in Ichi Hatano's studio, where I gained a deeper understanding of the culture. I've been working on this job change for the past four years.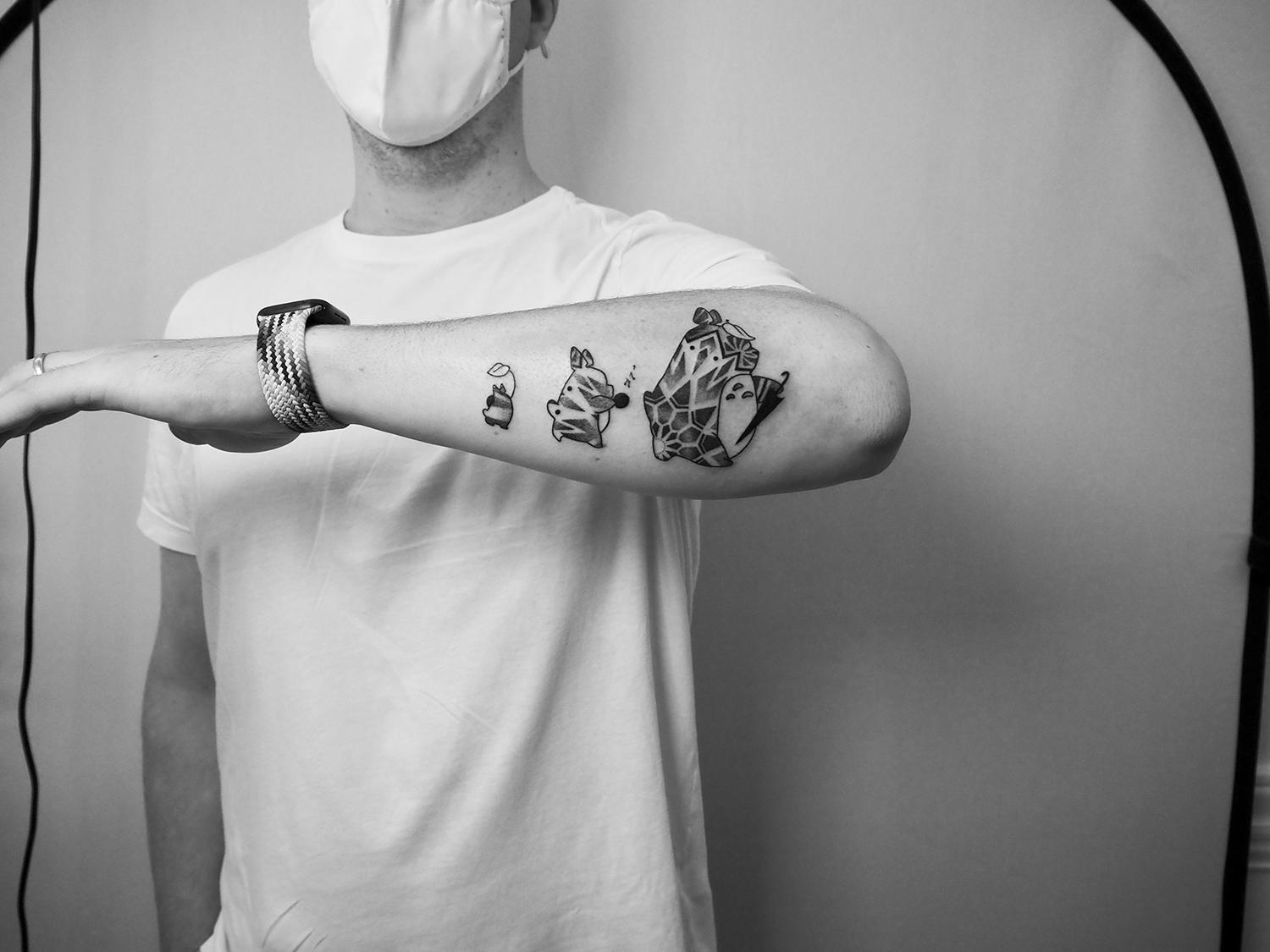 Mimi-Sama's "Mangala" tattoo style is seen in another example.
Do you have a name for your work?
Graphic elements are incorporated into my creations as needed. I call this style "Mangala" (a combination of manga and mandala), and I keep in mind that my linework must be as precise as possible; the piece must flow with the body and make sense from a distance and up close.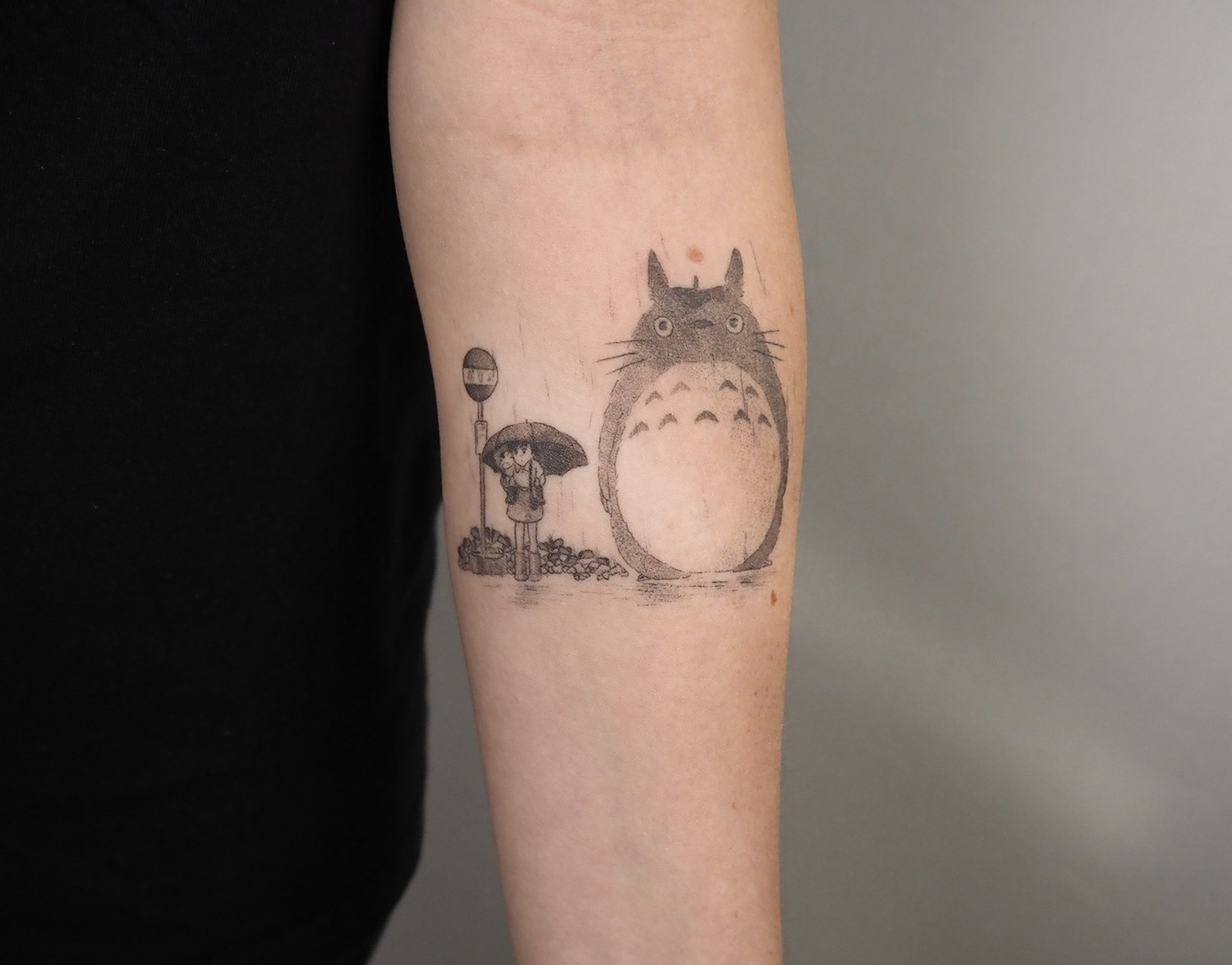 A tattoo that has healed eight months; a scene from "My Neighbor Totoro."
What are some of the most common manga and anime character requests?
The Ghibli movies, particularly "My Neighbor Totoro" and "Spirited Away," are a huge source of inspiration for my clients. In terms of Shōnen manga, "Naruto" and, lately, "Jujutsu Kaisen" and "Demon Slayer" are in high demand. But the exciting thing is that, as the manga continues to be produced, it evolves, and new classics appear all the time!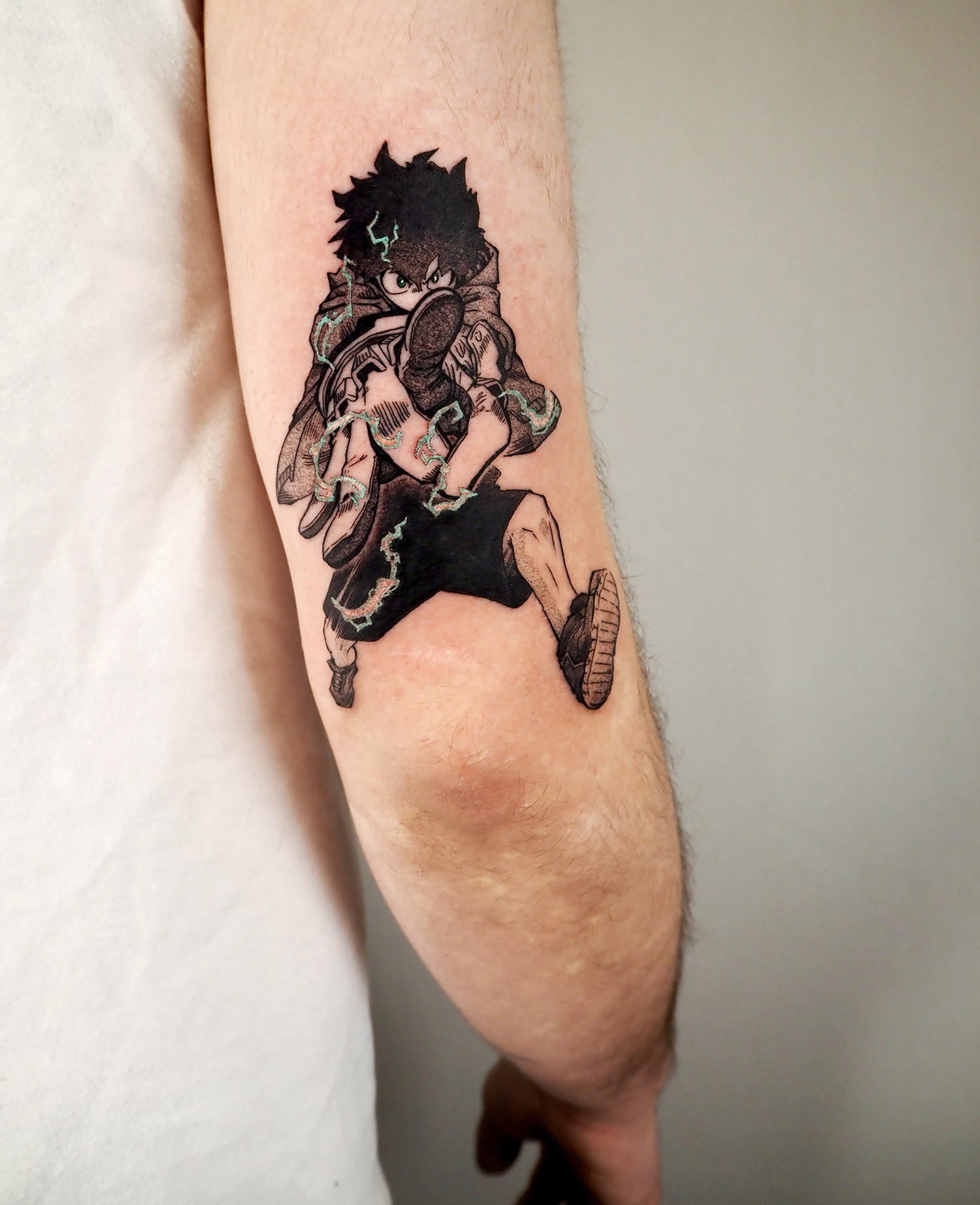 Deku in action in "My Hero Academia."
What are your favorite anime films?
"Howl's Moving Castle," directed by Hayao Miyazaki and produced by Studio Ghibli, is my favorite. I enjoy the eccentricities of all the characters. And who wouldn't want to live in a walking castle? It's amazing! In addition to Japanese animation, I enjoy the French animation scene; one of my all-time favorite films is "The Triplettes de Belleville." It has a graphical feel to it, with so many emotions expressed without dialogue.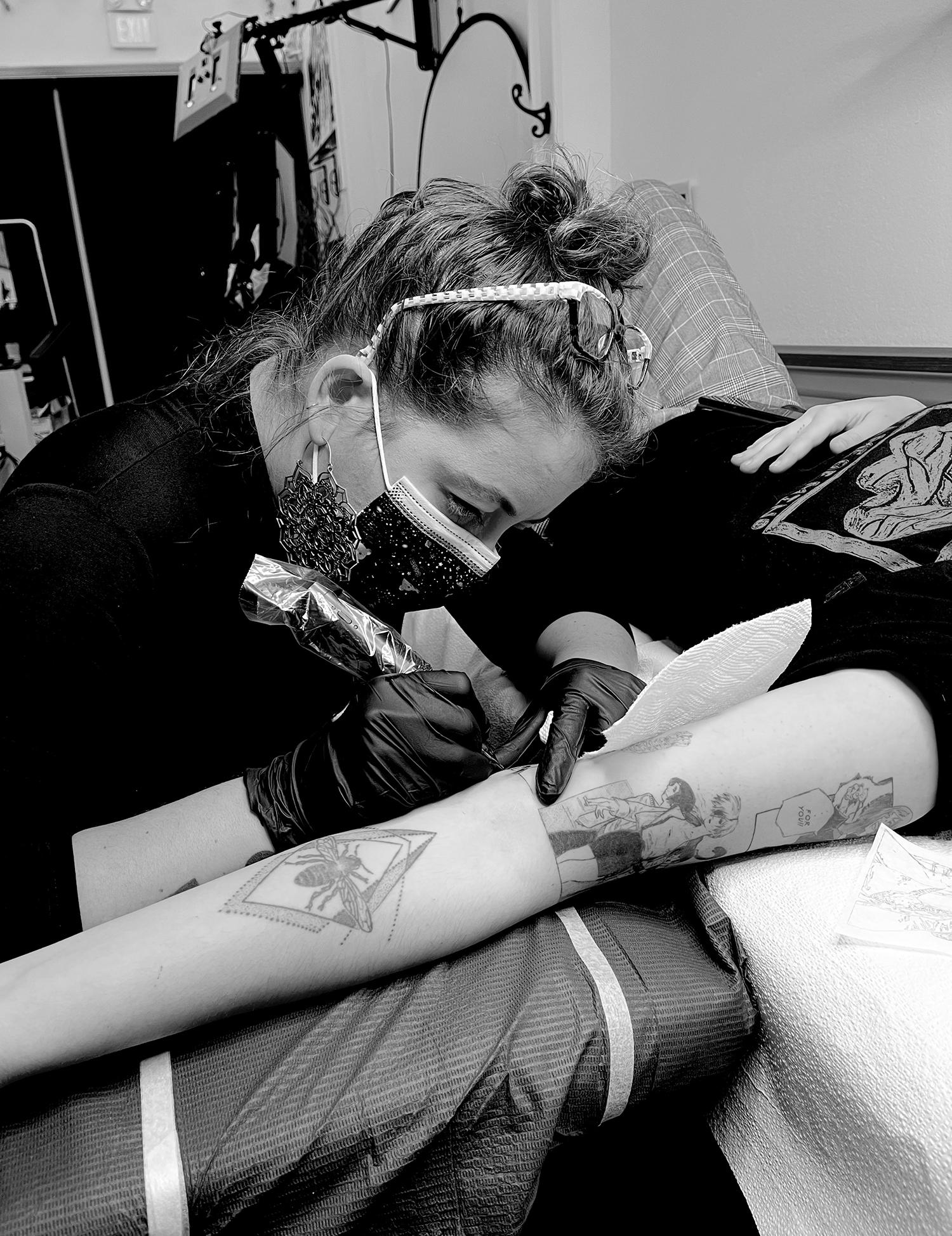 Tattooist Mimi-Sama at Black Serum studio in San Francisco.
Why use predominantly black ink rather than color?
It's mostly a matter of personal taste. I've always preferred tattoos in black ink. Because black ink allows me to create a variety of textures, I don't need to use colors. Furthermore, to be more true to the original art, I prefer manga to anime as inspiration. Mangaka's work is based on lines and is both sober and expressive. That is what I try to convey through my tattoo designs.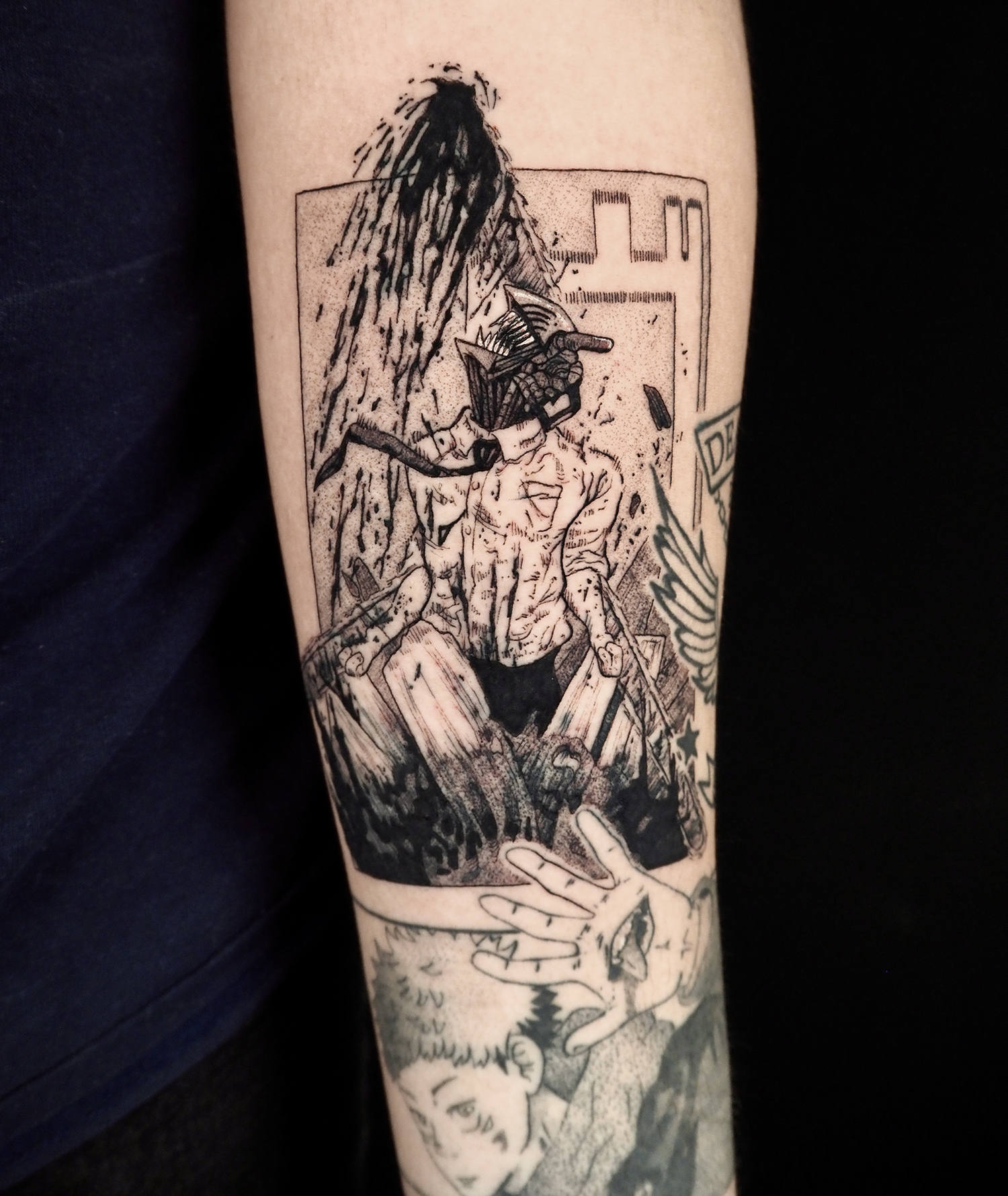 Denji is the central character in "Chainsaw Man."
You specialize in fine-line tattooing; I've seen some healed examples; how does the work look after a few years? Is it in need of touch-ups?
Because of the improvement of the needles and ink, it is now possible to work with small details without compromising the quality of the tattoo. It requires experience and knowledge, but fine-line tattoos can heal just as well as other tattoos. I usually do fewer touch-ups on fine line because I know how to insert the ink even for small details.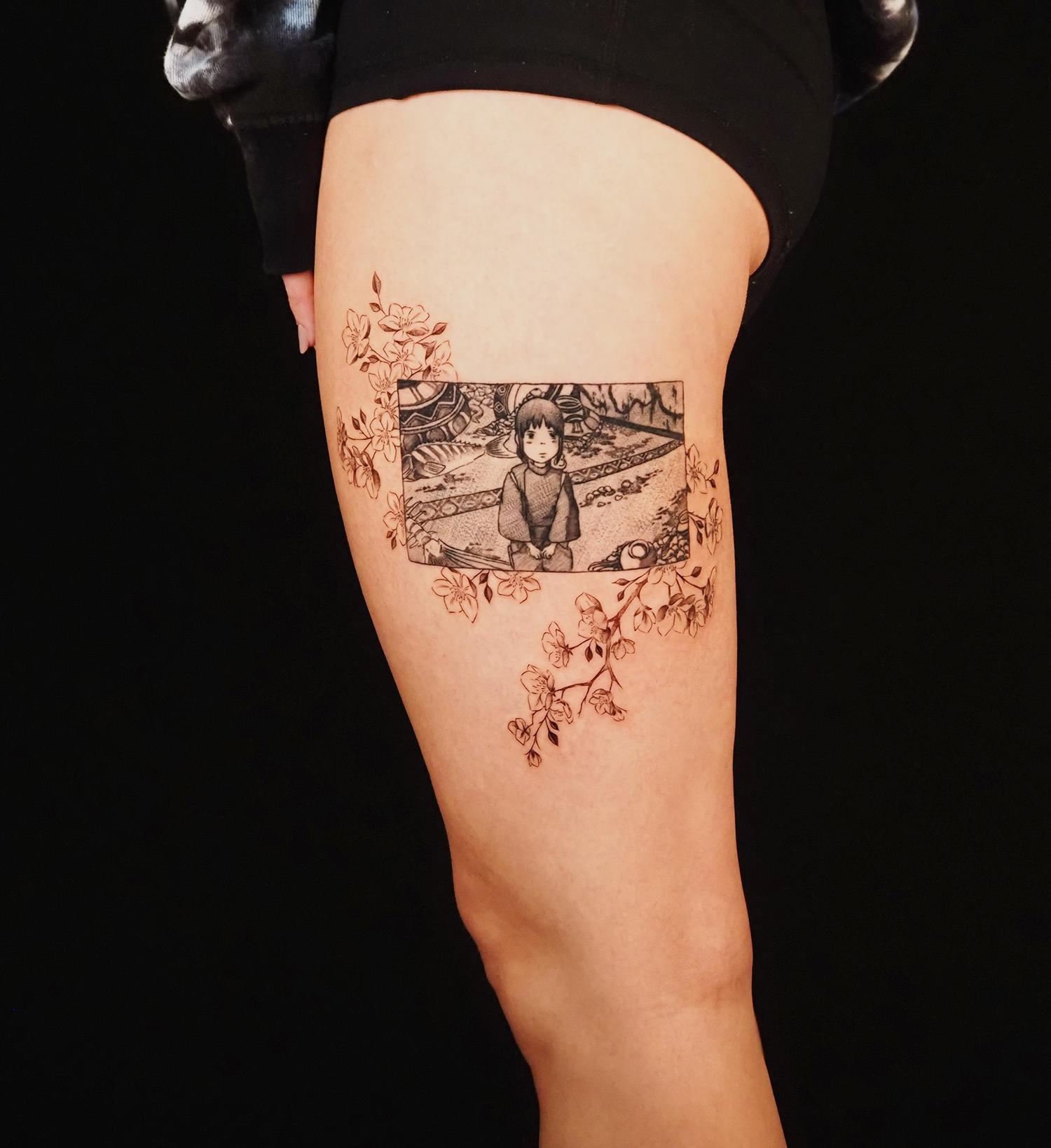 A beautiful piece with color accents of "Spirited Away."
You live in San Francisco; what drew you to work here?
As a European, the United States is the land of tattoos! I've traveled and worked in over 15 countries, but when I tell my colleagues I work in the United States, they are overjoyed because it is a significant accomplishment. And you don't feel like an outsider when you have tattoos in the United States; it is well accepted. I have so many wonderful people from all over the world working with me. It is highly competitive, but I have always enjoyed pushing myself, and this is the country where I can do so. On top of that, I get to live and work in one of the best cities in the world, San Francisco. It is a vibrant cultural melting pot, and the city and its surroundings are a great source of inspiration for life, love, and art!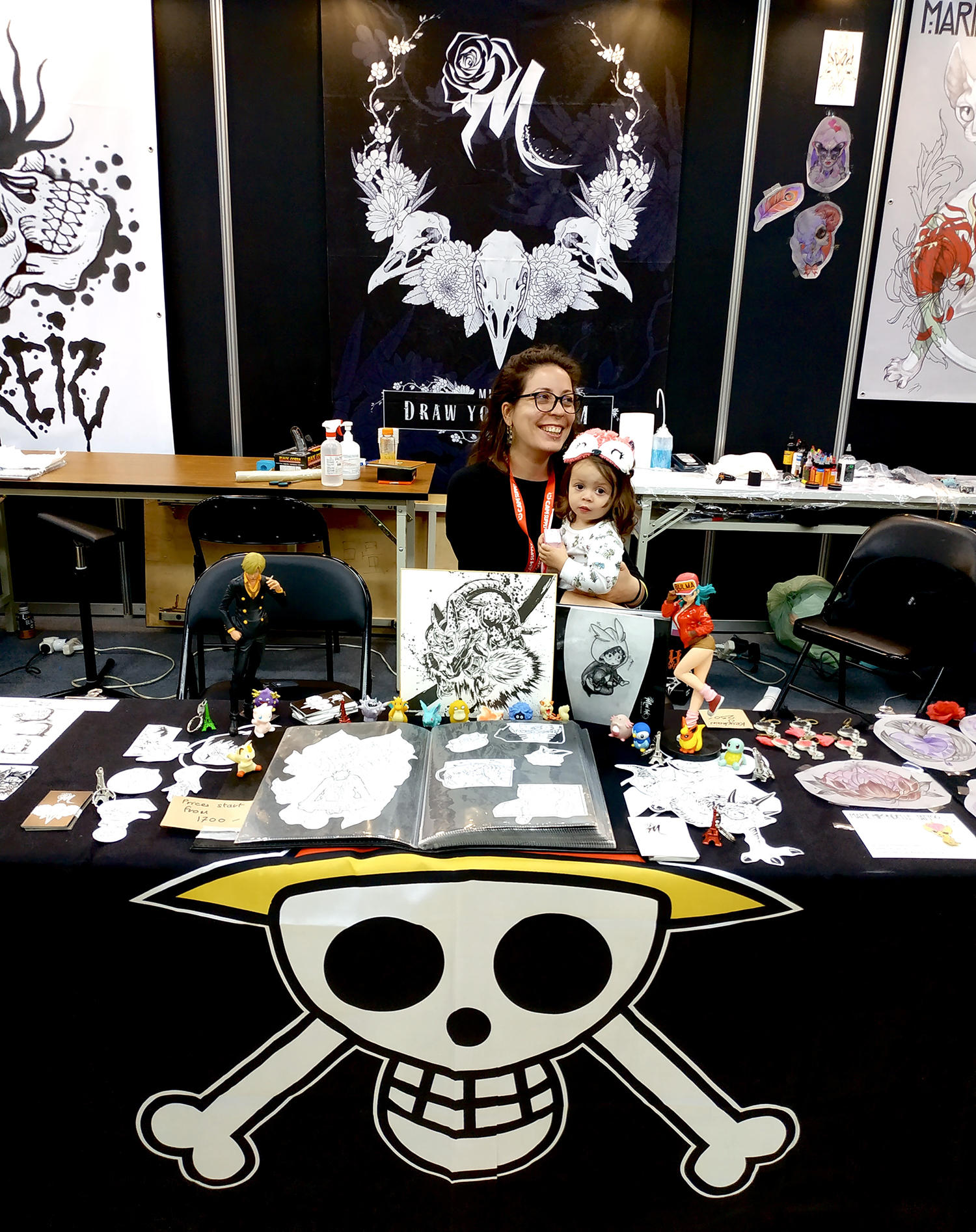 Mimi-Sama with her daughter at a Taiwan convention.
So, if you have a customer traveling in from out of town to be inked by you, and they want to know where to go in San Francisco. What are your recommendations?
I like Japantown because not many cities have a Japanese quarter, and you can find products specific to cooking or otherwise. Every time I go there, it reminds me of my time in Tokyo. Another part of town that I enjoy is Presidio Park, which offers a stunning view of the Golden Gate Bridge. Finally, Valencia Street, where Black Serum studio is located, is very active on weekends. They close the road to cars and set up DJs or bands to add even more atmosphere to this street full of bars and restaurants.
Photos © Mimi-Sama