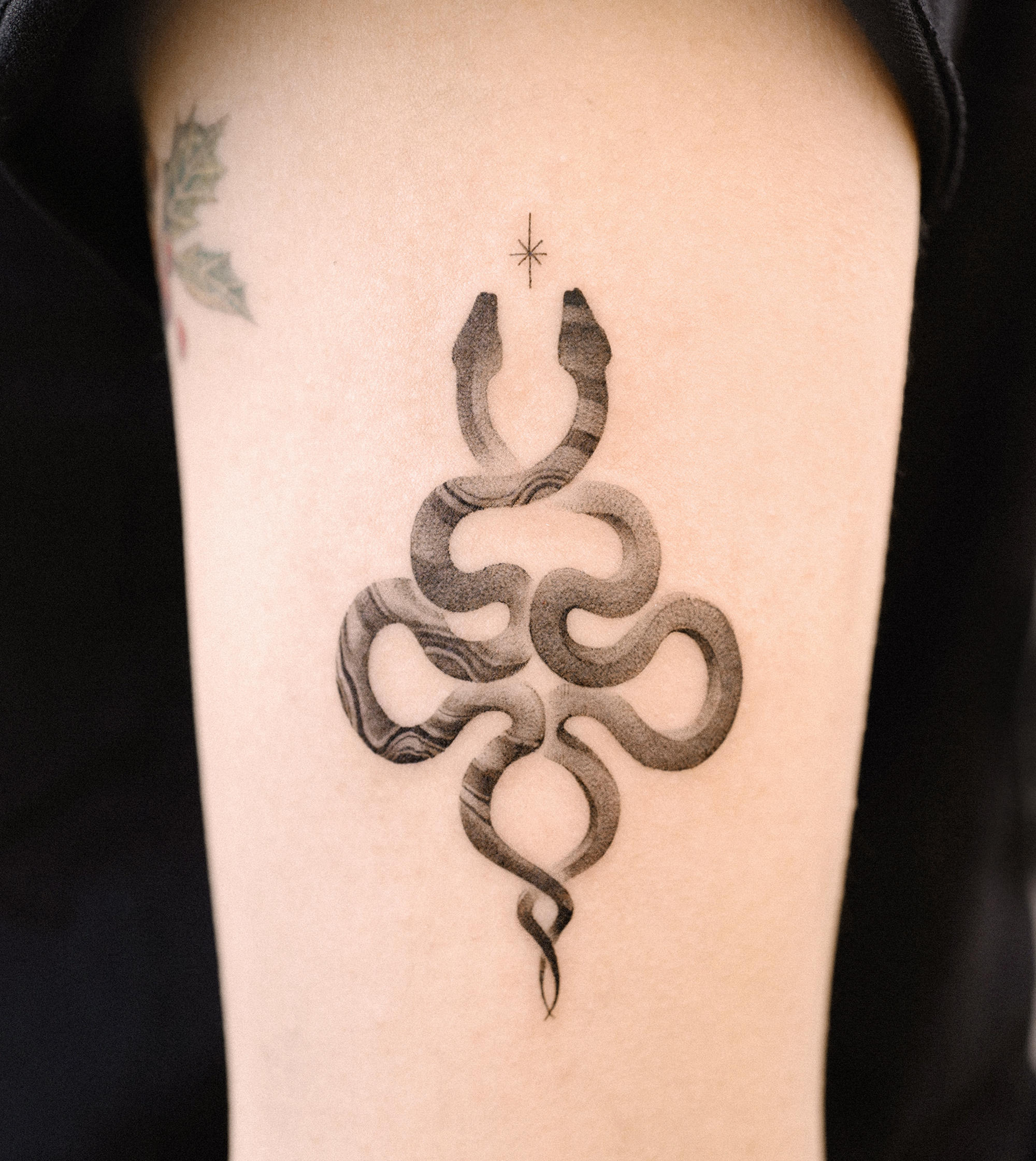 Choi Yun, 27, is not a fan of the term "dotwork." Instead, she employs precise stippling to achieve intense gradient shading and reduce tattoo machine impression marks. She has a bachelor's degree in fine arts from Chugye University, and her parents have always encouraged her to pursue her dream of becoming a tattooist right out of college. Since turning professional in 2018, she has concentrated on depicting animals and flowers in natural form and flow, particularly in black ink.
Above: Korean tattooist Choi Yun's curlicues snakes.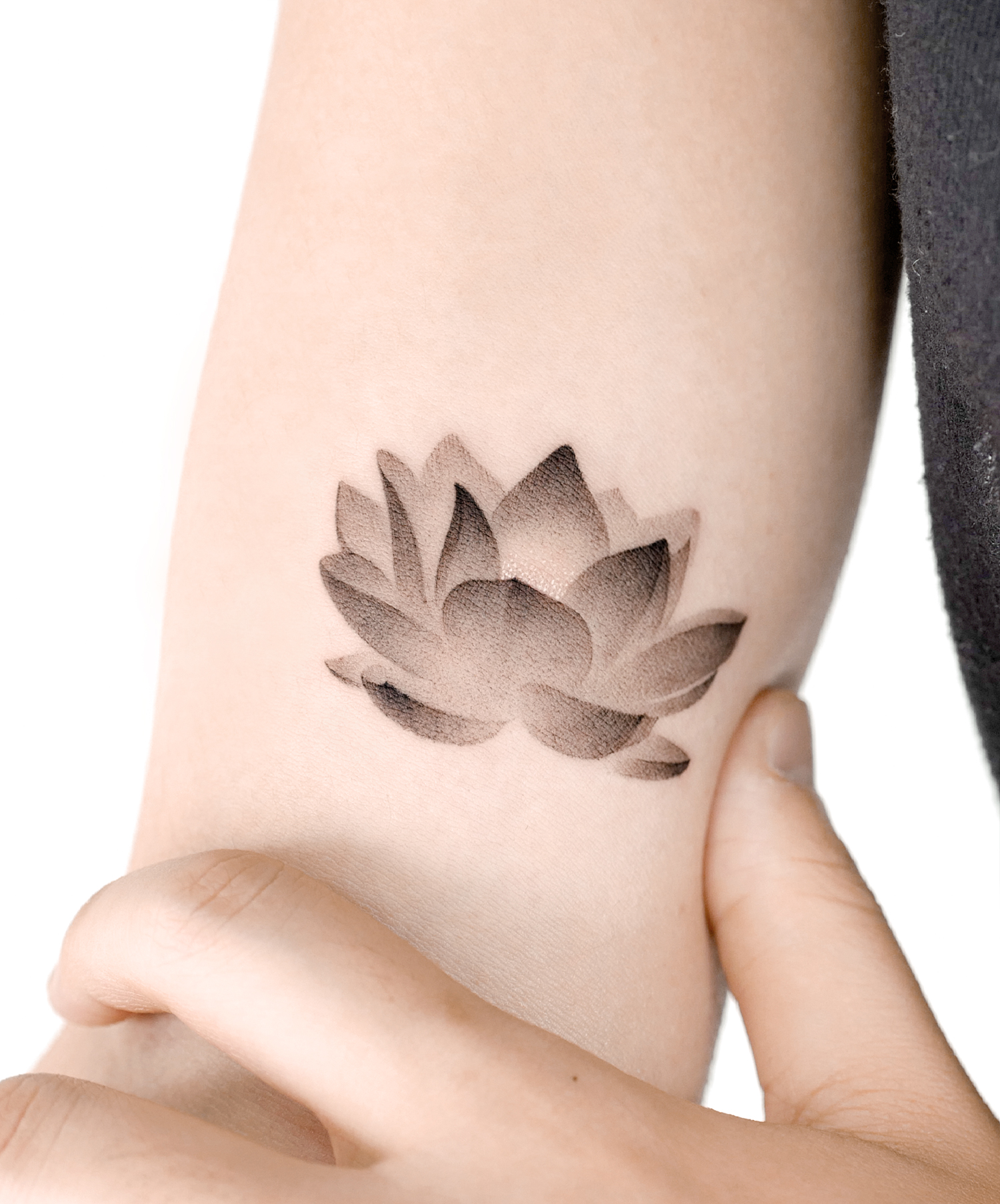 The lotus blossom has been seen as a symbol of power, perseverance, and rebirth.
Where did you get your tattooing skills?
I started out learning at a small (Irezumi) tattoo studio. There was no one I could ask to help with my tattoos; because their tattoo style was so different. So I went to the Studio By Sol Academy in South Korea to re-learn it. I felt I belonged there and began tattooing professionally in 2018.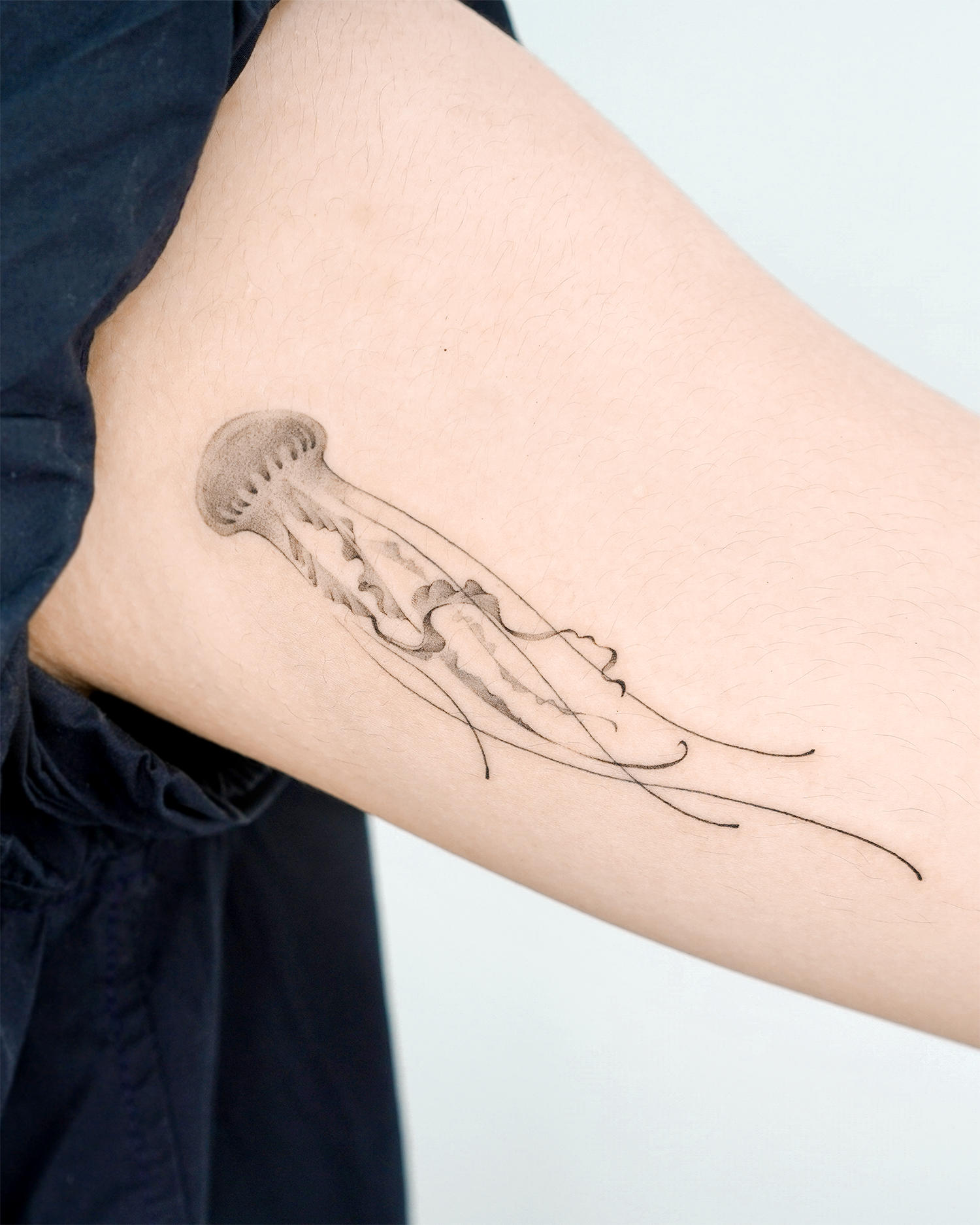 In both dotwork and linework, the gliding sea creature.
What are some of the pressures of being a tattooist?
Every person's skin is different. Some people have smooth skin, while others have large pores and a lot of dead skin. Even if I work the same, tattoos don't stay the same on everyone's skin. Of course, I'm a human, so I can't do the same thing as a machine. However, some customers are unfamiliar with these issues, and even if the customer is satisfied, I believe it is very stressful if it does not reach the completion level. Tattoos are appealing for life, but they also put the most strain on me.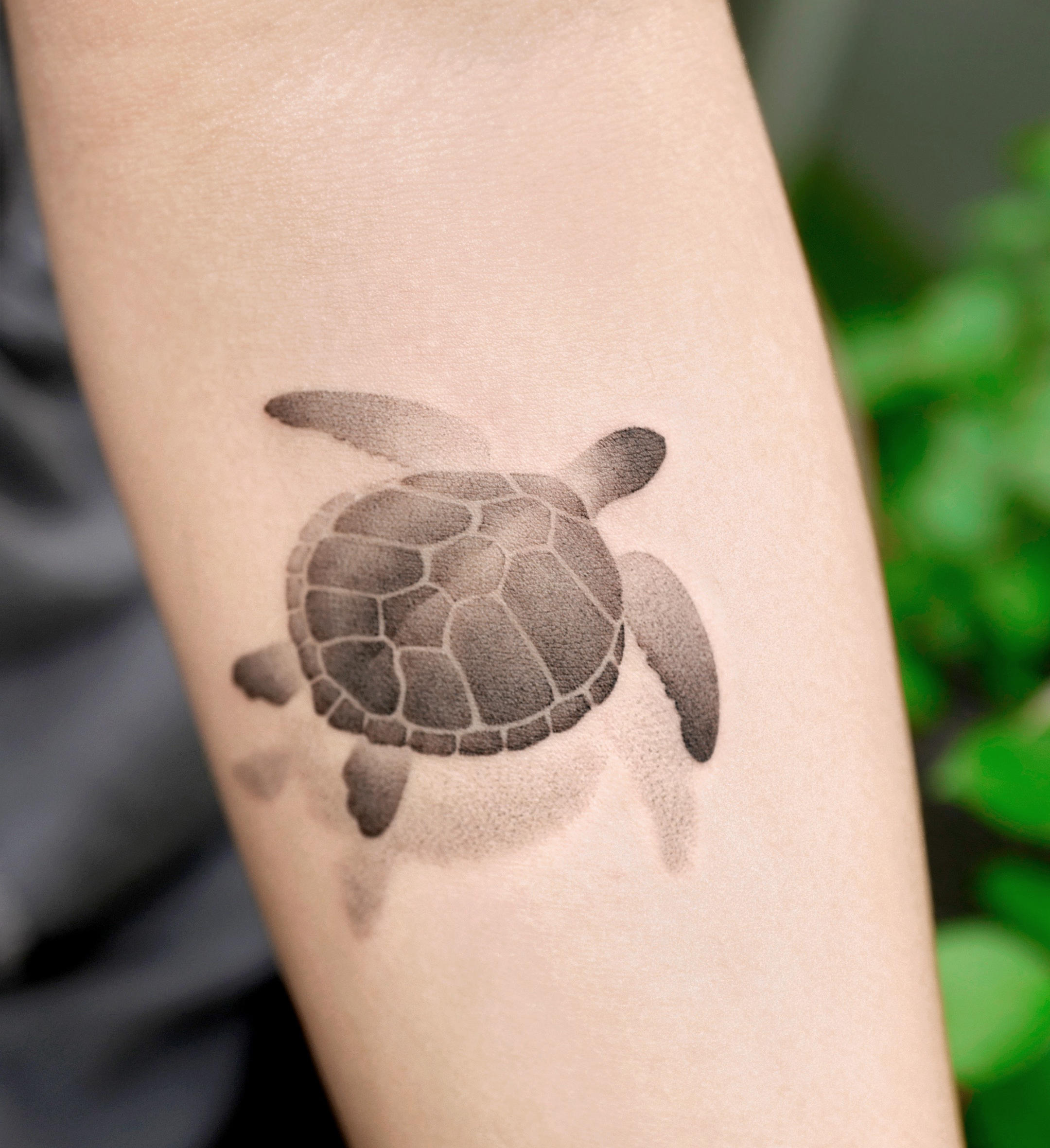 Turtles are a common tattoo motif.
Explain your preference for the dotwork technique?
I'm not sure if it's correct to say "dotwork." It is not using a technique for drawing dots but instead for stacking them lightly in stages so that there is no needle mark.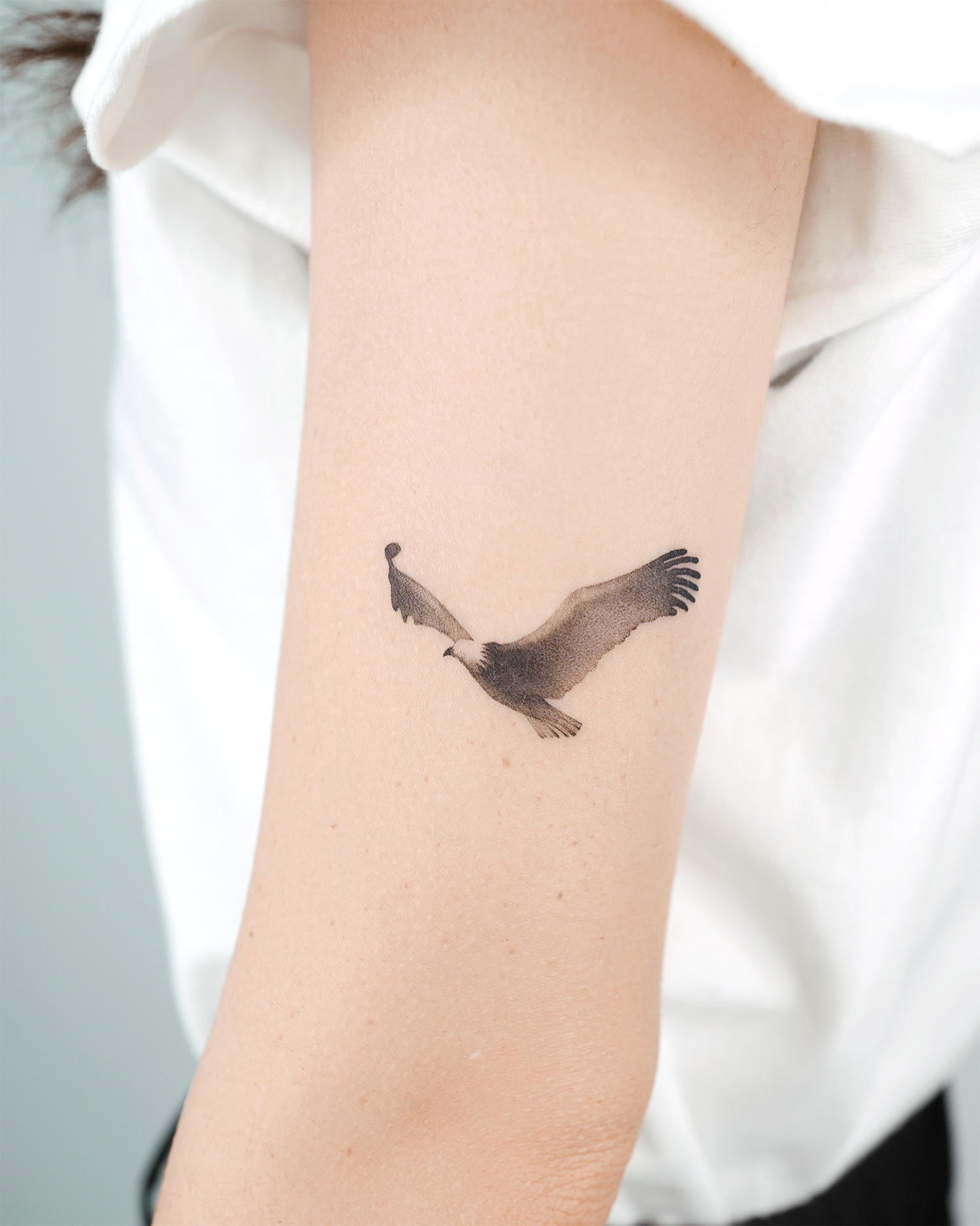 The American eagle is an emblem of liberty.
Which countries do you get the most tattoo requests from?
Aside from Korea, most of them are from the United States. It is one of the reasons why I would like to work overseas.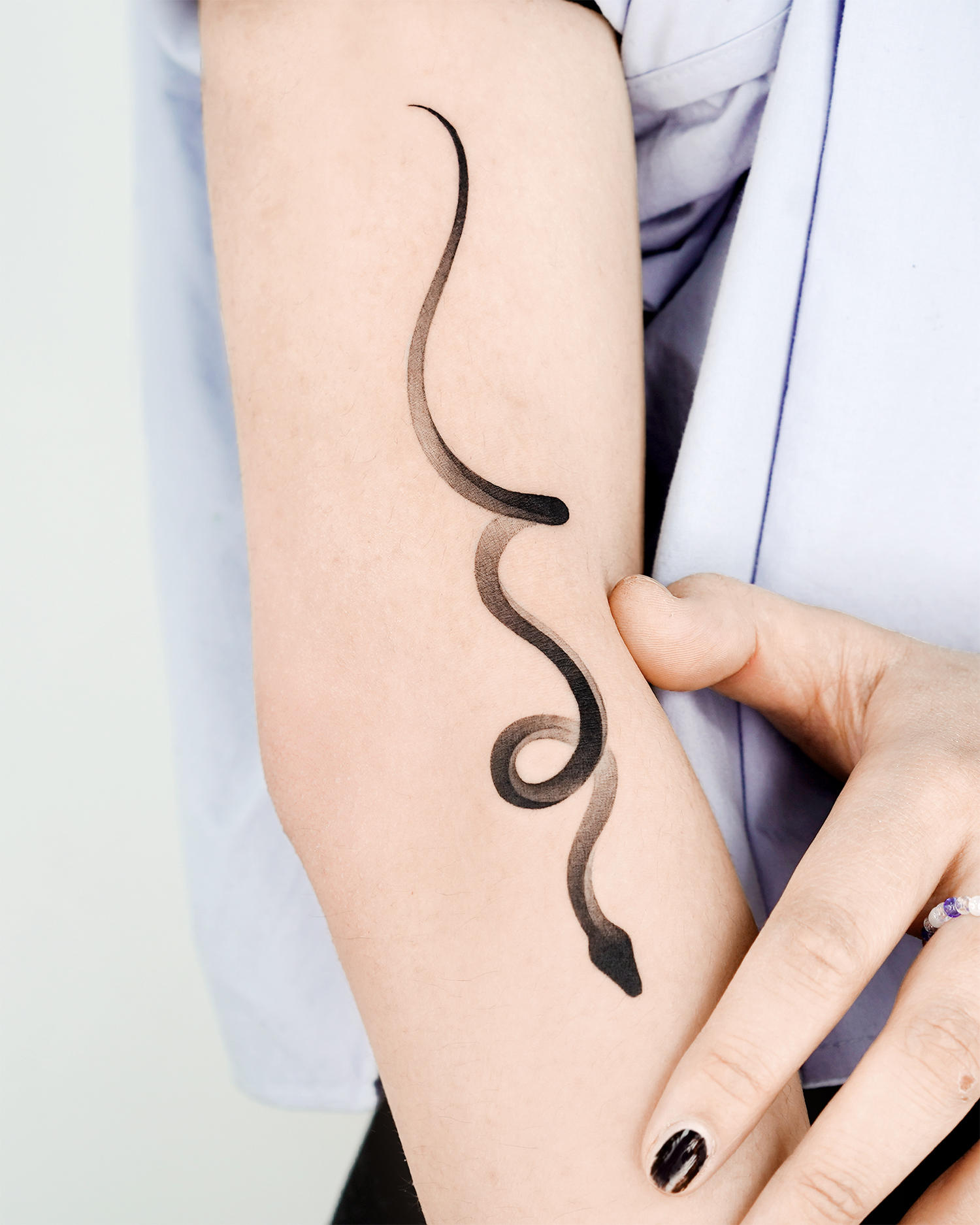 Another coily snake rendered in stippling style.
Are you not nervous that cultural shocks are working and living in other places?
Of course, I'm nervous! CCTV (video surveillance) is deployed practically everywhere in Korea, and going to the park at midnight or walking around outside in the morning is natural and acceptable. They know they shouldn't do the same in the United States. But, like in any place, there are good and evil people, crime and less crime.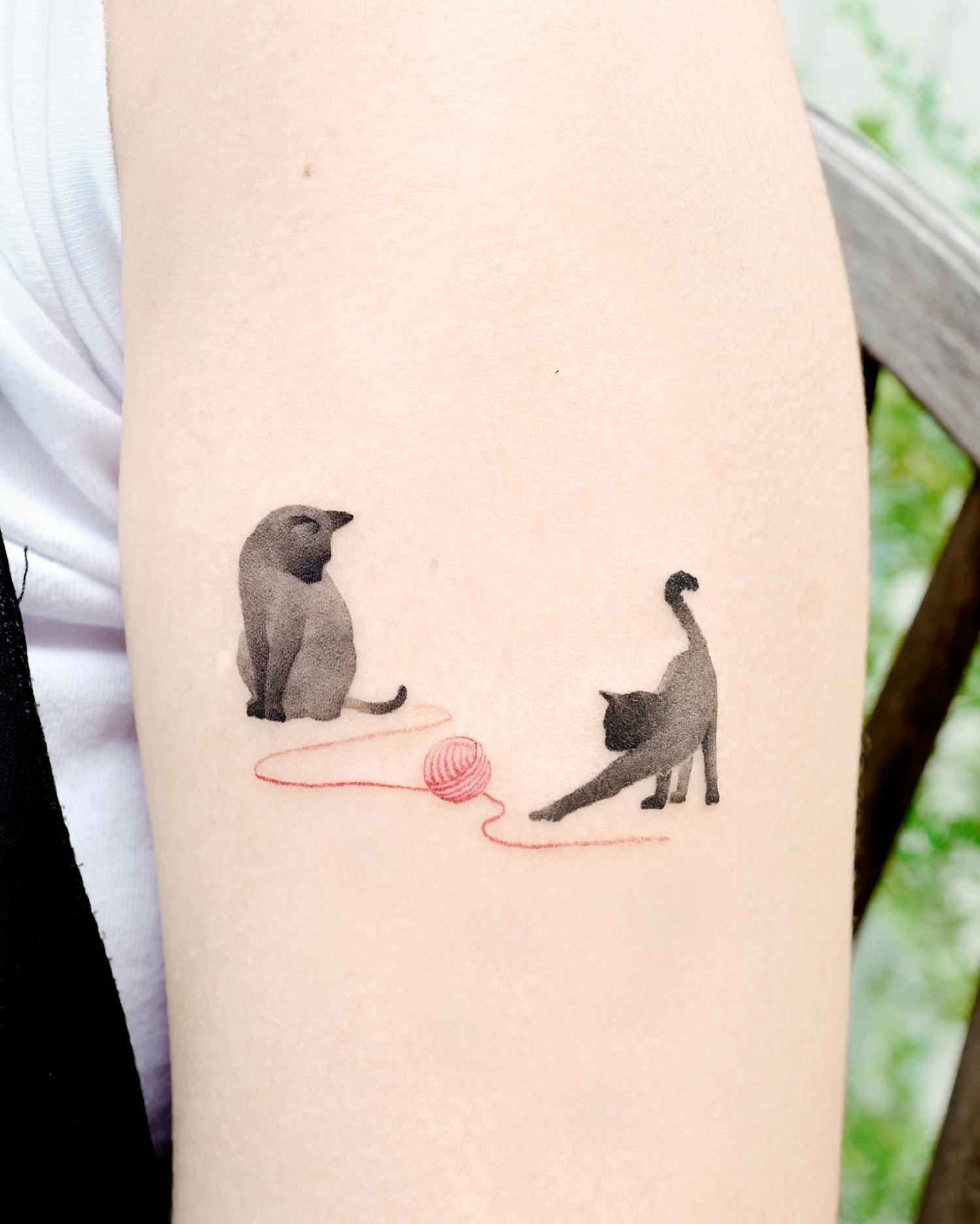 Cats are popular in online videos and tiny tattoos.
What do you believe is unique and optimistic about the United States compared to Korea?
Because Korea's capital city has a large population, buildings and houses are densely packed. I envy America's low buildings and wide sidewalks because it has so much land. I believe the scenery will allow me to unwind.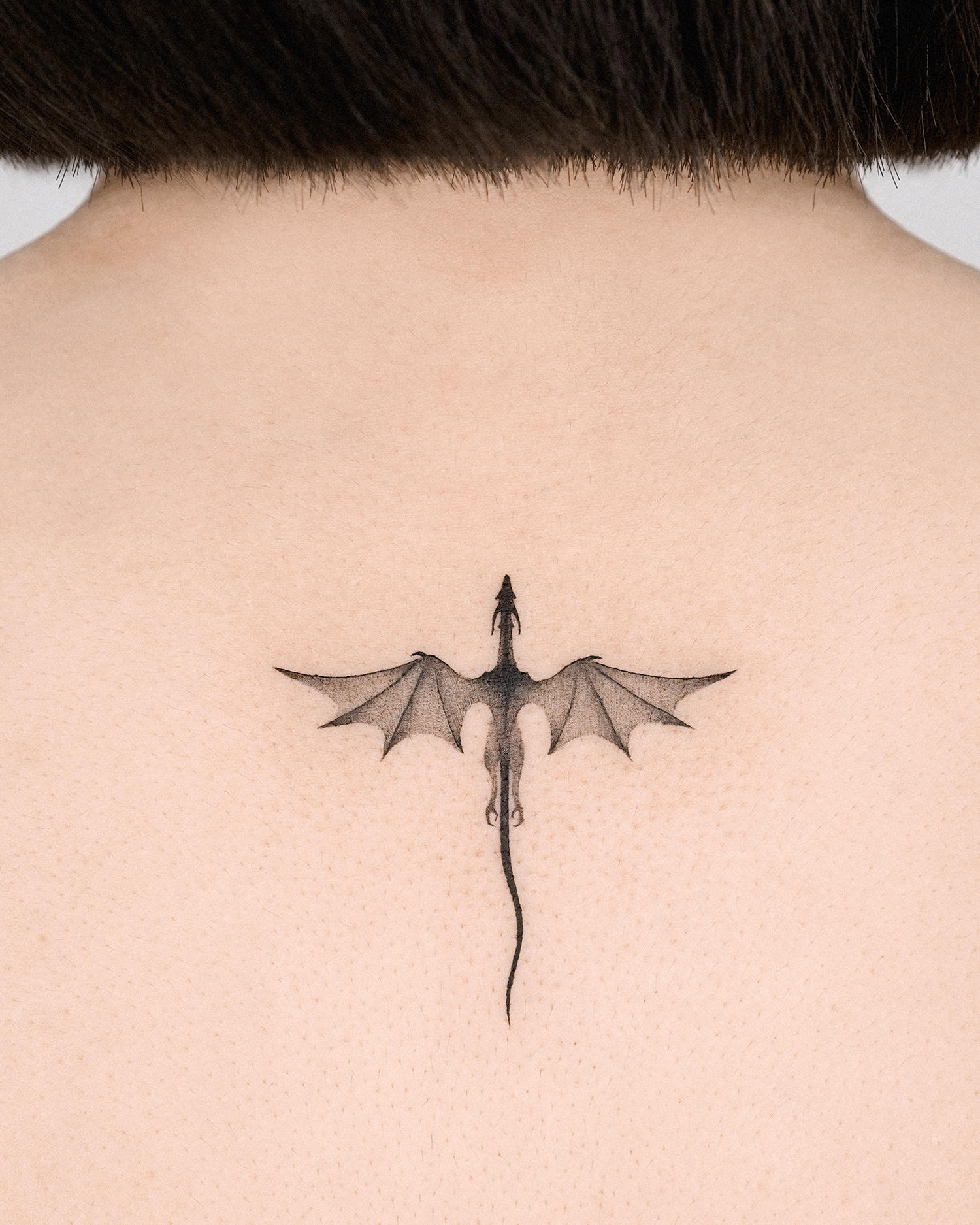 Dragons have a variety of connotations around the globe, but in the East, they may symbolize power and prosperity.
What are your dream cities to visit in the US?
I was born near the sea, and I enjoy summer; I believe I would enjoy Los Angeles.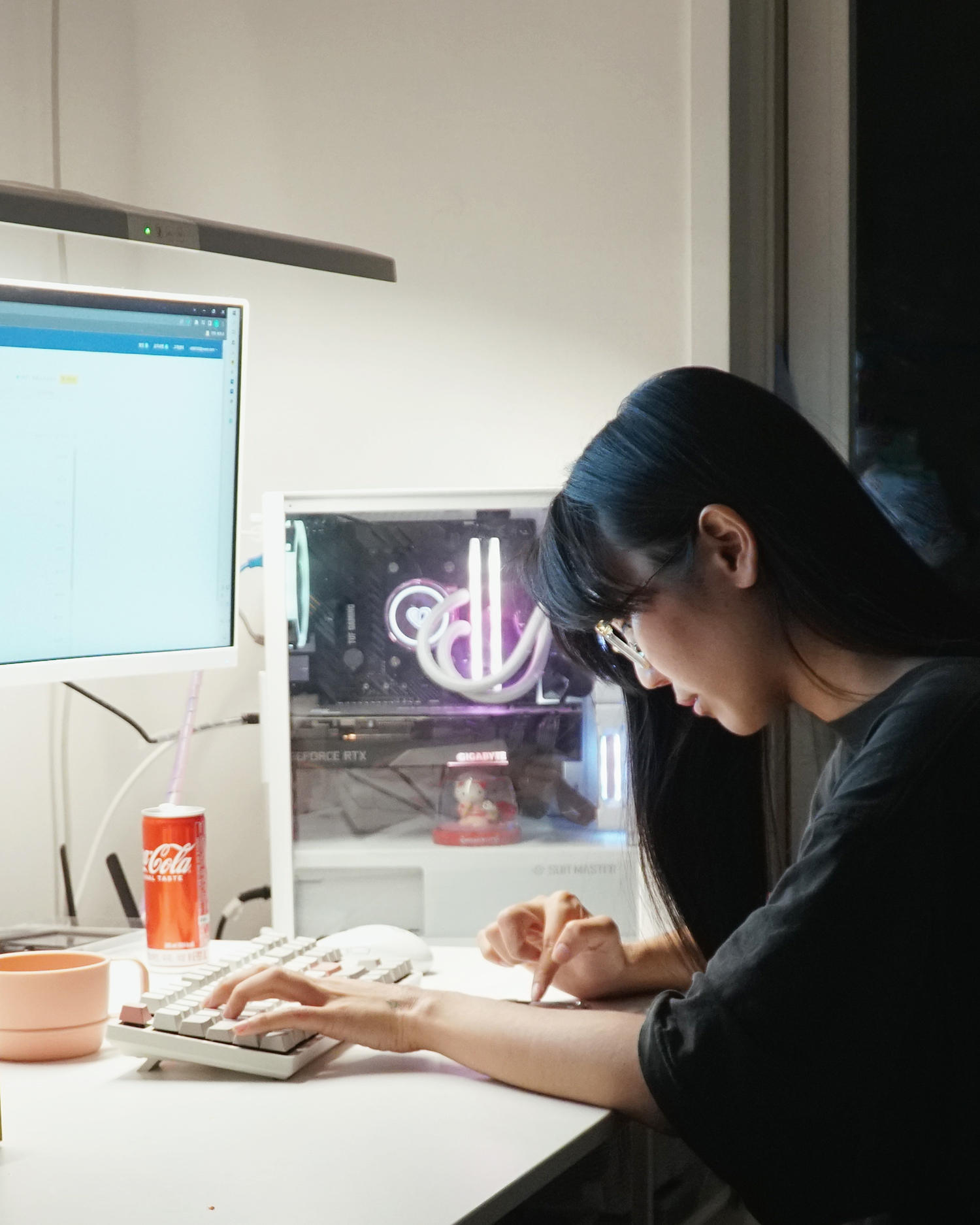 Choi Yun, a tattooist, at her computer, where she spends her free time.
What do you do on your day off?
Usually, I stay at home. I dine in front of my computer and spend most of my day in front of it. I usually edit tattoo photos, look for additional investment prospects, and draw on the computer. I've lately taken up video editing on YouTube as a new interest. I search it up on the Internet, consult a friend, and complete editing because I've never done it before. It is time-consuming; maybe that's why I'm so relieved when a video is done.
Photos © Choi Yun