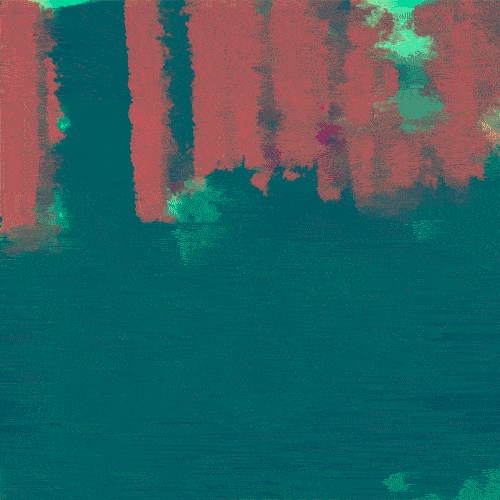 The animated GIF—which stands for "Graphics Interchange Format"—has been around before the advent of the World Wide Web. First introduced in 1987 by CompuServe, it was eventually adopted for use on early web pages. This was mostly crude animations that served as flashy banners, but as technology became more sophisticated, the use for the GIF changed.
Nowadays, the file format has many different uses. It still acts as web page decor, but it's cultural impact is much more profound than that. GIFs are a form of everyday communication ("reaction GIFs") and have transcended into the realm of art. Animators, designers, and illustrators use them as a form of expression, using its looping feature to explore ideas surrounding time and the meaning of infinity.
Ello has created a community page dedicated to this engaging art form, and I've selected artists on the site who will blow your mind with their fantastic GIFs.
Above: Eran Hill creates a spooky GIF using distortion textures and a minimalist palette.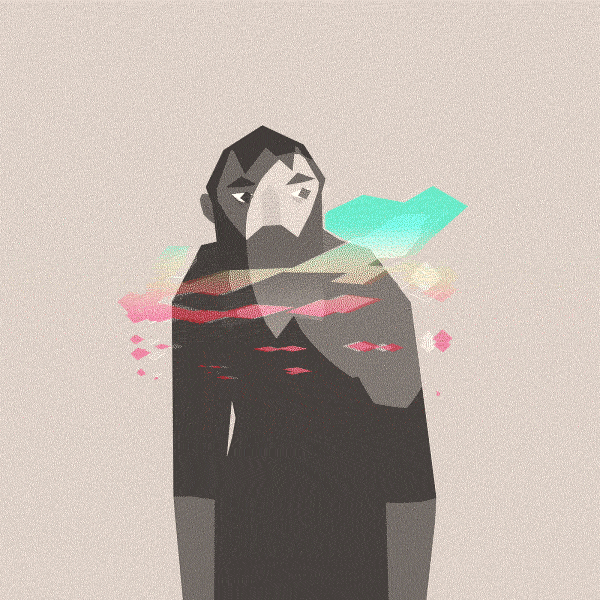 Using a simple spotlight effect, Eran Hill's animation raises more questions than it answers.
Eran Hill
Eran Hill is self-described as a "character obsessor" and "messy code explorer," two attributes that are evident in his animations. Visually, they have a gritty feel to them as technicolor noise vibrates throughout the compositions. This distorts our view of the subjects and scenes and creates compelling, mysterious narratives.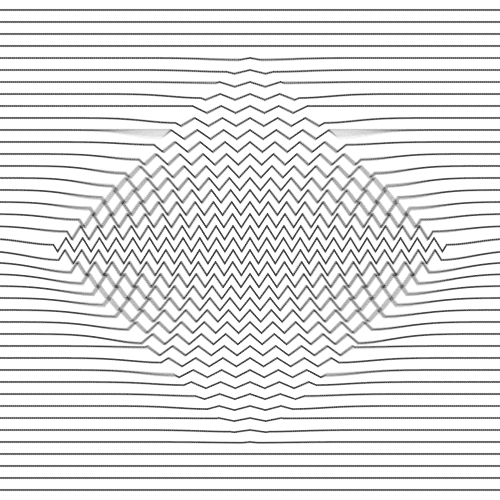 BigBlueBoo has created a ripple in time.
BigBlueBoo
BigBlueBoo, known also as Charlie Deck, is a New York-based creative technologist who makes data visualization, apps, and games while focusing on "the impractical, weird, serendipitous, and fun." This results in stupendous illusions that have seamless loops—it's both a mesmerizing and meditative experience to watch as straight lines ripple and transform like a rock hitting the surface of a pond.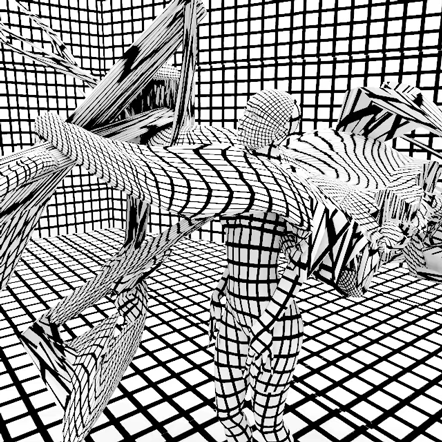 Simon Falk explores chaos that exists among calm.
Simon Falk
Simon Falk created this animation called "Grid Dancer" on the 22nd day of his residency with Postmatter. Produced with Cinema 4D, the black-and-white room features a gyrating figure as it navigates around a glitched fragment of itself, which orbits the body like a tornado. The upright figure, with its fluid movements, is the eye of the storm in this gridded cage.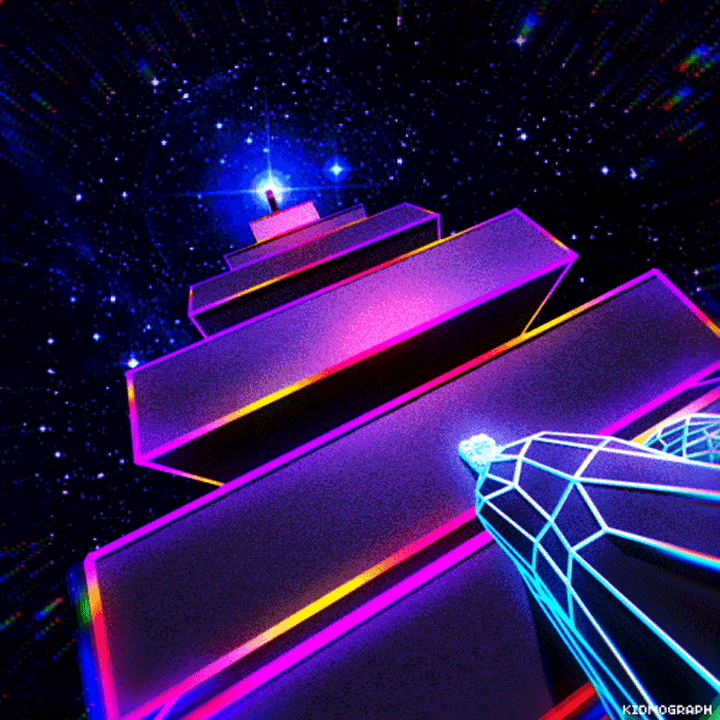 Kidmograph has titled this GIF, "Step Builder."
Kidmograph
Kidmograph has been making GIFs for the past 15 years and sees them as a valuable tool in his artistic process. The endless and short animations allow him to visually work out the things that are in his head. "I can project my ideas in a short way," he says in an interview, "and consult them at any time." As a result, they feel like vignettes that will eventually reveal a larger story.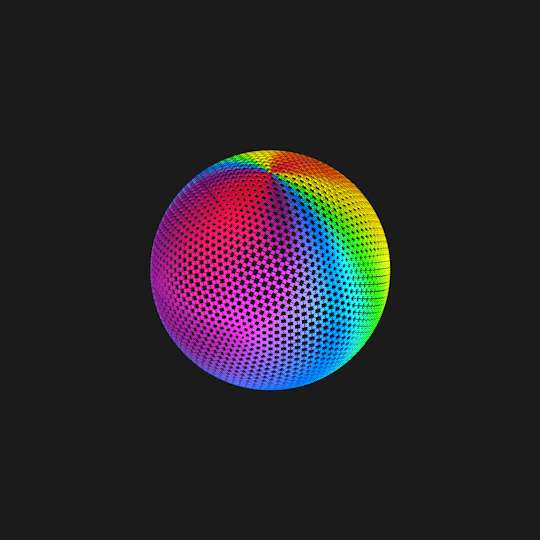 Isopoly's GIF snaps back into place, as if it never exploded.
Isopoly
Things collapse and are inevitably put back together—they shift, but they're ultimately back where they started. An example is this mesmerizing cycle called "Shuffle," which was created by Isopoly, aka Marcus Martinez. The Texas-based artist uses programs such as Cinema 4D, Photoshop, Adobe After Effects, and Gimp to bring his animations to life.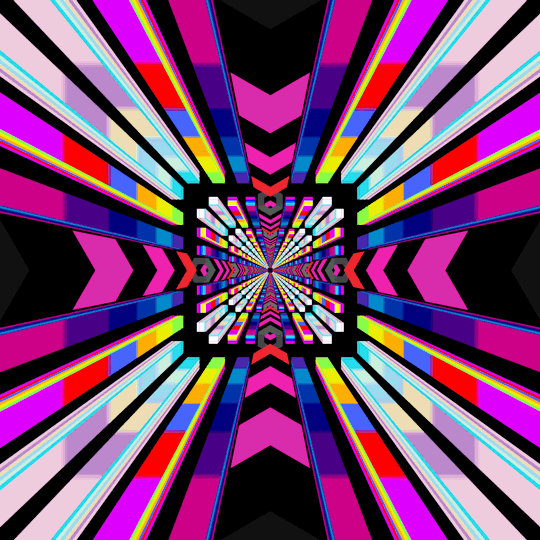 There's more than one way to fall into the infinite abyss.
Hexeosis
The GIF artist Hexeosis creates animations to "visually represent infinity and to illustrate that there are multiple ways to see things." In this piece, we're barreling towards a black hole surrounded by a dazzling path of radiating and flashing lines. To create this mind-bending piece, Hexeosis drew the shapes in Adobe Illustrator and animated it using After Effects and Cinema 4D.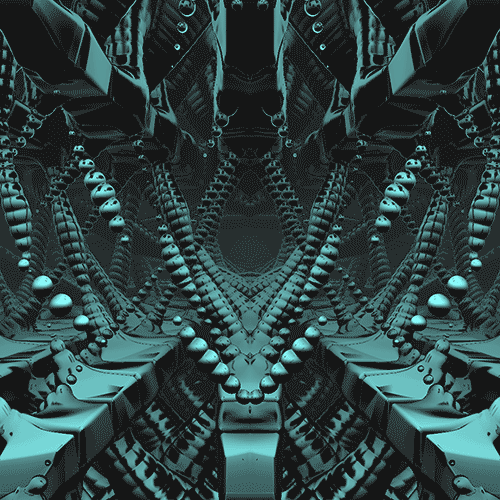 Conner Bell specializes in creating trippy GIFs.
Connor Bell
Connor Bell invites us to step inside a enthralling vortex where things melt as we try to move forward. Strong, angular shapes melt and drip out of the composition, creating a feeling of despair, like we're caught in quicksand. To produce this compelling illusion, Bell renders his GIFs realtime through fragment shaders.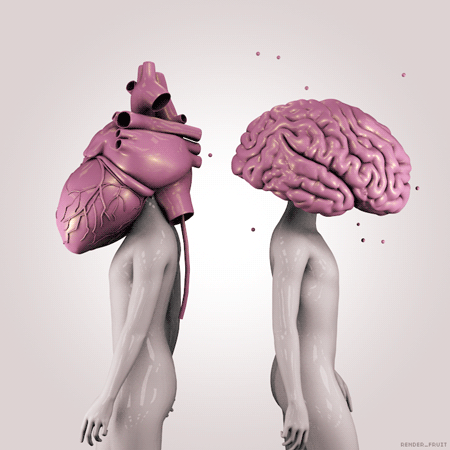 Render Fruit is the moniker for artist Clara Luzian.
Render Fruit
"Heart vs Brain," Render Fruit writes of this piece. "That odd couple." And indeed, the genderless mates are walking away from one another, highlighting the disconnect that often occurs between the two. "My main influence is people—their reactions, feelings and energies," Render Fruit explains in an interview. "I like to read rare books that my husband [Kidmograph] and I find in forgotten libraries–comics and art books. I like listening to music and feeling connected with nature." Her visual style is born from the 80s, the decade in which she grew up. "I absorbed the eclectic aesthetic and astonished innocence of the decade."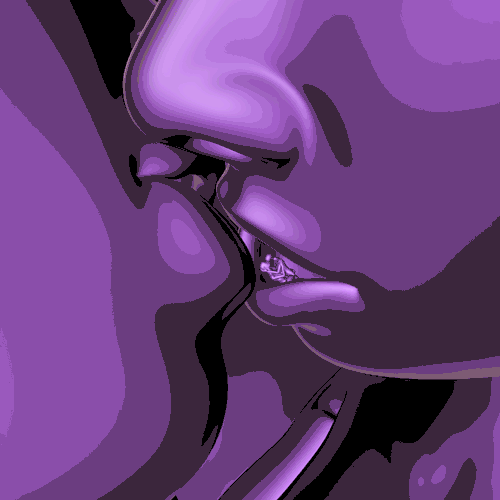 Jeremy McKeehen's animation is simultaneously abstract and realistic.
Jeremy McKeehen
Jeremy McKeehen's "Kiss from the Soul" explores one moment of bliss repeating forever. The strange liminal space is reminiscent of the mind's eye, which replays these sort of memories over and over. McKeehen discusses the concept of everyday infinity within his work, stating that "after all the questions are asked, and all are answered," we revert to what is right in front of us. It's something we should seriously contemplate. "Go deeper into this moment and you will find what is true," he instructs, "what is real."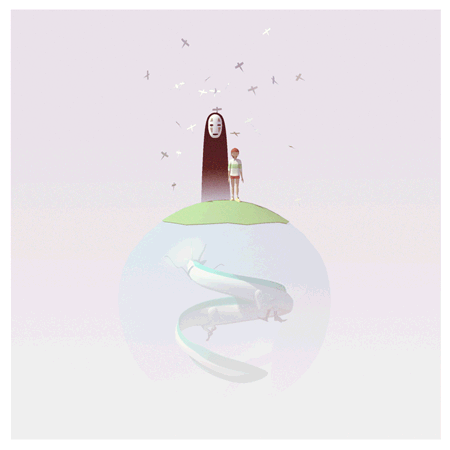 Alice T is inspired by the films of Hayao Miyazaki, including "Princess Mononoke."
Alice T
Freelance artist Alice Tiroille creates GIF animations as part of her overall 3D portfolio. After graduating from EMCA, she has produced short films in addition to ethereal GIFs. This piece is an homage to Hayao Miyazaki's acclaimed film "Spirited Away" and was produced for Tiroille's father.
All animations © respective artists.