Genre: Comedy, Crime, Drama
Director: Michael Bay
Writers: Christopher Markus and Stephen McFeely (screenplay), Pete Collins (based on the magazine articles by)
Stars: Mark Wahlberg, Dayne Johnson, Anthony Mackie, Tony Shalhoub, Ed Harris
Nobody expects much from director Michael Bay beyond summertime servings of brash and obnoxious films that make piles of money. He's Hollywood's crown prince of over-the-top content and the regular punch bag of choice for critics.
"Pain & Gain" is everything you could possibly hate about the Baymeister's brand of movie, but a headfirst dive into social satire has digged up creative rewards. "Pain & Gain" is akin to an Elmore Leonard novel freebasing on a cocktail of crack-cocaine and anabolic steroids, and shot like a music video for a vile gangster-rap outfit. It's also "based on a true story." Somehow, almost despite itself, this toxic broth cooks up a wickedly enjoyable crime drama.
Three Miami Beach fitness fanatics plot to grab their slice of the American Dream by kidnapping local businessman Victor Kershaw (Tony Shalhoub). Pumped on adrenaline (and illegal drugs) and firmly believing in their spectacularly dumb plan, the super-ripped trio come increasingly unstuck in a story that gets bloodier and bloodier.
Mark Wahlberg's nutty turn as Daniel Lugo, something of a criminal disastermind, is a career highlight. The character's self-made nightmare and Marky Mark's portrayal of an angry young man is both equally hilarious and tragic. Lugo doesn't just want to be "king of the hill, top of the heap" he wants to rub his questionable success in the faces of all those people who told him he'd amount to nothing. So he moves into Victor's mansion and insinuates himself into the wealthy community.
His partners-in-crime, ultimately, fare no better. Alongside Anthony Mackie, Dwayne "The Rock" Johnson is on brilliant form as ex-con Paul, a man struggling to keep his life on the straight and narrow. Johnson, a former WWE wrestler, is a charismatic screen presence with the ability to portray softness or vulnerability when required. He's also rather adept at comedy.
"Pain & Gain" is a downright brutal and nasty ride. At times, Bay pushes his luck. There isn't a single individual to root for in this band of madness: the story is solely focused on idiots being horrid to one another. Yet the material's mean-spirited outlook and Bay's attention to vivid detail makes it a bestial American tale and the best film—quite possibly—that he's ever going to make. Don't be expecting a new-found direction, however, because it's back to making blockbusters based on toys again after this.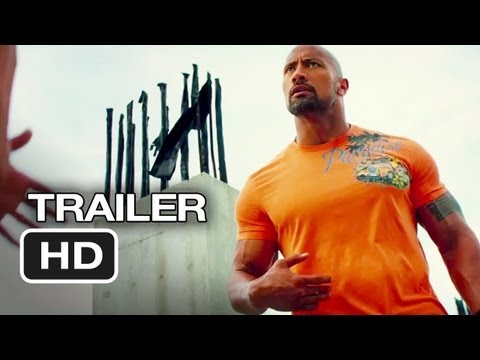 Credit:
Film stills © Paramount Pictures.