Introduction
He sang some of the most memorable songs of the 1960s, considered by most music historians as the one of the greatest decades in the history of music. Notably, the music of Tommy James continues to resonate today.
James, 65, who with the Shondells and as a solo artist, wrote and/or recorded more than 230 songs over the course of his stellar career. However, James never set out to write one of the most popular songs in the history of wedding receptions. Regardless, "Mony Mony" has become the quintessential dance tune played by DJs and bands alike at virtually every reception throughout the country.
Of course, there's more to Tommy James than "Mony Mony." Much more. One of the rock icons of the sixties, James sang such classics as "Hanky Panky," "Crimson and Clover," "I Think We're Alone Now," "Mirage,"  "Sweet Cherry Wine" and "Crystal Blue Persuasion." Quite an impressive feat when you consider he did so at a time when the British Invasion had taken America by storm. Despite the enormous popularity of the British rock groups, Tommy James and the Shondells sold more single records (45's) during 1968-69 than any artist in the world, including rock royalty themselves, the Beatles. To date, James has garnered 23 gold singles, nine platinum albums, has sold over 100 million records worldwide, and his songs have been played over 21 million times on the air by radio stations.
Equally impressive, his songs have withstood the test of time—having been covered by artists such as Bruce Springsteen, Carlos Santana, R.E.M., Prince, Billy Idol, Kelly Clarkson, Dolly Parton, and over 300 other performers. His music has also been featured in 27 films, commercials and current TV shows, most recently  "Men of a Certain Age" and "In Plain Sight." In addition, plans are currently in progress to turn his book, "Me, the Mob, and the Music" into a movie and possibly a Broadway play. Not bad for a kid from the small town of Niles, Michigan.
Roger Sands, Scene 360: How did your music career begin?
Tommy James: We were basically created by AM Radio, when a Pittsburgh radio station picked up a bootleg version of "Hanky Panky" that my original band and I did. We recorded it three years earlier and forgot about it. Out of nowhere it shot to number one in Pittsburgh by selling more than 80,000 copies. From there, I was rushed to New York City to meet with the big record labels.
A music video with Tommy James and the Shondells performing "Mony Mony" (1968).

How old were you at the time?
Nineteen.
What happened in New York?
All the major record companies were interested in signing me on the heels of "Hanky Panky," and I ended up signing with Roulette Records.
You write in your book that Roulette was controlled by the mafia.
Very much so, although I didn't know it at the time. The dark, sinister story is that the mob was always looming in the background, and Roulette was Ground Zero. It was the epicenter of mob activity of the record business in New York City.
How so?
Well, for one thing the mob controlled all of the jukeboxes and vending machines throughout much of the country.
Were you threatened?
It was made very clear to me that I had no choice but to continue making records for Roulette.
You write that you never received royalties for your music sales. How much did this end up costing you?
About forty million dollars.
Did you ever recoup any of it?
No.
How did you make your money?
Through airplay royalties, which Roulette couldn't control, along with concerts and promotions.
You've said that New York provided you with a creative vibe. In what way?
When I first arrived in New York in 1966, I was a freshman in a world of seniors. Luckily for me, they welcomed me into the club. I met people who were doing things musically much better than I was.
After "Hanky Panky" a string of colossal hits followed. Were you given creative leeway by Roulette?
One hundred percent, which was the positive aspect of working with that record company.
How did "Mony Mony" get its name?
I had the tune, but was having trouble coming up with a catchy name. I went out on the balcony of my apartment in New York City, and happened to see a billboard for Mutual of New York. I combined the first letters and the rest is history.
What do you think when you hear it on the radio now, or at a wedding?
I love it. I've been really lucky in that regard that our music has never been off the air.
Why was 1967 a turning point in music?
It's when everything changed. Progressive rock emerged as did FM radio.
How did FM radio change the music industry?
It ushered in the album market and groups such as Crosby, Stills and Nash and Blood, Sweat and Tears were able to make longer, intricate records.
How did you make the transition?
"Crimson and Clover" helped us jump to the FM format. Groups began selling albums in earnest, and "Crimson and Clover" launched a whole new career for us. Within a 90-day period we were on both AM and FM at the same time.
You ventured into Christian music.
Yes, I became a Christian and thought it was appropriate.
What is "Sweet Cheery Wine" about?
It's about Holy Communion.
How has the music industry changed over the years?
Obviously technology has advanced a great deal, and the mobile apps are great for the industry and also the consumers.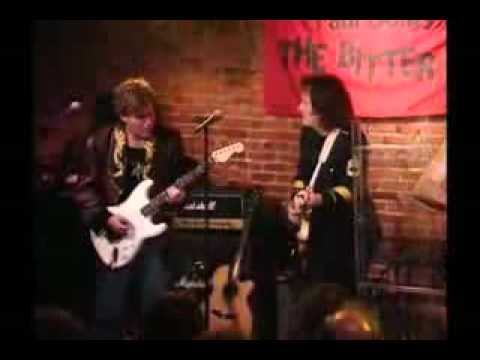 Tommy James performing live at NYC's longest running rock club, The Bitter End.
What do you think about today's music?
There's some good stuff out there. I'd advise young artists today to sign with a publishing company if they have songwriting ability, as opposed to a record label.
What lies ahead for Tommy James?
Aura Records, my record company, made a distribution deal with Allegro for global distribution of my entire catalog. I'll be promoting that worldwide, I continue to write songs for TV and films in between tour dates, and we are in development for the film of my autobiography with producer, Barbara De Fina, who has many excellent films to her credit.
Credit:
Photos courtesy of Tommy James